This flat iron steak recipe is simple and yields an amazing steak that you will love.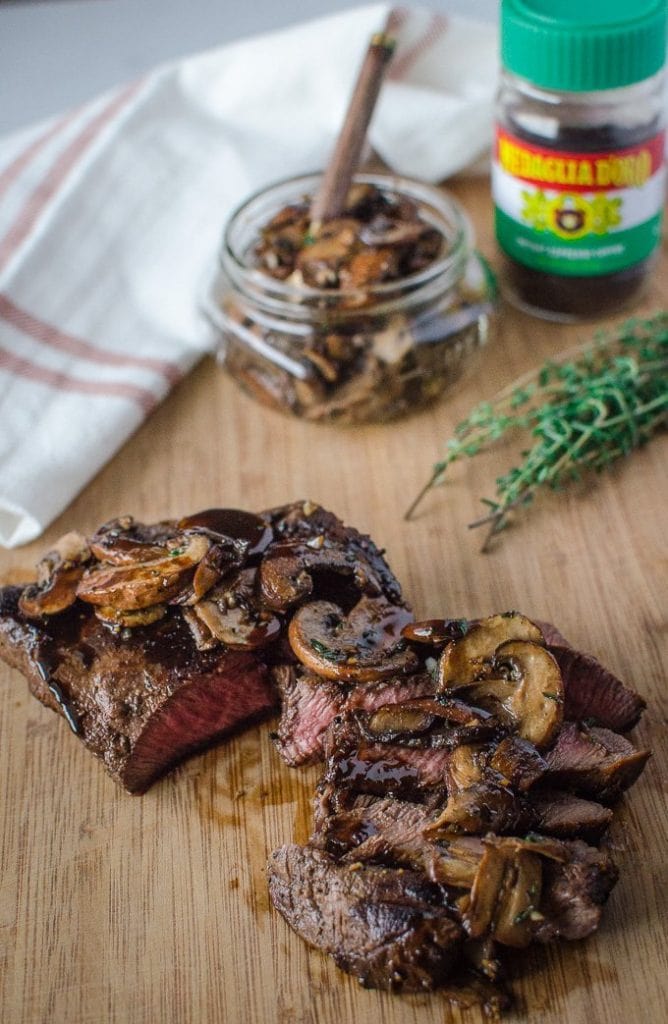 Thank you to my friends at the Missouri Beef Council for inviting me to go on the 2015 Pasture to Plate Tour! This is not a sponsored post; all opinions are my own. I simply want to share about a fun experience!
Ok, so we are doing things a little backwards in this post. The picture above shows a ridiculously mind-blowing flat-iron steak with a maple bourbon espresso sauce and mushrooms. The recipe for this amazing-ness will be provided at the end of the post. Trust me, you are going to want this recipe if you like steak. This dish is a recreation of a beef entree that I had on the tour and couldn't help but attempt to make at home. But before we dive into the recipe, I want to tell you about the beef tour!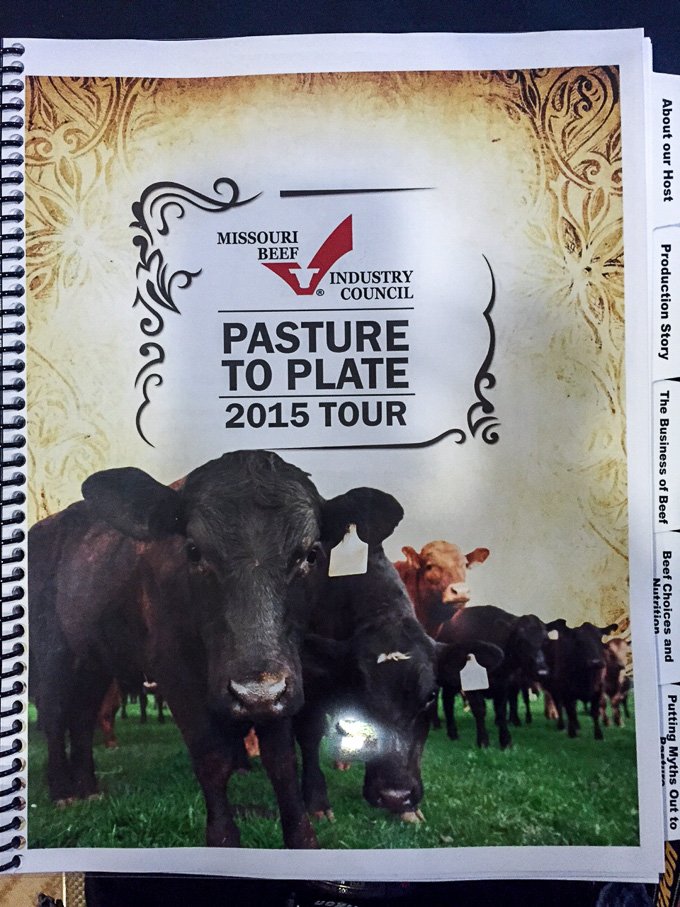 Earlier this month, I had the fun and enlightening experience of participating in a 2-day tour that explored the cycle of beef production throughout the state of Missouri. Other attendees included bloggers, dietitians, agriculturists, chefs, restaurant managers, and food service representatives. The purpose of the tour was to help influencers gain an understanding of how cattle are birthed, raised, fed and distributed to feed lots before going into the beef production system.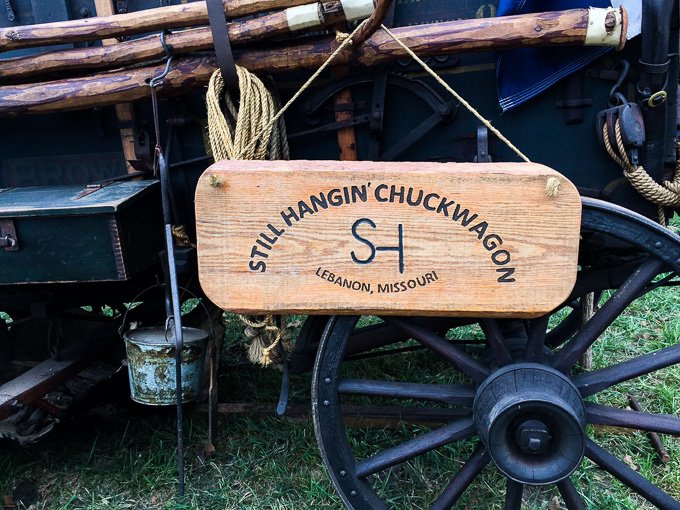 The highlight of the tour for me was by-far the traditional chuckwagon-style lunch that we had on calf-cow farm. Our entire lunch was prepared over an open fire with tools/utensils from the chuckwagon in the photos! The overall experience of eating the food in the open air on the farm and standing near the fire it was cooked over made it one of the best meals I think I've ever eaten; and of course the food itself was delicious!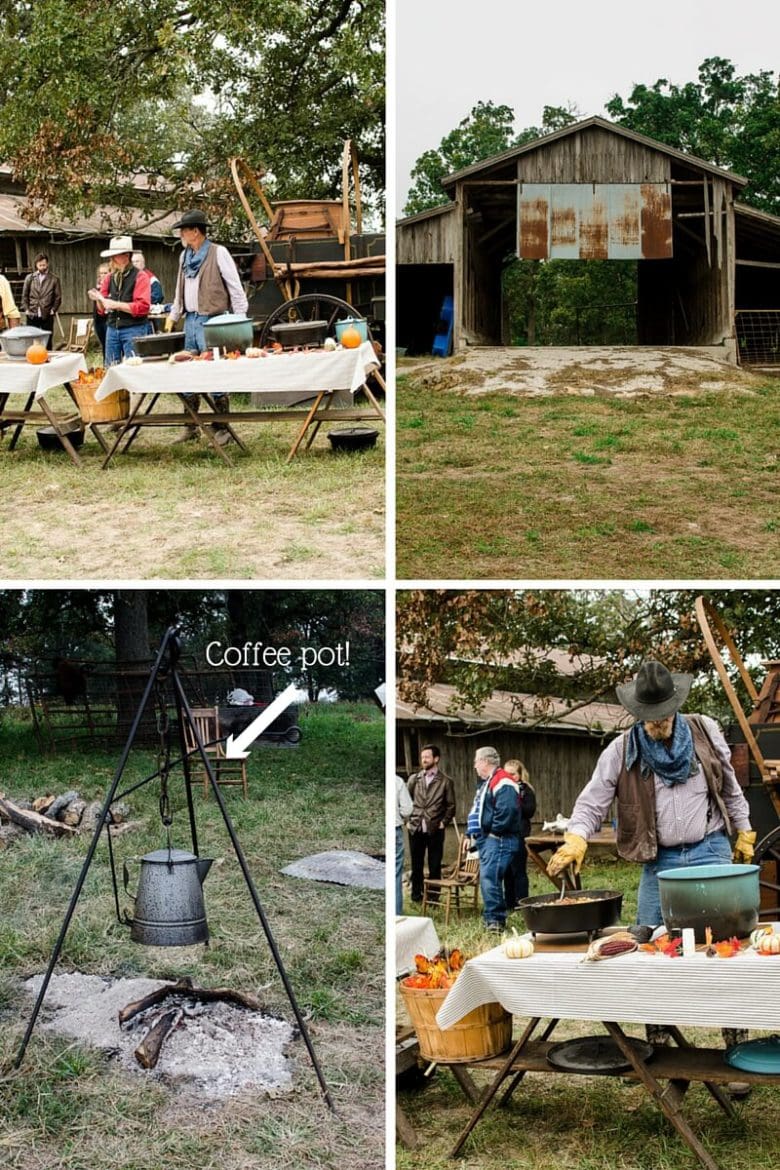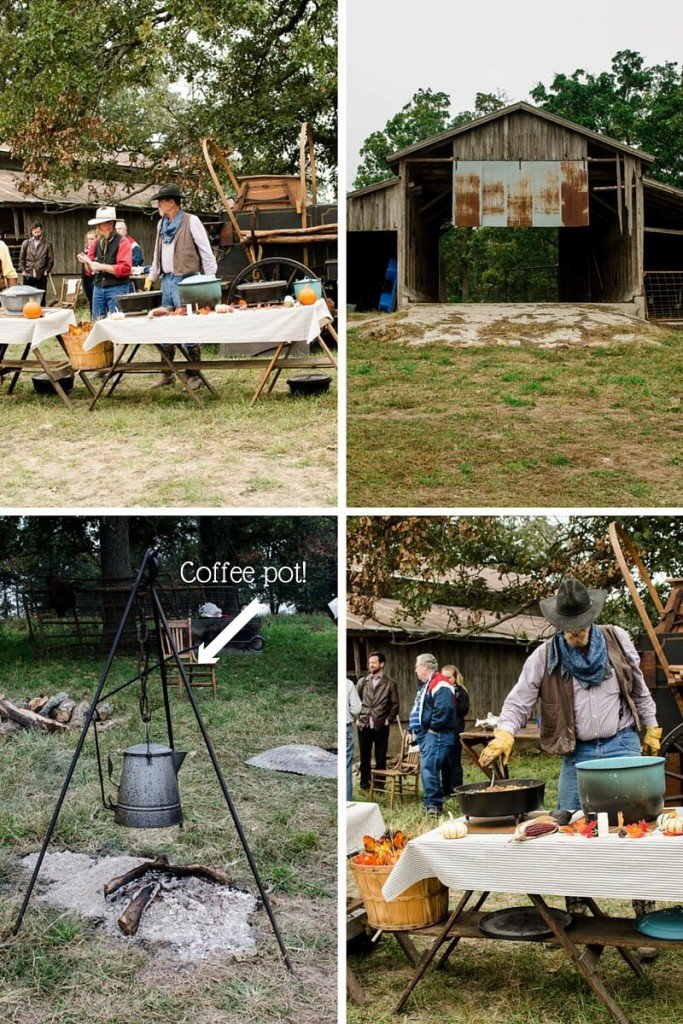 We had a smokey, cheesy potato casserole, pinto beans cooked the old-fashioned way with a smoked ham hock, pepper beef brisket. homemade biscuits baked in a cast iron skillet over the fire. and the most delicious apple bread pudding with sauce that I've ever had! I pretty much reminisce about this meal on a daily basis - it was that good! I'm thinking about calling up these chuckwagon boys and having them come out and cook my 30th birthday dinner next year - think that's a good idea???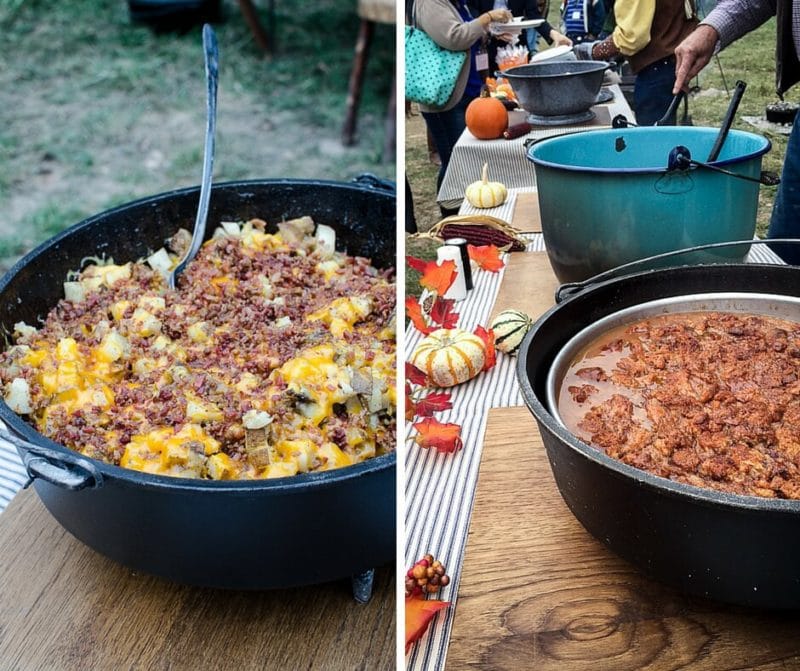 Oh, and did I mention the coffee??? They brewed it in this awesome-looking kettle over a smoking-hot coals. I usually don't like black coffee but this particular coffee was so smooth and had such a caramelly-toasty flavor that I din't mind drinking it black at all. Drinking a cup while eating my apple bread pudding by the fire was the ultimate foodie-in-the-country experience for me!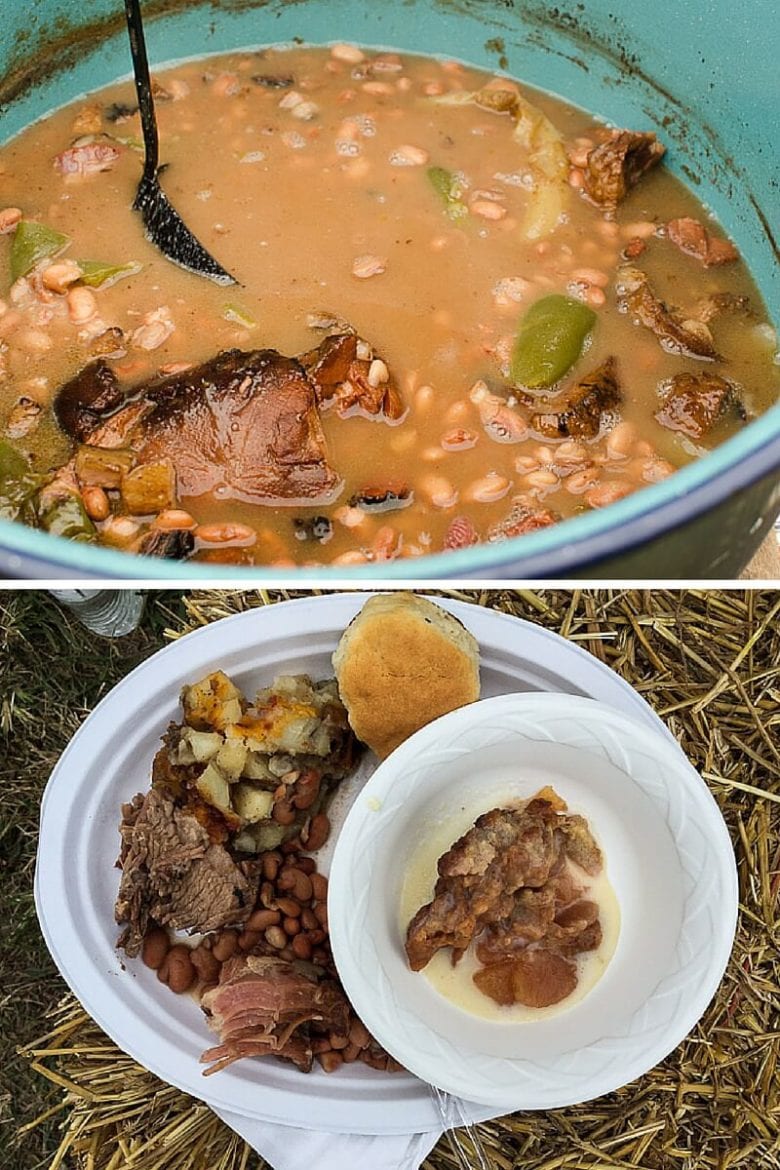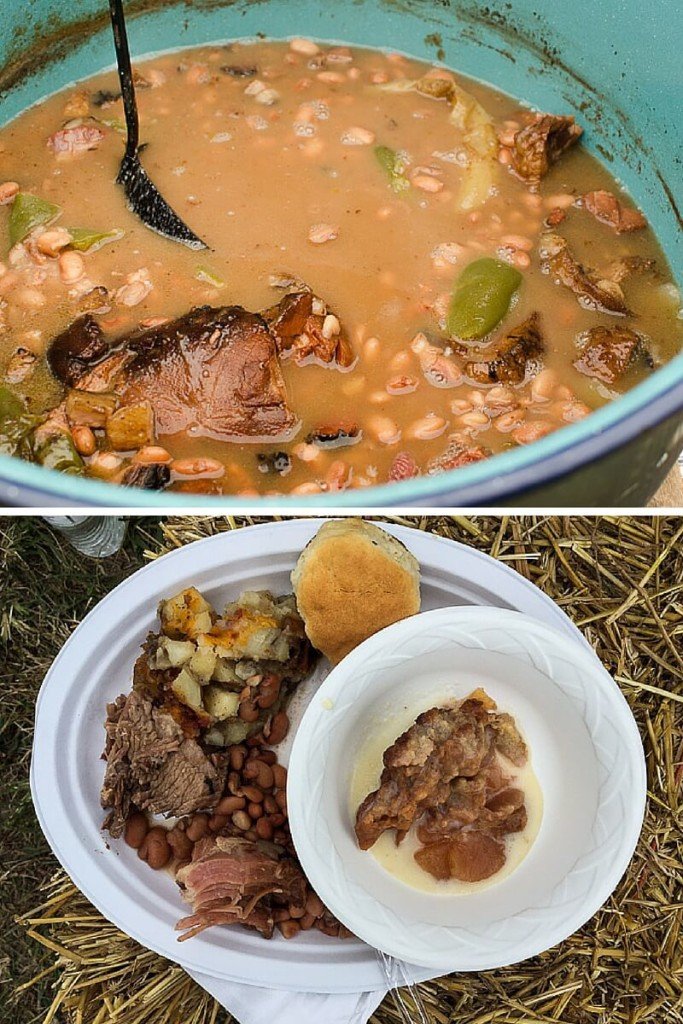 As a dietitian, I was so excited to learn the ins and outs of the beef industry, as I knew that lean beef can be a high-quality source of protein for a balanced, heart-healthy diet! As you probably know, there's often a lot of confusion and misinformation buzzing around about where our food comes from and how it's produced. Unfortunately, a lot of people fall prey to misinformation and media hype that tells you certain foods are "bad" or "harmful" and should not have any place in your diet. A lot of times, really nutritious foods that play a huge role in feeding our society get blacklisted. Beef is no stranger to misinformation, but you'll be happy to know that there's plenty of reliable resources to help consumers sort things out. You just have to be willing to think for yourself and go straight to the source for answers!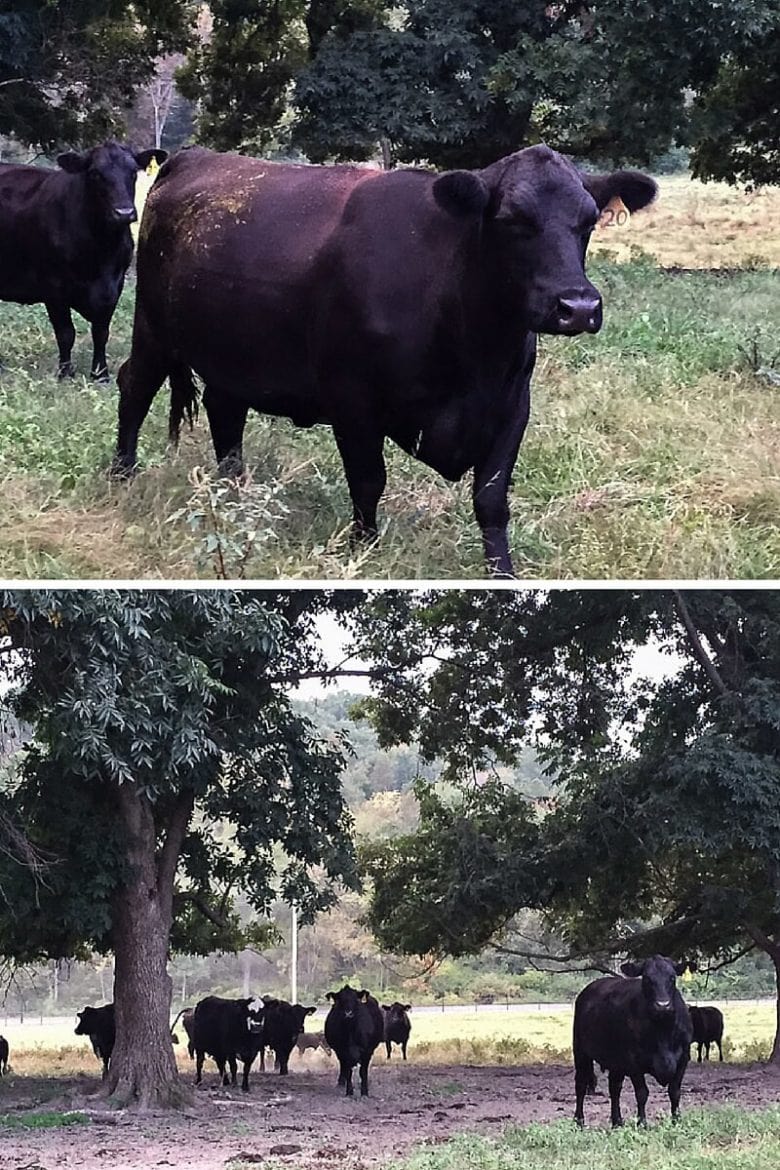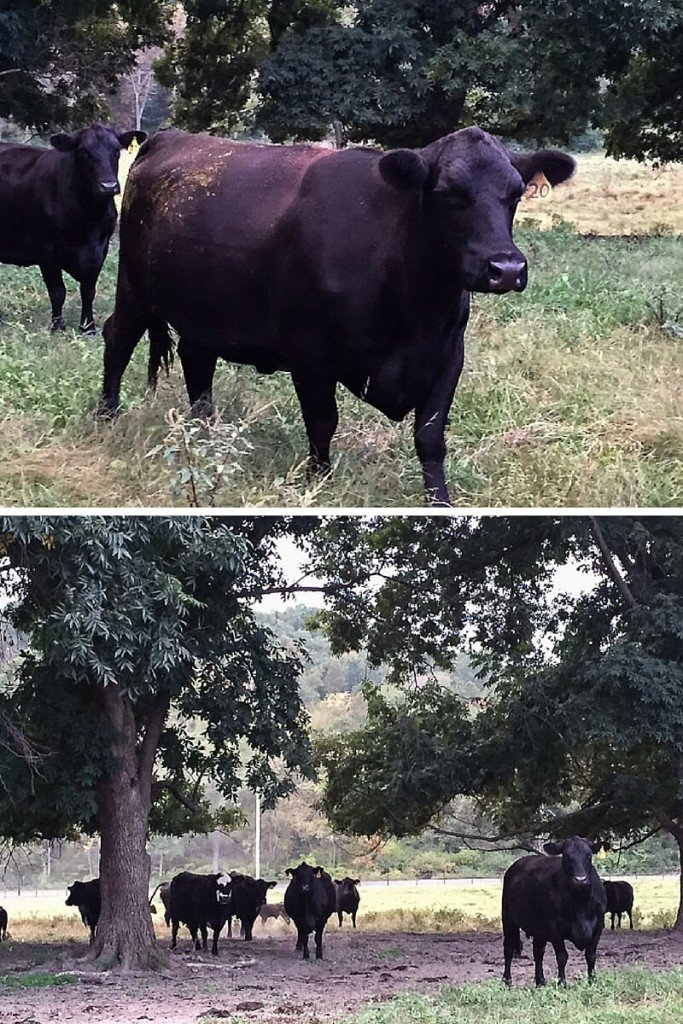 That's why I'm so grateful for the farmers and beef producers we met on the tour who were open, honest and passionate about showing us what really goes on behind the scenes. The great majority of calf-cow farms in Missouri are family-owned and operated, indicating that the farmers who birth and help cattle grow depend on this process for their livelihood! They have an unbelievable amount of pride in their farms, in their cattle, and in everything that goes into raising the cows from living conditions to the food the animals eat.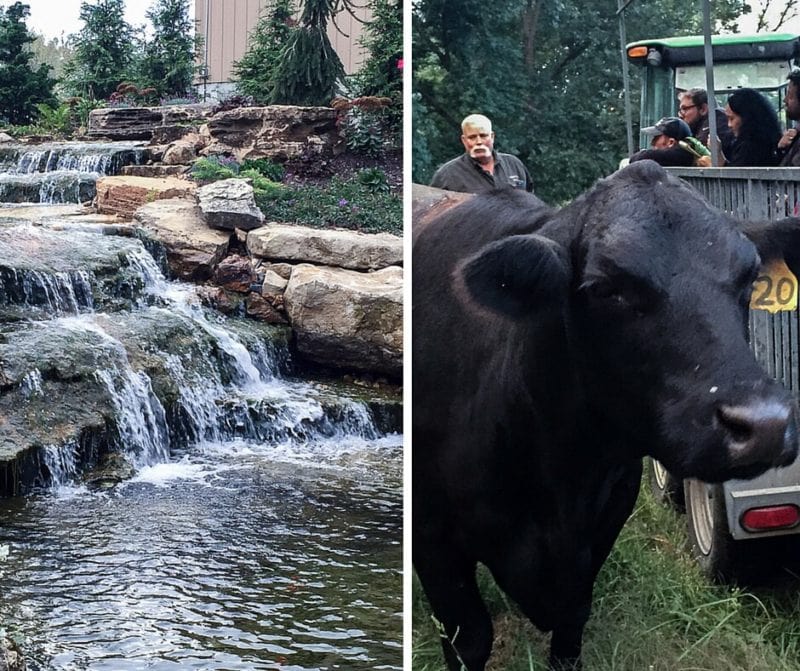 There's so many resources that dietitians, scientists, doctors, and chefs have created to help consumers make informed, healthy decisions about the beef they eat. For example, whenever I want to get the latest research on beef production, beef nutrition, or just to get the facts about something I've heard buzzing in the media, I know that I can consult beefnutrition.org for the science-based answers I'm looking for. If I can't find the answer to my question there, I can contact an expert or reach out to the Beef RD on Twitter. And if it's a cooking question I have, the Interactive Butcher Counter always has great tips that point me in the right direction.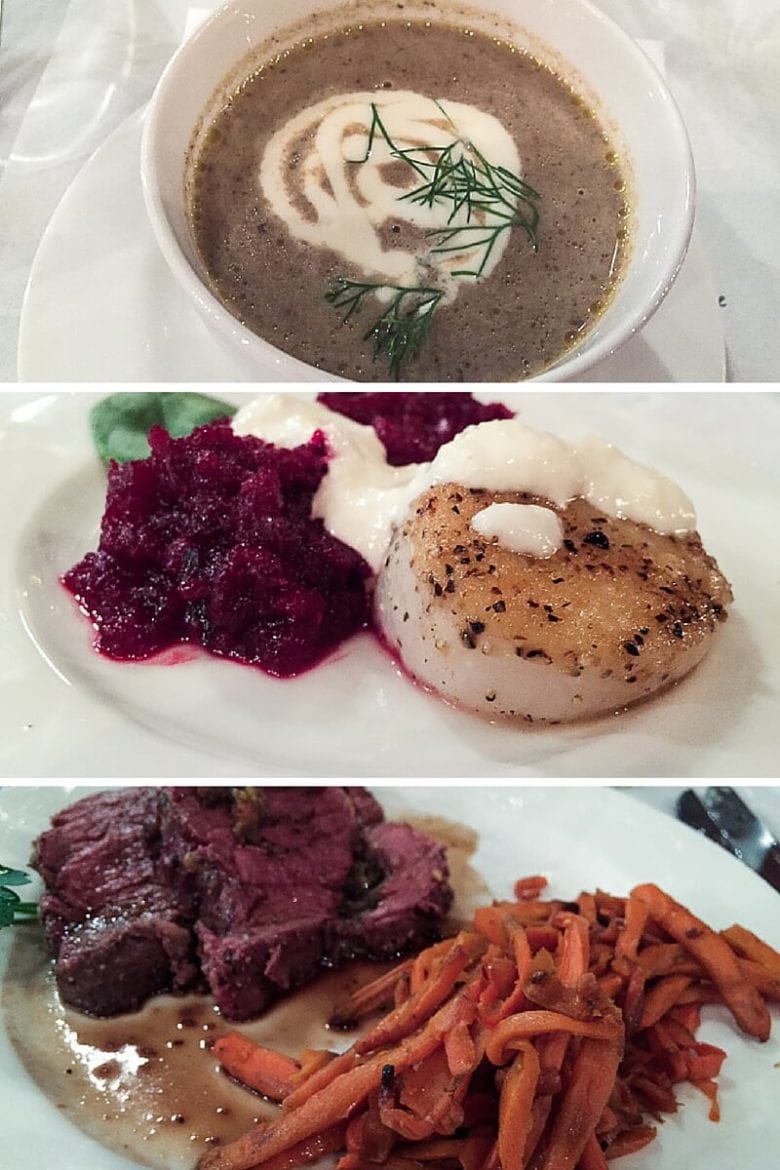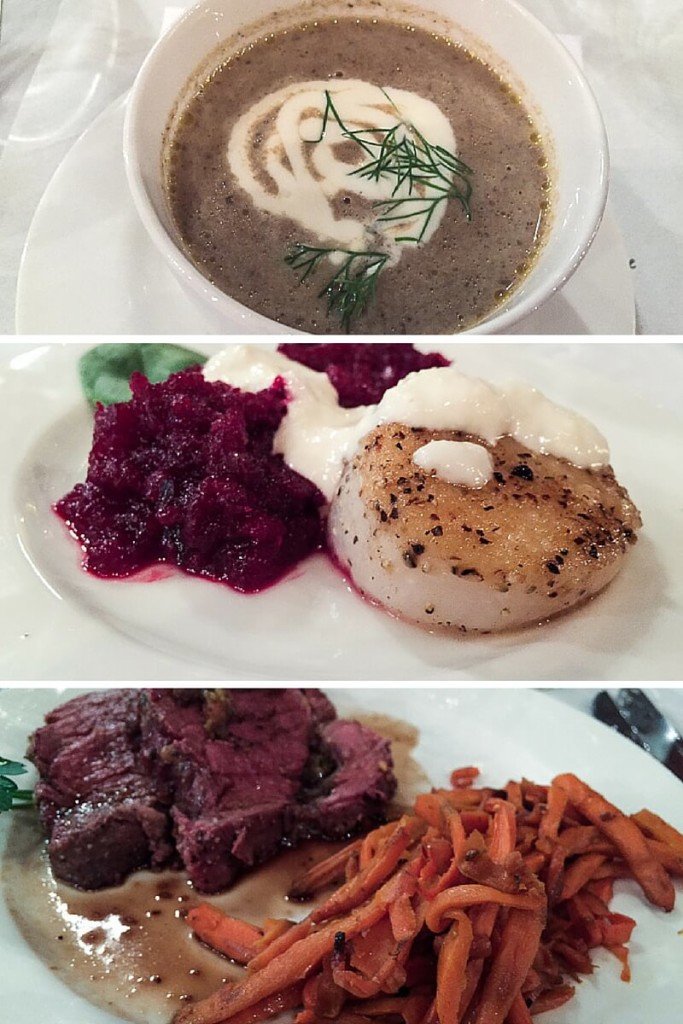 So now it's time to talk about steak! In the photo above, you'll see the amazing beef tenderloin we were served on the final evening of the tour. It had a rich espresso sauce that was served over the top that I just fell in love with. Thankfully, the recipe for the sauce can be found here. I took the sauce recipe and made it with one of my favorite beef cuts; flat iron steak! It turned out wonderfully and will definitely be a go-to recipe anytime I'm craving a steak dinner or have a special occasion to cook for.
This steak would be delicious served alongside my Massaged Kale, Apple, and Cranberry Salad because the salad can be prepped ahead of time!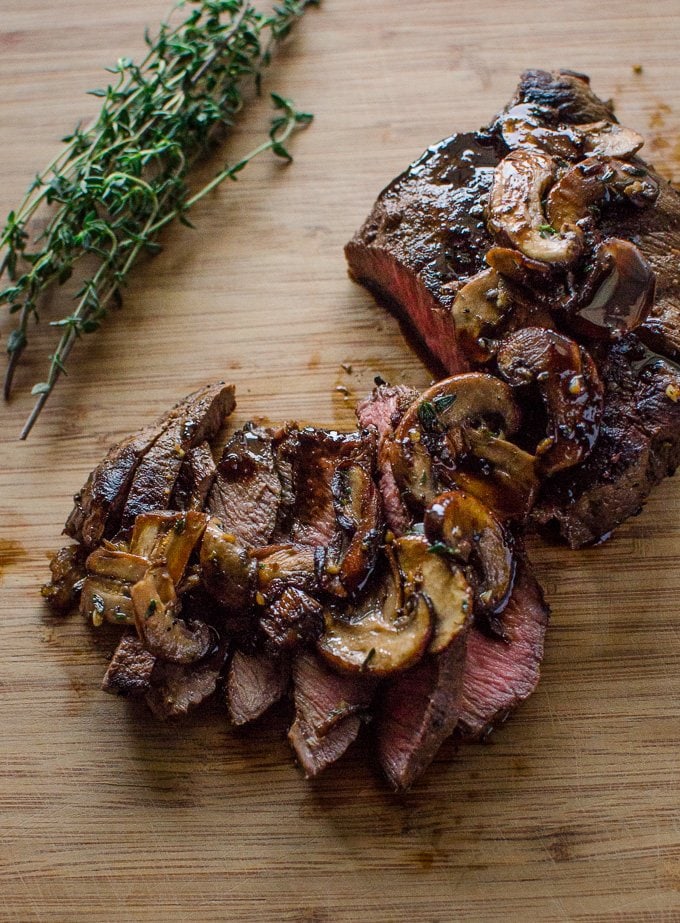 Did you make this recipe? I'd love to hear how it turned out!
Leave a comment and rate the recipe below. This will help me with the creation of future recipes!
I'd also love to feature your creation in my weekly newsletter, so you can upload a photo to Instagram with the tag @sweetcayenne5 to be featured! Quick and easy recipe videos are available on my YouTube channel, and lots of menu inspiration on my Pinterest boards.
Get a free cookbook just for signing up and other freebies with the sweetcayenne.com newsletter.
Recipe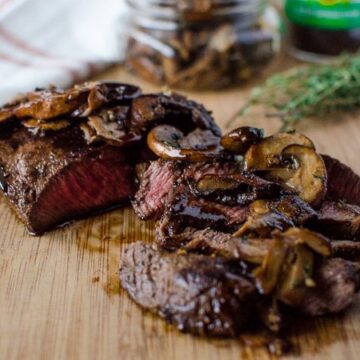 Flat Iron Steak with Maple Bourbon Espresso Sauce + Pasture to Plate Tour
Flat Iron Steak with Maple Bourbon Espresso Sauce is a simple yet elegant beef dish with a velvety bourbon-spiked sauce you will want to lick off your plate. Sauce recipe adapted by beefitswhatsfordinner.com
Print
Pin
Rate
Ingredients
For the steak:
¼

cup

bourbon

¼

cup

pure maple syrup

Grade B

¼

cup

reduced-sodium soy sauce

1

tablespoon

apple cider vinegar

2

teaspoons

instant espresso powder

2

pounds

of flat iron steak

Coarsely ground black pepper

Oil for your pan/skillet
For the mushrooms:
12

ounces

cleaned and sliced mushrooms

I used Baby Bellas

Coarse ground kosher salt

Coarsely ground black pepper

2

teaspoons

fresh thyme

2

cloves

garlic

minced

1

tablespoon

butter
Instructions
For the steak:
In shallow dish, combine the bourbon, maple syrup, soy sauce, espresso powder, and vinegar. Place the steaks in the sauce and marinate at room temperature for 20 minutes, turning the steaks halfway through the marinating time.

Heat a cast iron skillet over medium heat. Remove the steaks from the marinade and pat dry. DO NOT discard the marinade. Season both sides of the steak with freshly cracked black pepper.

Add 1 tablespoon of oil to coat the bottom of your skillet. Place the steaks in the skillet and brown them 3 minutes on each side. Reduce heat to medium low and cook the steaks for an additional 5-7 minutes, flipping them every minute or so until the desired degree of doneness is reached. I like to cook mine to an internal temperature of 125 degrees F which yields a medium-rare steak after the meat has rested.

Remove the steaks from the heat and transfer them to a plate. Cover the plate loosely with foil and allow the steaks to rest for 15 minutes. This will give you time to work on the mushrooms and sauce!

Transfer the marinade to a small saucepan. Bring to a boil over medium high heat and boil for 2 minutes. Reduce the heat to medium-low and continue to cook the sauce at a robust simmer for 7-8 minutes until it becomes thick and syrupy. Turn off the heat and leave the sauce on the warm stovetop until ready to serve.
For the sauce:
Transfer the marinade to a small saucepan. Bring to a boil over medium high heat and boil for 2 minutes. Reduce the heat to medium-low and continue to cook the sauce at a robust simmer for 7-8 minutes until it becomes thick and syrupy. Turn off the heat and leave the sauce on the warm stovetop until ready to serve.
For the mushrooms:
Return the skillet to medium heat. Place 1 tablespoon of oil in the skillet. Add the mushrooms to the pan and spread them out as evenly as possible. Brown the mushrooms undisturbed for 3 minutes. Add salt and pepper to taste and sauté for another 3 minutes, stirring often. Add the thyme and garlic and cook for another minute. Turn off the heat and add the butter, tossing to coat the mushrooms. Keep warm until ready to serve.
To serve:
Serve with steaks with the sauce and mushrooms spooned over top. If you like, you may slice the steak against the grain into thin pieces before topping with sauce and mushrooms. Enjoy your masterpiece!
Serving:
1
Serving
|
Calories:
470
kcal
|
Carbohydrates:
11.7
g
|
Protein:
49.7
g
|
Fat:
22
g
|
Saturated Fat:
8.4
g
|
Cholesterol:
135
mg
|
Sodium:
673
mg
|
Fiber:
0.7
g
|
Sugar:
6
g