This recipe for Roasted Sesame Sweet Potatoes is a unique twist on the classic sweet potato. For this recipe, I cut the sweet potatoes into coins.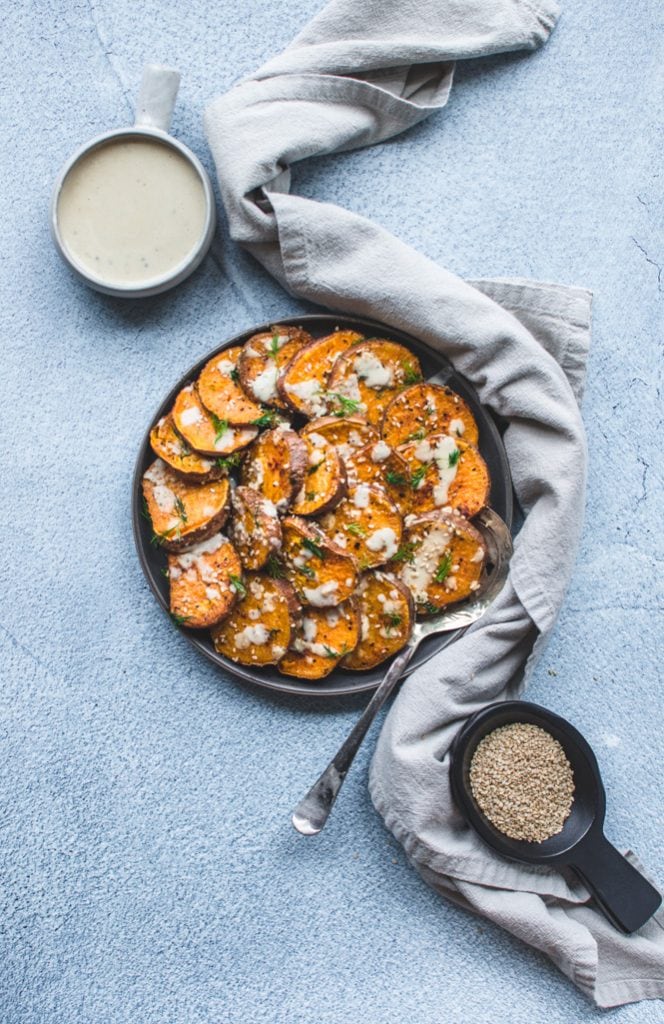 Introducing my new favorite way to cook sweet potatoes! This recipe for Roasted Sesame Sweet Potatoes is the third in series of recipes I've posted this week that pair exceptionally well together: 5 Ingredient Lemon Tahini Dressing and Everyday Springtime Salad. All you need to make a complete meal is a rotisserie chicken - or really, any type of grilled meat or crispy tofu would be perfect. These would even make a fun addition to a tapas menu!
I'm loving how the sweet potatoes look and taste when they are cut into coins or medallions.They cook so quickly and evenly - fluffy and tender on the inside with plenty of surface area for the caramelization that takes place during roasting. I've always been a fan of sweet potatoes and like them just about any way you can cook them. They have been a favorite veggie of mine since I was a little kid, and it's really nice to find a new way to cook them every now and then!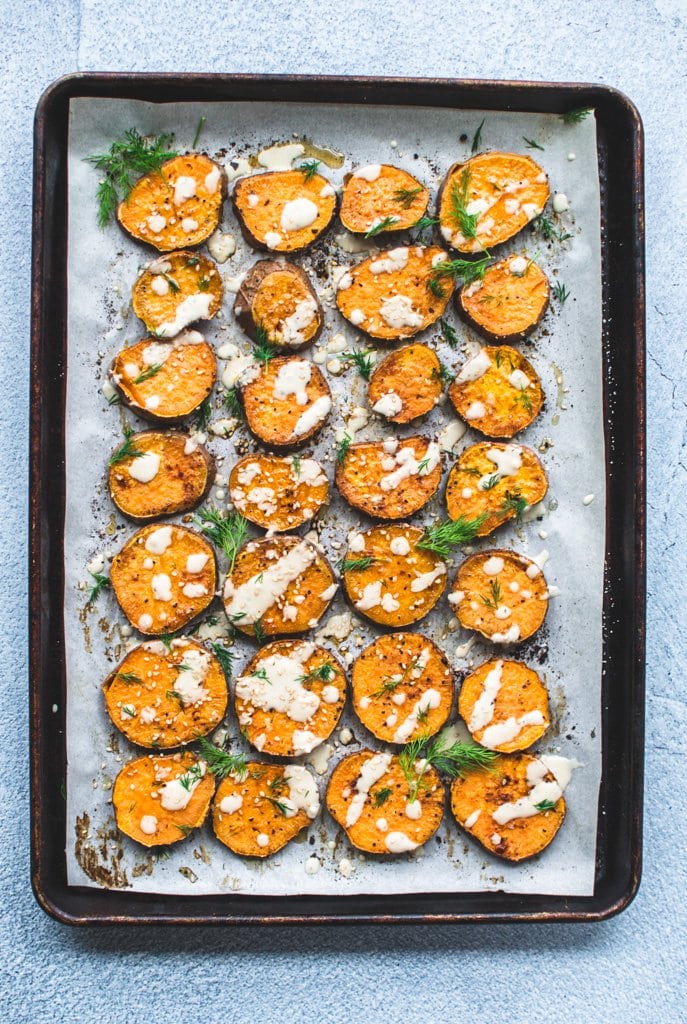 Let's run through making them together:
Ingredients
Sweet potatoes - any kind will do! I love to buy garnet yams whenever I can find them becuase the texture is so soft and buttery. It will help if you choose sweet potatoes that are similar in shape and size; making them easier to cut into uniform pieces that will cook at the same rate.
Sweet smoked paprika (or pimenton) - a rich, smokey, Spanish version of paprika that provides more depth of flavor to a dish than regular paprika without adding heat/spiciness.
Toasted sesame oil - this is considered a "finishing oil," as you add it after cooking for flavor. Unlike regular sesame oil that can be used to cook at high temperatures, toasted sesame oil has a lower smoke point and more flavor. The flavor can be muted by heat if you use it in the cooking process. We just want a light drizzle of the potatoes right after cooking.
Tahini dressing - my 5 ingredient lemon tahini dressing is a great subsitute for sour cream and tastes amazing on hot roasted potatoes!
Toasted sesame seeds - for crunch, color, and visual appeal.
Fresh dill - adds a clean, zippy brightness that contrasts nicely with the heavier, smokey flavors in the rest of the dish. And a pop of green looks so nice!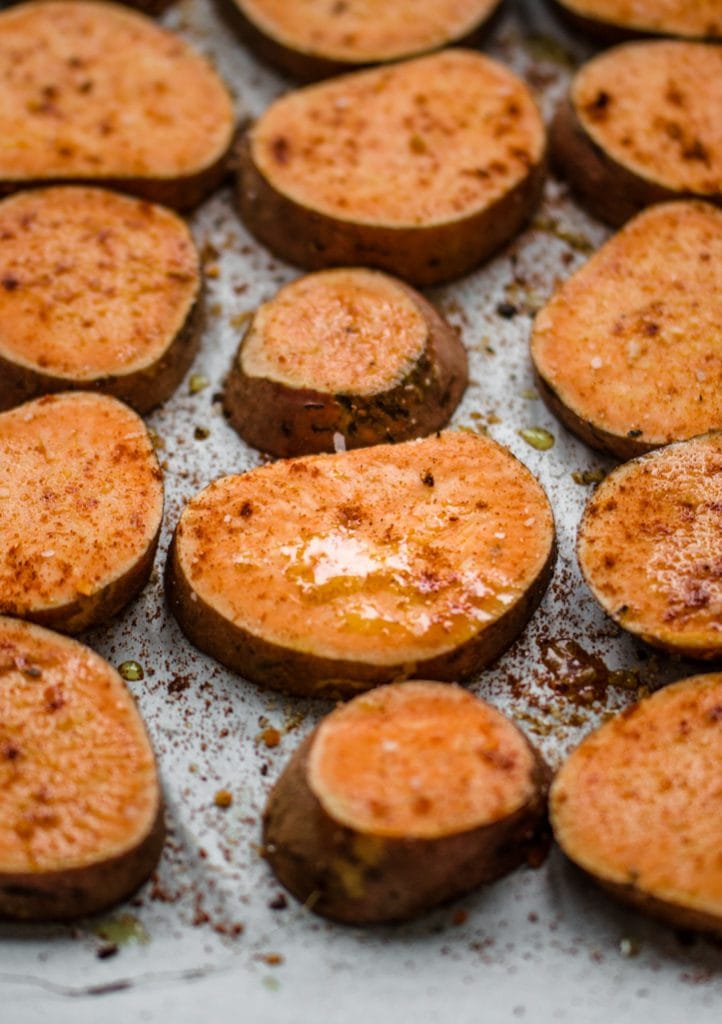 Pair with
As written, this recipe is gluten-free, vegan, and made with 100% real and wholesome ingredients, making it a great fit for a wide variety of healthy eating patterns!
Other small plates, or tapas - this recipe would be great on a tapas menu of small plates that you can pass around and share. I'd recommend including some olives, piquillo peppers, marinated feta, serrano ham, little garlic toasts, and maybe some roasted nuts!
The potatoes are delicious with this Everyday Springtime Salad. You will use the fresh dill and Lemon Tahini Dressing in both recipes, so it makes good use of the same ingredients.
These are delicious with grilled or roasted chicken, lamb or beef. They would be a great side with shawarma, gyros, or kabobs!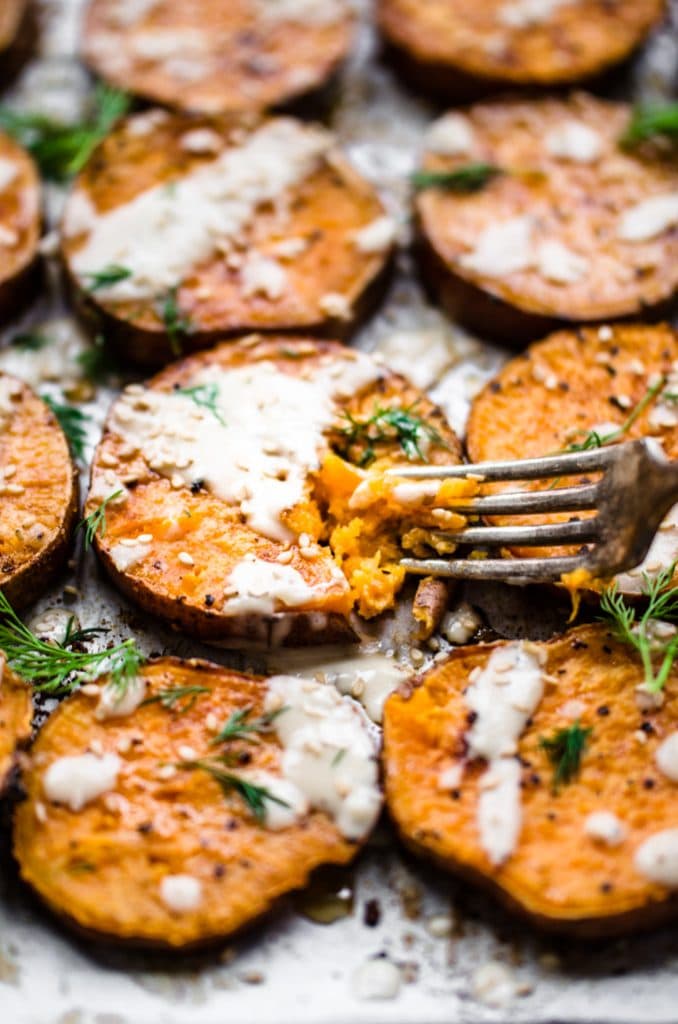 Modifications
Feel free to sub Yukon Gold or purple potatoes here if you aren't a fan of sweet potatoes.
Sub cilantro or fresh parsley for the dill if you like (although I'm not fond of either).
Are you ready to try these Roasted Sesame Sweet Potatoes? I'm so excited for you to try this recipe! Once you get the chance to make it, please let me know how it turns out for you!
Leave a comment and rate the recipe below. This will help me with the creation of future recipes!
I'd also love to feature your creation in my weekly newsletter, so you can upload a photo to Instagram with the tag @sweetcayenne5 to be featured! Quick and easy recipe videos are available on my YouTube channel, and you will find lots of menu inspiration on my Pinterest boards.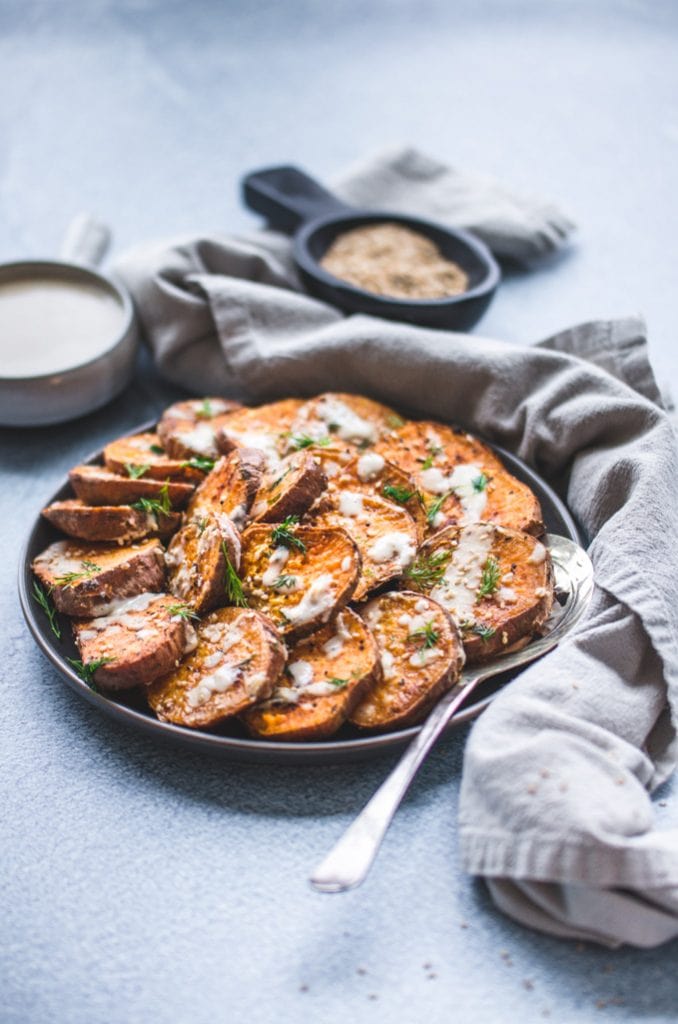 Recipe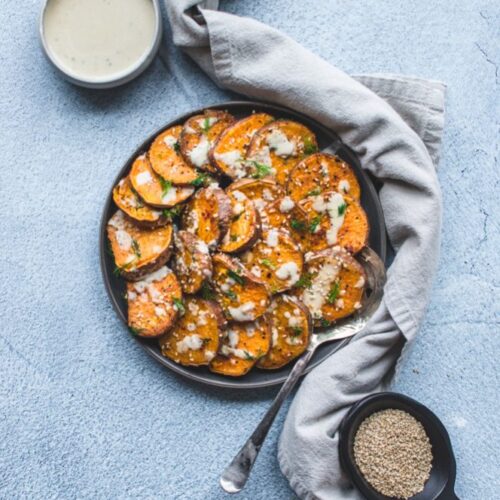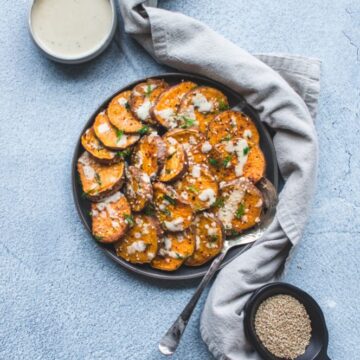 Sesame Roasted Sweet Potatoes
Sliced sweet potato coins seasoned with sesame and roasted. Gluten Free | Vegan
Print
Pin
Rate
Instructions
Preheat oven to 425℉. Line a baking sheet with parchment paper. Place the cut sweet potatoes on the pan. Drizzle one side of the potatoes with half the oil and sprinkle on half of the paprika, salt and pepper. Flip the potatoes over and drizzle/sprinkle with the remainder of oil and seasonings.

Roast the potatoes for 25-30 minutes until tender when sliced with a fork.

Remove the potatoes from oven and drizzle with the sesame oil and ¼ cup of tahini dressing. Sprinkle the sesame seeds and dill on top. Serve hot and enjoy!
Serving:
1
cup
|
Calories:
177
kcal
|
Carbohydrates:
29.5
g
|
Protein:
2.5
g
|
Fat:
6.1
g
|
Saturated Fat:
0.9
g
|
Sodium:
403
mg
|
Potassium:
855
mg
|
Fiber:
4.9
g
|
Sugar:
0.6
g
|
Calcium:
30
mg
|
Iron:
1.3
mg
Pin this, pretty please!