This Tuscan Roasted Pork Tenderloin with Blistered Tomatoes is an easy pork tenderloin recipe that is cooked in the oven with a flavorful Italian-inspired marinade. The pork tenderloin comes out incredibly tender and juicy every time!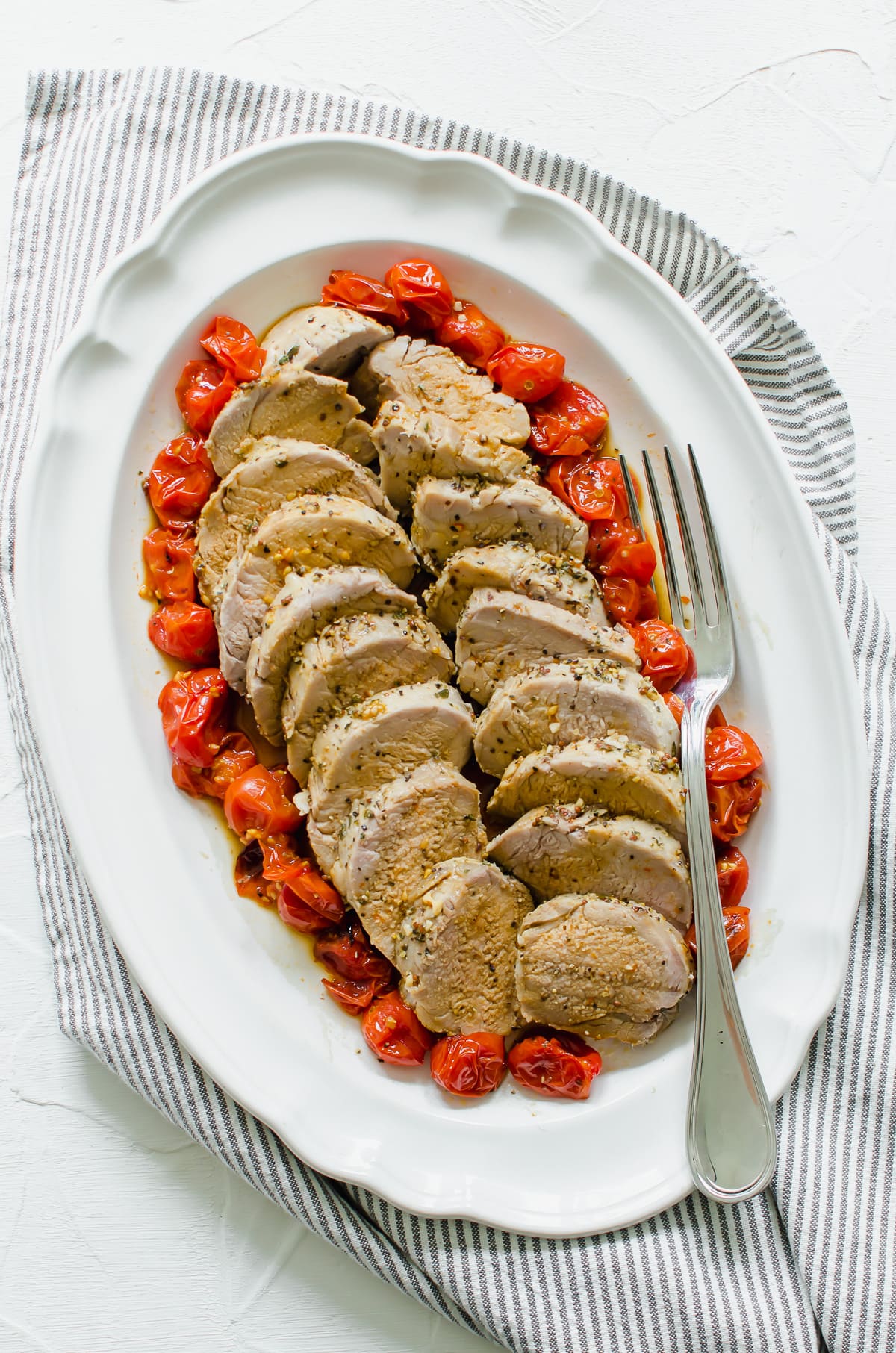 Jump to:
About the recipe
Ciao! I'm so excited to be sharing this recipe with you from Italy (see what I'm up to on Instagram)! I put it together before I left so that I could share the flavors of one of my favorite dishes from the Mercato Centrale in Florence: Tuscan-roasted pork! I ordered this several times during my last trip to Italy and loved it so much that I created my own version to make at home.
To roast the pork tenderloin, we start off with a simple marinade of fresh herbs, garlic, olive oil, mustard, and some sweet sherry cooking wine. Pork LOVES mustard as a flavor enhancer of the meat, the wine helps for flavor and tenderization, and the aromatics from the herbs and garlic make the flavor of the dish really come alive.
You can marinate the pork for as little as one hour, but you can also marinate it all day while you are working and it's ready to go once you get home for dinner. I like to roast the pork alongside some juicy cherry tomatoes on the vine - this is what they served with the pork in Florence in addition to the most delicious roasted potatoes. Let's make some dinner!
Video
Ingredients
Two small-medium pork tenderloins
Cherry tomatoes on the vine
Aromatics: fresh thyme, rosemary, and garlic
Pantry staples: good olive oil, sherry or white wine, Dijon mustard, coarse Kosher salt and freshly-cracked black pepper
Instructions
Step 1: Mix all the ingredients for your marinade together in a bowl. Trim an excess fat or silver skin off of the pork tenderloins and pat them dry.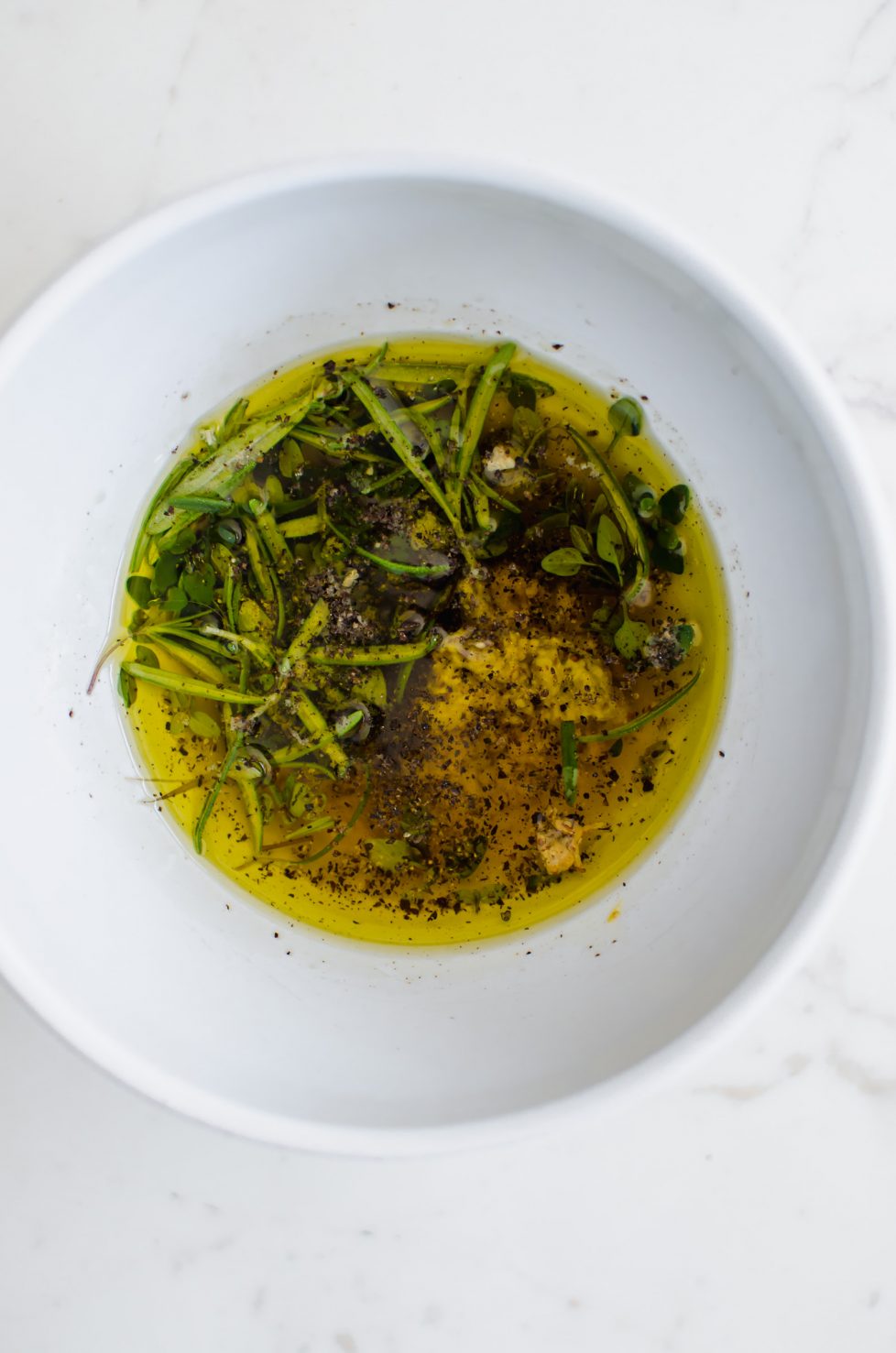 Step 2: Add the pork tenderloin to a zip-top bag or leak-proof container. Pour the marinade on top. Zip the bag shut, then massage the marinade into the tenderloins for a minute or so. Marinate for 1 hour and up to eight hours.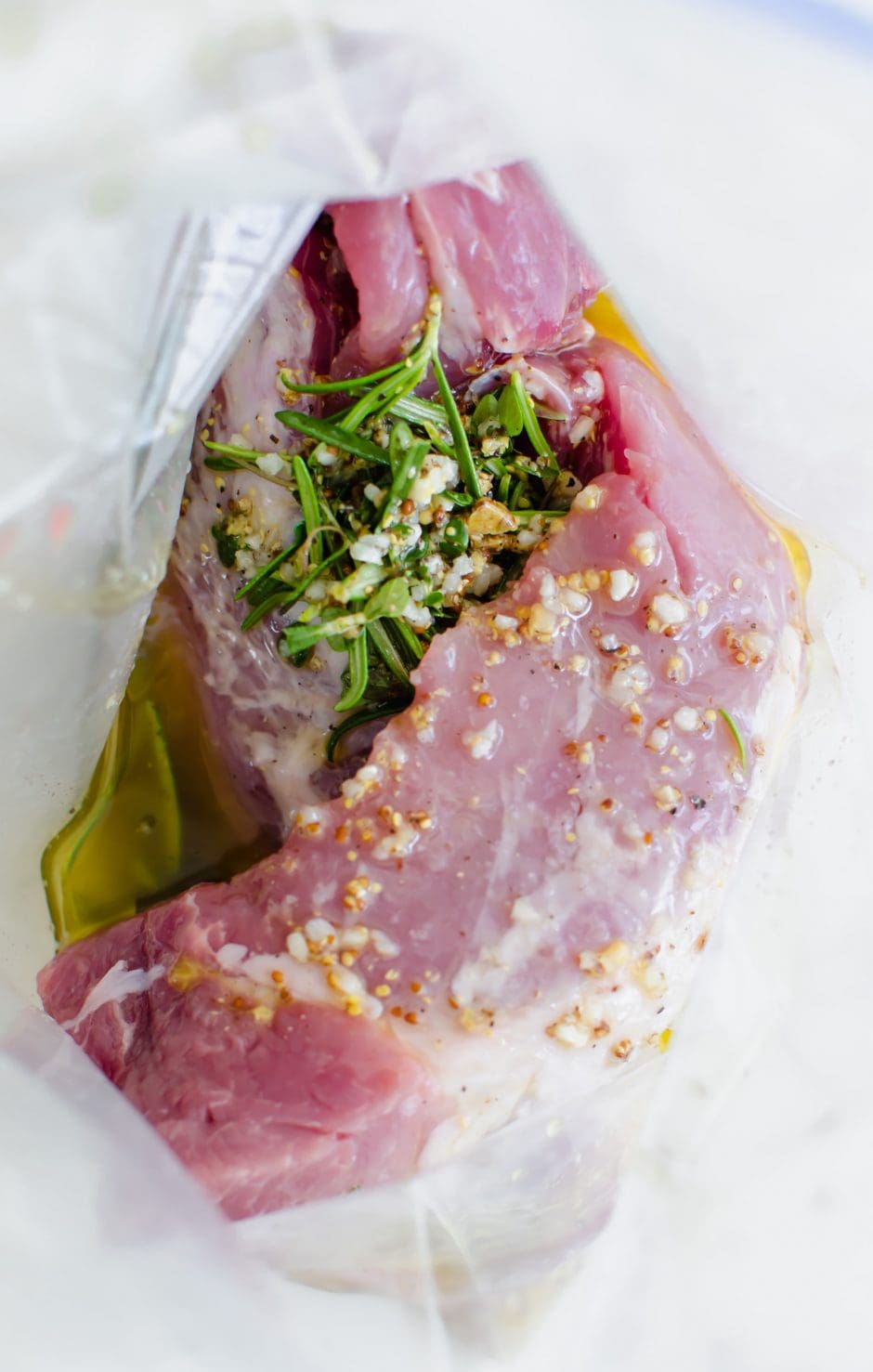 Step 3: Roast the pork tenderloins and tomatoes on a baking sheet at 450°F for 25-30 minutes until the internal temperature of the pork reads 143-145°F. Cover the pork with foil and let it rest for 8-10 minutes before slicing and serving with the tomatoes and any pan juices.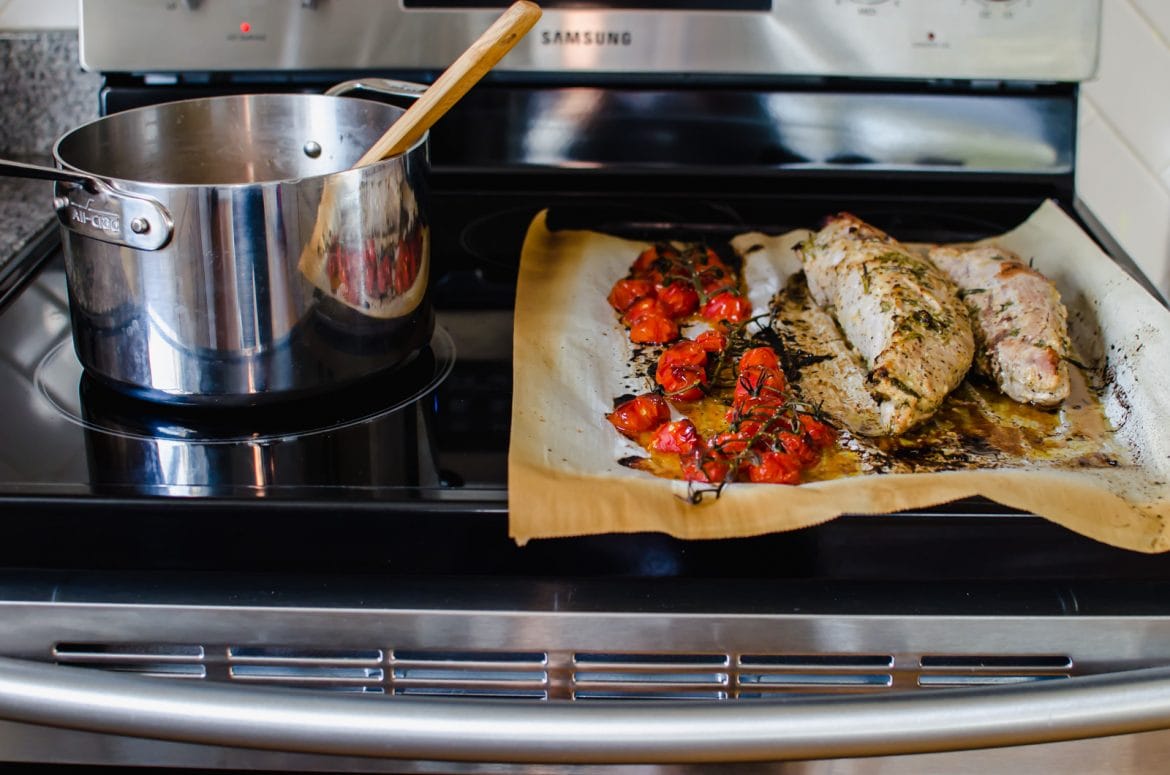 Top tips
Below are some of my best tips for making this roasted pork tenderloin, as well as some answers to commonly asked questions!
What temperature should I cook pork tenderloin?
Since pork tenderloin is lean with very little connective tissue, it is best to cook it with dry heat methods, such as in the oven or on the grill, at higher temperatures. A pork tenderloin only needs to reach an internal temperature of 145°F for doneness, according to the USDA, so it's best to cook it quickly at a high temperature like 425-450°F.
Do you cover pork tenderloin when roasting?
Pork tenderloin does not need to be covered when roasting at high temperatures, as this will prevent a nice golden brown exterior from forming. Covering the tenderloin while roasting will steam it, and I prefer a more crispy exterior.
How do you keep pork tenderloin from drying out?
There are a few ways to make juicy pork tenderloin and keep it from drying out. Marinating pork tenderloin will go a long way in keeping it juicy, making it tender, and flavoring it from the inside out. Next, you want to keep a close eye on the temperature while it is roasting. I like to use an instant-read thermometer and start checkin the internal temperature after cooking for 20 minutes.
Is pork tenderloin healthy?
Pork tenderloin is the leanest cut of meat from a pig, and it is a fantastic lower-calorie source of high quality protein. It's an excellent source of thiamin, niacin, vitamin B-6, and protein and a good source of zinc, riboflavin, and potassium, according to the Pork Checkoff.
Serving suggestions
You will find that there are SO many things you can do with the leftovers of this Tuscan Roasted Pork - we love to use it for the following:
Chopped into cubes and used as a pizza topping
Sliced thinly to make grilled panini sandwiches
Diced to throw on top of a big Italian salad
Rolled in a whole grain wrap with lettuces, pesto, feta cheese, and roasted veggies
For a simple side addition to the pork and tomatoes, this Orzo Cacio e Pepe is so perfect with this recipe. You can have it ready in exactly the time that it takes to roast the pork and tomatoes in the oven. These Roasted Potatoes would also make for a delicious side dish.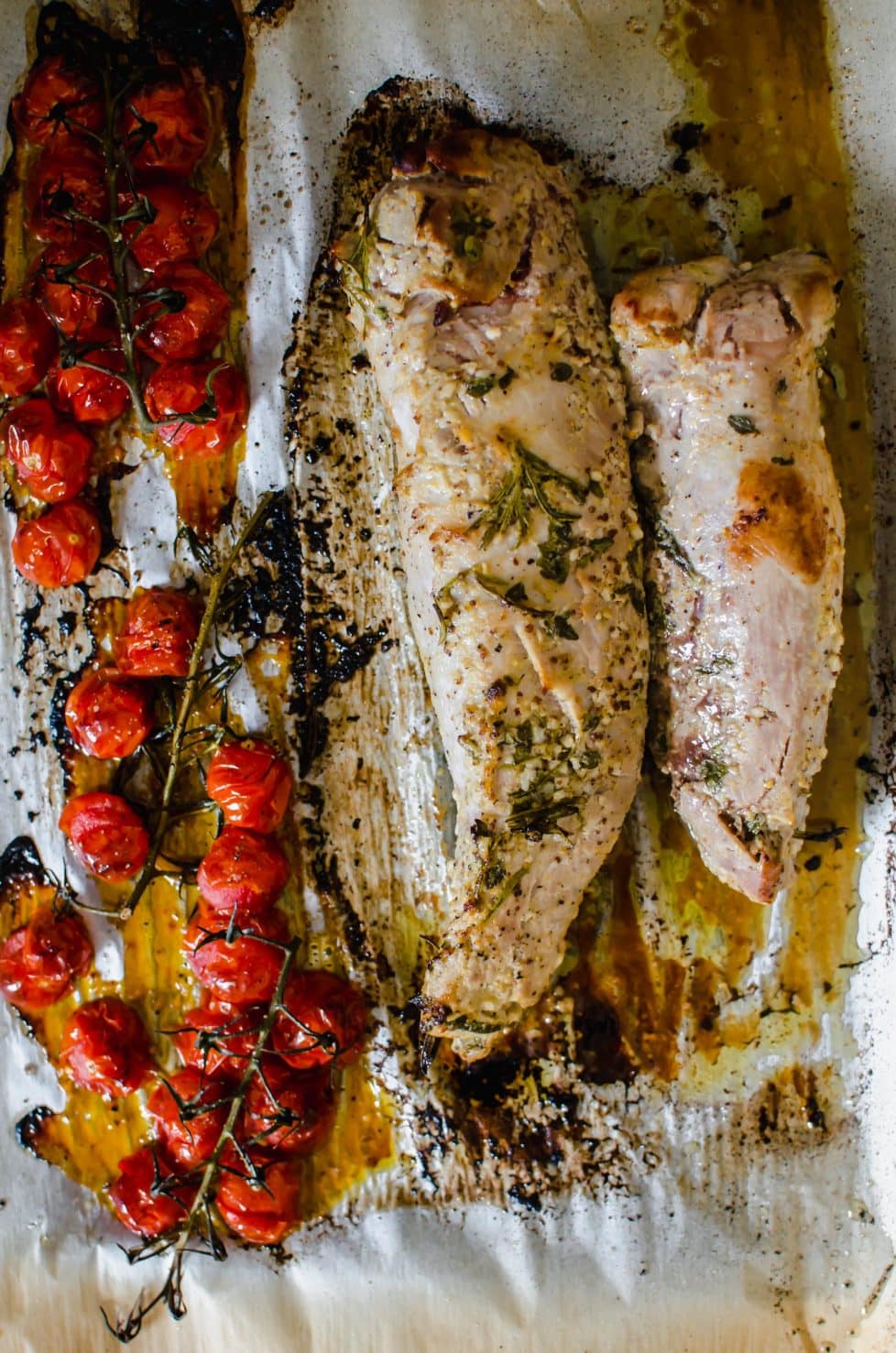 Similar recipes
If you are in search of more healthy and easy Italian-inspired recipes, be sure to check out my Roasted Cauliflower Parmesan, Oven-Fried Potato Chip Chicken with Bruschetta Topping, and Pizza Baked Gnocchi!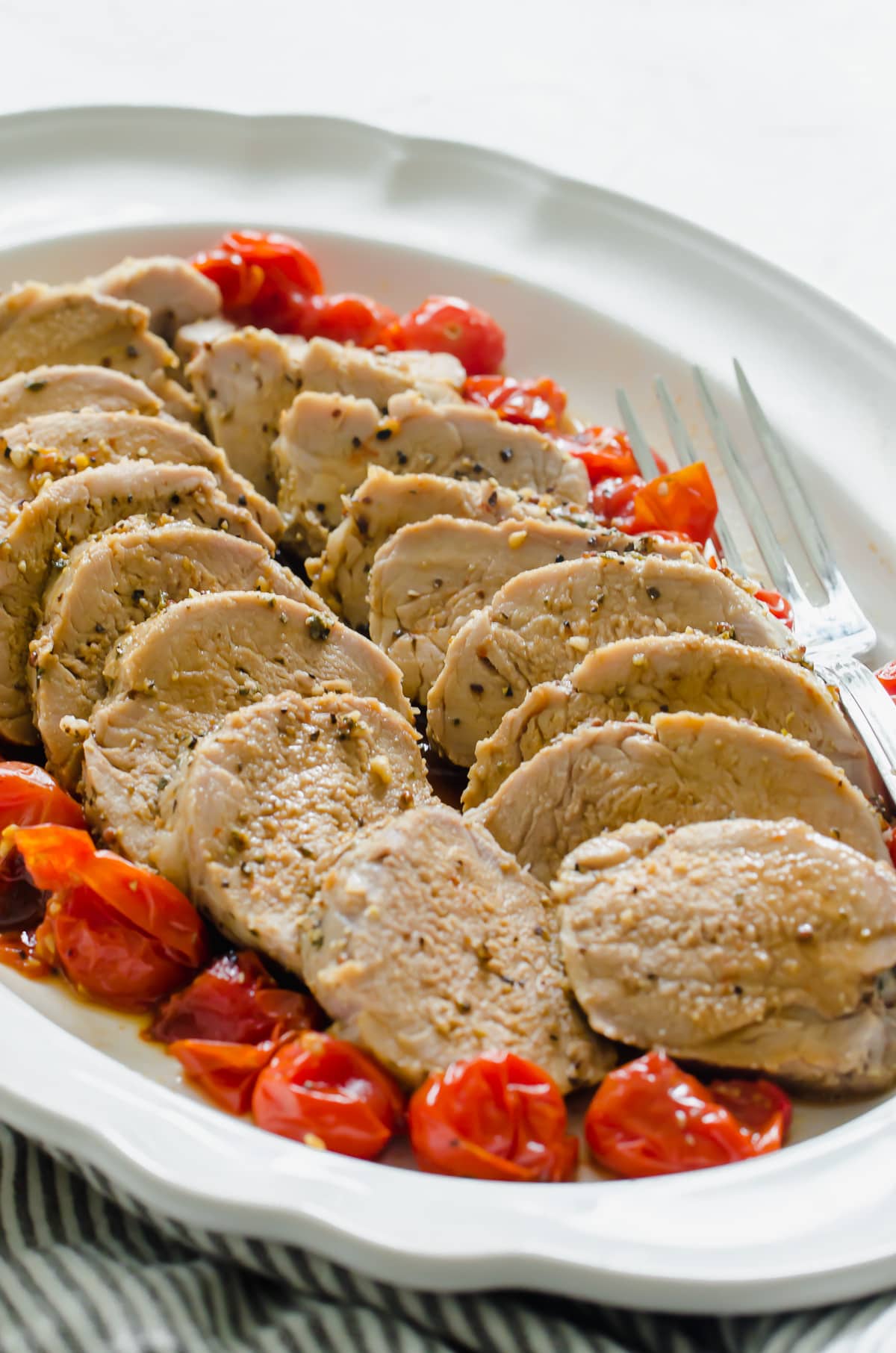 Are you ready to make this Tuscan Roasted Pork Tenderloin? I'm so excited for you to try this recipe. Once you get the chance to make it, please let me know how it turns out for you!
Leave a comment and rate the recipe below. This will help me with the creation of future recipes!
I'd also love to feature your creation in my weekly newsletter, so you can upload a photo to Instagram with the tag @sweetcayenne5 to be featured! Quick and easy recipe videos are available on my YouTube channel, and lots of menu inspiration on my Pinterest boards.
Recipe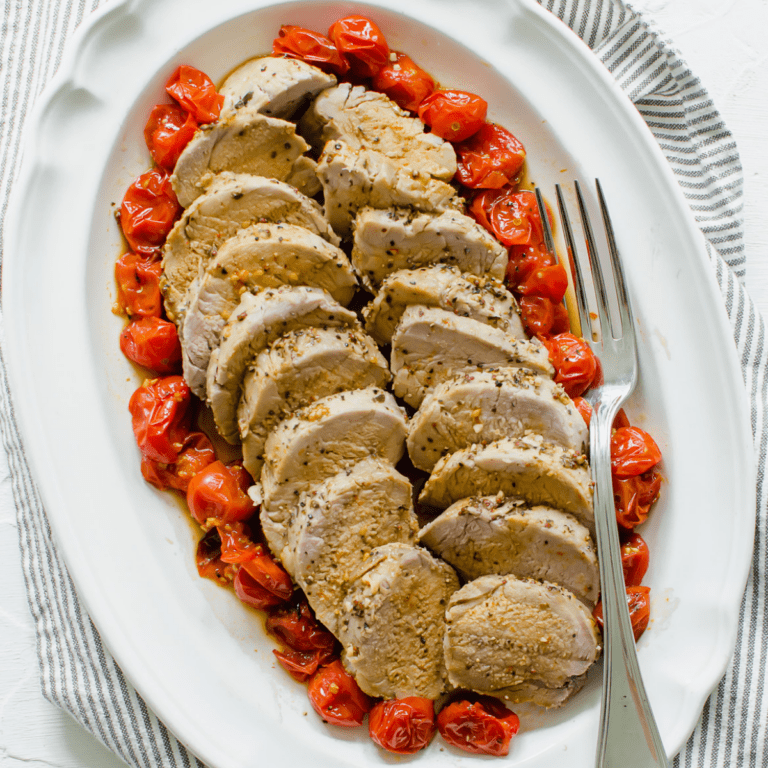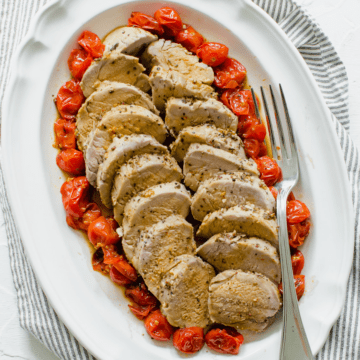 Tuscan Roasted Pork Tenderloin with Blistered Tomatoes
This easy recipe for Tuscan Roasted Pork Tenderloin with Blistered Tomatoes is a healthy Italian dinner that is quick enough to make on a weeknight!
Print
Pin
Rate
Ingredients
1

tablespoon

fresh thyme,

finely chopped (or 1 teaspoon dried)

2

teaspoons

fresh rosemary,

finely chopped (or ½ teaspoon dried)

¼

cup

cooking sherry (substitute with white wine)

¼

cup

olive oil, plus more for tomatoes

2

teaspoons

minced garlic (about 3 cloves)

1

tablespoon

Dijon mustard

2

teaspoons

Kosher salt

1

teaspoon

freshly cracked pepper

2

pounds

pork tenderloin

6

stems

cherry tomatoes on the vine

Optional: Aged balsamic vinegar of Modena
Instructions
In a gallon size zipper bag, combine the thyme, rosemary, sherry, olive oil, garlic, mustard, salt and pepper. Add the pork tenderloin, close the zipper bag tightly. Place your hands on the outside of the zipper bag and gently massage the marinade into the pork. Refrigerate for a minimum of an hour and up to eight hours.

Preheat the oven to 450℉. Line a baking sheet with parchment paper and set aside.

Place the vines of tomatoes on the baking sheet. Drizzle lightly with oil, salt, and pepper, tossing to combine.

Use a pair of tongs to remove the pork from the marinade bag. Place the pork on the prepared baking sheet.

Roast the pork and tomatoes for 25-30 minutes or until a thermometer inserted into the center of the pork reads 145℉ (it will be slightly pink inside). Check the temperature of the pork at 20 minutes, and remove the tomatoes at this point if they are becoming too mushy.

Remove from oven, cover the pan loosely with foil, and let the pork rest for 8-10 minutes before slicing. Slice the pork and drizzle the tops of tomatoes with the aged balsamic vinegar. Serve immediately.
Serving:
1
serving
|
Calories:
209
kcal
|
Carbohydrates:
2.6
g
|
Protein:
26.8
g
|
Fat:
9.4
g
|
Saturated Fat:
2.1
g
|
Cholesterol:
74
mg
|
Sodium:
327
mg
|
Potassium:
536
mg
|
Fiber:
0.8
g
|
Sugar:
1
g
|
Calcium:
22
mg
|
Iron:
536
mg