Say hello to one of my new favorite Italian weeknight dinners: Roasted Cauliflower Parmesan. We're taking Pinterest's favorite vegetables (for 2018 anyway) and baking it up into a crispy, cheesy, saucy situation that you, your friends, and family will just swoon over!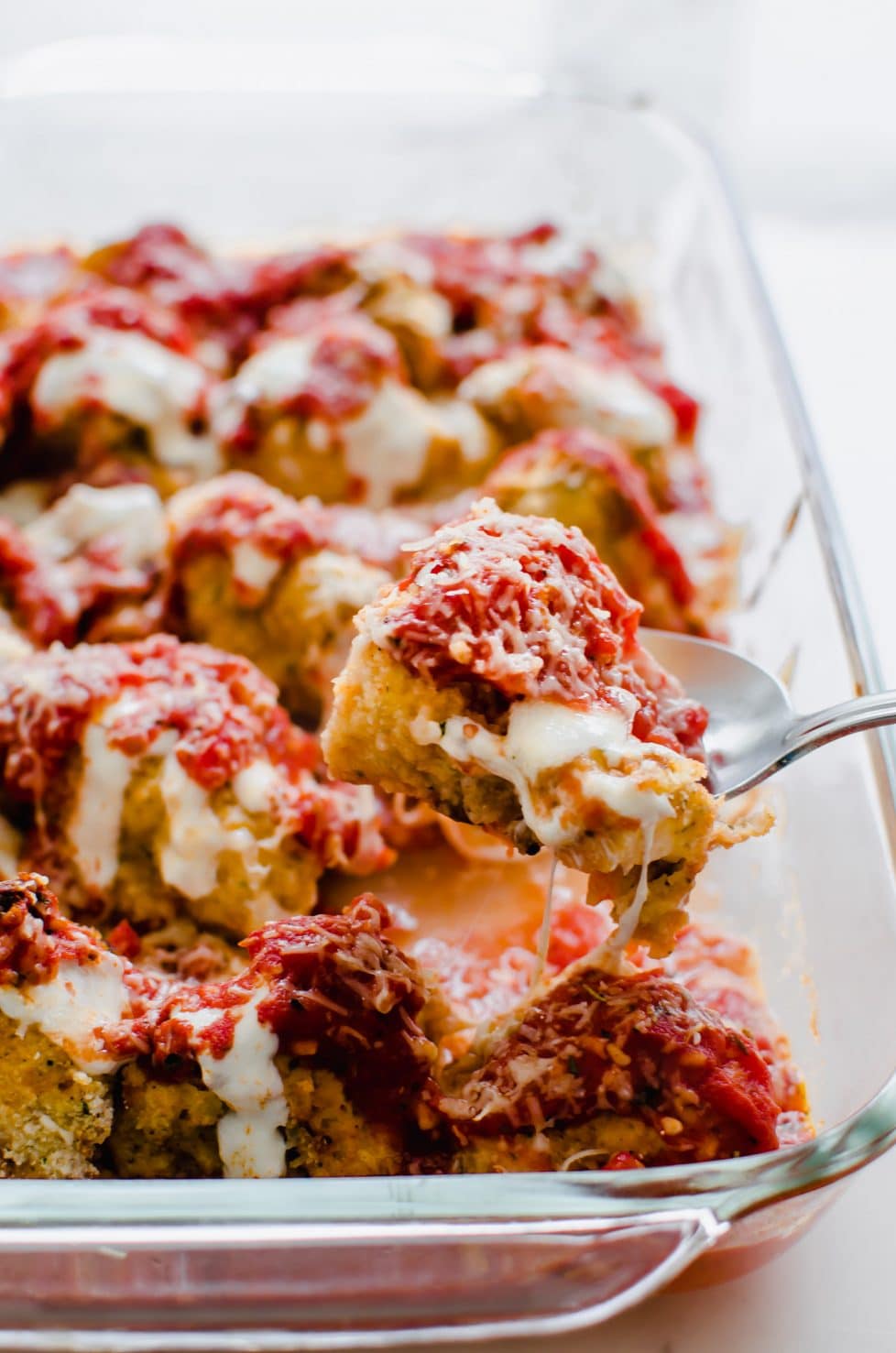 Jump to:
Video
Can we all just sing the praises of cauliflower for a minute? When I was a kid, I knew cauliflower in the form of raw florets on bland vegetable platters and frozen florets in the "California medley" of mixed vegetables. It wasn't my fav, and I found it to be rather bland. Then my mom went on the South Beach Diet while I was in high school and cauliflower mashed potatoes came onto the scene.....I wasn't a fan.
Fast forward to era 2014-now, and cauliflower has been transformed into a vehicle for flavors and textures that represent the trendiest dishes on the food scene. We are now breading cauliflower and then frying or roasting it before smothering it in our favorite buffalo or General Tso's sauce. It's being "riced" and served as a rice alternative in our favorite Asian dishes. Creamy cauliflower sauce is a thing that can be loaded with cheese and still have less fat/calories than a traditional bechamel sauce. We are roasting it into crispy pieces and serving it as a pizza topping. And it's all delicious. And I don't think the love of cauliflower will die out anytime soon!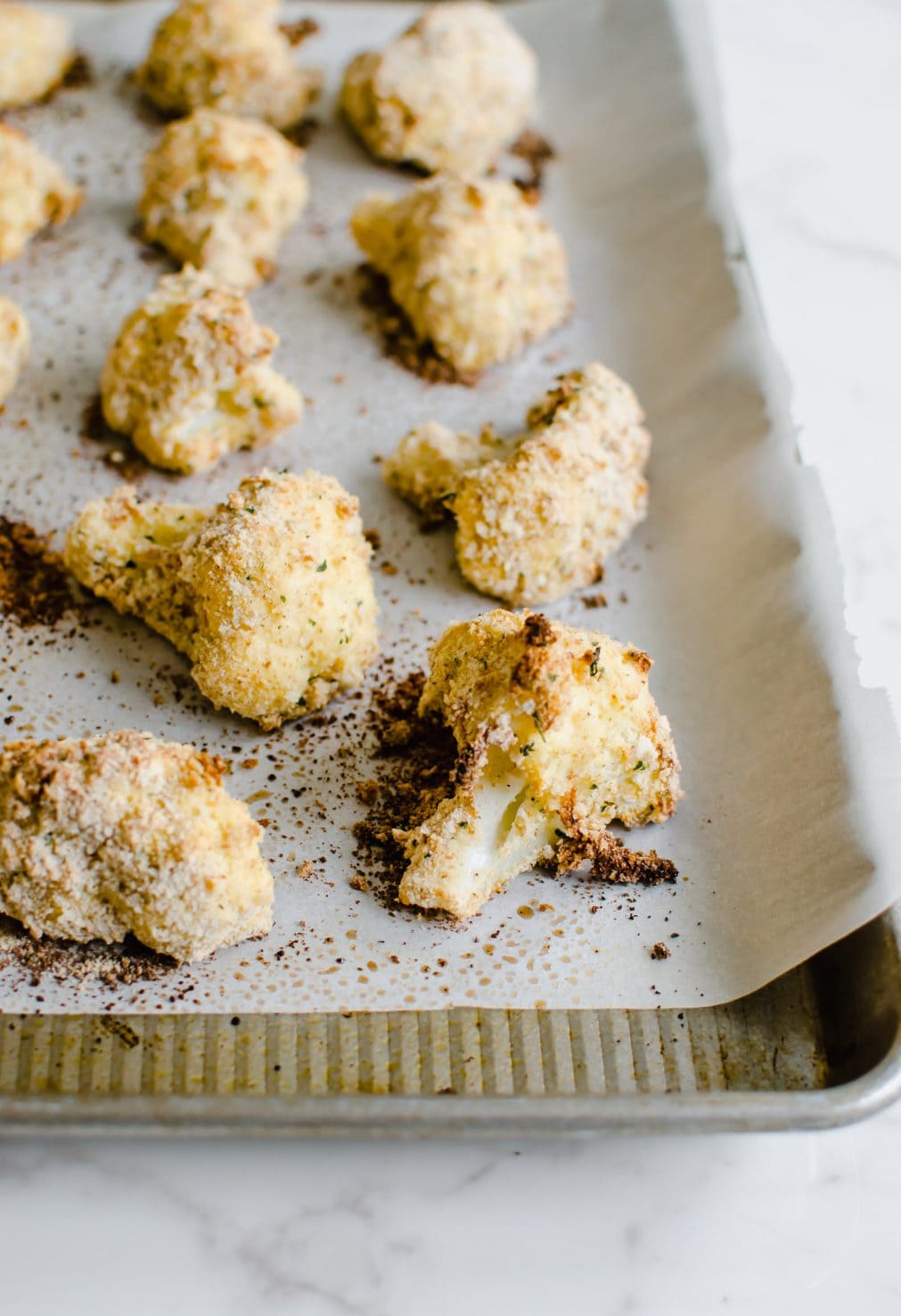 Instructions
This Roasted Cauliflower Parmesan is a dish that's really easy and definitely fun to put together. The combination of crispy cauliflower, a flavorful sauce with San Marzano tomatoes, fresh mozzarella cheese that melts perfectly, and nutty Parmesan is so dreamy and satisfying! I would definitely let friends or kids get involved with making this recipe because there's really a fun task for everyone! You could delegate:
Grating the cheese
Chopping the cauliflower into florets
Breading/dipping the florets
"Smushing" the tomatoes into sauce
Layering the crispy cauliflower into the baking dish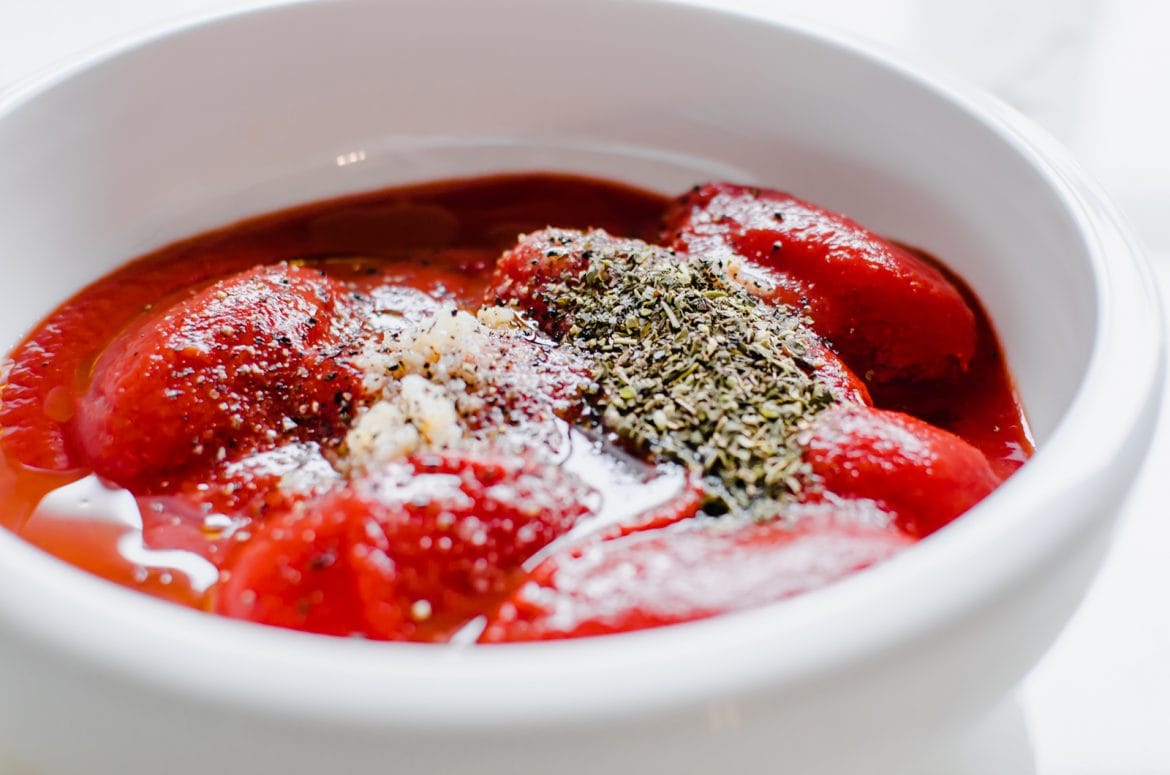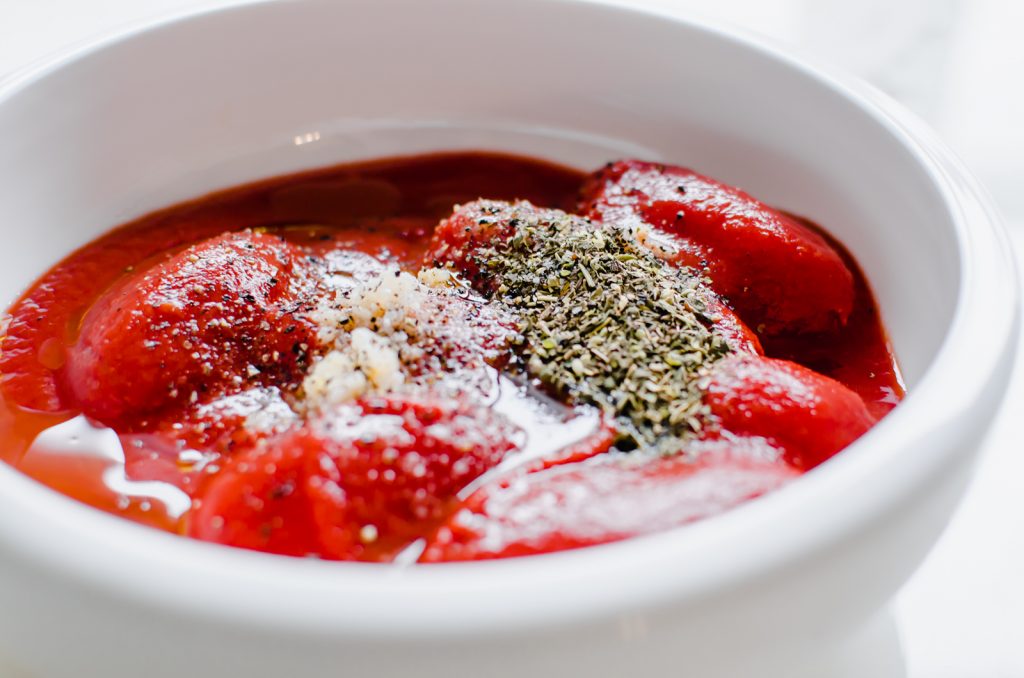 Because, why not? Cooking should be fun. And the steps in this recipe are chill....you really don't have to worry about messing anything up! I really challenge you to make cooking this dish a group affair - maybe for a supper club, having dinner with a small group, or teaching your kids a new kitchen skill! And if you're cooking it solo (like often do!) put your favorite podcast on "play" and have a moment to yourself.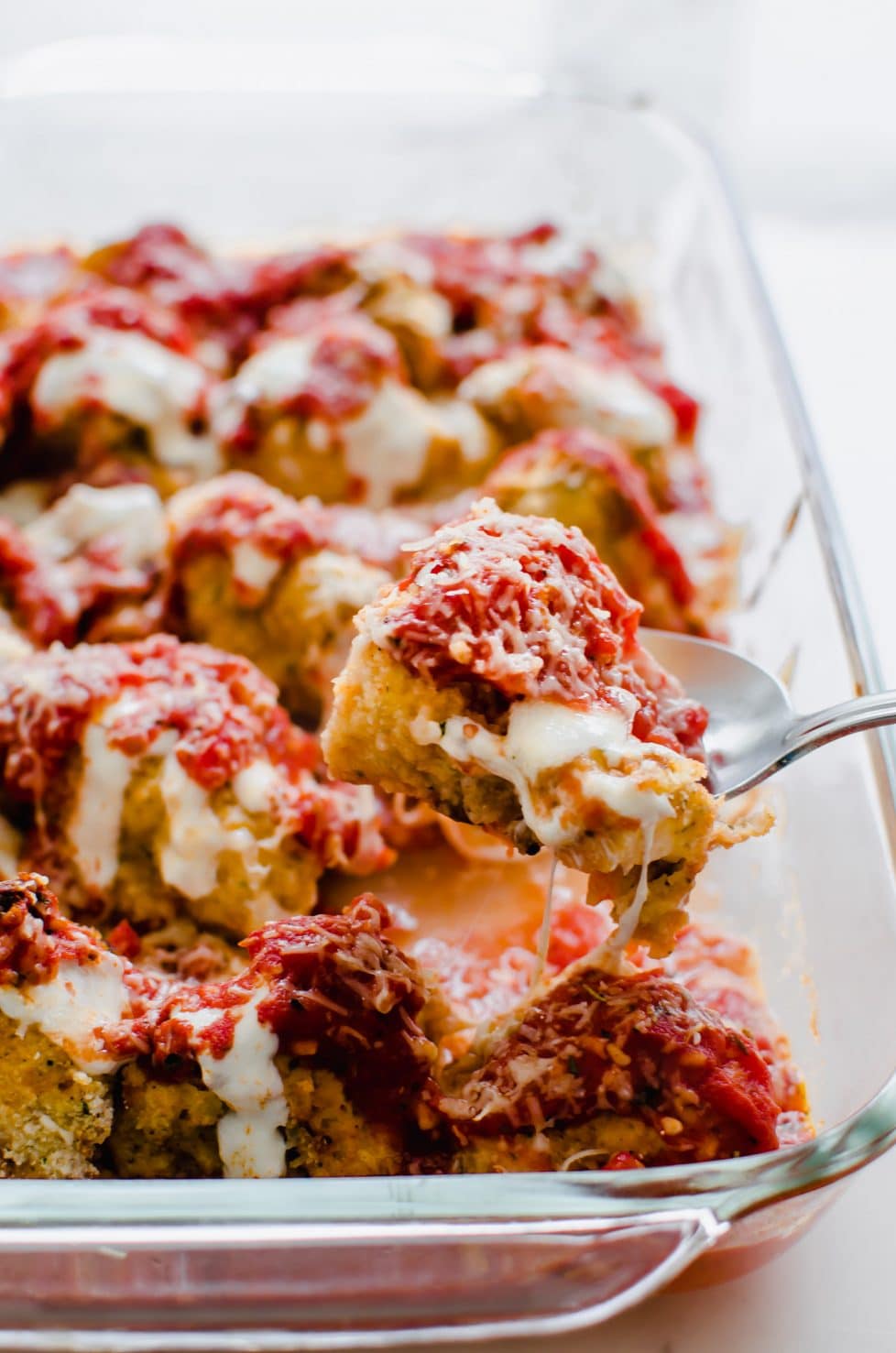 If I haven't convinced you to try this out yet, let me go ahead and say that the leftovers of this Roasted Cauliflower Parmesan are ON POINT. I just spray a little ramekin with cooking spray, spoon in the amount of leftovers that I want, and bake for about 20 minutes. The cauliflower will crisp up again, the cheese will melt, and you will have a delicious "round 2" meal.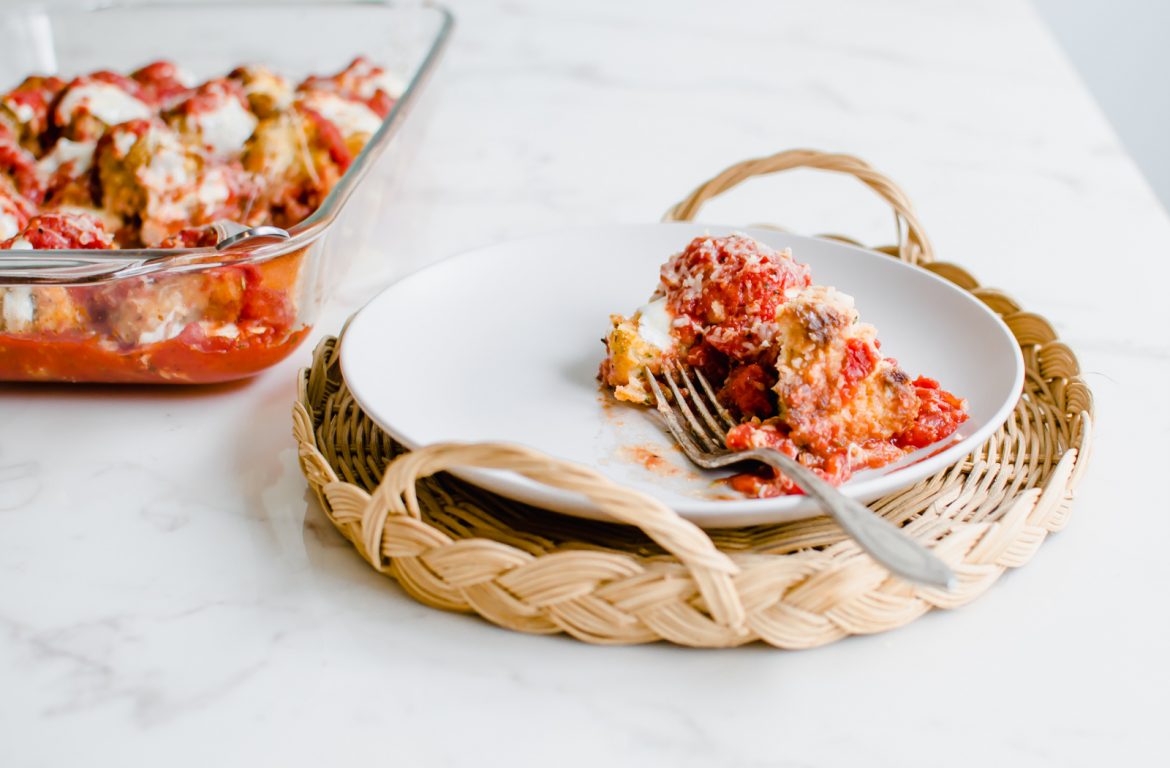 Similar recipes
If you like this recipe, I think you will really enjoy my Chopped Italian Kale Salad - it makes a great side dish for the Roasted Cauliflower Parm! This Orzo Cacio e Pepe is also a good Italian weeknight option. Bon appetit!
When you've been able to give this Roasted Cauliflower Parmesan a try, please let me know by leaving a comment! I love to hear your feedback and comments make my day.
This will help me with the creation of future recipes!
I'd also love to feature your creation in my weekly newsletter, so you can upload a photo to Instagram with the tag @sweetcayenne5 to be featured! Quick and easy recipe videos are available on my YouTube channel, and lots of menu inspiration on my Pinterest boards.
Recipe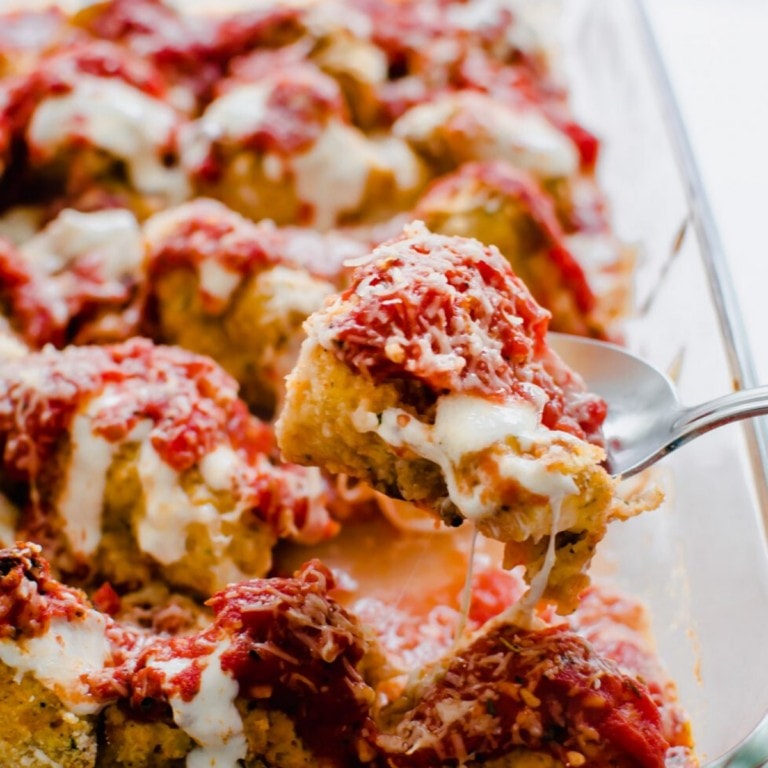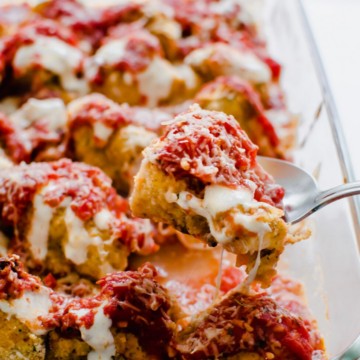 Roasted Cauliflower Parmesan
This easy Italian recipe for Roasted Cauliflower Parmesan is simple enough to make for a weeknight, low carb dinner but tastes special enough for a dinner party!
Print
Pin
Rate
Ingredients
4

cups

cauliflower florets

(1 medium cauliflower)

2

eggs,

lightly beaten

¾

cup

seasoned breadcrumbs

⅓

cup

Panko breadcrumbs

3

tablespoons

all-purpose flour

½

teaspoon

salt

Cooking spray

1

(28 ounce) can

San Marzano tomatoes

2

teaspoons

Italian seasoning

1

tablespoon

olive oil

1

teaspoon

minced garlic

½

teaspoon

salt

½

teaspoon

pepper

4

ounces

fresh mozzarella cheese,

torn into small pieces

½

cup

freshly grated Parmesan cheese
Instructions
Preheat oven to 400℉. Line a baking sheet with parchment paper and set aside.

Set up an area for breading the florets. You will need the cauliflower florets, a bowl with the beaten eggs, and a bowl with the seasoned breadcrumbs, Panko bread crumbs, flour, and salt combined in it, and the prepared baking sheet.

Dip each floret in the eggs, then in the breadcrumb mixture, and place it on the baking sheet. Repeat until all of the florets have been breaded. Lightly spray all of the florets with a coat of cooking spray.

Roast the cauliflower for 20-25 min until golden and crispy. Remove from oven and cool slightly.

While the cauliflower is cooking, make the tomato sauce. In a large bowl, combine the canned tomatoes (with juices), Italian seasoning, olive oil, garlic, salt, and pepper. Use a fork or clean hands to break apart the tomatoes into small pieces. For a smooth sauce, you can combine everything in a blender, if desired.

Prepare a 9x11'' casserole dish by spraying with cooking spray. Reduce oven heat to 375℉.

Place half of the tomato mixture in the bottom of the baking dish, followed by ½ of the Parmesan, all of the cauliflower florets, then the mozzarella, the remaining ½ of the tomato mixture, and topped with remaining ½ of the Parmesan cheese. Bake for 20-25 minutes until the sauce is bubbling and the cheese has melted. Serve hot!
Notes
Leftovers will keep up to 2 days and can be reheated in a baking dish (or individual servings in a ramekin) at 375℉ for 20-25 minutes until heated through and the cauliflower is crispy.
Pin this, pretty please!