This Oven-Fried Potato Chip Chicken with Bruschetta Topping is my new favorite chicken recipe! It is crispy and crunchy and hits in all the right ways. This easy recipe will leave your guests satisfied and surprised.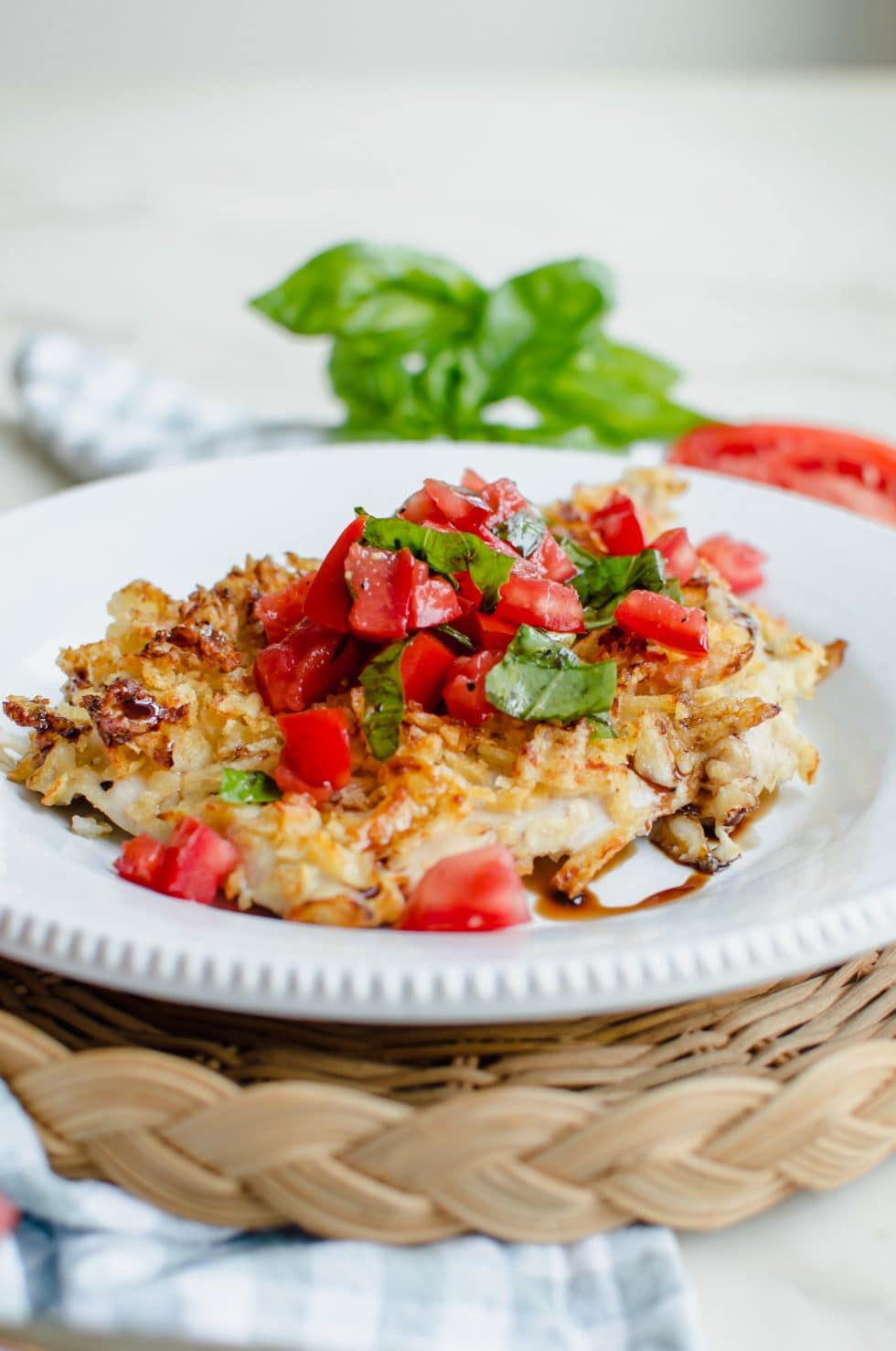 Jump to:
Let's just go ahead and get this out of the way: can we all agree that "oven-fried" potato chip chicken sounds WAY better than "baked" potato chip chicken? Because, to me, "baked" chicken usually means chicken that has a soggy outside and a rubbery, dry inside. And that is not this chicken. No, no, no. THIS chicken is crispy and golden on the outside, tender and juicy on the inside, and eating feels like you are being extra indulgent - like you would if you were eating real fried chicken. Except, you're not, and this recipe is actually pretty healthy. Health and wholesome, with a sprinkle of indulgence. That's what I like!
Video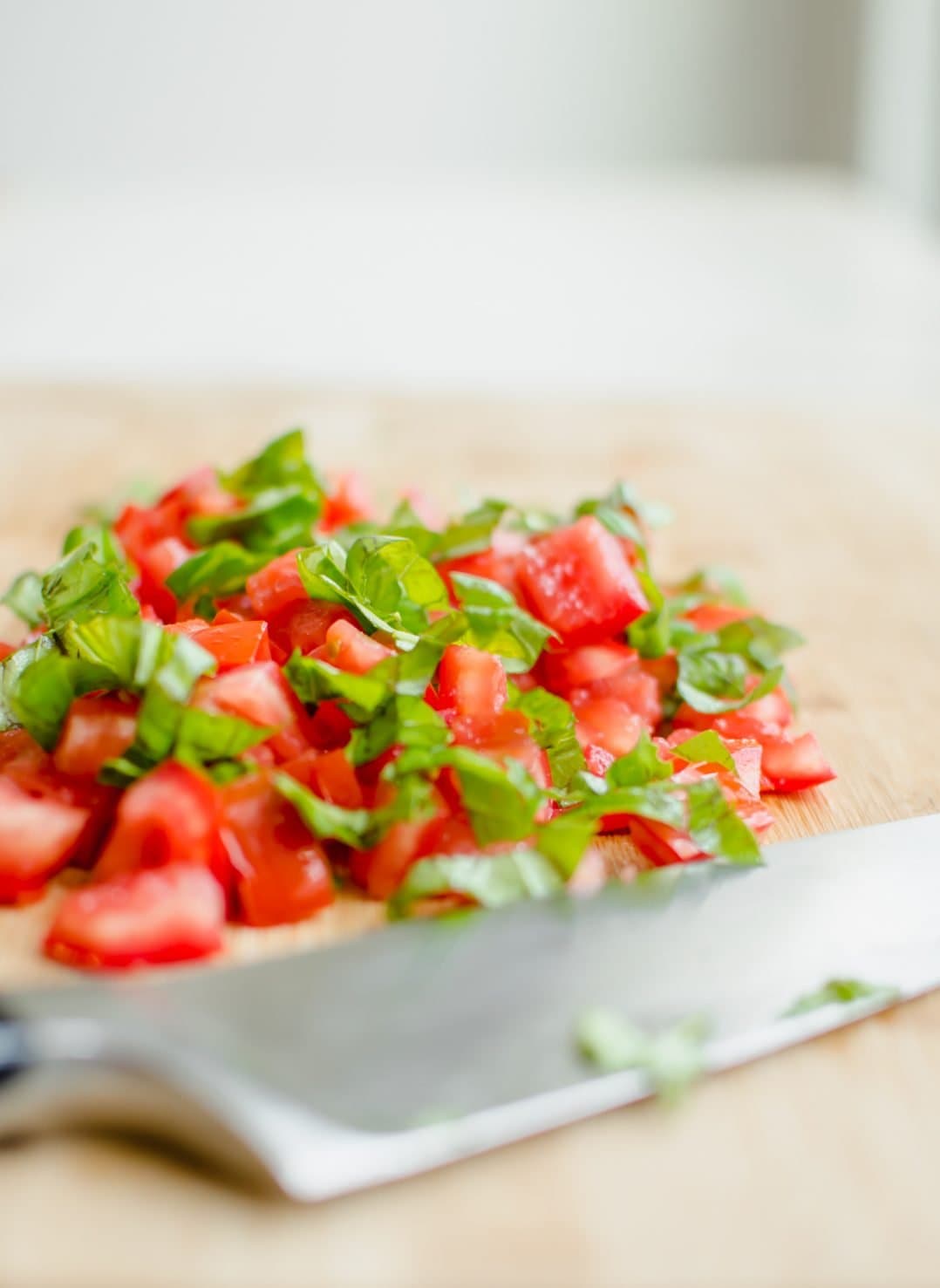 Instruction
The chicken - first of all, to get a nice piece of chicken that will cook evenly, be super tender, and stay juicy throughout, we need to pound it a bit. Not aggressively, just authoritatively. There is a difference! You want to just let the weight of the flat side of a meat mallet bounce off of the chicken in a springy motion that you control with your arm - being careful not to put a lot of your own weight or force into the movement. Of course, you can pay the extra $2-3 per pound and buy chicken cutlets and skip the pounding altogether. Your choice!
The chips - second of all, the most perfect and delicious chips for this recipe MUST be the Private Selection Balsamic Vinegar and Sea Salt chips from Kroger. This is THE ingredient that inspired this entire recipe, and I've been obsessed with these chips all summer long. I've always been a fan of the salt and vinegar potato chip flavor (on the rare occasion that I buy potato chips). But the balsamic vinegar in these chips lends the slightest hint of sweetness, so instead of just sour + salty, you get sweet + sour + salty, which is WAY more desirable and exciting, if you ask me.
The topping - there's no better topping to complement a balsamic-flavored chip then bruschetta, right? Juicy and flavorful late-summer tomatoes, tossed with a bright dose of fresh basil, good olive oil, and zesty garlic make the perfect topping for the chicken - I like to make extra topping so it serves as a side dish at the same time!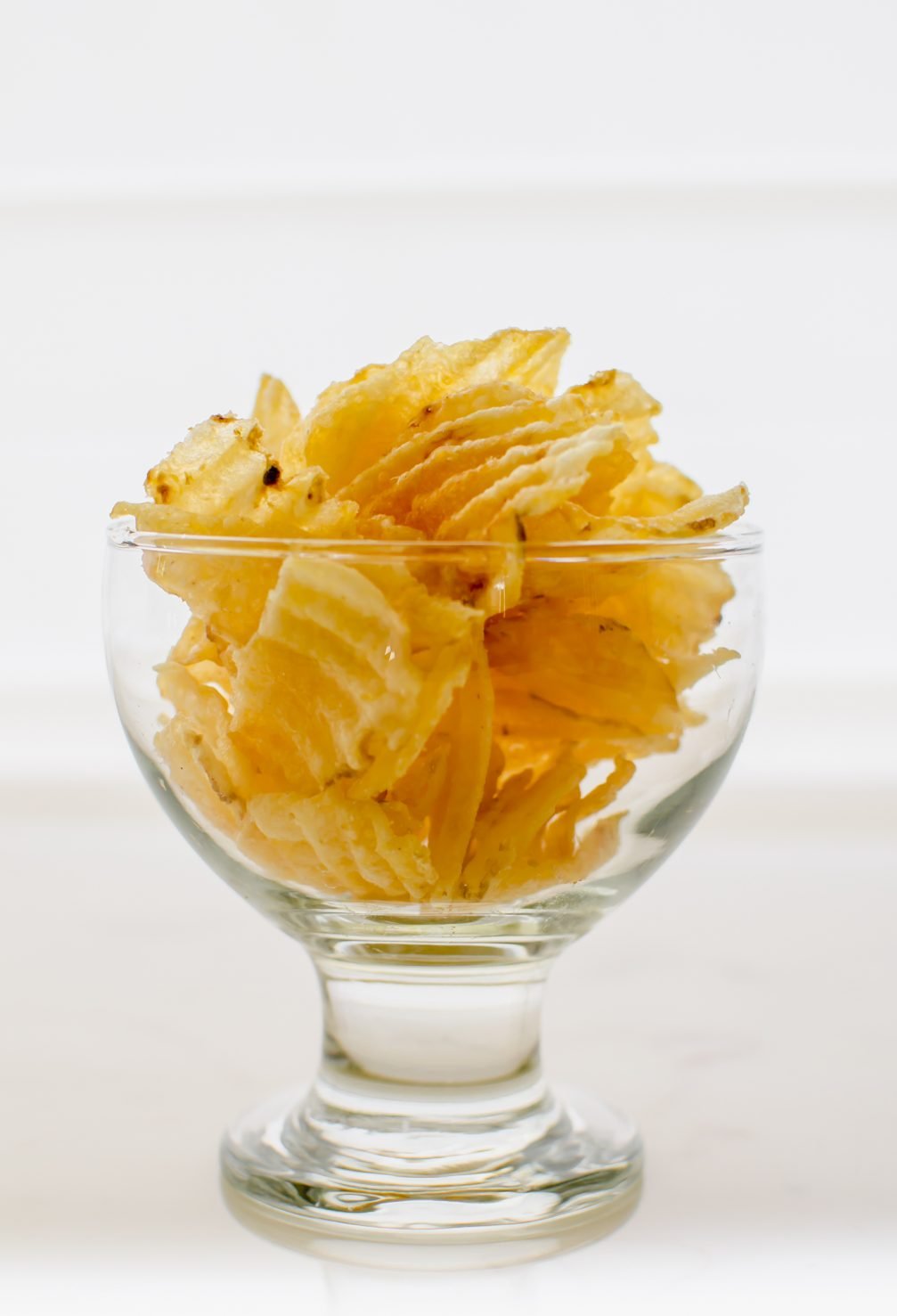 Serve with
On busy weeknights, Ryan and I will typically have this as a one-dish meal. I'll make extra bruschetta topping so we get a full serving of veggies, and we call it a square meal. But some people are into side dishes - I get it - so here's what I would recommend:
Some spiralized and quickly-sauteed zucchini noodles or roasted zucchini
Roasted spaghetti squash seasoned with olive oil and herbs
Roasted green beans on the same sheet pan as the chicken (they will take about 15 minutes to roast)
If you need extra carbs in the meal, I'd suggest serving the chicken on some whole wheat orzo pasta or some steamed quinoa.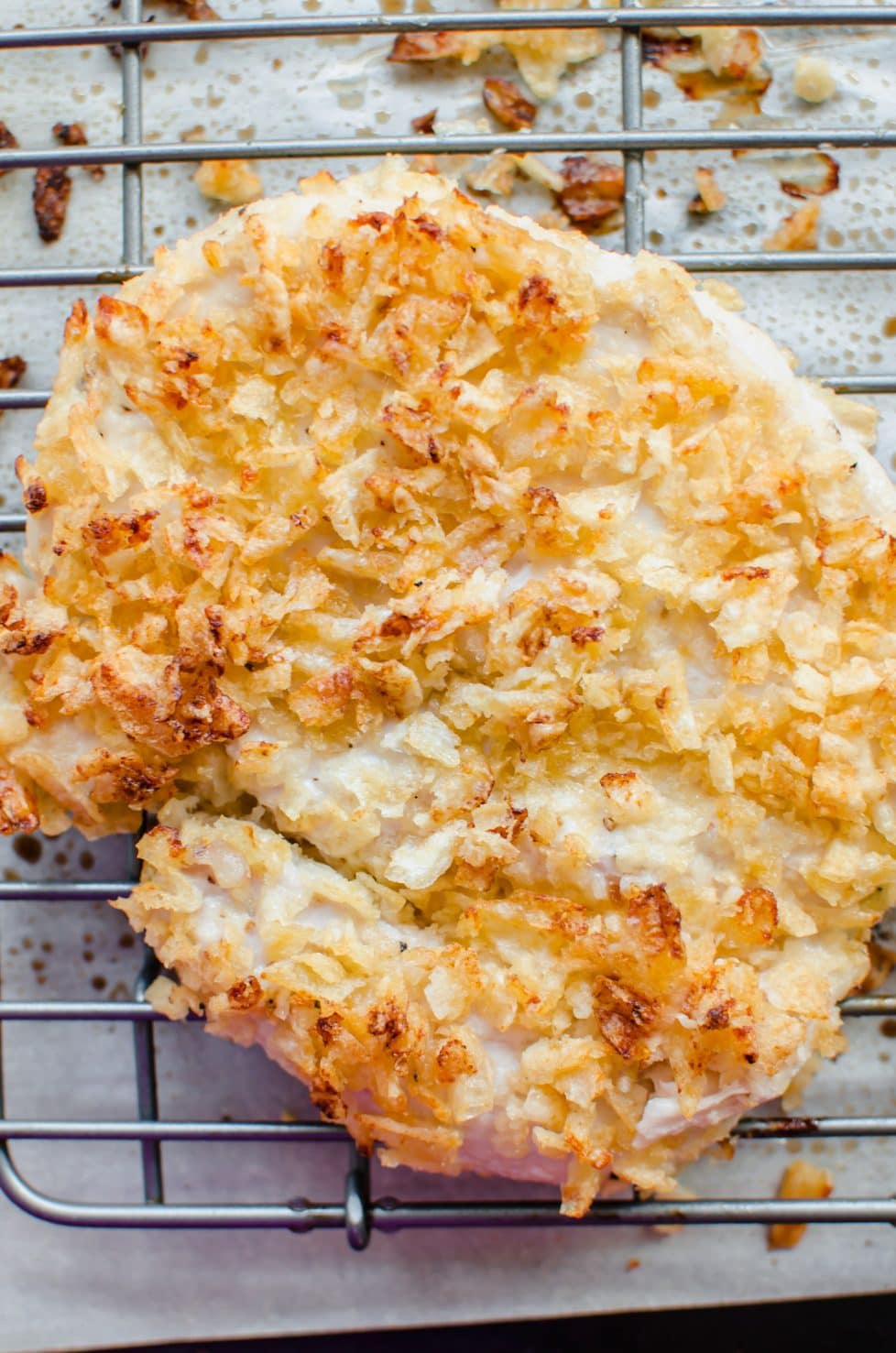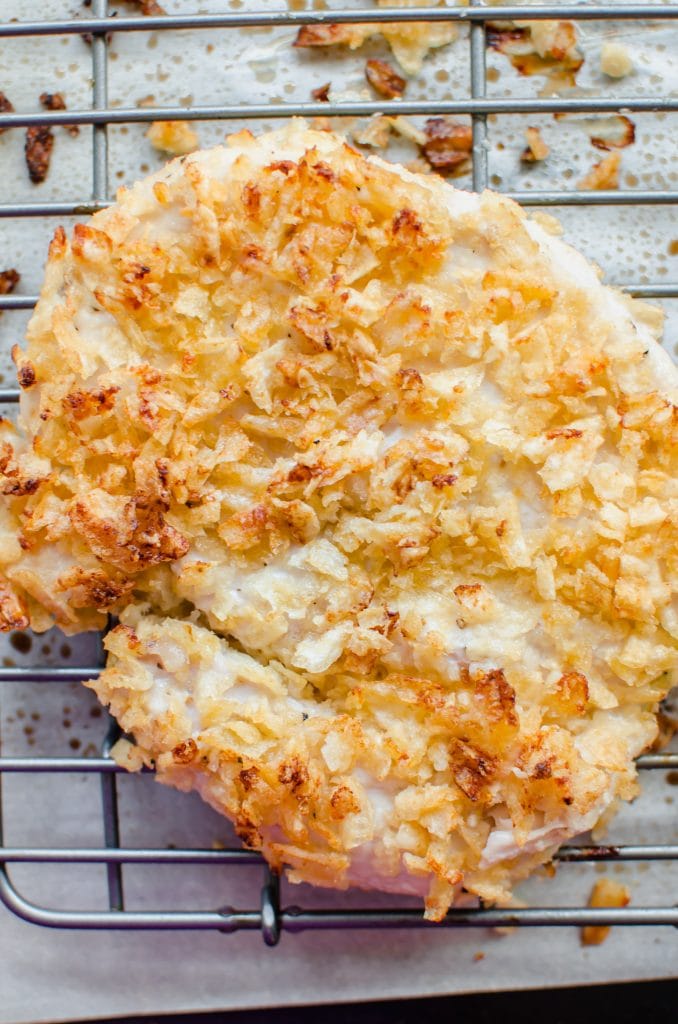 Are you ready to get make some Oven-Fried Potato Chip Chicken? Good! I'm so excited for you to try this easy recipe. Once you get the chance to make it, please let me know how it turns out for you! Leave a comment and rate the recipe below.
This will help me with the creation of future recipes!
I'd also love to feature your creation in my weekly newsletter, so you can upload a photo to Instagram with the tag @sweetcayenne5 to be featured! Quick and easy recipe videos are available on my YouTube channel, and lots of menu inspiration on my Pinterest boards.
Similar recipes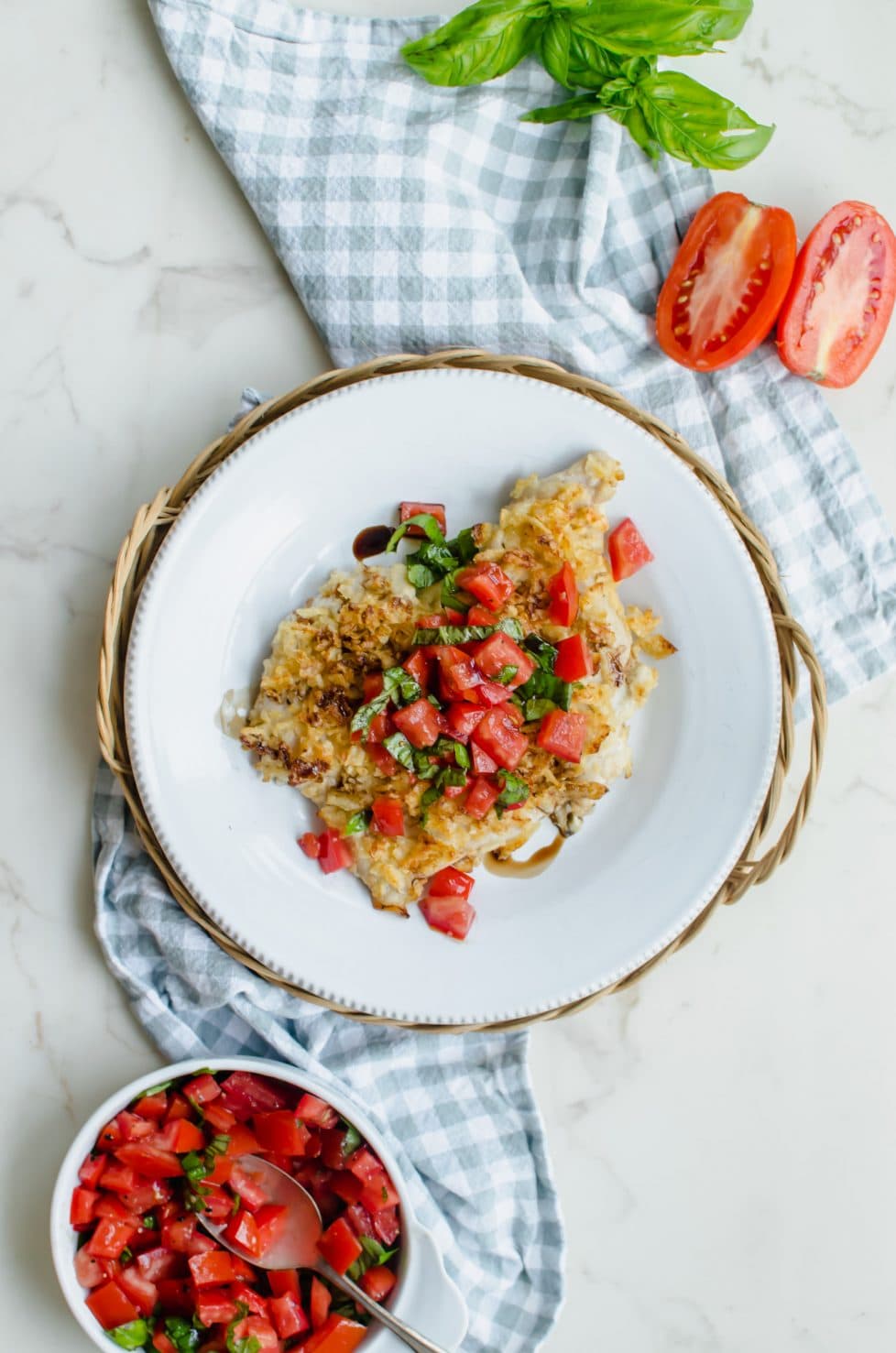 Recipe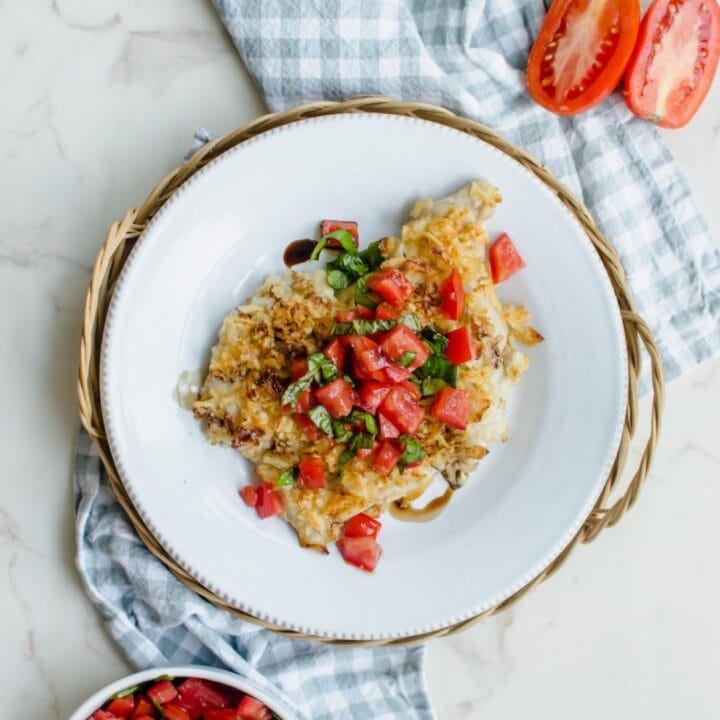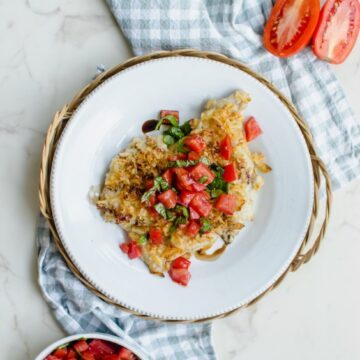 Potato Chip Bruschetta Chicken
Crunchy chicken made with potato chips
Print
Pin
Rate
Ingredients
For the chicken:
2

cups

of Private Selection Balsamic Vinegar and Sea Salt Kettle Chip

1

large

egg

⅓

cup

lowfat buttermilk

½

teaspoon

salt

½

teaspoon

black pepper

2

(6 ounce pieces)

chicken breasts, pounded to ½'' thick (or 4 (3-ounce) chicken cutlets)
For the bruschetta topping:
3

whole

roma tomatoes

½

cup

fresh basil leaves

1

small

garlic clove

1

tablespoon

olive oil

Salt and pepper to taste

Balsamic vinegar reduction

aged vinegar, or balsamic syrup
Instructions
For the chicken:
Preheat oven to 400℉. Line a

baking sheet

with parchment paper. Place a wire cooling rack on the baking sheet and lightly coat it with cooking spray. Set aside.

Place the potato chips in a large zipper top plastic bag. Use a

rolling pin

to finely crush the chips until they resemble the texture of panko bread crumbs. Place the chips in a shallow container.

In another shallow container, combine the egg, buttermilk, salt and pepper with a fork.

Dip the first chicken breast in the egg mixture, then coat in the potato chip crumbs. Place the chicken on the prepared wire rack on the baking sheet. Repeat with remaining chicken breasts. Pat any leftover potato chip crumbs on the chicken breasts before placing the baking sheet in the oven.

Bake the chicken for 20 minutes or until a thermometer inserted in the center reads 165℉. The chicken should be golden and crispy on the outside.
For the bruschetta:
While the chicken is baking, prepare the bruschetta topping. Slice the roma tomatoes in half, then use a spoon to scoop the juice and flesh out from the center. Discard or reserve for making a sauce/salsa later. Slice the tomatoes into ¼'' strips, then dice into ¼'' cubes. Transfer the tomatoes to a small bowl.

Roll the basil leaves up like a cigar and slice into thin strips. Add to the tomatoes.

Finely grate the garlic clove with a

microplane

into the tomato mixture. Add the olive oil, then the salt and pepper to taste.

To serve:

Spoon the bruschetta topping over the hot chicken breast. Drizzle a bit of balsamic on top and enjoy!
Notes
Chicken will reheat well the next day at 350℉ for 8-10 minutes or until heated through. Recipe can easily be double or tripled. This chicken recipe does not freeze well, as the potato chip crust will get very soggy in the freezing/thawing process.
To make a low-sodium version: omit adding salt to the buttermilk and the tomato mixture. 
Serving:
1
serving
|
Calories:
478
kcal
|
Carbohydrates:
25.7
g
|
Protein:
43.8
g
|
Fat:
22.2
g
|
Saturated Fat:
4
g
|
Cholesterol:
192
mg
|
Sodium:
921
mg
|
Potassium:
1170
mg
|
Fiber:
34
g
|
Sugar:
7
g
|
Calcium:
89
mg
|
Iron:
2
mg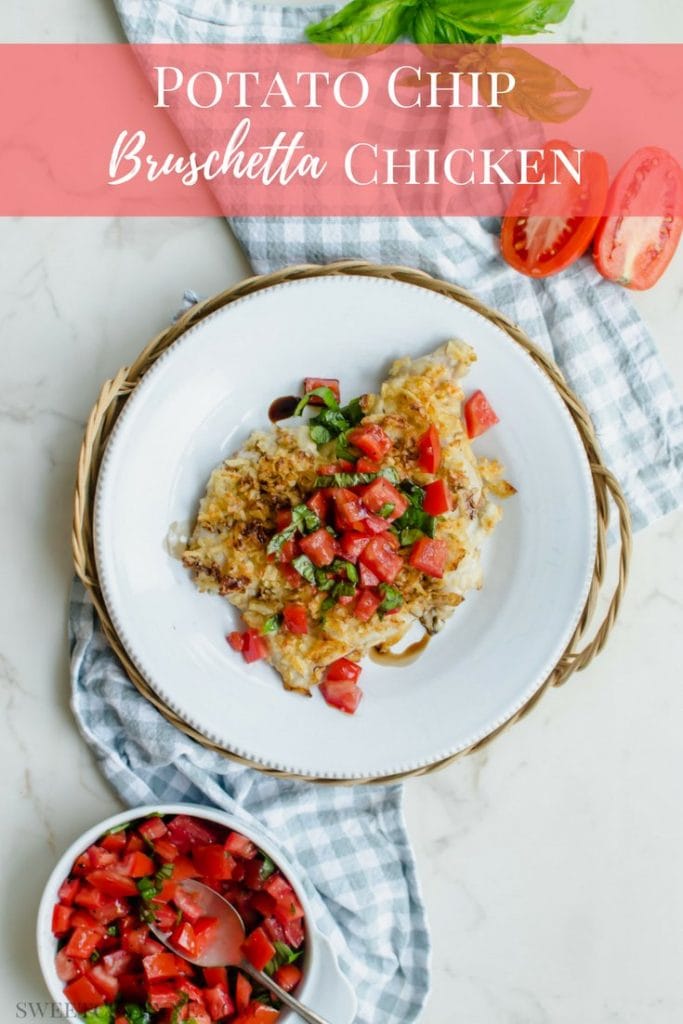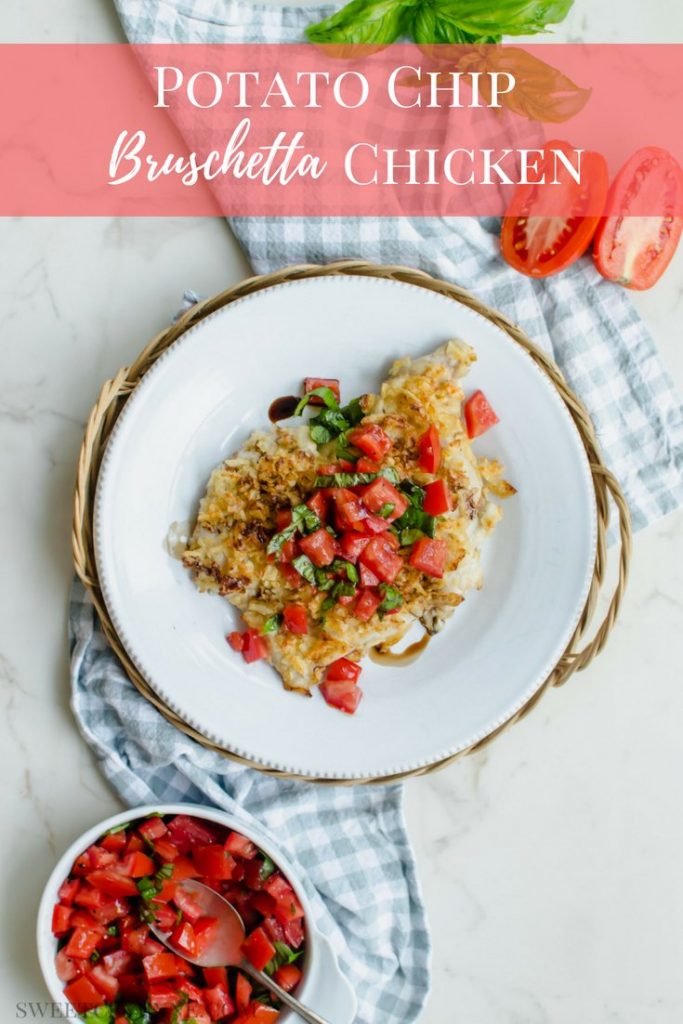 Pin this, pretty please!