This recipe for Easy Italian Beef Sandwiches is an old favorite that I love to pull out for the back-to-school season, football watching parties, and family gatherings - it makes a lot and is always a crowd-pleaser!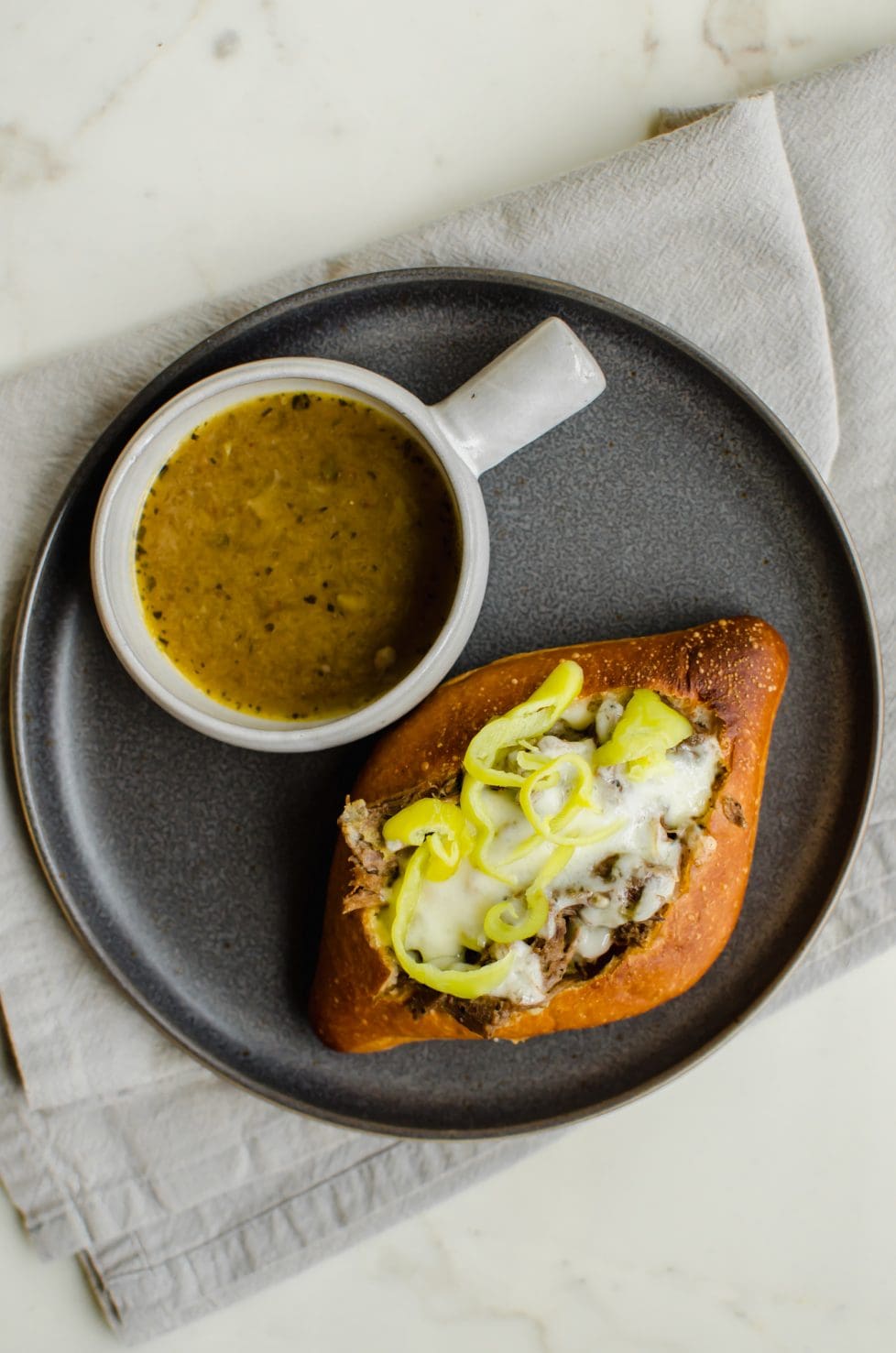 Can we just take a minute and acknowledge how GREAT slow cookers are??? Seriously. During these days of working full time, trying to blog, and staring at a list of endless new homeowner projects, my slow cooker is my right-hand man. Er....cooking appliance, that is. I'm using it at least once a week to make meals that will feed Ryan and me two, three, and even FOUR times. It's a good thing I married a guy that doesn't mind leftovers!
This past week, I used my trusty slow cooker to gently and magically turn a big ol' chuck roast into tender, melt-in-your-mouth shreds of beef just dripping with the zesty Italian flavor. All it took was me dumping the meat into the cooker insert along with a packet of dressing mix, a happy blend of pepperoncini peppers and giardiniera veggies, and a splash of my favorite Kitchen Basics beef stock. That's it - piece of cake, right? You bet!
Video
Tips for Making Easy Italian Beef Sandwiches
Slow Cooker Variation
To make this Easy Italian Beef recipe in the slow cooker, you can just add a whole roast to the slow cooker along with the other ingredients. Depending on the size of roast that you buy, the cooking time will take anywhere from 6-8 hours. You will know it is done when you can shred the meat easily with a fork!
Instant Pot Variation
To make this Easy Italian Beef recipe in the Instant Pot, simply cut the roast into 2x2'' chunks prior to adding the meat to the Instant Pot. For a 3 lb roast, I would recommend 30 minutes of high-pressure cooking with a 10-minute natural release and for a 4 lb roast, 40 minutes of high-pressure cooking with a 10-minute natural release. Keep in mind that your Instant Pot will likely take 10-15 minutes to come to pressure initially, so allow about an hour to make this recipe from start to finish.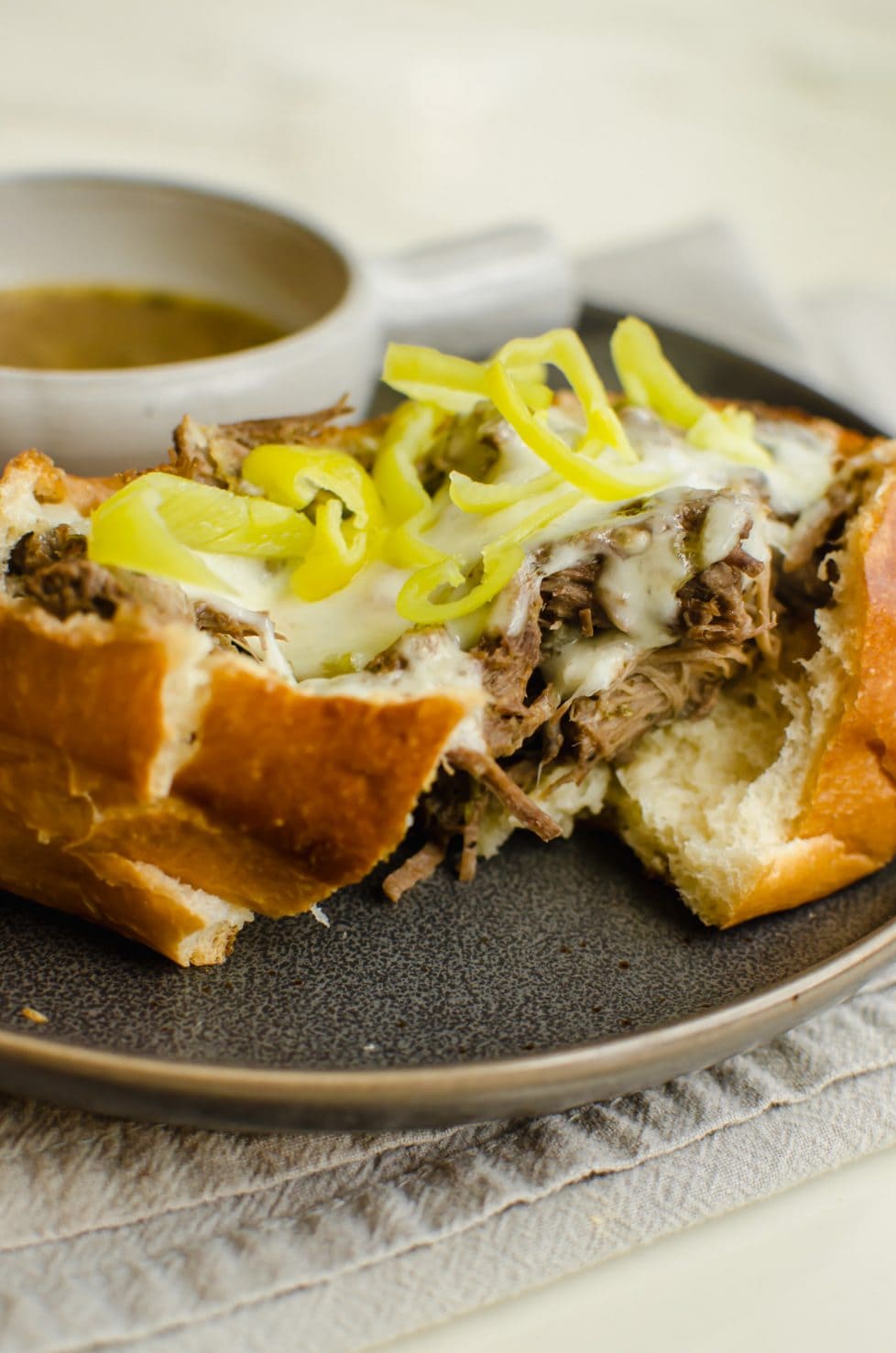 Using the Beef for Meal Prep
Once you've got your beef made, the possibilities for using it up are really endless! Not only does it make amazing sandwiches, but any of the following ways of using it would be delicious:
Use the shredded beef as a taco filling or pita sandwich filling
Spread the shredded beef on a pizza crust and make an Italian beef pizza
Use the shredded beef as a topping for nachos and load them with sliced tomato, roasted peppers, and even roasted cauliflower
The beef makes a great topping for a "bowl recipe" served over cauliflower rice, quinoa, or added to pasta
Add the beef to a meal prep container along with brown rice or quinoa and some steamed veggies
Freeze the beef in a freezer-safe container for a meal during a busy week
Modifications for Easy Italian Beef Sandwiches
You can substitute banana pepper rings for the pepperoncini peppers if needed (pepperoncini will be tangier)
Although a chuck roast is considered lean by the USDA when it is trimmed of visible fat, I sometimes will buy an eye of round roast for this recipe due to the fact that it's even leaner and typically costs less. Feel free to use either cut - just know the chuck roast will have a richer flavor and possibly be a bit more tender.
If you are trying to cut back on sodium, be sure to buy an unsalted beef stock (like Kitchen Basics) or broth, and consider making your own Italian seasoning blend instead of using the dressing packet. I'd recommend 1 tablespoon of Italian seasoning, 1/4 teaspoon crushed red pepper, 1 teaspoon garlic powder, 1/2 teaspoon onion powder, and 1/2 teaspoon of salt).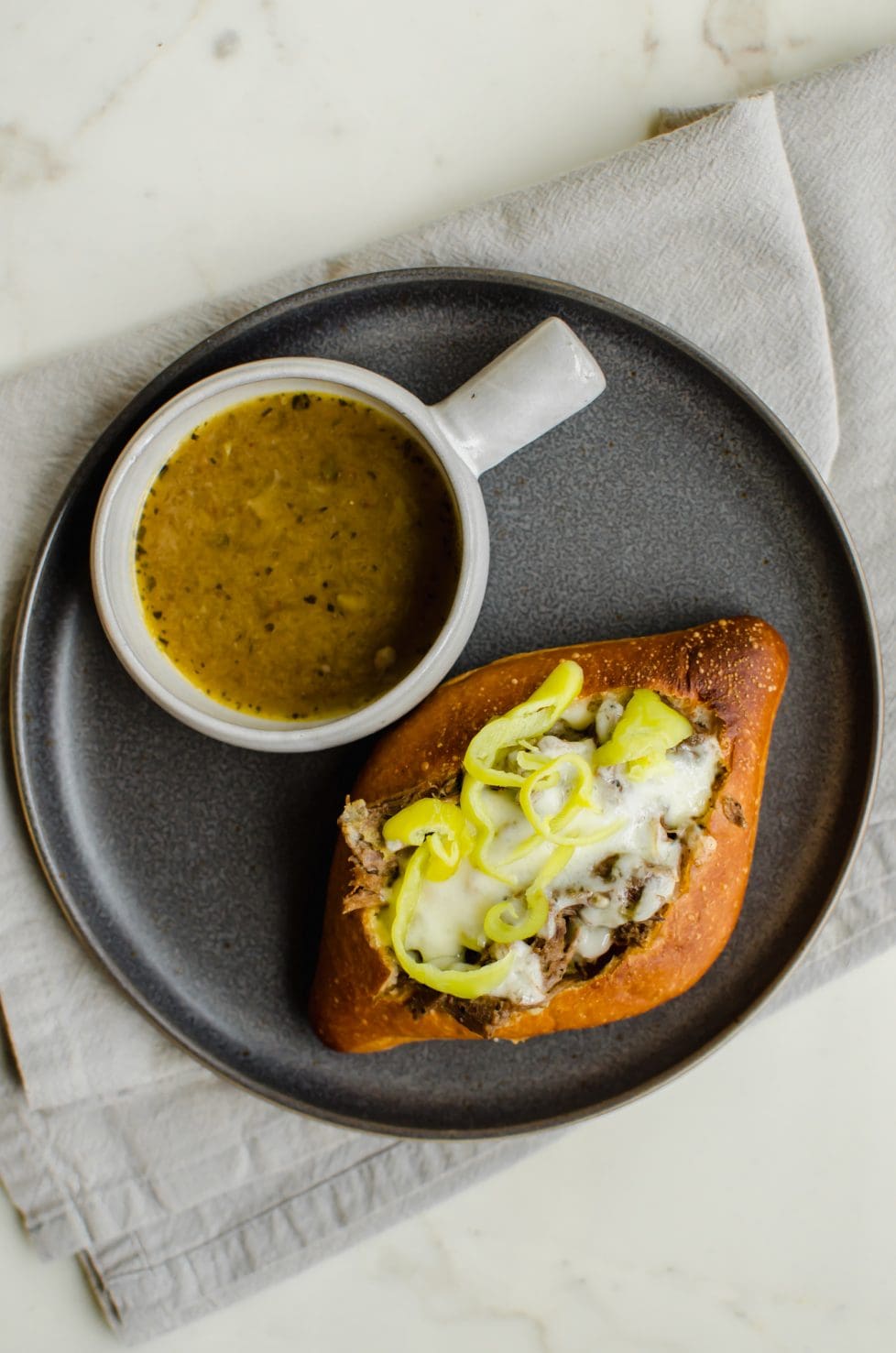 If you get a chance to make these Easy Italian Beef Sandwiches, I'd love to know how it turns out for you. So leave a comment below! I'd also love to feature your creation in my monthly newsletter, so you can upload a photo to Instagram or Twitter with the tag @sweetcayenne5 to be featured!
In the meantime, check out this Maple Bourbon Flat Iron Steak or this Slow Cooker Apple Cider Pork!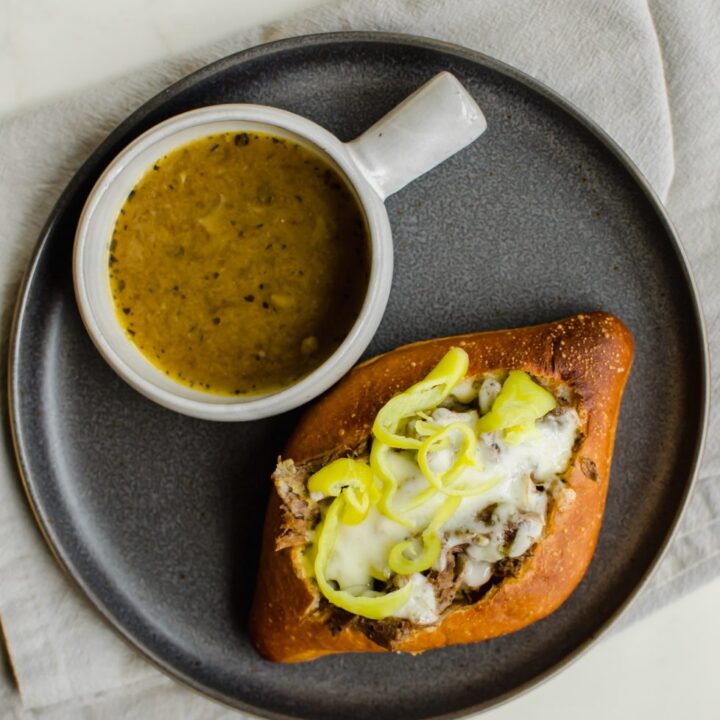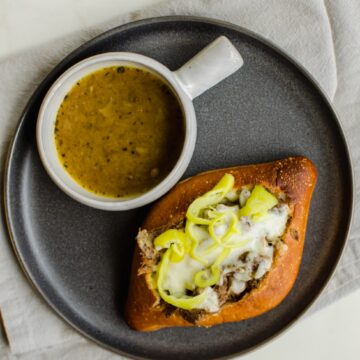 Easy Italian Beef Sandwiches (Instant Pot OR Slow Cooker!
This Easy Italian Beef recipe is packed with flavor and is a hands-off, easy to make beef dinner! Great for feeding a crowd or freezing for later.
Print
Pin
Rate
Ingredients
1

(3-4 lb)

boneless chuck shoulder roast or eye of round roast,

trimmed of any excess fat

1

packet

zesty Italian dressing mix

1

(16 ounce)

jar deli sliced pepperoncini peppers, drained, with 3 tablespoons of juice reserved

1

(16 ounce)

jar giardiniera vegetable mix, drained

2

cups

unsalted Kitchen Basics beef stock

8-10

slices

provolone cheese

8-10

wheat sub rolls (6'')

sliced open through the top (not the sides)
Instructions
For the slow cooker:
Place the roast in the bottom of your slow cooker insert. Sprinkle the Italian dressing mix on all sides, using tongs to flip the roast as you season it. Add drained pepperocini peppers, giardiniera vegetables, reserved pepperoncini juice, and beef stock. Cook on low for 6-8 hours until the beef falls apart and is easily shredded with a fork.
For the Instant Pot:
Cut the beef roast into 2x2'' chunks. Place in the Instant Pot along with the dressing mix, peppers, pepper juice, vegetable mix, and beef stock. Toss to combine. Cook on high for 30-40 minutes (depending on size of roast) and allow for a 10-minute natural pressure release.

When ready to serve, shred the meat using a fork and tongs. While you shred the beef, preheat your broiler on high.

Use tongs to place the shredded beef and vegetables inside each sub roll, squeezing excess juice out of the beef on the side of the slow cooker as you transfer it to the rolls. Top with cheese and place under the broiler for minutes to melt the cheese - watch it closely to prevent burning!

Ladle juices from cooker into small ramekins or glass dishes and use as an au jus to dip your sandwich in. Enjoy!
Video
Notes