Disclosure statement: For this blog post, I've partnered with the North American Meat Institute, a contractor to Beef Checkoff to showcase this delicious Beefshi BLT Roll! Thank you to NAMI for sponsoring this post on behalf of the Beef Checkoff.
This tasty recipe for a Beefshi BLT Roll fuses together sushi and a BLT sandwich in a traditional maki rice roll. It includes slices of savory roast beef, juicy tomato, peppery arugula, and smokey bacon. It's a great option for enjoying in lunch boxes or on the go!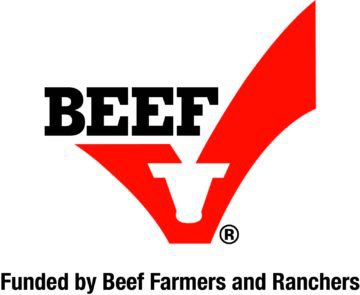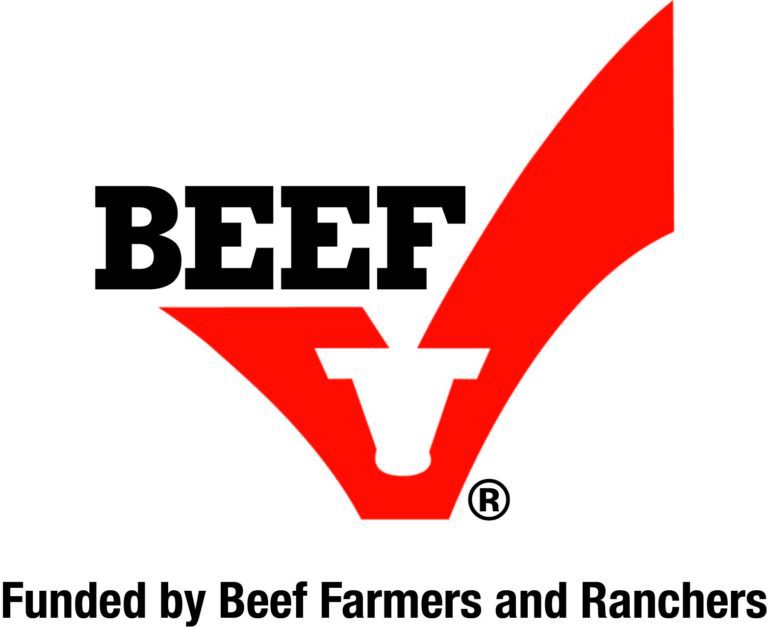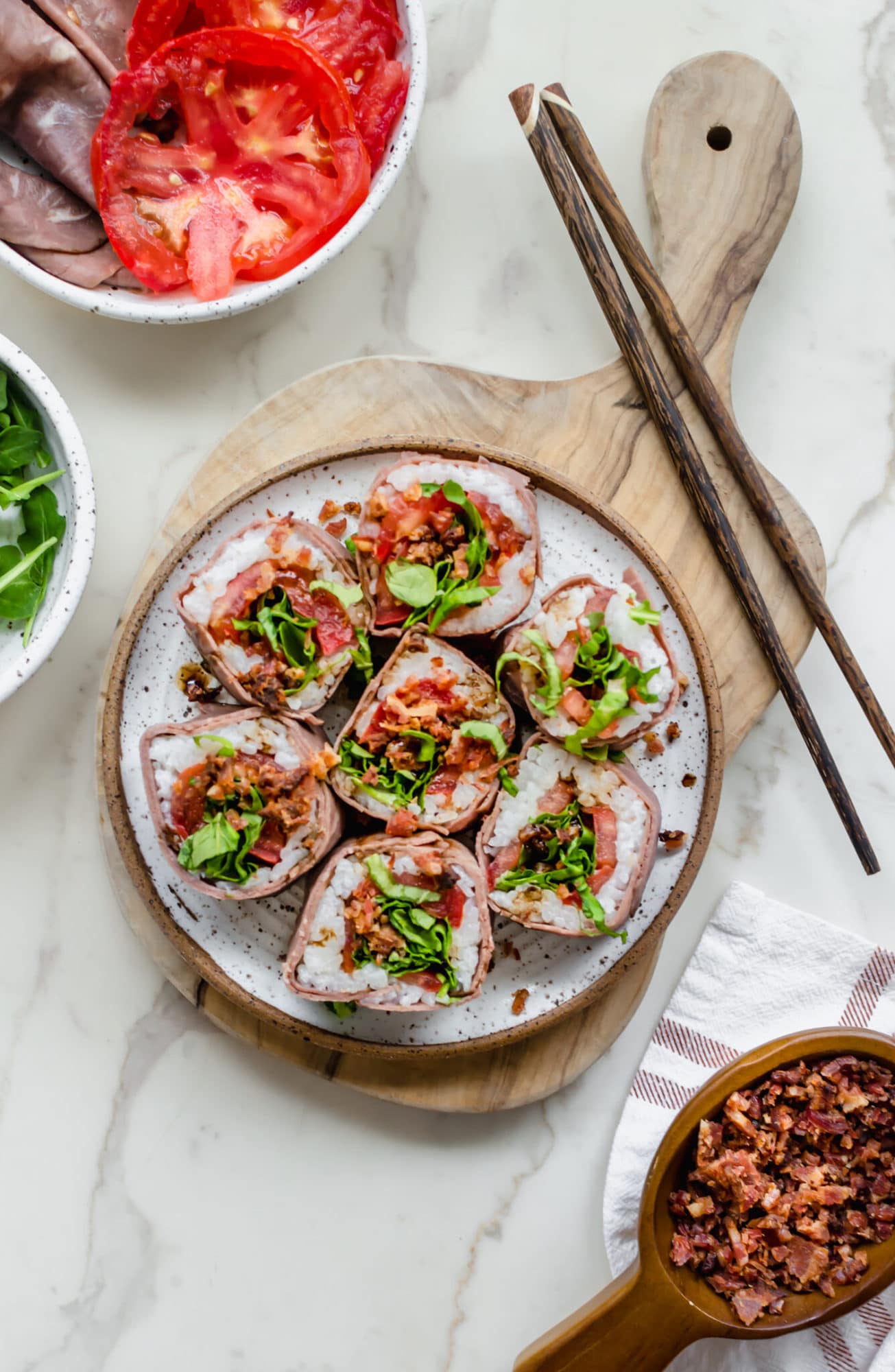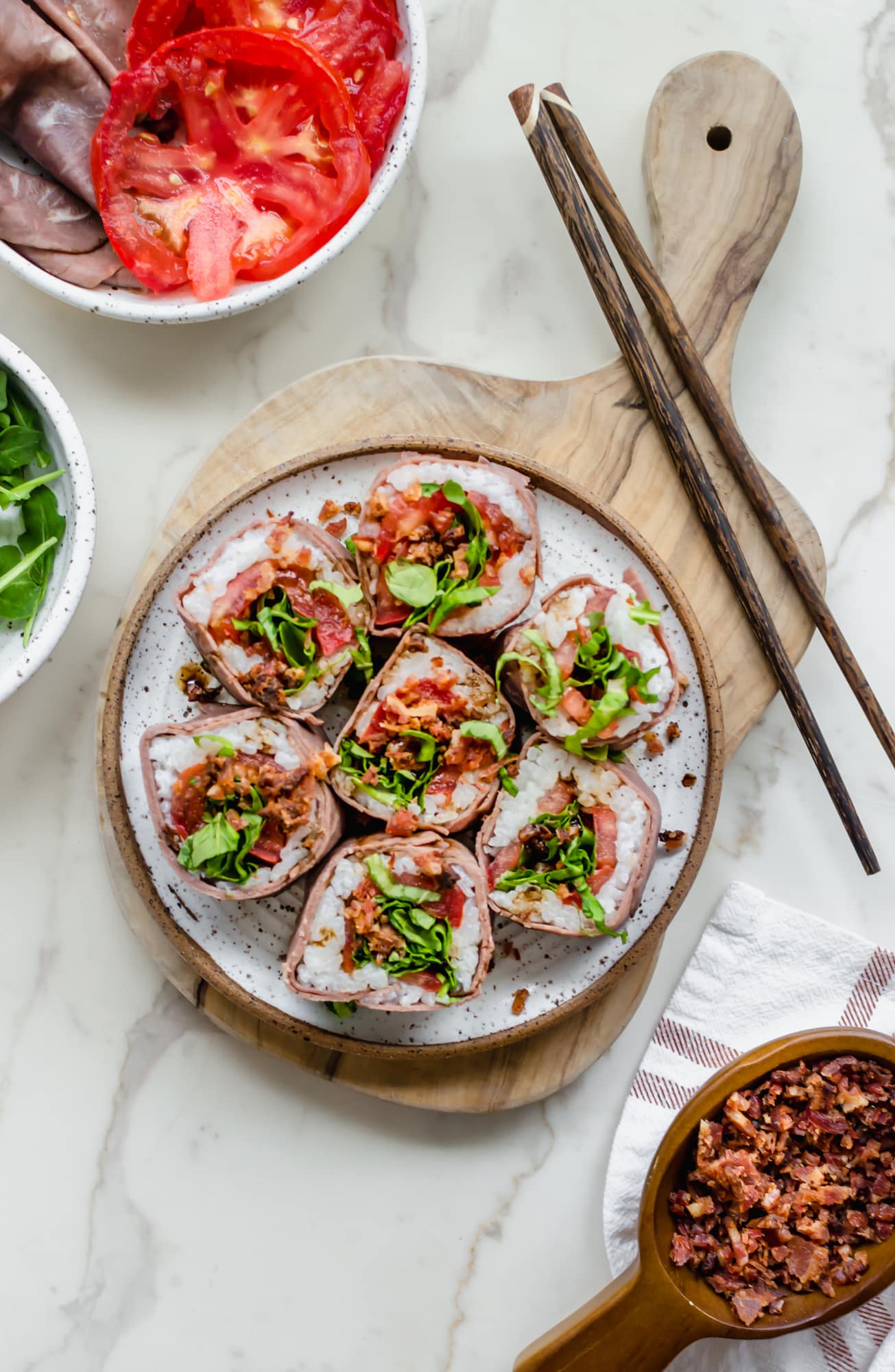 Today I'm so excited to be sharing a fun and creative recipe that is an easy at-home hack for sushi! This Beefshi BLT roll is an innovative take on sushi that was created by chefs at the Culinary Institute of America in partnership with the North American Meat Institute. I love how it combines the concept of sushi with the flavors of a bacon, lettuce and tomato sandwich, which you know is a favorite of mine.
Jump to:
Video
About the recipe
What is Beefshi?
Beefshi is a clever and flavor-filled fusion of America's love for beef and sushi. It may come as a surprise to you that the term "sushi" does not refer to a dish prepared with raw seafood, but instead to vinegared rice combined with a limitless range of fish, meat, and vegetables.
Making sushi or beefshi at home can be a wonderful creative outlet because you can pair your favorite ingredients in unique combinations and wrap them into beautiful rolls.
Roast beef, corned beef, and pastrami are some of my favorite prepared meats to use for beefshi rolls because they are full of flavor and are a convenient source of protein, iron, and zinc. And there is even more good news: beefshi rolls taste as good as they look!
I like to serve them individually as a colorful appetizer or group a few rolls together to serve with Roasted Edamame as a full meal. To see more of the chef-created beefshi rolls and how-to videos, check out Beefshi.com.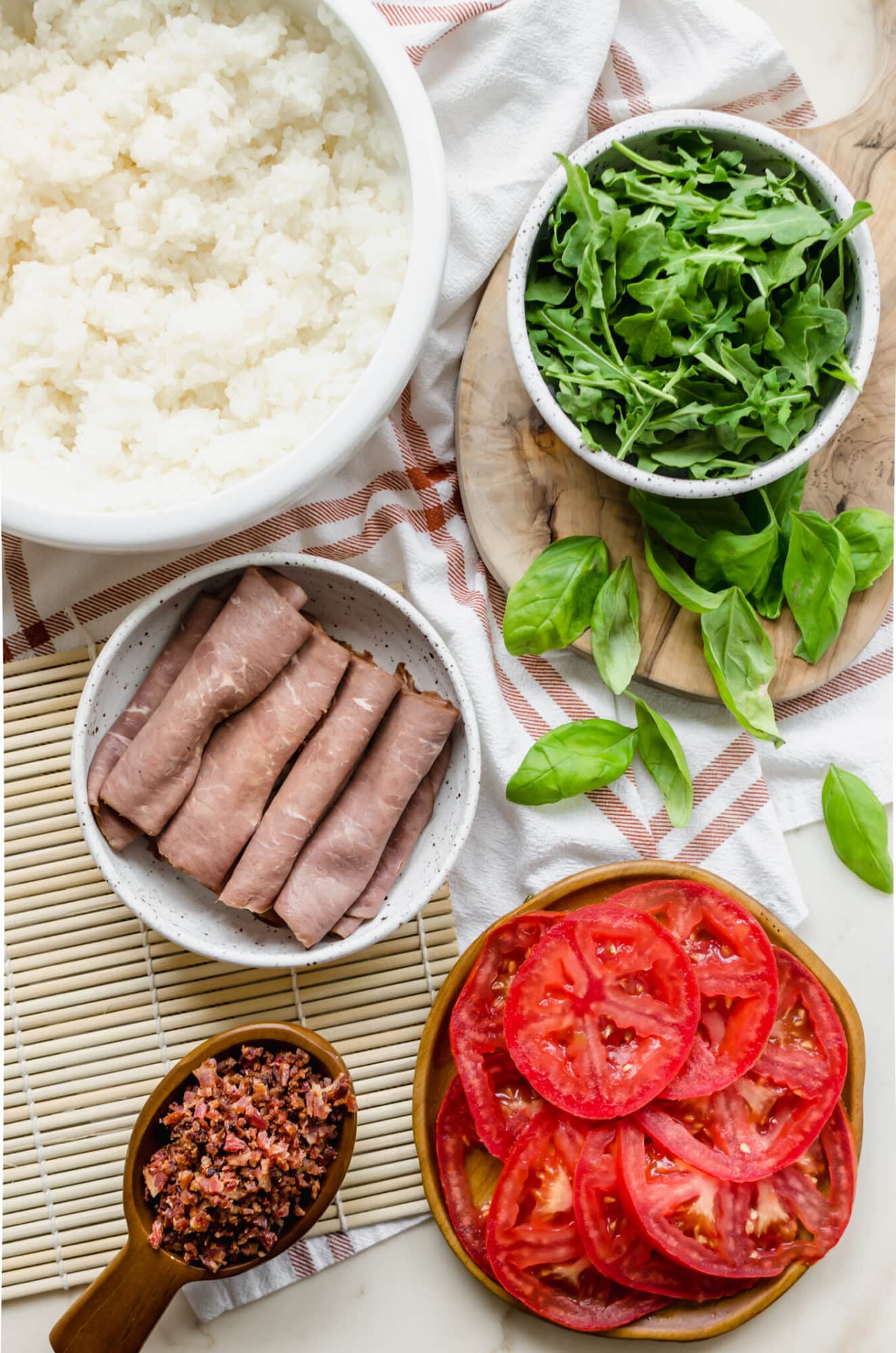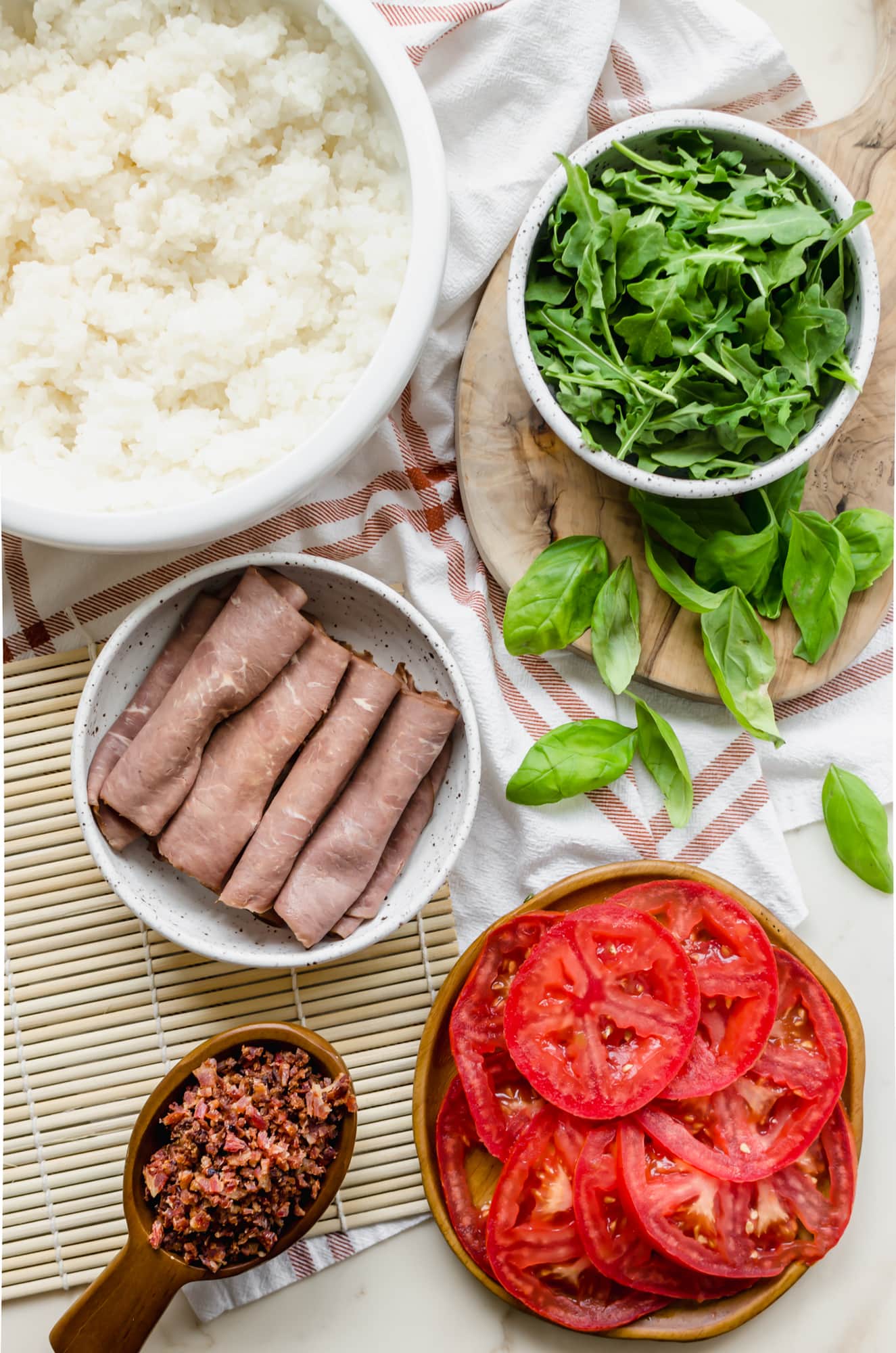 Ingredients
Sushi rice + seasoned rice vinegar - this rice is a short-grain starchy rice traditionally used in making sushi. It can easily be found at most grocery stores.
The vinegar is combined with water to make a dip for your hands when preparing the beefshi. It will also be poured over the rice to give it flavor.
Deli-sliced roast beef - this will form the outside of the beefshi roll instead of a traditional sheet of nori. Roast beef is one of my favorite prepared meats that I have enjoyed since I was a kid!
Arugula - this tender leafy green provides a fresh crunch to the roll and a peppery flavor.
Thinly-sliced beefsteak tomato - use a serrated knife to slice the tomato into very thin rounds between ⅛ and ¼ inch thick. The thinner the rounds are, the easier it will be to roll the beefshi.
Bacon - I like to cook a few slices of center-cut, low-sodium bacon on a baking sheet, drain off the fat, and then finely chop the bacon once it has cooled.
Fresh basil - this really elevates the flavor of the beefshi and gives it an Italian twist!
Balsamic vinegar - a little bit of acid and the sweetness of balsamic pairs so nicely with the savory elements in this roll and brings everything together. I like to use a reduced balsamic vinegar for this recipe because of the syrupy consistency.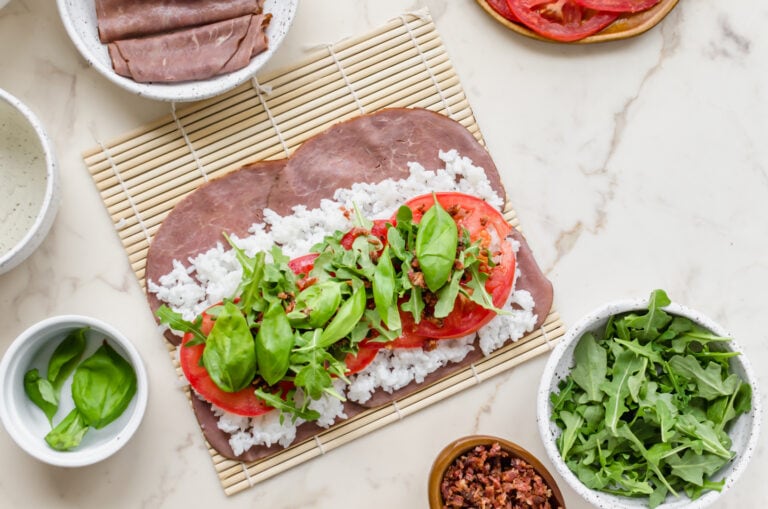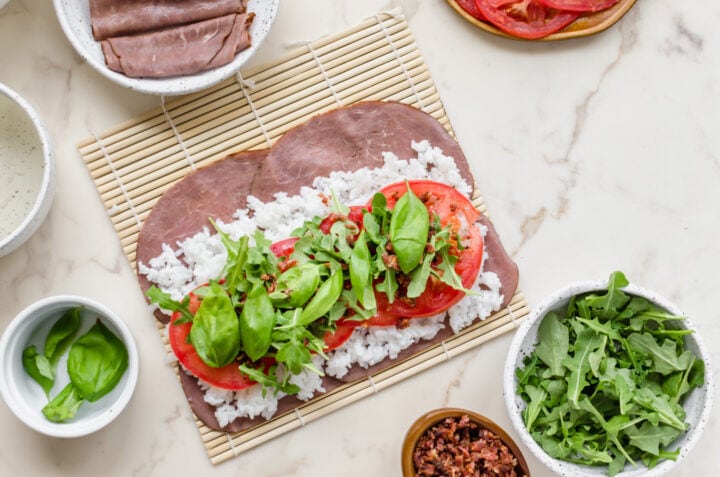 Essential tools
Bamboo mat - while not completely necessary, a bamboo mat makes it really easy to roll sushi and beefshi into tight and compact rolls. They are very affordable and easy to use.
Top tips
Rinse the sushi rice thoroughly before cooking according to package directions. Sushi rice is extremely sticky, so rinsing all of the starch off the outside of the grains is essential before cooking.
Run cold water over a bowl of the amount of rice you would like to cook, swishing the rice around in it with your hands.
Drain the water and repeat several times until the water that you drain off is clear. Then you can proceed with cooking the rice.
Once the rice is cooked, pour ¼-½ cup of seasoned rice vinegar over the hot rice. Use a rice paddle or rubber spatula to toss the rice in vinegar, then spread the rice into a shallow dish to cool it completely.
Toss the rice every few minutes to help with the cooling process. You want the rice to be at room temperature before making the beefshi.
As the rice cools, cover it with a damp paper towel to prevent it from drying out. Keep the rice covered unless you are stirring it or making the beefshi.
To store prepared sushi rice for later, cover the bowl of rice with a damp paper towel followed by a layer of plastic wrap. You can make the sushi rice up to one day ahead and refrigerate overnight.
Let the rice sit out covered at room temperature for 30-60 minutes before making the beefshi.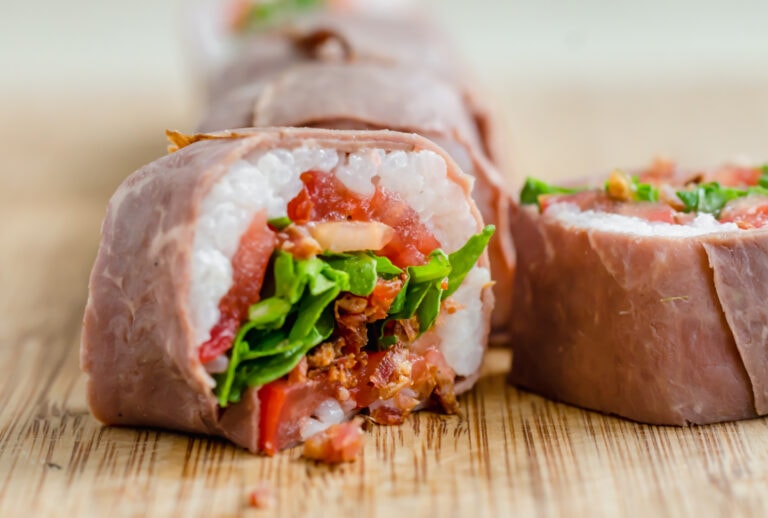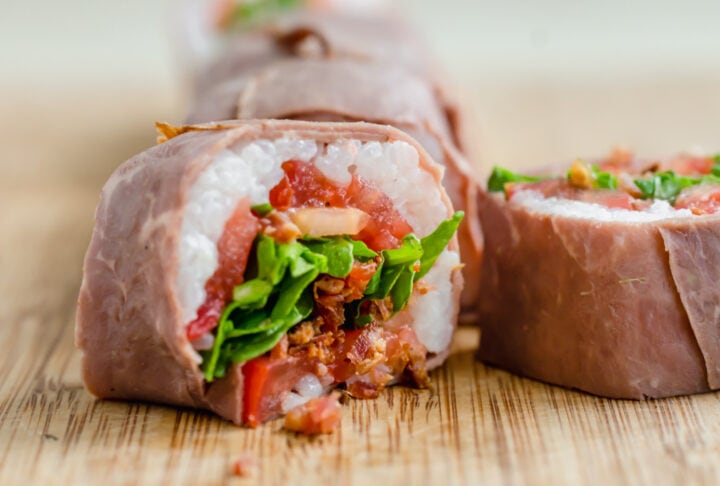 Similar BLT and beef recipes to enjoy:
Are you ready to make this BLT Roll? I'm so excited for you to try this recipe. Once you get the chance to make it, please let me know how it turns out for you!
Leave a comment and rate the recipe below. This will help me with the creation of future recipes!
I'd also love to feature your creation in my monthly newsletter, so you can upload a photo to Instagram or Twitter with the tag @sweetcayenne5 to be featured!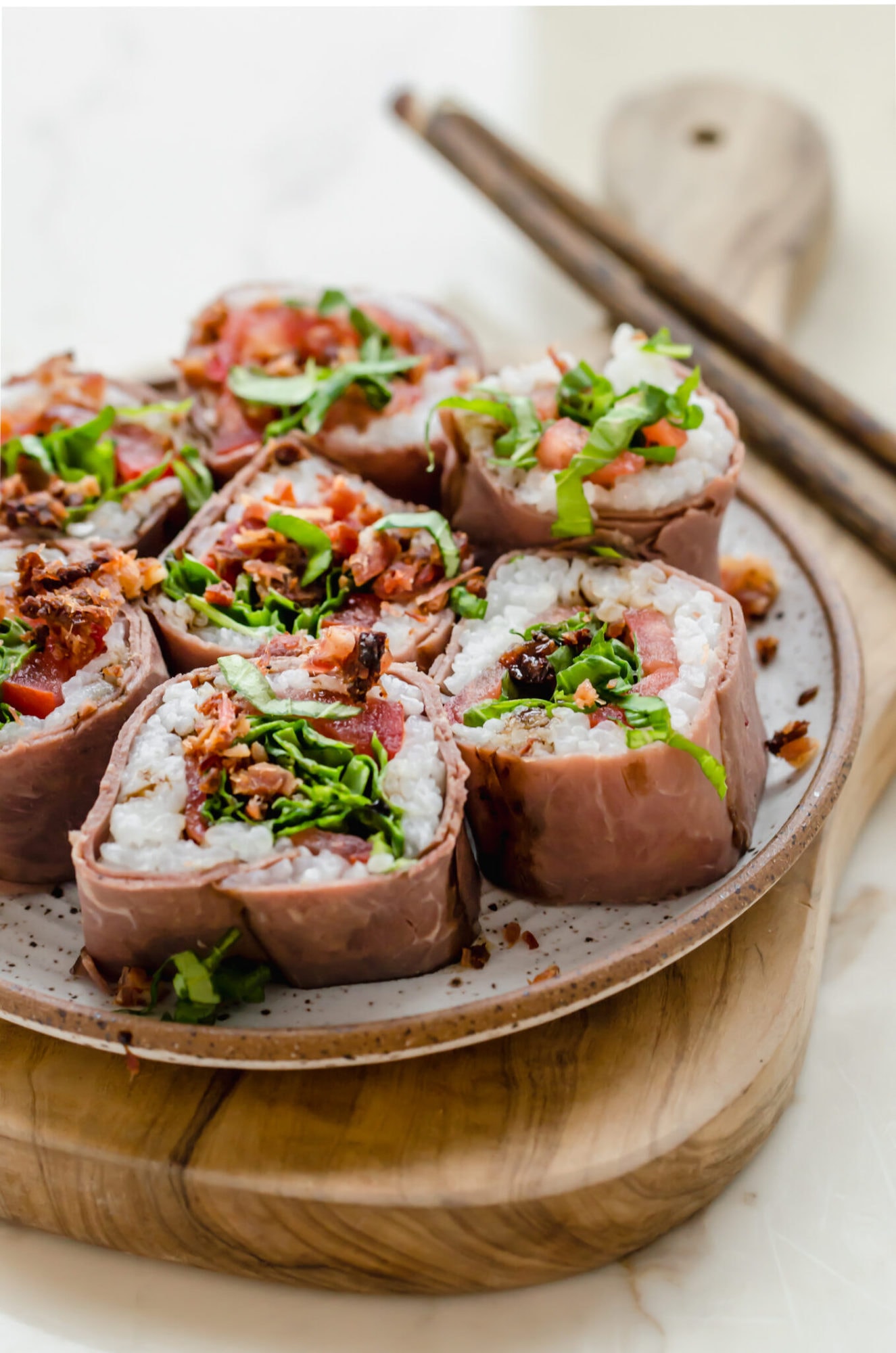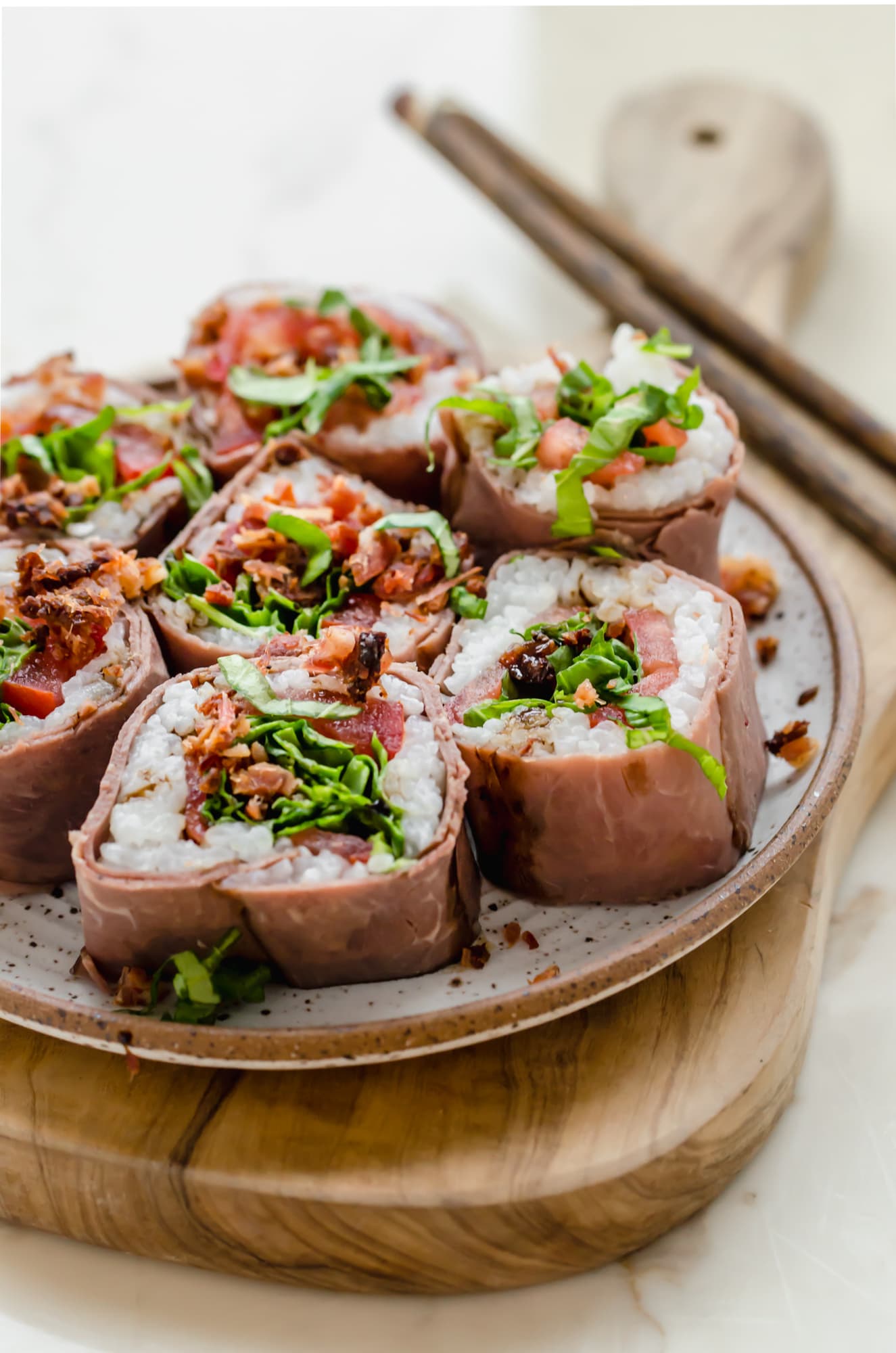 Recipe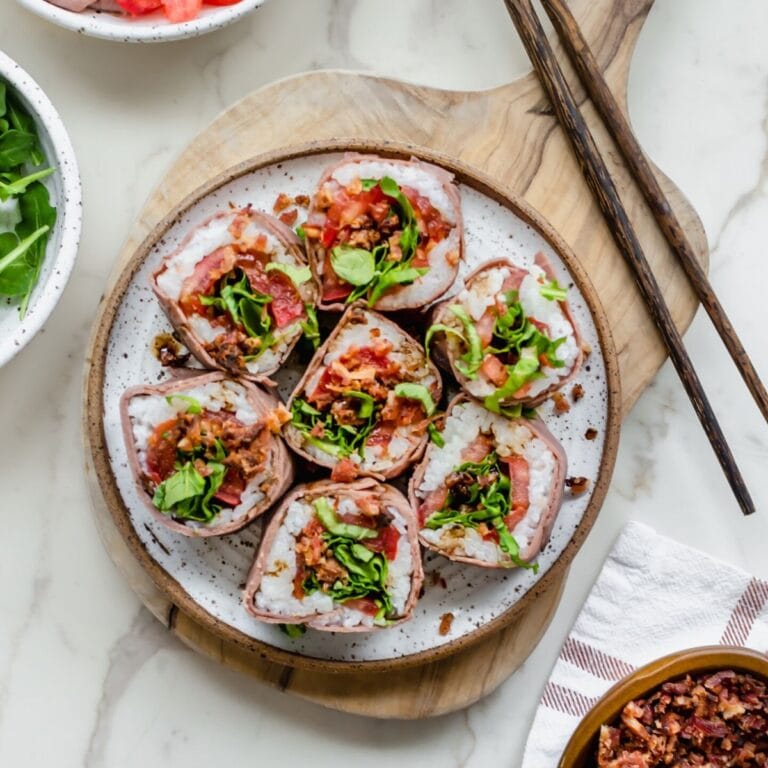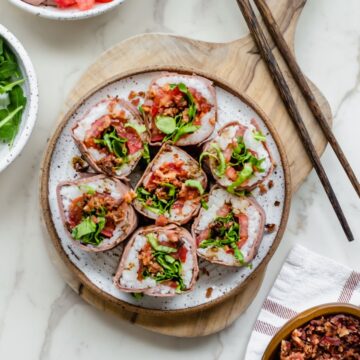 Beefshi BLT Roll
This tasty recipe for a Beefshi BLT Roll fuses together sushi and a BLT sandwich in a traditional maki rice roll. It includes slices of savory roast beef, juicy tomato, peppery arugula, and smokey bacon.
Print
Pin
Rate
Ingredients
Hand Vinegar
1

cup

water

¼

cup

seasoned rice vinegar
Beefshi rolls
2

cups

prepared sushi rice

 (1 cup uncooked sushi rice, cooked according to package directions. Toss cooked rice with ⅓ cup of seasoned rice vinegar)

8

pieces

deli-sliced roast beef (about 6 ounces)

4

pieces

cooked bacon, finely chopped

1 ½

cups

baby arugula leaves

8

slices

beefsteak tomato (sliced ⅛-inch thick)

8

leaves

fresh basil, plus a few more cut into thin strips
Instructions
Hand Vinegar
In a small bowl, stir together the hand vinegar and set aside until needed.
Beefshi Rolls
Lay a clean sushi mat on a clean surface. Lay four of the beef slices on the mat, overlapping them by about ½-inch, to create a surface 7 inches wide and 6 inches deep.

Moisten hands with hand vinegar and shake off excess. Cover the beef with 1 cup of sushi rice, leaving 1 inch empty at the end farthest from you.

Cover the rice with four slices of tomato in a row on the side closest to you, followed by half of the arugula. Sprinkle about a tablespoon of the bacon pieces on the tomato, followed by four of the basil leaves.

Securing the filing with your fingers, use your thumbs to push the end of the mat up and over the filling, until the one edge of the rice meets the other side. Press firmly on the roll to seal and shape.

Lift up the top of the mat and roll firmly until tight and round. Squeeze gently to shape the roll. Press the ends in carefully to secure any loose rice. Remove the bamboo mat, peel off the plastic and set the roll aside.

Repeat with the remaining ingredients to make 2 rolls. Slice each roll into 8 rounds, arrange on a sushi platter, and garnish with the remaining chopped bacon, basil ribbons, and drizzles of balsamic vinegar.

Serve beefshi immediately or chill for up to 1 day until ready to enjoy!
Serving:
1
slice
|
Calories:
90
kcal
|
Carbohydrates:
10
g
|
Protein:
6
g
|
Fat:
2.8
g
|
Saturated Fat:
0.9
g
|
Cholesterol:
15
mg
|
Sodium:
118
mg
|
Potassium:
112
mg
|
Fiber:
0.3
g
|
Sugar:
0.3
g
|
Calcium:
9
mg
|
Iron:
3
mg
Other beef recipes to enjoy: