Today we're taking my favorite food - pizza (duh!) - and naan-ing it up! Because I'm always up for a cool twist on on a classic....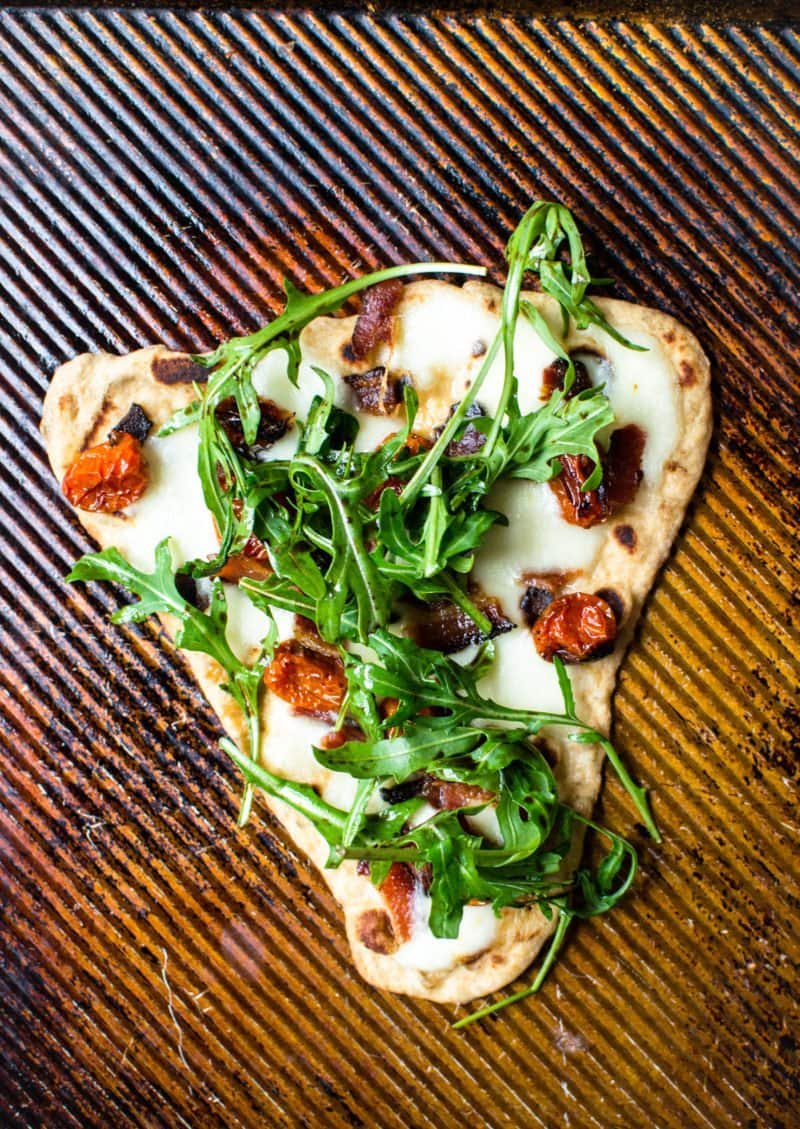 I'm a firm believer that if you take a little time to plan a yummy food menu for the week ahead, your overall "week" will inherently much better and more pleasant in general. At least, that should be the case if you are a foodie. Case in point: my weekly meal plan for last week involved a favorite food (pizza) and combining it with a food I had never made personally before (naan). If you never made naan from scratch before, I'm here to to tell you it is no big deal. The "making" part, that is. It's shockingly simple to make. And once you try it you will be hooked!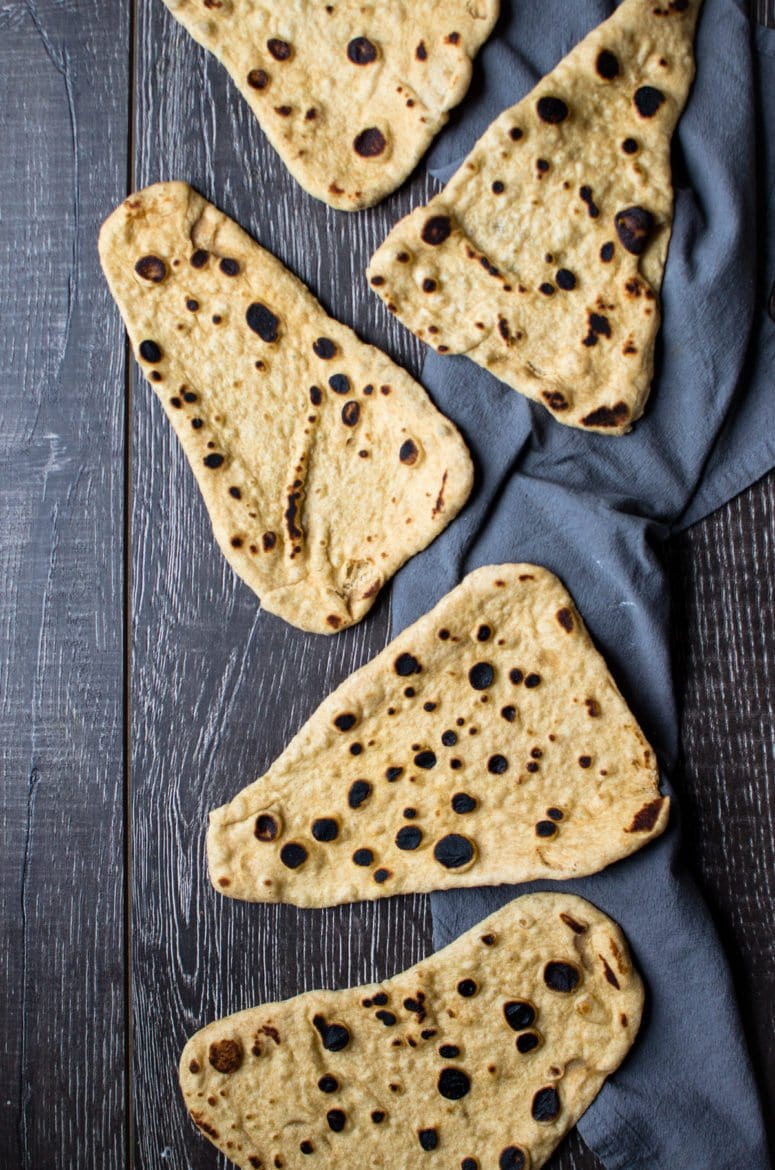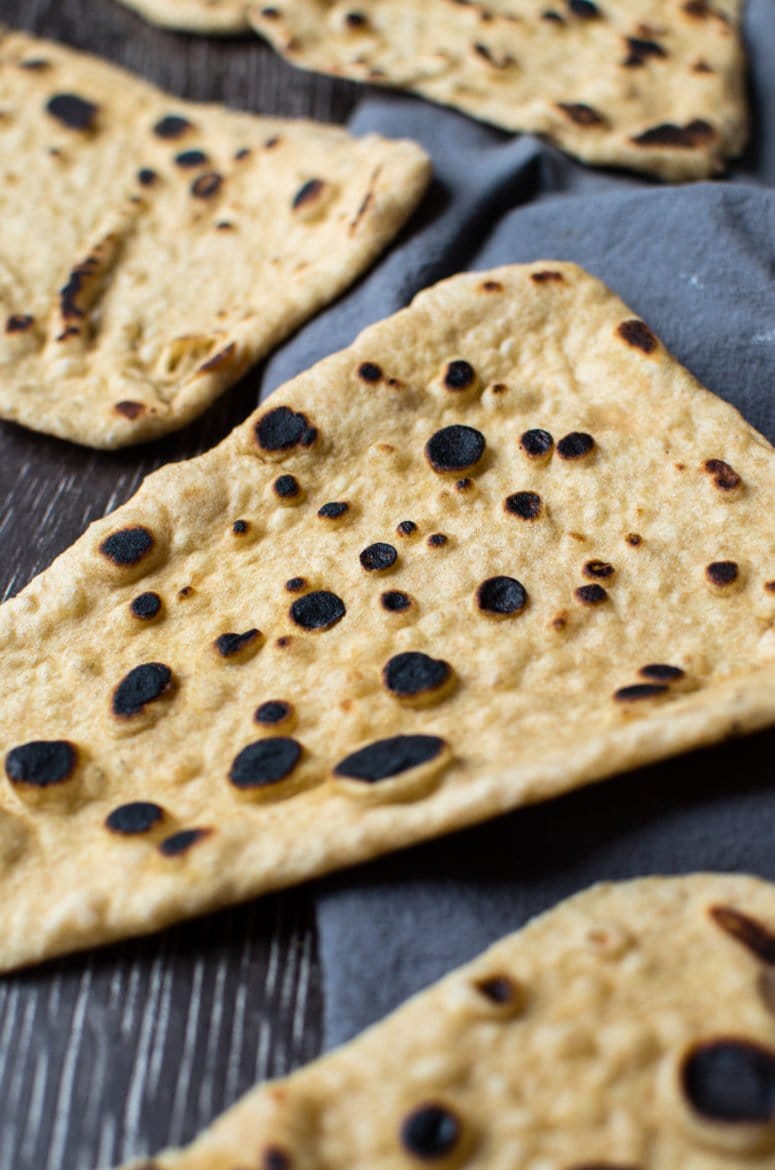 It's really a miracle that I had any naan left to make pizza during the week. As I cooked the pieces on my cast iron griddle pan, I had to use every shred of will power not to immediately gobble up each steaming hot, pillowy soft, garlicky, buttery piece as it came off the heat. I did let myself have one hot piece for a snack though. In my kitchen, it's a sin to not try a still-warm piece of any baked good while it's fresh out of the oven. Or off of the griddle. That's one of the joys of cooking - tasting as you go!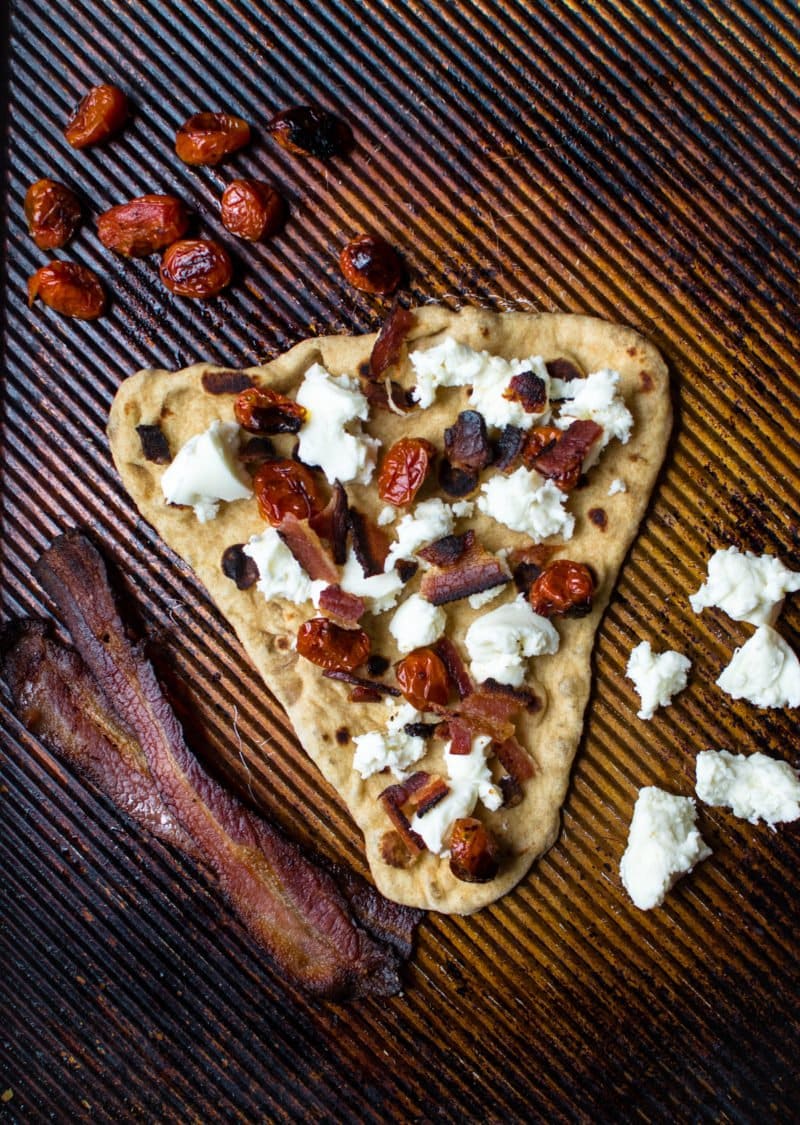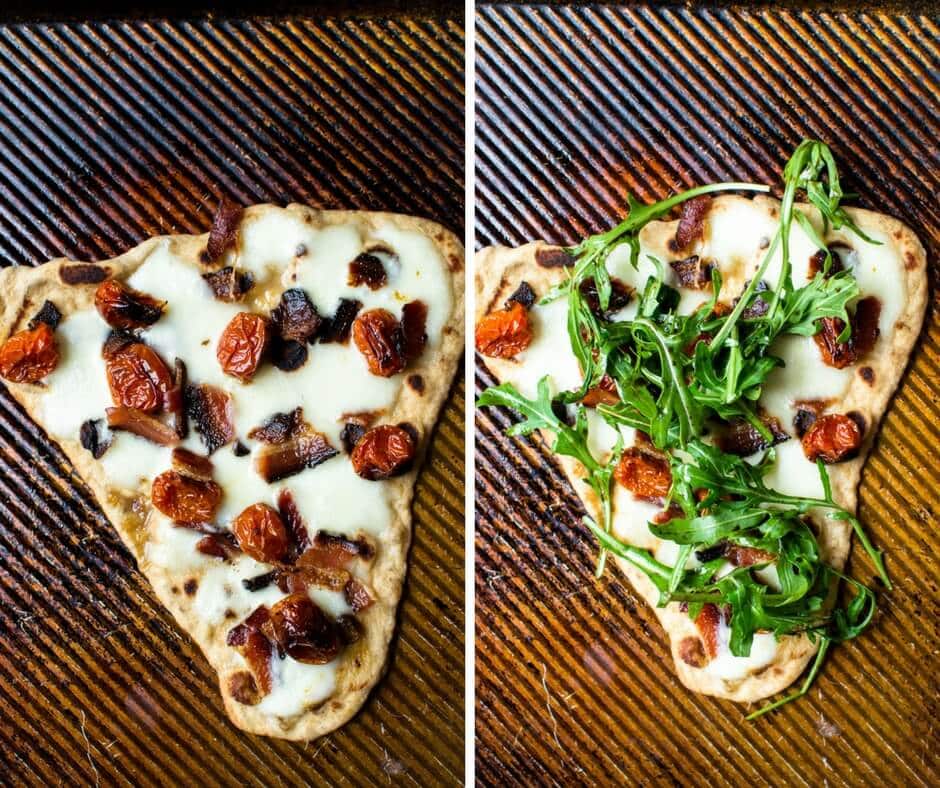 But back to the point I was trying to get across - because I had yummy naan pizza on the menu for dinner a few nights, I was giddy with excitement at points throughout my day in the anticipation of eating it! Especially on the really cold days - it's so nice to anticipate a warm, cozy meal in the evening. And if it looks pretty, you get even more bonus points. That's were the greenery comes in.
For this version of pizza, we're doing a take on a summertime classic that gets cozied up for the winter: a BLT. You will be hard-pressed to find tomatoes in the winter that are worthy of a classic BLT. Enter in the slow-roasted (like 3+ hours) grape tomato. These little suckers turn into tiny jewels of sticky sweetness when you cook them low and slow in the oven. The low heat helps them to shrivel and caramelize without burning. Pair them with smokey bacon, melty fresh mozzarella, peppery arugula, and a zip of tang from a drizzle of balsamic vinegar and you will be on your way to flavor heaven!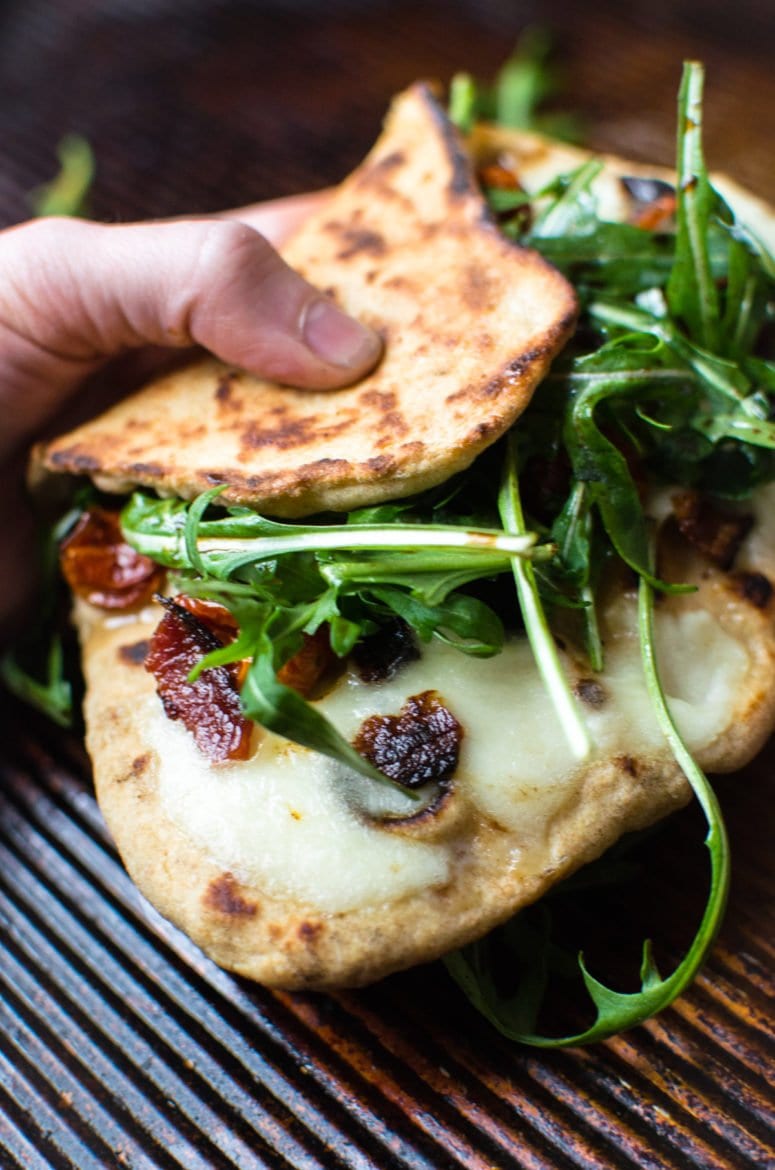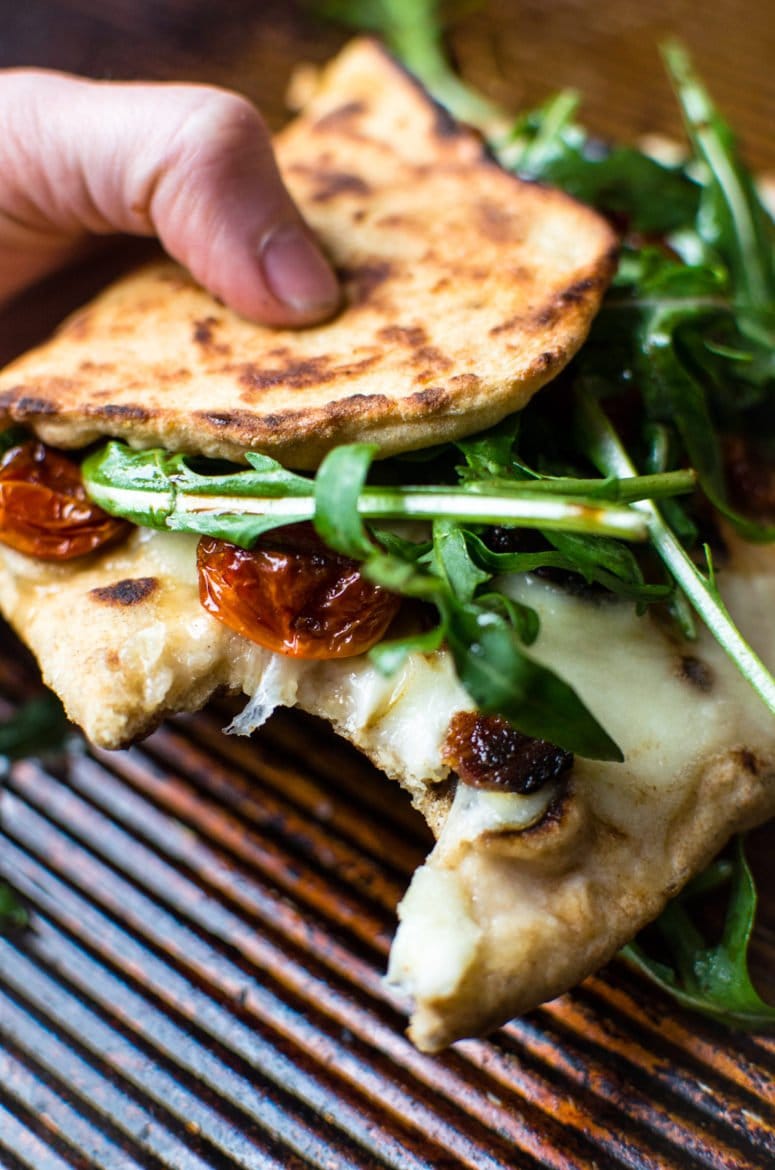 Recipe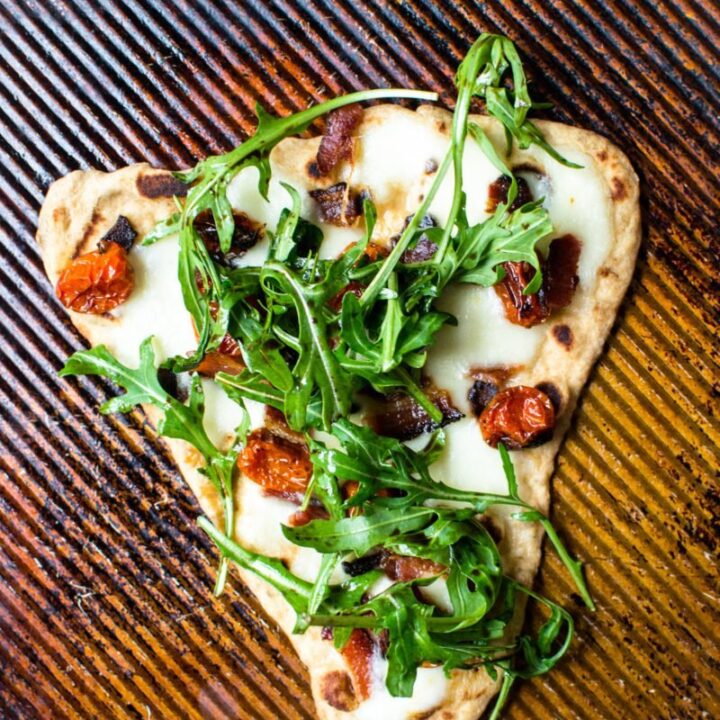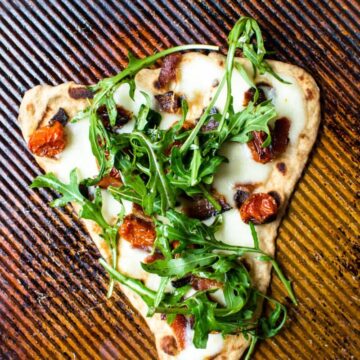 BLT Naan Pizza
A twist on classic pizza made on naan bread with bacon, arugula, blistered tomatoes, and cheese.
Print
Pin
Rate
Ingredients
2

pints

grape tomatoes

Naan bread

store bought or homemade (I used this recipe and shaped though into pizza slice wedges)

Fresh mozzarella

Uncured thick cut bacon

cooked and cut into bite-sized pieces

Fresh arugula

Balsamic vinegar

Olive Oil

Kosher Salt

Freshly cracked black pepper
Instructions
Fot the slow-roasted tomatoes:
Preheat oven to 250 degrees F. Line a baking sheet with foil. Place washed tomatoes on the baking sheet. Drizzle with a little olive oil and sprinkle with a light dusting of salt and pepper. Toss to coat. Slow-roast the tomatoes for 3 hours. Remove from oven, cool completely, and store in an airtight container in the fridge for up to 1 week. Use as pizza topping as you need to make the pizzas.
For the pieces:
Preheat oven to 400 degrees F.

Place pieces of naan on a baking sheet. Top in the following order: pieces of fresh mozzarella, slow roasted tomatoes, and bacon pieces. Bake for 10 minutes or until the cheese has melted and the bottom of naan bread is slightly crisp.

Remove pizza from heat. Top each piece with arugula. Drizzle a small amount of olive oil and balsamic vinegar on top of each slice. Serve hot!

Use ingredients to make pizzas throughout the week as you need them.