This fresh mint simple syrup recipe is what I use to sweeten my favorite cold beverages - from cold brew iced tea to lemonade, and even iced coffee!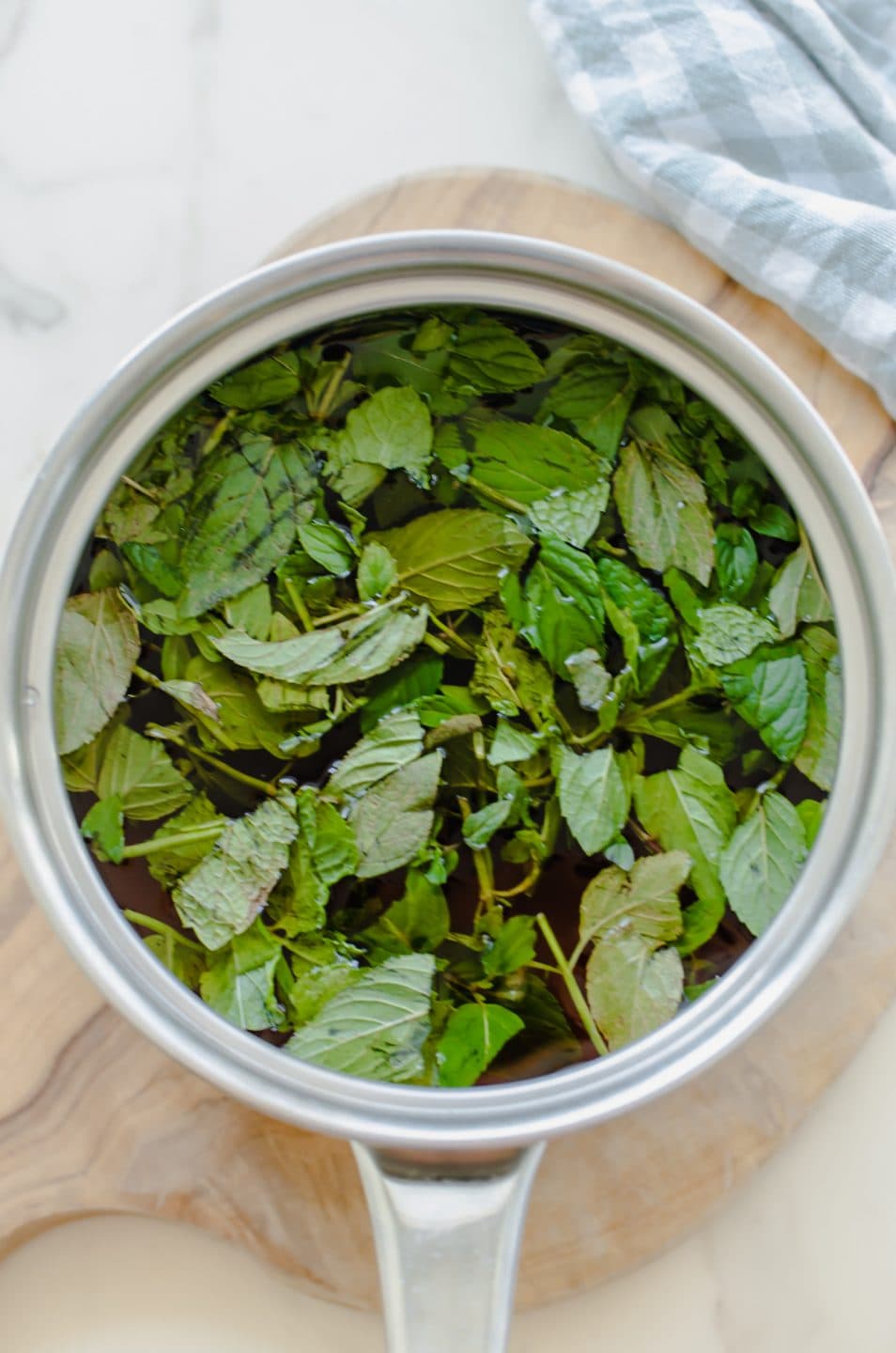 Jump to:
About the recipe
Hello there! I'm back from a short break to work on other projects after I finished up the #sweetcayennevegfest. And it's a new month with a new season approaching - are you all ready for fall?
I'm getting there, but it's really hard to when the temperature is still in the 90's! While I'm not feeling all the cozy feels just yet, we are enjoying some fall-ish football watching days, bonfires, and having visits from friends and family!
Speaking of having company, I've really gotten into having a batch of simple syrup at the ready throughout the summer months for sweetening my favorite chilled drinks. It's been really nice to serve along with iced tea especially because my guests can easily sweeten their own with the amount that they prefer.
This simple syrup recipe is a delicious "condiment" to have in your cooking repertoire for adding to your favorite cocktails and beverages. So let's make some!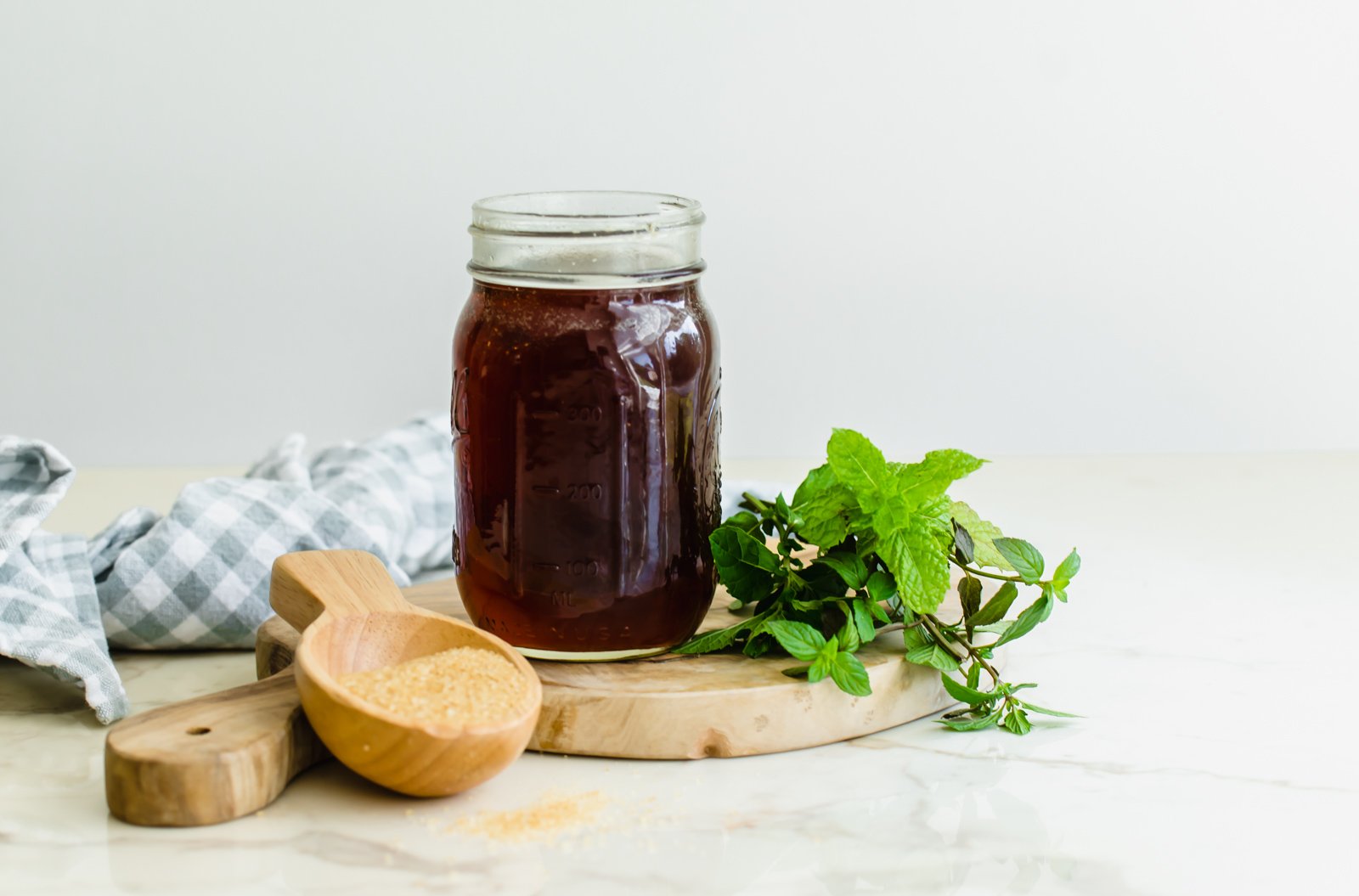 Ingredients
Simple syrup is typically made with a 1:1 ratio of water to sugar, but you can tinker around with this, depending on the flavor and level of sweetness you are going for.
My version of simple syrup is made with:
Water - use filtered water if you can for a pure, clean flavor in your syrup.
Raw sugar or turbinado sugar - most simple syrup recipe call for white granulated sugar. However, I love the depth of caramel flavor that raw sugar (like Sugar In The Raw) or turbinado sugar gives to a syrup.
It tastes amazing paired with teas or cocktails that use apple or stone fruit! Other options would include coconut sugar, golden sugar, or plain granulated sugar.
Fresh mint - making simple syrup with mint is a fantastic way to use up leftover mint leaves or an abundance of the herb in your garden. The flavor of the mint in this syrup is not overpowering at all - it's just subtle enough to taste fresh and clean in whatever you mix the syrup into.
Of course, you can use mint extract to flavor a simple syrup if you don't have fresh mint. Just add the extract once the syrup has cooled and taste as you add it for just the right balance of flavor.
Instructions
Step 1 - Combine the water, sugar, and mint in a small saucepan. No need to chop the mint or remove the leaves from the stems - the woody part still has a lot of great mint flavor in it. You can use whole mint sprigs in this, which makes the recipe super easy and quick!
Step 2 - Heat the mixture until the sugar dissolves completely - you will want to place your saucepan over medium heat, stirring occasionally, until the sugar has fully dissolved. You do not need to boil simple syrup - a gentle heating will be enough to dissolve the sugar.
Step 3- Cover the syrup and let it steep for 20 minutes. Steeping the mint in the dissolved syrup will concentrate the flavor.
Step 4- Strain the simple syrup, then chill for later use. You will want to pour the finished syrup through a strainer and into a jar or container with an airtight lid. Cool the syrup slightly, then transfer to the fridge to chill completely.
You can store this mint simple syrup in the fridge for up to 1 month. You'll know simple syrup is bad if it gets cloudy, grows mold, or has a strange smell. So be sure to label and date your bottle!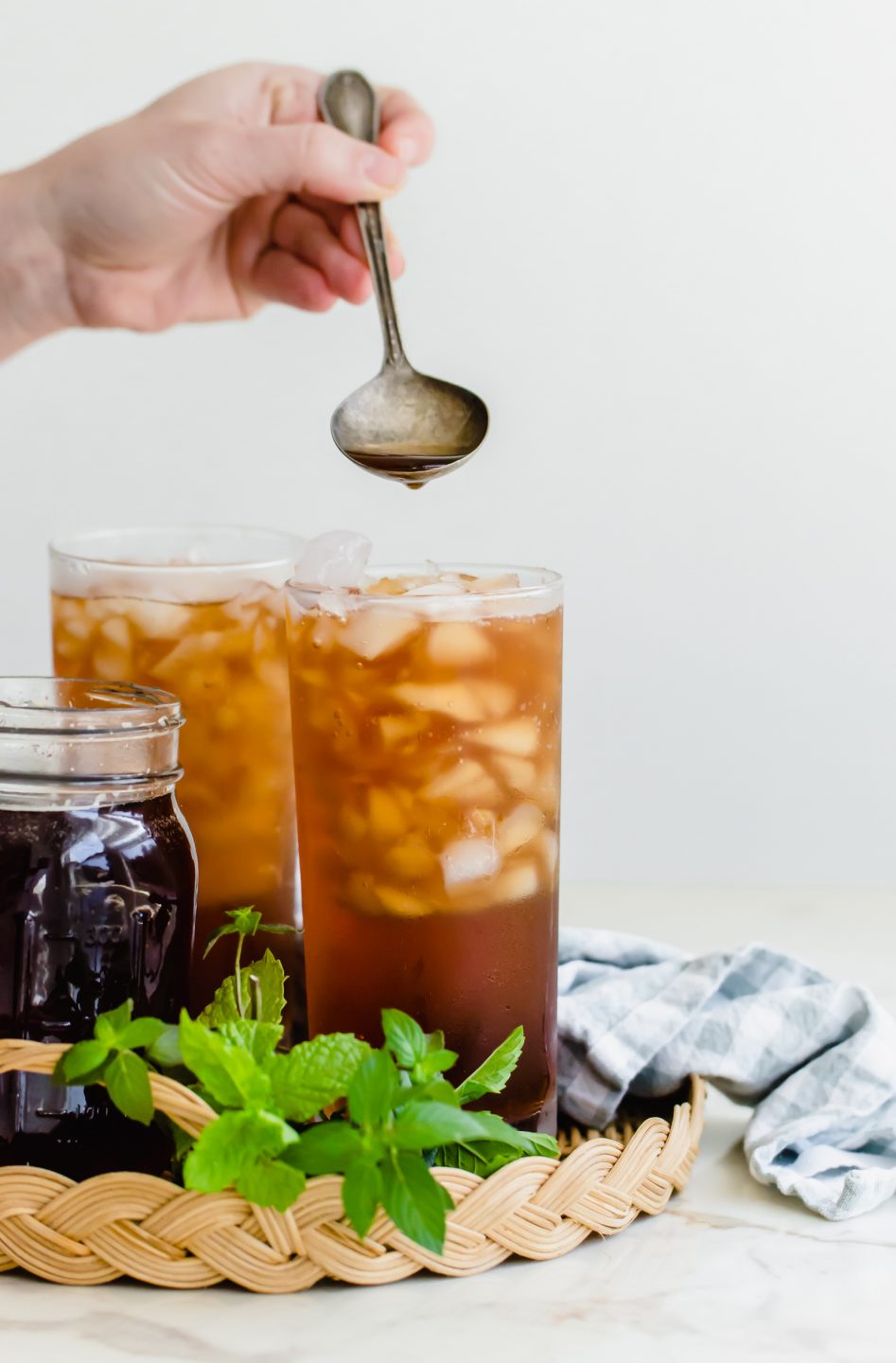 Serving suggestions
There are many ways to use simple syrup, so you shouldn't have any problem using it up!
Lemonade - I love to use this simple syrup in place of sugar to sweeten freshly squeezed lemonade. It dissolves perfectly in the drink and adds a fresh clean flavor.
Iced Tea - I find that half of the people in my family like unsweet iced tea, while the other half prefer lightly sweetened! Having a jar of simple syrup on hand allows everyone to sweeten their tea according to their own preference, which is nice!
Iced Coffee - I know, the combination of coffee + mint sounds kind of weird. But take my word for it and give it a try! This syrup is subtly sweet, so it really just imparts a refreshing undertone of flavor in your coffee as opposed to a strong minty flavor.
To sweeten homemade vinaigrettes - you can add a few teaspoons of this to homemade balsamic, Greek, or cilantro lime vinaigrette to add a hint of sweetness and balance the flavor.
As a concentrated glaze for cakes or quick breads - you can use a toothpick to poke holes in freshly-baked cakes, citrus breads, or even muffins and then brush this syrup on top of the cooling treat. It will add a subtle mint flavor to your baked goods!
As a dressing for a fruit salad - a drizzle of this mint simple syrup is delicious on a salad of melons and fresh berries.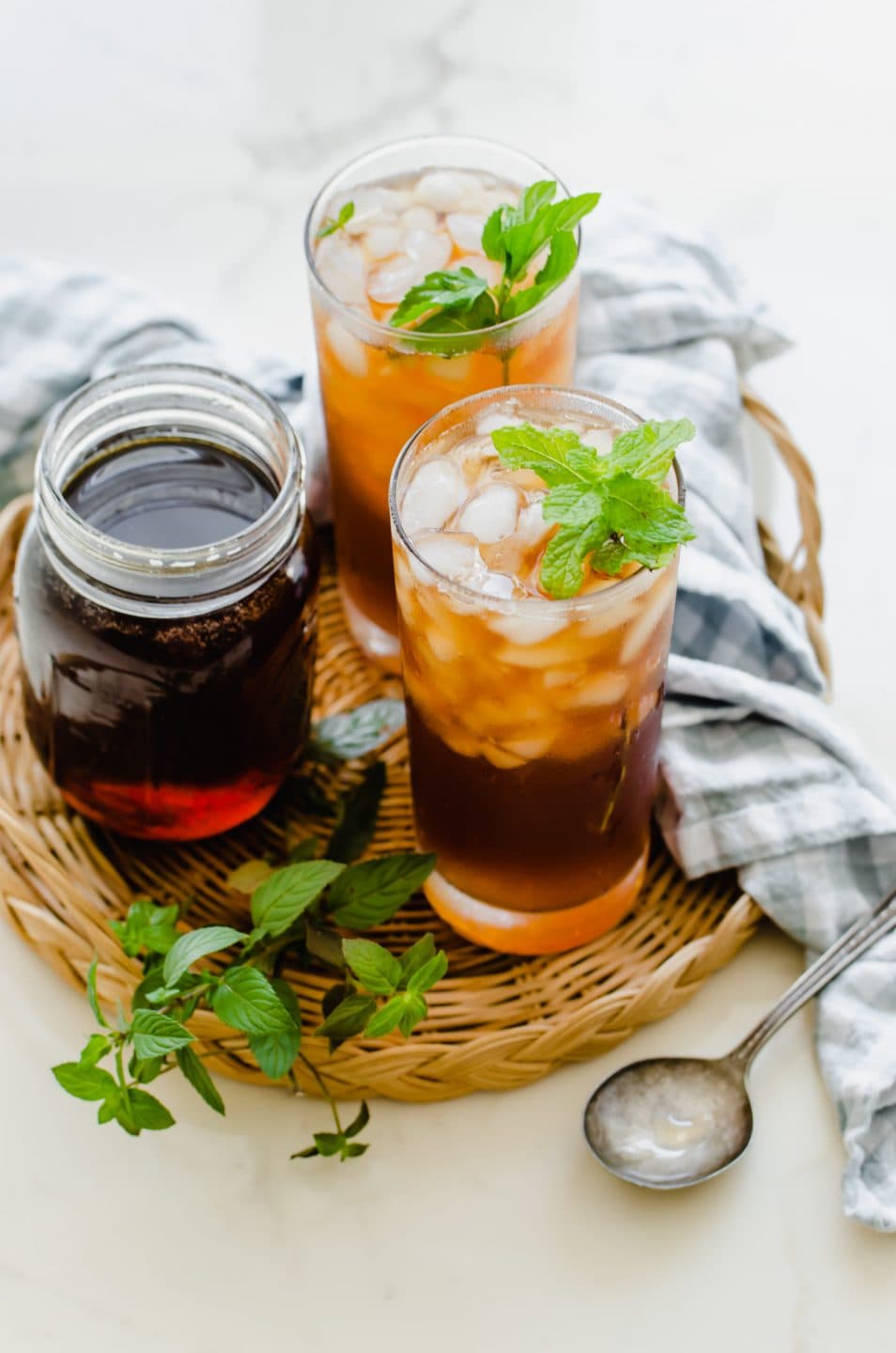 Are you ready to make this Fresh Mint Simple Syrup? I'm so excited for you to try this recipe. Once you get the chance to make it, please let me know how it turns out for you!
Leave a comment and rate the recipe below. This will help me with the creation of future recipes!
I'd also love to feature your creation in my monthly newsletter, so you can upload a photo to Instagram or Twitter with the tag @sweetcayenne5 to be featured!
Similar recipes
Recipe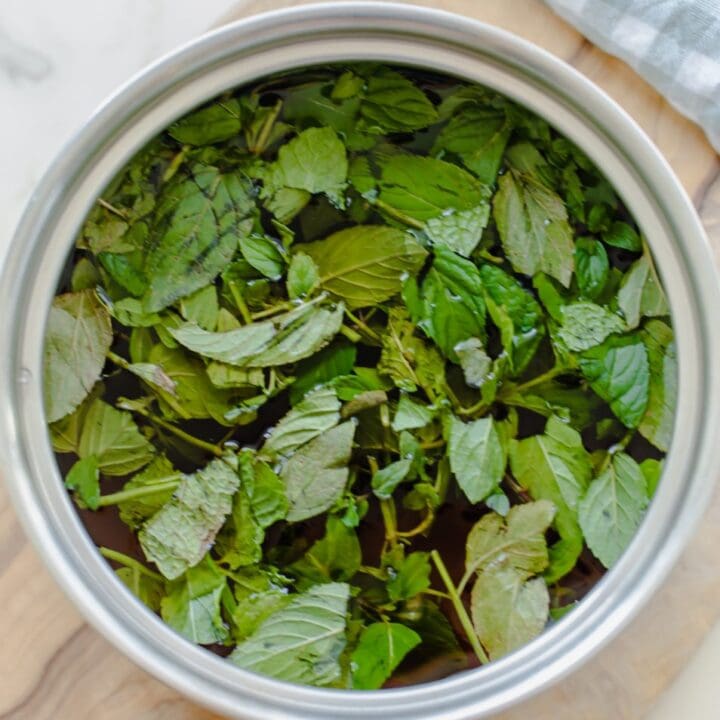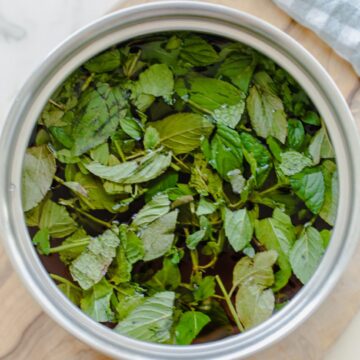 Fresh Mint Simple Syrup
This fresh mint simple syrup is a dark syrup made with raw sugar. It's perfect for sweetening your favorite cold beverages!
Print
Pin
Rate
Ingredients
1

cup

raw sugar (demerara or turbinado sugar)

1

cup

water, preferably filtered

⅓

cup

mint leaves + stems, roughly chopped to fit in your saucepan
Instructions
Combine the sugar, water, and mint in a small saucepan. Place over medium heat. Heat, stirring occasionally until the sugar is completely dissolved.

Remove the pan from heat and cover with a lid. Steep the mint into the syrup for 20 minutes. Strain the syrup into a Mason jar or container that has a tight-fitting lid.

Cool the syrup at room temperature for 10 minutes before transferring to the refrigerator to cool completely. Chill and use as needed in your favorite cold beverages!

Syrup will keep in the fridge for up to 4 weeks.
Serving:
1
tablespoon
|
Calories:
47
kcal
|
Sugar:
12.5
g