This easy Boiled Apple Cider Syrup is laced with the flavor of cinnamon and is delicious added into all of your favorite fall baked goods!
As an Amazon Associate, I earn from qualifying purchases.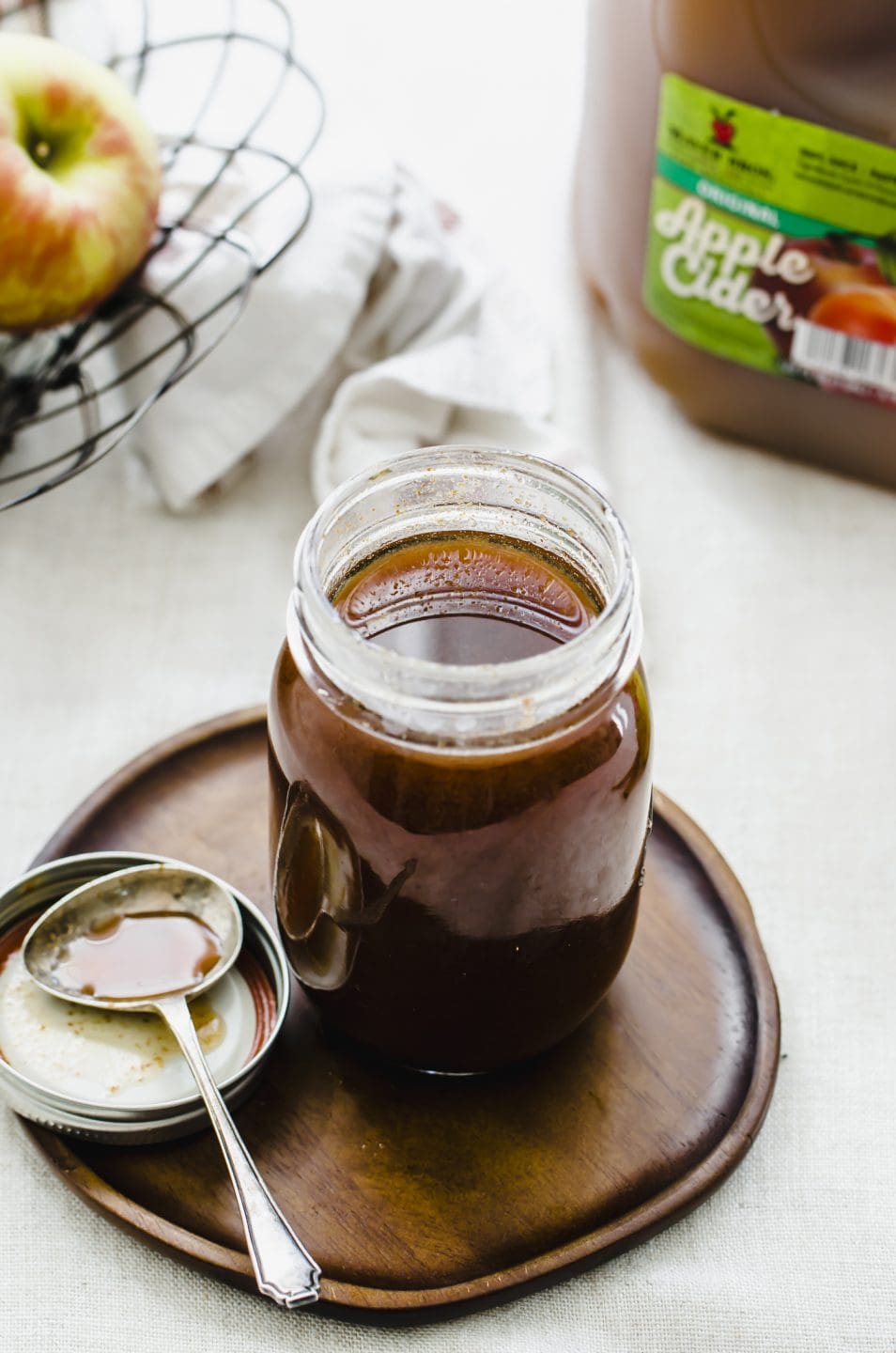 Welcome to Day 1 of Apple Cider Week! I'm SO excited about what is to come. Last year, I did an entire week dedicated to Thanksgiving foods. This year, I've decided to celebrate one of my favorite fall and holiday ingredients with a full week of recipes that feature it: fresh apple cider! Apples and all things related to apples are my favorite thing about fall - it's my dream to one day spend a month in New England just taking in the glory of apple season up north!
One particular apple cider ingredient that has intrigued me for some time now is boiled cider. I've seen lots of recipes that call for - most often apple cider donuts and apple pies. I've been tempted many a time to buy the boiled cider sold on King Arthur's website but recently discovered that it's easy to make it yourself at home. And I'm happy to report that it could not have been more simple! The recipe I'm sharing with you today will be incorporated into 3 additional recipes this week, so if you have a chance to try it, you will have multiple ways to use it up throughout the season. Let's make some!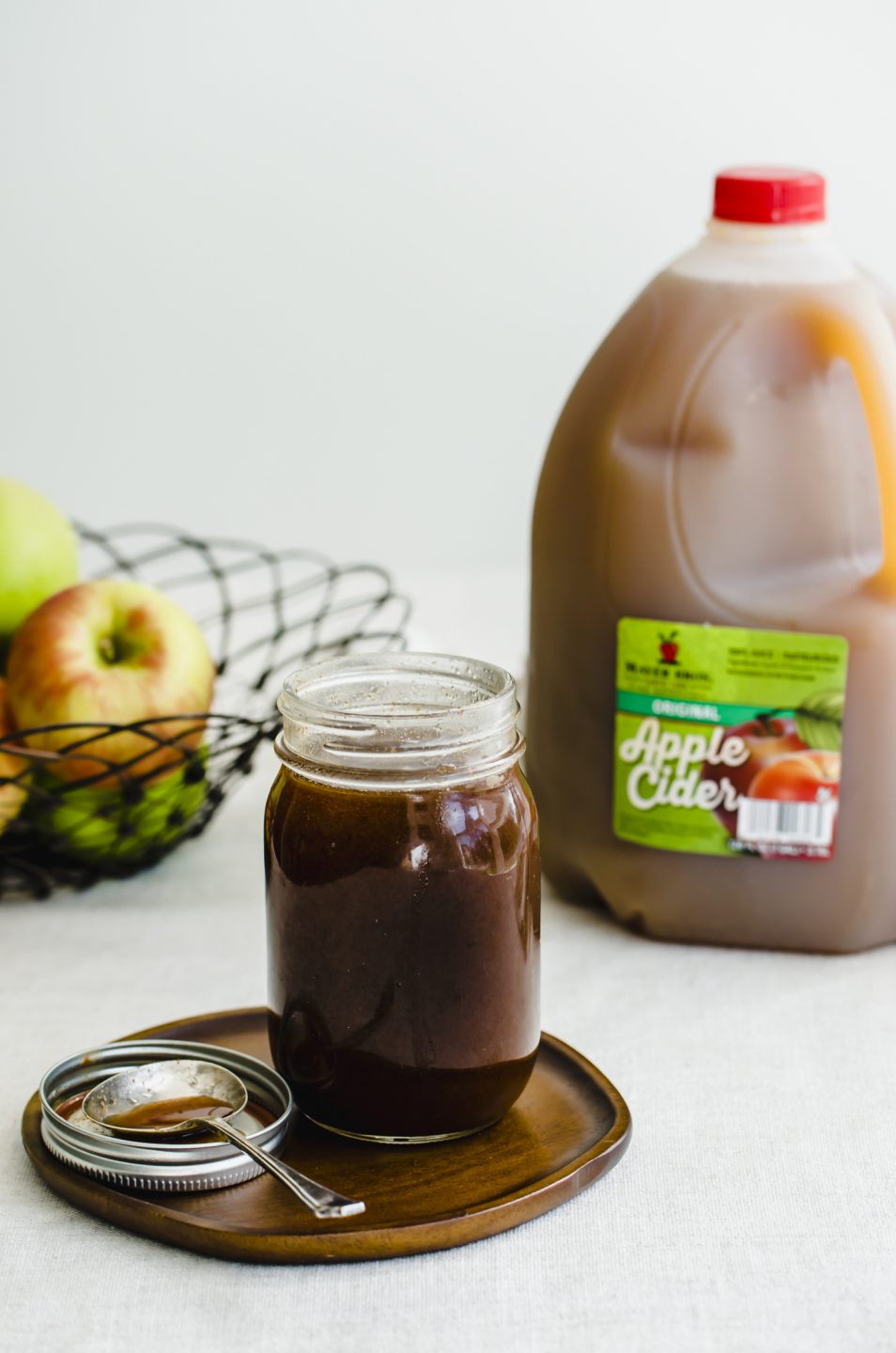 Ingredients for Boiled Apple Cider Syrup
Fresh apple cider - you will need one gallon of fresh apple cider to make this boiled apple cider syrup. It yields approximately 2 cups, which is plenty to add to your favorite apple recipes throughout the fall season! Feel free to use spiced apple cider if you can find it and want a spice-flavored syrup.
Whole spices - this is completely optional and depends on your flavor preference! I add 3 whole cinnamon sticks to my gallon of cider for a subtle cinnamon flavor. You can certainly experiment with whole cloves, star anise, allspice berries, cardamom, etc. and the strain everything out once the cider has reduced.
A large, heavy-bottomed pot - this isn't an ingredient, but more of a necessary piece of equipment for making boiled apple cider syrup. This size and surface area of your pot will have a lot to do with how quickly your apple cider reduces. I used a 5-quart Dutch oven, which was large enough to perfectly fit one gallon of cider into. The enameled cast iron material ensured that my cider would reduce quickly, evenly, and prevent scorching on the bottom. The wide surface area of the pot also helped cut down the time the syrup needed to reduce.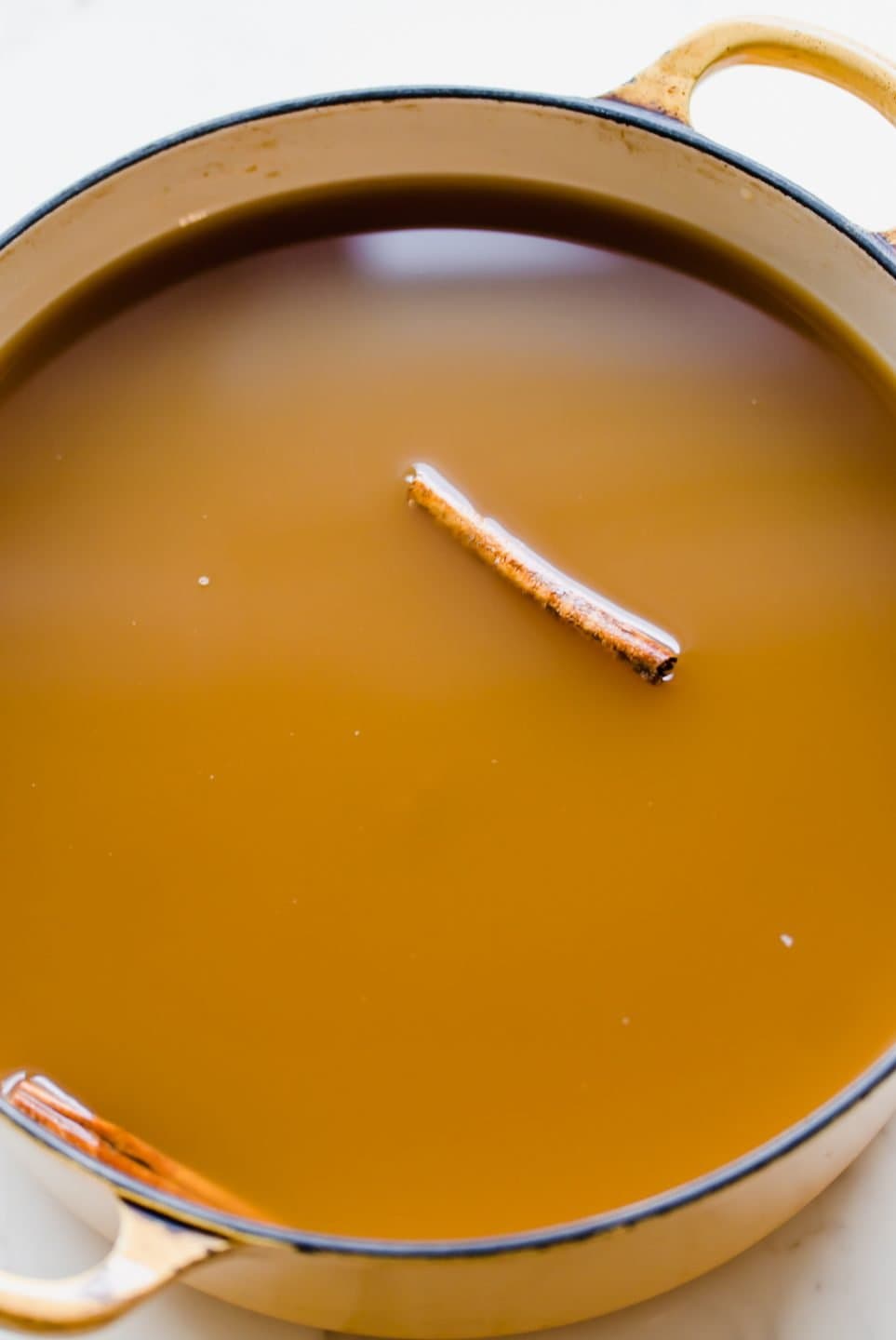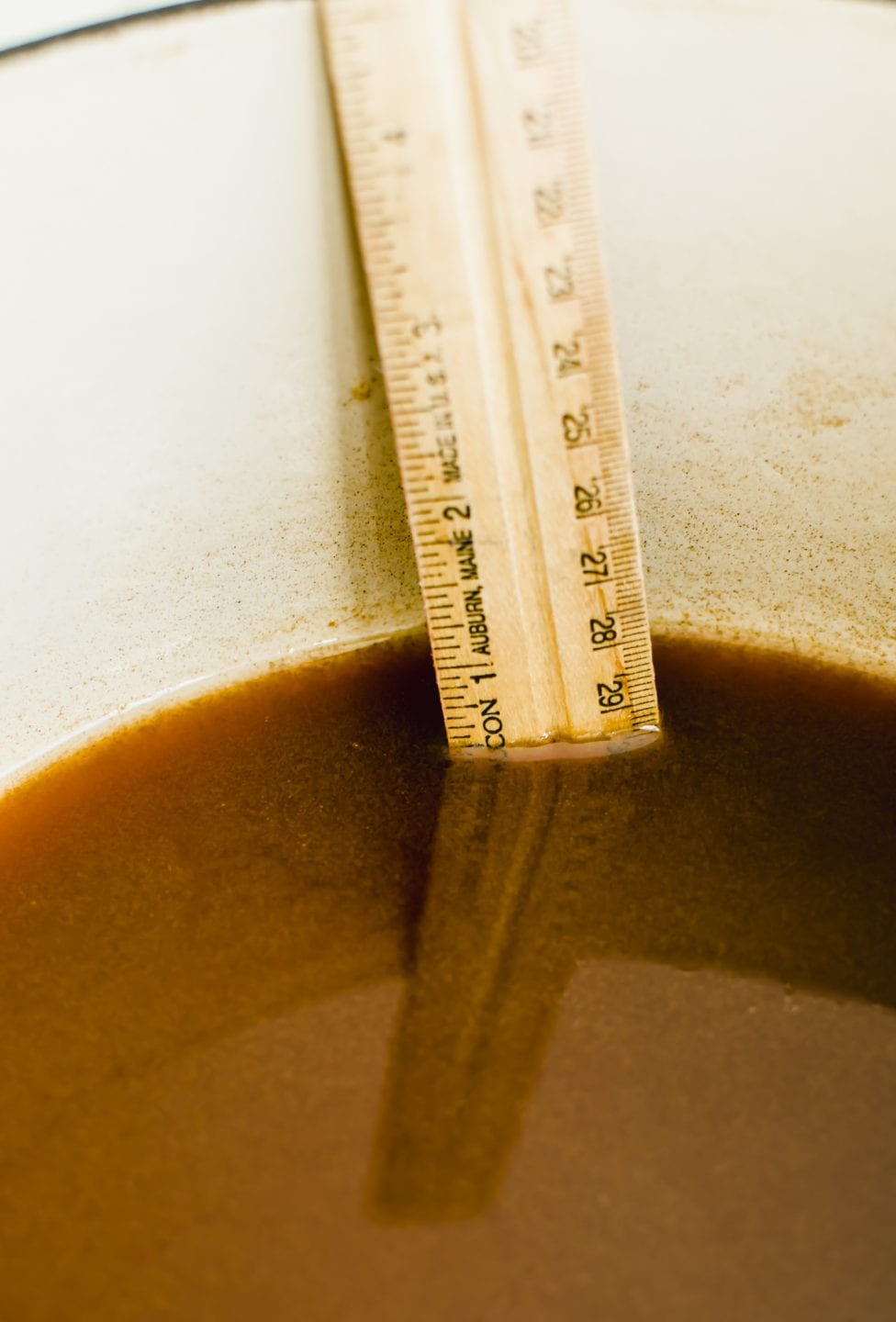 How to Make Boiled Apple Cider Syrup
Measure how far up the side of the pot the fresh cider reaches (see photo above) - you can use a wooden skewer for this or a wooden baking ruler. If you use a skewer, mark a line at the top point that the cider comes up the side of the pot. Divide that space into 8, and then you will see the 1/8 mark that you need to reduce the liquid down to. All in all, one gallon of fresh cider should be reduced to just over 2 cups for a proper boiled cider consistency.
Simmer the cider, stirring a few times every hour. The King Arthur Flour site says it takes 5-6 hours to reduce to just over 2 cups. However, my cider only took 3 1/2 hours. I cooked it over a light simmer and stirred it twice every hour. The house smelled amazing during the process and I thought it was the perfect thing to do while working on the computer or doing kitchen work. The final consistency of the syrup should be similar to that of honey when it is heated.
Strain the reduced syrup - this will remove any impurities or sediment from whole spices.
Let the syrup cool a bit, then store in the refrigerator. 
And that's it! Trust me, this is a really simple project that will yield a delicious flavor booster for all your favorite apple baked goods and recipes. You will love it!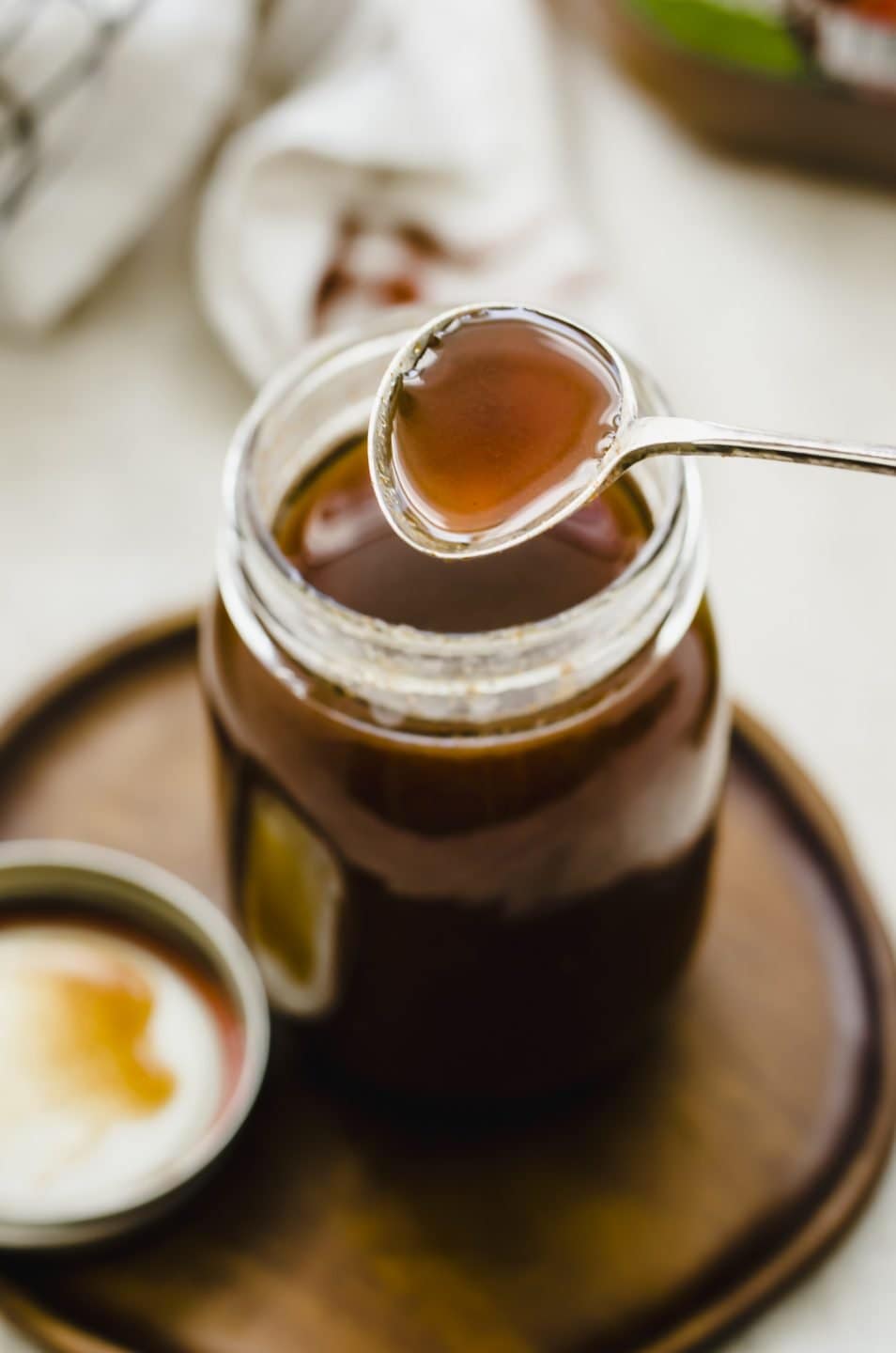 Using Boiled Apple Cider Syrup
Add 2-3 tablespoons to any apple filling for pies, crisps, dumplings, or cobblers.
Add to baked apple muffins, breads, donuts, and cakes to deepen the apple flavor.
Use as a topping on ice cream, yogurt, oatmeal, waffles, and pancakes.
Add to powdered sugar for a quick apple glaze on scones, cinnamon rolls, cookies and more!
Add to your favorite apple cocktails, mocktails, punches, teas, etc.
Use as a sweetener in an apple vinaigrette for fall-inspired salads.
Spoon over roasted butternut or winter squash.
And of course, stay tuned for the remainder of Apple Cider Week! I'll be posting 3 recipes that utilize boiled cider syrup and I can't wait to share them with you!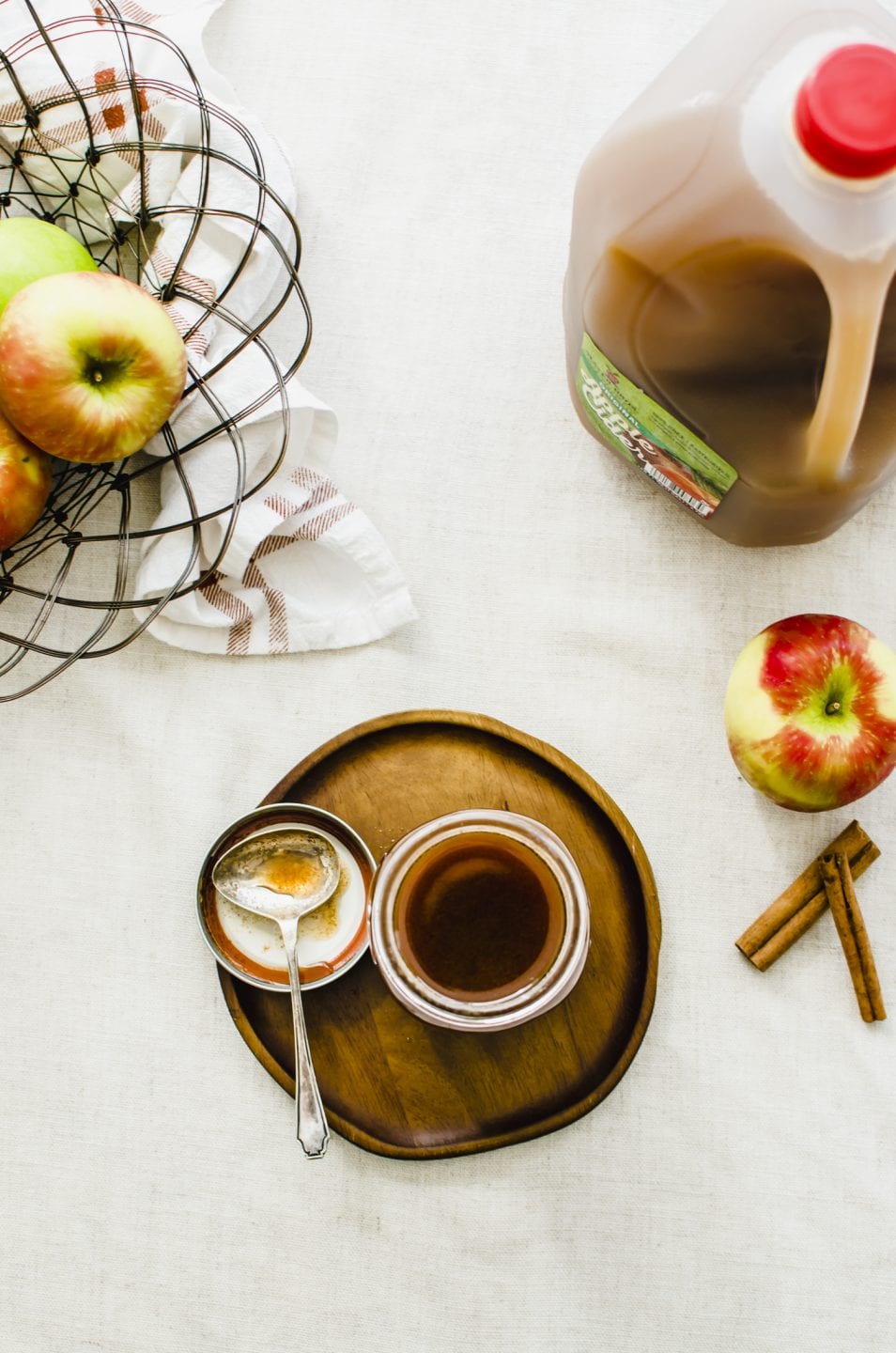 Are you ready to make this Boiled Cider Syrup? I'm so excited for you to try this recipe. Once you get the chance to make it, please let me know how it turns out for you! Leave a comment and rate the recipe below. This will help me with the creation of future recipes! I'd also love to feature your creation in my monthly newsletter, so you can upload a photo to Instagram or Twitter with the tag @sweetcayenne5 to be featured!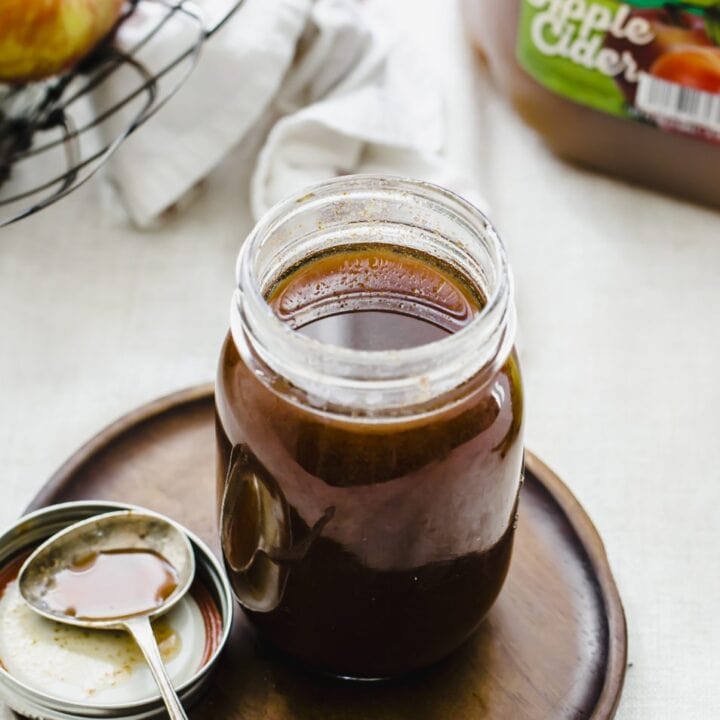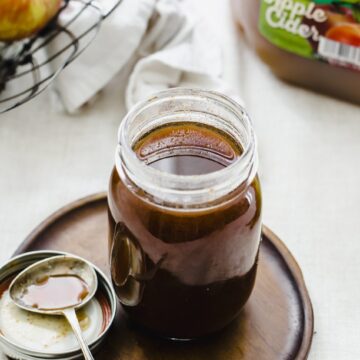 Easy Boiled Apple Cider Syrup
Reduced apple cider made into a syrup that can be used to flavor various foods.
Print
Pin
Rate
Ingredients
1

gallon

fresh apple cider

3

cinnamon sticks
Instructions
Place the cider in the pot over medium heat. Bring to a boil. Reduce heat to a simmer. Cook, stirring every now and then (at least twice per hour), until the cider has reduced down to about 2 cups (it should be about ⅛ of the volume that it initially was), which will take anywhere from 3-5 hours (mine took 3 hours). The cider will have the consistency of hot runny honey and will thicken as it cools.

Remove the cinnamon sticks and pour the syrup through a strainer to remove any impurities and transfer to a container with an airtight lid, such as a pint-sized Mason jar. Place the lid on the jar and chill the syrup. Store in the refrigerator for up to 3 months.
Notes
Tips for making boiled cider:
Use a ruler to initially measure the height of the boiled cider in your pot. You will want to reduce the cider to about ⅛ of the initial height, so mark that on your ruler or a wooden skewer.

When the cider is sufficiently reduced, it will be forming copper-colored bubbles on the top as it simmers.

Signs of an overcooked cider include a thick viscosity similar to molasses and a sour flavor. Very overcooked cider will be thick and sticky like taffy, difficult to pour and taste bitter.
Serving:
1
Serving
|
Calories:
155
kcal
|
Carbohydrates:
38.6
g
|
Protein:
0.2
g
|
Fat:
0.4
g
|
Saturated Fat:
0.1
g
|
Sodium:
10
mg
|
Potassium:
394
mg
|
Fiber:
0.3
g
|
Sugar:
36
g
|
Calcium:
23
mg
|
Iron:
1
mg
Pin this, pretty please!