I'm in love with these Baked Apple Cider Donut Holes because they are simple to make and taste just like the fresh apple cider donuts I have had in New England!
As an Amazon Associate, I earn from qualifying purchases.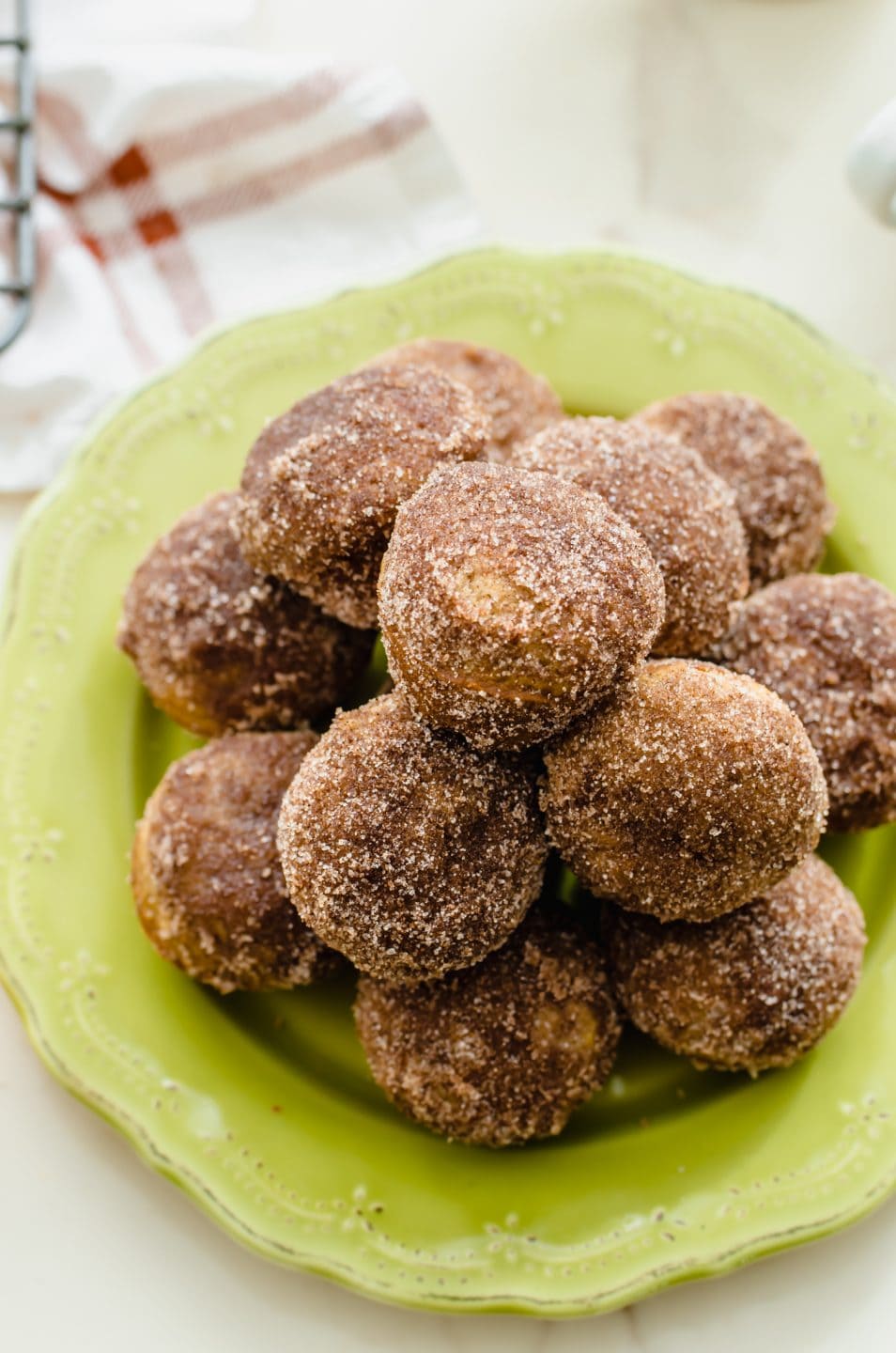 Donutssssss! Donut holes, to be exact. Recipe #2 in the Apple Cider week we are in the midst of is a light and fluffy donut hole flavored with boiled cider and applesauce. While they are warm and fresh outta' the oven, the donut holes are dunked in a little bit of melted butter and rolled around in cinnamon sugar. These are what the coziest fall Saturday mornings are made of! Because these (and pretty much all things donut-related) are best on the day they are made, these Baked Apple Cider Donut Holes are meant to be shared. So invite a few friends over for and have them for brunch or a late afternoon chat over coffee/tea.
A few years ago, I took one of my favorite trips of all time to upstate New York. During the trip, I went to an apple orchard with my family and picked the most beautiful fresh apples. Afterward, we picked up some fresh apple cider donuts and cider to enjoy around a campfire later that evening. It's one of the best memories I have, and I love that it involved sharing seasonal foods with people I love! I knew I had to recreate a version of cider donuts that could easily be made at home, and I'm happy to say that this one is pretty much perfect. You won't miss the fact that these are not fried – the flavor and texture make up for it!
If you missed the first recipe of Apple Cider Week, check out the post for Boiled Apple Cider Syrup here. You will need some of this to make these donut holes. Let's bake!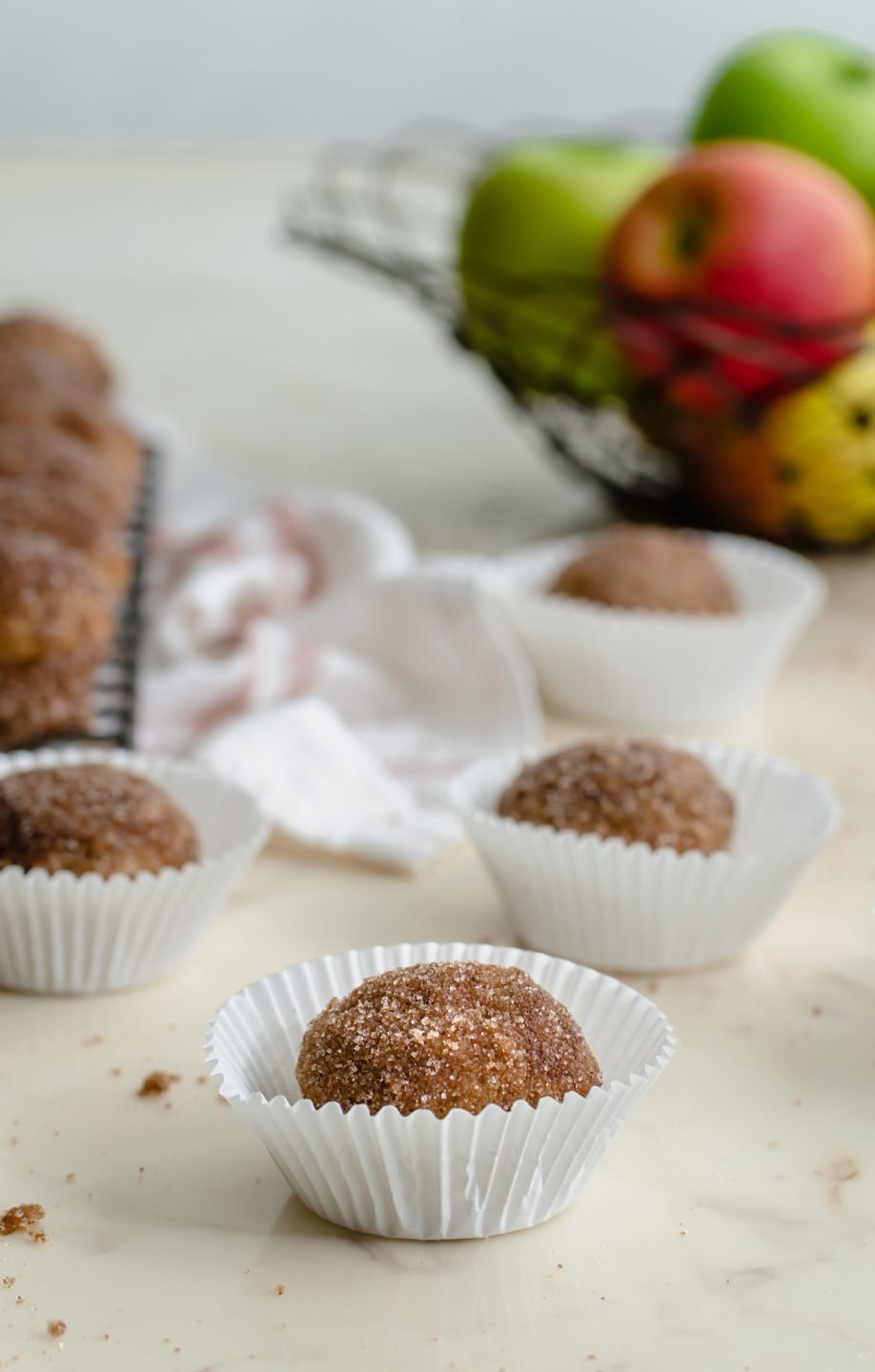 Ingredients for Baked Apple Cider Donut Holes
Boiled apple cider – this condiment makes for the most intensely-flavored apple baked goods! It's simple to make at home, and you can find the recipe here! The yield is approximately 2 cups, and you will use 1/4 cup in this recipe.
Applesauce – unsweetened applesauce further contributes to the apple flavor in this recipe and keeps the donut holes light, moist, and fluffy. It also helps with cutting back on the butter needed in the batter!
Dry ingredients – flour, baking powder, baking soda, salt, cinnamon, nutmeg, cloves, granulated sugar.
Wet ingredients – buttermilk, egg, vanilla, melted butter.
Donut hole topping – more melted butter, sugar, and cinnamon. I prefer to use Saigon or Vietnamese cinnamon for a richer flavor.
Ingredient amounts/instructions listed in the recipe below.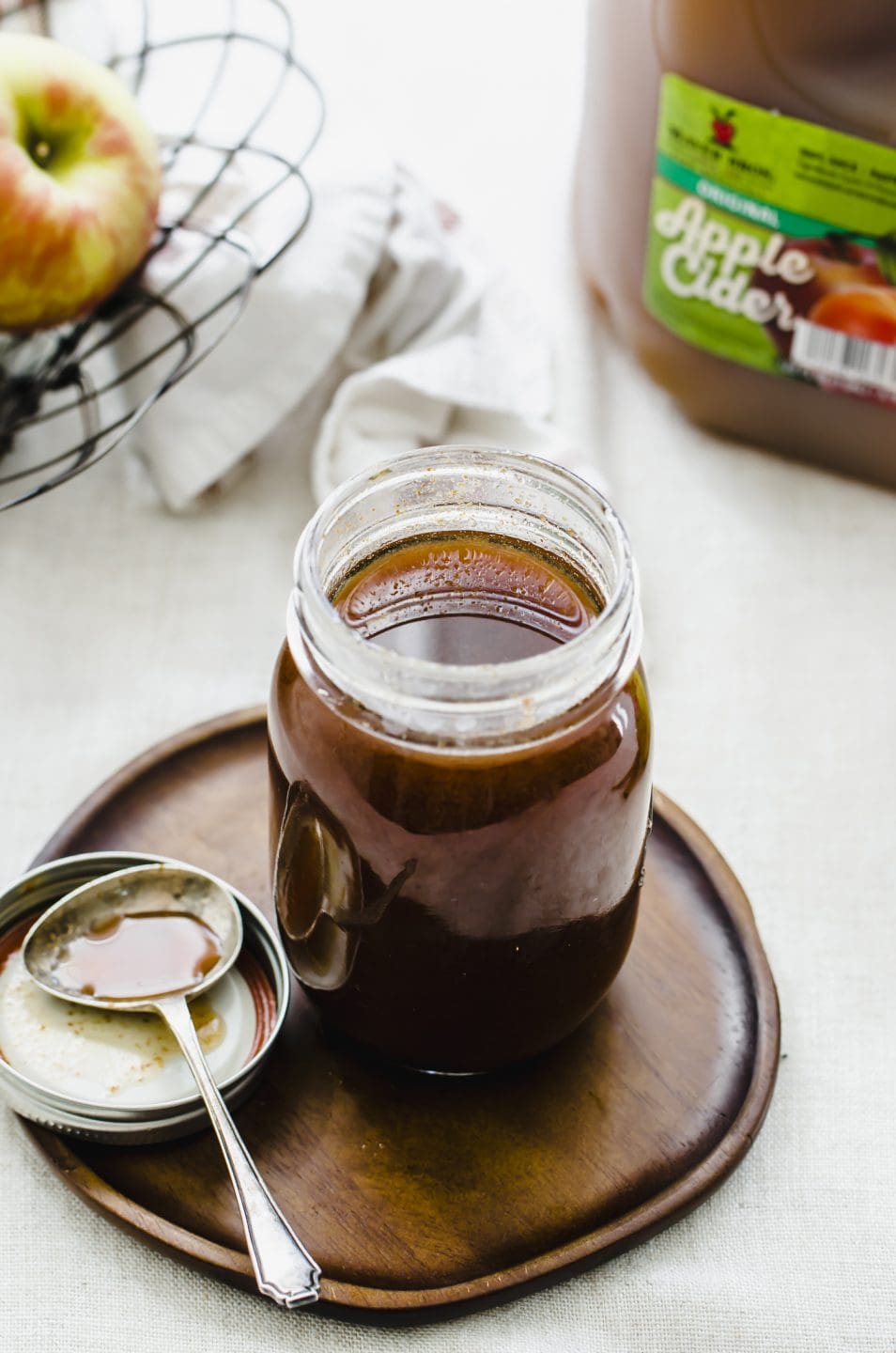 How to Make Baked Apple Cider Donut Holes
Coat a mini muffin pan with cooking spray.
Whisk together dry ingredients.
Whisk together wet ingredients.
Combine – add the dry ingredients to the wet ingredients and stir until just incorporated.
Bake – scoop the batter with a dough scoop into the wells of the tin. Bake for 10-13 minutes – the donut holes are done with a toothpick inserted into the center comes out clean!
Dunk the donut holes in melted butter, then roll around in cinnamon sugar while they are still warm. Enjoy right away or cool slightly!
Complete instructions are found in the recipe below.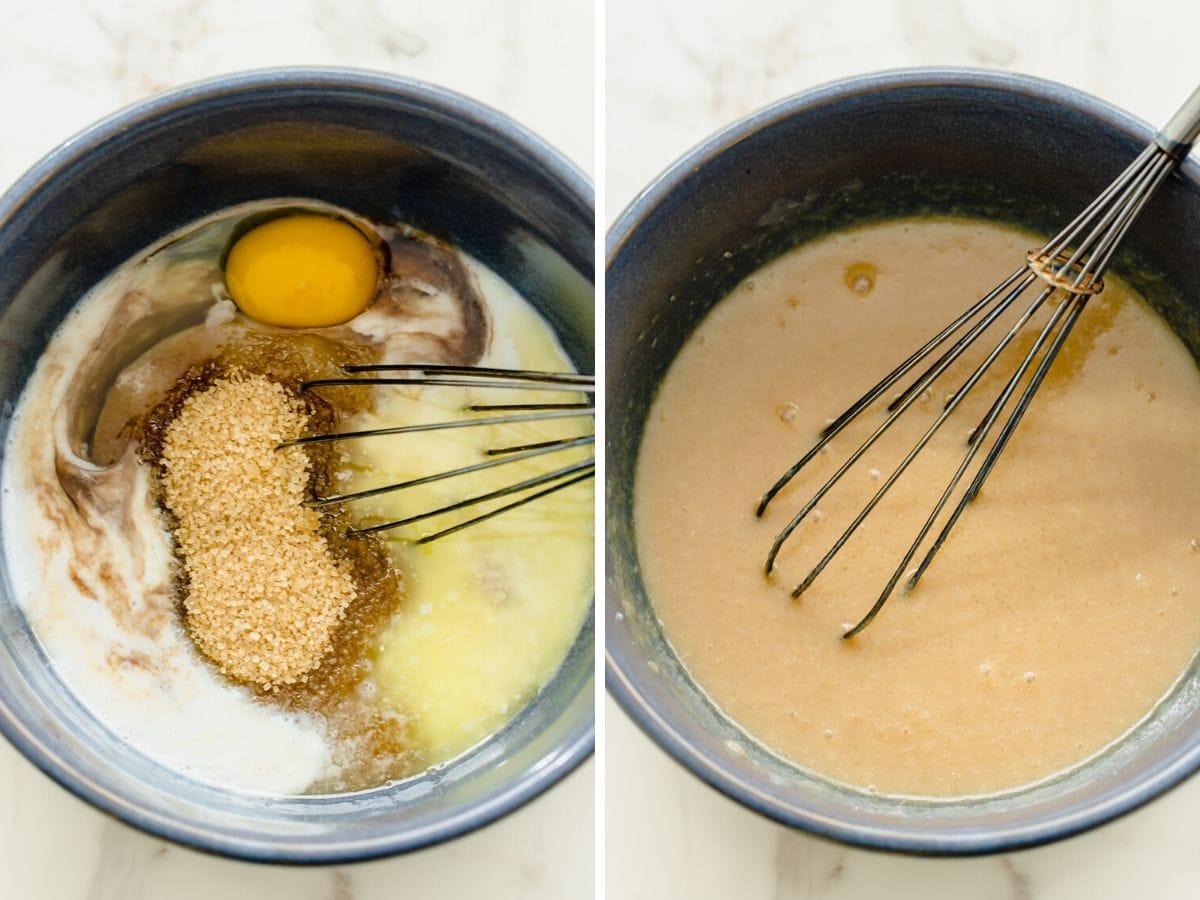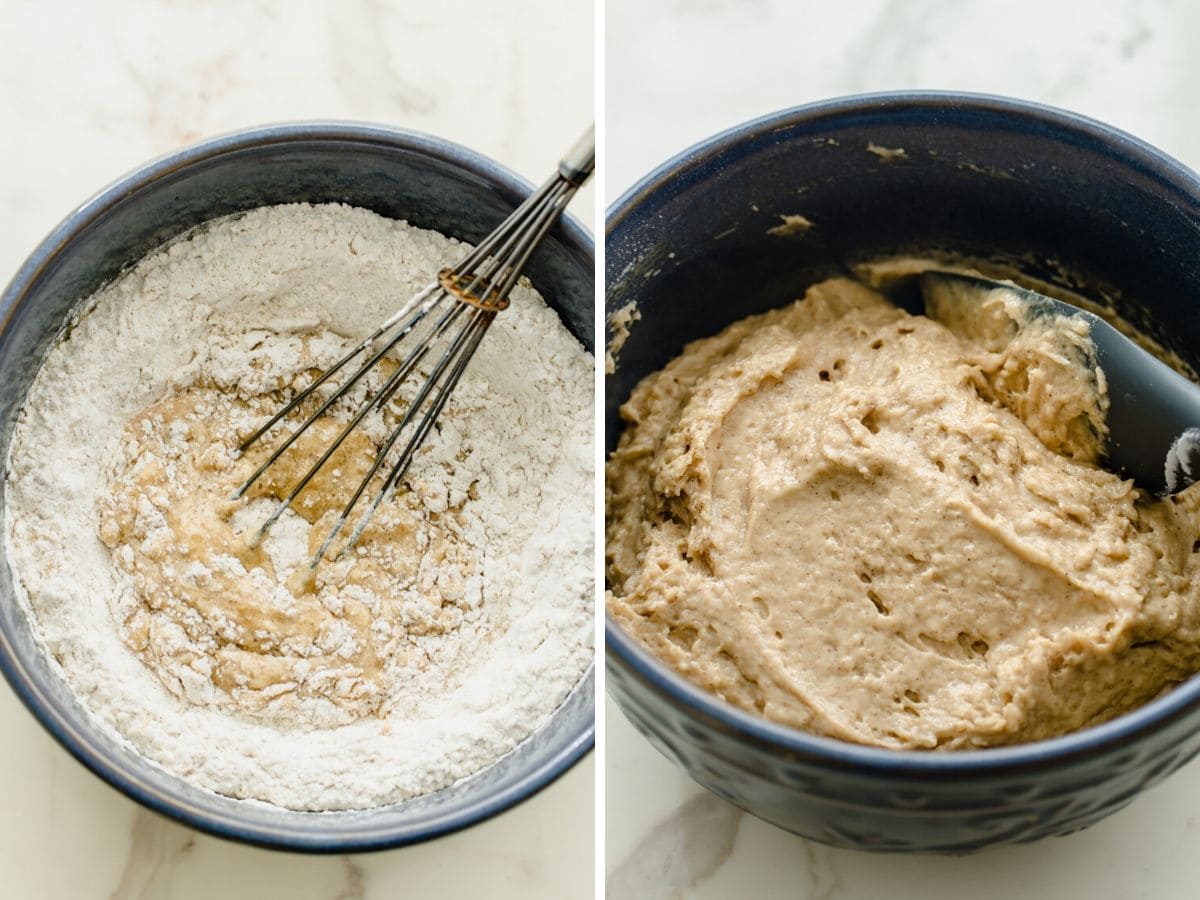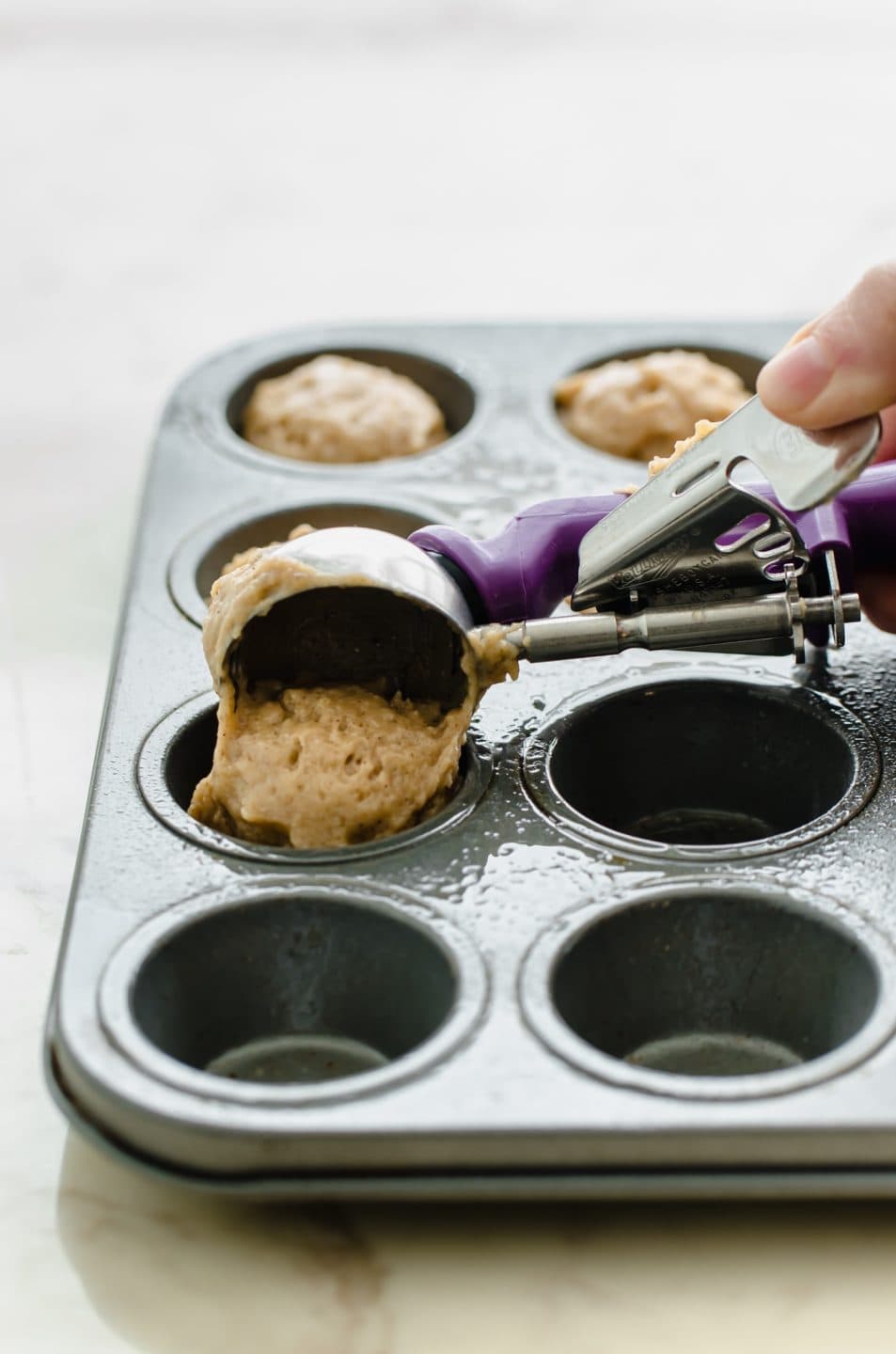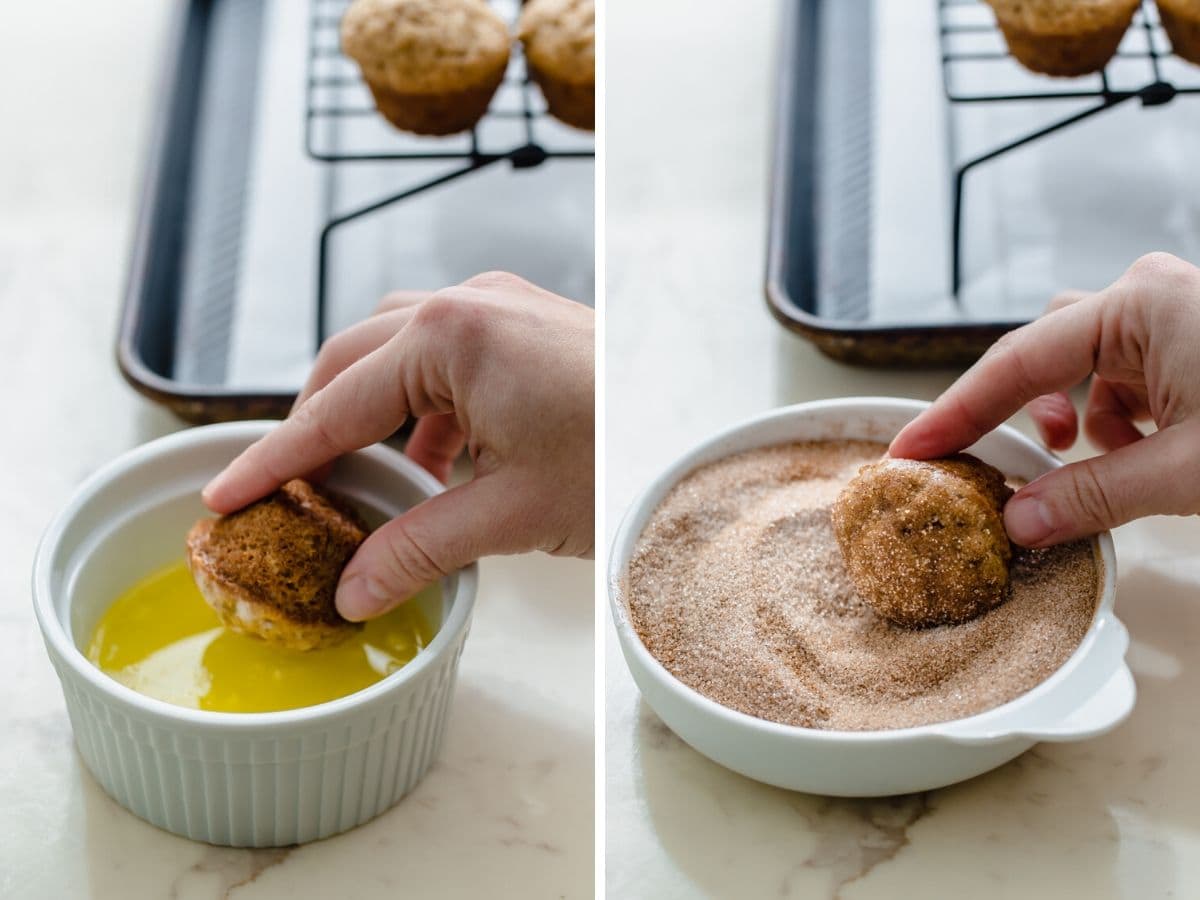 Possible Recipe Variations
Make them whole grain – you can substitute white whole wheat flour for all-purpose flour fairly well in this recipe. The donut holes may be a little more dense, but still very tasty!
Substitute with all-purpose gluten-free flour blend – based on other recipes similar to this that I've tried with gluten-free flour blends, I feel this one will work well.
Substitute butter with a plant-based buttery spread – I prefer Earth Balance Butter Spread or sticks for this.
Reduce the sugar – you can reduce the sugar in the batter from 1/2 cup to 1/4 cup if you like without noticing too much of a difference, leaving the topping amount the same.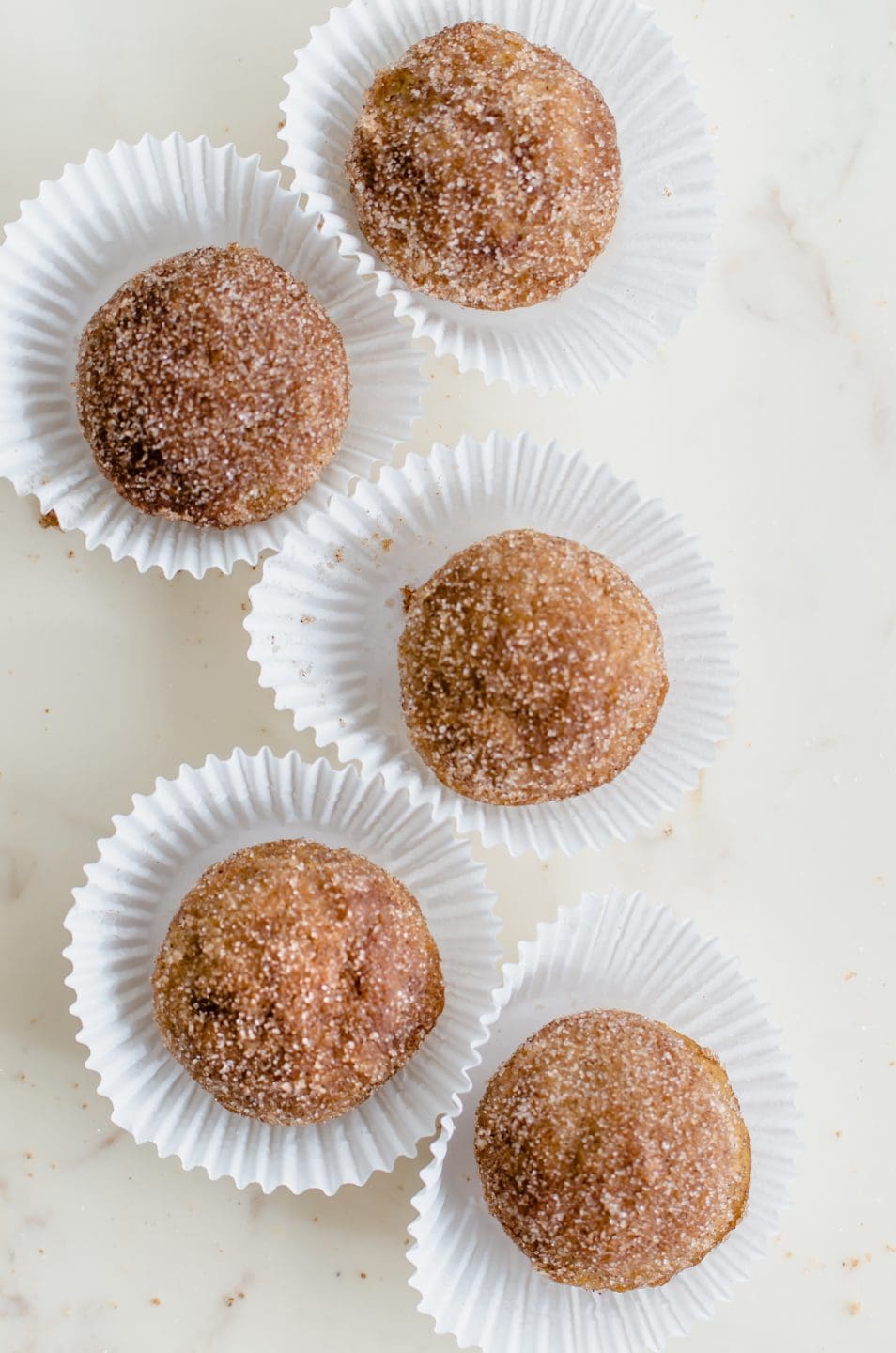 Other Apple Cider Recipes
As part of Apple Cider week, I will be posting 3 additional recipes this week. So stay tuned! In the meantime, try:
Are you ready to make these Baked Apple Cider Donut Holes? I'm so excited for you to try this recipe. Once you get the chance to make it, please let me know how it turns out for you! Leave a comment and rate the recipe below. This will help me with the creation of future recipes! I'd also love to feature your creation in my monthly newsletter, so you can upload a photo to Instagram or Twitter with the tag @sweetcayenne5 to be featured!
Ingredients
For the donut hole batter:
2

cups

all-purpose flour (can also substitute with ½ whole wheat flour)

1

teaspoon

baking soda

¾

teaspoon

baking powder

¼

teaspoon

salt

1 ½

teaspoon

ground cinnamon, preferably Saigon/Vietnamese

¼

teaspoon

ground cloves

¼

teaspoon

ground nutmeg

1

large

egg, at room temperature

⅓

cup

buttermilk (I use low-fat)

½

teaspoon

vanilla extract

½

cup

unsweetened applesauce

¼

cup

boiled cider

2

tablespoons

salted butter, melted (can substitute with melted plant-based buttery spread)

1/2

cup

natural cane sugar (or granulated sugar)
For the topping:
4

tablespoons

salted butter, melted (can substitute with melted plant-based buttery spread)

1/2

cup

natural cane sugar (or granulated sugar)

2 1/2

teaspoons

ground cinnamon, preferably Saigon/Vietnamese
Instructions
Preheat oven to 350℉. Spray a mini muffin tin with cooking spray and set aside.

In a small bowl, combine the flour, baking soda, baking powder, salt, and the spices. Stir with a spoon until fully incorporated.

In a large bowl, whisk together the egg, buttermilk, vanilla, applesauce, boiled cider, melted butter, and sugar until thoroughly combined.

Add the flour mixture to the wet ingredients, and stir together lightly just until combined. Scrape down the sides of the bowl with a rubber spatula and lightly fold any flour residue into the batter. Do not overmix.

Use a small cookie dough scoop to fill the wells of the prepared muffin pan. Bake the donut holes for 10-13 minutes or until a toothpick inserted into the center comes out clean. Remove from oven and let cool for 5 minutes before transferring to a wire rack. During the baking time, combine the cinnamon and sugar for the topping in a small bowl. Set aside with the melted butter for the topping.

While the muffins are still warm, dip the tops of each donut hole into the prepared melted butter. Then role the entire donut hole in the cinnamon-sugar mixture. Serve the donut holes immediately or let cool completely. These are best enjoyed the day they are made!
Pin this, pretty please!