This classic red enchilada sauce recipe is an amazing homemade version that I turn to again and again to make enchiladas of all sorts - I also love drizzling it on nachos!
As an Amazon Associate, I earn from qualifying purchases.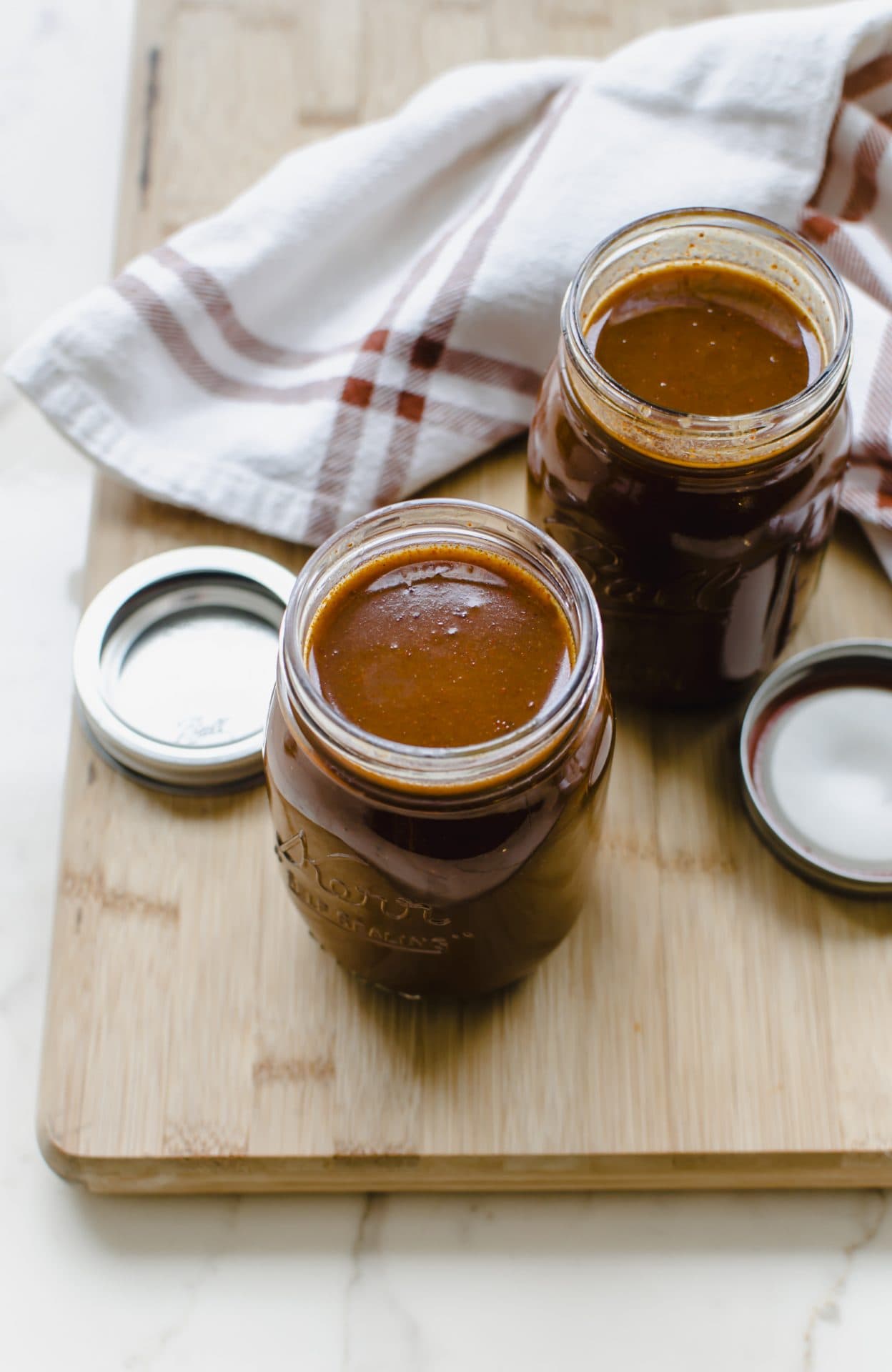 Some of my very favorite recipes are ones that help you make something that you would typically buy at the store into an amazing homemade version that is simple and infinitely better than storebought! Recipes like 5 minute pizza sauce, easy homemade taco sauce, pesto, and creamy avocado ranch dressing come to mind first because I like to have these on hand at all times. Last year, I did some dabbling with making a homemade enchilada sauce. There are so many good recipes for it online - Ali's is one of my favorites - and after making the sauce several times, I figured I needed to get my own version on Sweet Cayenne!
This enchilada sauce has the classic flavor of storebought red enchilada sauce but with an undertone of smokiness from deep reddish-brown ancho chile powder. I love that you can make it as mild or spicy as you like by adjusting the amount of cayenne or chipotle powder. The sauce comes together rather quickly and is easy to simmer away on the stovetop while you make some enchilada filling. And I always think that if you're going to put an ounce of effort into making a homemade sauce, you might as well make double so you can have some ready for later! So I've written this recipe in amounts that make a double batch. I know I'm thankful for this whenever I make it because there are so many delicious ways to use up the extra sauce. Let's make some!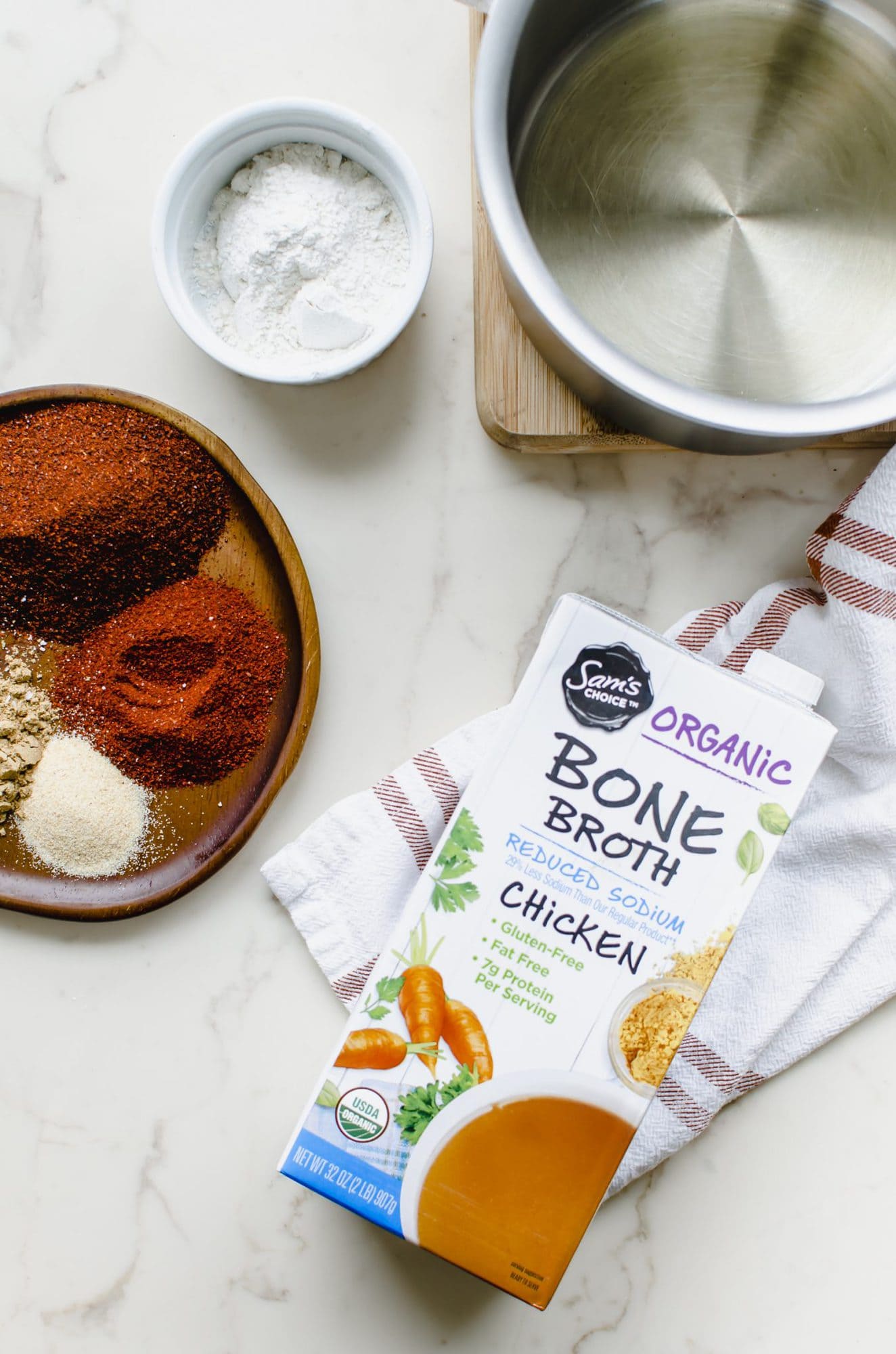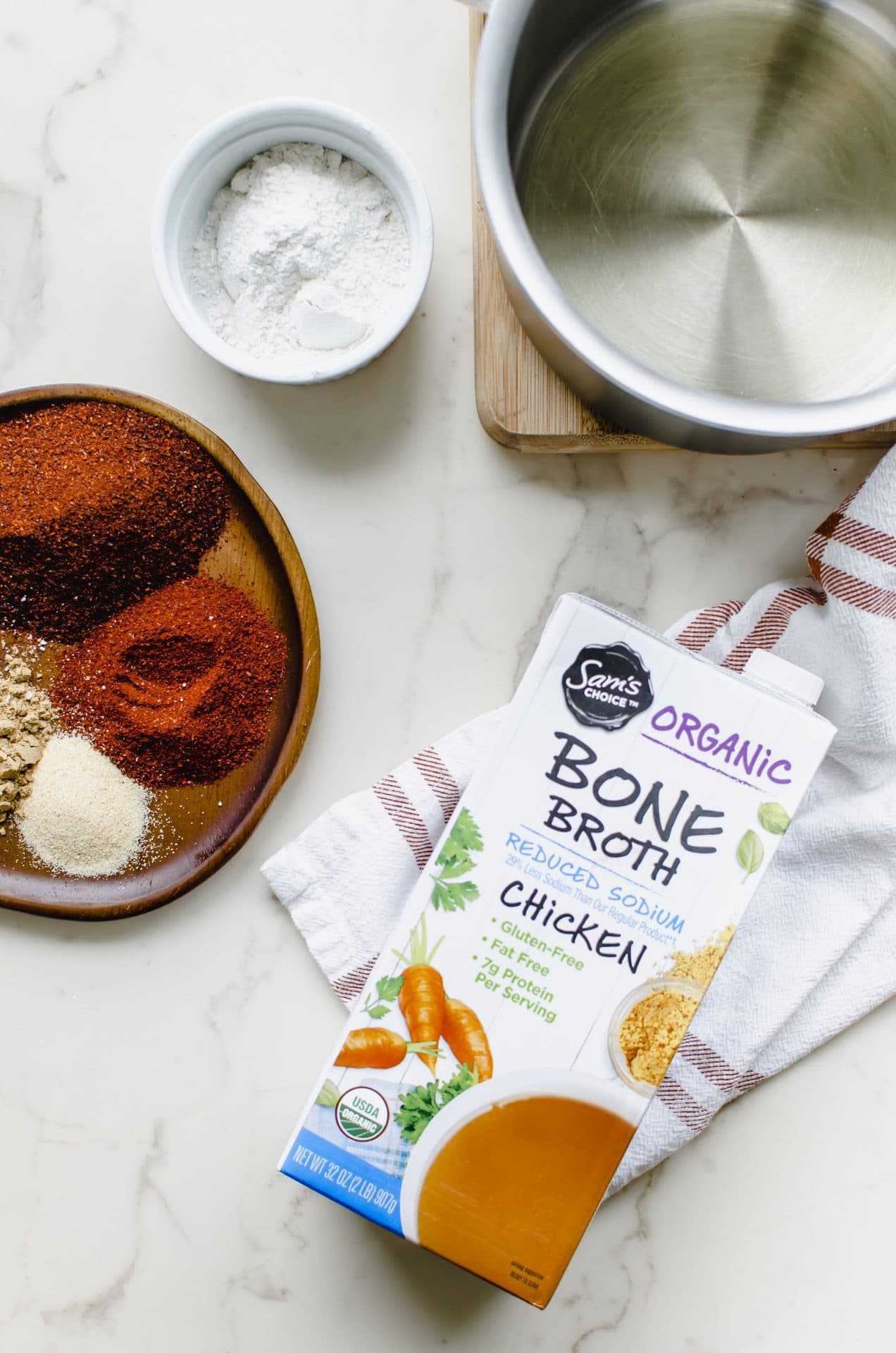 Making your own enchilada sauce
Make a little bit of roux - this is a mixture of starch and fat that thickens a sauce. You will start with heating some oil (I use avocado oil for this) in a saucepan, then whisk in a bit of flour. Cook it for a minute or two to cook out the starchy flavor from the flour. I've read in other recipes that a gluten-free flour blend will work fine for this step.
Once the flour and oil are combined, add all of the spices (chili powders, oregano, cumin, garlic, etc). Pre-measure them if you can for this step, as it will make it much faster. Also, you want to avoid measuring your spices over the steaming pot because moisture can get trapped in your spice container and cause the spice to cake up or spoil.
Add liquid in a slow and steady stream while whisking constantly. This will help ensure your enchilada sauce is nice and smooth. I used chicken stock for this recipe, but feel free to use vegetable broth/stock to make it vegetarian or vegan.
Cool the enchilada sauce and use it right away, store in the fridge for one week, or freeze for several months.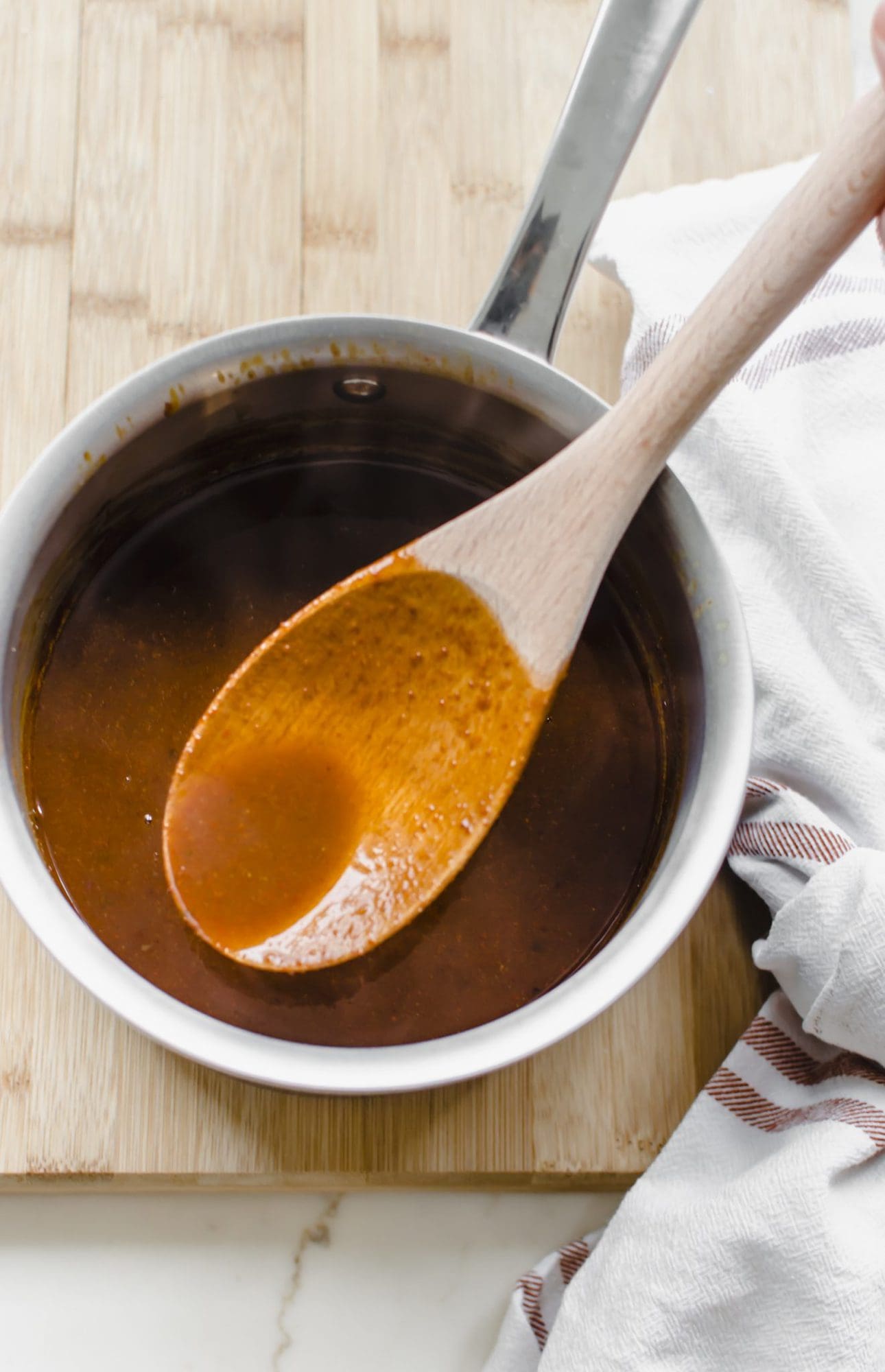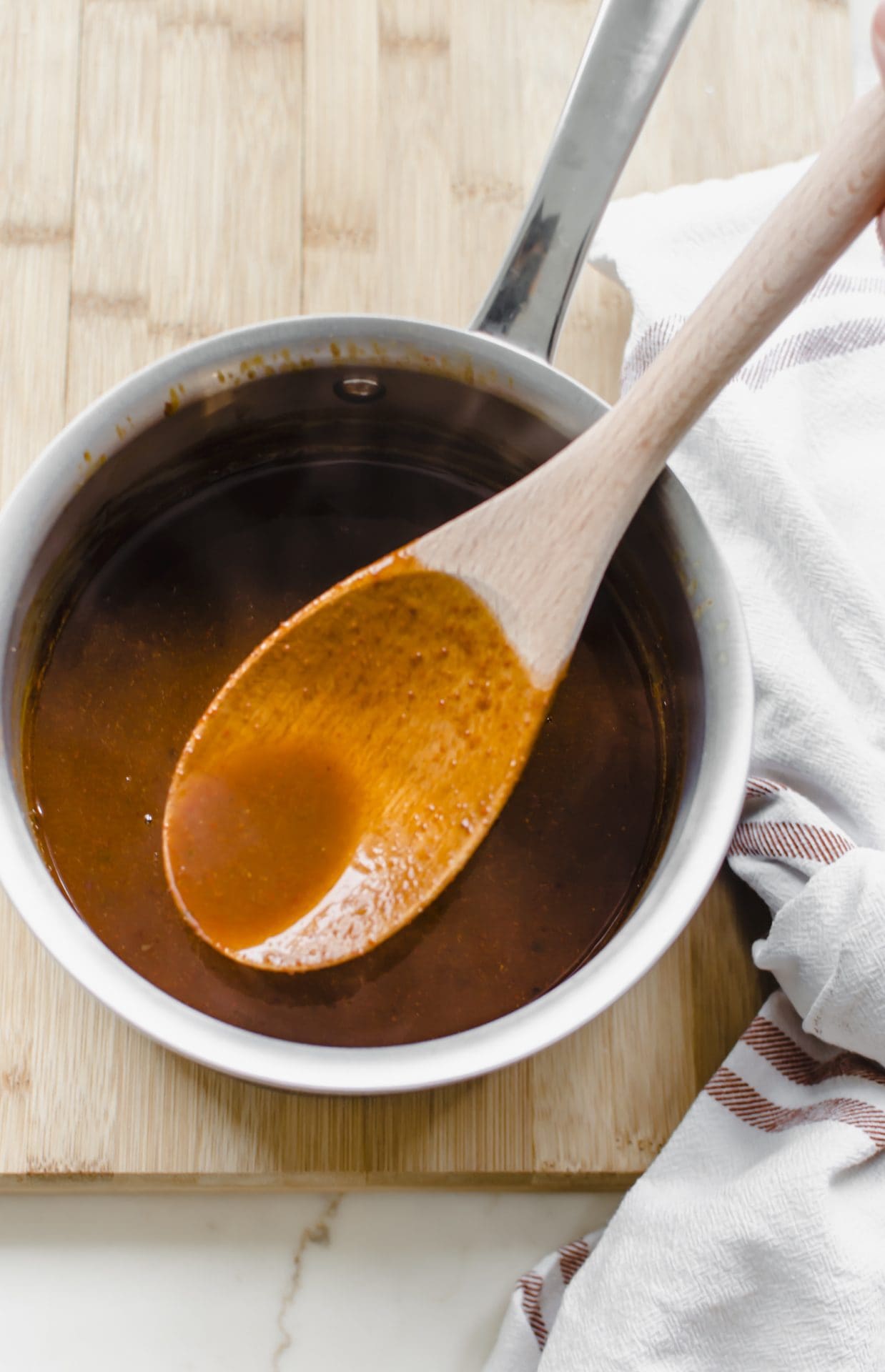 My favorite ways to use enchilada sauce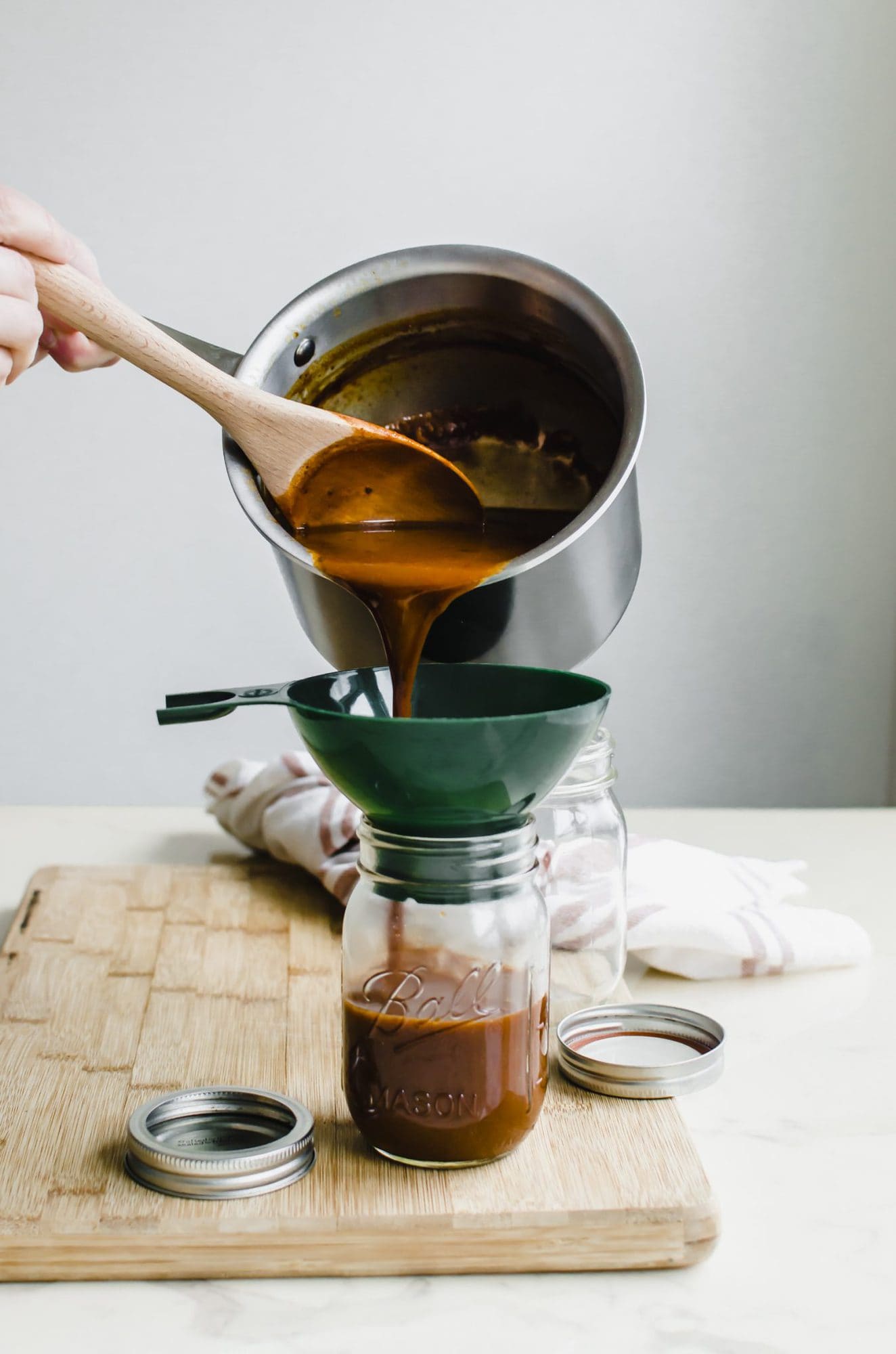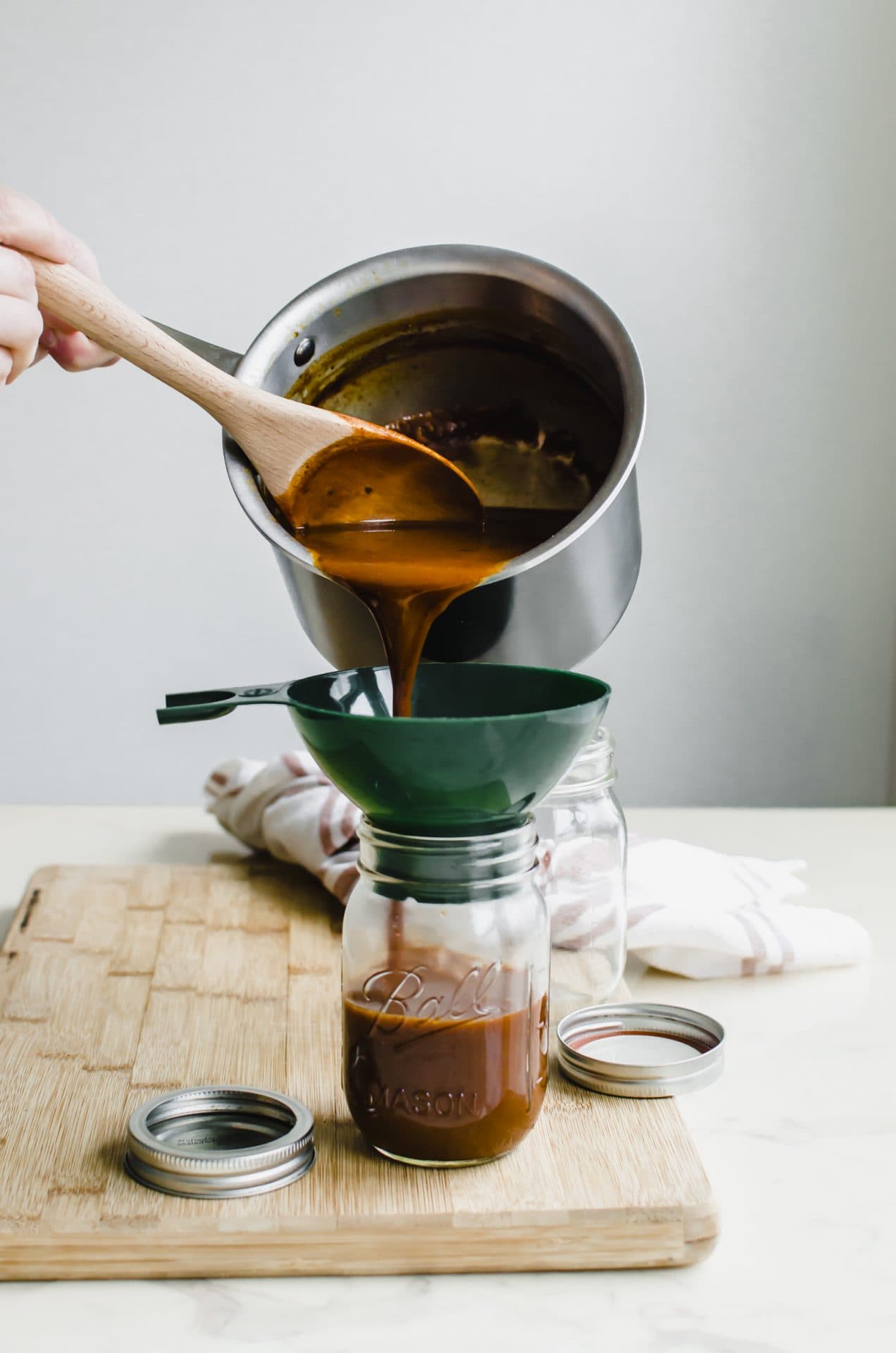 Are you ready to make this Classic Enchilada Sauce? I'm so excited for you to try this recipe. Once you get the chance to make it, please let me know how it turns out for you! Leave a comment and rate the recipe below. This will help me with the creation of future recipes! I'd also love to feature your creation in my monthly newsletter, so you can upload a photo to Instagram or Twitter with the tag @sweetcayenne5 to be featured!
*PLEASE rate and comment on the recipe if you make it! This helps others find the recipe in search engines!*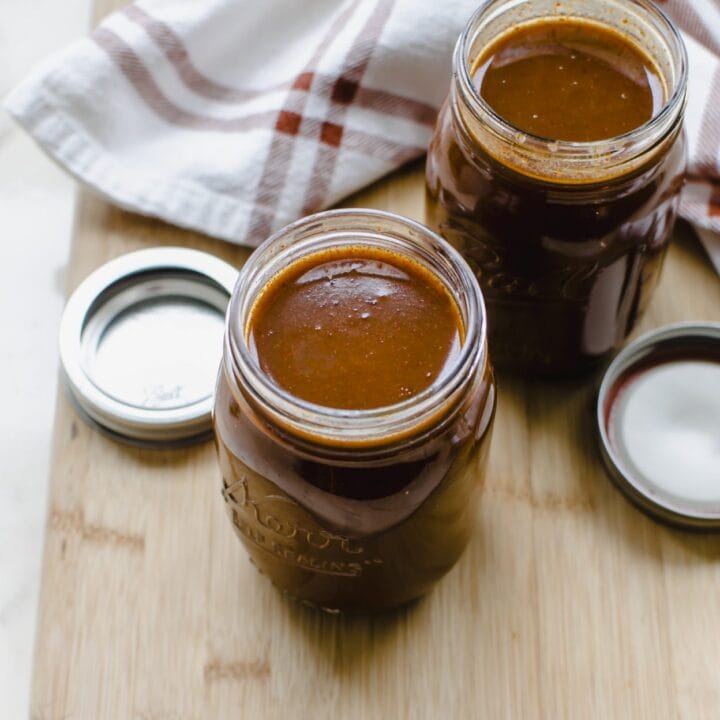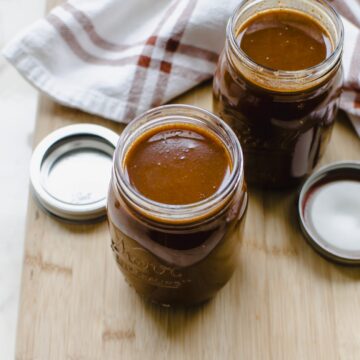 Classic Red Enchilada Sauce
Yield: two pint-sized jars (32 ounces)
Print
Pin
Rate
Ingredients
3

tablespoons

neutral-flavored oil (such as canola or avocado)

4

tablespoons

all-purpose flour

4

tablespoons

chili powder (NOT cayenne; just red chili powder)

1

tablespoon

dried ancho chile powder

1

teaspoon

garlic powder

1

teaspoon

salt

1

teaspoon

cumin

½

teaspoon

Mexican oregano

¼

teaspoon

ground cayenne pepper or chipotle chile powder (more or less as desired)

4

cups

reduced-sodium chicken stock
Instructions
Place a medium saucepan over medium heat. Add the oil and heat until it glistens. Whisk in the flour and cook, whisking constantly, for 2 minutes. Whisk in all of the seasonings (through the cayenne). Add the chicken stock in a slow stream, whisking constantly to avoid any lumps forming. Bring to a simmer over medium heat, then reduce heat to low and simmer for 15 minutes to thicken slightly. Remove from heat and cool completely before using on enchiladas or storing for later use.

Sauce may be frozen for up to 6 months. Thaw in the fridge overnight before using as desired.
Pin this, pretty please!