This recipe for Migas with Chorizo and Poblano Peppers is a Tex-Mex style, savory egg dish that is loaded with flavor and perfect for brunch!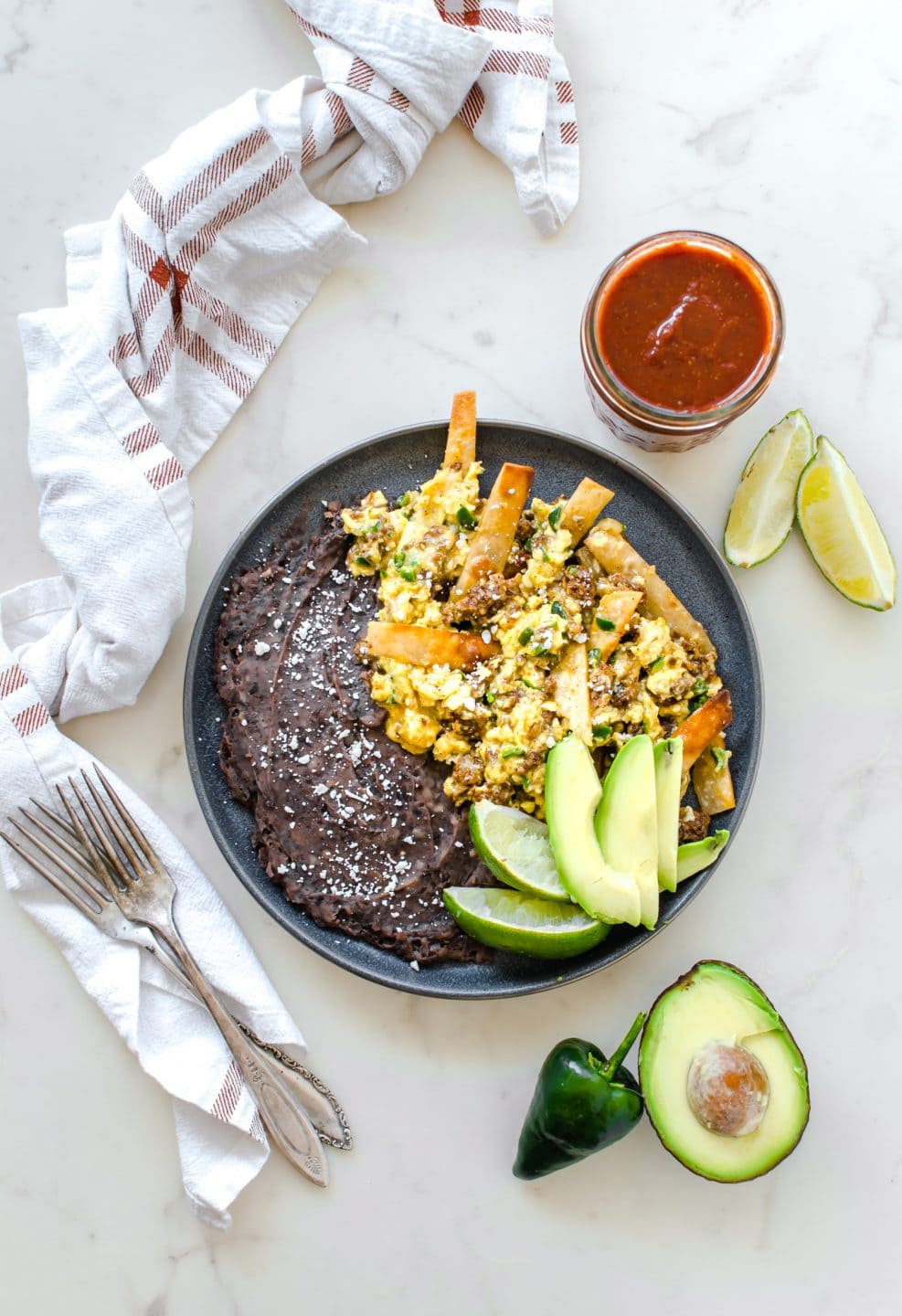 Heloooooooo migas! Where have you been all my life??? If you've been following along with my recipes for any amount of time, you'll notice that I fall embarrassingly short in a particular breakfast category: EGG dishes. And here's deep dark secret: I don't like eggs. It's sad, really. Because eggs are so nutritious, affordable, easy, and my husband REALLY likes them. Most people like them. But not I.
Here's the rundown of egg dishes I will eat: quiche, breakfast tacos light on the egg, and scrambled eggs LOADED with cheese and hot sauce. That's it. UNTIL MIGAS. Now let's just be honest here: these migas are not so different from my scrambled eggs loaded with cheese and hot sauce. We've just lightened up on the cheese in exchange for crispy fried tortillas strips, chicken chorizo, and poblano peppers. Plus, we're serving it alongside refried black beans and slices of creamy avocado. So eggs aren't really the star of the show here. And that's fine by me! So let's get into the details: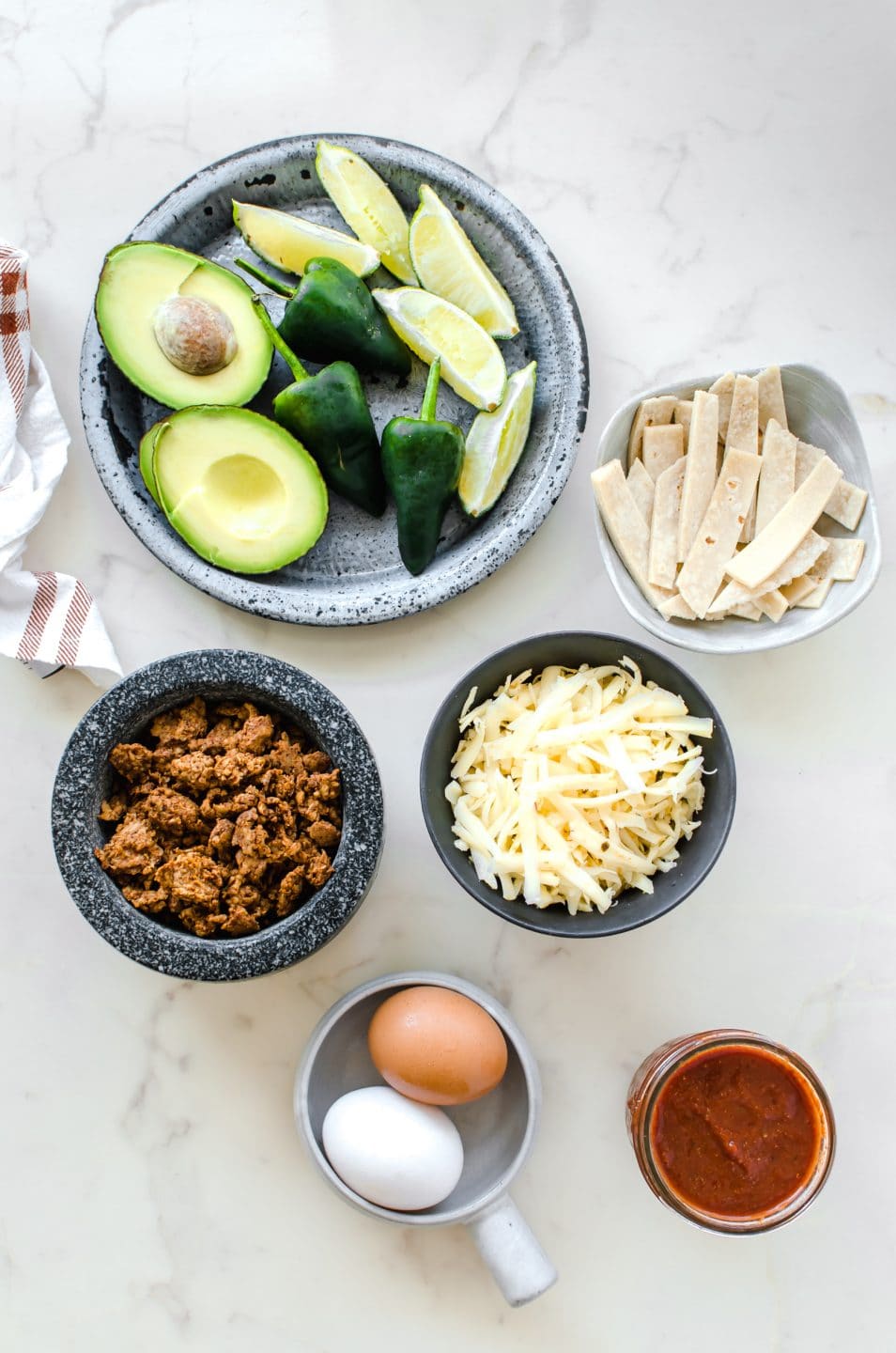 Ingredients for Migas
Corn tortillas (fresh, if possible!) - La Tortilla Factory Stone-Ground Corn and Wheat blend, if you can't get fresh. Those are as close to fresh as I have found and they have a delicious corn flavor.
Oil - you will want a neutral-flavored oil with a high smoke point since you will be pan-frying the tortillas. Avocado, canola, vegetable, peanut or corn oil would all work.
Chicken chorizo - I buy house-made chicken chorizo from Sprouts and it is ah-maz-ing! Highly recommend. But any ground or link-style chicken chorizo will do. Use pork chorizo if you must, but chicken chorizo will have less fat.
Eggs - the primary ingredient of migas!
Cheese - I love to use pepper jack in my migas for extra flavor. Buy a block and shred your own for optimal melting!
Poblano pepper - I'm proud to say that the poblanos I used for this recipe were grown in our garden. We've had so much fun using them this summer. Poblanos tend to be on the mild side on the pepper spectrum, so they will satisfy a wide range of people at the table.
Accouterments: taco sauce, avocado, black beans, cotija cheese. If you haven't tried the jalapeno refried black beans from Trader Joe's, NOW IS THE TIME. Perfect side for migas. All of these make up an ultimate migas-eating experience! But if you don't have them - no worries! The migas will still be delicious as is.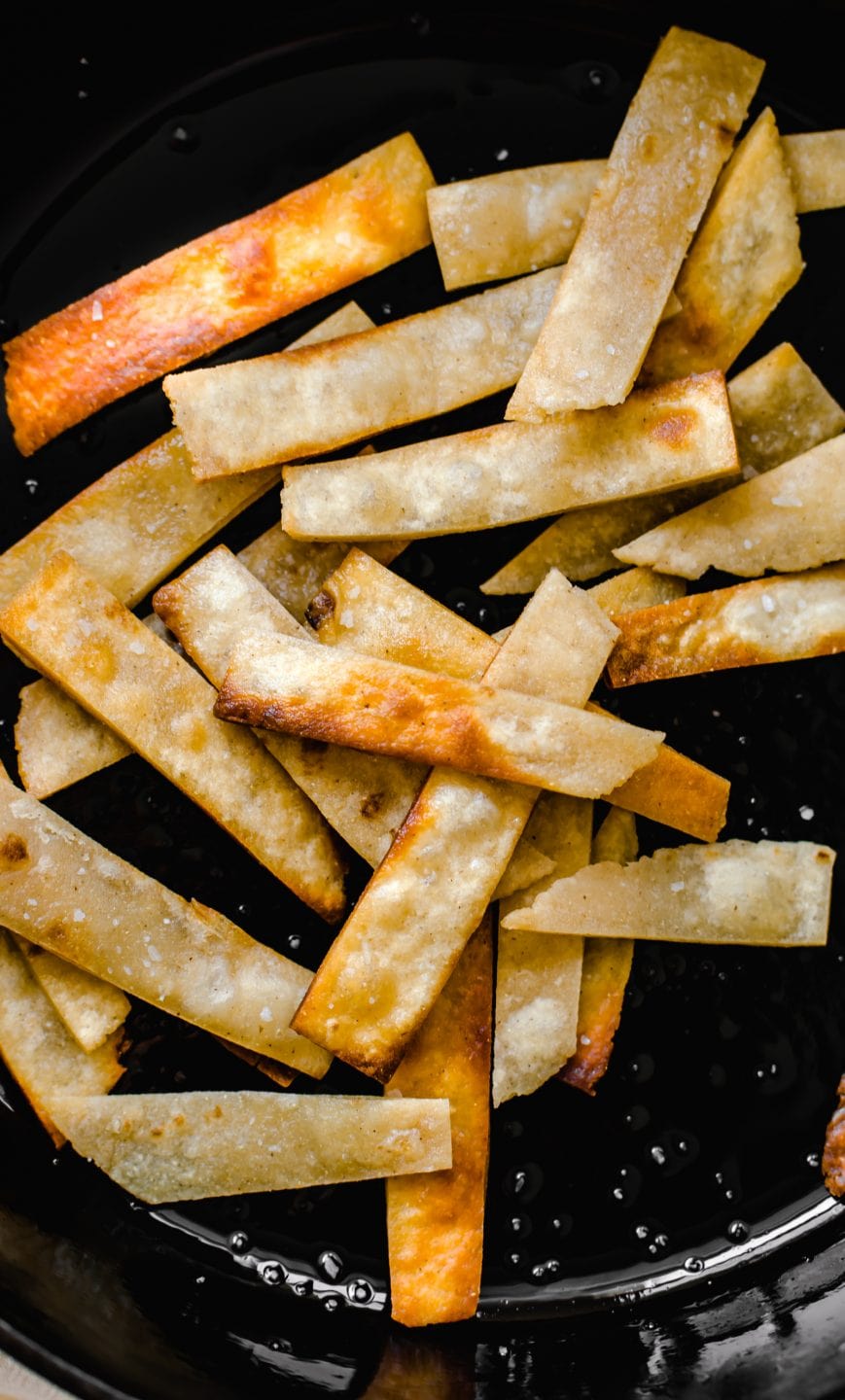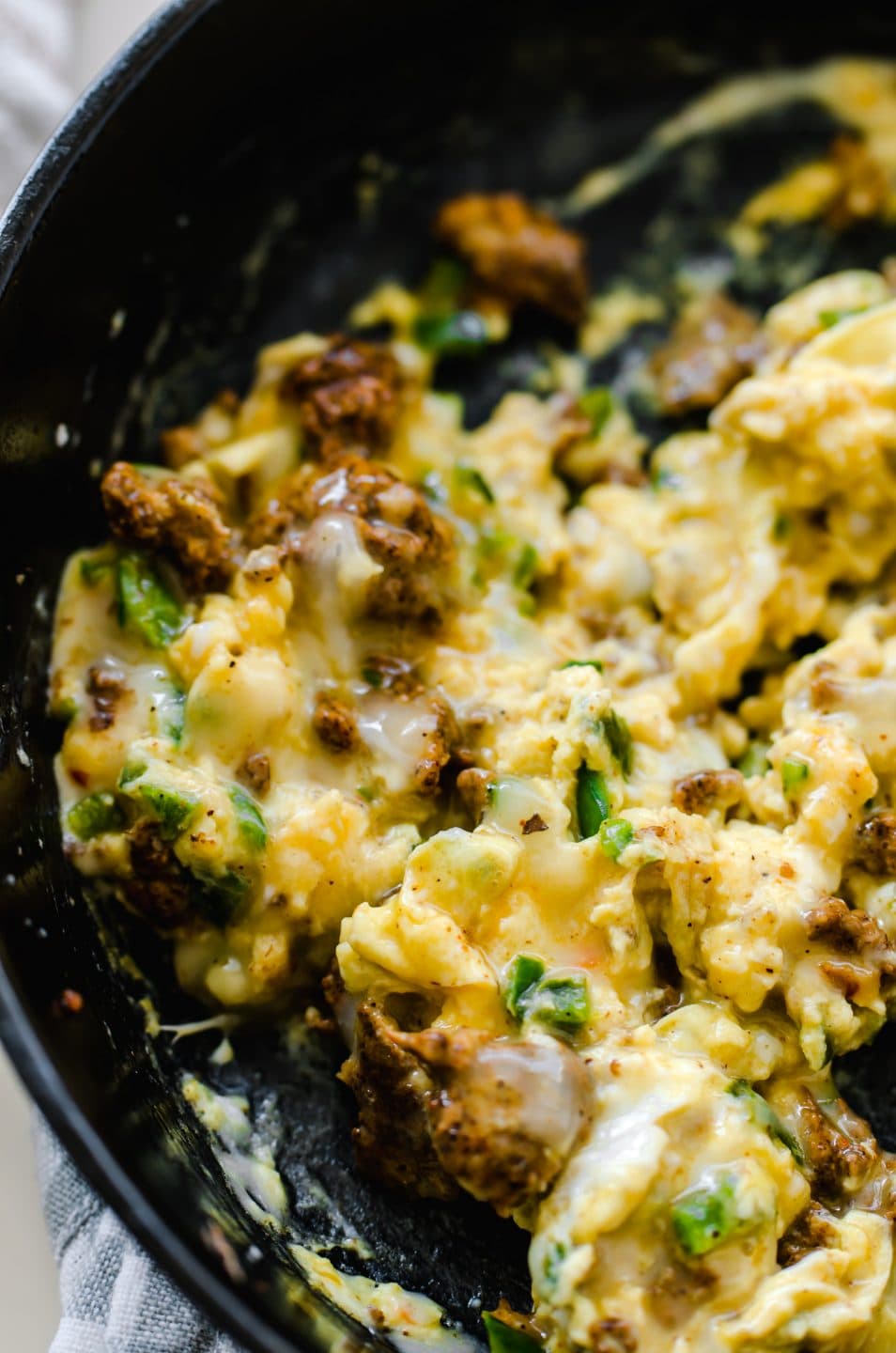 How to Make Migas with Chorizo and Poblano
Cut the tortillas into strips and lightly fry them - we aren't talking about deep frying here. Just a few tablespoons of hot oil. You will fry the strips for 1-2 minutes per side until they are lightly golden and crisp. Drain on a paper towel and try to keep from eating them while you make the rest of the dish!
Brown the chicken chorizo, then add the peppers - you can use the same skillet you fried the tortillas in to do this. Just discard the oil from the skillet beforehand - you will only need a teaspoon or so for the chorizo and peppers.
Scramble the eggs - you want a soft scramble here to avoid overcooking your eggs. After the chorizo is brown and the peppers are tender, I like to turn off the heat before adding the eggs. The residual heat in the pan will be enough to gently scramble them.
Fold in the cheese and tortillas - once the eggs are set, fold in the cheese and tortillas. Mmmmm.
Serve! As I mentioned earlier, the migas are delicious as is! But for a more substantial brunch, I like to serve them with refried black beans, avocado, and taco sauce.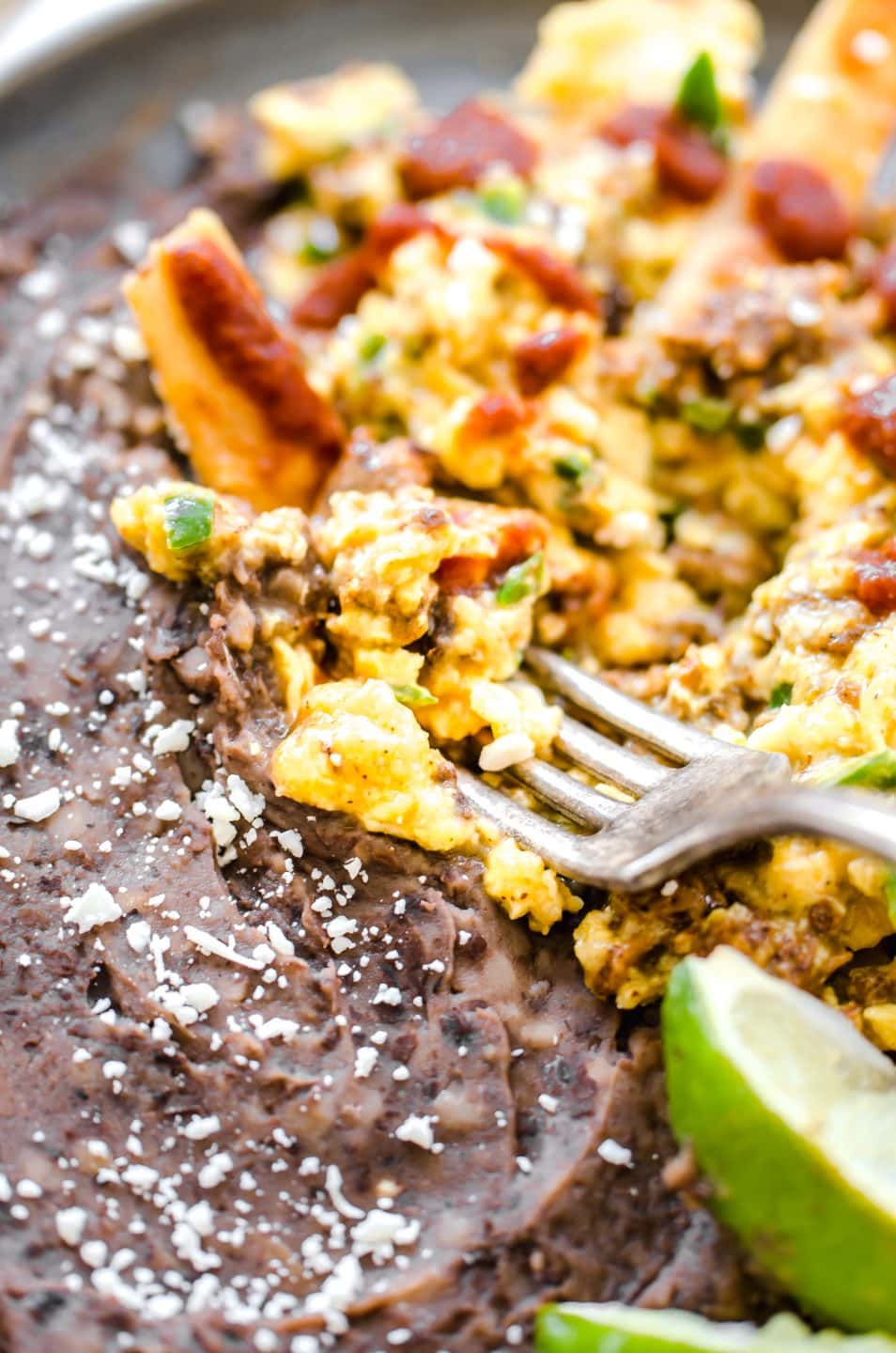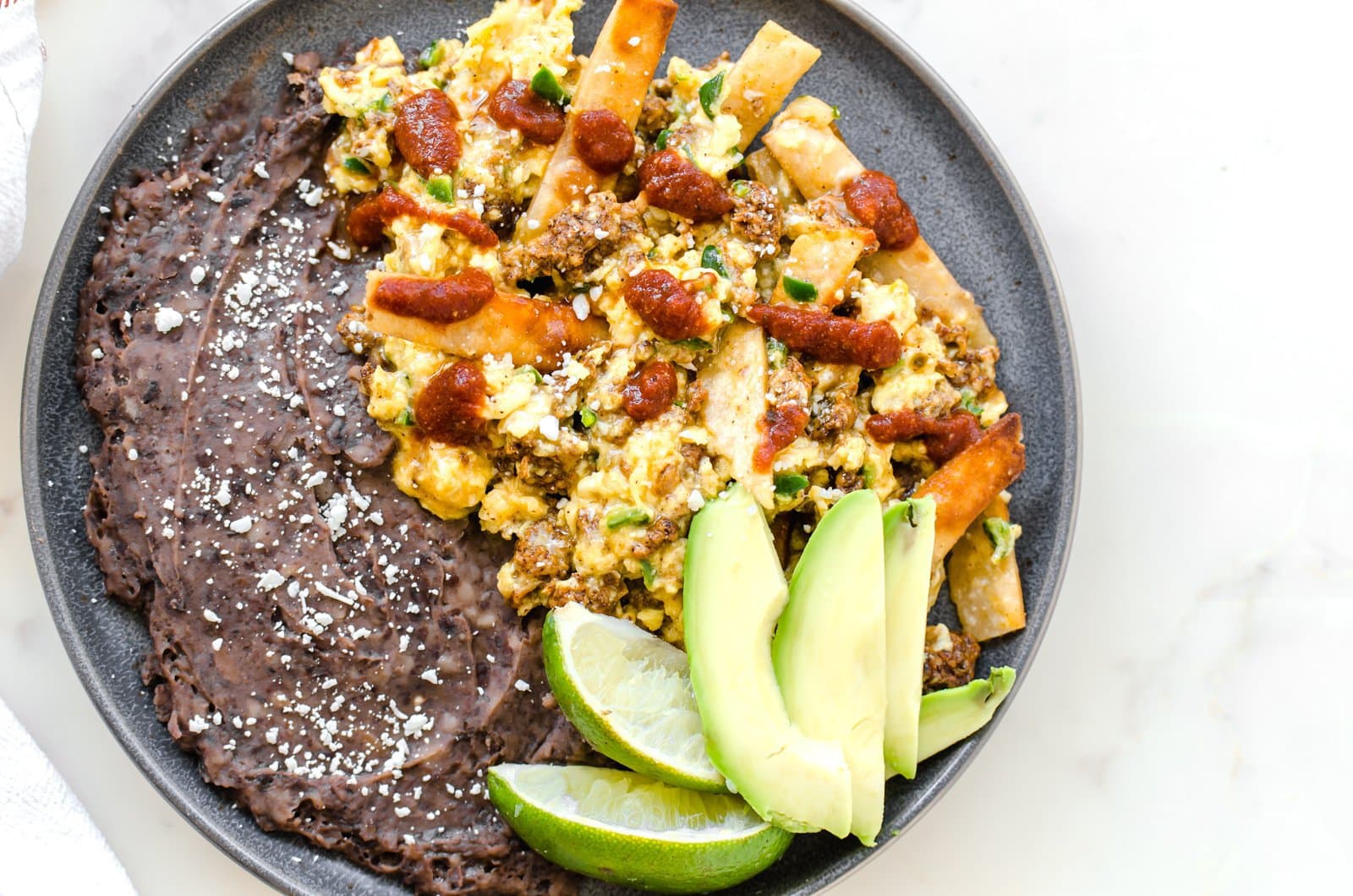 Are you ready to make these Migas with Chorizo and Poblano? I'm so excited for you to try this recipe. Once you get the chance to make it, please let me know how it turns out for you! Leave a comment and rate the recipe below. This will help me with the creation of future recipes! I'd also love to feature your creation in my monthly newsletter, so you can upload a photo to Instagram or Twitter with the tag @sweetcayenne5 to be featured!
Recipe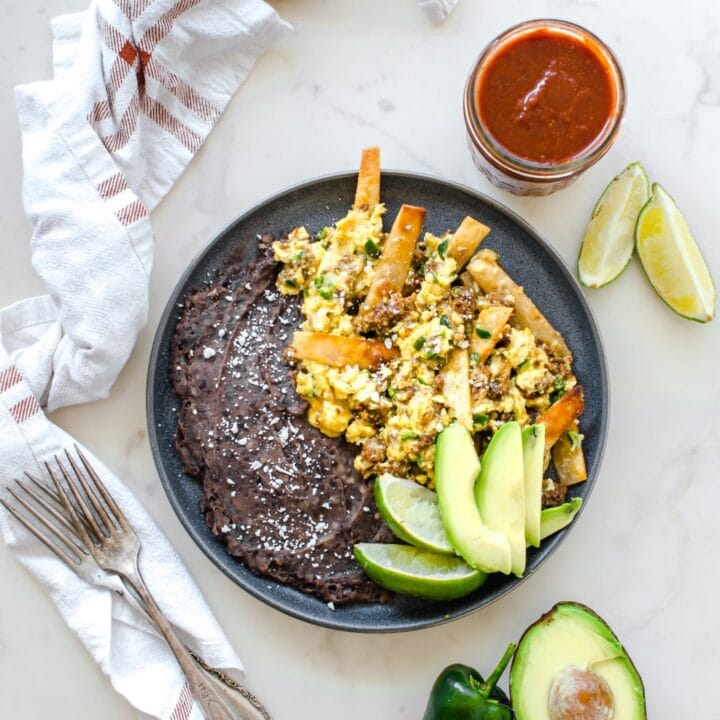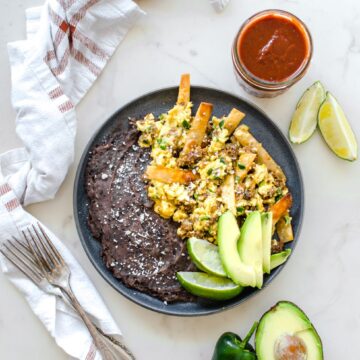 Migas with Chorizo and Poblano Peppers
Migas is an egg dish. This particular migas recipe has chorizo and Poblano peppers.
Print
Pin
Rate
Ingredients
3

tablespoons

oil (such as avocado or canola)

2

whole

corn tortillas (recommend corn and wheat blend)

cut into ½'' strips

3

ounces

chicken chorizo

1

small

poblano pepper, seeded and finely minced

3

large

eggs, whisked together

½

cup

shredded pepper jack cheese

For serving: avocado slices, taco sauce, black beans, Cotija cheese
Instructions
Heat the oil in a skillet over medium heat. You'll know it's ready when a crumb of tortilla sizzles when you drop it in. Fry the tortilla strips for 1-2 minutes on each side, or until they are crisp and lightly golden. Use a slotted spoon to transfer to a paper towel-lined plate. Lightly sprinkle with salt.

Remove the all of the oil from the skillet except for about a teaspoon. Return to medium heat. Add the chorizo and brown, stirring often, until cooked through, about 6 minutes. Add the poblano pepper and stir to soften; about 2 minutes.

Turn off the heat and add the eggs. Scramble, stirring the whole time, until the eggs are soft and just cooked through. Remove from heat and fold in the reserved tortilla strips and the shredded cheese.

Serve with warm refried black beans, avocado slices, taco sauce, and a sprinkling of cotija cheese. Enjoy!
Serving:
1
serving
|
Calories:
292
kcal
|
Carbohydrates:
25
g
|
Protein:
25
g
|
Fat:
19.4
g
|
Saturated Fat:
6.1
g
|
Cholesterol:
322
mg
|
Sodium:
620
mg
|
Potassium:
243
mg
|
Fiber:
4.8
g
|
Sugar:
3.3
g
|
Calcium:
105
mg
|
Iron:
2
mg
Pin this, pretty please!