When it comes to finding and making the best homemade hamburger recipe, I've recently learned about a secret ingredient that results in the juiciest burgers EVER!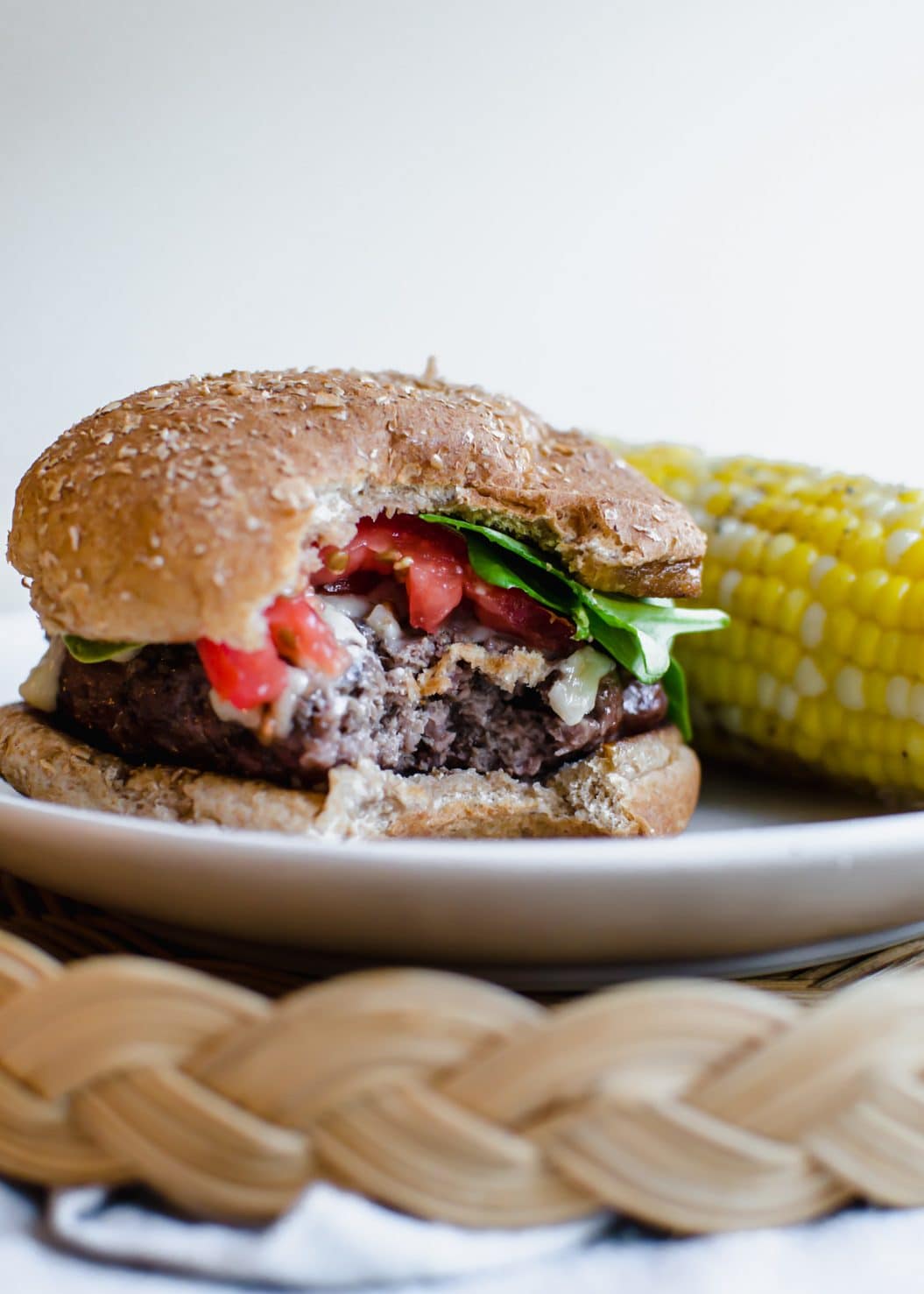 Jump to:
With the 4th of July being this week and the fact that lots of summer BBQs are still to come, I thought it was time I shared with you a life-altering tip I learned for making, literally, THE best burger I've ever made at home. And if you utilize this particular secret ingredient and a few tried-and-true techniques, you will be on your way to making your own best homemade burgers - and hopefully getting creative with toppings and flavor combinations that I'm sure will be awesome!
Video
The Secret Ingredient
So for time's sake (because we've got burgers to make!), let's just cut to the chase - the secret ingredient to the juiciest, most flavorful burgers is.......mushrooms! Finely diced mushrooms, that is. Ryan put me on to this when he came home from a conference having tried a burger from a cooking demonstration that was part of the Blended Burger Project. This campaign is part of a movement led by the James Beard Foundation (so you know it is legit!) to make burgers taste better, be healthier, and more sustainable by blending ground beef with chopped mushrooms. And I have to say, I'm ready to join the movement!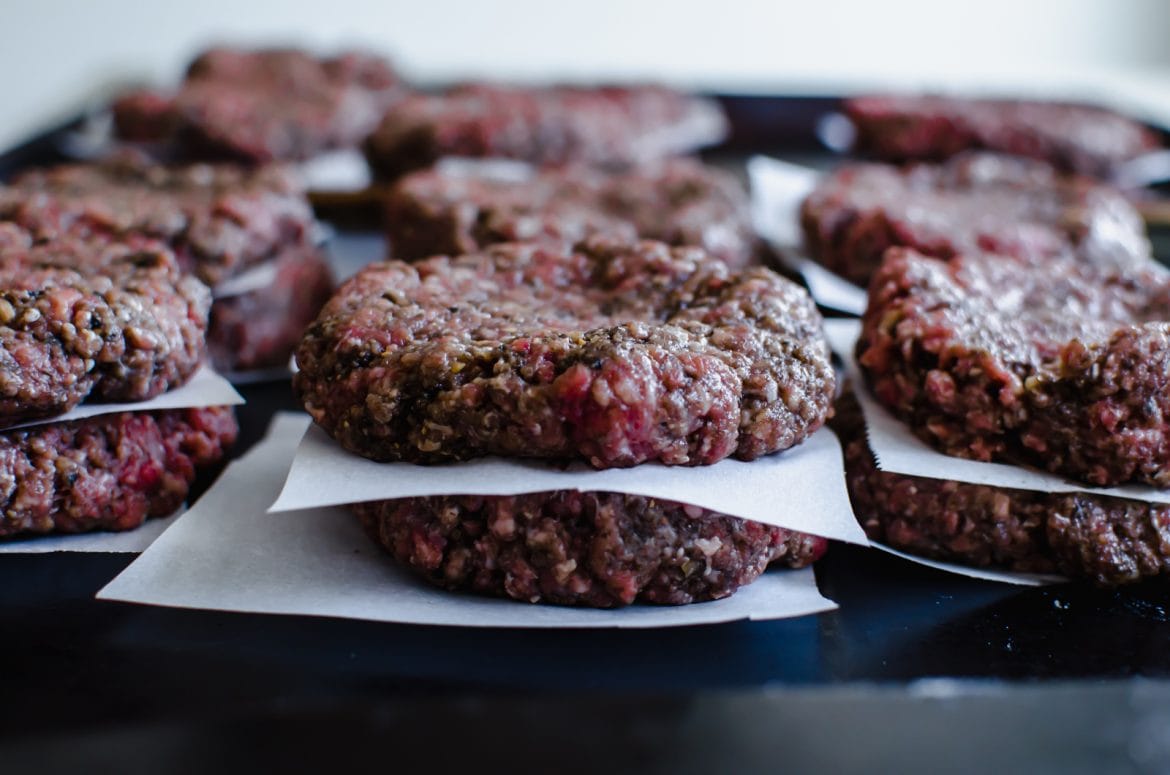 The trick is to add ½ pound of chopped mushrooms to every pound of ground beef in your burger recipe. Doing this will result in incredibly juicy and flavorful burgers - and you won't even realize the mushrooms are there! Really and truly! Adding the chopped mushrooms also has some budget benefit, as it increases the volume of your burger mixture and helps you stretch a pound of meat quite a bit further - I typically get 5 patties out of a pound of beef without the mushrooms and can easily get 7 patties when mushrooms are added.
Need another reason to try it? Nutrition would be a good one! Mushrooms are high in several antioxidants - the most recognizable being selenium - as well as potassium, magnesium, zinc and folate!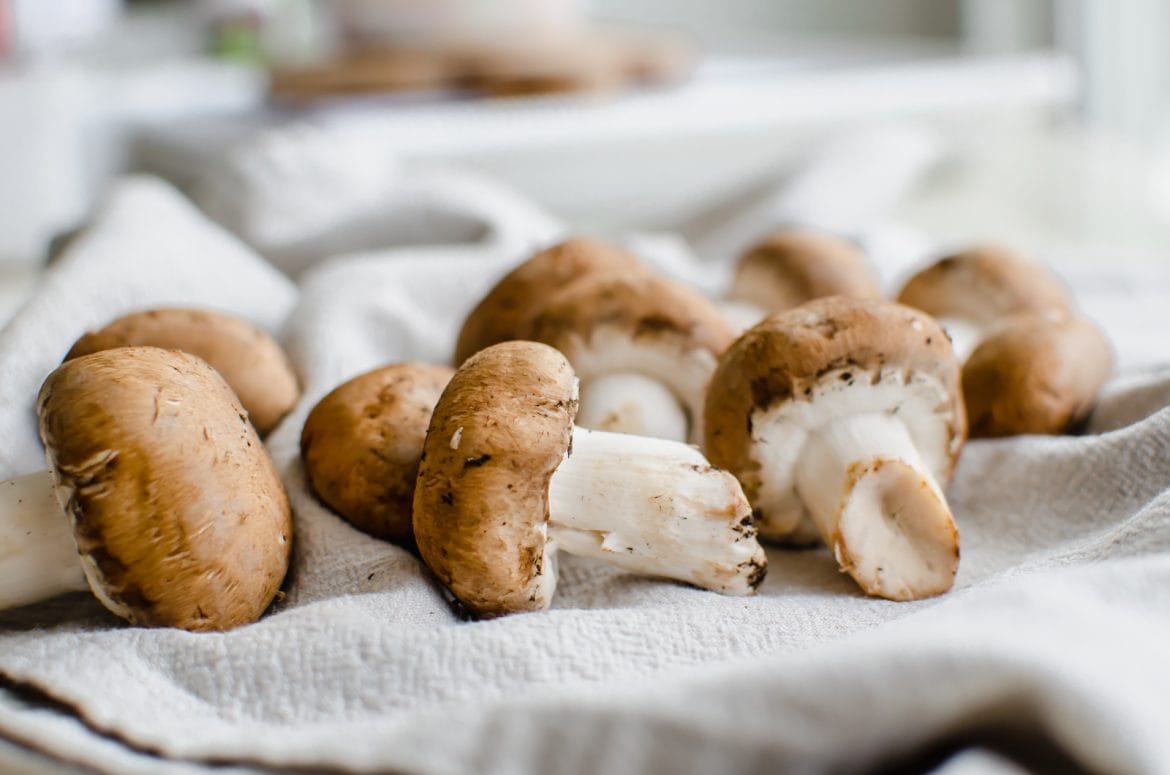 My favorite ground beef:
I absolutely love and highly recommend 1 Source Beef for all your ground beef needs! Every pound of ground beef is 100% traceable to a single animal on a U.S. family farm. The ground beef is made from premium U.S. Black Angus cuts of ribeye, brisket, chuck, and sirloin with a flavor and quality that are unparalleled!
If you'd like to try 1 Source Beef, get 10% off your first order with the promo code SWEET10 OR get 20% off five 1-pound packages with the code SWEET2O. I know you are going to love this beef!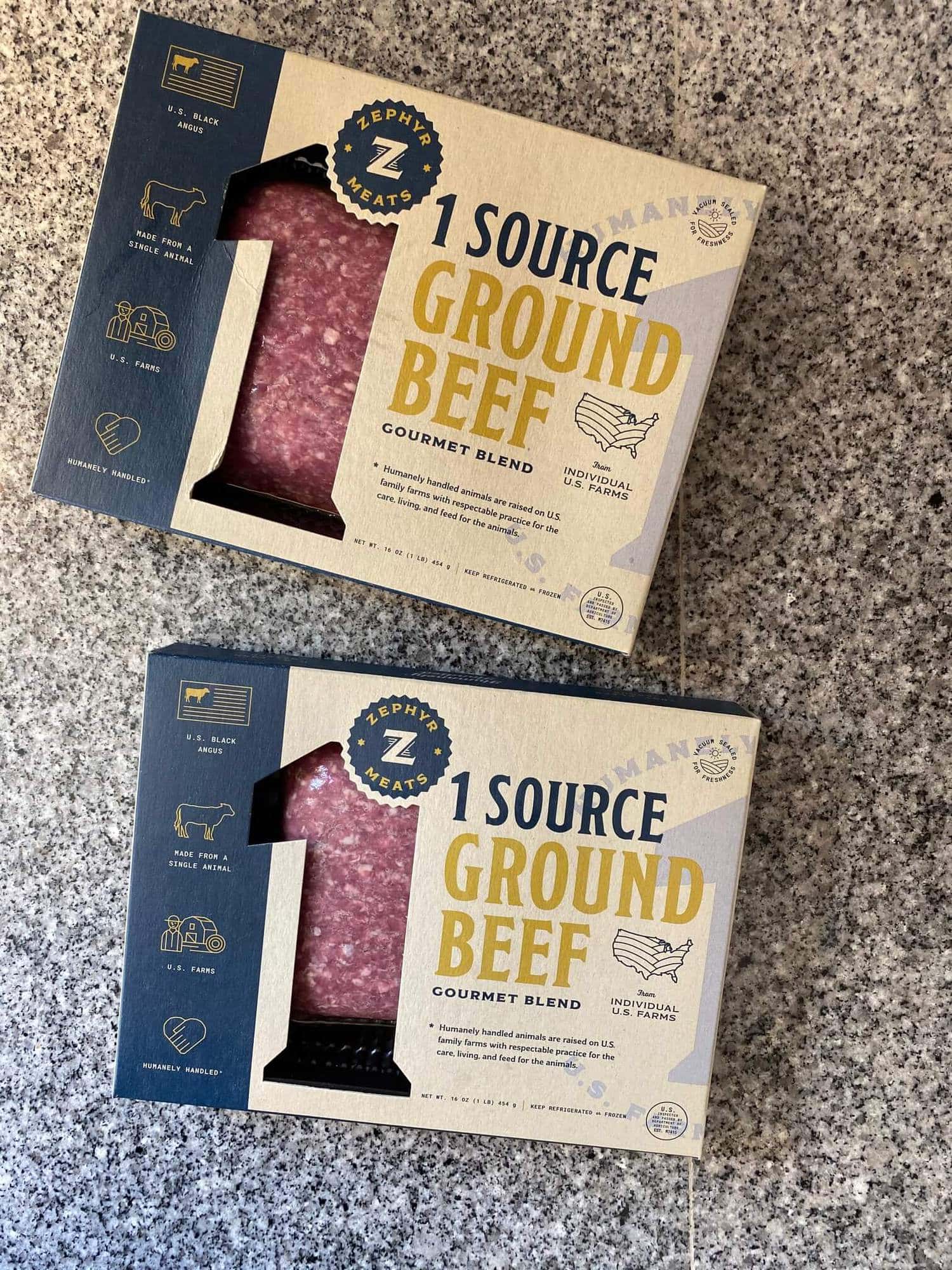 Top tips
It's ok to use lean ground beef - adding the chopped mushrooms will help your burgers retain flavor and moisture, so using a 90/10 ground beef or even 93/7 is A-OK. This is always what I buy and trust me, as someone who has tried many incredible 80/20 burgers, you will not miss the extra fat!
Don't overwork the meat - use a gentle hand and light touch when mixing the mushrooms/seasonings into ground beef and forming it into patties. Handling/pressing/squeezing the meat roughly will result in burgers that are tough and rubbery!
You MUST use mushrooms - just an extra reminder! They will help keep the lean patties intact and prevent them from drying out as they are cooked.
Let the grill do it's thing - once you place your patties on the grill/stovetop, leave them alone until it's time to flip. Pressing on the burgers with your spatula will not cause them to cook more evenly - it will only press out valuable juices!
Make friends with a meat thermometer - taking the internal temperature of the thickest part of the burger patty is the gold standard, most reliable way to know when the burgers are cooked perfectly. I always prefer that my burgers be cooked to an internal temp of 155 degrees F, to ensure that harmful bacteria have been killed. The burgers are still incredibly juicy at medium-well doneness when you have added the mushrooms!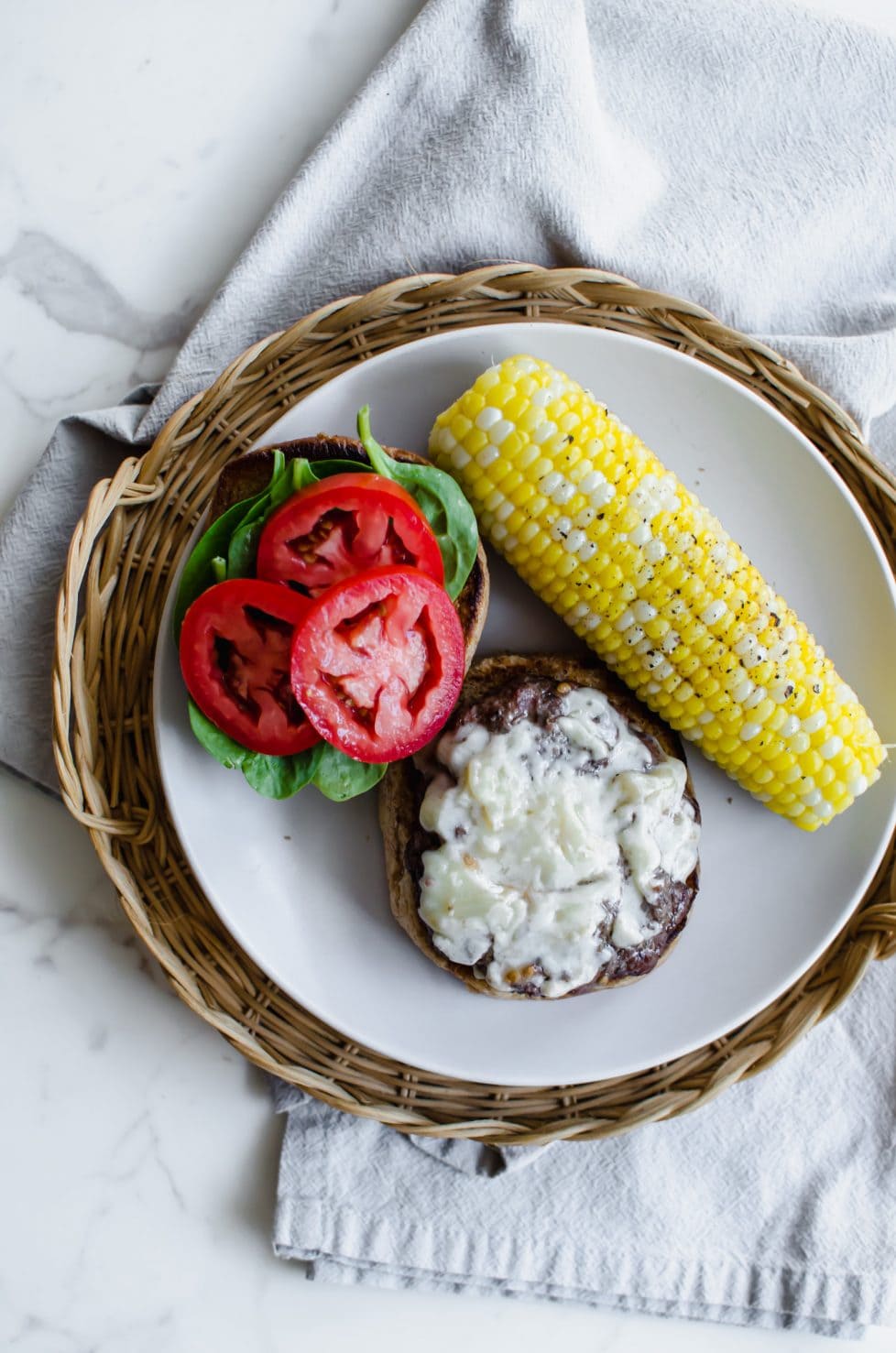 Make the fire with hardwood charcoal - typical charcoal briquettes may contain lighter fluid and other chemicals, which I feel may have a negative impact on the taste of the final product...and we just like to go the natural route whenever possible!
Prepping the fire - know that it takes longer to get a kamado grill to the correct temperature that you need than with a typical charcoal or gas grill. This is because kamado grills use vents for airflow to regulate temperature, so adjusting them as the grill heats are critical to maintain the desired temperature.
Get a multi-prong thermometer - preferably with Bluetooth capability! This will allow you to track the internal temperature of the grill from your phone throughout the heating and cooking process. The dual prong allows for taking the temperature of meats while you are cooking to check for desired doneness. You'll want to position one prong just above the grill's surface to get an accurate temperature, then use the vents to make any necessary adjustments. The second prong is used to insert in the thickness part of the meat.
Brush the burger patties with oil - do this when placing them on the grill and when flipping to keep them from sticking to the grill grates.
Aim for 450-500 degrees F for the temperature range when cooking burgers. Cook patties for roughly 7 minutes on the first side, apply oil, flip, then insert the other thermometer prong and cook for another 7 minutes or until the burger reaches 155 degrees F.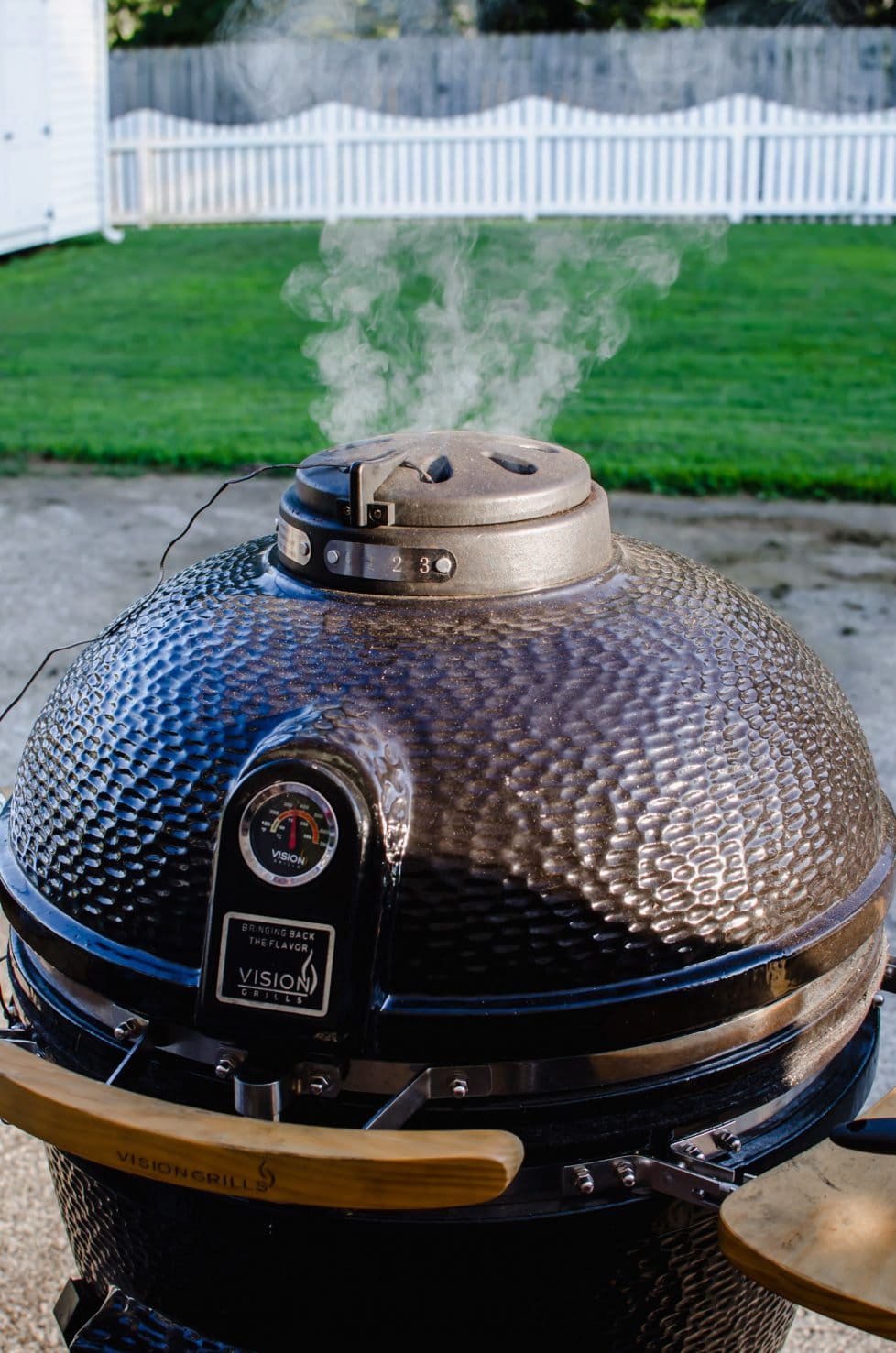 Grilling Essentials
Below are the specific tools we use and recommend for great grilling! Keep in mind, a lot of these will go on sale as the summer ends. We bought our Vision Grill (kamado grill) on sale for 30% off during the month of October and got a killer deal!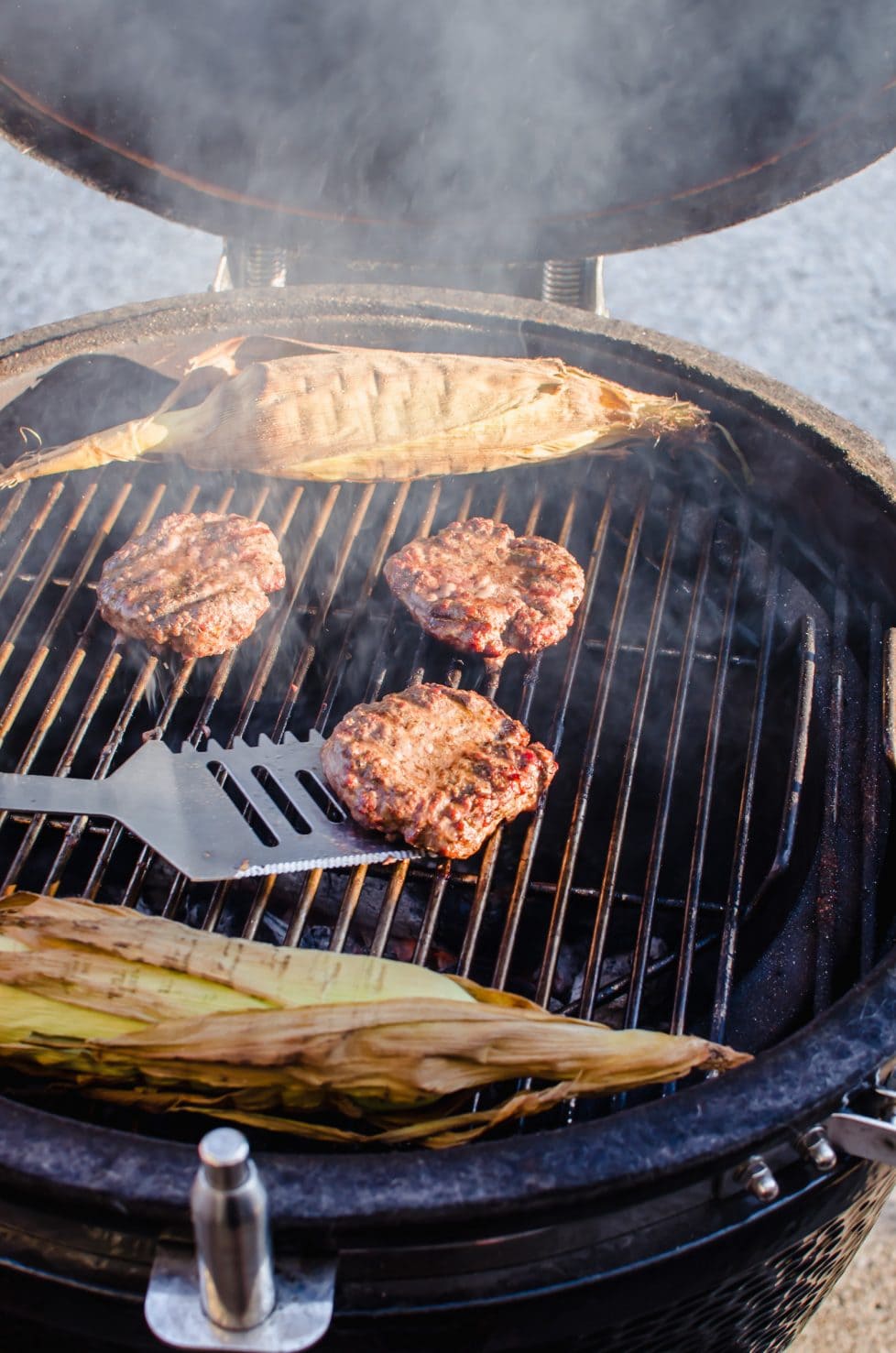 If you get a chance to try this secret ingredient for juicy burgers or any of the tips in this post, please let me know how it goes and leave a comment below!
This will help me with the creation of future recipes!
I'd also love to feature your creation in my weekly newsletter, so you can upload a photo to Instagram with the tag @sweetcayenne5 to be featured! Quick and easy recipe videos are available on my YouTube channel, and lots of menu inspiration on my Pinterest boards.
Similar recipes
In the meantime, you may also enjoy taking a peek at my Blackberry Basil Burgers and Jalapeño Cream Cheese Sliders
Recipe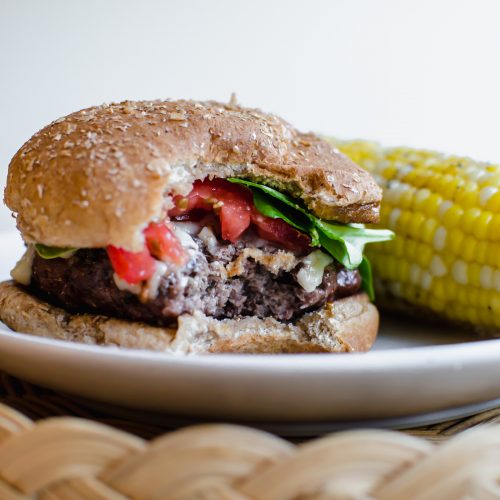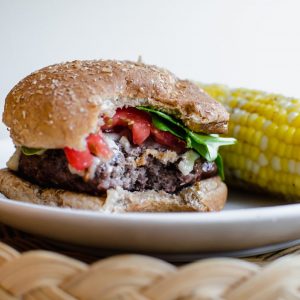 The Best Homemade Hamburger (with a secret ingredient!)
Learn the no-fail, secret ingredient for the BEST homemade hamburger recipe and all my tips for grilling burgers on a kamado grill!
Print
Pin
Rate
Ingredients
½

pound

cremini

white button, or baby bella mushrooms, cleaned with a damp towel

2

teaspoons

of your favorite steak seasoning

1

tablespoons

Worcestershire sauce

2

teaspoons

of reduced sodium soy sauce

1

pound

90/10 ground beef

Oil for the patties/grill

Burger buns

Desired burger toppings and condiments
Instructions
Finely chop the mushrooms, either by hand or in a

food processor

. Set aside.

In a

large bowl

, whisk together the steak seasoning, Worcestershire, and soy sauce. Stir in the chopped mushrooms.

Add the ground beef to the mushroom mixture and, using a light touch, gently incorporate the ingredients with your hands.

Shape the beef mixture into 5-6 patties, depending on the desired size, and make the patties slightly thinner in the middle.

Brush or spray oil on one side of the burger patties. Cook in a 450℉ kamado grill or over medium-high heat in a cast iron skillet for 6-7 minutes. Brush the patties with oil again prior to flipping. Cook an additional 6-7 minutes or until the internal temperature of the patties reaches 155℉.

Remove from heat and transfer to a serving platter. Cover loosely with foil and let the burgers rest for about 5 minutes before topping and serving as desired.
Serving:
1
pattie
|
Calories:
227
kcal
|
Carbohydrates:
3.1
g
|
Protein:
27.1
g
|
Fat:
11
g
|
Saturated Fat:
4.3
g
|
Cholesterol:
81
mg
|
Sodium:
409
mg
|
Fiber:
0.7
g
|
Sugar:
1.5
g
|
Calcium:
19
mg
|
Iron:
3
mg