Grilled Sausage, Zucchini and Corn Kabobs are one of my favorite easy weeknight dinners for the grill! They are so easy to put together and feature some of the tastiest summer veggies.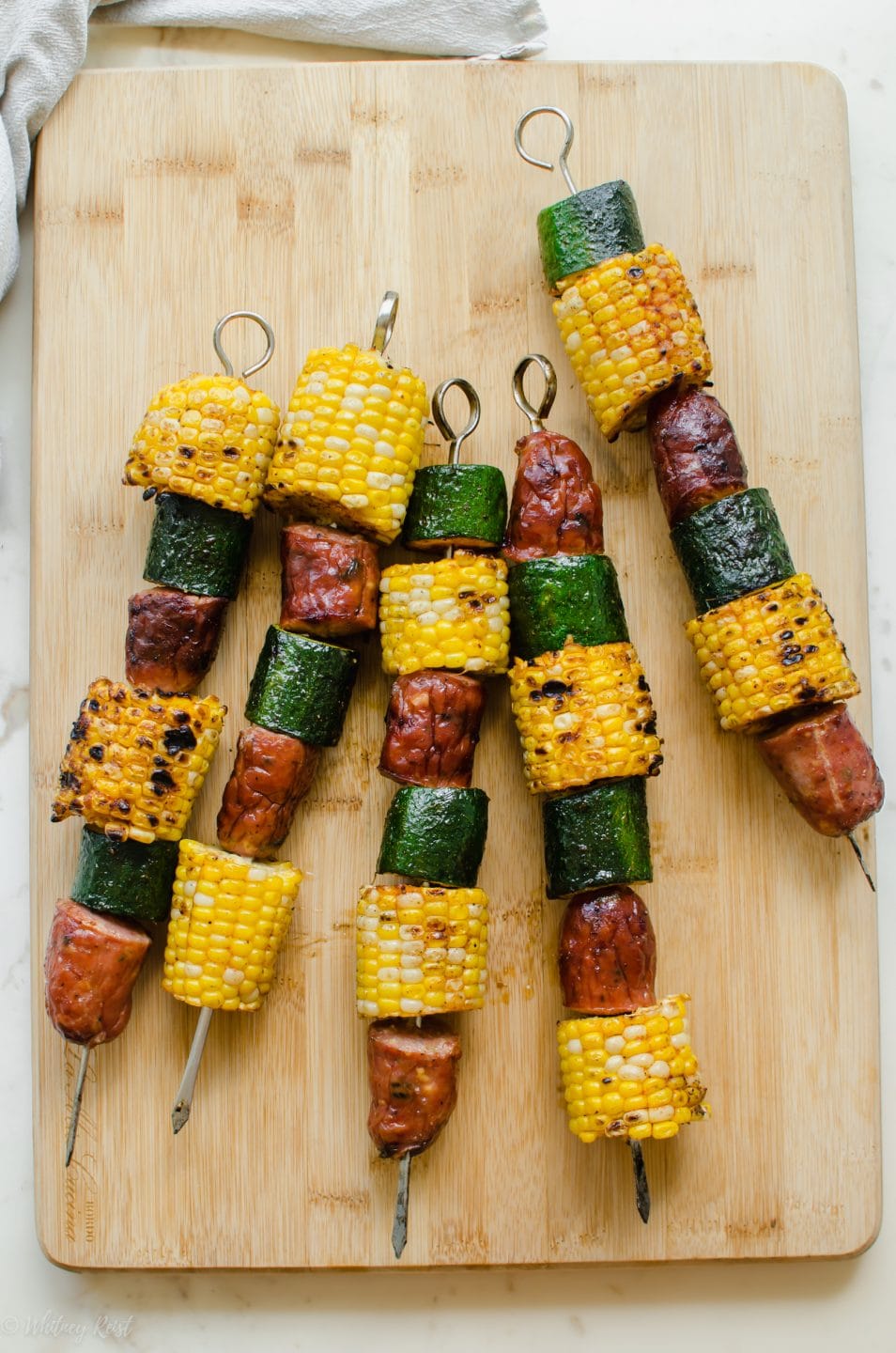 Are you loving to grill as much as I am this summer? I don't know about you, but something about grilling out just makes dinner seem easier. Maybe it's the ease of prep or the fact that you can just grill a few things and be satisfied without the need for a bunch of sides or complicated recipes. Or maybe it's the fact that I do the prep work and then sit back while Ryan grills the food!
This summer we purchased a set of stainless steel, reusable kabob skewers and they have been such a great addition to our grilling tools! It's nice because you don't have to remember to soak them beforehand like the wooden ones, and you can always count on having these on hand instead of remembering to buy wooden skewers at the store! I love to make kabobs with pretty much whatever protein and veggies we have on hand. Lately, we've been loving the combo of sausage, zucchini, and corn! No need to marinate any of these - a simple BBQ rub sprinkled on the veg does the trick and is all the flavoring you need! Ready to make them? Let's do it!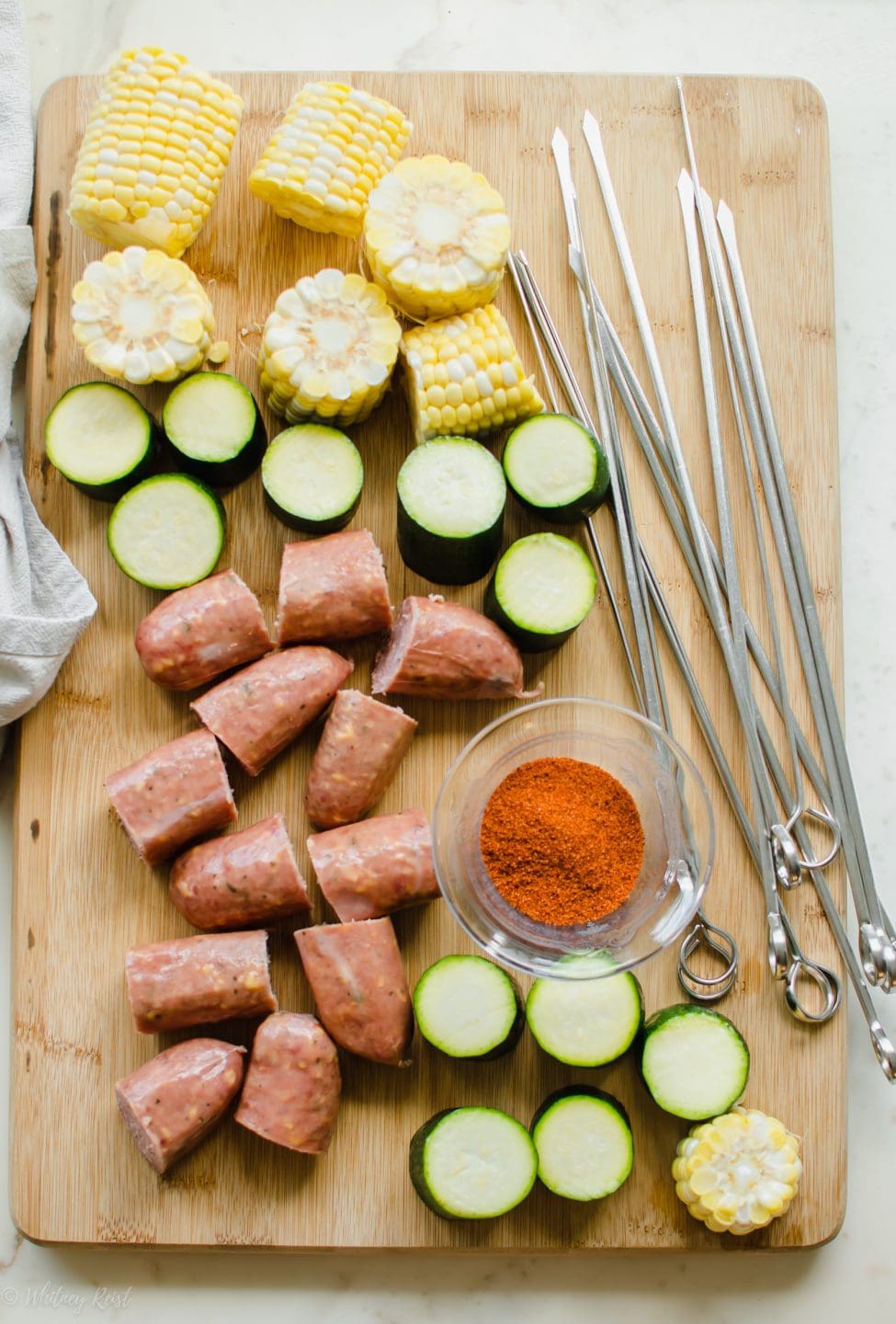 Ingredients for Grilled Sausage, Zucchini and Corn Kabobs
Your favorite type of sausage - I'm usually not a big fan of sausage. Apart from the occasional Italian chicken sausage on pizza, it's not something I eat a lot of. However, I recently tried these beef jalapeno cheddar sausages from Sam's and really enjoyed them - they weren't too spicy or greasy and had a great flavor.  That's what I'm using in this recipe, but feel free to use chicken, turkey, pork, or veggie sausage!
Fresh corn - the corn will be shucked and cut into thirds, and that's about the size you will need for threading the pieces on to kabobs. Sweet yellow corn is my favorite! Try and get your hands on some corn that has been picked that day or the day before - you will taste the difference in the sweetness and tenderness of the kernels!
Fresh zucchini - really any type of summer squash will do here, but I like the dark green color contrast of zucchini with the corn and sausage. We will use large chunks of zucchini for these kabobs so that they don't overcook while the sausage and corn are grilling.
Your favorite BBQ seasoning - any BBQ rub will do! We have a favorite blend that we purchase at Central Market in Dallas, and just sprinkle that all over the veggies before threading them onto the skewers.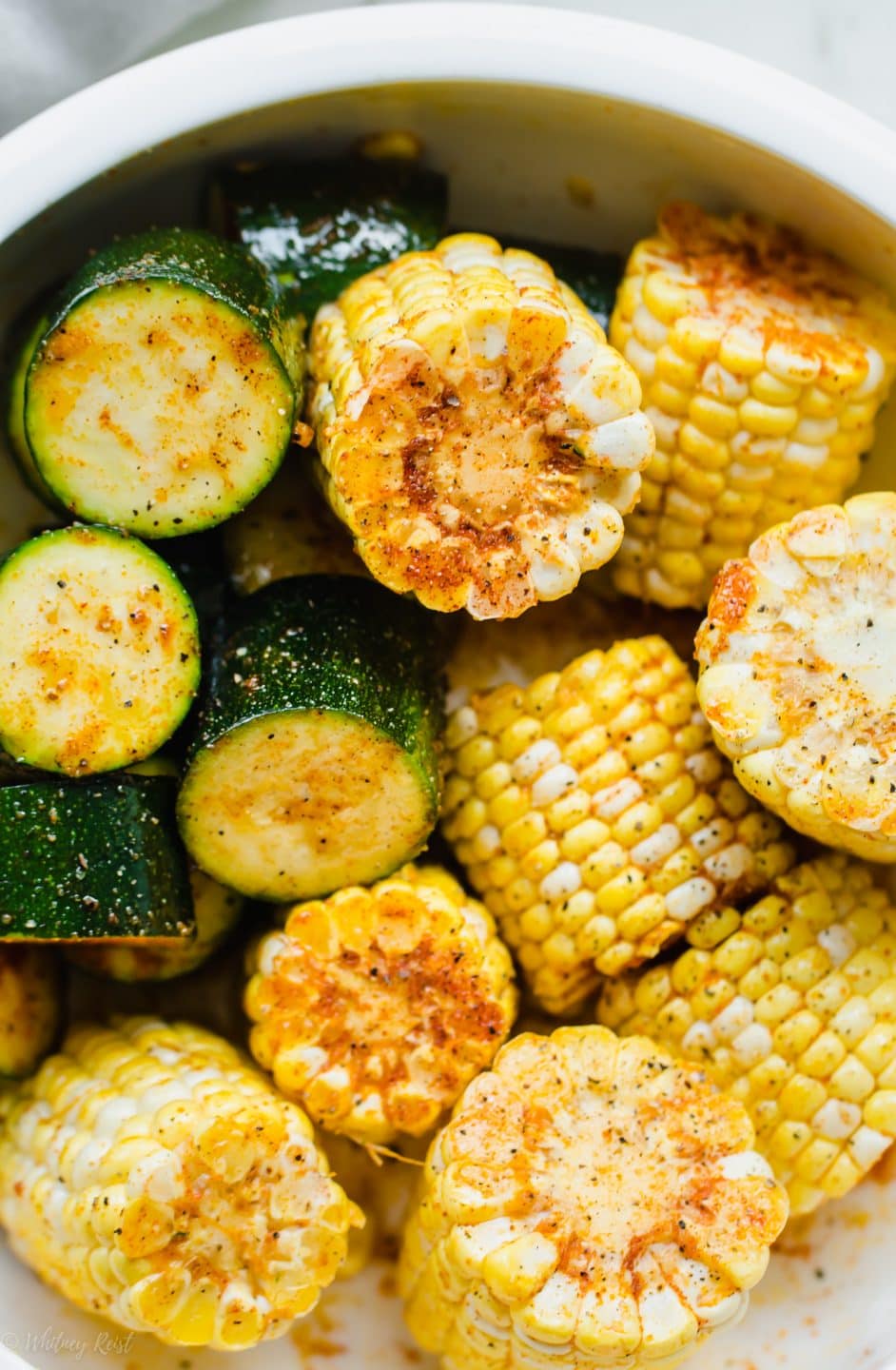 How to Make Grilled Sausage, Zucchini and Corn Kabobs
Soak the corn - for optimal tenderness and to shorten the cooking time a bit, we are going to soak the shucked corn pieces in water for about 20 minutes. During this time, it's a good idea to get your grill ready!
Prepare the grill - heat your grill to 400-450 degrees F. You'll want to have some tongs and a clean platter to put the kabobs on once they are done nearby!
Slice your veggies and sausage - the zucchini, sausage, and corn should all be cut into pieces that are about 2 inches in length. This will ensure everything cooks at the same rate.
Season the veggies - since the sausage is already very flavorful, all we need to season is the veg. Simply drizzle on a bit of oil, sprinkle on some BBQ seasoning, and you are done!
Thread ingredients on the skewers - when threading skewers, be sure to point the sharp end away from you and be very careful! I like to hold my skewer in place on a kitchen towel or cutting board as I thread the veggies on.
Grill away! The kabobs are grilled for 12-15 minutes, which is just enough time to set the table, pour some drinks, and get ready to enjoy!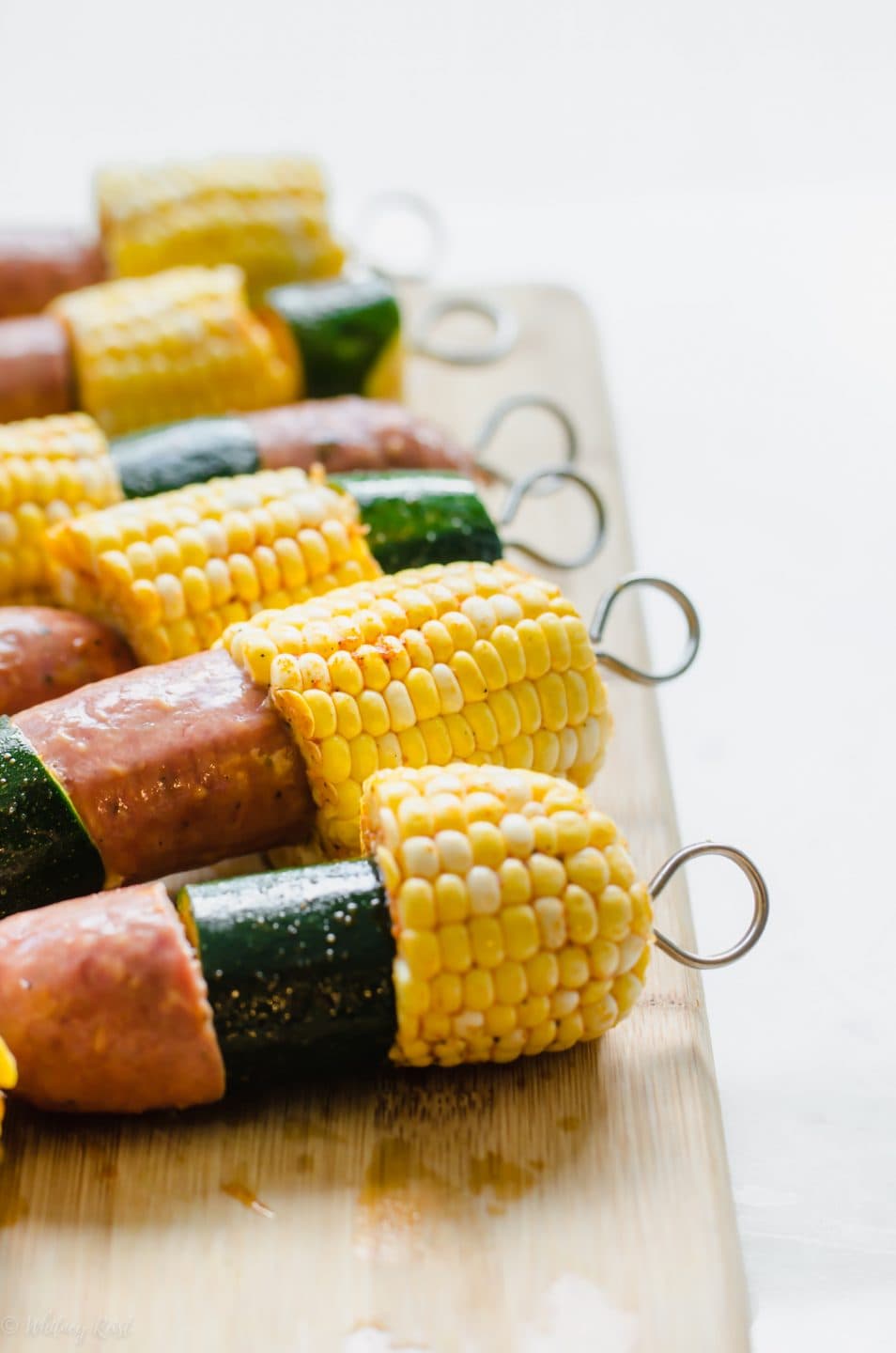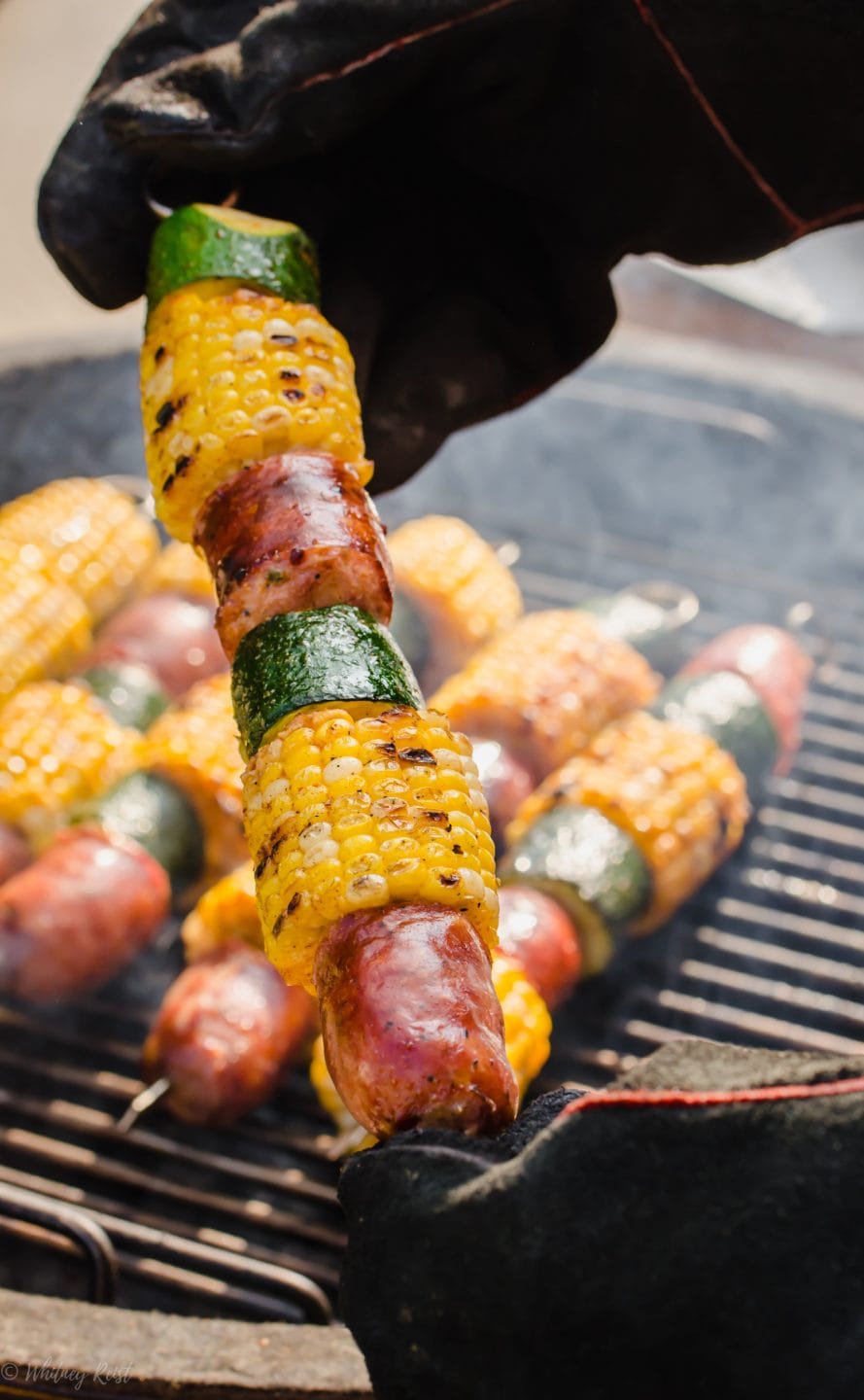 What to Serve with Kabobs
Since this is such a simple entree, I like to keep things simple with the sides. A lot of times, Ryan and I will just grill some bread with garlic and olive oil, or we will have a simple tomato salad with olive oil, basil and sea salt. Nothing that requires cooking or much prep of any kind! Here are a few more simple sides to choose from: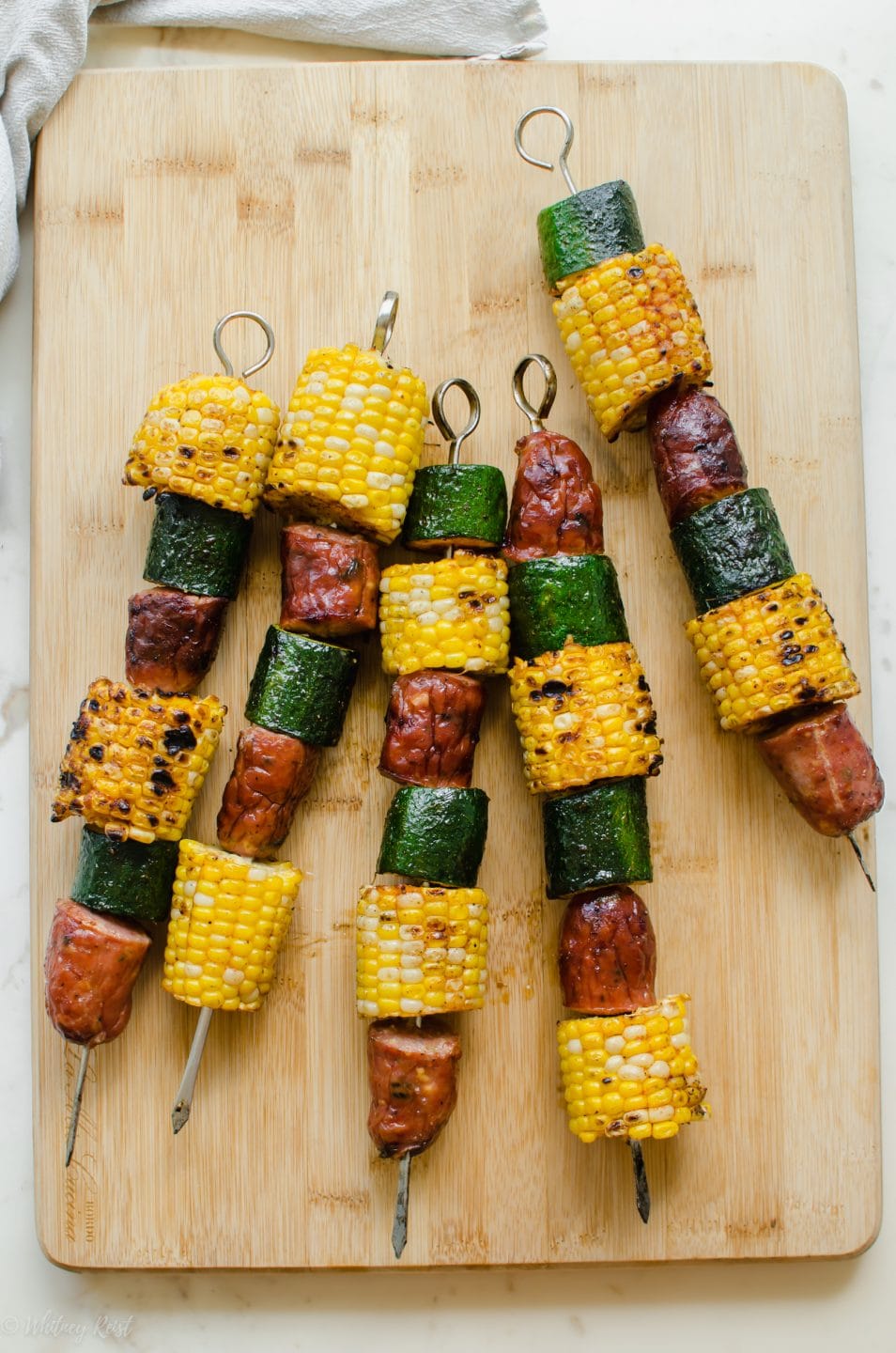 Are you ready to try this Grilled Sausage, Zucchini and Corn Kabobs? I'm so excited for you to try this recipe. Once you get the chance to make it, please let me know how it turns out for you! Leave a comment and rate the recipe below. This will help me with the creation of future recipes! I'd also love to feature your creation in my monthly newsletter, so you can upload a photo to Instagram or Twitter with the tag @sweetcayenne5 to be featured!
Recipe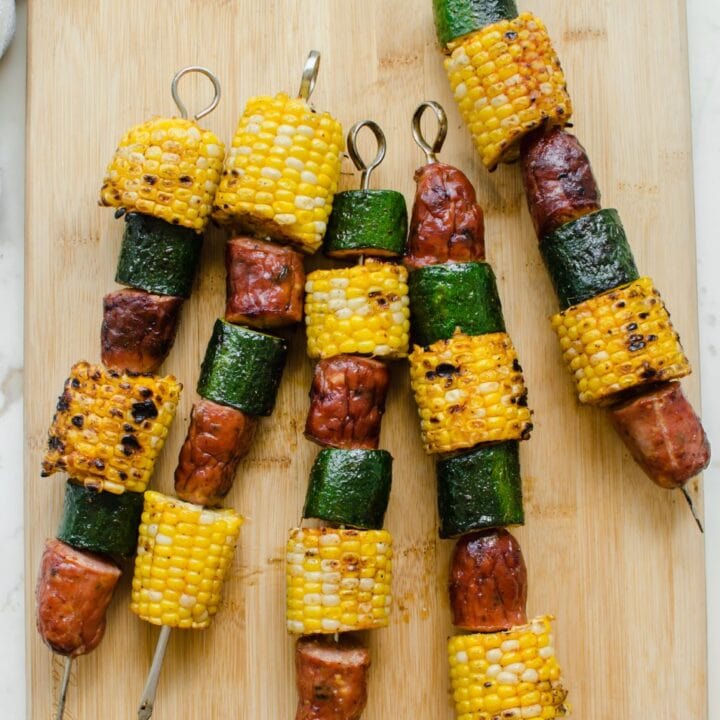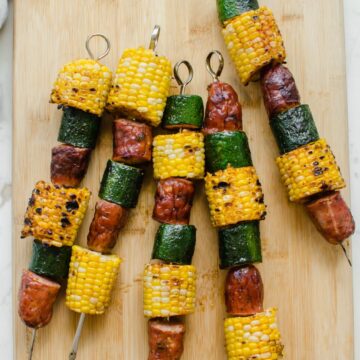 Sausage, Zucchini and Corn Kabobs
This easy kabobs are filled with some of my favorite summer flavors and could not be easier to put together. They are fun to eat and perfect to serve with a big platter of watermelon!
Print
Pin
Rate
Ingredients
4

large

sweet corn in the husk

6

all-beef cheddar jalapeno sausages (I love the ones from Sam's/Member's Mark, but feel free to just use your favorite sausage or brat!)

4

medium

zucchini, ends removed and each cut into 2'' pieces

1

tablespoon

olive oil

1

tablespoon

of your favorite all-purpose BBQ rub seasoning

Salt and pepper (skip the salt if it is already in your BBQ seasoning)
Instructions
Remove the husks and silk from the corn. Place the corn in a large bowl. Cover with cold water and soak for 20 minutes. If using wooden skewers, now is a good time to soak them in water.

While the corn soaks, preheat your grill to medium-high (400-450℉). Cut each sausage link into thirds. Set aside. Cut each zucchini into 2'' round pieces.

Remove the corn from water and pat dry. Carefully slice each whole corn into thirds. Place the corn and zucchini in a large bowl. Drizzle the veggies with olive oil. Sprinkle the BBQ rub, salt (if using), and pepper on top, tossing to coat the veggies thoroughly.

Carefully thread one sausage (3 pieces), two pieces of corn, and 2-3 pieces of zucchini in alternating patterns onto each skewer. You should be able to fill 6 skewers.

Grill the skewers for 12-15 minutes, flipping three times throughout the grilling, until veggies are crisp-tender and the beef sausage is an internal temperature of 150℉. Serve the kabobs hot with a big plate of watermelon or a watermelon salad. Enjoy!
Serving:
1
kabob
|
Calories:
281
kcal
|
Carbohydrates:
25.7
g
|
Protein:
11.9
g
|
Fat:
17.2
g
|
Saturated Fat:
6.1
g
|
Cholesterol:
35
mg
|
Sodium:
658
mg
|
Potassium:
602
mg
|
Fiber:
4.1
g
|
Sugar:
8.6
g
|
Iron:
1.6
mg
Pin this, pretty please!