Everything you could want in a spring salad is happening in this bowl with this orzo salad with roasted salmon.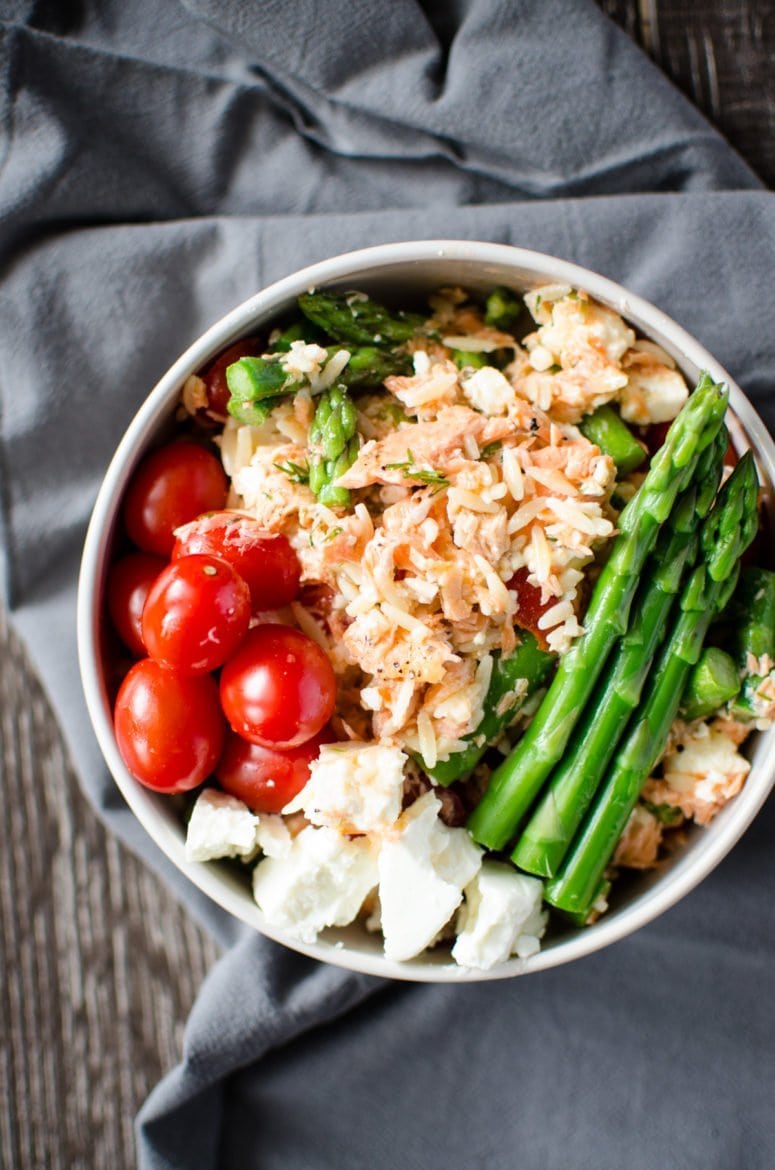 I'm having a bit of a crisis right now. Other than the fact that it's the first Monday after Daylight Savings (ugh!). I've had a terrible craving for seafood lately. Back when we lived in Dallas, we'd eat some type of seafood at least once per week. Thanks to the life-changing seafood counter at Central Market, we had access to often great prices on mahi mahi, halibut, Chilean sea bass, the best wild-caught varieties of salmon, crab, jumbo scallops - you name it, Central Market would have it! That's not the case here, however, smack dab in the middle of Missouri. Far from it, may I add. There's only a few varieties of fish available, all of it ha been pre-frozen, and most of it tastes really.....fishy.
Tell me, if you're experienced with my situation, what should I do??? Is there some kind of seafood co-op I can join? Do you live in central MO and know of a good place to get fresh seafood? HELP!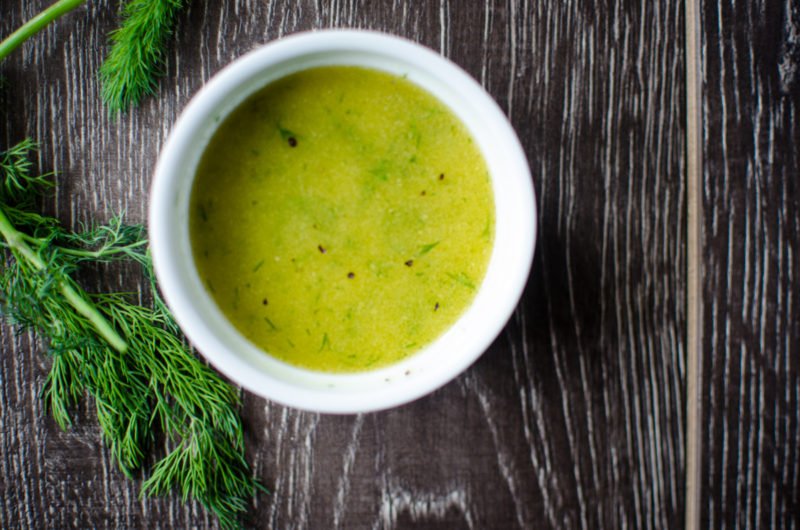 Despite the very unfortunate seafood famine going on in my life, I bit the bullet and purchased some decent salmon this week because I was CRAVING this orzo salad I'm sharing with you today. I used to make this for friends and personal chef clients all the time when I lived in Dallas, and it was a favorite for everyone! It's basically just something I threw together one day based on what I had in the refrigerator -you know, one of those "no recipe recipes" that people ask about and you reply "oh, I just added a little of this and a little of that." Except this time I made it and measured everything carefully so I could share it with you.
Let's talk about the goodies in the salad - there's definitely some Mediterranean inspiration going on here. Creamy feta meets an herbal, zippy lemon dressing. I love a good lemon + salmon + dill combo just as much as the next person, so we're keeping things traditional in the flavor department in that sense. The addition of orzo technically makes this a pasta salad; and if you told me you were going to make this for your first picnic of the spring season, I would wholeheartedly encourage you to do so! Oh yes, and there's perfectly tender pieces of spring asparagus and little juicy tomatoes in their too. I like to give my asparagus a quick blanch for this recipe, as the process makes the asparagus a gorgeous bright green color and yields just the right amount of crunch.
My favorite way to serve it is chilled, with some Bibb lettuce leaves on the side to make little wraps or with some toasted bread slices for scooping. This is great to pack for lunch, but if you can't eat the whole recipe within two days, just make half a recipe.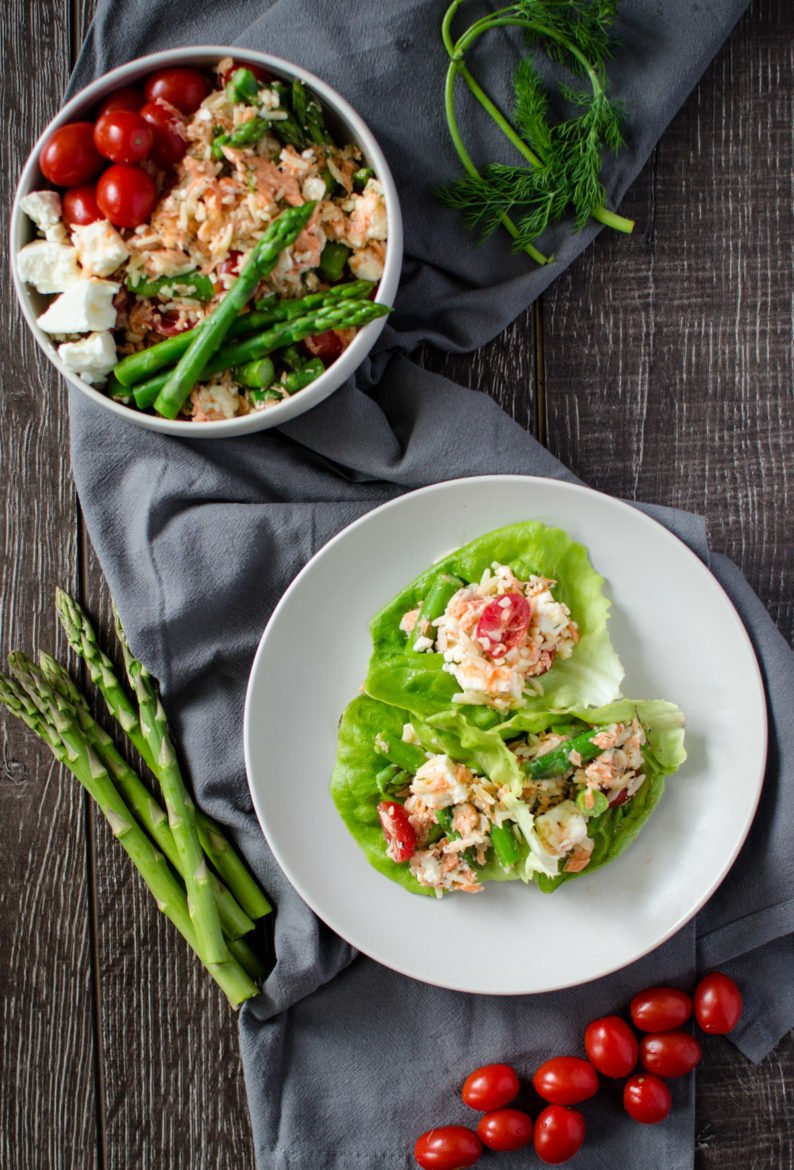 Recipe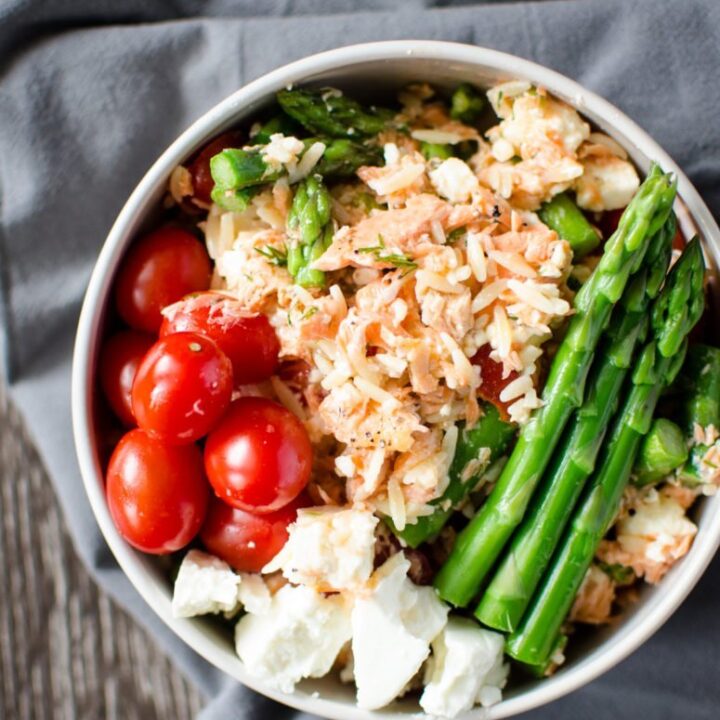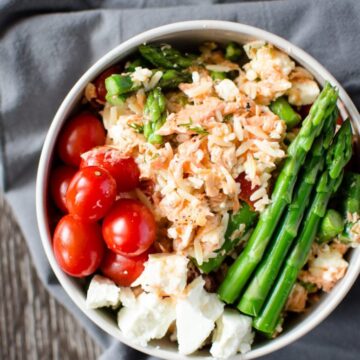 Spring Orzo Salad with Roasted Salmon
Perfectly roasted salmon is the starring ingredient in this gorgeous spring pasta salad that's perfect for a picnic or outdoor setting!
Print
Pin
Rate
Ingredients
For the dressing:
1

teaspoon

Dijon mustard

¼

cup

freshly squeezed lemon juice

¼

cup

extra virgin olive oil

½

teaspoon

minced garlic

1

tablespoon

fresh dill

minced

Salt and pepper to taste
For the salad:
10

ounces

wild caught salmon fillet

Kosher salt

Freshly cracked black pepper

Extra virgin olive oil

½

pound

fresh asparagus spears

ends trimmed

1

cup

dried orzo pasta

1

cup

grape or cherry tomatoes

sliced in half lengthwise

5

ounces

feta cheese

crumbled

Optional: Bibb lettuce leaves for serving
Instructions
For the dressing:
Combine all ingredients except for salt and pepper in a Mason jar with a lid or other small container with a lid. Shake vigorously to combine. Season to taste with salt and pepper. Set aside while you prepare the rest of the salad or make up to one day ahead and refrigerate until ready to use (refrigerated dressing may solidify somewhat; simply run the container under warm water to liquify it again.)
For the salad:
Turn your oven broiler on the low setting and line a baking sheet with foil Spray lightly with cooking spray. Place the salmon fillet on top of the foil. Brush about two teaspoons of olive oil over the top of the salmon and sprinkle a teaspoon of coarse kosher salt and ½ teaspoon of freshly cracked black pepper over the top. Broil for two minutes, then set the oven on 425 degrees F. Roast the salmon for 8-10 minutes until medium doneness; it should be pink in the center and flake easily with a fork. Remove from oven and let cool for about 5 minutes before flaking the entire fillet into small pieces with a fork.

While the salmon roasts, fill a large pot with water and bring to a boil. Salt the water with 2 teaspoons of salt. Place the trimmed asparagus spears in the water and boil for 90 seconds. Use tongs to carefully remove the asparagus from the pot, keeping the water at a boil. Place the asparagus in a bowl filled with ice and water, then add your orzo to the boiling water and cook for 6 minutes.

While the orzo cooks, drain the asparagus from the ice water and pat dry. Slice the asparagus into 1-inch pieces length-wise.

Drain the orzo into a fine mesh strainer and shake the strainer thoroughly to remove excess water. Place the orzo into a large bowl, along with the sliced tomato halves, asparagus, crumbled feta, and flaked salmon. Add the entire amount of vinaigrette and gently toss all of the ingredients to combine thoroughly. Serve immediately with Bibb lettuce cups or refrigerate for 6 hours to serve chilled. The pasta salad can be enjoyed for up to 2 days and tastes great chilled.
Serving:
1
Serving
|
Calories:
373
kcal
|
Carbohydrates:
22
g
|
Protein:
25.3
g
|
Fat:
21.8
g
|
Saturated Fat:
7.3
g
|
Cholesterol:
80
mg
|
Sodium:
1100
mg
|
Potassium:
345
mg
|
Fiber:
2
g
|
Sugar:
4
g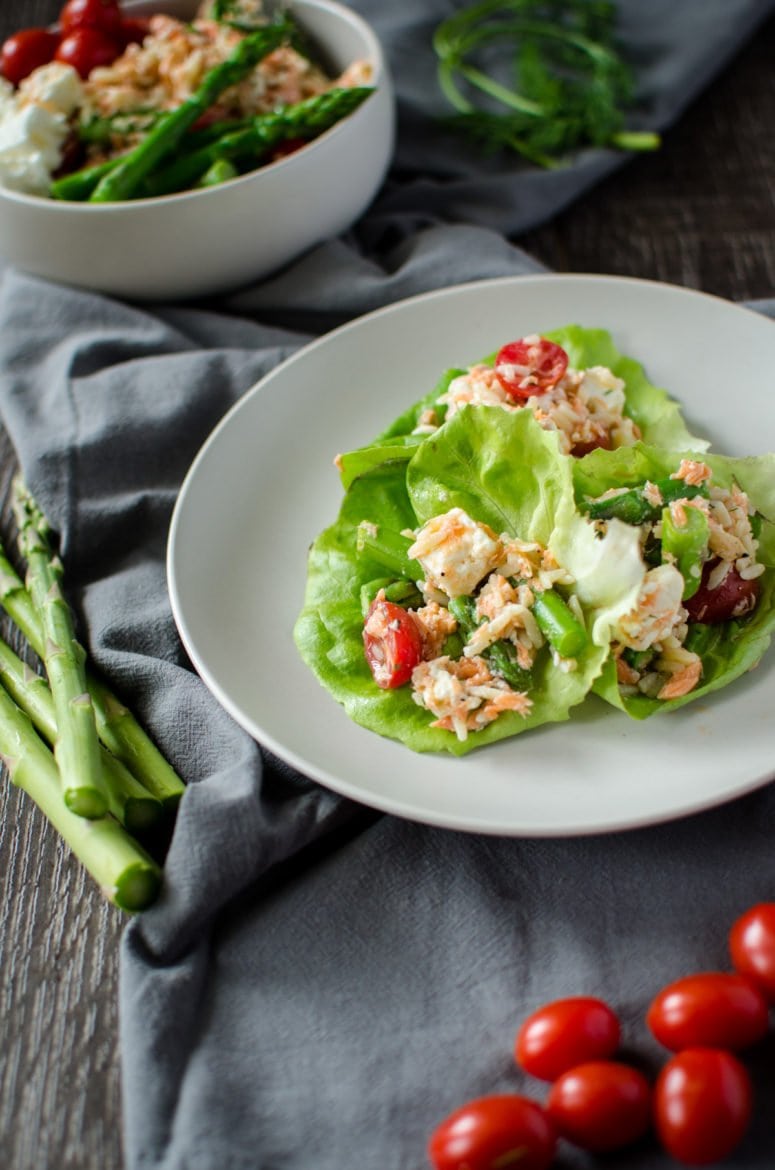 If you are craving more spring flavor, try my Tuna and White Bean Salad with Kale Pesto or my Strawberry and Wild Rice Salad.
Did you make this recipe? If so, I'd love to hear about it! Leave a comment below or tag a picture of your creation on Instagram with the tag #sweetcayenne - it's great to connect with you! Sign up for my newsletter to keep up with everything going on at Sweet Cayenne.