These Buffalo Chicken Stuffed Sweet Potatoes are an easy "no recipe" recipe that I love to throw together for a warm, satisfying meal during busy weeks. They are great to meal prep ahead of time and pack for lunch through the week!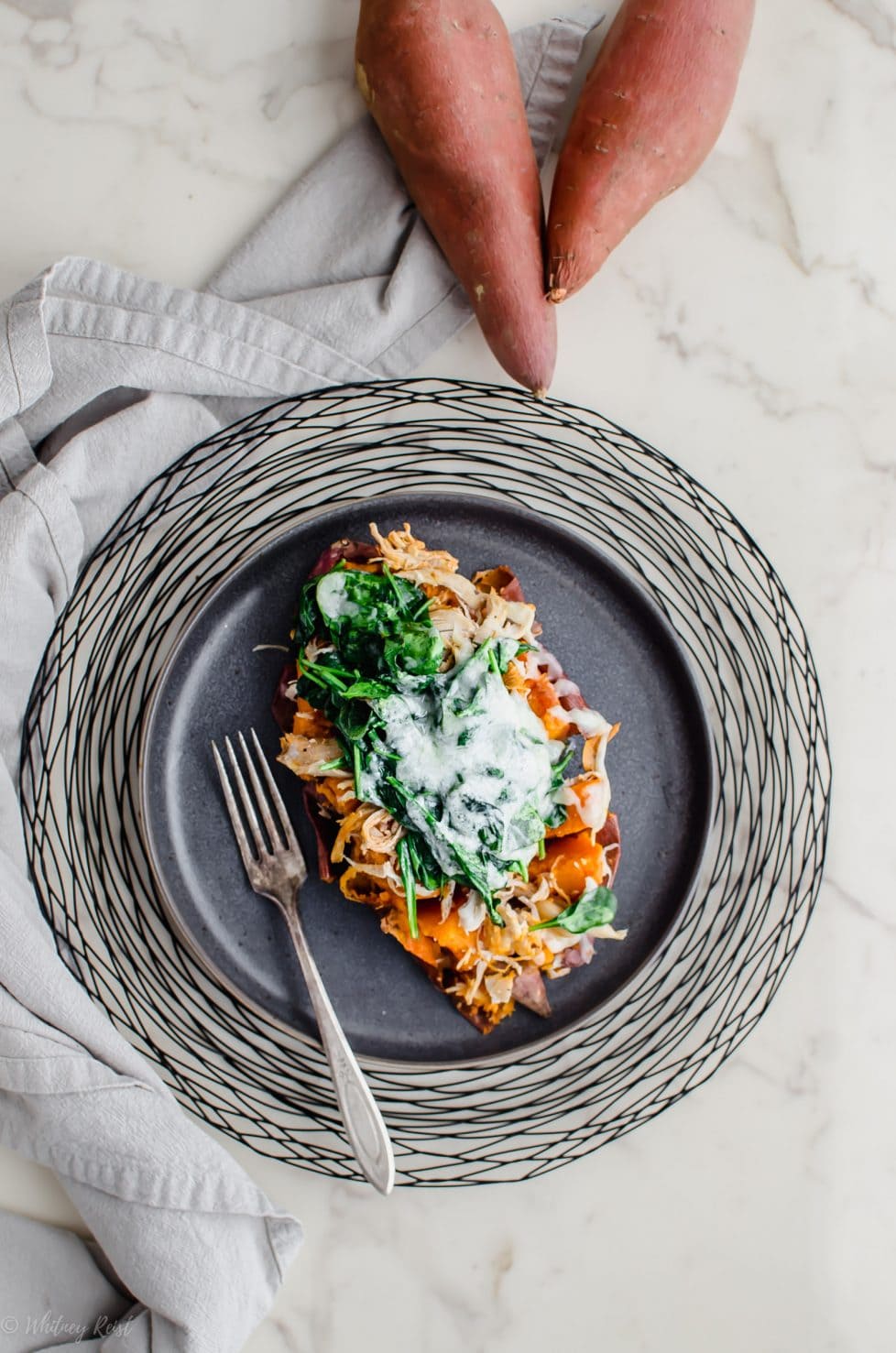 Want to know a secret? I almost didn't post this recipe.
I made these sweet potatoes for Ryan and me one Monday night - I had literally scrounged around the fridge and pantry to scrape up whatever leftovers/ingredients were on hand and needed using. We've always loved having a "baked potato night," filling it with toppings, and calling it a "one-dish wonder." It's not a recipe at all, not very creative, but at the same time, one of our favorite things to eat. Our current go-to ingredient combo is sweet potatoes + buffalo chicken + white cheddar + and either sauteed baby spinach and/or shredded brussels sprouts. That combo is just.SO.good!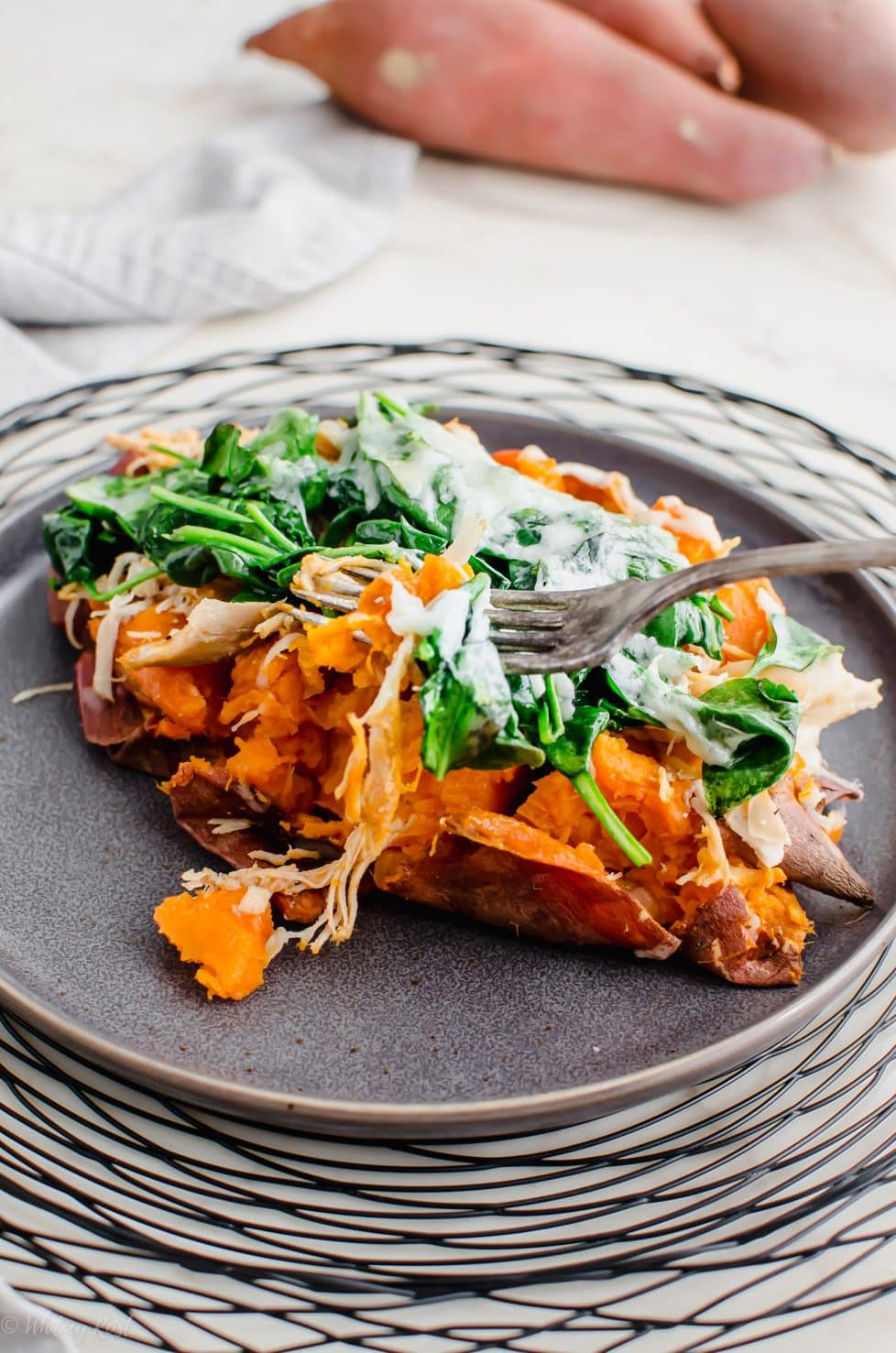 Ryan asked if I planned to put the dinner on the blog at some point and I responded by saying it "wasn't creative enough." I figured it had been done 100's of times before, it wasn't really a recipe, and so on. But he reminded me that, at the end of the day, a lot of family, friends, and clients are just looking for quick, approachable meal inspiration in the midst of hectic schedules. They might have 60 seconds to scroll through Instagram or Facebook, but not enough time to really do an in-depth search for dinner inspiration. Someone might see a pic of this recipe, remember they had potatoes in the pantry begging to be used, and then end up making a healthy + nourishing dinner for themselves. And the thought of that happening makes me really happy!
So, let's keep things simple. These Buffalo Chicken Stuffed Sweet Potatoes are the keeping-it-real, real food, real simple dinner inspiration I've got for you today. I hope you enjoy!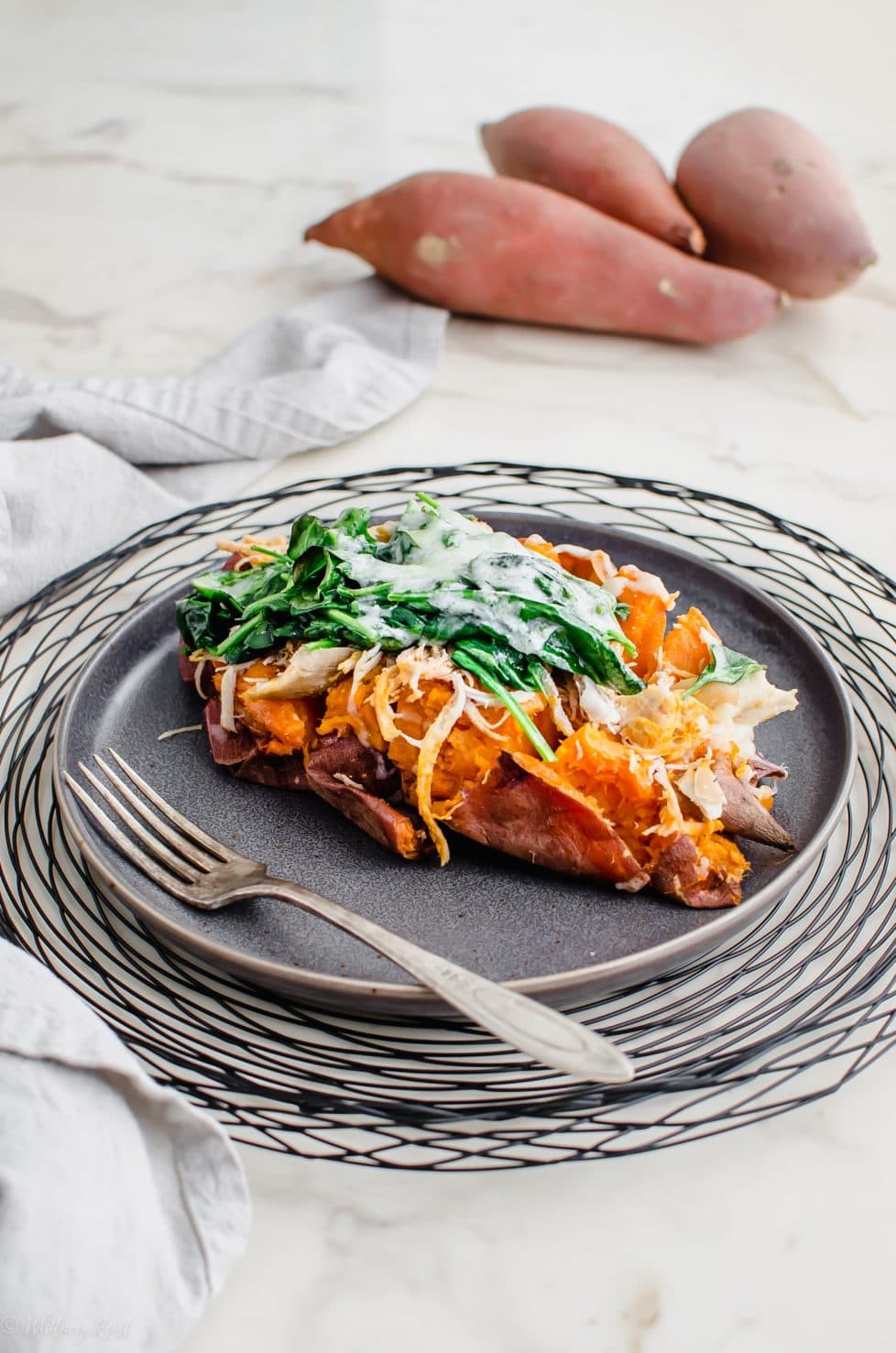 Tips
As written, this recipe is gluten-free (provided you use buffalo sauce labeled "gluten-free"), kid-friendly, budget-conscious and rich in whole foods (VEGGIES!), making it suitable for a wide variety of balanced, healthy eating patterns.
You can easily modify the recipe by filling the sweet potatoes with whatever toppings you like and have one hand - see the recipe card for specific examples.
I like to make these for meal prep lunches - they reheat so well in the microwave! Simply cool your potatoes and toppings to room temperature, fill the potatoes with desired toppings, then store in the fridge for up to 3 days. Reheat in the microwave at work for a simple and super-satisfying lunch!
Similar recipes
Are you ready to make these buffalo chicken stuffed sweet potatoes? I'm so excited for you to try this recipe. Once you get the chance to make it, please let me know how it turns out for you! Leave a comment and rate the recipe below. This will help me with the creation of future recipes!
I'd also love to feature your creation in my weekly newsletter, so you can upload a photo to Instagram with the tag @sweetcayenne5 to be featured! Quick and easy recipe videos are available on my YouTube channel, and lots of menu inspiration on my Pinterest boards.
Recipe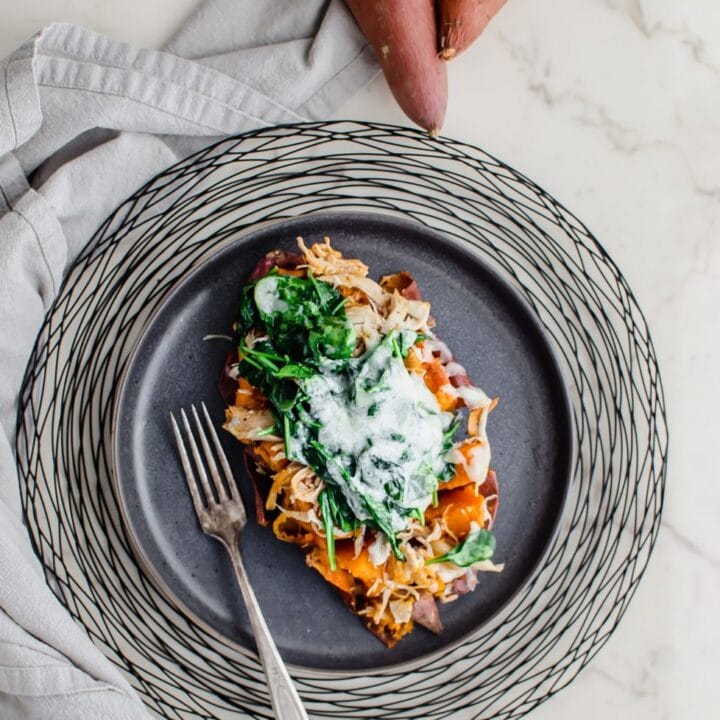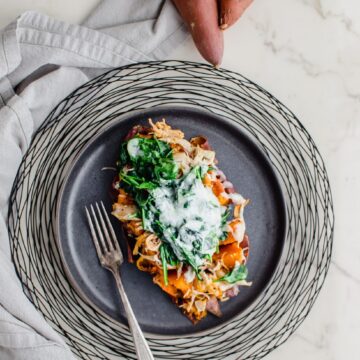 Buffalo Chicken Stuffed Sweet Potatoes
Gluten-free | Kid-Friendly | Make-Ahead | 5 Ingredients or Less
Print
Pin
Rate
Ingredients
Whole sweet potatoes (1 medium per person)

Cooked and shredded chicken, such as rotisserie chicken (allow ½ cup per person)

Buffalo sauce, such as Frank's Red Hot or Sweet Baby Ray's (allow 2 tablespoons per serving of chicken)

Baby spinach OR shredded Brussels sprouts (1 cup of spinach or ½ cup sprouts per person)

White cheddar cheese, shredded (2 tablespoons per person)

Other suggestions for toppings: shredded barbecue chicken, Italian chicken sausage, bacon, roasted broccoli, roasted cauliflower, caramelized onions, roasted peppers, any type of cheese, dried cranberries.
Instructions
Preheat oven to 375℉. Line a baking sheet with parchment paper and set aside.

Wash the sweet potato(es) and poke holes on all sides with a fork. Place the potato(es) on the baking sheet and roast for 20 minutes. Flip to the other side and roast an additional 20 minutes. Remove from oven and carefully wrap each potato in foil. Roast an additional 20-30 minutes until the potatoes are soft and easily pierced with the tip of a knife.

During the last 10 minutes of potatoes cooking, toss the chicken with the buffalo sauce. Heat over medium-low heat until heated through, stirring often.

Remove potatoes from oven and let rest for 10 minutes. While they rest, heat a skillet over medium heat. Drizzle a bit of oil in the skillet, then add the spinach or brussels sprouts and saute until tender (3 minutes for the spinach, 5-6 minutes for the sprouts). Season to taste with salt and pepper.

Put a slit in the top of the potatoes and fluff the inside with a fork. Top the potato with shredded chicken, sauteed veggies and cheese. If desired, place the potato under a broiler on high and broil for 2-3 minutes to melt the cheese.

If preparing ahead of time for meal prep:

Cut a slit in the tops of potatoes and cool them to room temperature. Top the potatoes with cooled toppings. Place in an airtight container and refrigerate up to 3 days. Reheat potatoes in the microwave for 2-3 minutes until heated through (the center of the potato needs to reach 165℉.
Serving:
1
potato
|
Calories:
274
kcal
|
Carbohydrates:
26.4
g
|
Protein:
26.4
g
|
Fat:
6.4
g
|
Saturated Fat:
2.1
g
|
Cholesterol:
65
mg
|
Sodium:
960
mg
|
Potassium:
805
mg
|
Fiber:
4.1
g
|
Sugar:
7.5
g
|
Calcium:
88
mg
|
Iron:
5
mg
Pin this, pretty please!