5-Ingredient Italian Bean Stew - holiday time saver of dinner with life-giving flavor and nourishment? I think so!
This post was originally published in 2014, and has been updated to make it better for YOU!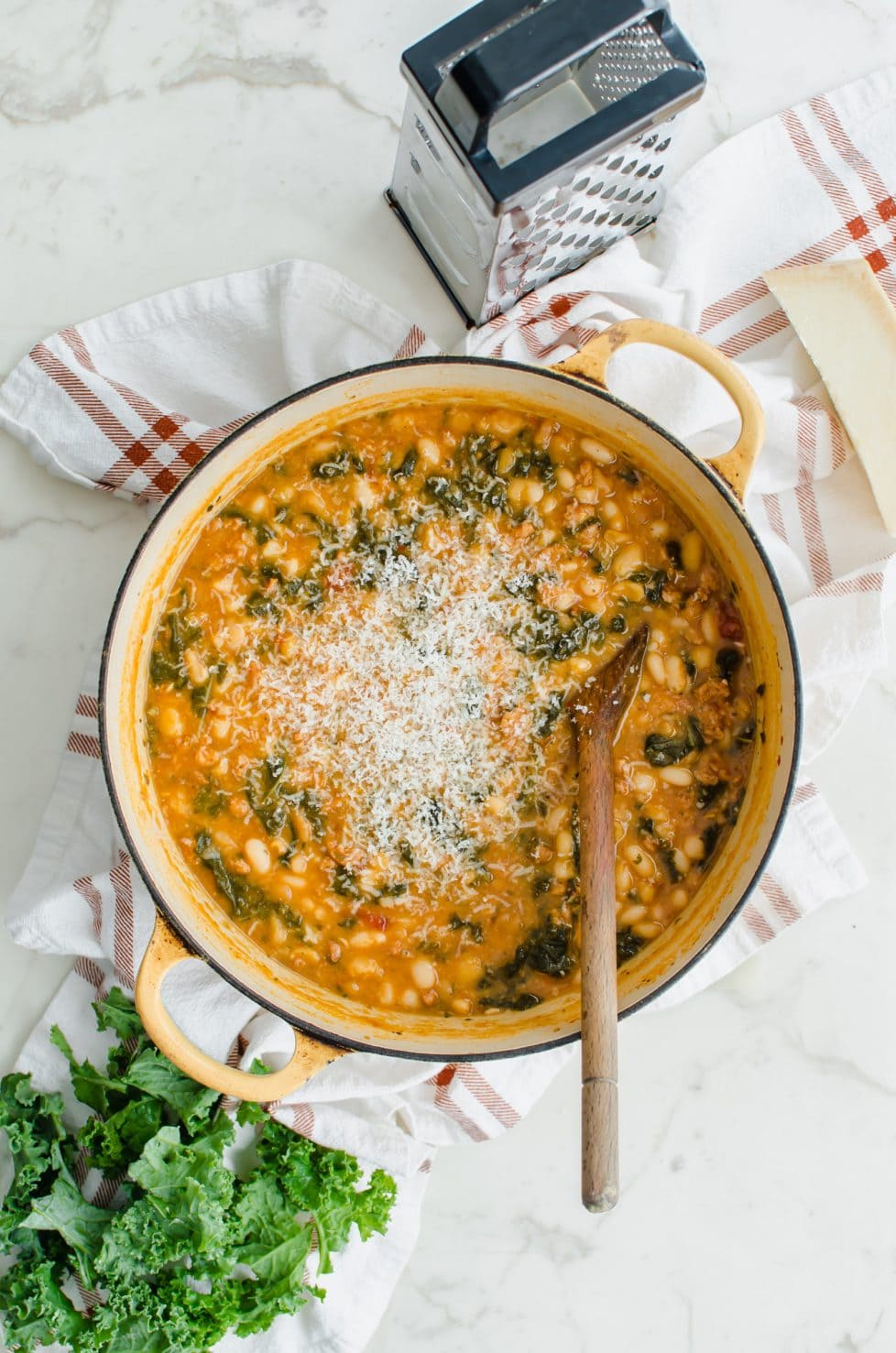 Do y'all feel like life's gotten a little busier lately? I always feel like the onset of fall comes with ample time to bake, enjoy football, and do fall-ish things like paint pumpkins and get crafty. But WHAM - after Halloween comes and goes, turbo mode commences. Work deadlines increase as the holidays close in on us. Final exams fill the calendars of weary college students. You start agonizing over your Thanksgiving menu.  And ironing out plans for Christmas. My to-do list just got 10x longer. Yikes! Who has time to plan weekly menus? Grocery shop? Or even cook for that matter???
Enter this 5-ingredient Italian Bean Stew. It's smiling at you and saying "relax. Take a deep breath." Yes, friends. It's soup to the rescue.  I'm talking about the kind that's cheap, easy, healthy, and takes minimal effort. This soup is going to nourish your body with the vitamins, minerals, lean protein, and healthy carbs that it needs to get you through the new year. And on top of all that, it's full of warm, savory flavors. I don't know about you, but every to-do list seems less daunting to me when I've had a good food experience. Something that satisfies my need to enjoy flavors, aromas, colors, and the company of people I care about and need to make time for no matter how hectic things get.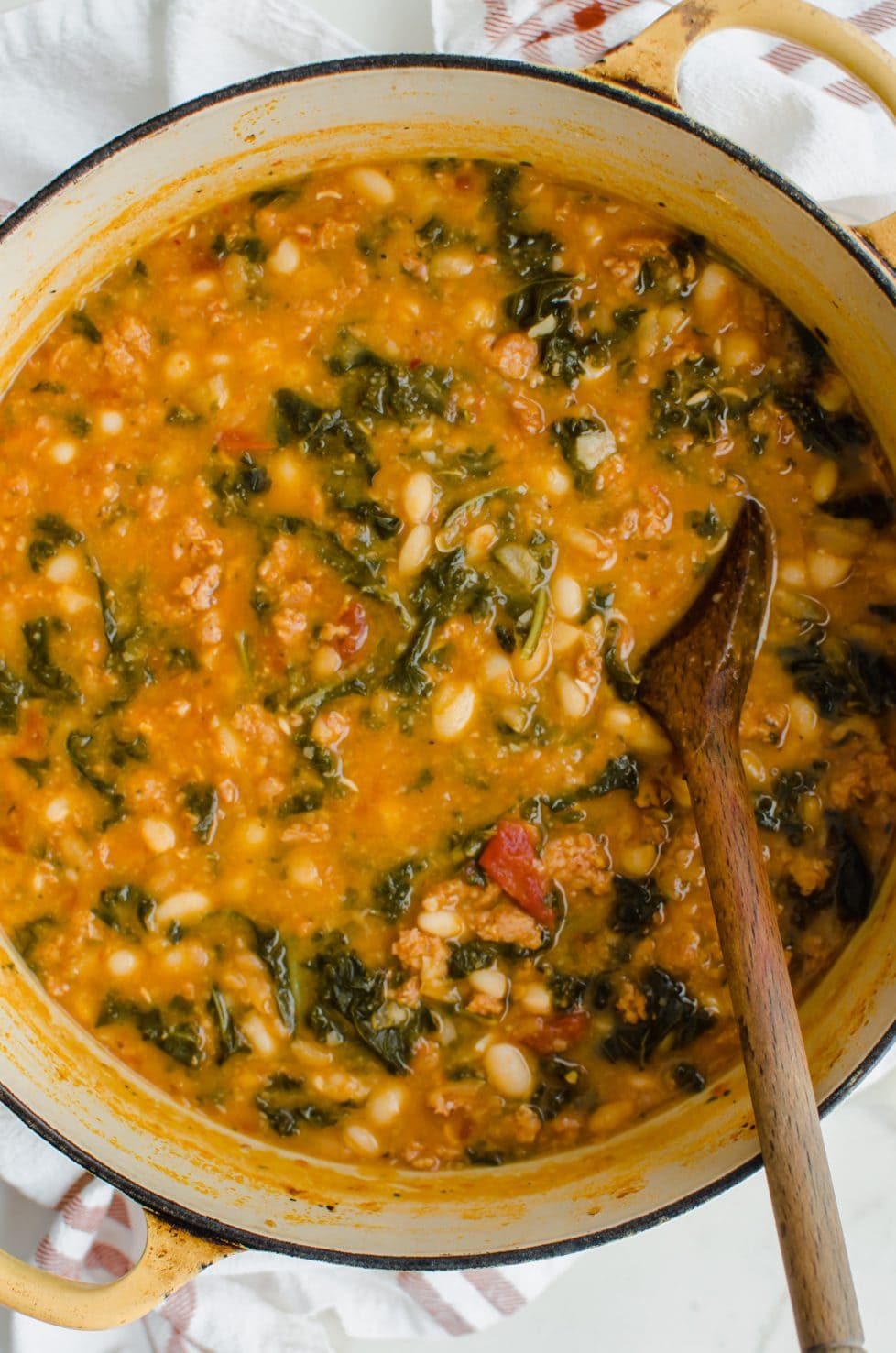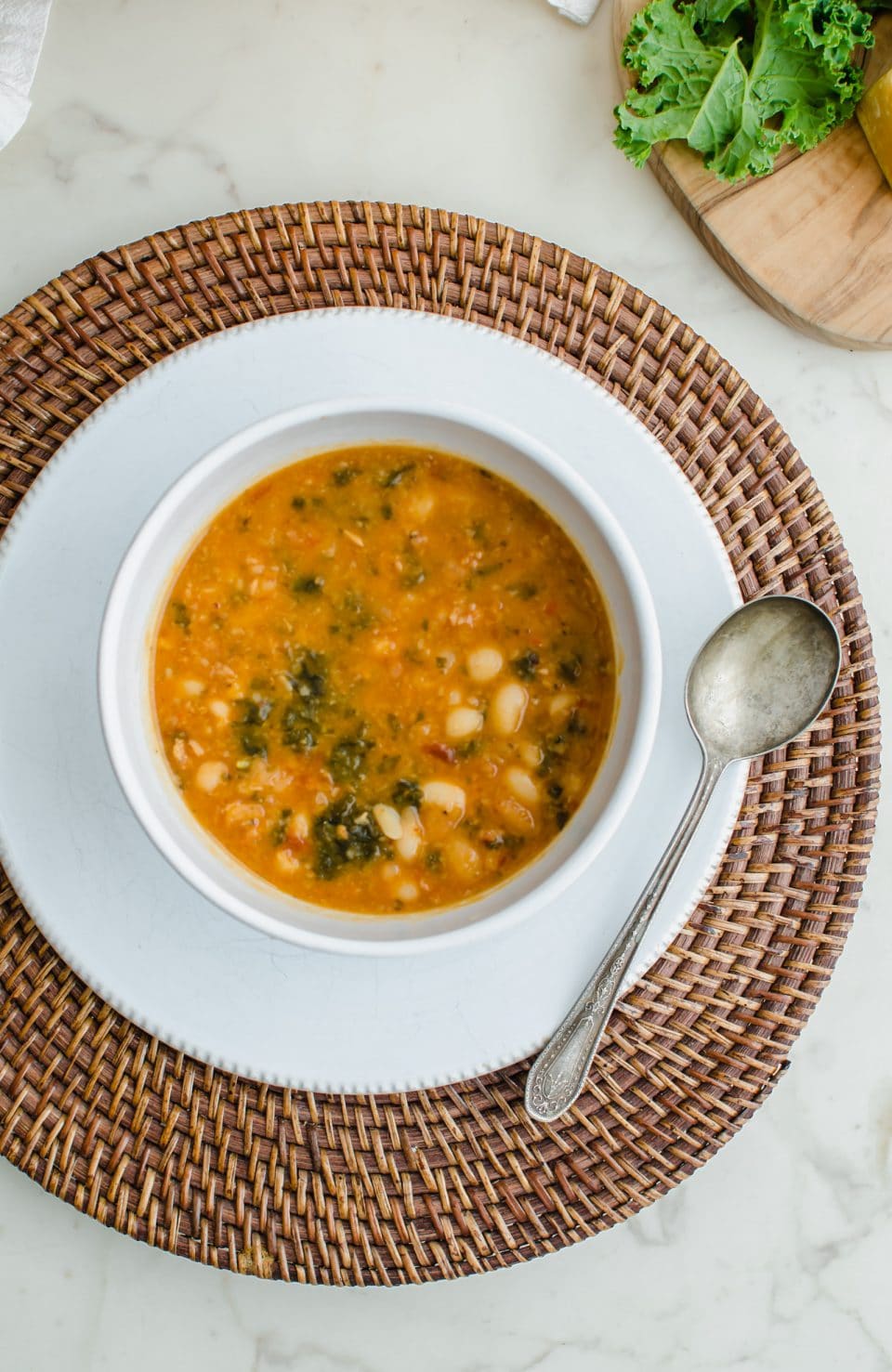 This stew also keeps on giving - we had it for dinner last night, I enjoyed a bowl for lunch today and plan on taking the rest for lunch tomorrow. Seriously, it will keep you going all week if you make enough. If you are feeding hearty appetites, consider throwing in a few cups of cooked pasta, quinoa, farro, or any cooked whole grain. If you drive by a good artisan bakery during your daily commute, pick up a loaf of crusty whole grain bread to dip in the broth.
Another yummy addition: I like to throw in the rind from a wedge of fresh Parmesan cheese. Whenever I get to the bottom of a hunk of Parmesan, I wrap the rind in plastic wrap, place in an airtight container and freeze for later use in soups. It's a trick I learned from watching Everyday Italian with Giada on the Food Network, and it adds such a nutty depth of flavor to the soup broth. Do you have any go-to dinner staples that you can rely on in a pinch? I'd love to hear about it in the comments section below!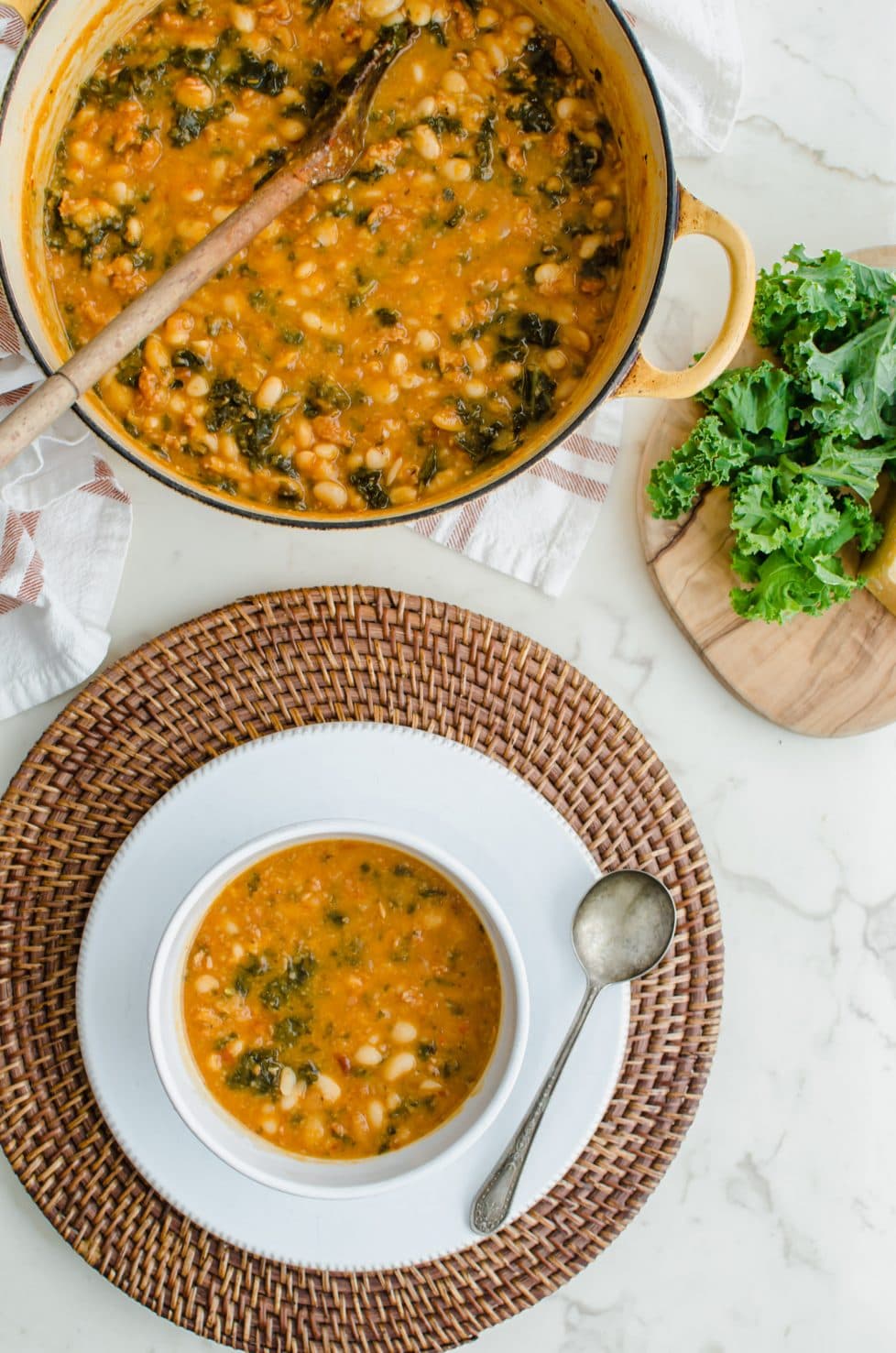 Products used to make this recipe (Affiliate Links):
Are you ready to get make this 5-Ingredient Italian Bean Stew? Good! I'm so excited for you to try this recipe. Once you get the chance to make it, please let me know how it turns out for you! Leave a comment and rate the recipe below. This will help me with the creation of future recipes! I'd also love to feature your creation in my monthly newsletter, so you can upload a photo to Instagram or Twitter with the tag @sweetcayenne5 to be featured!
5-Ingredient Italian Bean Stew
This 5-Ingredient Italian Bean Stew is an easy, healthy recipe to make ahead and enjoy for lunch or dinner through the work week!
Print
Pin
Rate
Cook Time:
1
hour
30
minutes
Bean soaking time:
6
hours
Total Time:
1
hour
40
minutes
Ingredients
16

ounces

dried white beans, such as Great Northern, Cannellini, or Navy beans

6

ounces

hot Italian chicken sausage, about 2 links, casing removed

1

(28 ounce)

can of San Marzano peeled tomatoes

6-8

cups

low-sodium chicken stock

6

cups

chopped kale, stems removed

Optional: the rind from a Parmesan cheese wedge

Salt, pepper, and Italian seasoning to taste
Instructions
Place the dried beans in a bowl. Cover with cold water to two inches above the beans. Let sit for 6-8 hours (I do this overnight or during the work day).

Drain the beans through a strainer, and discard any broken beans.

Heat a Dutch oven or large soup pot over medium heat. Add 1 teaspoon of oil and the Italian sausage. Cook the sausage until browned, being sure to break up chunks with a wooden spoon.

Add the tomatoes and break them apart into pieces with a wooden spoon. Add the soaked beans, 6 cups of chicken stock, and 1 teaspoon of Italian seasoning. Increase heat to high to bring a boil. Reduce heat to a low simmer and cook for 1 hour with a lid on top and slightly ajar. Stir occasionally.

After an hour of simmering, add the chopped kale and Parmesan rind, if using. Add additional chicken stock as needed to thin the soup. Continue simmering until the kale and beans reach desired level of tenderness, about an additional 30-45 minutes.

Season the finished soup to taste with salt and pepper. Serve hot and enjoy!
Notes
Slow cooker instructions: skip the pre-soaking of beans and add them dried into the slow cooker. Add the browned Italian sausage, tomatoes, chicken stock, and Italian seasoning. Cook on low for 6-8 hours until desired tenderness of beans is reached. Stir in the kale during the last 30 minutes of cooking.
Substituting with canned beans: Simply brown the sausage and add the canned beans (drained) during the addition of tomatoes and chicken sausage. Proceed with the recipe as written.
Pin this, pretty please!