This cozy Miso Chicken and Rice Soup is the perfect combo of deep umami flavor from white miso and bright acidity from fresh lime juice. It was inspired by one of my favorite series on Netflix - Salt, Fat, Acid, Heat.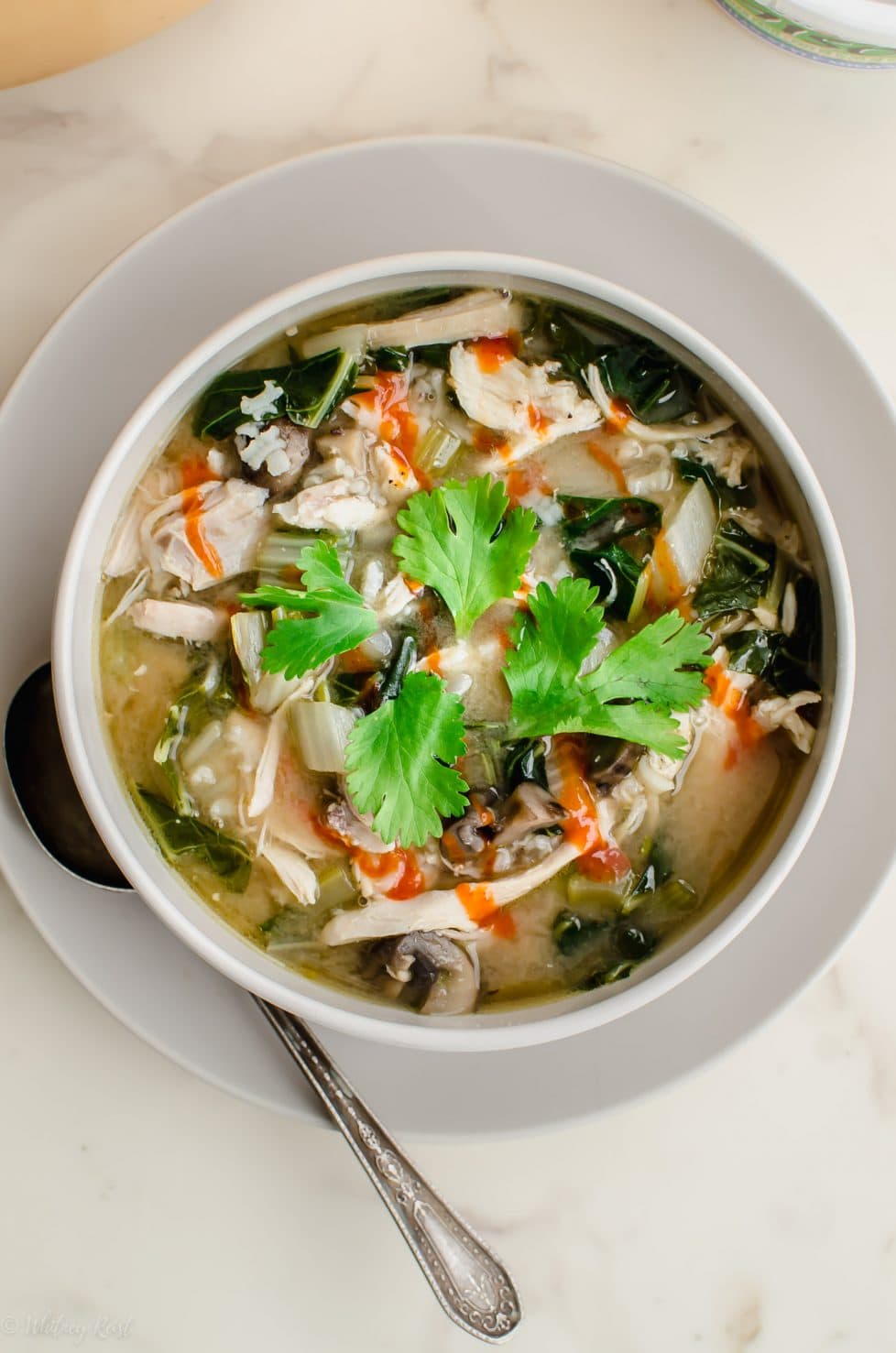 Warm. Comforting. Colorful. Satisfying. Flavor-filled.
Those are just a few ways I would describe this uber-delicious twist on a traditional chicken and rice soup. I'm totally a soup girl year-round. It's my favorite thing to have for lunch, and, as I'm thinking about it, probably my favorite thing to cook! There's just something so satisfying about throwing together a pot of soup with a modge podge of whatever you have on hand. If you know the basic cooking techniques and types of ingredients to balance for great flavor, you can make an amazing soup without even using a recipe! And soup-making can be really relaxing - you just add things to the pot and stir as they cook, while enjoying all of the sounds and aromas that come out of your creation. I just love it!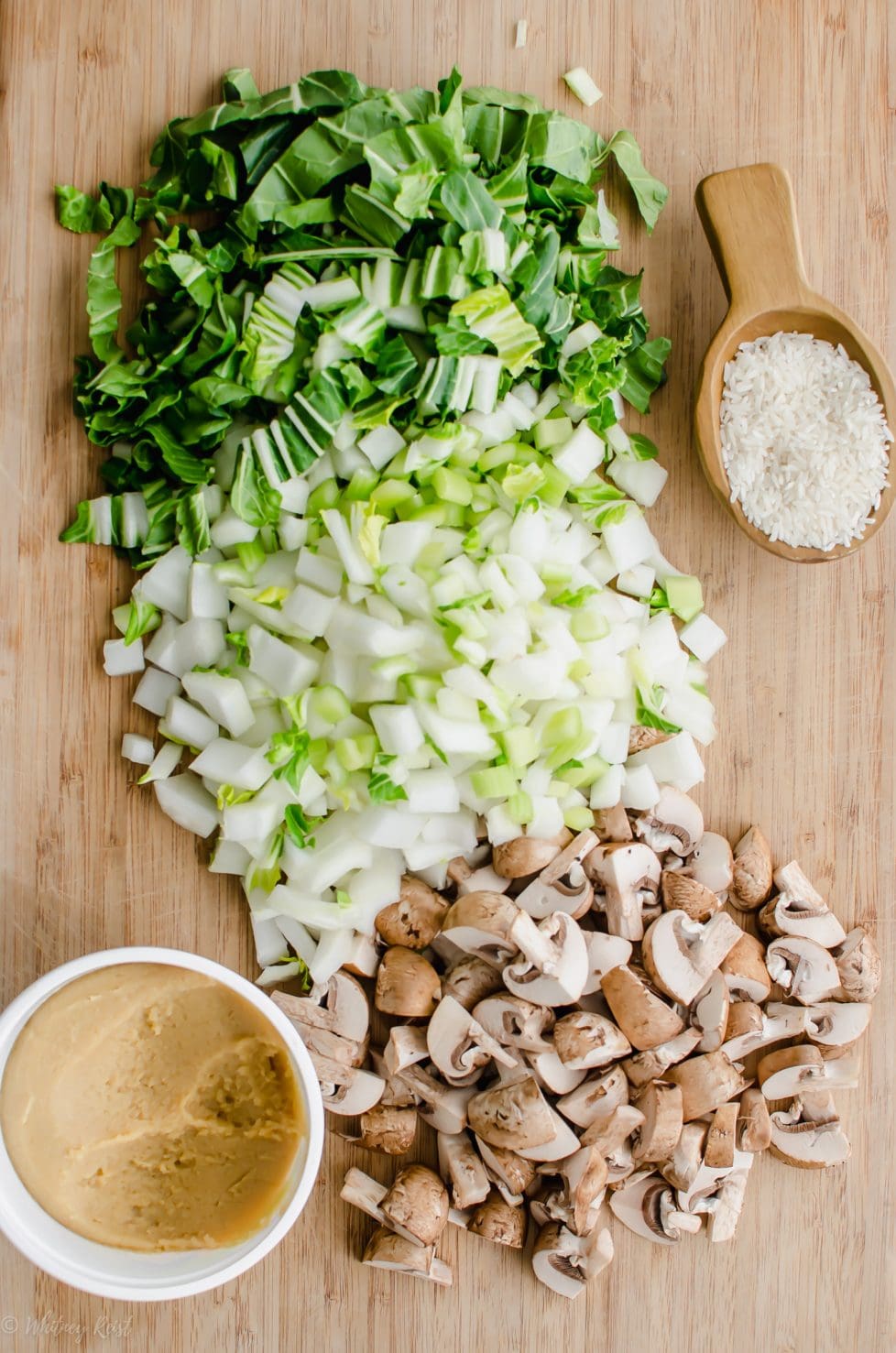 Using the Concept of Salt + Fat + Acid + Heat
Ryan and I recently watched the series Salt, Fat, Acid, Heat on Netflix. Have you seen it? It's based on the popular book by Samin Nosrat (which I currently have in my library queue) that helps you to "master the elements of good cooking" by using those 4 components. I loved the series and thought it was a practical, easy-to-remember approach to cooking techniques that build and enhance the natural flavors of foods. Intrigued? Give it a watch, and then consider reading the book!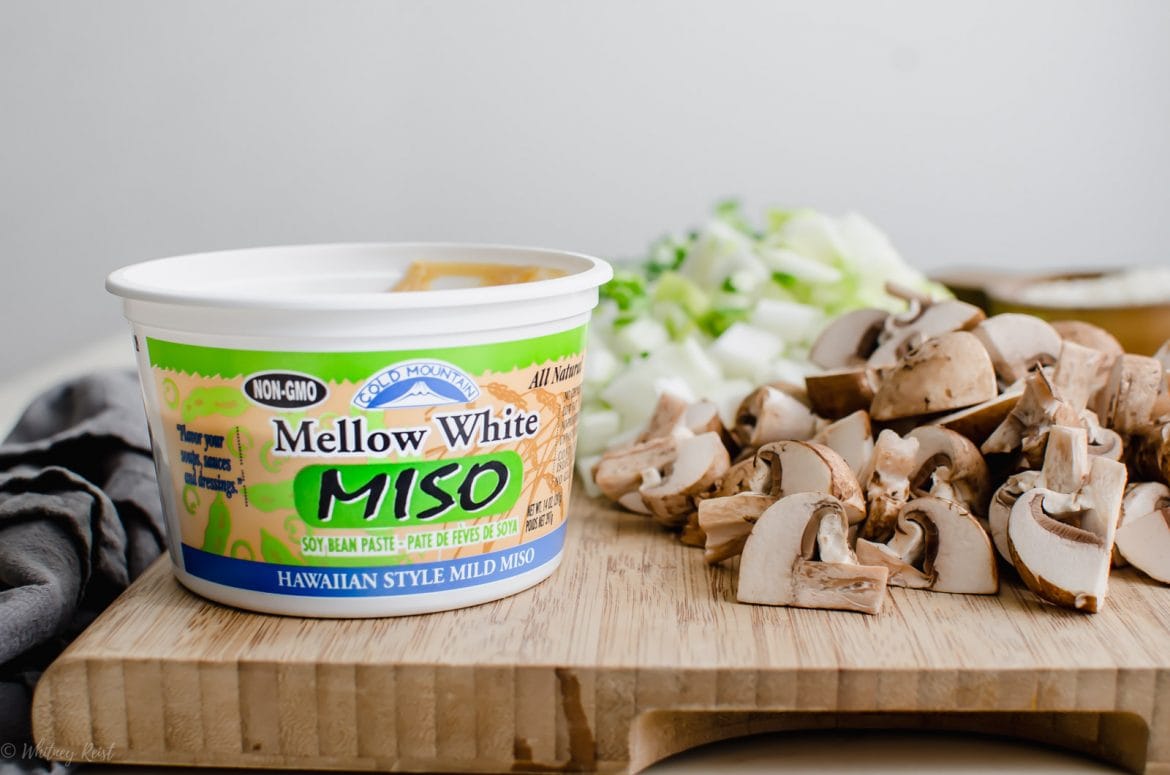 Based on Samin's approach, here's how I combined those four elements of cooking to make this soup, along with inspiration from this Bon Appetit recipe:
Salt - in the episode on "salt," Samin heads to Japan to explore the tradition and culture surrounding the flavor of umami and the production of various types of sea salt. Miso, a term for several types of fermented soybean paste, is one of the best examples of umami, or "savory," flavor that can be added to make a dish rich and satisfying. In this soup, I use mellow white miso with subtly sweet, caramel-like undertones to be the basis of savory flavor in the soup.
Fat - fat is the vehicle for carrying flavor throughout a dish, and a little can go a long way! In this soup, I'm using bone-in skinless chicken thighs to add rich flavor and to the soup. Chicken thighs have a little bit more fat than chicken breasts and add depth of flavor to soups and stews. The collagen from the chicken bones melts into the broth as the chicken poaches, making the broth have a substance and a velvety mouthfeel.
Acid - the flavors of this soup are balanced and tied together by finishing with an acidic garnish. Fresh lime juice and vinegar-based sriracha sauce add brightness to the salty miso and bring out the clean flavor of the bok choy. You want to add the acidity once the soup is removed from the heat, as cooking can dull the flavor of the fresh citrus.
Heat - although heat is the last element that's mentioned in the book, it is the first element I use to develop flavor in this soup. We are not talking about heat as a flavor, like in spicy food, here. Rather, heat is a technique or method of developing flavor as food is cooked. We start by browning the chicken thighs in a hot pan. While we do this, a chemical process called the Maillard reaction is happening. This process causes proteins in the meat to change form, resulting in the caramelized brown bits that you see on the outside of the meat and along the bottom of a pan. These brown bits = major flavor, and serve as the basis of flavor-building in our soup. Next, heat is used to sweat the veggies and deepen their flavor before the liquid is added and soup simmers.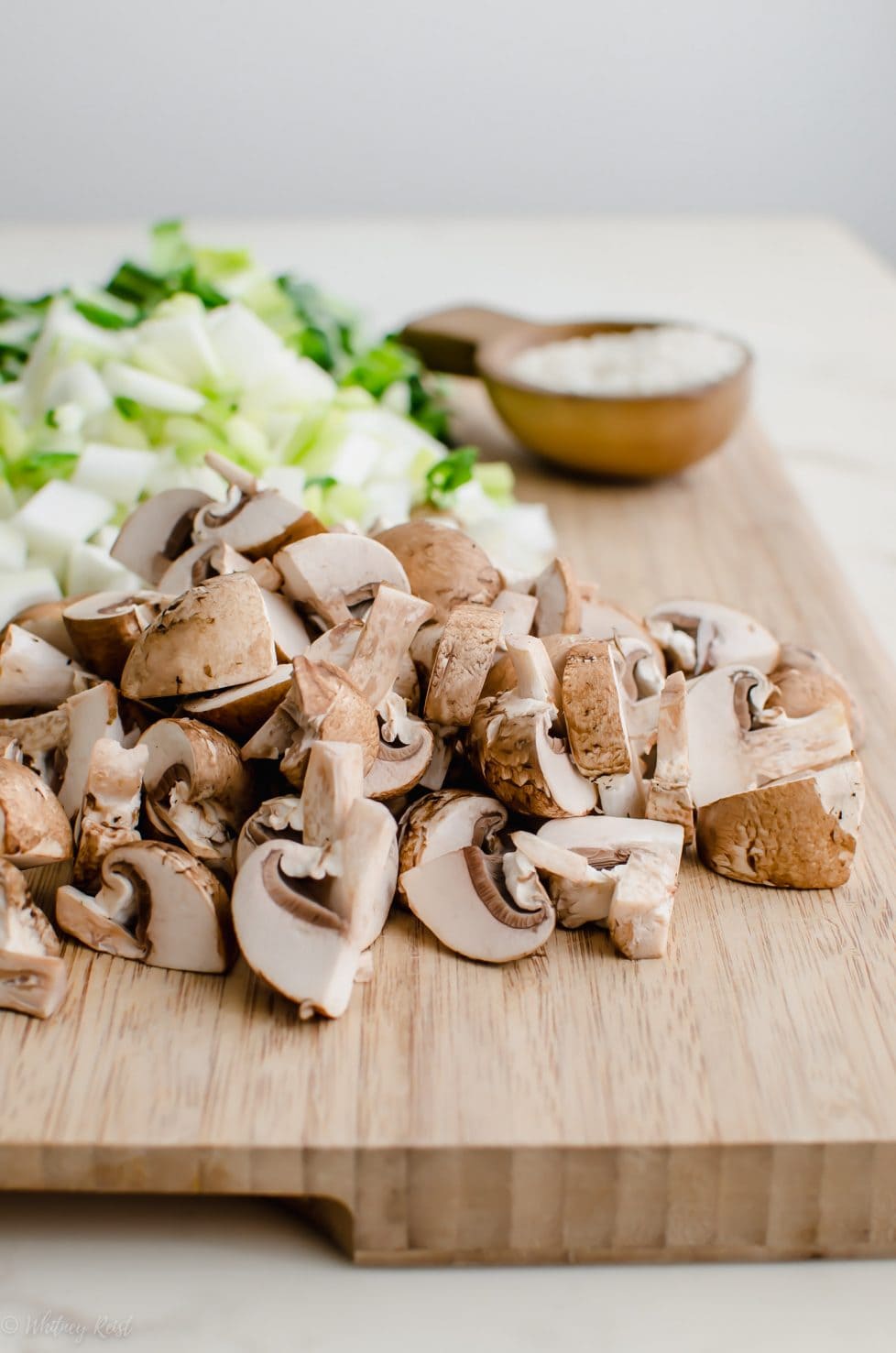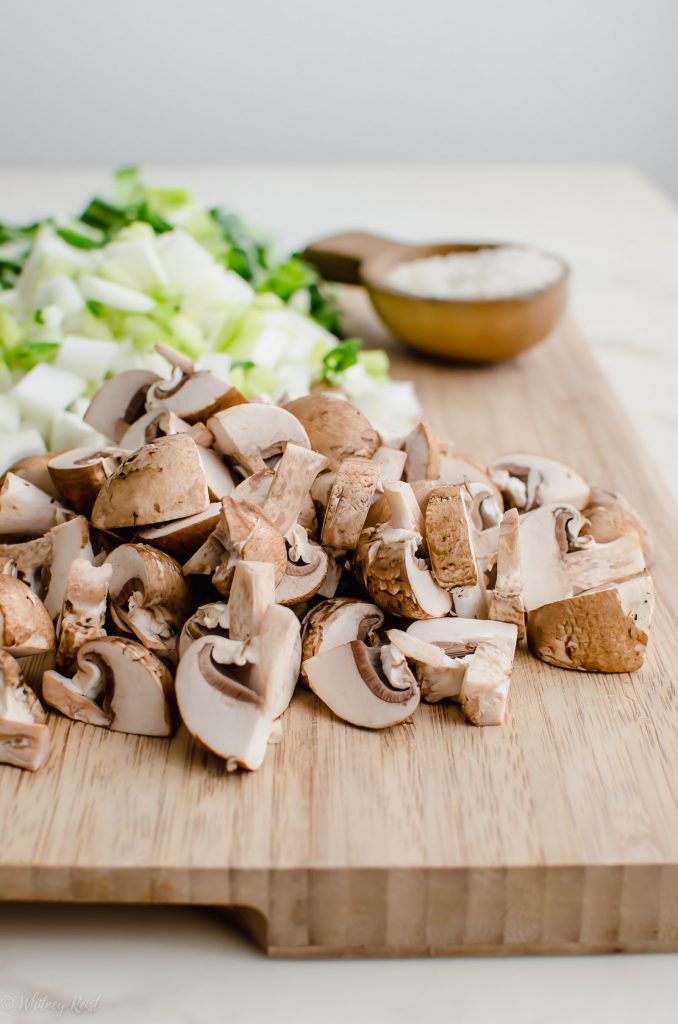 Do you see how it works? Think about these elements next time you are cooking, and you will be on your way to creating your own unique soup in no time!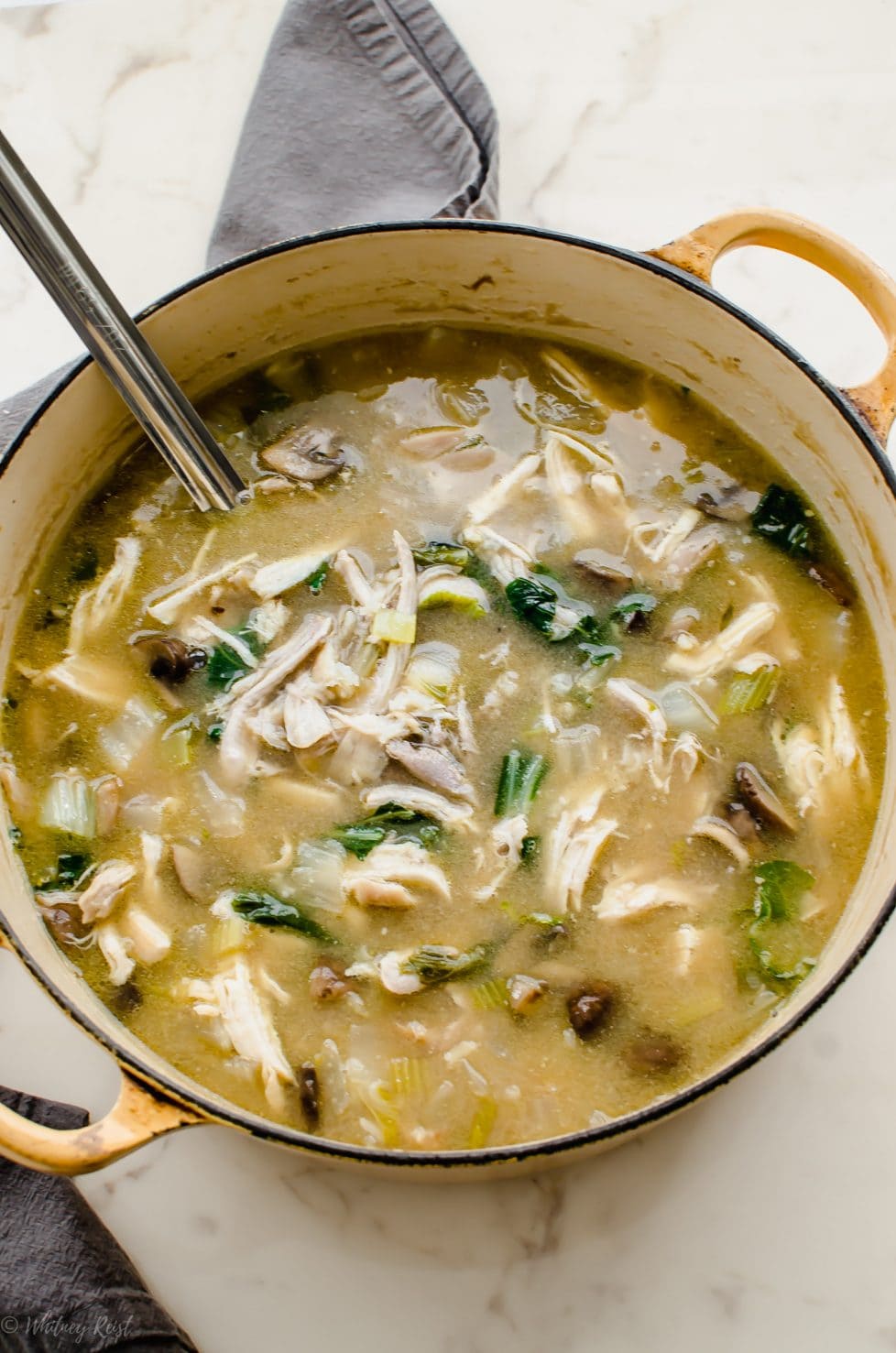 Tips
As written, this recipe is gluten-free (provided you use this type of miso; I purchased mine at Sprouts), low-carb, high-protein, and rich in whole foods (VEGGIES!), making it suitable for a wide variety of balanced, healthy eating patterns.
Change out the grain - feel free to substitute other types of rice or grains here, being aware that the cooking time may need to increase/decrease depending on what you use. I love the aromatic flavor of Jasmine rice and think it complements the miso well, which is why I've chosen that variety.
Make it vegan/vegetarian - use vegetable stock instead of chicken stock and swap out the chicken for tofu or beans.
Swap out the veggies - I've made this before by substituting spinach for the bok choy, adding the spinach in once I've shredded the chicken and heating just a few minutes to wilt it. You could sub in regular onion or leeks for the shallot, add carrots, substitue shitake mushrooms for the button mushrooms, and so much more!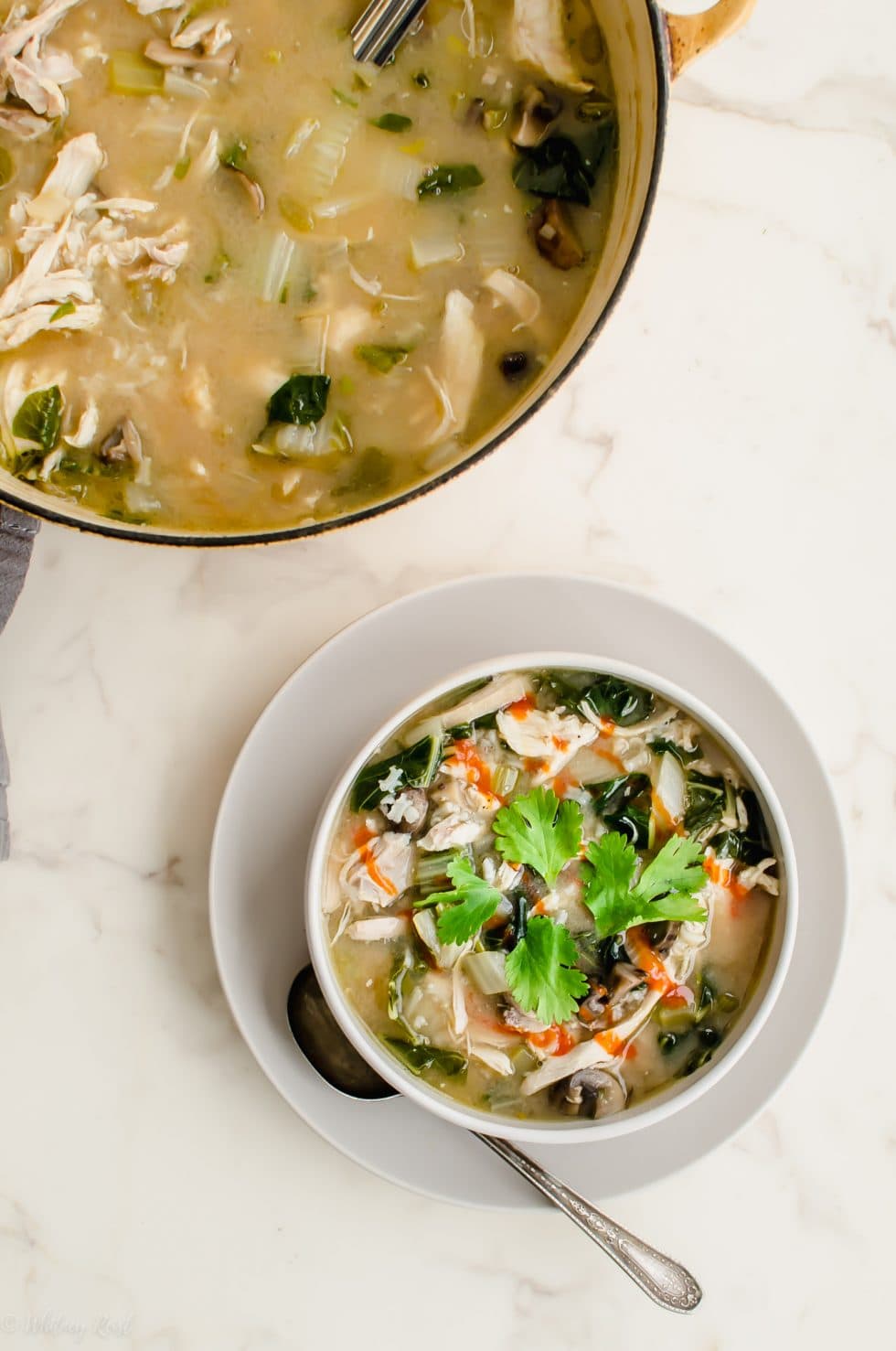 Similar recipes
Are you ready to get make miso chicken and rice soup? I'm so excited for you to try this recipe. Once you get the chance to make it, please let me know how it turns out for you!
Leave a comment and rate the recipe below. This will help me with the creation of future recipes!
I'd also love to feature your creation in my weekly newsletter, so you can upload a photo to Instagram with the tag @sweetcayenne5 to be featured! Quick and easy recipe videos are available on my YouTube channel, and lots of menu inspiration on my Pinterest boards.
Recipe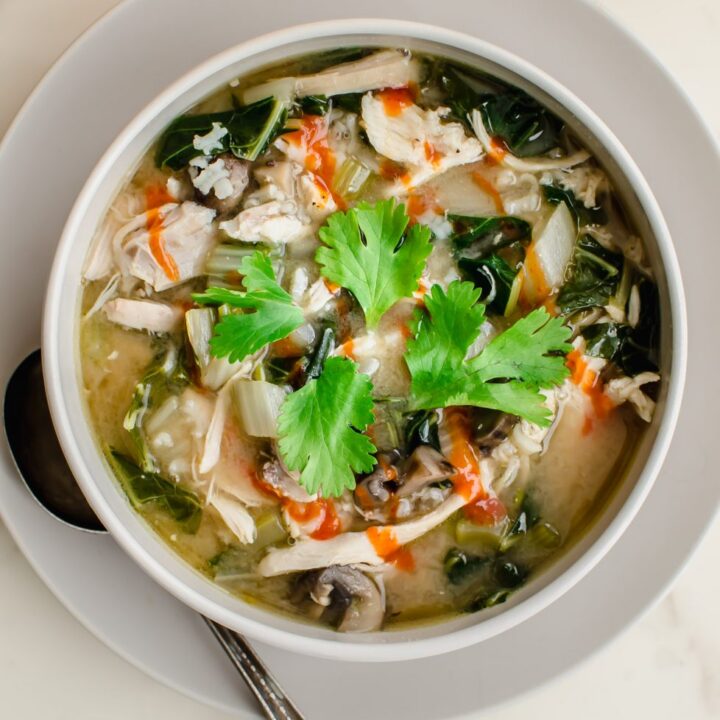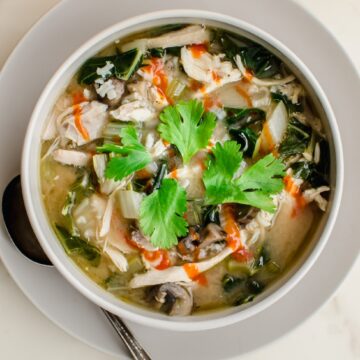 Cozy Miso Chicken and Rice Soup
This cozy Miso Chicken and Rice Soup is the perfect combo of deep umami flavor from white miso and bright acidity from fresh lime juice. It was inspired by one of my favorite series on Netflix - Salt, Fat, Acid, Heat. This reciep is Dairy-Free, Gluten-Free, and Low-Carb.
Print
Pin
Rate
Ingredients
1

tablespoon

neutral-flavored oil (canola, grapeseed, vegetable)

1.25

pounds

bone-in chicken thighs, skin removed (about 3-4 thighs)

Kosher salt and freshly cracked black pepper

1

whole

shallot, finely chopped

8

ounces

button or bella mushrooms, sliced into 1'' pieces

2

stalks

celery, thinly sliced

1

head

bok choy, stems chopped into 1'' pieces and leaves chopped into bite-size pieces

½

cup

mirin or rice wine (optional)

3

tablespoons

white miso

8

cups

of low-sodium chicken stock or broth

⅓

cup

jasmine rice

Optional garnishes: lime wedges, sriracha or chili sauce, cilantro, and sliced avocado are all great options!
Instructions
Heat oil over medium heat in a heavy-bottomed Dutch oven or pot. While the oil heats, season all sides of the chicken thighs with salt and pepper. Brown the thighs in the oil for 2 minutes on each side. Remove the thighs from pot and set aside on a plate.

Reduce heat to medium-low. Add the shallot, mushrooms, celery and stems from the bok choy. Cook, stirring frequently, until translucent and slightly softened, about 5 minutes. Add the mirin and white miso, stirring to coat the veggies. Add the chicken thighs back to the pot, along with the chicken stock. Bring to a slow boil over medium-high heat. Add the rice and reduce heat to a simmer. Simmer over low heat for 30 minutes with the lid on, stirring occasionally, until the chicken is fork-tender and easily shreds. During the last 10 minutes of simmering, stir in the bok choy leaves.

Remove the chicken thighs from the pot. Use two forks to remove and shred the meat off of the bone. Add the shredded chicken back to the pot. Stir to heat through.

Serve the soup hot with desired garnishes. Enjoy and store leftovers in the fridge for up to 3 days.
Serving:
1
serving
|
Calories:
234
kcal
|
Carbohydrates:
22.6
g
|
Protein:
24.8
g
|
Fat:
6
g
|
Saturated Fat:
1
g
|
Cholesterol:
68
mg
|
Sodium:
895
mg
|
Potassium:
738
mg
|
Fiber:
2.4
g
|
Sugar:
8.2
g
|
Calcium:
149
mg
|
Iron:
4
mg
Pin this, pretty please!