This best Neapolitan-style Meatball Pizza Recipe is made with homemade pizza sauce, baked Italian meatballs, and an amazing no-knead pizza crust. It's my favorite thing to make on a Friday night!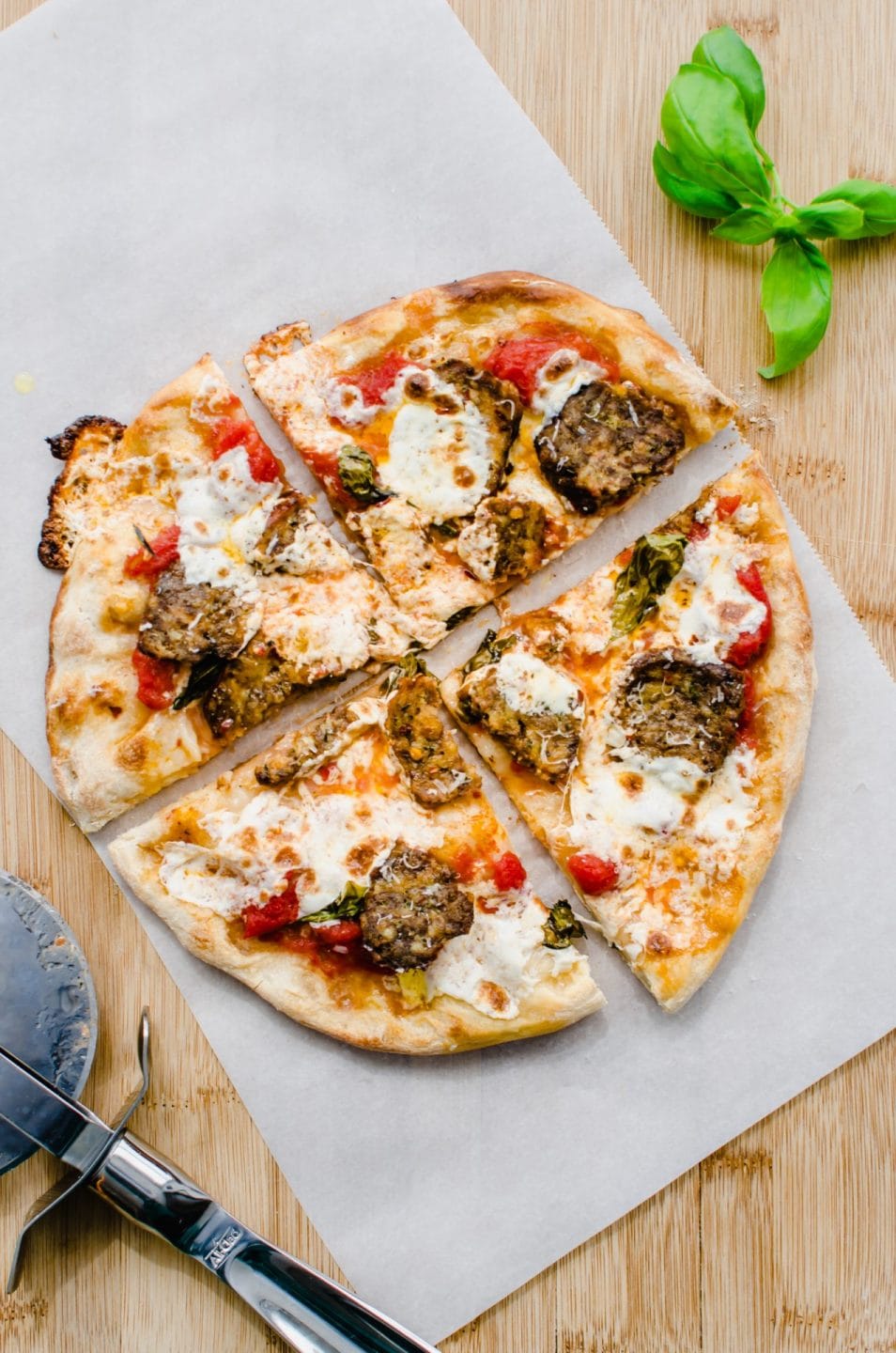 Jump to:
About the recipe
Today I'm excited to share my most recent pizza variation! If I had to pick a favorite food, pizza would be it! I literally could eat it every day and never tire of it.
During the trips I've taken to Italy, I've been lucky enough to take a few pizza classes by some expert Neapolitan pizza makers. Their advice, tips, and tricks have become cherished techniques in my home kitchen.
I love that I can make authentic Neapolitan-style pizza at home with some special Italian ingredients and my home oven. All you need is a little practice and you will be on your way to becoming a pizza master in no time. Let's make some pizza!
Video
Ingredients
For the dough: all-purpose flour, yeast, salt and water. For this pizza, we are using Jim Lahey's No-Knead Pizza Dough. Sometimes I use double zero flour when I have it available, which yields a slightly softer, chewier dough and can require a bit more flour.
For the sauce: canned whole San Marzano tomatoes, fresh basil, olive oil, salt, and pepper. This is what you will need to make my easy 5-Ingredient Pizza Sauce.
For the toppings: homemade best baked Italian meatballs, fresh mozzarella cheese, crushed red pepper flakes, extra virgin olive oil, freshly grated Parmesan cheese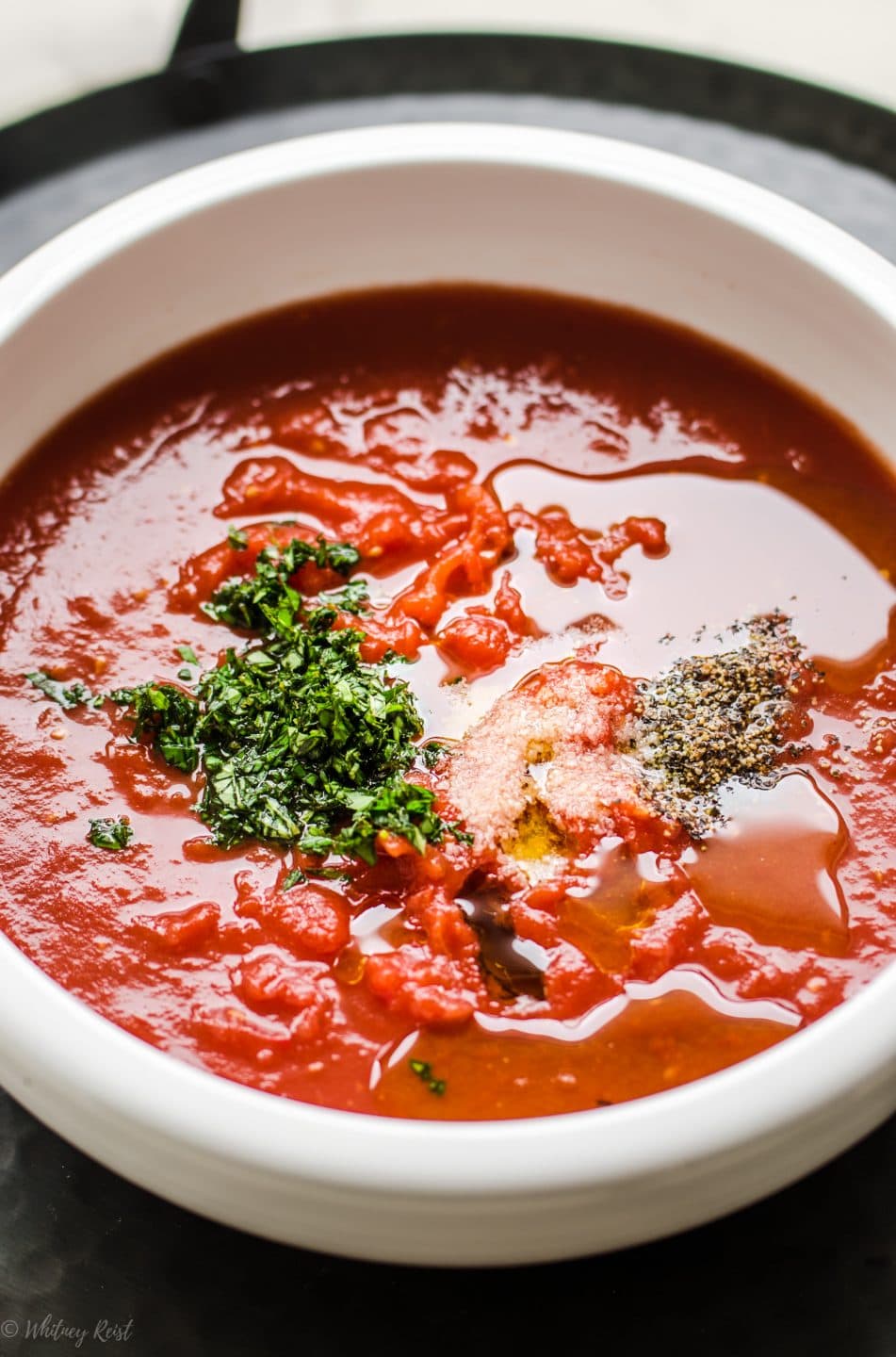 Instructions
Mix the seasonings together first – when you mix together the cheese, garlic, herbs, egg, and seasonings together first, it helps them become well-incorporated before you add the meat and decreases the chance of overworking the meatballs.
Use a gentle touch when mixing the meat with breadcrumbs and seasonings – meatballs that have been handled a bit too much can be dense and tough once baked, so try to be lighthanded when mixing and shaping them.
If the meatballs seem dry, add a splash of whole milk – while not necessary, a splash of whole milk can add moisture and juiciness to meatballs made with lean beef and lean Italian turkey sausage.
A digital thermometer is the best way to determine doneness – I always rely on my meat thermometer to prevent overcooking! If you use a combination of beef and pork, you will want to cook to an internal temperature of 155°F. Beef plus turkey/chicken Italian sausage will need to be cooked to 165°F.
Watch this quick meatball video: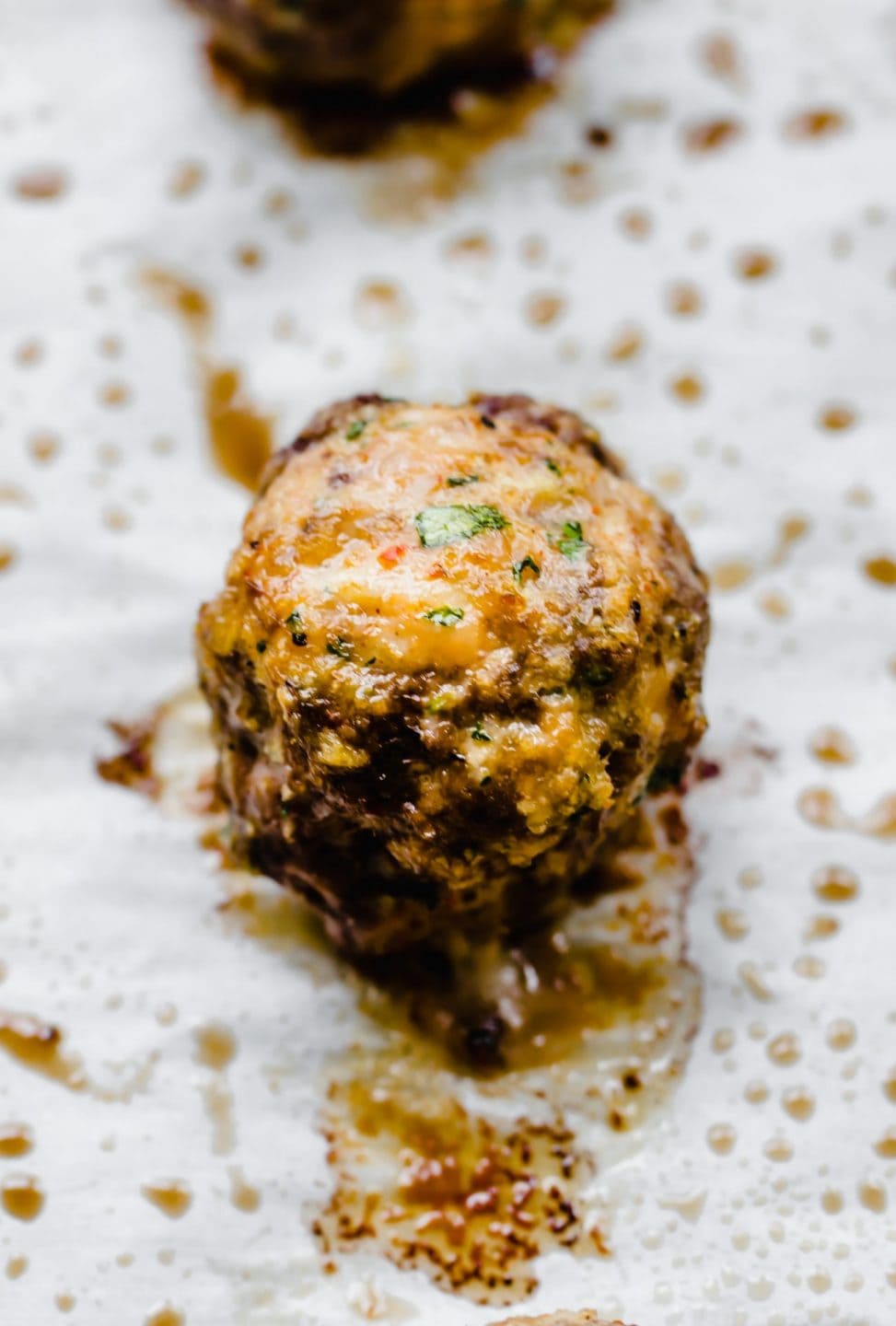 Top tips
Make your dough the night before. This recipe requires an overnight fermentation, but it literally takes 3 minutes to stir the 4 ingredients together before you go to bed. A long fermentation will yield an incredible flavor and bubbly texture in your baked pizza dough.
Practice stretching the pizza dough - this is a work of art, and good art takes practice! I'm still working on how to toss the dough in the air, and there are lots of amazing pizza stretching videos on YouTube that will help you practice. If you need a little help from the rolling pin to even things out, that is ok. Be careful though, as the rolling pin can burst all of the little bubbles from the fermentation and lead to a flatter crust.
Shape your pizza dough on floured parchment paper - this will allow easy transfer from your counter to the hot pizza stone. You will bake the pizza on parchment, so plan to trim the parchment to the edges of the pizza before you bake it so that it does not burn in the oven.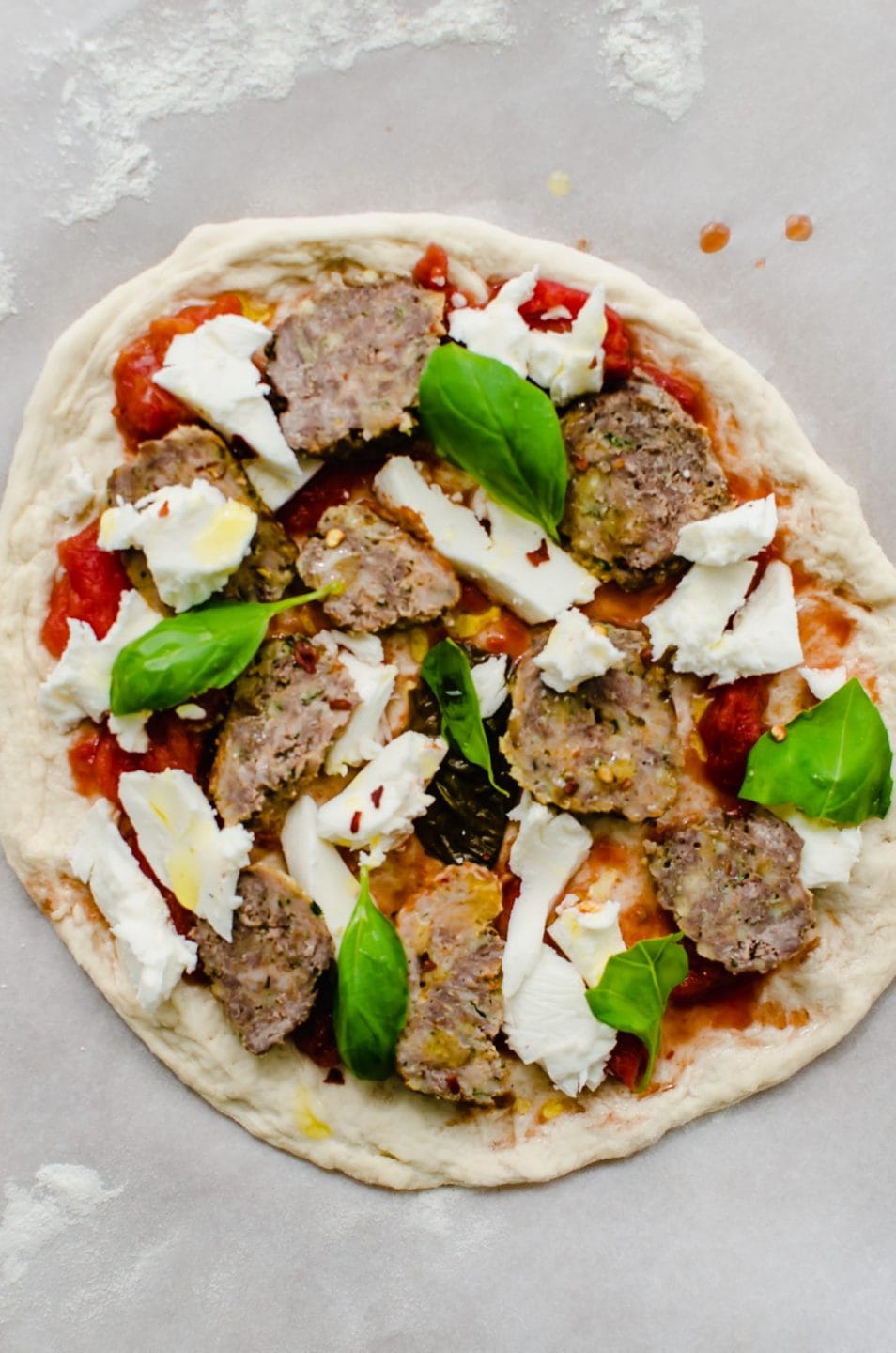 Baking the pizza:
It is totally possible to make delicious Neapolitan-style pizza in a home conventional oven! Just follow these guidelines:
Use a pizza baking stone - this is essential if you do not have a pizza oven. I use and adore this pizza stone from All-Clad, which I received as a generous wedding present from my brother/sister in law. There are a lot of good ones available though - this stone from Amazon is very affordable and has great reviews
Preheat the stone in an oven set as high as it will safely go - I heat my pizza stone at 550°F. You will want to heat it for a good 30 minutes before baking the pizza. Place your stone on a rack in the upper third of your oven.
Use the broiler on high when baking the pizza. The broiler will cook the pizza from the top and the preheated stone will heat it from beneath, resulting in a perfectly cooked and bubbly crust that is crispy on the outside yet still tender on the inside. You'll cook the pizza at 550°F for 3-4 minutes, then put the broiler on high to bake an additional 3 minutes.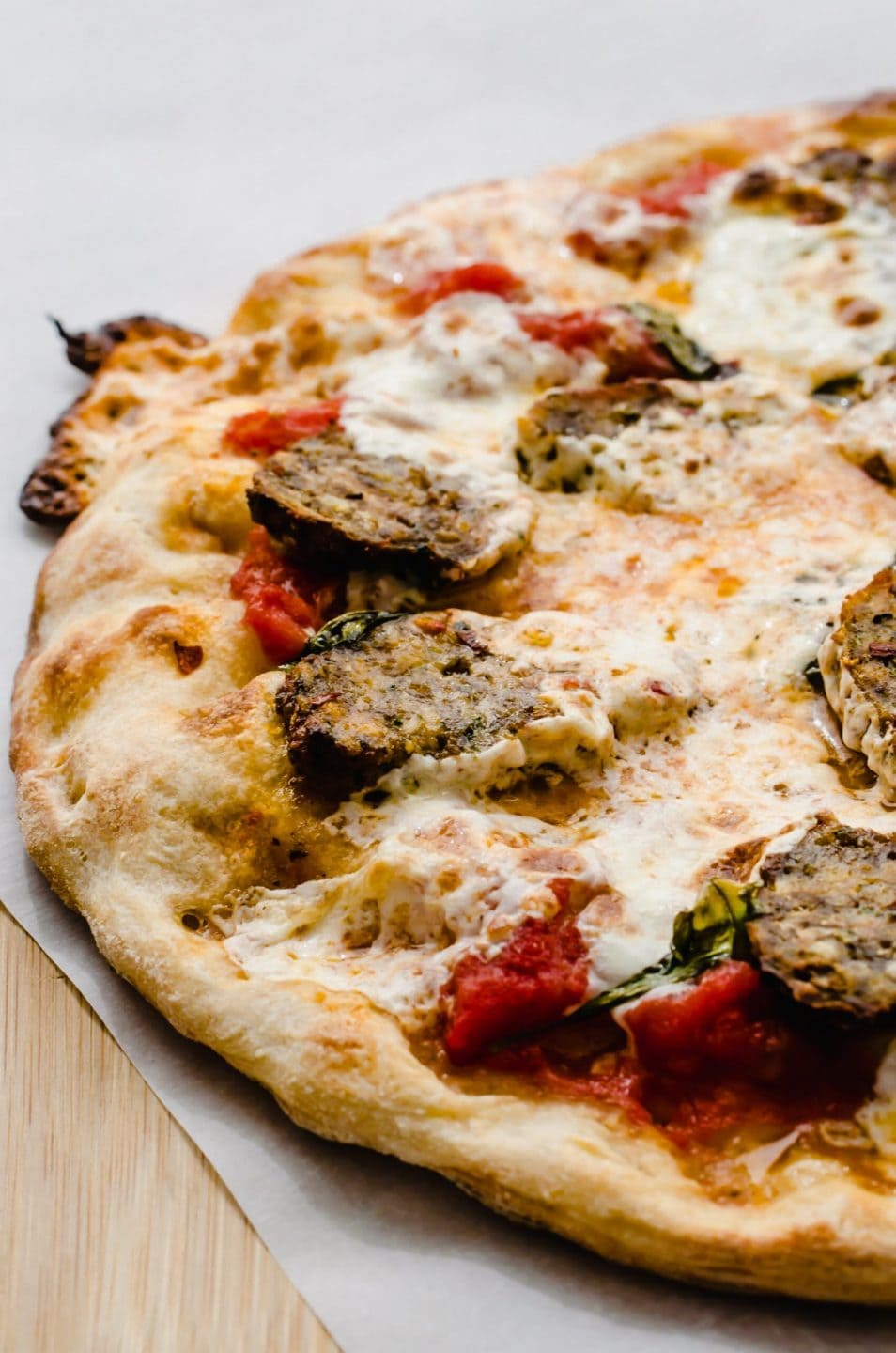 More pizza recipes
Are you ready to make this Meatball Pizza? Let me know how it turns out for you!
Leave a comment and rate the recipe below. This will help me with the creation of future recipes!
I'd also love to feature your creation in my weekly newsletter, so you can upload a photo to Instagram with the tag @sweetcayenne5 to be featured! Quick and easy recipe videos are available on my YouTube channel, and lots of menu inspiration on my Pinterest boards.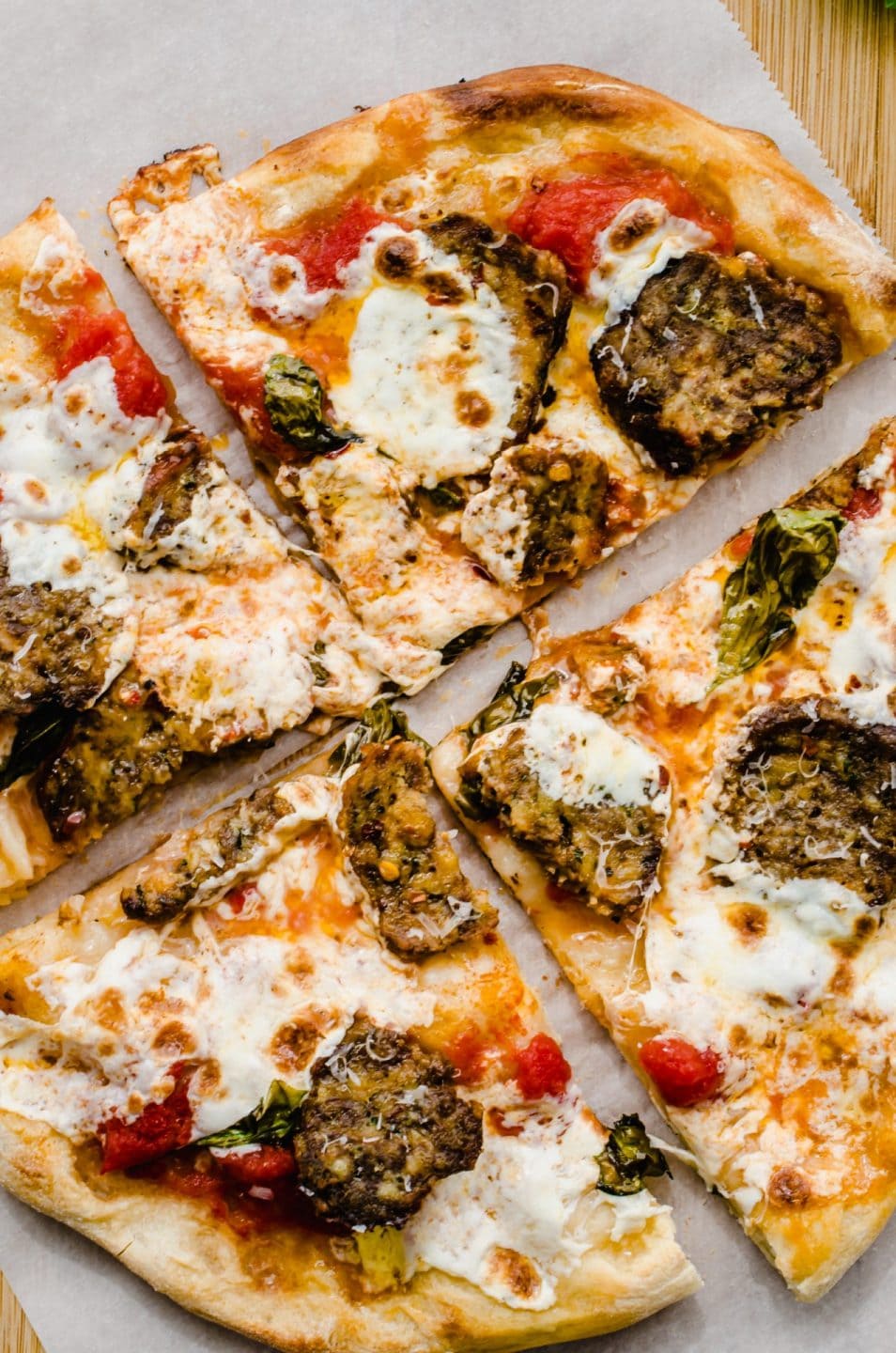 Recipe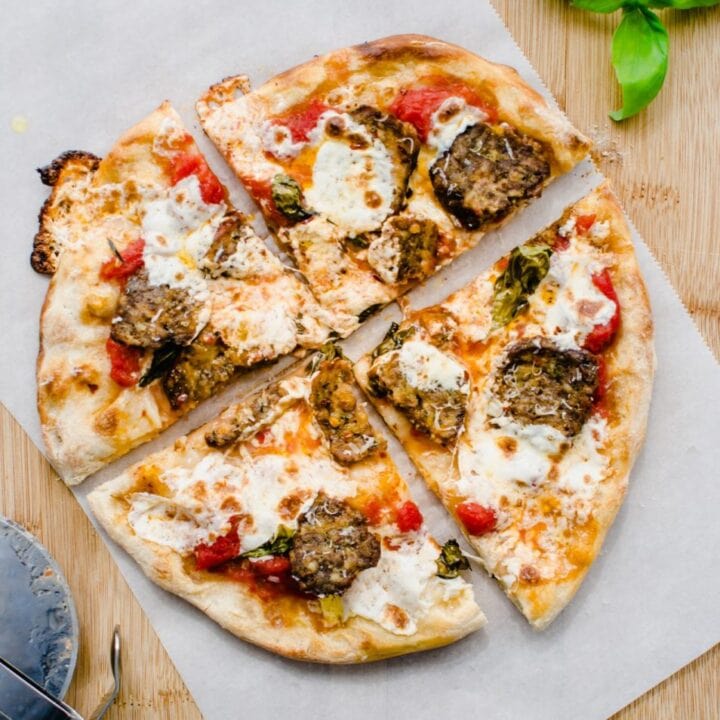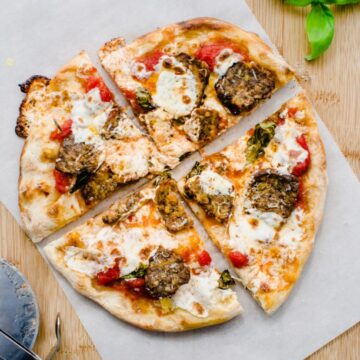 Neapolitan-Style Meatball Pizza
Makes two 16''(large) pizzas, three 12'' (medium) pizzas, or four 8-10'' (personal) pizzas
Print
Pin
Rate
Ingredients
For Jim Lahey's no-knead pizza dough:
500

grams

double zero flour (about 3 ¾ cups; or all-purpose flour)

1

gram

active dry yeast (about ¼ teaspoon; not quick-rise yeast)

16

grams

coarse Kosher salt (about 2 teaspoons)

350

grams

water (about 1 ½ cups)
Instructions
The night before:
In a medium bowl, stir together the flour, yeast, and salt. Add the water and stir with a wooden spoon until a sticky dough forms. Lift the dough with your hands and spray the bottom of the bowl with cooking spray. Cover the bowl with plastic wrap or a towel and let it sit at room temperature for 12-18 hours or until it has doubled in size.
The next day:
Dust a work surface with flour. Punch the dough down and place it on the floured surface. Divide the dough into the number or pizzas you would like to make (two large, three medium, or four personal-size). Shape each portion of dough by pulling the right side towards the center of the mound, followed by the left side, then the top and bottom. Turn the dough over (seam side down) and shape it with your hands into a smooth circle. Dust the mounds with flourr as needed during the shaping process. The dough should not be sticky.

At this point, you can use the dough right away, or wrap the rounds individually in plastic wrap, refrigerate, and enjoy within 3 days. Place refrigerated rounds of dough on a floured work surface and cover with a towel to let them sit at room temperature for 30 minutes before using (which is a good amount of time to let your pizza stone heat up).
Making the pizza:
Preheat a pizza stone in the upper third of your oven at 550°F.

Carefully stretch the dough with your hands at a floured sheet of parchment paper to the desired size (depending on the size of your dough mound). See this video for reference on stretching. If your dough stretches out unevenly, you can use a floured rolling pin to even things out. Use a rolling pin gently and minimally though, as it presses out all the air bubbles that leaven your crust during baking.

Top each pizza with a light layer of the prepared pizza sauce. Tear a ball of fresh mozzarella with your hands and place pieces of the cheese on the sauce. Follow with the thinly sliced meatball. Place some small leaves of fresh basil on the pizza, and finish with a sprinkling of red pepper flakes and drizzle of olive oil, as desired.

Cut the parchment paper with scissors so that it just comes to the very edge of your crust (so that the edges of the paper don't burn in the oven). Flip a baking sheet upside down and use tongs to carefully transfer the pizza to the flat side of the baking sheet. Slide the pizza from the baking sheet onto the pizza stone and cook the pizza for 4 minutes.

Then, put the broiler on HIGH and cook an additional 2-4 minutes, checking the pizza and rotating it as needed to get char spots around the crust. Use tongs to slide the pizza from the oven back onto the baking sheet. Grate some Parmesan cheese on top. Slice and enjoy while hot!

If you are making more than one pizza at a time, you will need to bake them in increments. Have all the pizzas rolled and ready to go on parchment before you start baking. Bake the first pizza. Slice and enjoy the first pizza while you bake a second, third, and even fourth!
Notes
Notes:
Freeze leftover pizza sauce in portions either in small containers or in a silicone muffin pan. Pop the frozen mounds out of the muffin pan and transfer to a freezer-safe bag. Freeze up to 3 months and thaw overnight when you plan to make pizza.
Serving:
1
slice
|
Calories:
214
kcal
|
Carbohydrates:
21.5
g
|
Protein:
12.1
g
|
Fat:
10
g
|
Saturated Fat:
3.5
g
|
Cholesterol:
22
mg
|
Sodium:
587
mg
|
Potassium:
25
mg
|
Fiber:
1.4
g
|
Sugar:
1.2
g
|
Calcium:
35
mg
|
Iron:
1
mg