This Pot O' Gold cake is a super cute and kinda kitschy St. Patrick's Day dessert recipe - moist and fudgy chocolate cake laced with the flavor of chocolate stout and topped with not-too-sweet but super luscious cream cheese frosting!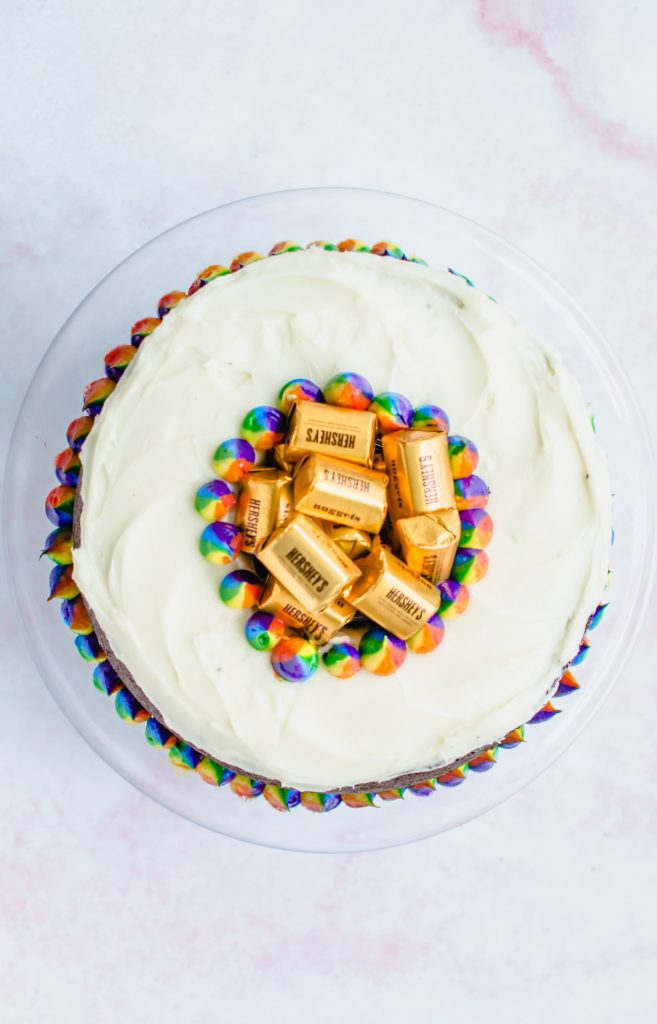 Let's just go ahead and put this out there: I am NOT a good cake decorator. I just don't make cakes often enough to really master any decorating techniques. I have these fun visions of how I want the cake that I make to look like, and then it ends up looking like a 5 year old decorated it. HA! Ryan puts me to shame when it comes to cake and cookie decorating, so maybe I'll let him decorate our Pot O' Gold cake next year!
As I mentioned earlier this week, before I posted the St. Patrick's Day Grazing Board, there were no St. Patrick's Day recipes on the blog. It's just not a holiday I personally go all out for, but I still wanted to provide some options in case you or I are in search of something. I'm SO happy with how the grazing board turned out, and to be honest, this cake may look like a kid decorated it....but it tastes aMaZing! Ryan and our friends loved it so much that I'm thinking this cake and the Irish-themed board may be our new tradition meal for St. Patrick's Day.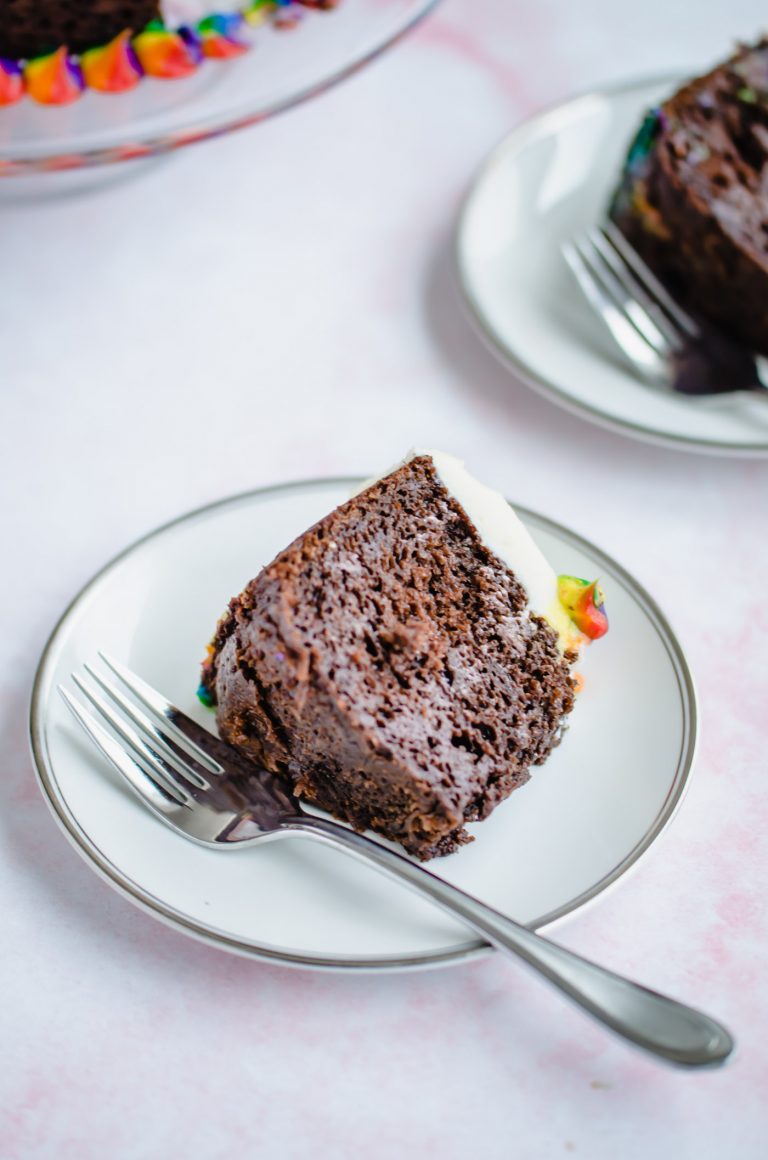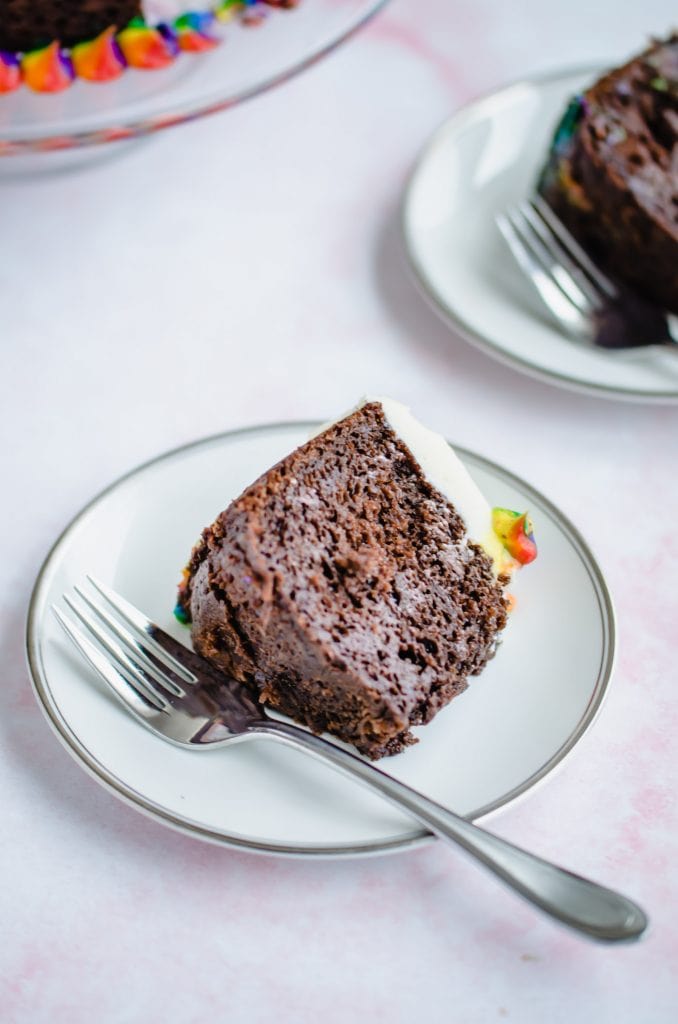 About this Pot O' Gold Cake
This cake is a twist on my Back Pocket Chocolate Fudge Cake; a semi-homemade cake that doctors up a cake mix with sour cream, vanilla pudding mix, and some flavor enhancers like coffee or stout beer. In my opinion, making cake from scratch is a high risk, high reward type of situation. The texture, crumb, and overall cake-eating experience is hard to master, and when I need to whip up something at a moment's notice for company or a gathering, I want something a little more foolproof than a 100% made-from-scratch cake. It's A-OK to doctor up a mix from time to time, and I'm always really satisfied with how this chocolate version turns out!
This cake is ULTRA moist with a medium density. I find that it works best when baked in a tube cake pan, which is typically used for making angel food cake. This type of pan ensures the structure won't fall apart when you remove the cake from the pan, and the hole in the center of the cake can be a fun way to add decorations. You could put a little vase of flowers inside, chocolates, a tiny balloon - there really are so many cute options! For this St. Patrick's Day themed cake, I put a 4-ounce plastic cup in the center of the cake and overfilled it with Herhsey's gold nuggets.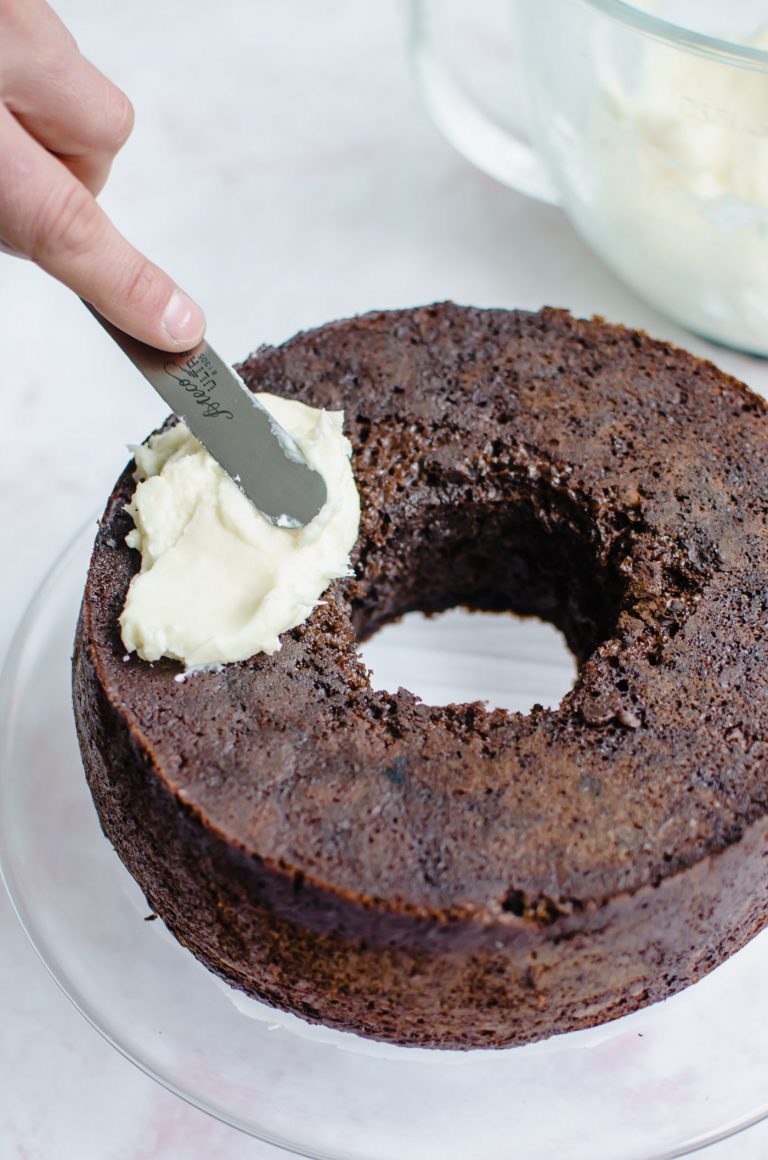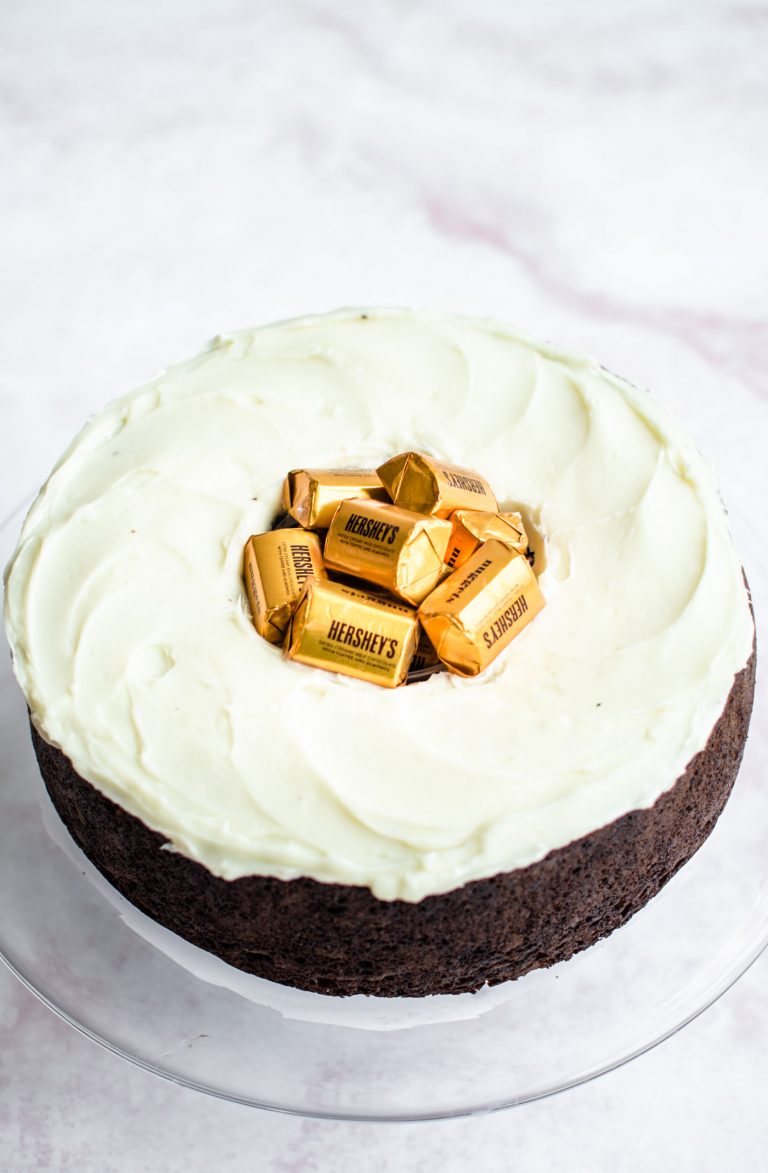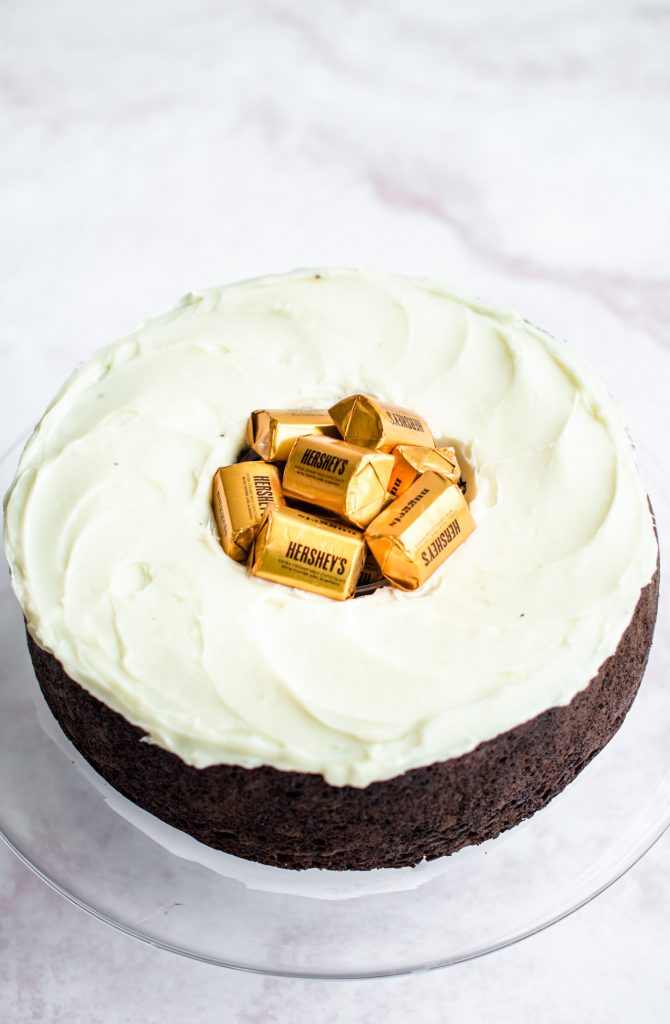 Decorating a Pot O' Gold Cake
Ok - for the decorating part, you have two options. OR  you are welcome to come up with a better way to decorate this cake, which I will certainly attempt to do when I make it again next year.
Option 1: Decorate the top of the cake with cream cheese frosting and fill the center with gold chocolate nuggets, as pictured above. It will be simple, pretty, and totally give St. Patrick's Day vibes. And you will save a lot of time going this route!
Option 2: Keep on decorating and use part of your cream cheese frosting to make rainbow drops. This is fun to do, gives the cake a whimsical and kitschy vibe, but takes more time. And if you have really good piping techniques, you will do a much better job of adding a rainbow element to the cake than I did! Cream cheese frosting is perfect for a drop piping technique with a round tip because it's a bit softer, and has a glossy finish. Detailed instructions for the rainbow drops are provided in the recipe below!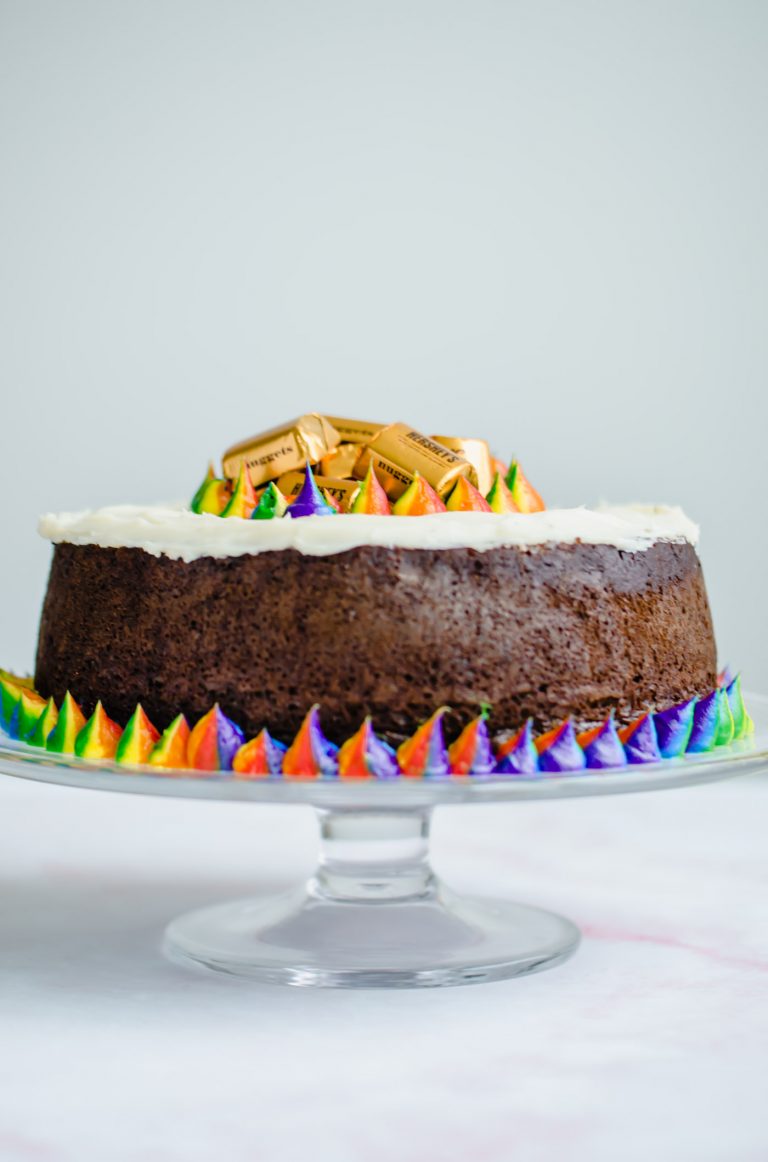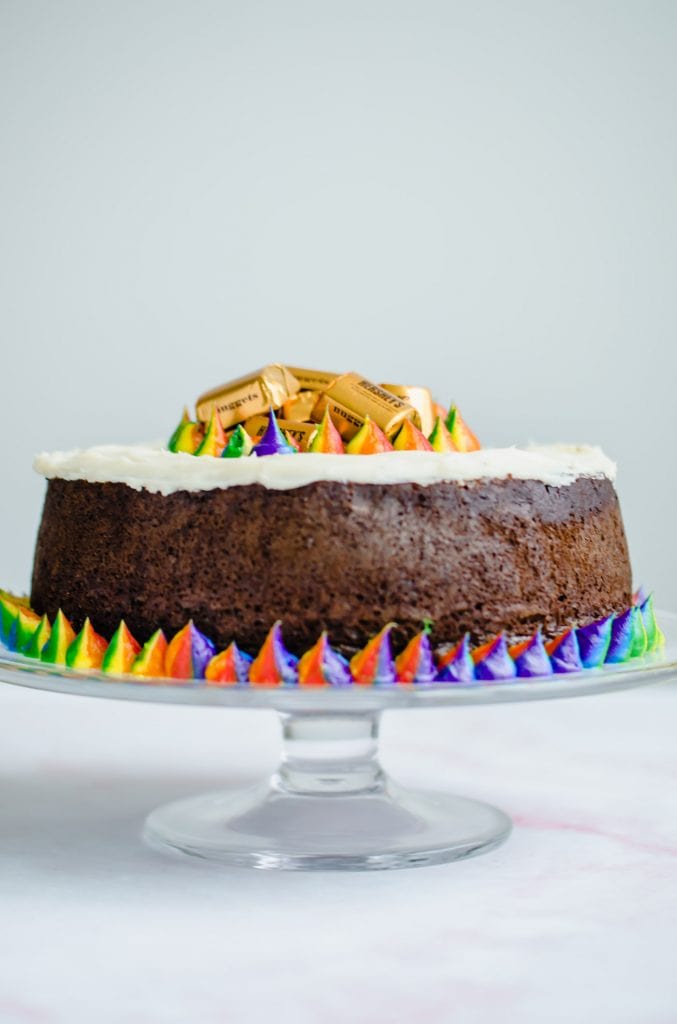 Tools I Used for Making this Cake
Are you ready to make your own St. Patrick's Day Pot O' Gold cake? I'm so excited for you to try this recipe! Once you get the chance to make it, please let me know how it turns out for you! Leave a comment and rate the recipe below. This will help me with the creation of future recipes! I'd also love to feature your creation in my monthly newsletter, so you can upload a photo to Instagram or Twitter with the tag @sweetcayenne5 to be featured!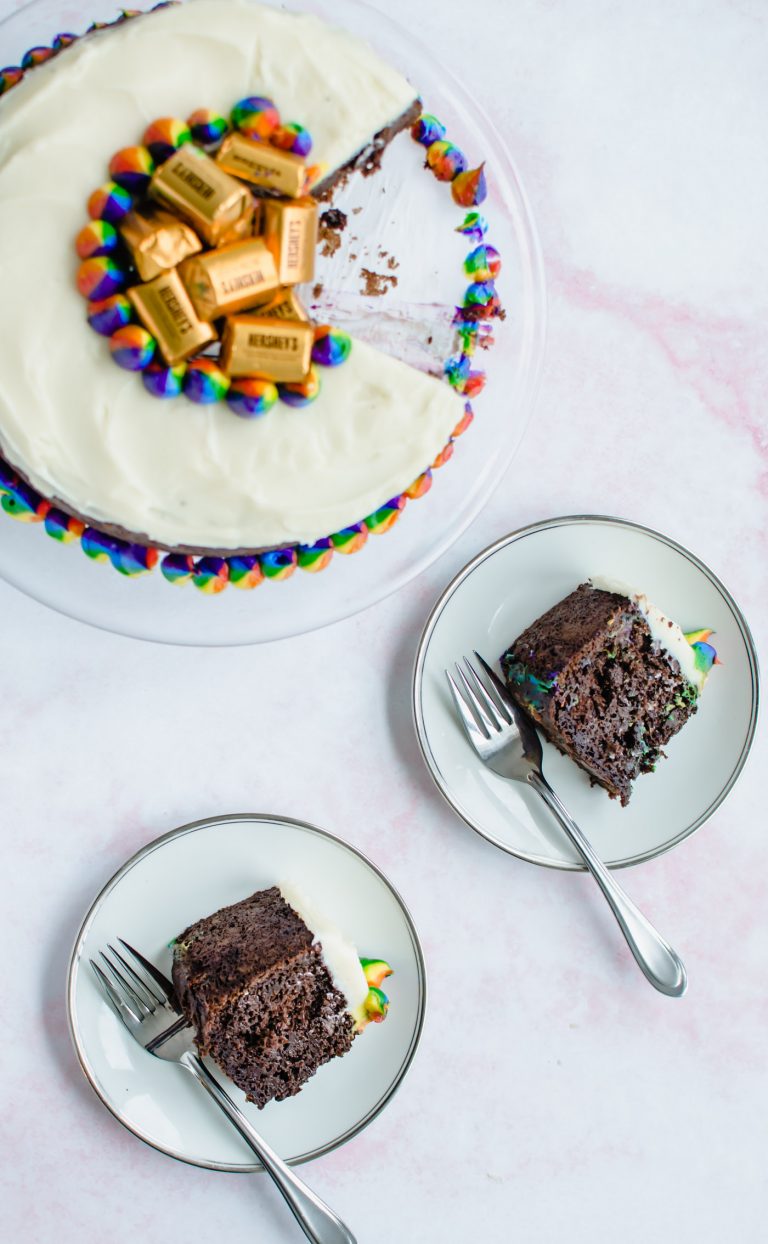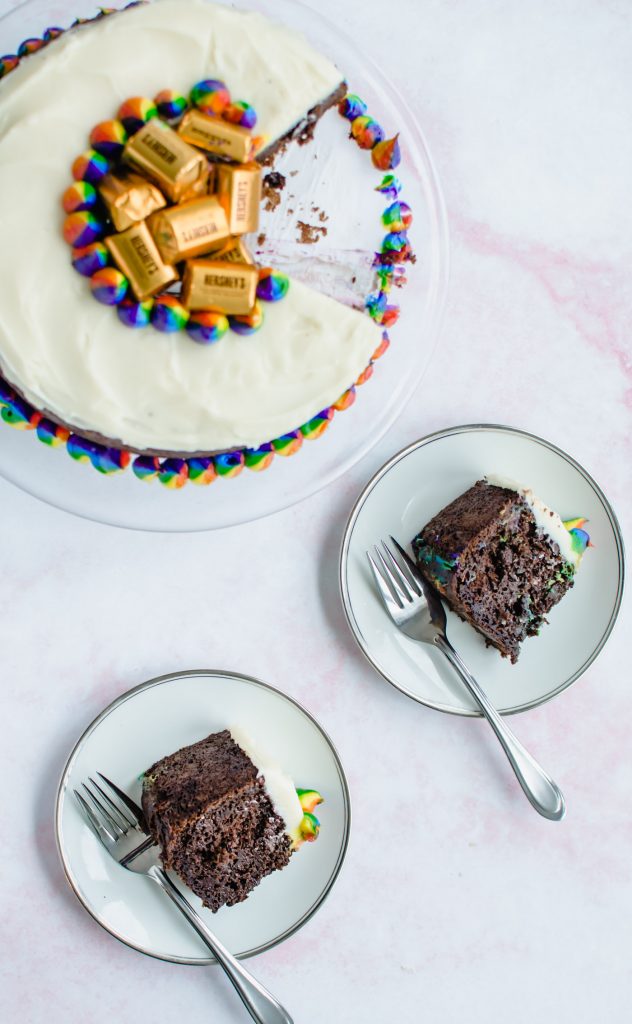 Recipe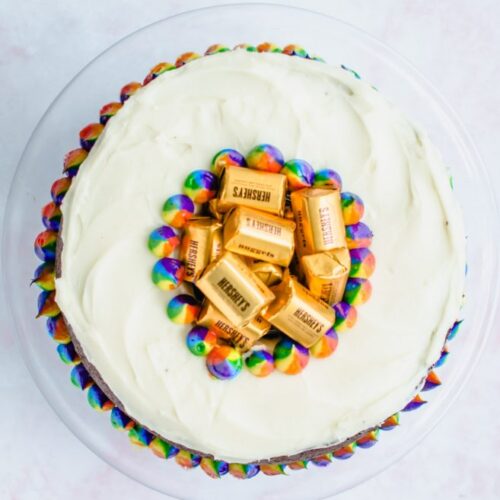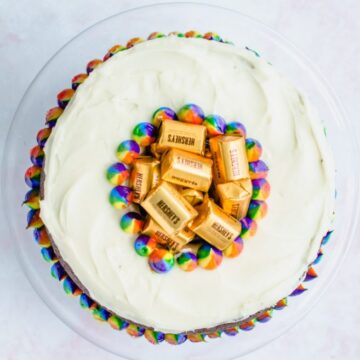 Pot O' Gold Chocolate Stout Cake with Cream Cheese Frosting
This Pot O' Gold cake is a super cute and kinda kitschy St. Patrick's Day dessert recipe - moist and fudgy chocolate cake laced with the flavor of chocolate stout and topped with not-too-sweet but super luscious cream cheese frosting! This is an easy Recipe and kid-friendly.
Print
Pin
Rate
Ingredients
For the chocolate cake:
Cooking spray

1

tablespoon

cocoa powder, for dusting cake pan

1

(8 ounce)

container sour cream, at room temperature

3

large

eggs, at room temperature

1

cup

stout beer (such as Guinness, OR 1 cup brewed coffee), at room temperature

1

(3.4 ounce)

package vanilla instant pudding mix

½

cup

vegetable or canola oil

1

(15.25 ounce)

package Devil's Food cake mix (I used Betty Crocker)

¾

cup

mini semi-sweet chocolate chips

Special equipment: angel food cake pan or tube cake pan, large piping bag, Wilton 1A round piping tip, 6 plastic zip-top bags, 1 small 4-ounce plastic cup (optional)
For the cream cheese frosting and decorations:
1

(8 ounce)

block cream cheese, softened to room temperature

½

cup

(1 stick) unsalted butter, at room temperature

1

teaspoon

vanilla extract

2 ½ - 3

cups

powdered sugar

Red, orange, yellow, green, blue and purple food coloring gels (I used a mix of Americolor and Wilton brand)

Hershey's Gold Nuggets
Instructions
For the chocolate cake:
Preheat oven to 350℉ and place a rack in the lowest third of the oven. Spray a tube cake pan with cooking spray. Sprinkle cocoa powder in the pan and rotate the pan while tapping the sides to coat the pan with the cocoa. Place the tube pan on a baking sheet and set aside.

Place the sour cream, eggs, beer (or coffee),, pudding mix, and oil in a large bowl. Use a hand mixer on low speed to combine thoroughly, about 45 seconds. Add the cake mix to the mixture and mix on medium-low speed until light and fluffy, about 2 minutes, scraping down the sides of bowl as needed.

Use a rubber spatula to fold the chocolate chips into the cake batter. Evenly spread the batter into the prepared tube pan. Place the baking sheet in the oven with the cake pan on top and bake for 40-50 minutes until a wooden pick inserted into the center of the cake comes out with a wet crumb (but not coated in batter); the cake should be just set on top. Transfer to a wire rack and cool for 10 minutes.

Remove the cake from the bottom outer pan of the tube pan. Cool completely on a wire rack before removing the tube center and transferring to a serving plate or cake stand on a round piece of parchment paper.
For the cream cheese frosting and decorations:
Place the cream cheese, butter and vanilla, in the bowl of a stand mixer or a large bowl. Use the paddle attachment of the stand mixer or a hand mixer and cream on medium speed to combine, about 2 minutes, scraping down the bowl as needed. Add 2 ½ cups of powdered sugar. Mix on low speed just until combined, then increase to high speed for 1-2 minutes until the mixture is creamy and the consistency of peanut butter. If the frosting is too soft, add an additional ½ cup of powdered sugar.

Reserve about ¾ cup of the frosting for the rainbow drops. With the remaining frosting, place dollops of frosting onto the cooled cake, and spread just to cover the top of the cake. Place the plastic cup into the center hole of the cake and fill with the Hershey's gold nuggets.

Divide the ¾ cup of reserved frosting evenly into 6 small bowls. Use 1-2 (or more as needed) drops each of red, orange, yellow, green, blue, and purple frosting to dye each container. Transfer each colored container of frosting to a small zip-top plastic bag. Snip a small hole in the bottom of the bag. Pipe each frosting color in a line on top of a sheet of plastic wrap, in the order of ROY G BV. Roll up the plastic wrap (see picture), then use scissors to snip off the excess plastic wrap on one end. Twist the excess wrap on the opposite end. Place the rainbow frosting log into a large piping bag fitted with a Wilton 1A round tip. You will need to put the cut end of the rainbow log at the end with the piping tip.

On a plate, pipe a small drop of rainbow frosting, pulling upwards quickly to taper the drop at the tip. Practice this a few times, then pipe the rainbow drops on the cake, or pipe however you like! I like to put my rainbow drops on the base of the cake and then around the gold nuggets on the top. Chill the cake for up to 4 hours before serving, serve chilled or at room temperature.
Notes
This cake can be made in advance up to 2 days before adding frosting. Store in the refrigerator and bring to room temperature before topping and serving.

Alternatively, you can freeze the cake (wrap in plastic and store in an airtight container) for up to 3 months. Thaw in the refrigerator overnight, then bring to room temperature before topping and serving.
Serving:
1
serving
|
Calories:
575
kcal
|
Carbohydrates:
65.2
g
|
Protein:
5.6
g
|
Fat:
32.7
g
|
Saturated Fat:
14.2
g
|
Cholesterol:
90
mg
|
Sodium:
573
mg
|
Potassium:
85
mg
|
Fiber:
1
g
|
Sugar:
50.5
g
|
Calcium:
81
mg
|
Iron:
2
mg
Pin this, pretty please!