Today I'm going to give you a look into a day trip we recently took to the amazing Mammoth Cave National Park! The cave here is one of the coolest things I have EVER seen and I can't wait to go back with family and friends!
Ryan and I have lived in the Nashville area for just over three months, and now that winter is starting to melt away, we are ready to explore! I'm so excited to start documenting all of the things that we discover, and plant to create some dedicated pages on the blog for where to eat, what to see, and what to do in Nashville and areas surrounding the city. I'm kicking off our discoveries with a recent day trip we took to Mammoth Cave National Park in Kentucky!
What is Mammoth Cave?
Mammoth Cave National Park is located in Southern KY, just northeast of Bowling Green. It is part of the Green River valley and happens to be the longest known cave system in the entire world! There are over 400 miles of connected cave that have been discovered, and more distance keeps being uncovered year after year. In addition to guided tour inside the cave, there are 84 miles of trails above ground with options for biking, horseback riding, or hiking. You can also camp there! Below is a photo of a model of what the cave system looks like: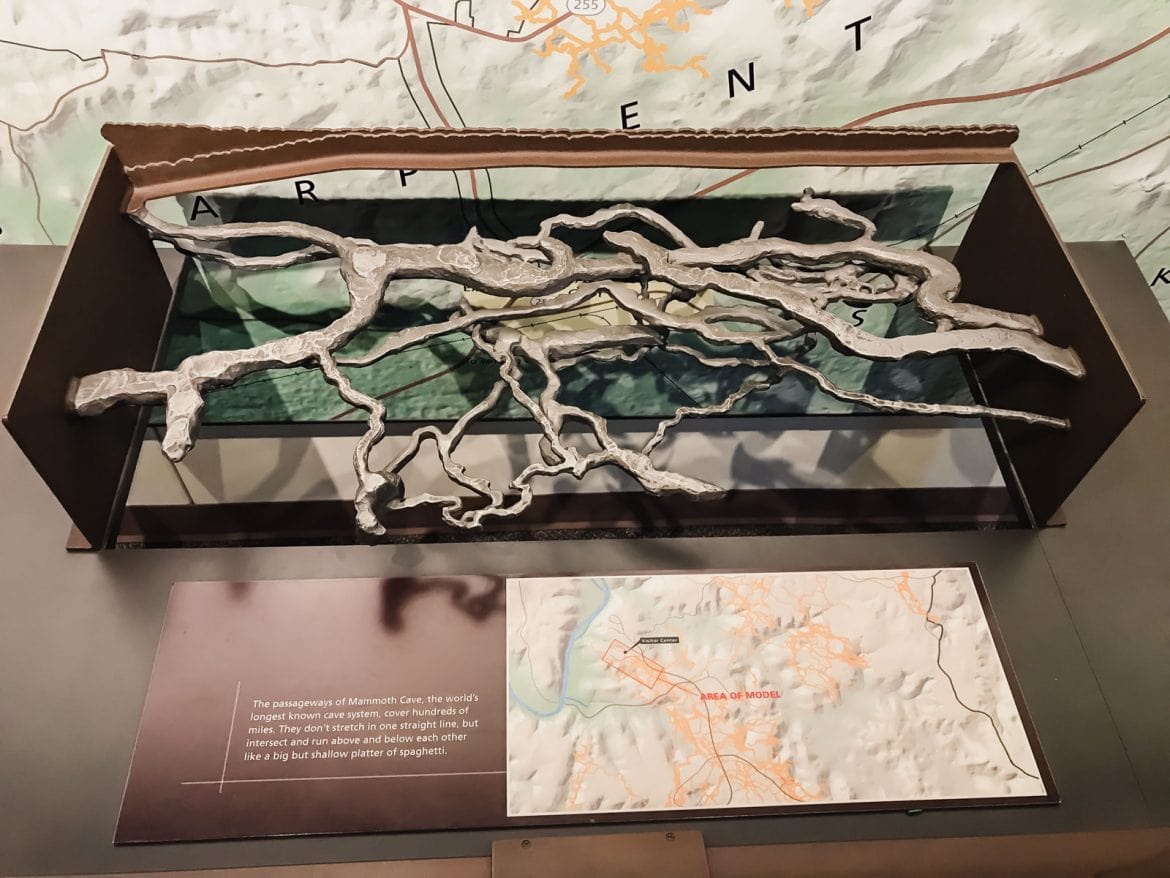 Planning Your Trip
The Drive - Mammoth Cave is a 1 ½ hour drive from the heart of Nashville. You will want to plan your drive time based on whether or not you plan to take a tour inside of Mammoth Cave, or if you just plan to hike above ground in the vast park area.
Visiting the Park - entrance into the park, parking, the museum, and above ground hiking are absolutely FREE!
Tours of Mammoth Cave - in order to actually see inside of the cave, you will need to buy a ticket. There are over 30 (!) tour options to choose from, and while you can buy tickets once you arrive, I recommend reserving a spot online in advance, as the tours fill up quickly.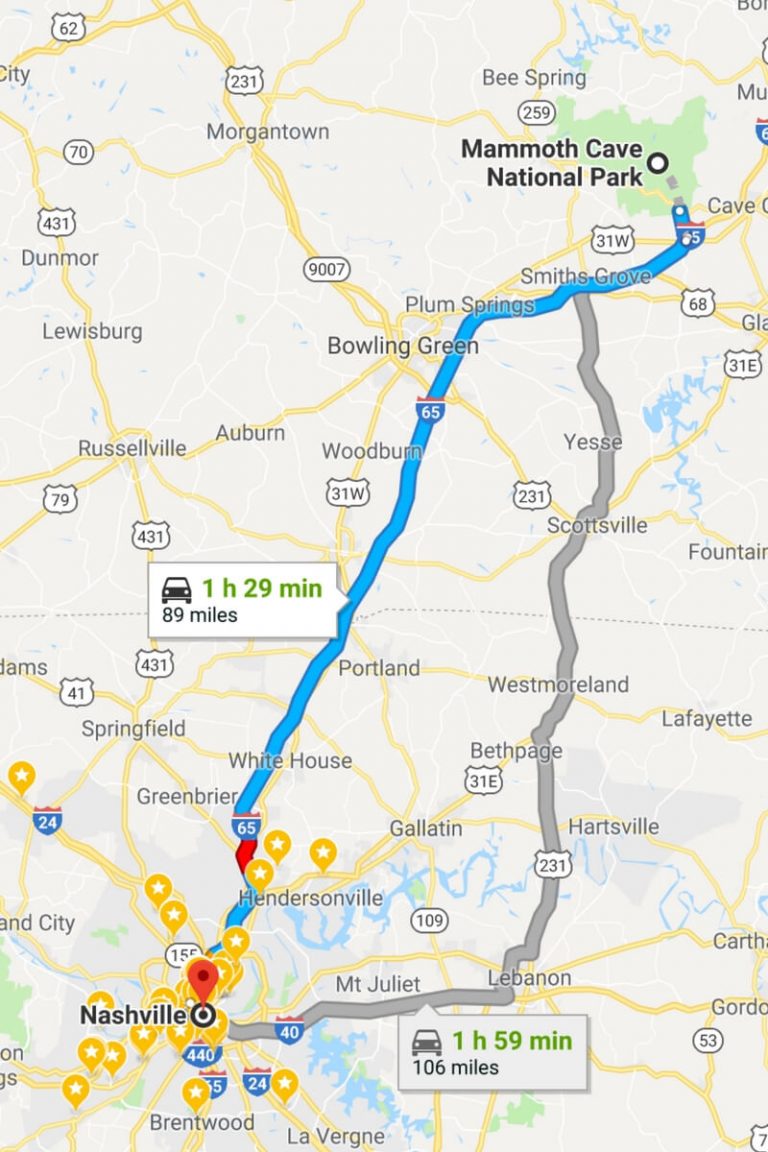 The Mammoth Cave Tour Experience
We chose the Historic Tour, which was a 2 hour, 2-mile tour with "moderate" difficulty, primarily because of the 440 stair total throughout the tour. This is promoted as a great "family" tour, which I agree with. There were people of all ages on our tour. There were portions of the tour where we had to "squat walk" to get through areas where the cave ceiling was rather low - the walls of the cave also came in pretty close to me at this point. I'd be cautious booking this tour if you are claustrophobic!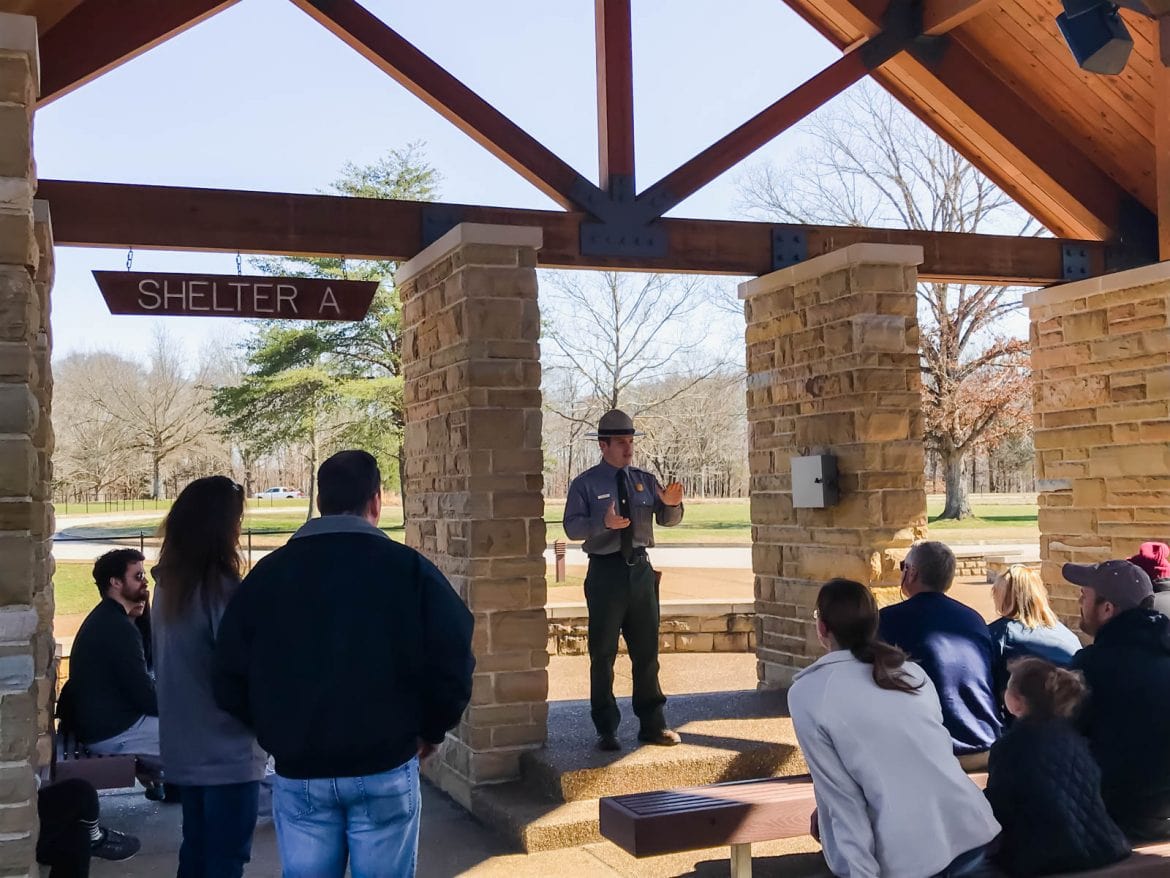 There were two park guides who led us on the tour - and both were extremely knowledgeable about the cave history, geology, current research, and wildlife around the area. We learned SO much and were also very entertained by their personalities and fun stories they told about early exploration of the cave.
Cave entrance:
The picture below represents what it looked like in most of the cave passageways. Some parts of the cave were like large "domes" with very high ceilings. Other parts were tighter "tunnels" where we had to duck, squat down and squeeze our way through.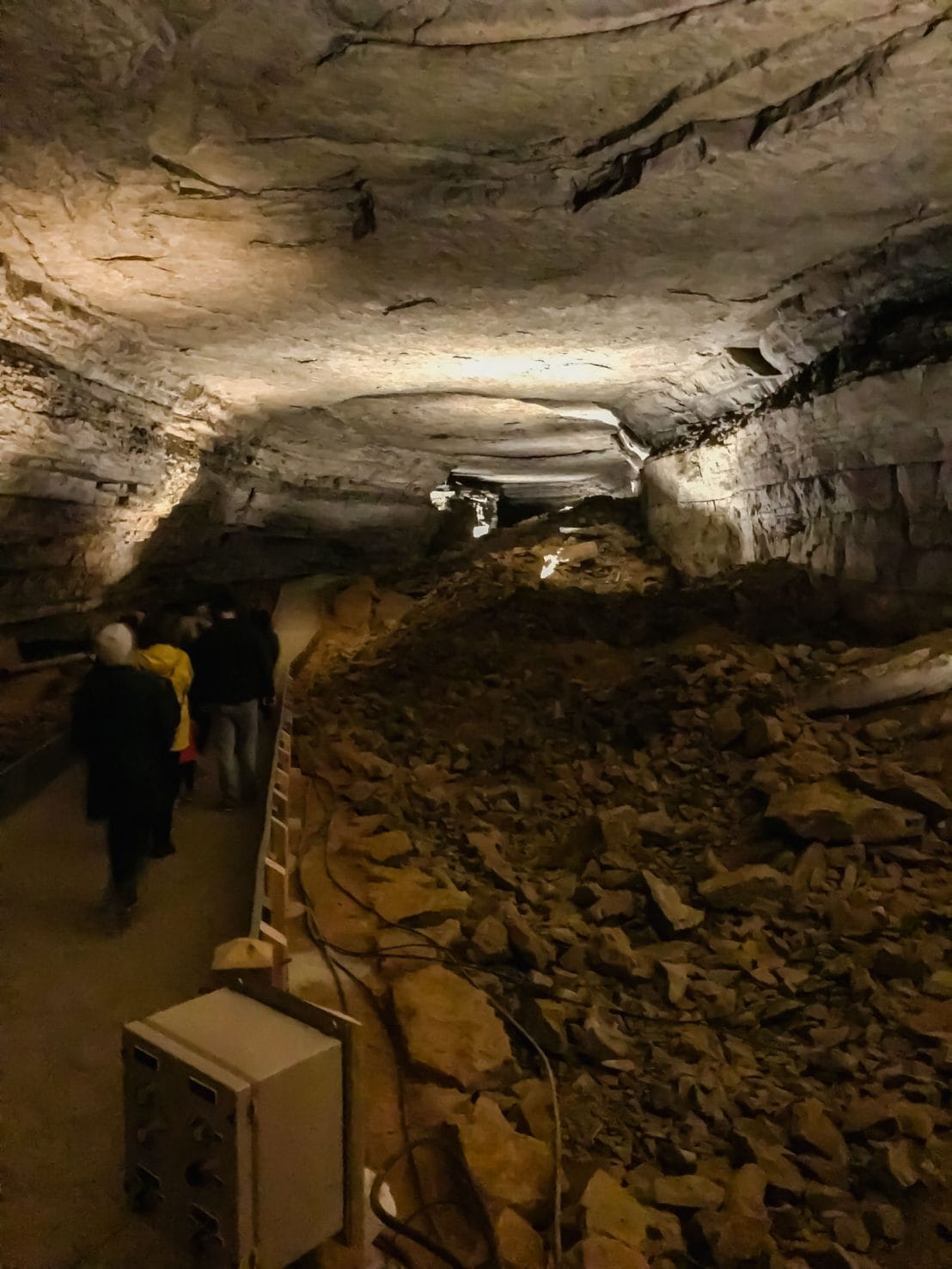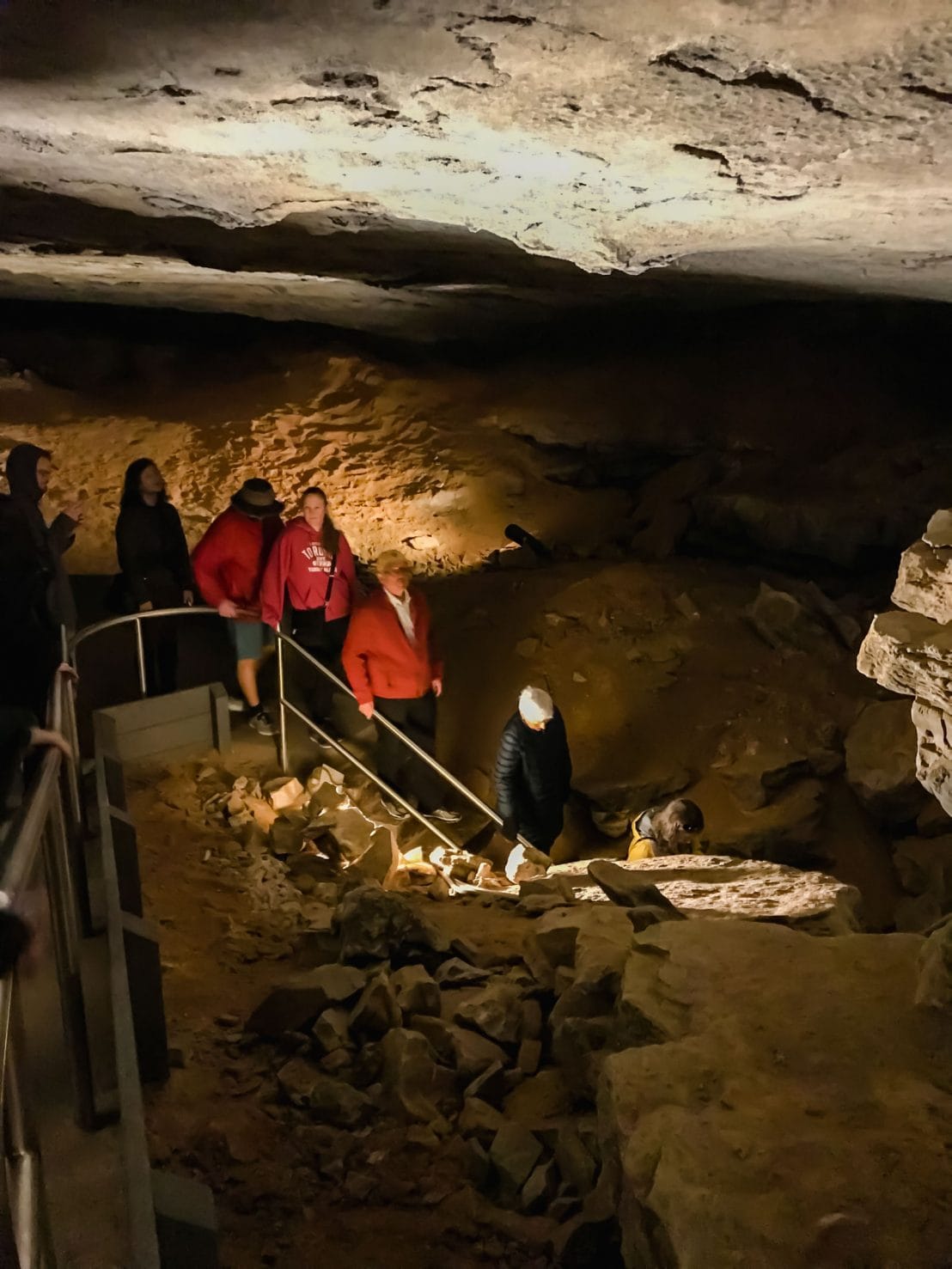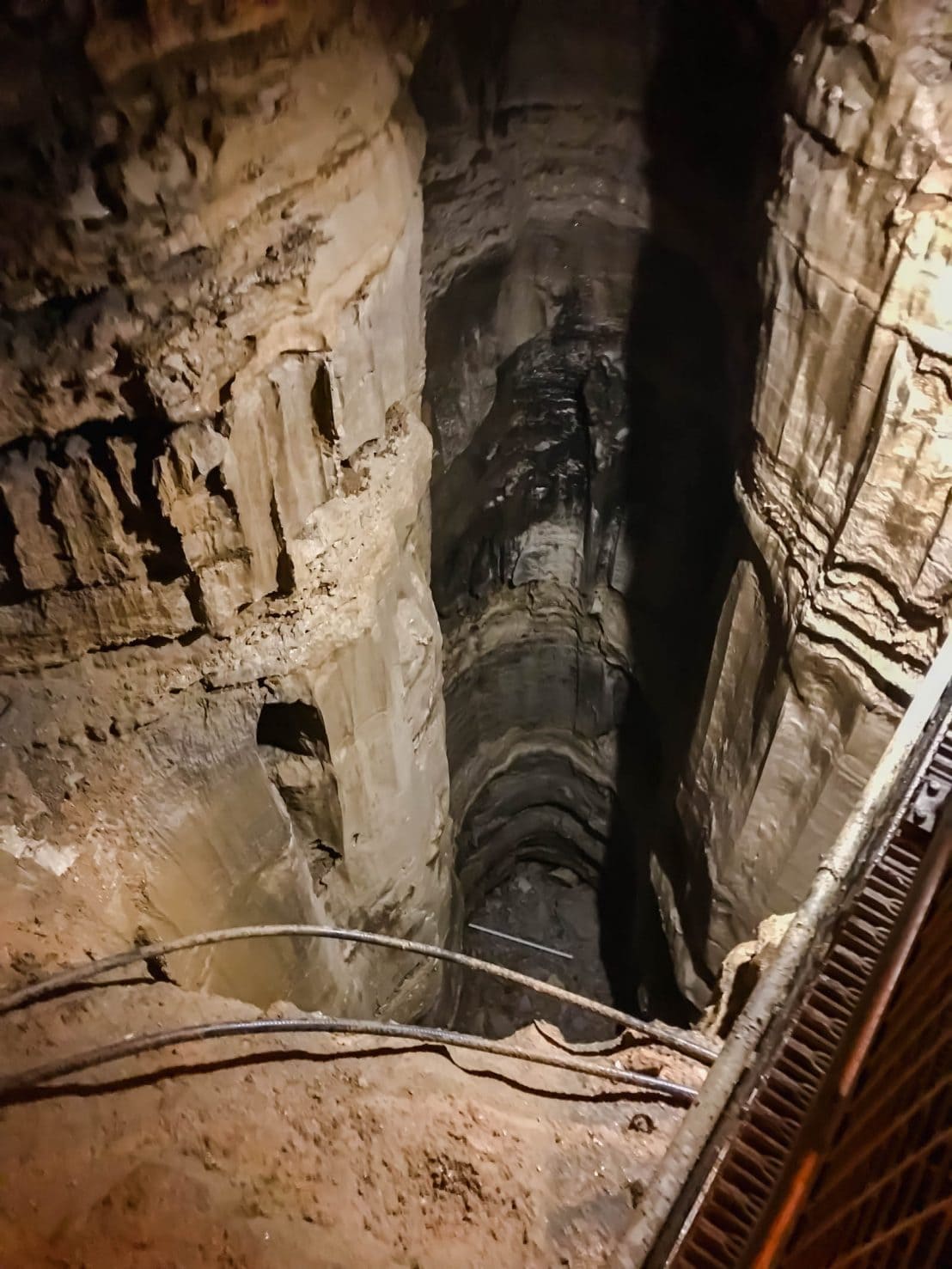 One of the elements of the cave that I found very fascinating was the inscriptions of names people made hundreds of years ago by torching letters into the cave ceilings: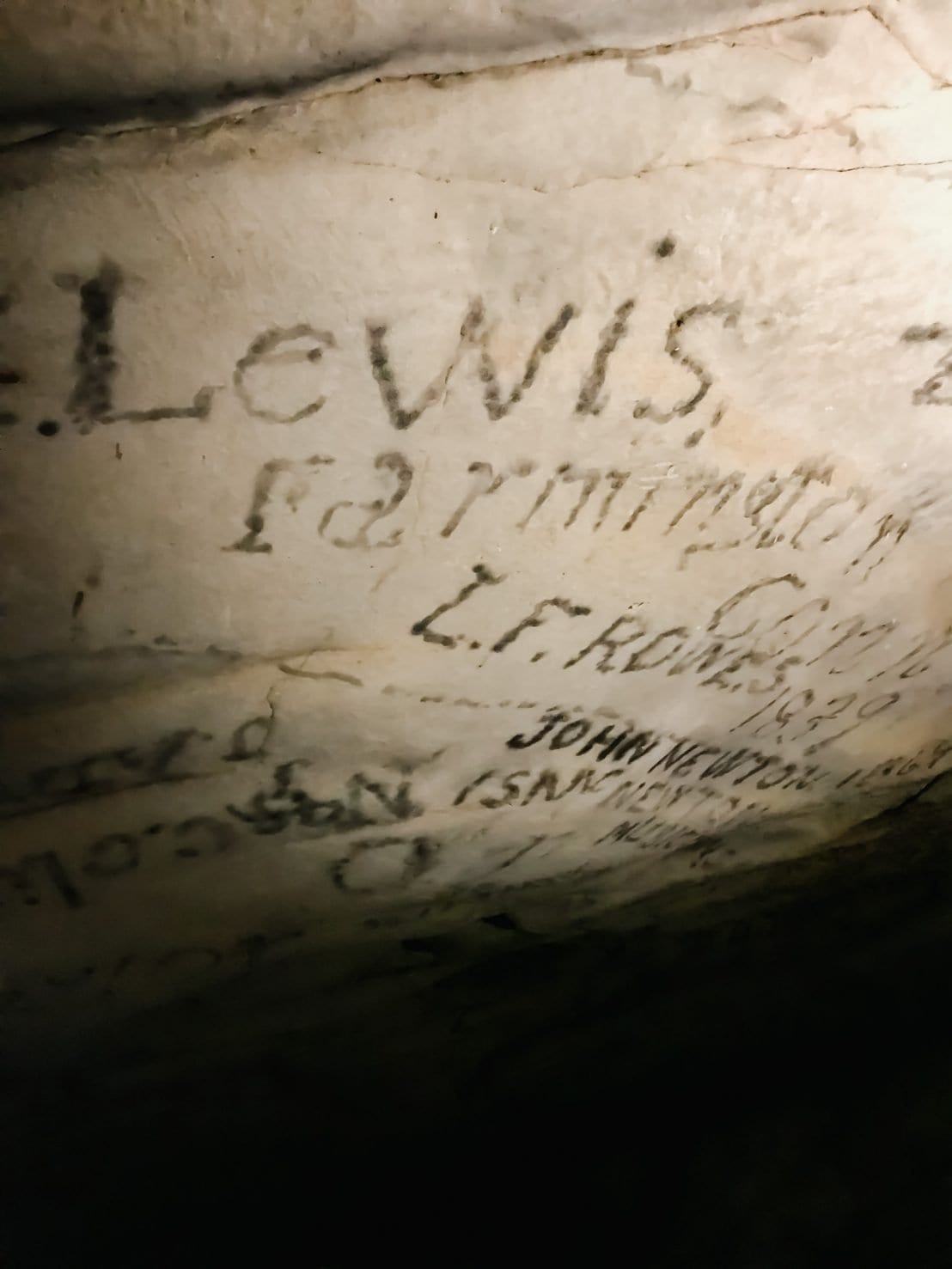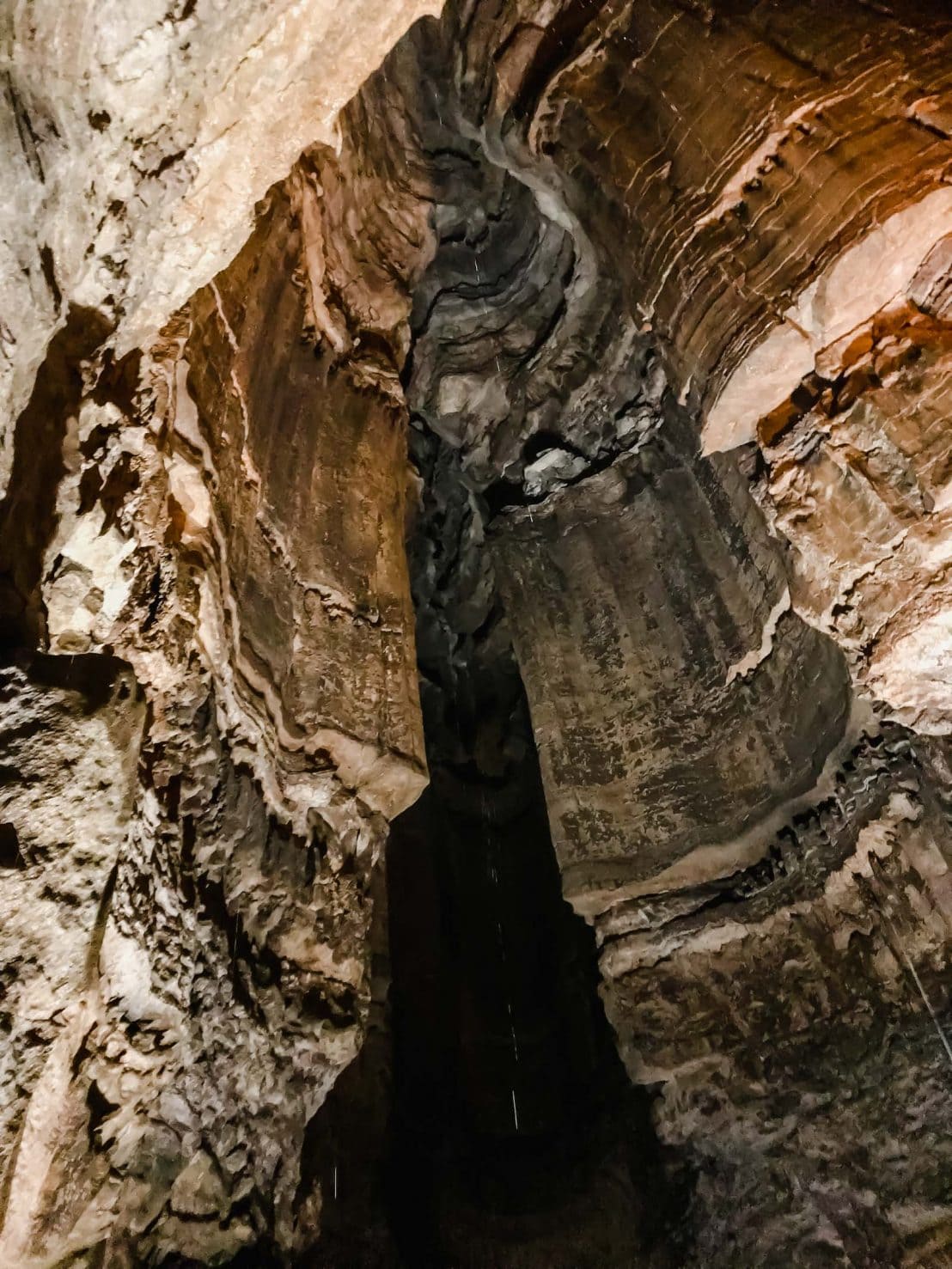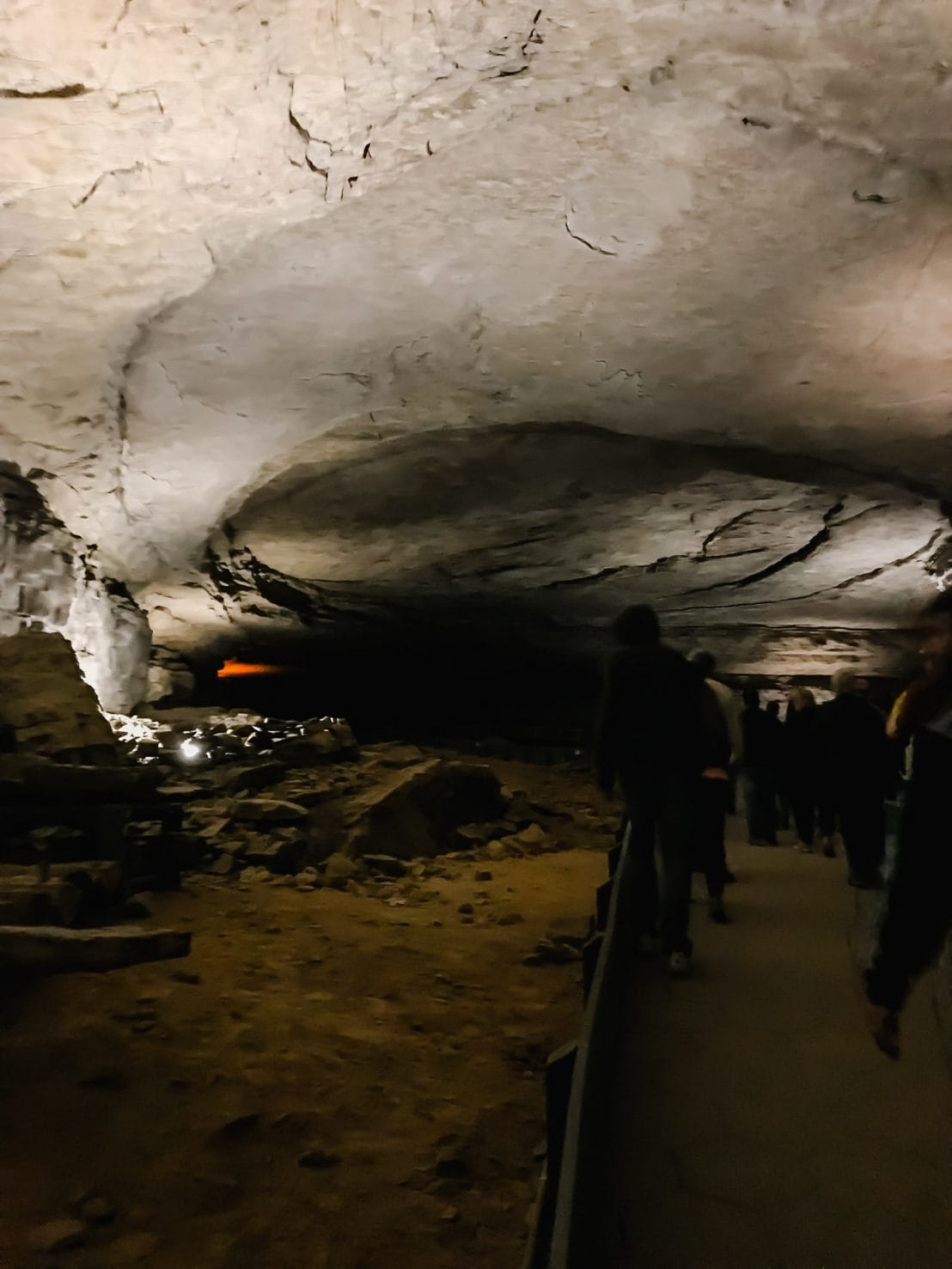 I cannot tell you HOW COOL the cave experience was inside. The pictures DO NOT do it justice - Ryan and I were both completely amazed at how vast and grand the cave system was. I really think this should be one of the wonders of the world! In summary, I highly recommend a visit to the area at some point in your life whether you live in the area or not!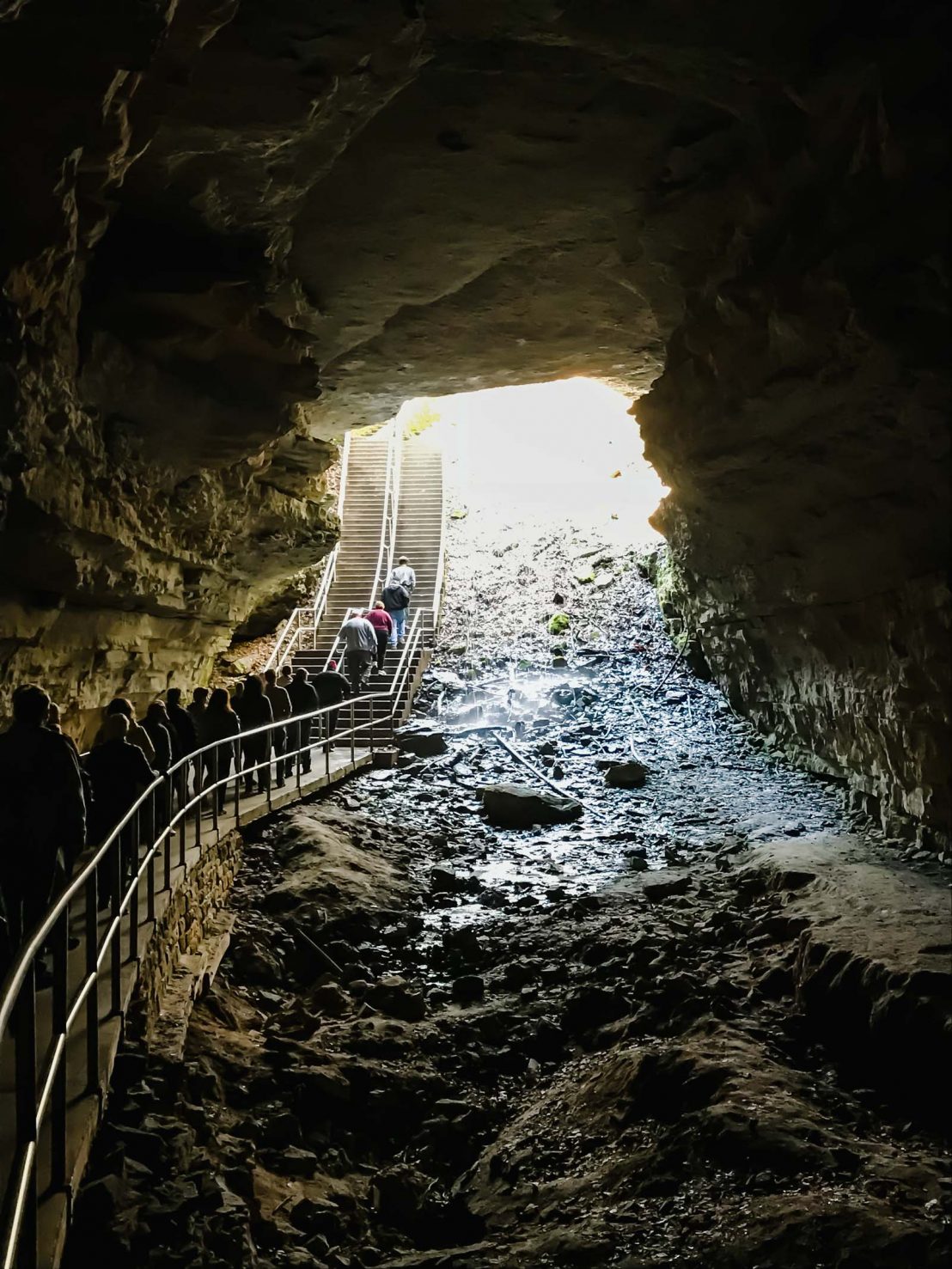 Tooling Around Bowling Green, KY
If you have extra time in your day to do a little exploration of Bowling Green (just south of Mammoth Cave), I highly recommend doing so! There are fun museums (National Corvette Museum), trails, parks, a cute downtown area, and activities like zip lining, kayaking, and boat rides through certain caves. We chose to visit Chaney's Dairy Barn because, duh, ICE CREAM! And now I'm obsessed. This place is the cutest and the ice cream is amazing! You can take self-guided farm tours, see a cow milking, eat lunch, buy homemade candles, jams and preserves, and even let kiddos play on a fun playground. I got a homemade waffle cone w/ coffee ice cream and - get ready for it - an ice cream with a white chocolate base and chunks of red velvet cake. YUM! It was the perfect way to top off our day of exploration and I can't wait to take family and friends there when they come to visit!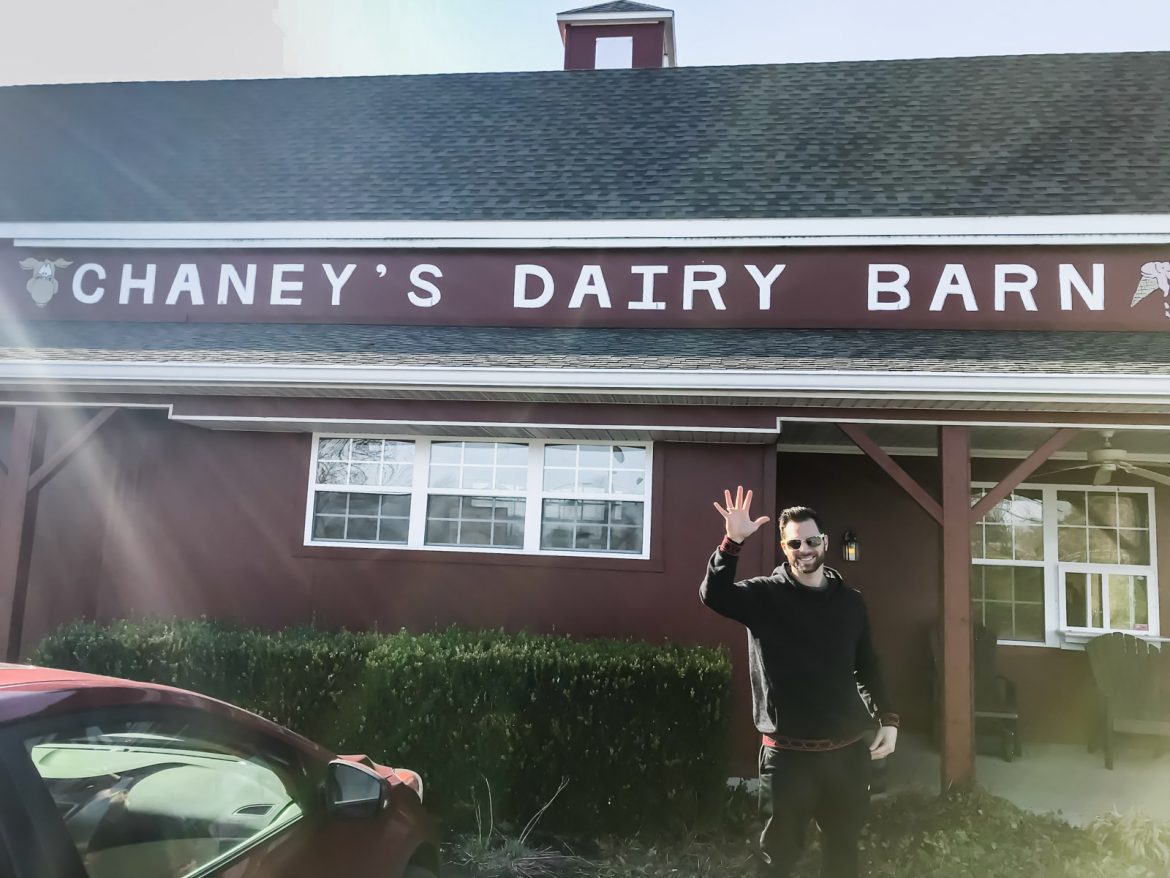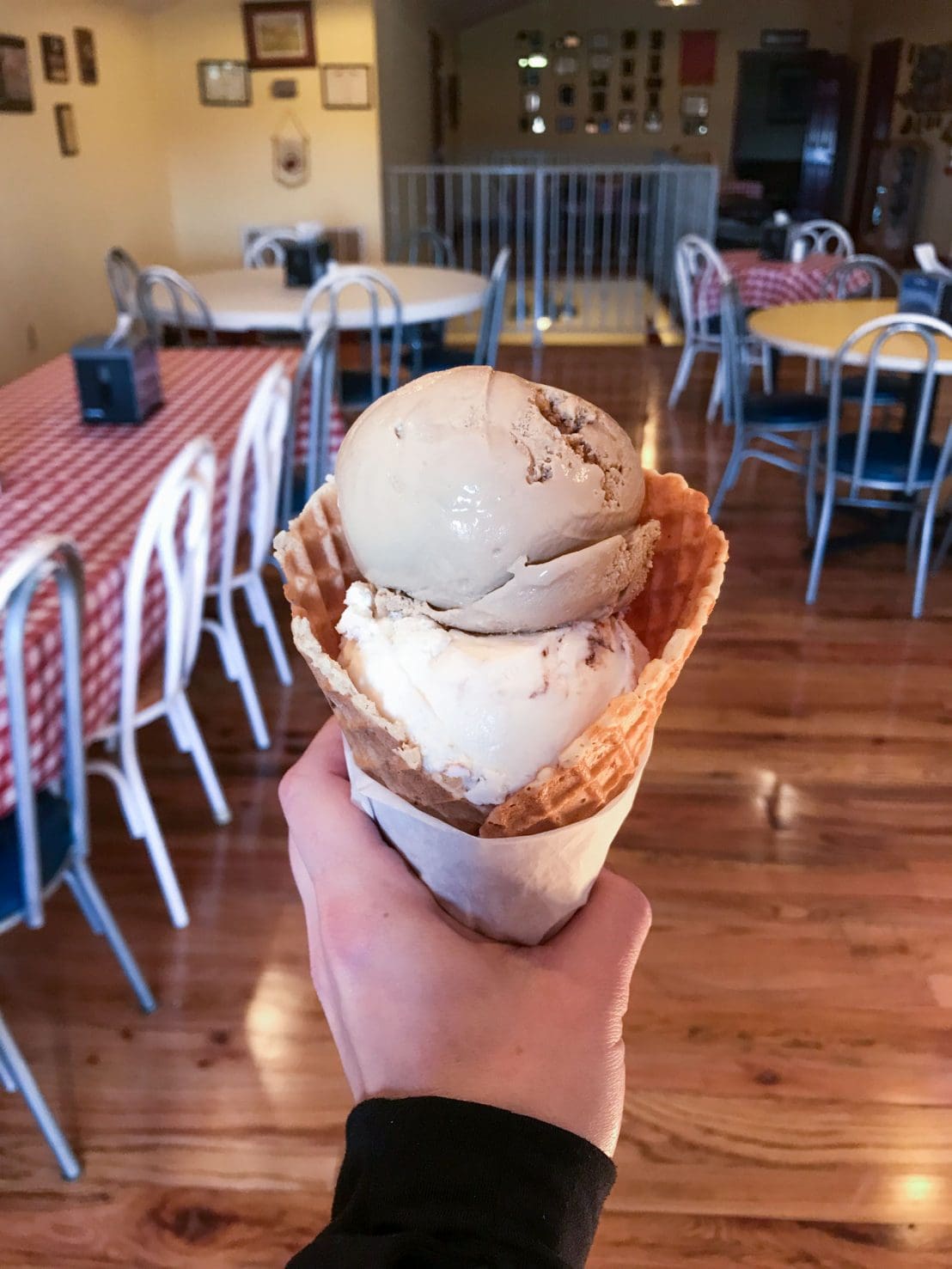 Have you ever been to Mammoth Cave? If so, tell me about it in the comments below! If you are planning a TN vacation, be sure to check out my recap of our family trip to Gatlinburg and Pigeon Forge and How to Save for a Trip!