Christmas is creeping up on us, kids. Who's excited??? What are your holiday plans? Seriously - I wanna know!!! I love hearing/talking/thinking about all things Christmas.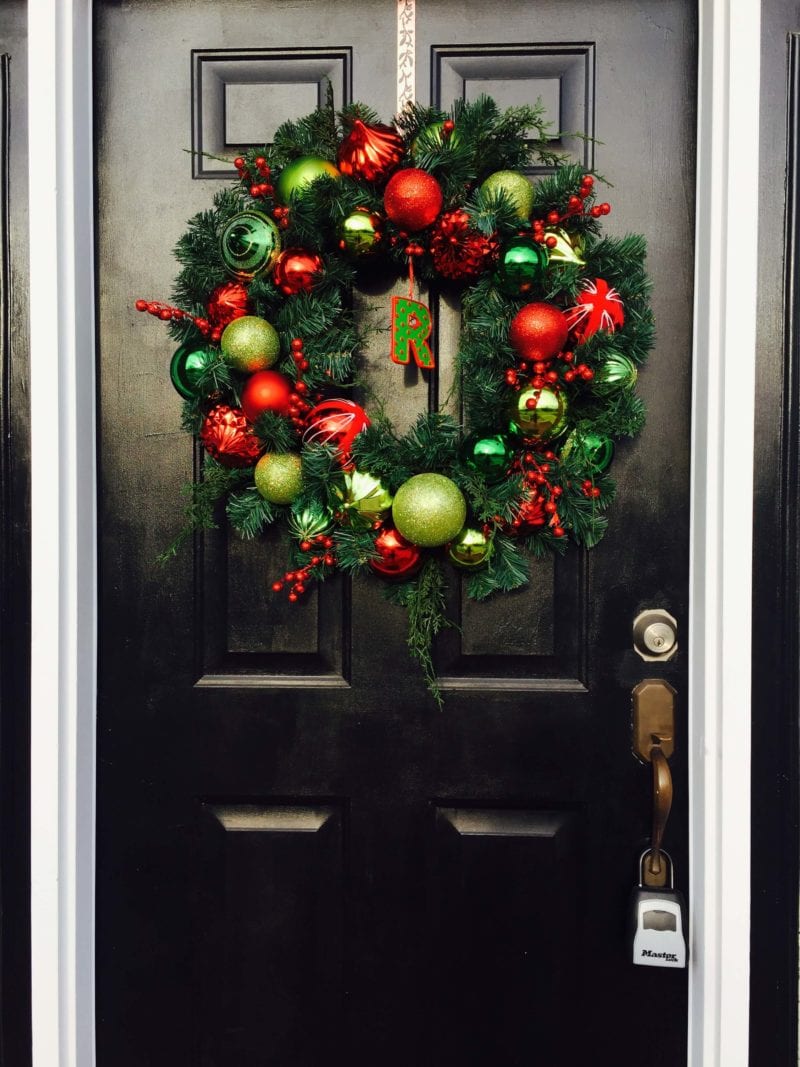 We are planning an epic and long trek/road trip to Dallas for a week, which will be followed by an epic/long flight trip to VA for a week. Holidays with the fam take a little effort when you live far away! But it's all good.
Since this is my first year to spend the holidays in an actual house (I've lived in apartments for the past 8 years!), I got SUPER excited about decorating for Christmas. Now mind you, I haven't acquired many decorations at this point in time. I plan to get a little each year at the after-Christmas sales - like maybe 2-3 things. That's the way to go, right???
Most of the Christmas decor I have has been inherited from my sweet and precious grandmothers - Nana and Granny, to be exact. Friend, these ladies had impeccable taste when it came to Christmas decor. Even though the things I have from them are 15+ years old, they are such beautiful pieces that they look current and like new! In their honor, I thought it'd be fun to give you a little tour of my 1st year Christmas decor in our new home.
Entry Area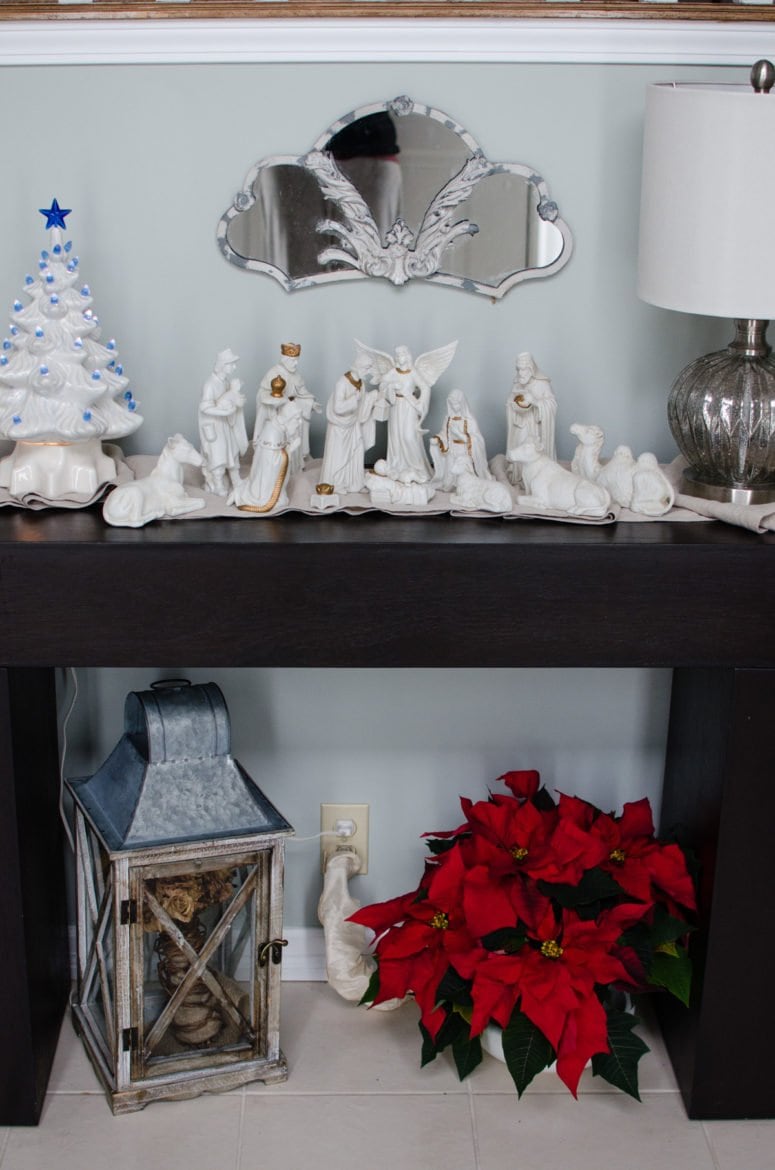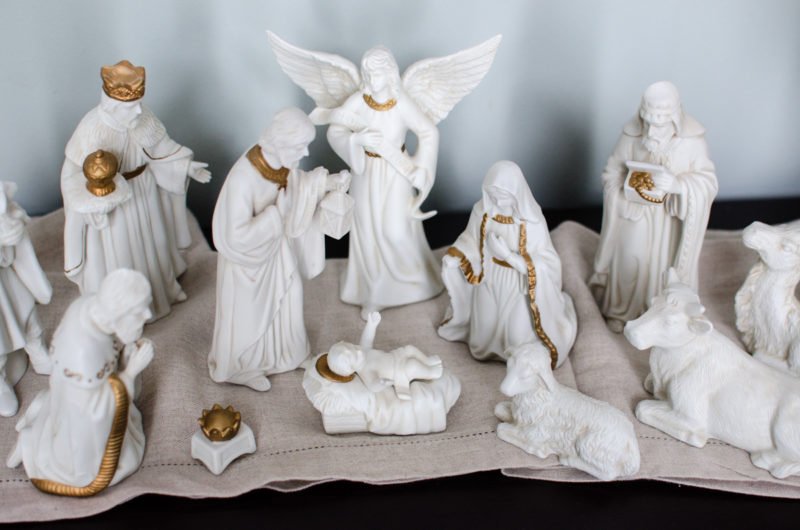 I was so excited to receive my Granny's white nativity set and vintage ceramic light tree that I made it a priority to feature them front and center in the entry way! The neutral color scheme creates such a calming, peaceful scene that really goes well with the rest of my decor.
Get a similar look: White Nativity Set | Linen Table Runner | Antique Mercury Glass Lamp | Vintage White Ceramic Christmas Tree |Rustic Distressed Lantern
Living Room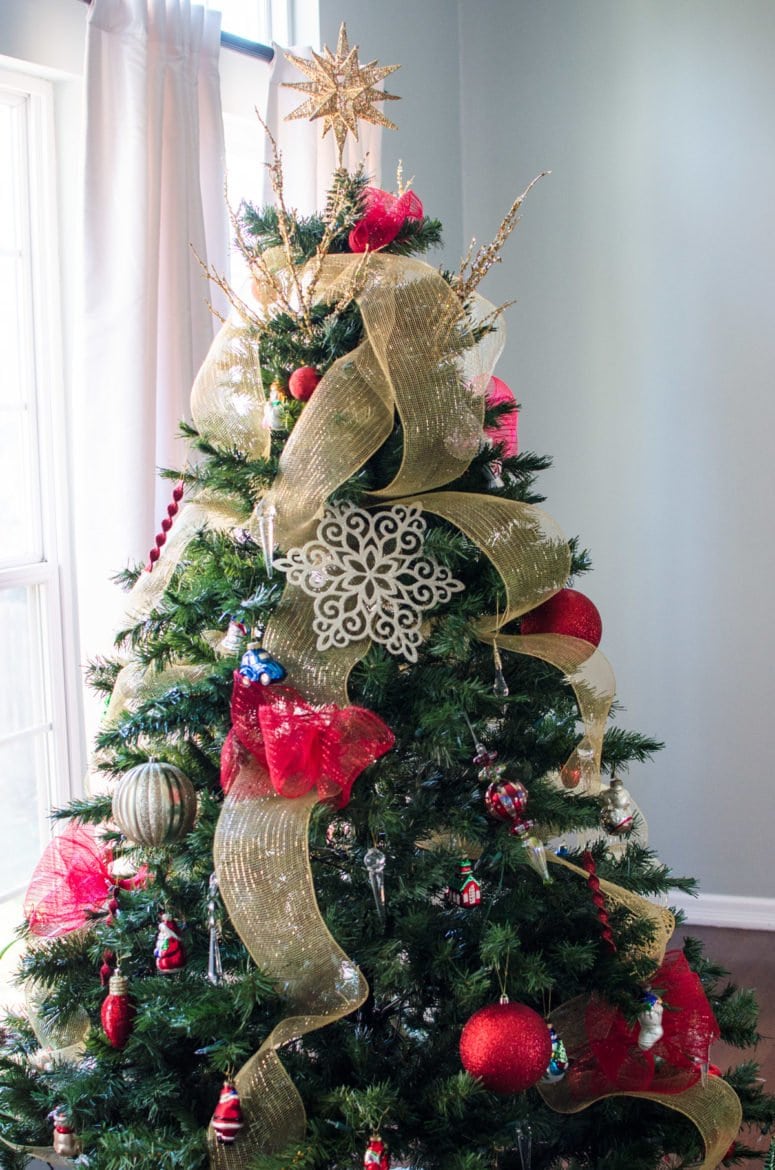 Hooray for my first year to have a full size tree! This tree is not huge by any means - only 6.5 ft - and although I'd like to have a taller one at some point, I'm honored and grateful to have this one because it belonged to my sweet Granny! Another dear lady to my heart from my dad't church in VA gifted me with the gorgeous glass blown ornaments  many years ago. They are part of the Thomas Pacconi Vintage collector's set, and I'm so happy I've finally reached the day when I could display them on my very own tree!
To give the tree an ultra-festive and glamorous look, I placed some larger, "statement" ornaments (scored from Dollar Tree!!)  in random places and did a waterfall ribbon weave with gold mesh. I used some red mesh and pipe cleaners to create red bow "poufs" for placement in various sections that needed filler. And I'm IN LOVE with the gold star and gold crystallized branches I found recently at Hobby Lobby for 50% off!
Get a similar look: Thomas Pacconi Vintage Glass Ornament Set | Glass Icicle Ornaments | Large Statement Ornaments (Dollar Tree) | Gold and Red Ribbon Mesh | Gold Branches +  Gold Star Tree Topper (Hobby Lobby)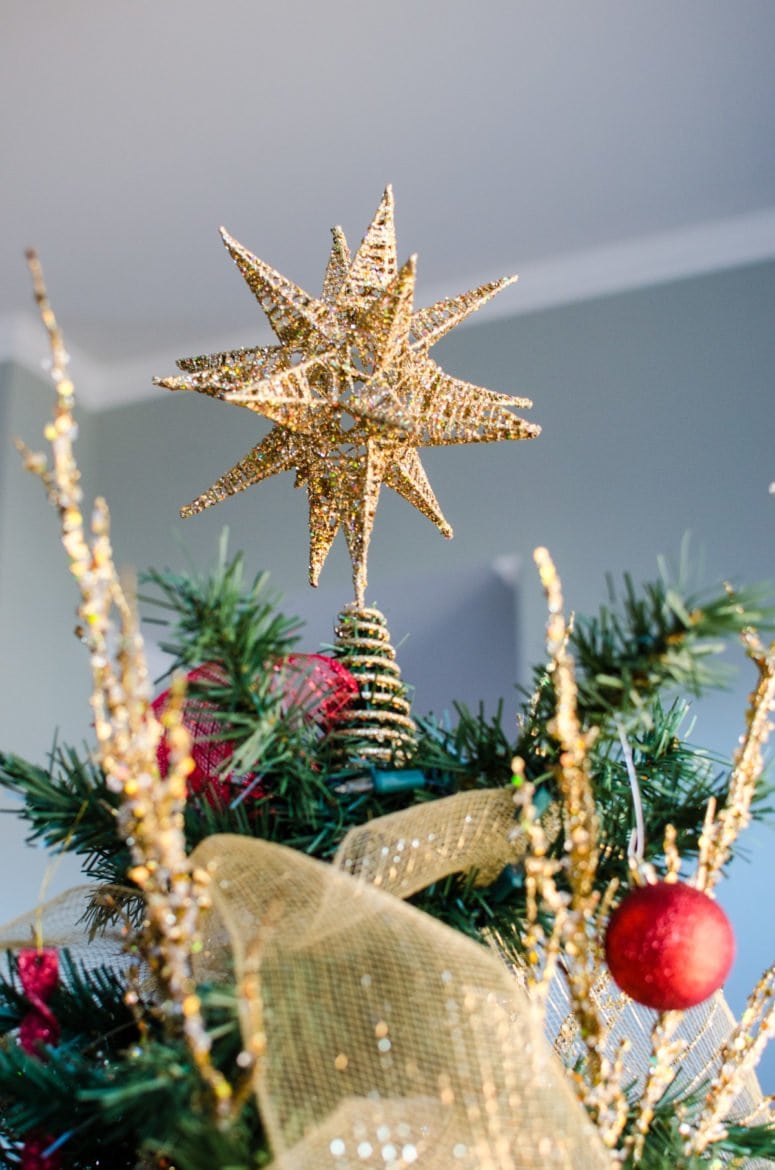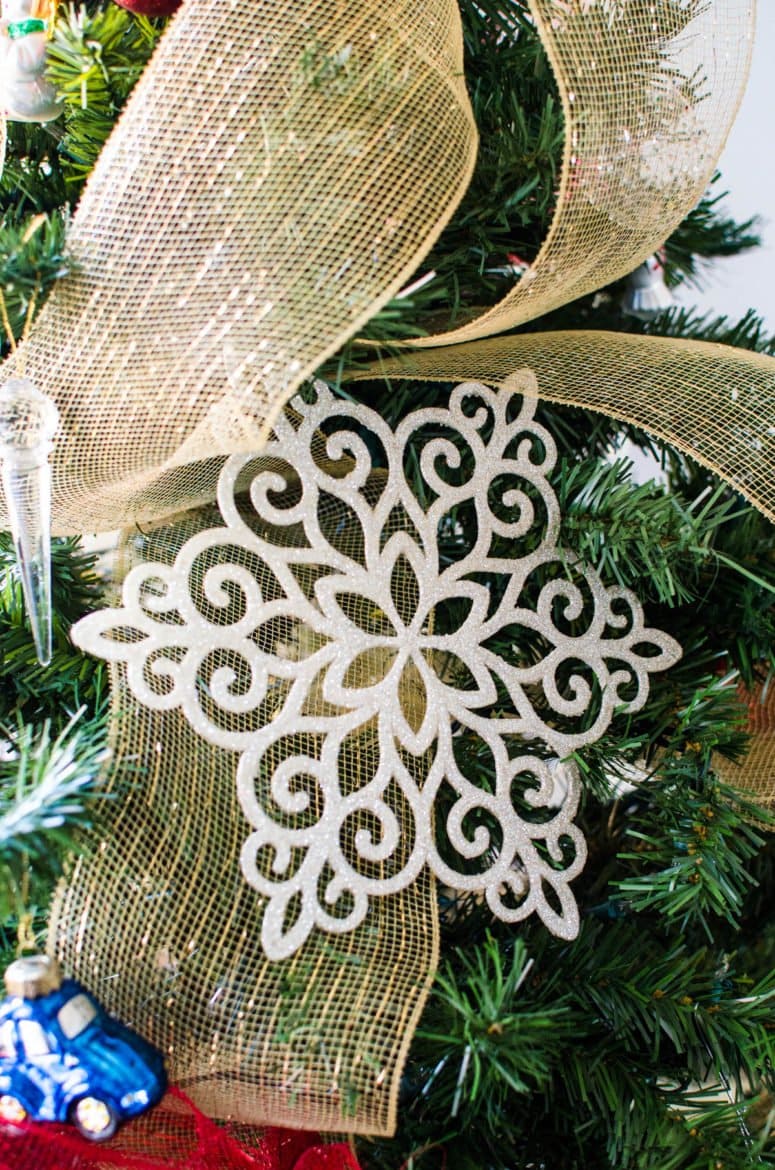 Dining Room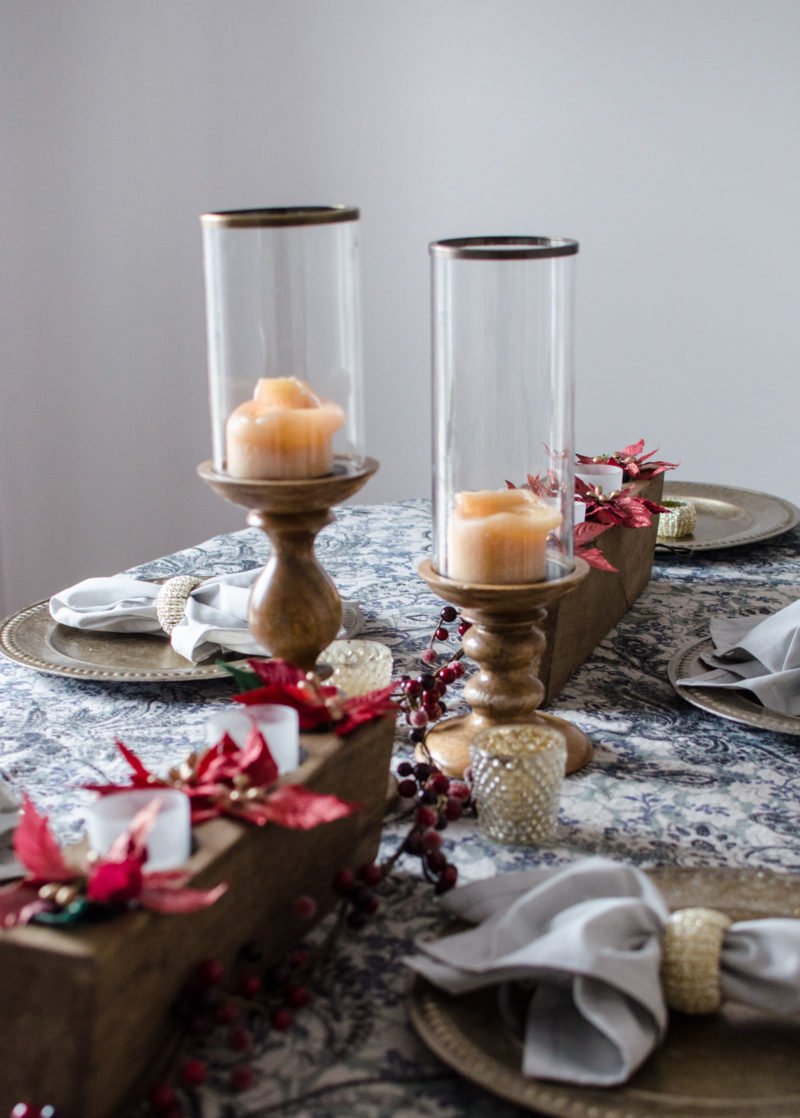 My dining room has been a little neglected since we moved in. It's been one of the last rooms I've had a chance to work on, and although we've got a ways to go, I managed to make it look festive by pulling together a few things I already from around the house.  I love the look of mixed metals with rustic wood. As you can see, I've got a little bit of brass, mercury glass, and silver among the different pieces. Home Goods came through for me on the chargers, napkins, and napkin rings - I'm in love with this combo and think they will be easy to use for more formal looks throughout the year.
Get a similar looks: Pillar Candle Holders - Pottery Barn| Mercury Glass Votives  | Sugar Mold Centerpiece | Chargers, Napkins, Napkin Rings - Home Goods | Floral and Cranberry Garland - Home Goods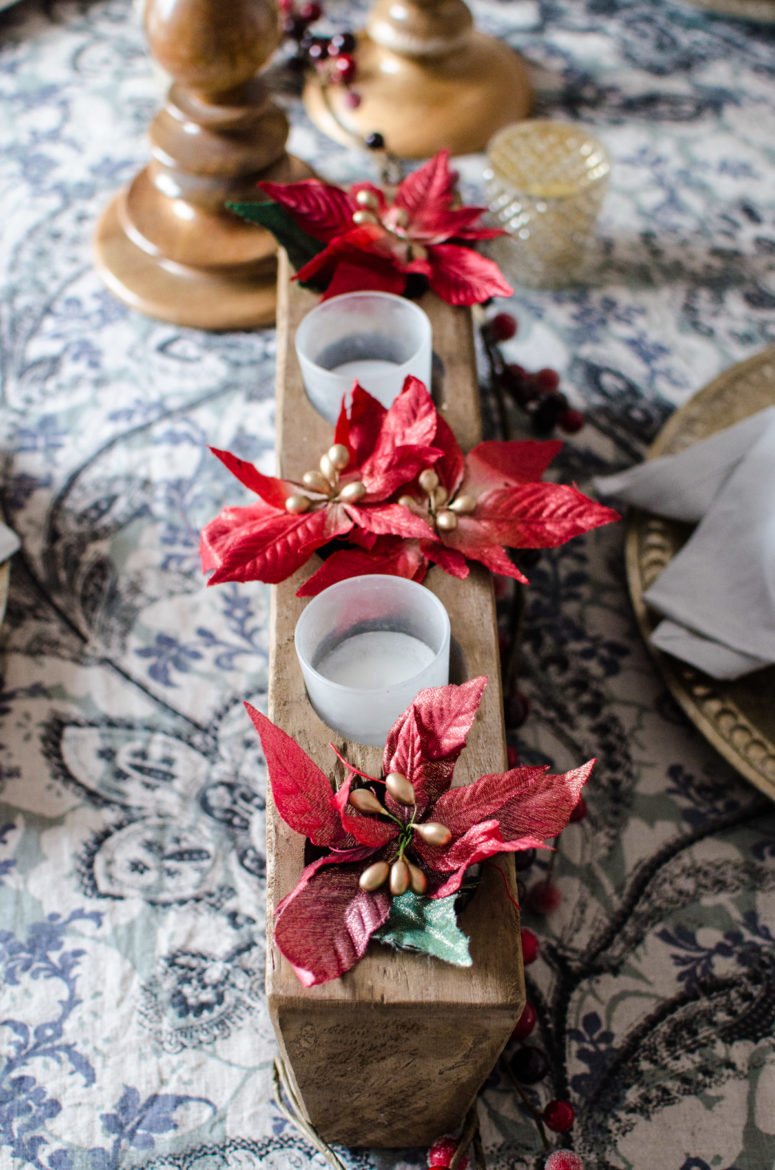 One of my favorite pieces on the table are these rustic sugar mold centerpieces from Mexico. I recently got them at vintage market in Kansas City, and have really enjoyed filling them with mixtures of votives, fresh flowers, and now with these little poinsettia branches for a pop of red!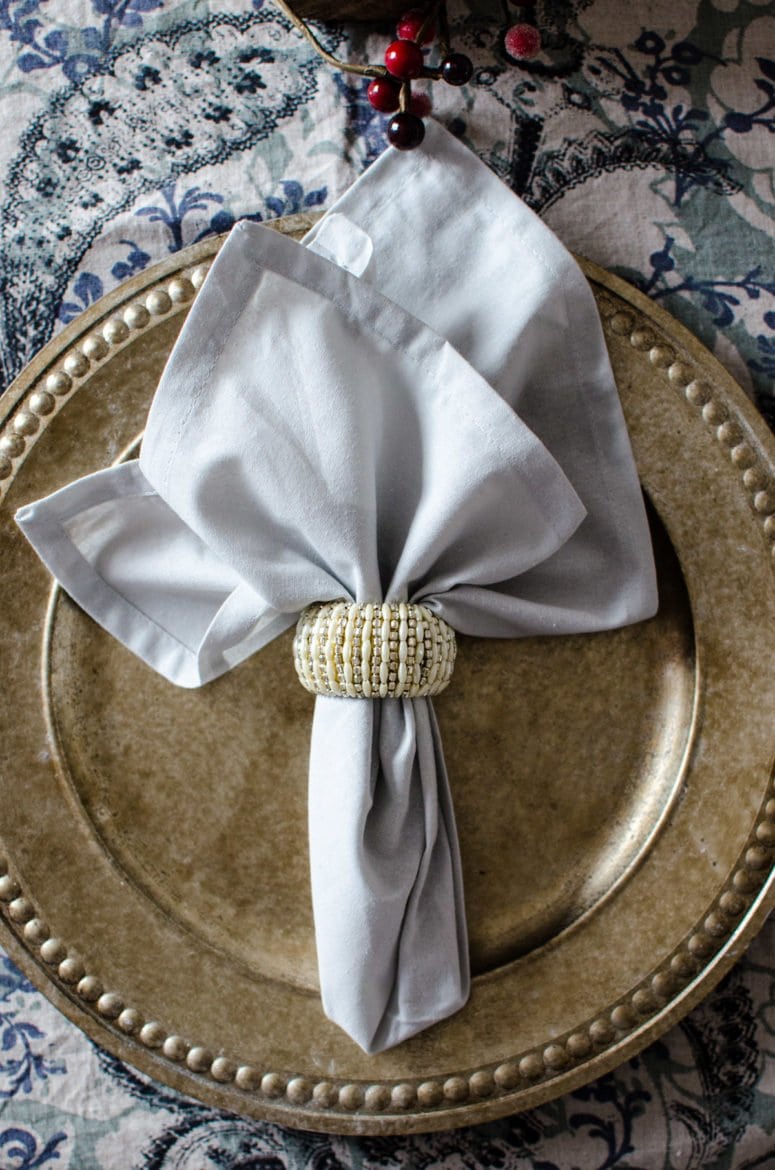 TV Room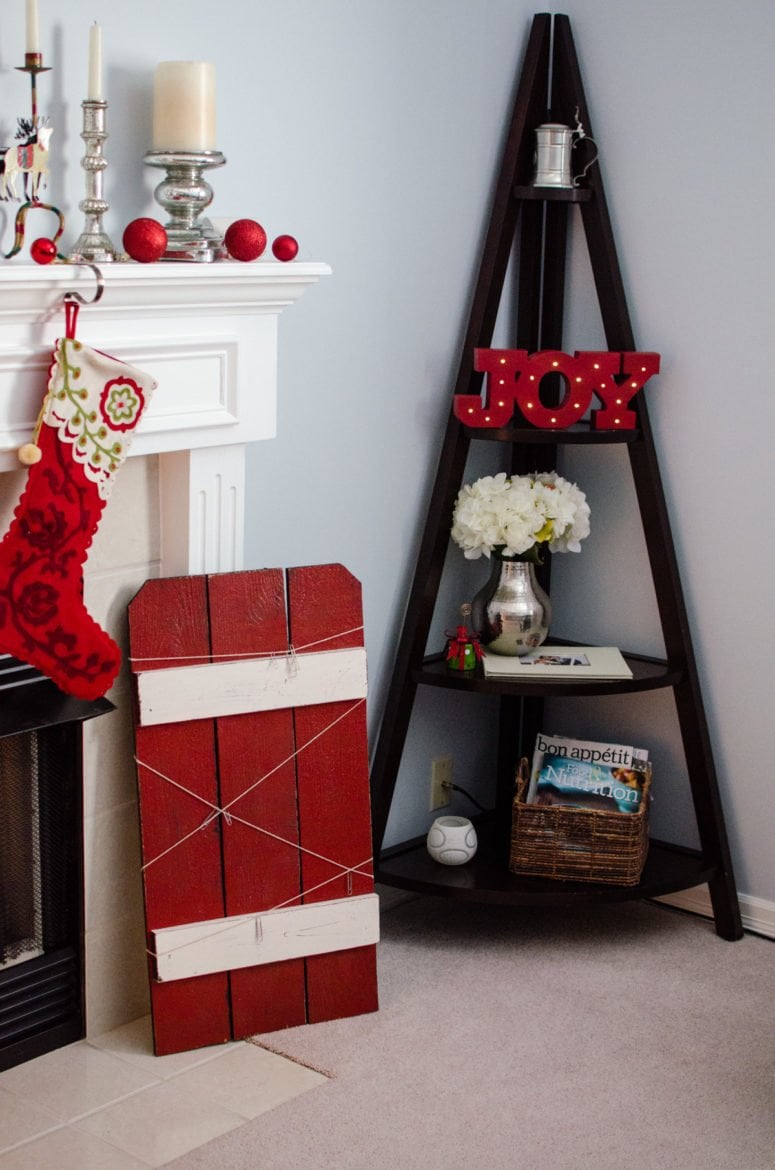 Our TV room downstairs is also home to some very special pieces that have been given to me over the years. The colorful santa sleigh candle holder (pictured below) belonged to my Nana and matches an identical one that her and my mom bought together. It's perfect for a mantle topper because it's as if Santa is flying over the stockings below to drop goodies inside!
The red sled (pictured above) was made by a lovely friend from our former bible study in Dallas and was gifted to Ryan and I at a white elephant party - you can attach your Christmas cards to display on it via the strings that wrap around the sled. Talk about a great white elephant gift!!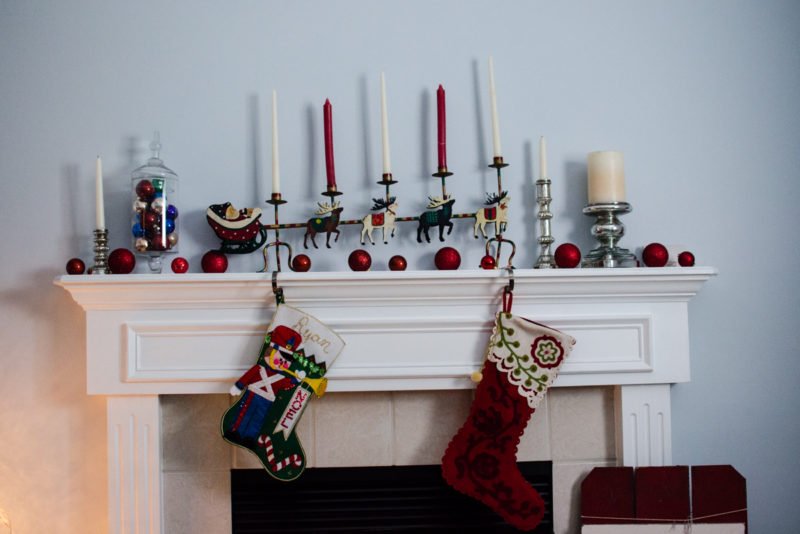 Get the look: Mercury Glass Candleholders | Glass Apothecary Jar filled w/ Christmas ball ornaments | Vintage Santa Sleigh Candle Holder | Vintage Santa Sleigh Candle Holder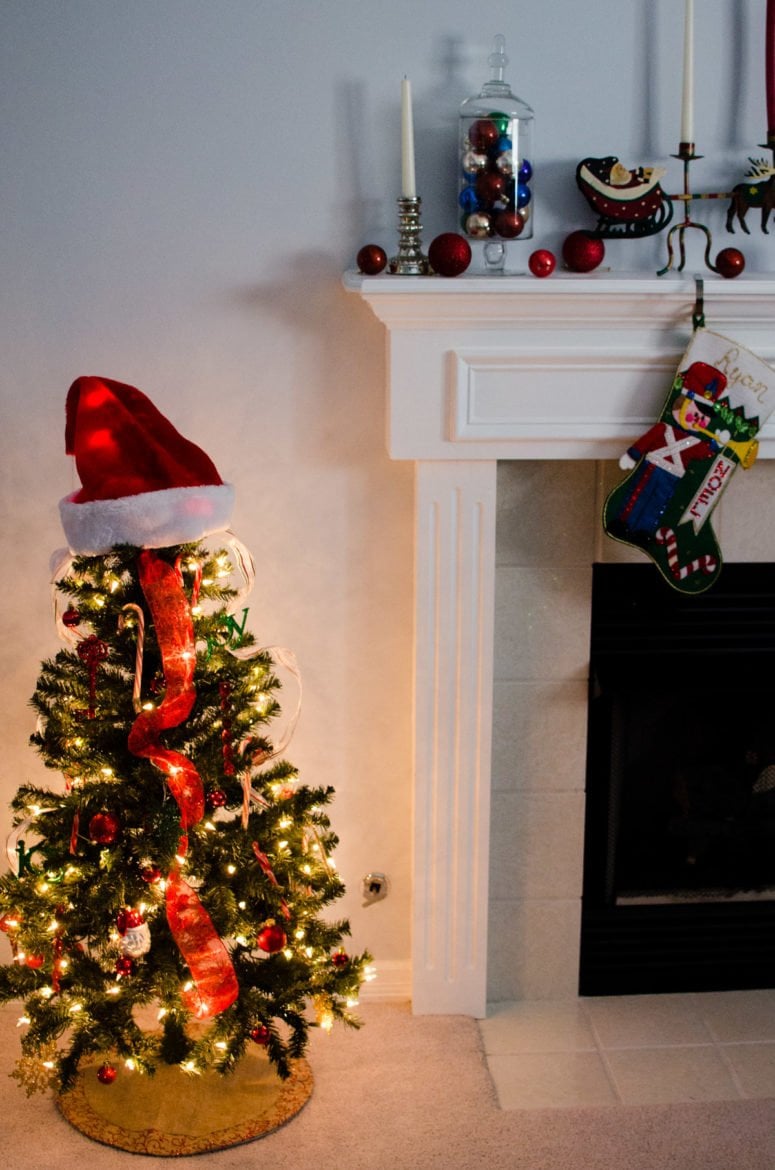 Ryan's stocking is a vintage felt kit stocking that his mom made for him many years ago - he loves it so much! I need to find a similar kit so that I can make one for myself to match his. Let me know if you know of a place I can get one! In the meantime, I have a felt stocking from Pier 1 that I bought for my first apartment several years ago. It has a special place in my heart for that reason!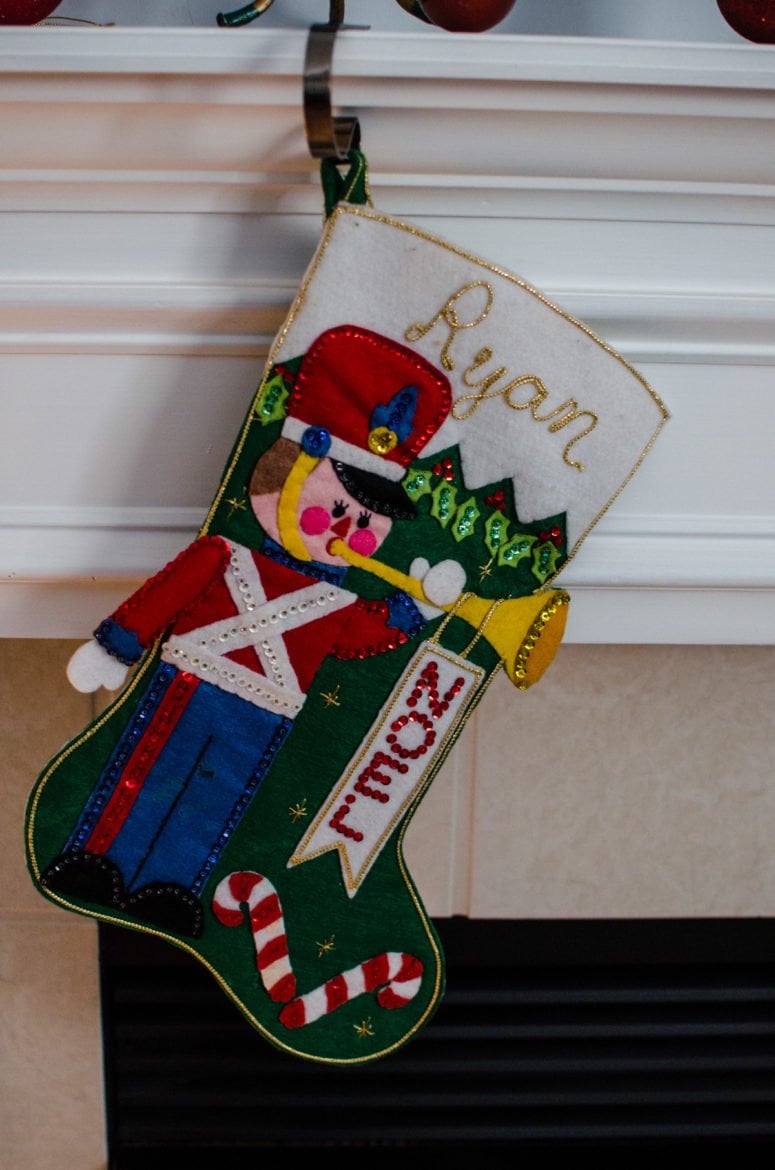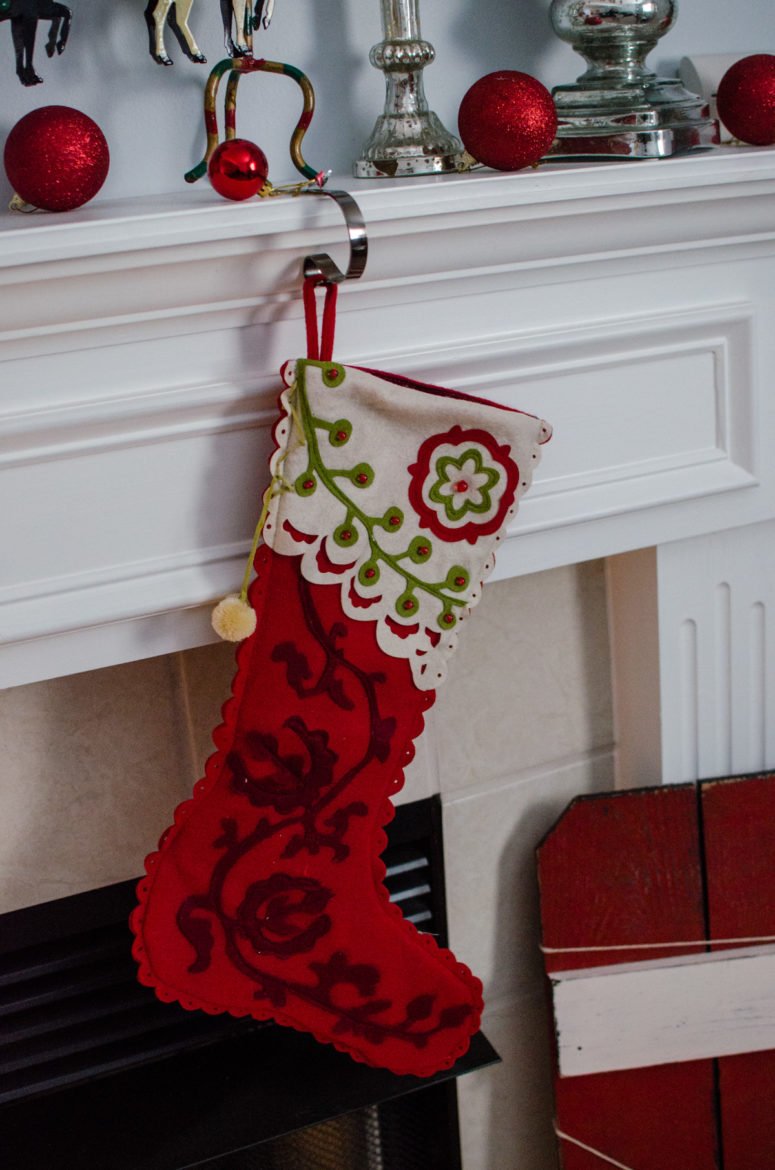 Well, that's a wrap for now! What are some of your favorite Christmas decorations? Let me know in the comments below!