Ya'll.  There's a lot going on at Dietitian in the Kitchen right now.  As you may have noticed, today is my first official day to post under my new name - DITK blog is now Sweet Cayenne!  If you didn't already know about this change, you can read more about it here.  Sweet Cayenne.  It has a nice ring to it, don't ya think?  I'm excited.  Good things are going to happen here.  I hope you join me in my food blogging journey!
Before blogging name change mayhem commenced this week and before football season starts and takes over Ryan's life, we decided to have a mini getaway by spending the past weekend in Kansas City.  Have you ever been to KC before?  We had not.  On our agenda: eating, shopping, eating, waterpark.  2 days.  Good times!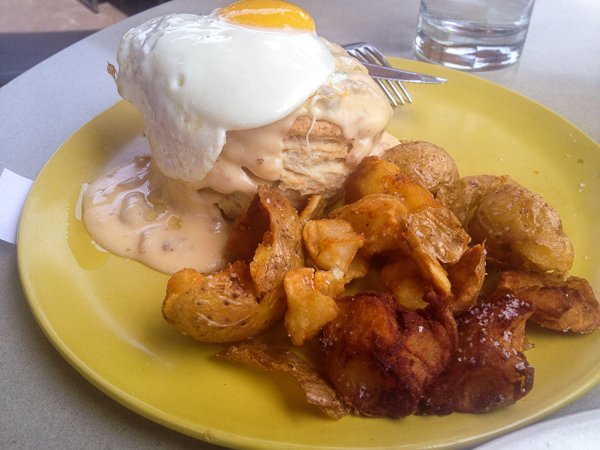 Our first stop in Kansas City was Sunday brunch at Gram and Dun.  We found this place through some internet research and figured if it was #5 of 1200+ restaurants in KC on Trip Advisor, it had to be good, right?  Right.  This is a beautiful restaurant (I hope my home looks like one day) situated in the Plaza Shopping District in KC.  They call themselves a gastropub, but the menu was much more creative and fresh than most fare I've seen at typical gastropubs.  We ordered off the brunch menu, but I found myself wishing I could come back for dinner and dessert.  Next time, KC, next time.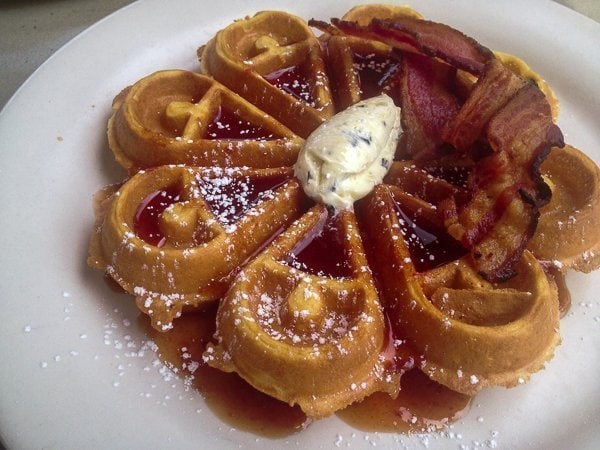 For our brunch, Ryan ordered their version of biscuits and gravy and I skeptically ordered the Smoking Dun Waffle.  I wasn't sure how I'd like the combo of lemon, rosemary, and cherry flavors with a waffle but I wanted to be adventurous.  Turns out, it's a delicious and ingenious combo.  The lemon rosemary butter added a light and fresh flavor to the dish without being overpowering.  The cherry rye syrup was smokey and sweet.  And the waffle had a perfectly crisp exterior while being light and fluffy on the inside.  Oh! And the bacon! Some of the best bacon I've ever had a restaurant.  Smokey, lean, and crispy.   I can't wait to go back to this place (Mom, when you visit, please fly into KC so we can eat here!).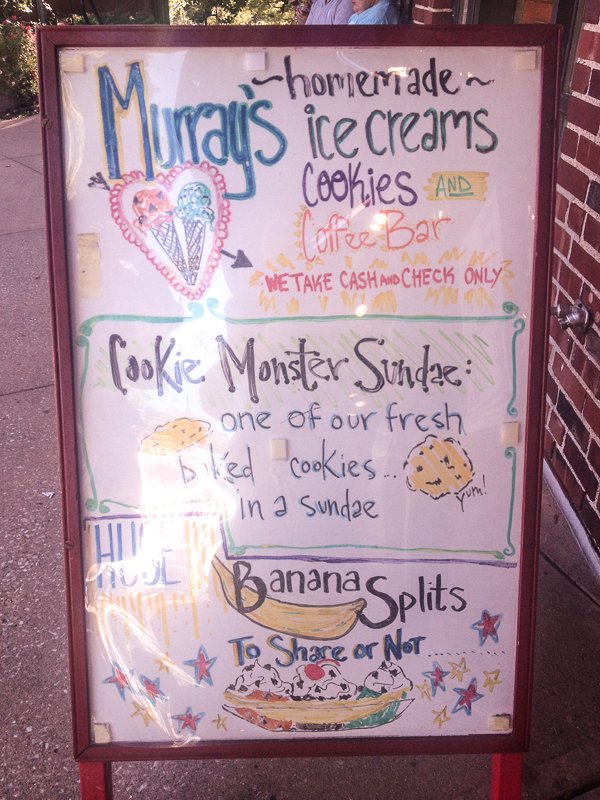 Brunch was so filling that we decided to top off our day with ice cream for dinner.  Say wha??? Yep.  We had ice cream for dinner.  Doesn't happen often - that's what you do on vacations!  We went a couple blocks down from the Plaza to Murray's Ice Cream and Cookies.  Another Trip Advisor find. And it was #1 on the 10 Best Places to Eat Ice Cream in Kansas City.  Score.  All of Murray's ice creams are homemade daily in the store with the best quality ingredients.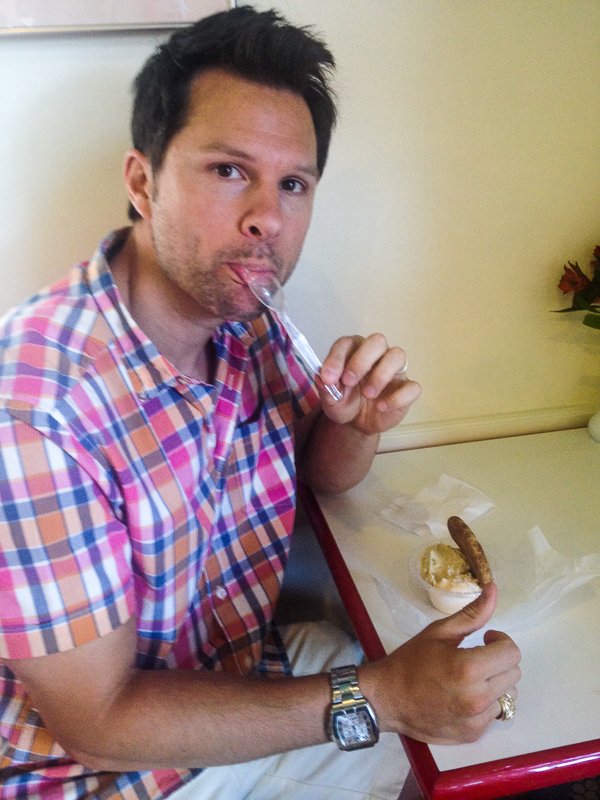 Some of Murray's drool-worthy flavors include Mojito Sorbet, Pecan Toffee, Peach Cobbler, Oreos 'n Cream, Smitty's French Lemon, Coffee, Nuts About Chocolate, French Silk Fantasy, Batter Up!, Maple Walnut, and their most popular, Chocolate Flake Fromage.  So many difficult decisions.  We probably sampled 8 different ice creams before we made an order.  Ryan went with Peach Cobbler and Grandma's Butterscotch topped with a Snickerdoodle Cookie.  He loved it.  I chose Grandma's Butterscotch and Cookies and Caffeine (basically Cookies and Coffee) in a brownie batter waffle cone.  Heaven.  Definitely dinner-worthy. Thank you, Murray's!
We are definitely planning on taking more weekend trips to KC when we get homesick for Dallas (which is, like, everyday).  The city has a great energy, lots of trendy restaurants, great shopping, professional sports teams, and plenty of fun sights to see.  What are your KC faves? Let me know on Instagram, Twitter, or Facebook. Check out some of my videos on YouTube as well. Leave a comment below with some KC love!
Happy travels!
Whitney