If you had to pick a favorite fall cooking ingredient this season, what would it be? I know, that's a tough one. We seem to dream about fall ingredients all year long, don't we? There's something magical and ultimately comforting about pumpkins, warming spices, apples, and winter greens. My favorites change from year to year, and I'd have to say maple syrup has my heart for this fall season. I'm positively starry-eyed over it; and a hint of sweet, dark, caramel-like stickiness is making a daily appearance in my life right now.
Needless to say, my heart went all a-flutter when I received a highly-anticipated package in the mail a few weeks ago. I'm referring to my new and beloved Maple cookbook, which has so graciously blessed me 100 recipes kissed by pure maple syrup. This gem of a cookbook was written by the lovely Katie Webster, whom I had the pleasure of meeting at Blog Brulee back in September. Katie is the author of the food blog Healthy Seasonal Recipes, is a highly experienced food stylist, culinary school grad, and to top it all off, taps maple trees in Vermont with her family!
In addition to the mouth-watering, maple-filled recipes, this cookbook boasts stunning photography, heartwarming stories, and an up-close-and-personal look at the art of maple syrup production. Trust me, after flipping through a few pages you are going to want to gather your loved ones around a roaring fire and pass around one of these beautiful dishes that will surely become a family favorite.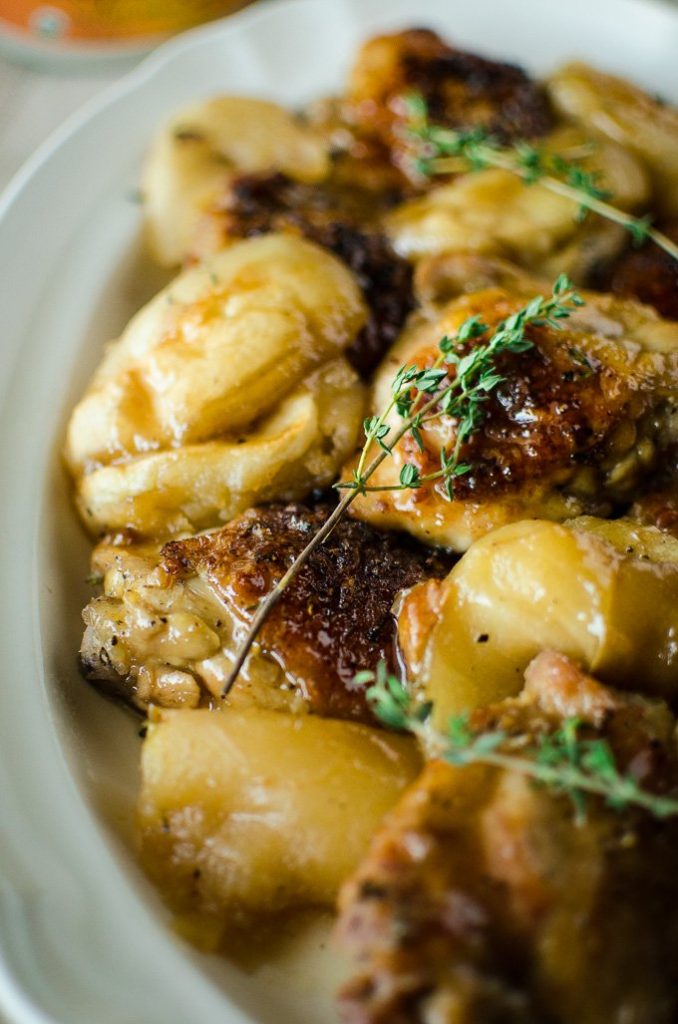 After I had finished looking over each and every recipe, I knew that the Maple Ginger Chicken Thighs had to be the first recipe I made from the book. This is because in the recipe introduction, Katie promises that the cookbook will eventually fall open to that particular page automatically because you will make it so many times. After trying this dish once, I can honestly say that her prediction will come true.
The chicken, apples and thyme make for the perfect combination of sweet and savory. They are baked in an sumptuous combination of maple syrup, apple cider and shallots that reduces down to a thick and sticky sauce you will want to lick straight off of your plate once you have finished eating. Take my word for it, this is meal worth gathering around the table for!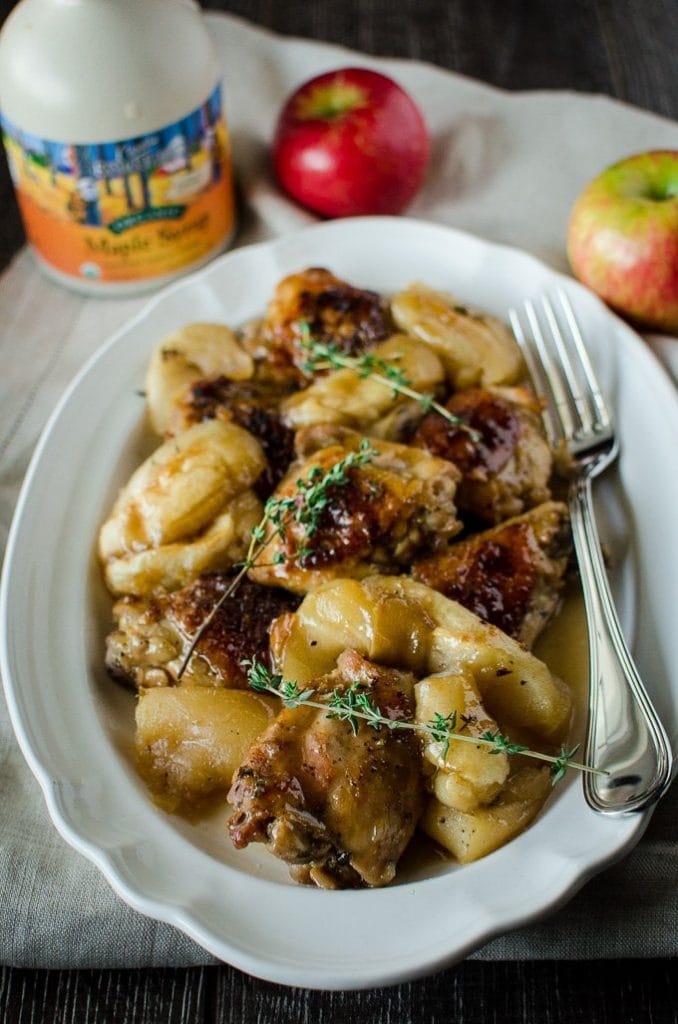 Recipe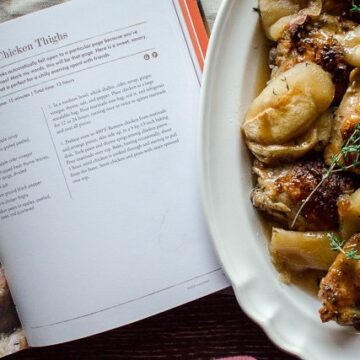 Katie's Maple Ginger Chicken Thighs
Maple Ginger Chicken Thighs are the ultimate fall comfort food and a great dish to gather around for a cozy Sunday supper at home. Adapted from Katie Webster's
Maple
Cookbook.
Print
Pin
Rate
Ingredients
1

shallot

finely diced

¾

cup

apple cider

½

cup

dark pure maple syrup

I used grade B

1

tablespoon

finely grated

peeled, fresh ginger

1

tablespoon

apple cider vinegar

1

teaspoon

chopped fresh thyme leaves

plus 4 sprigs, divided

¾

teaspoon

salt

plus extra for seasoning chicken

½

teaspoon

ground black pepper

plus extra for seasoning chicken

3

medium apples

peeled, cored, and quartered ( I used Honeycrisp)

8

bone-in chicken thighs

Olive oil
Instructions
Preheat your oven to 400 degrees F.

In a medium bowl, whisk together the shallots, apple cider, maple syrup, ginger, vinegar, chopped thyme, salt and pepper. Set aside.

Heat a large, heavy bottomed, oven-proof pan over medium-high heat (I used an enameled cast-iron braising skillet). While the skillet heats, season the chicken thighs with salt and pepper. Add enough olive oil to coat the bottom of the skillet.

Place the thighs skin-side-down into the skillet. Cook until the skin is golden-brown, about 5-6 minutes.

Remove the skillet from the heat, then turn the chicken thighs skin-side-up. Using tongs, nestle the apple quarters and thyme sprigs among the chicken thighs. Pour the maple cider mixture over the chicken and apples. Place the skillet in the oven and bake for 45 minutes, basting the chicken with the juices every 15 minutes.

When the chicken is cooked through and the apples are tender, remove them from the skillet and transfer to a serving platter. Cover tightly with foil.

Return the skillet to medium high heat and bring the cooking juices to a slow boil. Stirring frequently, reduce the cooking juices until a thick sauce forms and coats the back of your spoon. This will take 6-8 minutes.

To serve, strain the sauce if you like and spoon over the chicken and apples.
Serving:
1
Serving
|
Calories:
4089
kcal
|
Carbohydrates:
56
g
|
Protein:
20
g
|
Fat:
14
g
|
Saturated Fat:
3.6
g
|
Cholesterol:
90
mg
|
Sodium:
113
mg
|
Potassium:
611
mg
|
Fiber:
4.3
g
|
Sugar:
46
g
|
Calcium:
47
mg
|
Iron:
2
mg
What else should I cook? This recipe would be delicious with my Brown Butter Turnip and Parsnip Puree and a side of roasted Brussels sprouts!
Did you make this recipe? I'd love to hear about how it turned out for you. Leave a comment below and share a picture on Instagram with the hashtag #sweetcayenne - it's always great to connect with you!

Disclosure: Katie Webster was so kind to provide me with a complimentary cookbook. It was such a lovely book that I wanted to feature it on my blog! All opinions are my own, and I was not compensated to write this post. Some of the links in the post are affiliate links; and any income earned from clicks on these links goes towards the maintenance and upkeep of this blog. Thanks for reading!