Salted Caramel Rice Crispy Treats....I'm dreaming of you today! Up your Rice Crispy Treat game by layering salted caramel on top.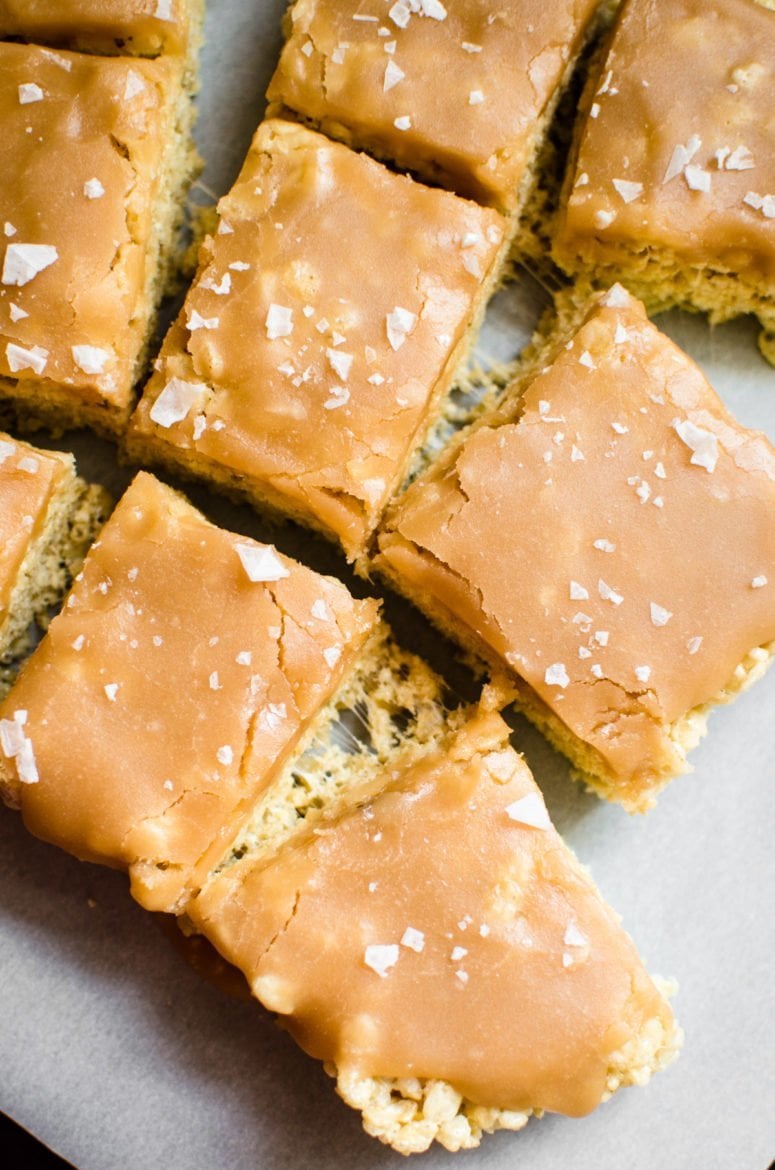 Because yesterday Ryan and I polished off the last of these buttery, crispy, salty-sweet squares of sticky goodness. Noooooooooo! Not to worry - they will make an appearance again soon. These little nuggets are the golden choice for long weekends of football watching, holiday-prepping and whatever else you might have on the agenda because they: 1. Stay fresh and good and perfect for a few days 2. Are portable so you can share them with friends or eat on the go and 3. Lend themselves to festive decor = holiday sprinkles for whatever you may be celebrating. What more could you want????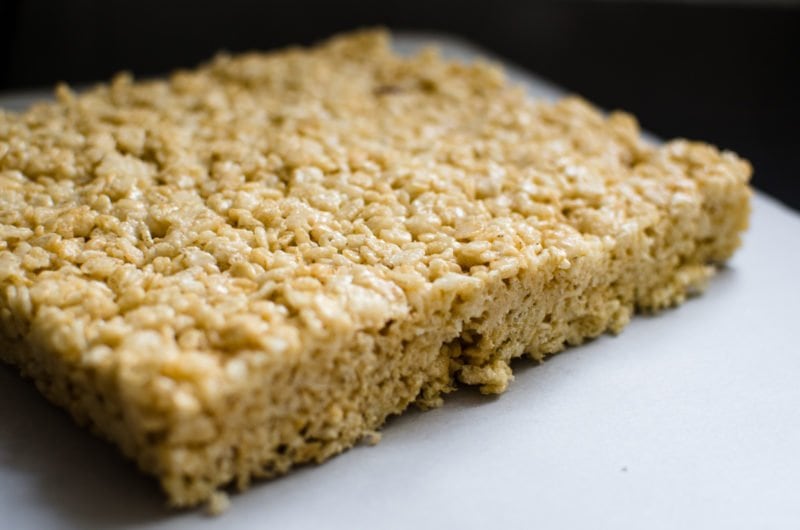 The inspiration for making these comes from my family's long history with a Tennessee-based candy store called the Chocolate Monkey. This little shop of confectionary delights stole our hearts with their caramel-coated crispy treats a few years ago. One of the stores is located about halfway from mom and dad's house in VA to my Granny's place in Carthage, TN, so of course, it's a given stop for us when we make that drive.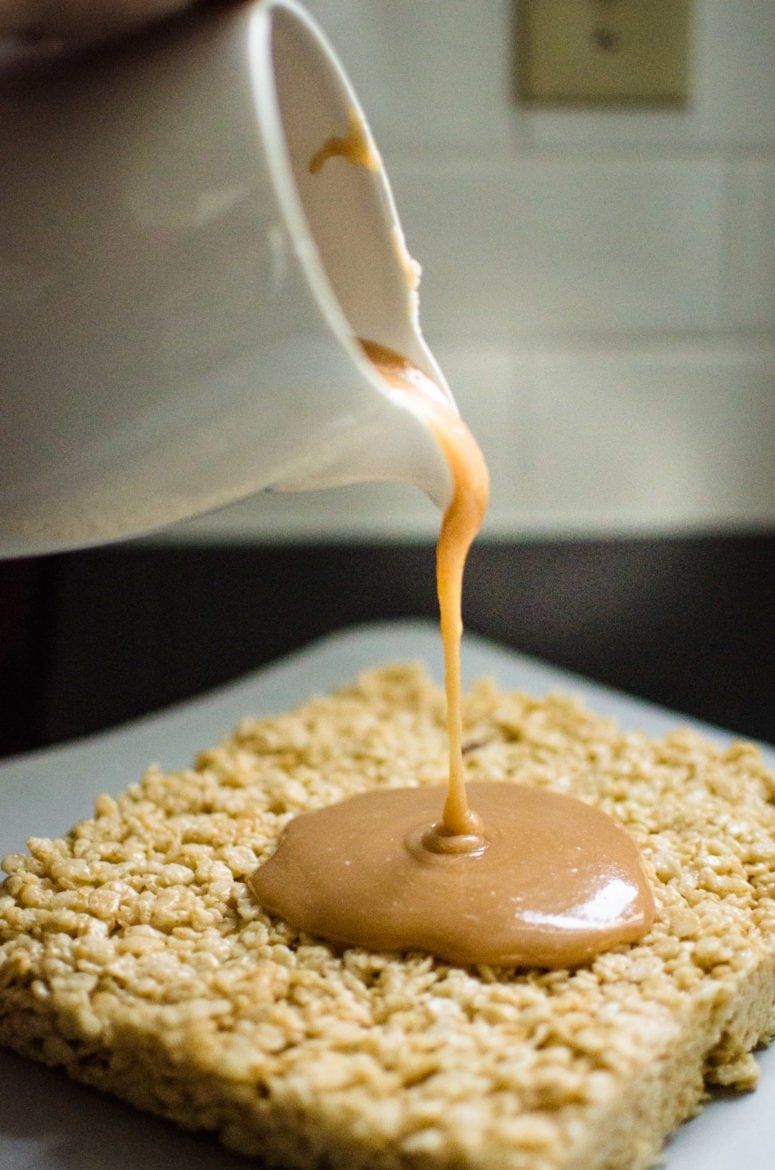 My dad got a little spoiled with these folks when he was lucky enough to get a freshly dipped crispy treat in still-hot caramel. Once he had a hot one, he decided that was the only way to eat them from that point on. He started placing call-in orders for hot caramel crispy treats when we would be about 10 miles from the Chocolate Monkey exit. Pretty soon, they came to recognize his custom order and would give him a 10% discount every time he came through. Talk about customer service!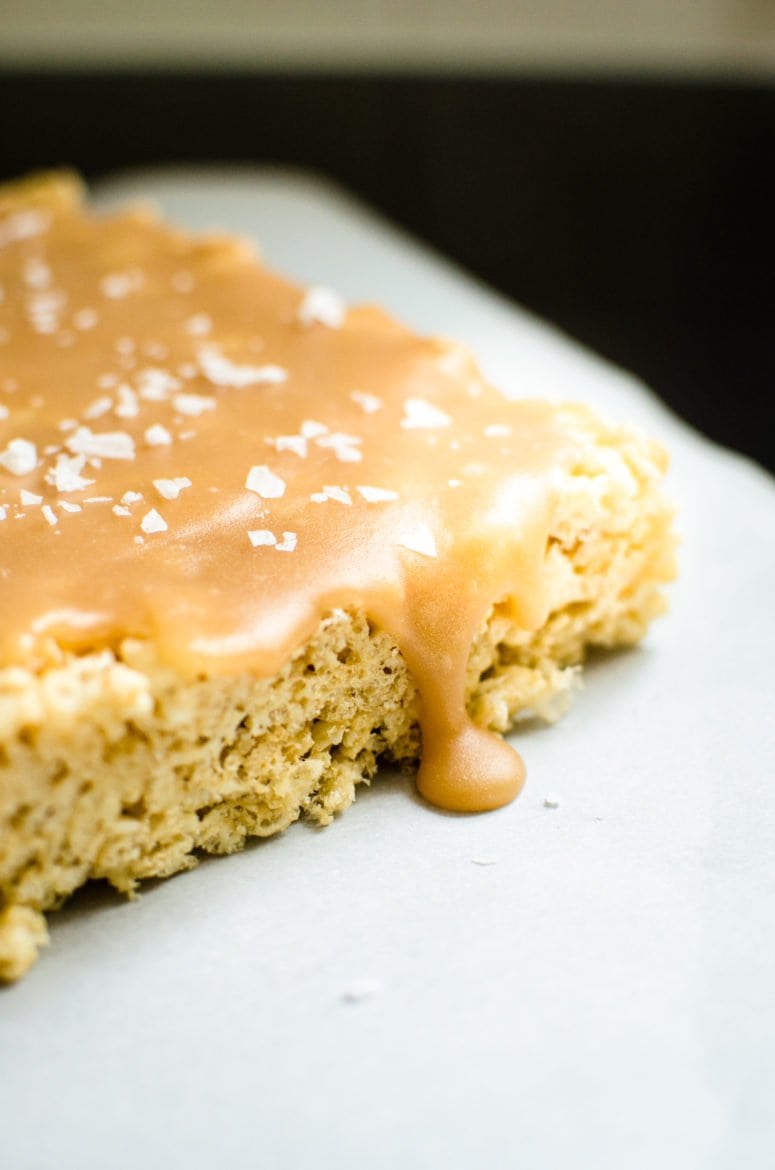 This recipe is very similar to what they serve - but a little less messy since the caramel tends to harden pretty soon after you pour it. I'm still trying to figure out how they get their caramel to stay so nice, soft, and pliable once it's poured. Theirs is a cross between a pourable sauce and a soft, chewy candy. They make it in a big ol' copper kettle/pot - and I'm pretty sure it's either the pot or the temperature that they cook the caramel to that makes it so perfect. One day I tell you - I will figure out their secret recipe!!!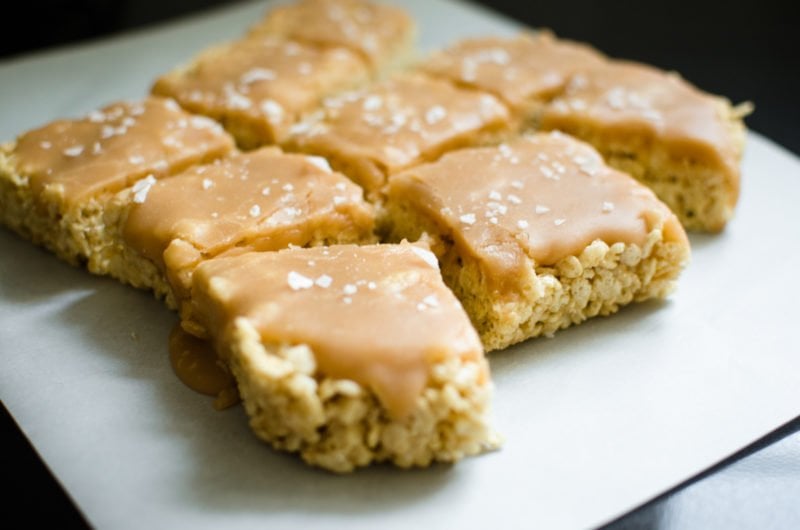 In the meantime, these crispy treats still hit the spot when I get a craving and can't make it to Chocolate Monkey. The secret to their deep flavor is brown butter + salt + caramel. Browning butter and making caramel are techniques everyone should learn if you really want to take your baking game up to the next level. Master them and you will reap beautiful and delicious results!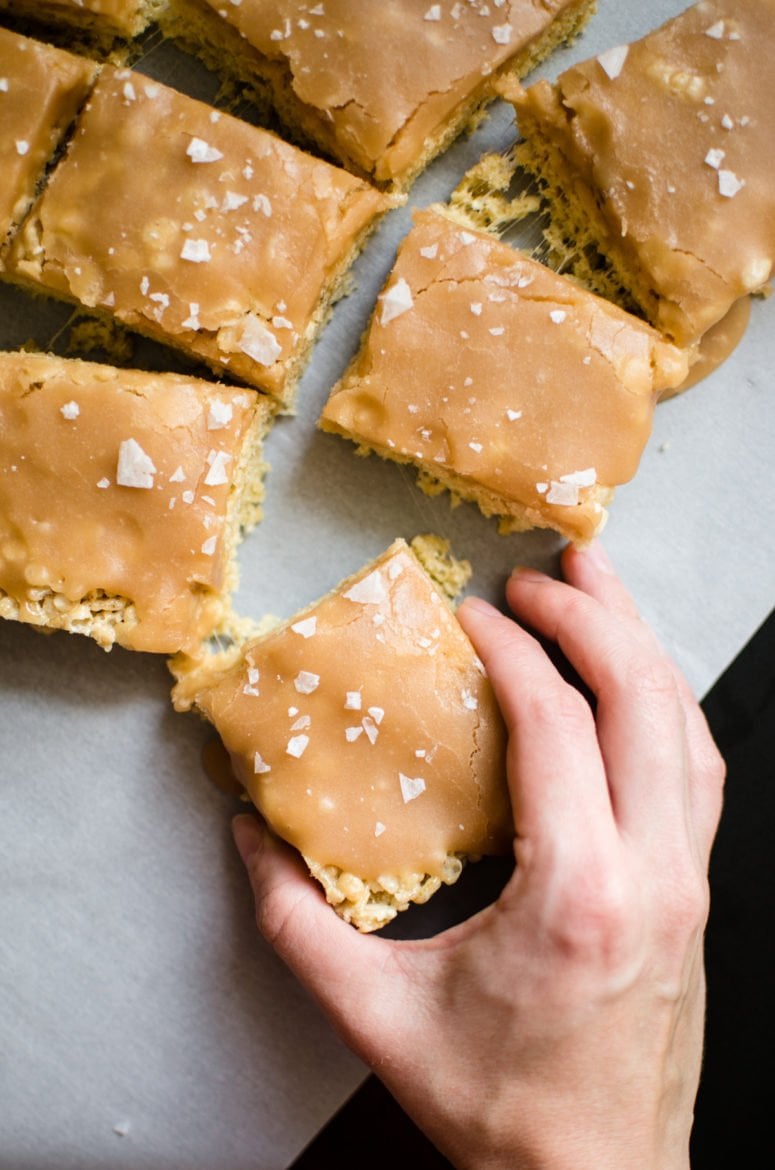 Did you make this recipe? If so, I'd love to hear how it turned out for you! Leave a comment below or tag a photo on Twitter or Instagram with @SweetCayenne5. Follow me on Pinterest or Facebook, It's always fun to connect with you! Follow my once a week newsletter for more great recipes.
Recipe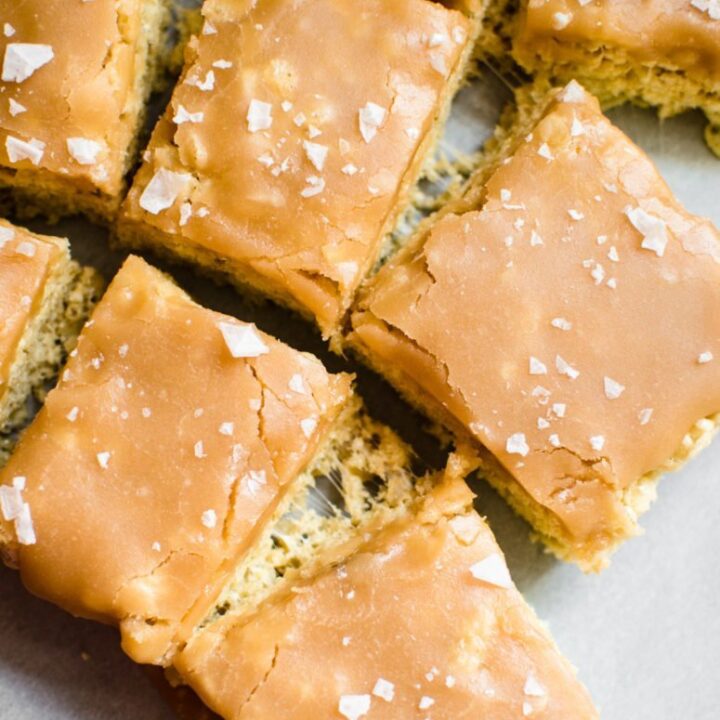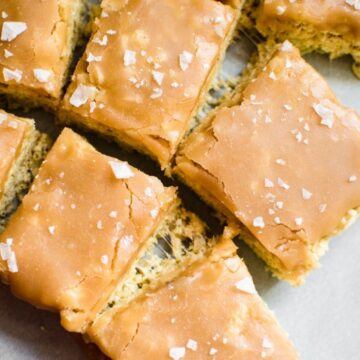 Salted Caramel Rice Crispy Treats
This recipe for Salted Caramel Crispy Rice Treats is the perfect combination of salty and sweet, buttery, crunchy goodness!
Print
Pin
Rate
Ingredients
For the crispy rice treats:
4

tablespoons

½ stick unsalted butter, plus more for greasing the pan

10

ounces

marshmallows

½

teaspoon

coarse Kosher salt

½

teaspoon

vanilla extract

7

cups

crispy rice cereal
For the caramel topping:
2

cups

granulated sugar

¼

cup

light corn syrup

½

cup

water

½

cup

heavy cream

2

tablespoons

unsalted butter

1

teaspoon

vanilla extract

Sea salt flakes

Parchment paper
Instructions
Making the crispy treats:
Grease an 8 x 8 or 9 x 9 square pan with butter. Place a sheet of parchment paper in the bottom of the pan, leaving a 1-2 inch overhang on two sides. Grease the bottom and sides of the parchment paper with butter as well.

Place the 4 tablespoons of butter in a large, heavy bottomed saucepan. Melt over medium heat. Stirring frequently, melt and cook the butter until brown bits form at the bottom of the pan and the butter smells fragrant and nutty. It will foam and then turn clear before it starts to brown. Once it is brown and fragrant, remove from heat immediately to prevent burning. Stir the marshmallows into the hot butter until they are melted and smooth (you may need to put the pot back on very low heat to get them completely melted). Stir in the salt and vanilla. Stir in the crispy rice, tossing until all the pieces are coated.

Spread the crispy rice mixture into your prepared pan. Press down on the mixture to firmly press it evenly into the pan (it helps to coat your fingers in a little butter before doing this so the mixture doesn't stick to your hands).

Set aside and allow to cool to room temperature for about 30 minutes. While the crispy rice treats set, make the caramel.
Making the caramel:
Place the sugar, corn syrup, and water in a medium size, heavy bottomed saucepan (try to avoid using a dark coated pot so you can more accurately assess the color of the caramel). Fit the sides of your pan with a candy thermometer. Bring to a boil over medium high heat, stirring just until the sugar dissolves. Once the sugar dissolves, stop stirring and continue to boil the mixture. Dip a pastry brush in water and use this to wash down any residual sugar that may be on the sides of your pan into the boiling mixture - this prevents the sugar from crystallizing in the mixture as it cooks, which could result in a grainy caramel.

Keep a close eye on the sugar mixture as it boils. You will begin to see streaks of amber color forming on the bottom of the pan. This indicates that the water is evaporating off and the sugar is starting to caramelize. Resist the temptation to stir! If you see streaks of your mixture become dark in color, gently use the pot handle to swirl the bottom of the pan to distribute the dark color, being careful not to slosh the mixture up the sides of the pot (you can use the wet pastry brush to wipe down the sides of pot if this happens).

When the mixture is light amber in color and reaches 320 degrees F, remove the pot from heat. Slowly whisk in the ½ cup of heavy cream, being careful to avoid splatters as the caramel will be EXTREMELY hot (the caramel will bubble and sputter as you add the cream). Stir in the butter and vanilla. Allow the caramel to cool for 10 minutes before pouring.
Assembly:
Use the parchment paper overhang to remove the crispy rice treats from the pan once they have set. Place the parchment on a cutting board. Pour the warm caramel on top of the crispy rice square. Sprinkle with flakes of sea salt. Allow the caramel to set for another 10 minutes before slicing - if you can wait that long! Serve warm or store cut squares in an airtight container. They will stay fresh for 3-5 days.
Serving:
1
Square
|
Calories:
424
kcal
|
Carbohydrates:
95.5
g
|
Protein:
3
g
|
Fat:
5.3
g
|
Saturated Fat:
3.3
g
|
Cholesterol:
14
mg
|
Sodium:
693
mg
|
Potassium:
63
mg
|
Fiber:
0.7
g
|
Sugar:
17.1
g
|
Calcium:
41
mg
|
Iron:
7
mg