These Watermelon Agua Fresca drinks are so refreshing and tasty, they are the perfect way to cool off on hot summer days. Fresh watermelon is blended into a juice and served chilled with blueberry ice cubes.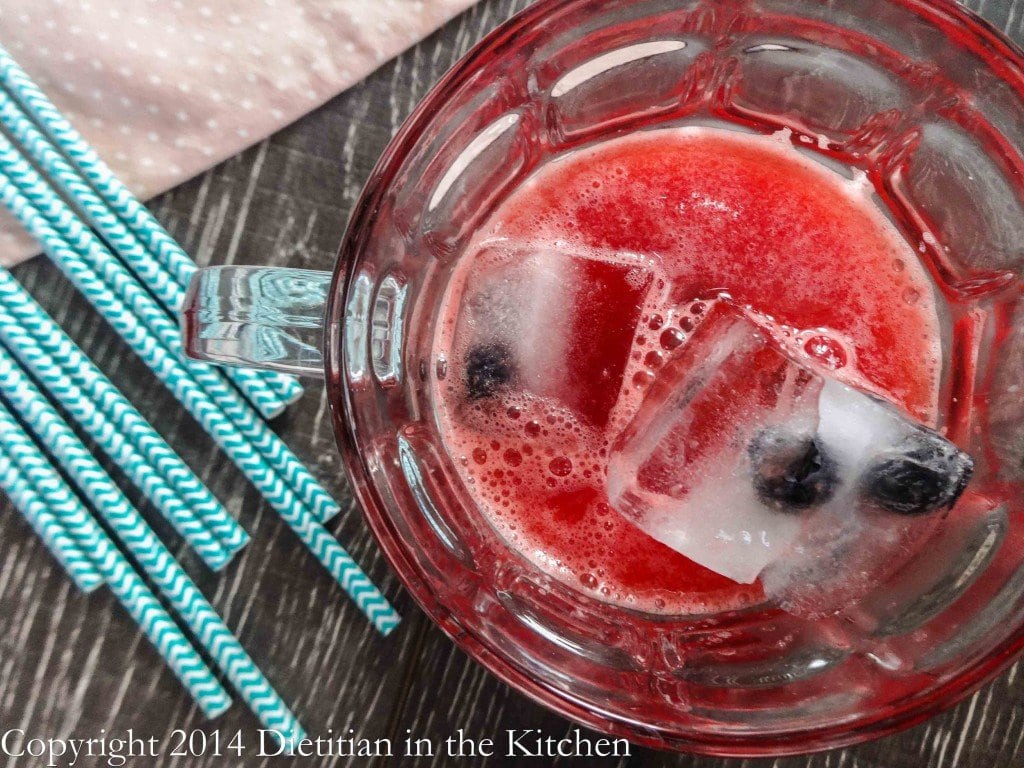 I absolutely cannot wait for next week to come. For one thing, it's the 4th of July, which happens to be my 2nd favorite holiday, next to Christmas of course. But I'm even more excited to be going home to VA for a week of fun summertime shenanigans with my family. I haven't seen them since Christmas! This 4th of July will be extra fun because it's the first 4th that Ryan (my hubs) has spent with my family.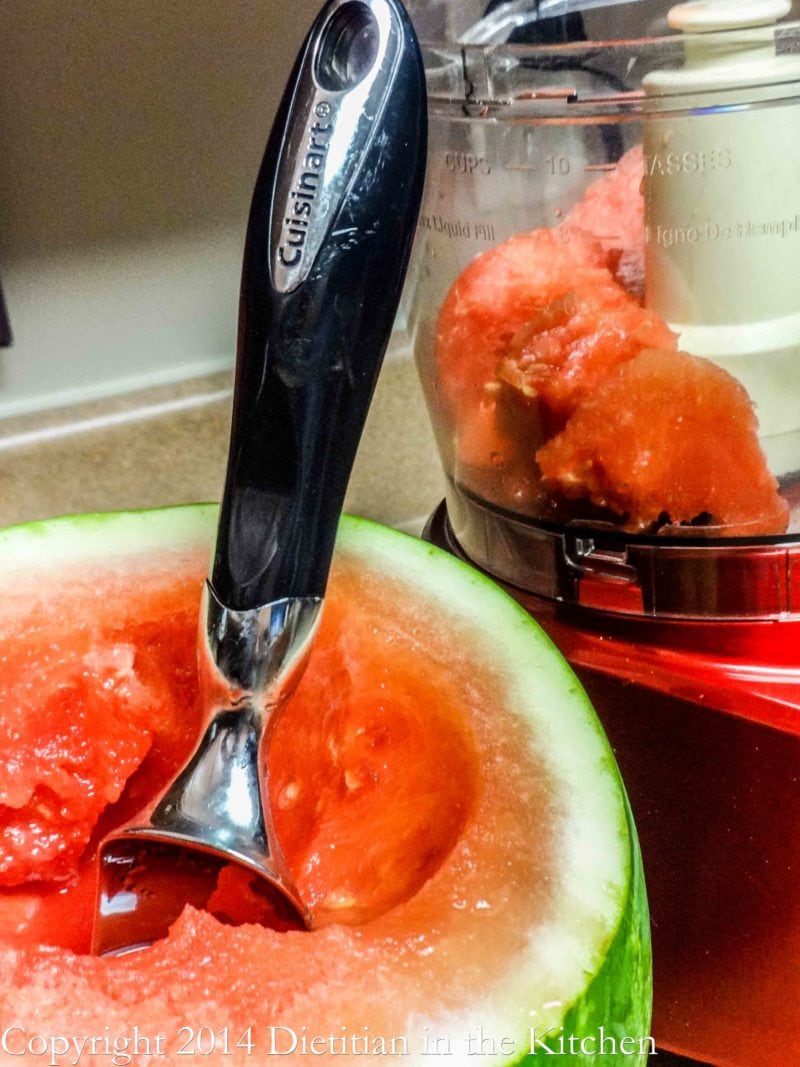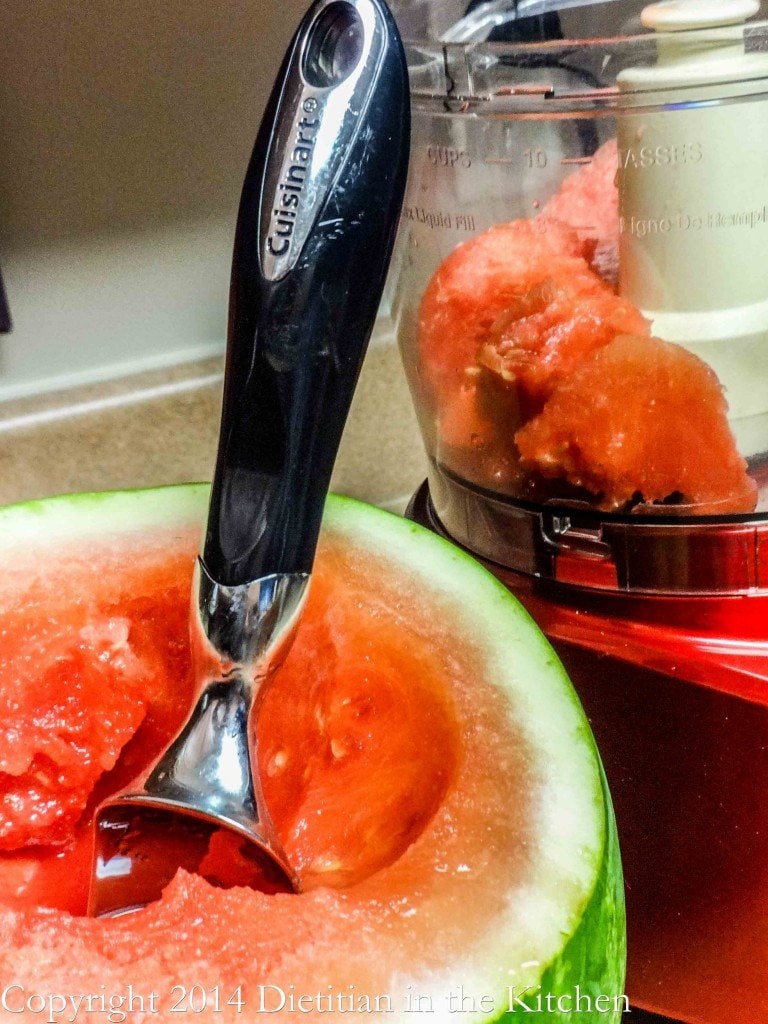 One of the things I'm most looking forward to about our VA trip is cooking with my mom and dad. If any of you know my parents, you know they share my love of eating, are also self-proclaimed "foodies," and aren't too shabby with their skills in the kitchen. My mom is an amazing cook and my dad is a master of the grill. He's also a pastor, and we keep telling him that he needs to write a cookbook titled "Grilling with God." I have taken it upon myself to help him start this project and even if it never gets published, he will have a collection of cherished family food favorites to pass down from generation to generation. *Sigh* My siblings can thank me later for this brilliant endeavor.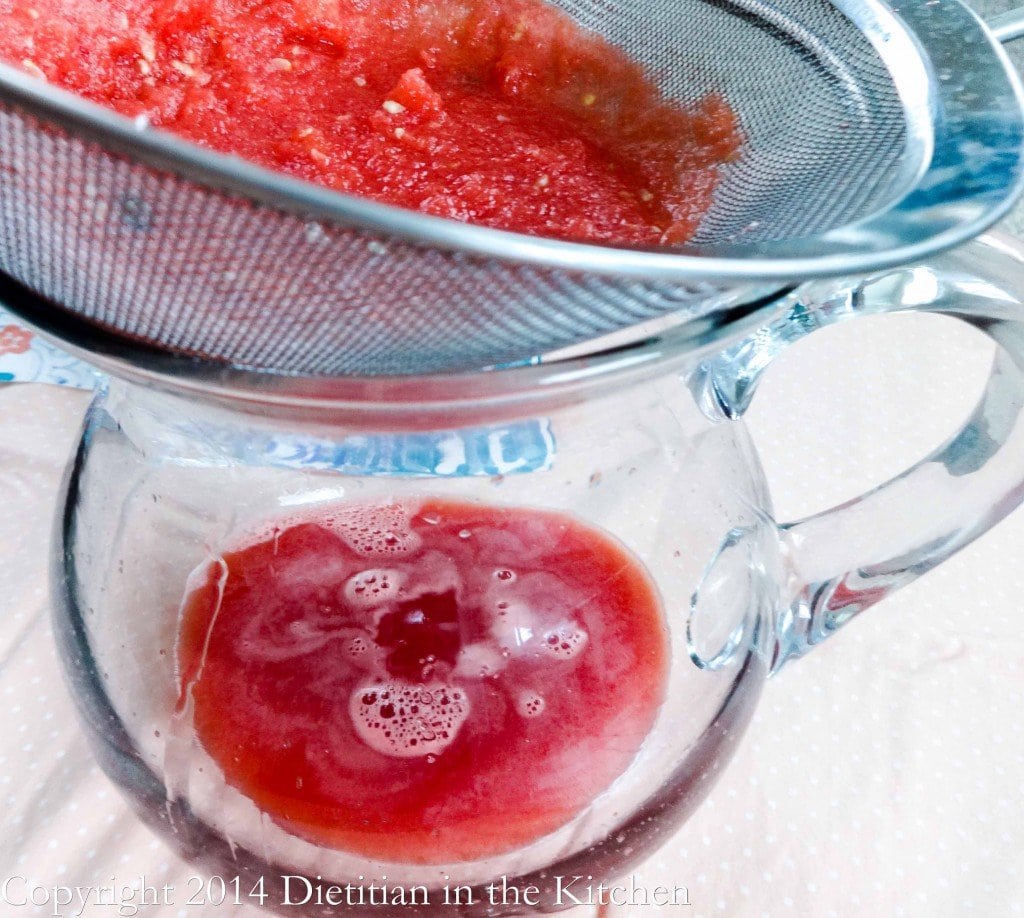 So what's on the menu for our 'Merica celebration? Well for starters, we will be certainly having the Watermelon Agua Fresca I'm sharing with you today. I made this Spanish-inspired "fresh water" a few years ago for 4th of July and it was a hit! It's a deliciously refreshing way to serve watermelon and will be stunningly attractive in your favorite summer pitcher or drink dispenser.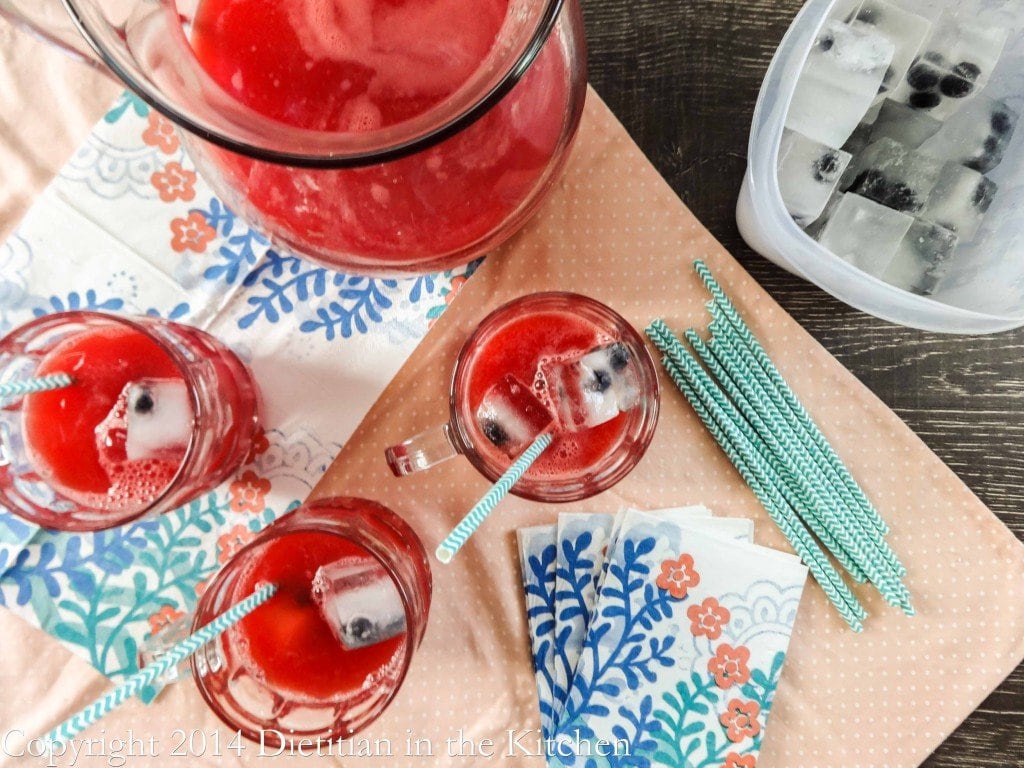 To make it even more patriotic, I've frozen fresh blueberries and water in these nifty, square-shaped silicone ice cube trays and love the effect they add to the drink. They make large, perfectly square ice cubes that won't melt so fast in your drink. Cheers!
Leave a comment and rate the recipe below. This will help me with the creation of future recipes!
I'd also love to feature your creation in my weekly newsletter, so you can upload a photo to Instagram with the tag @sweetcayenne5 to be featured! Quick and easy recipe videos are available on my YouTube channel, and lots of menu inspiration on my Pinterest boards.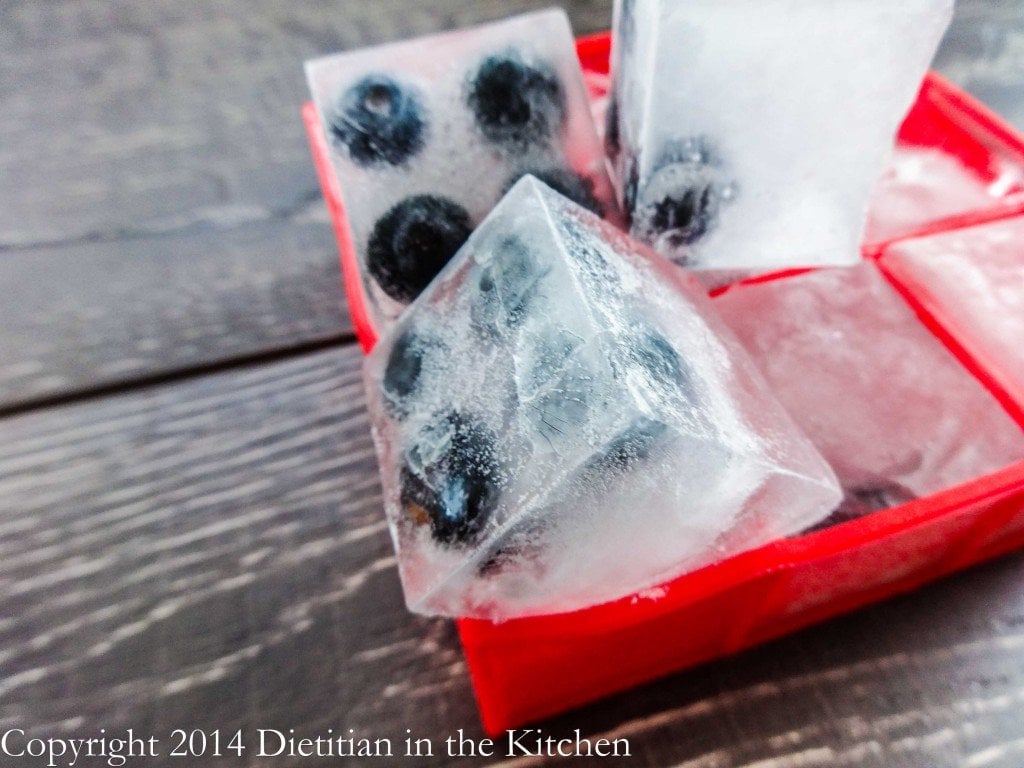 Recipe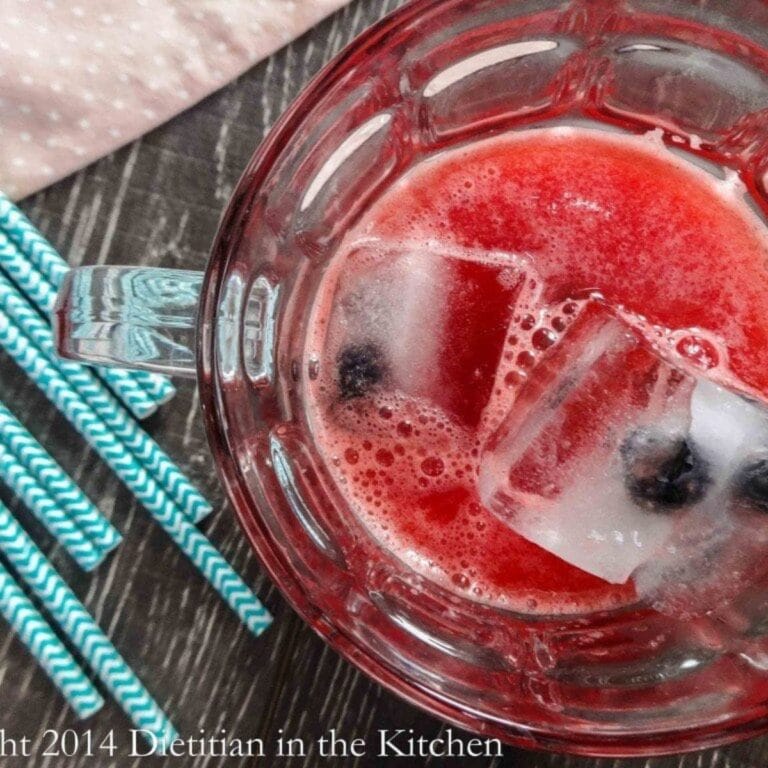 Watermelon Agua Fresca
Fresh watermelon gets blended into a refreshing, colorful agua fresca and is garnished with blueberry ice cubes. A great drink to have for an Independence Day picnic!
Print
Pin
Rate
Ingredients
Juice of one 4-6 pound seedless watermelon

Blueberries

Filtered water
Instructions
For the agua fresca:

Start by slicing off the top of your watermelon. Using an ice cream scoop, scoop out the flesh of the watermelon and put it in your blender or food processor. Be careful not to overfill!

Working in batches, blend the watermelon pieces into a juice in a blender or food processor. Pour the juice through a fine mesh strainer and into your favorite pitcher or drink dispenser. Chill for 4-6 hours before serving. Store in an airtight container in the fridge up to 3 days.

For the blueberry ice cubes:

Place 3-5 washed blueberries in each compartment of an ice cube tray. Fill with water and freeze until firm, about 8 hours.

Serving suggestions:

This agua fresca would also be delicious served with fresh mint or lime wedges.
Notes
If your watermelon is super sweet like mine was, you may be able to dilute the juice with some water to taste. There was roughly a gallon of juice available in the five-pound watermelon I used.