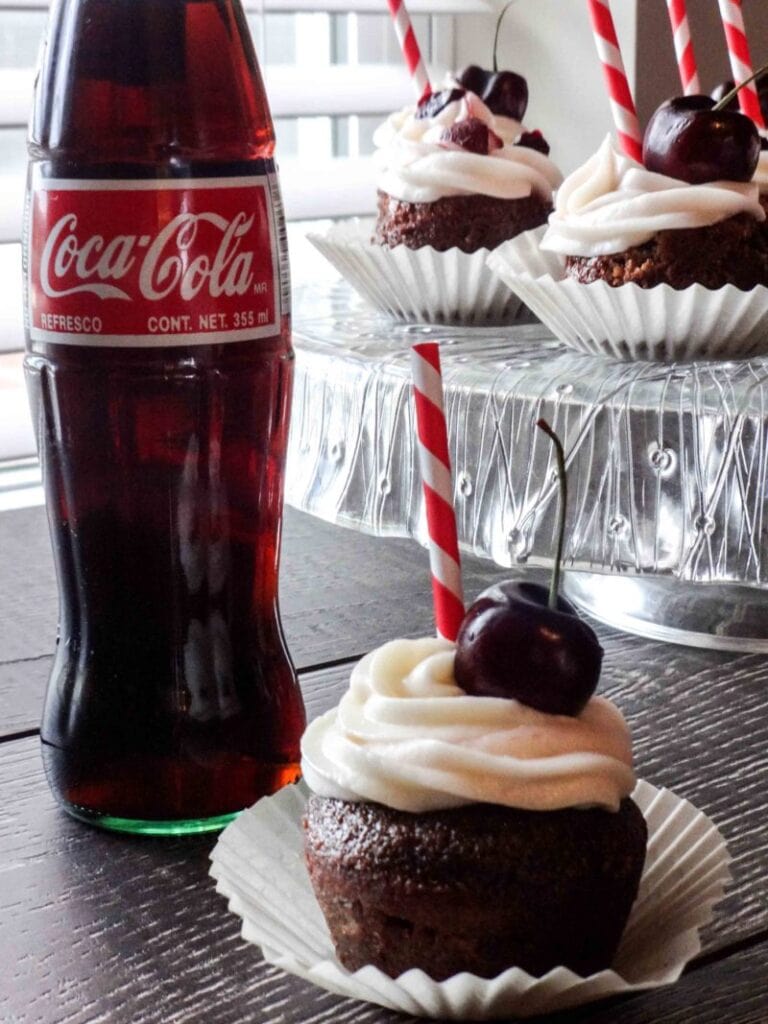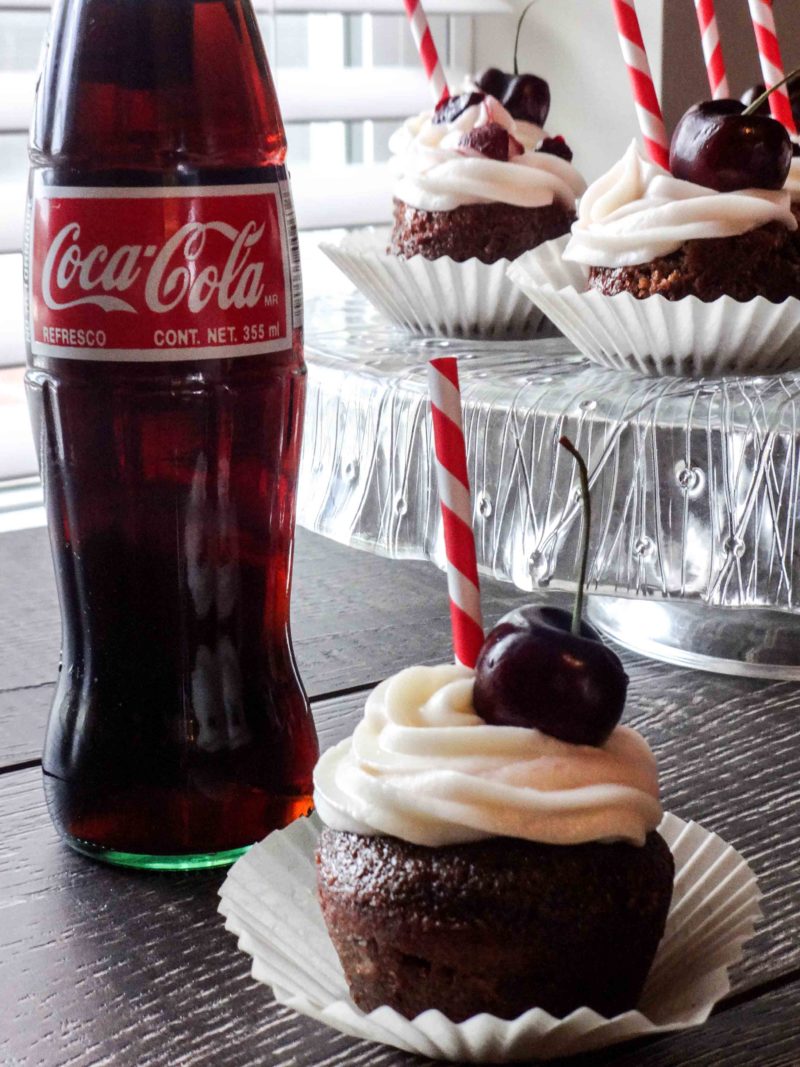 Today I'd like to change the name of my blog.  Just for today.  For today, this blog is called "Whitney's Sweet Tooth."  If you've ever sat down and had a conversation with a dietitian about food, chances are you have learned that most of them eat cake.  And chocolate.  And ice cream.  I am one of them.  These foods can fit into my diet in a healthful way (score!).  I don't eat them all the time, and when I do, I enjoy a small portion.   So today this post is about eating small portions of cake.  Not really.
Now that we've gotten that disclaimer out of the way, let's talk what I know you want to talk about – these cupcakes!  YES.  Have ya'll ever had a Coca Cola Cake?  Chances are, if you live in AR, TN, MS, AL, GA, SC, LA, or maybe TX, you probably have.  Unless you frequent Cracker Barrel or live in any other state, you have missed out on the confectionary experience that is Coca Cola Cake.  I have taken it upon myself to help you get experienced today (you can thank me later).
Coca Cola is a moist and deliciously fudgy cake made with, well, Coke.  And chocolate.  It has cola-chocolate-powdered sugar frosting that melts into the cake as it cools.  This cake has made its way into the home and stomachs of any true Southerner.  There is the original recipe from Coca Cola.  Paula Deen has her version.  Faith Hill has her version.  Cracker Barrel makes their own.  All of the recipe variations you will find over the vast amount of real estate that is the internet will vary slightly.  But all involve Coke and chocolate.  So we are all winners!
I've been day-dreaming about my own version of Coca Cola Cake that my brain cooked up on my recent trip to Mississippi.  In my mind, it's truly ground-breaking and "utterly delicious" as Martha says.  This Coco Cola Cake is made with Cherry Coke.  Yep.  And it's a cupcake.   Even better for portion control.  AND it's filled with the best fresh cherry filling.  Win. What about the frosting?  Glad you asked.  It's cherry cream cheese.  If it was up to me, every cupcake would be frosted with some variation of cream cheese frosting.
Friends, trust me when I say that these cupcakes must be served at your next birthday party, picnic, potluck, wedding reception, or whatever event you can think of to find as an excuse to make them.  Try and do it while fresh cherries are still in season.  Frozen cherries will work for the filling, and you could always use a maraschino cherry for the garnish if you make these in the dead of winter.  Be sure to share!
Hungry for more? Be sure to follow the blog on Bloglovin and find Dietitian in the Kitchen on Twitter, Facebook, Pinterest, and Instagram!
Cherry Cola Cupcakes
Journey back to the good ol' days with this old-fashioned Coca Cola cake with a twist! Cherry Cola Cupcakes with Cherry Cream Frosting are whimsical and sure to delight the young and old! Recipe by Whitney Reist.
Servings
:
18
-20 cupcakes
Ingredients
For the cherry filling:
2

cups

pitted and diced sweet cherries

1/4

cup

cherry cola

1

tablespoon

sugar
For the cupcakes:
1

cup

cherry cola

1/2

cup

canola oil

1/2

cup

1 stick unsalted butter

3

heaping tablespoons natural cocoa powder

2

cups

granulated sugar

2

cups

all purpose flour

1/2

teaspoon

salt

2

large eggs

at room temperature

1/2

cup

low-fat buttermilk

at room temperature

1

teaspoon

baking soda

1

teaspoon

vanilla extract
For the cream cheese frosting:
1

stick butter

softened

1

block reduced fat cream cheese

8 oz, slightly softened at room temperature about 15 minutes

3

cups

powdered sugar

2

tablespoons

cherry juice from cherry filling
Instructions
For the cherry filling:
Place cherries, cola and sugar in a small saucepan over medium heat. Bring to a boil then reduce to a simmer. Simmer for 15 minutes or so until cherries are softened and juice has thickened. Remove from heat and cool to room temperature. While the cherry sauce simmers, prepare the cupcake batter.
For the cupcakes:
Preheat oven to 350. Line two cupcake pans with paper liners.

In the large bowl, stir together sugar, flour and salt; set aside.

In a saucepan, bring cola, oil, butter and cocoa to a boil. Pour into the flour mixture and mix with a wooden spoon for about a minute or until combined. Add eggs, buttermilk, baking soda and vanilla and stir for about a minute more.

Scoop batter with a 1/3 cup measuring cup into prepared cupcake pan. Bake for 15 minutes or until a toothpick inserted into center comes out clean. Cool for 15 minutes in the pan before transferring to a wire rack to cool completely. While the cupcakes cool, prepare your frosting.
For the frosting:
Place the butter and cream cheese in the bowl of a stand mixer. With the whisk attachment, whip on medium for about 2 minutes, scraping down the sides occasionally until mixture is light and fluffy.

Add the powdered sugar one cup at a time and beat on medium until all the sugar is incorporated and the frosting is light and fluffy.

With a rubber spatula, carefully stir in the cherry syrup and a few cherry pieces. Scoop frosting into a piping bag fitted with a large star tip.
Cupcake assembly:
Cut a round hole about 1/2'' deep into the tops of your cupcakes using a pairing knife.

Use a small spoon to fill the holes in the cupcakes with 1 teaspoon of cherry filling.

Pipe swirls of frosting onto cooled and filled cupcakes.

Garnish according to your whimsy - I chose to use leftover pieces of cherries from the filling, whole cherries, and red striped straws that I cut in half to resemble drinking a cherry Coke!
0