This coconut rice pudding takes a classic comfort food and infuses it with exotic flavors that are perfect for summertime!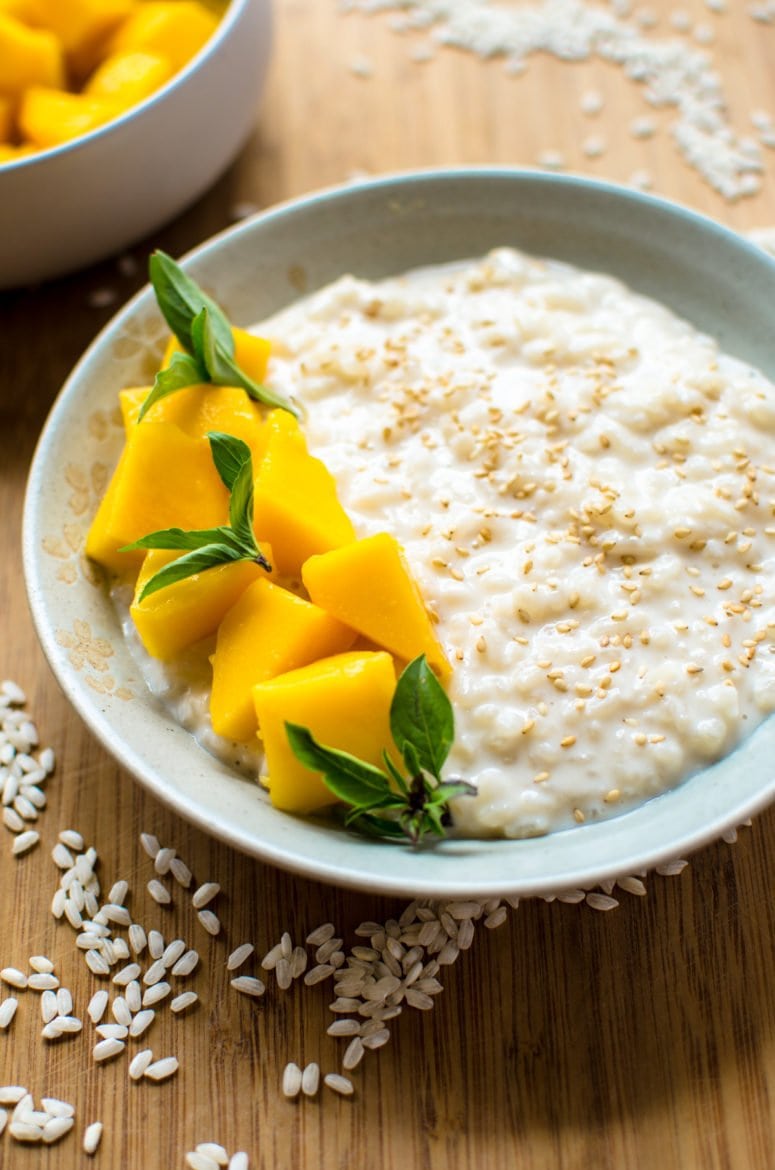 Where has this summertime gone??? Last time I checked, we went to Europe in May, I blinked, and then it was August. Tax-free weekend, back-to-school ads, and premature pushes for pumpkin spice lattes are staring me in the face. I won't have it, I tell you. Not just yet. In my mind, summertime should be fully lived out and enjoyed until Labor Day. That's when we can get on to this fall business.
In honor of summer and family time, I took an unexpected week off from blogging last week. I was lucky enough to spend an entire week at a cabin in Pigeon Forge, TN doing nothing but the best of vacation-ey things. Hiking. Hot-tubbing. Roller coaster-riding, go kart-driving, ice cream-eating, Netflix-binging, game-playing. Seriously, we did all the things. And everyone had a blast.
As good as my intentions were to pre-schedule posts before I left, it didn't happen. "Real job" projects, cleaning my house and stocking the freezer with food for my poor hubs that didn't get to come along were at the top of the priority list; so thankfully those things were taken care of before I left!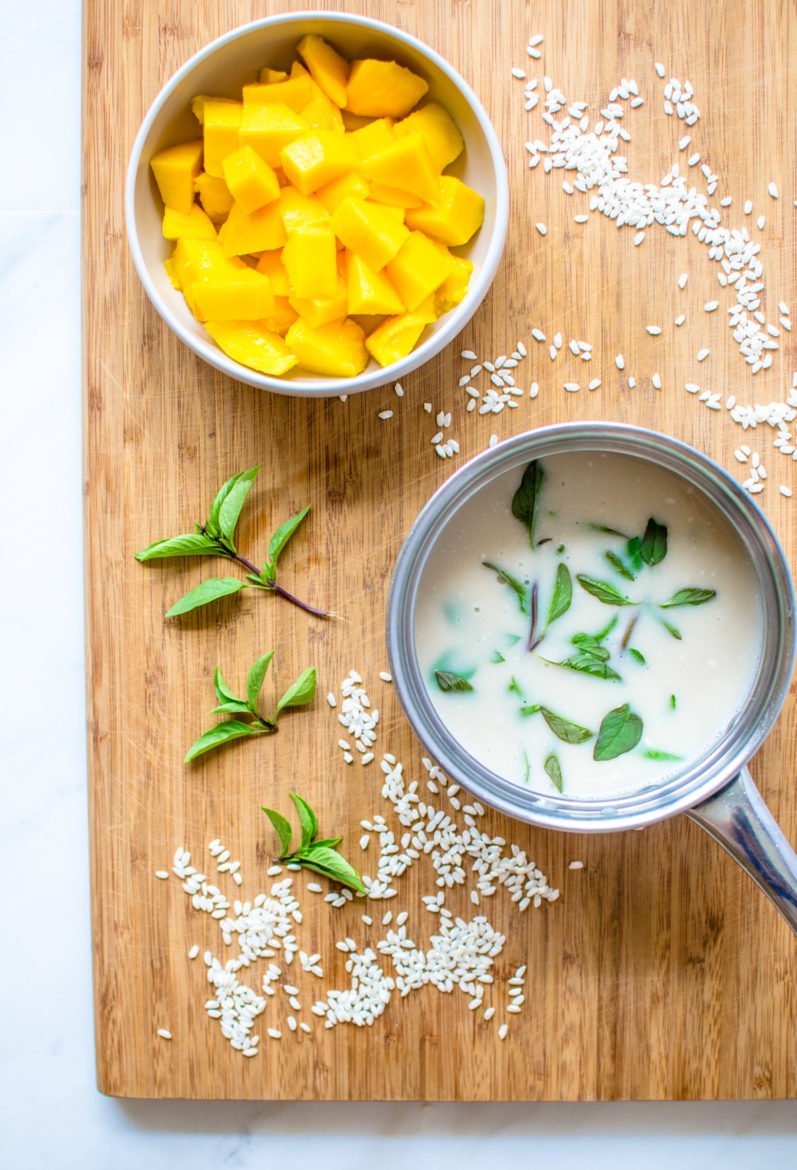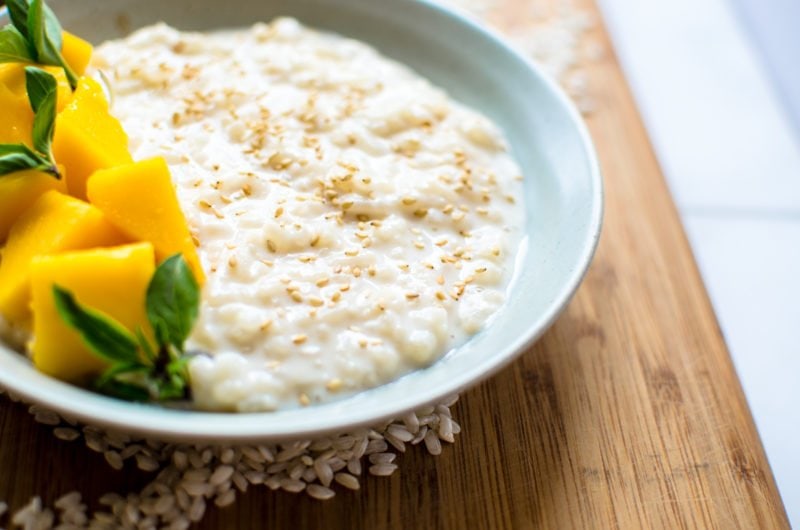 However, I did get to make and photograph this bowl of creamy, tropical rice pudding goodness the week before I left. I adore rice pudding. This was a dessert that was foreign to me until I became an adult and decided enough of my life had gone by without trying rice pudding. Now it's joined the ranks of "old faithful" recipes that I can change up to fit the season and flavor profile according to my mood.
I've been growing a hearty patch of Thai basil this summer, and thought it'd be fun to make a chilled coconut rice pudding infused with basally flavor and topped with the sweetest and juiciest of summer mangoes. Let's just say I'm not sorry about it! This was such a cool and refreshing summer treat and makes enough to feed a crowd. Although this is a great way to make use of Thai basil in a dessert, you can certainly use regular fresh basil as well!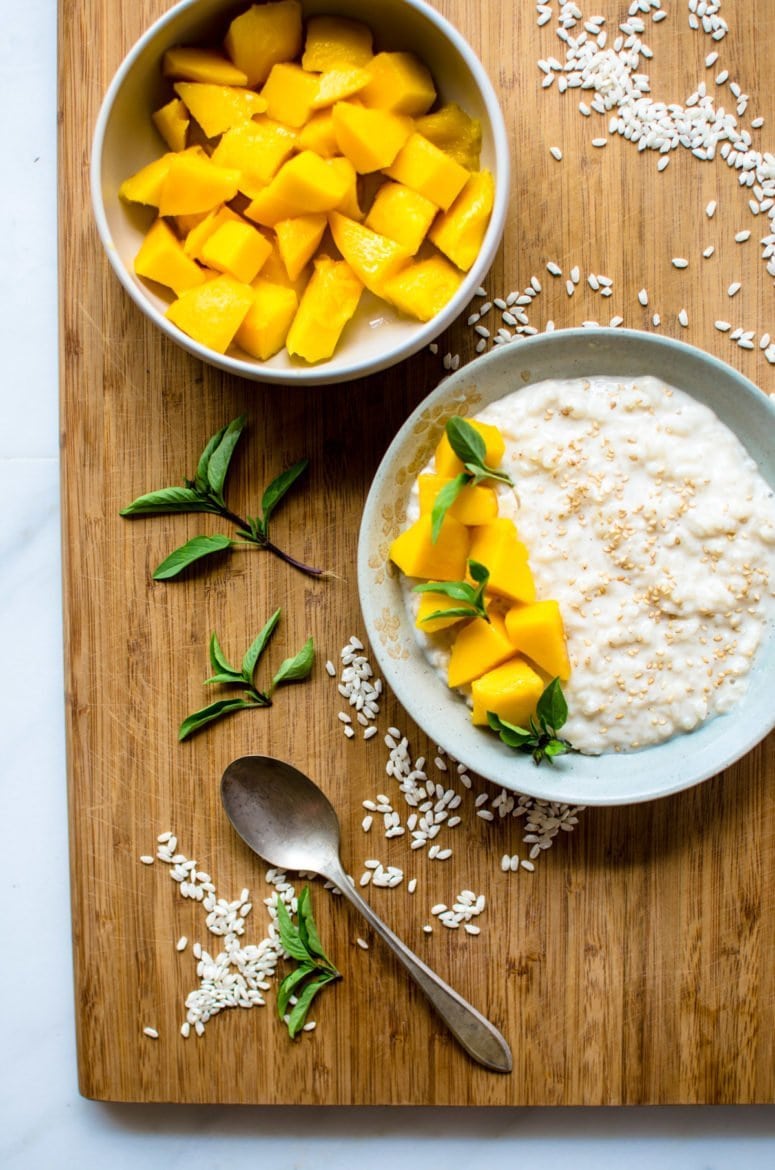 Recipe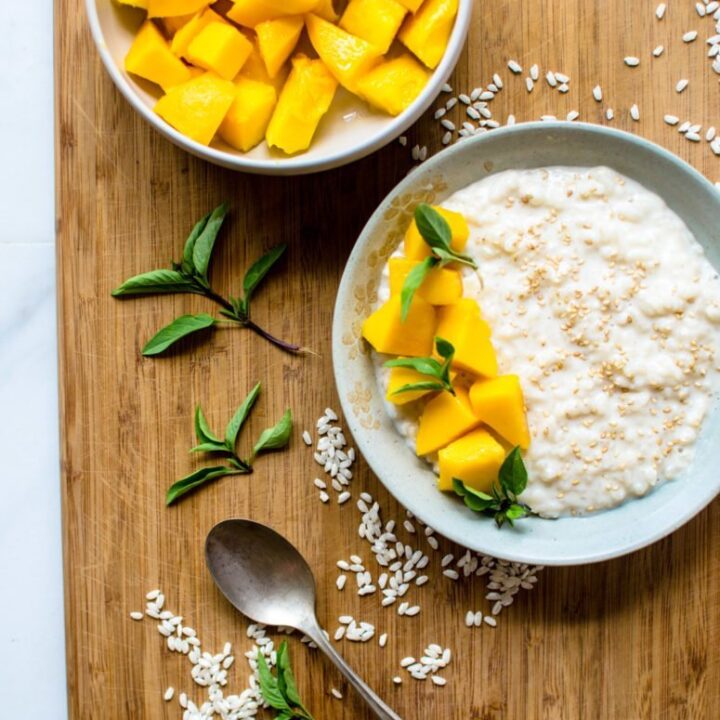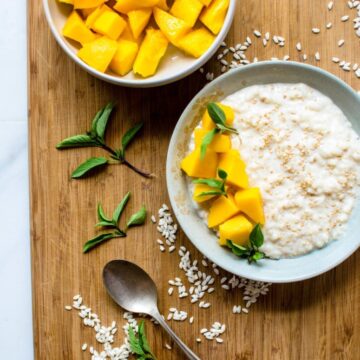 Thai Basil-Infused Coconut Rice Pudding with Mango
This Thai Basil-Infusted Coconut Rice Pudding is inspired by the classic Thai Coconut rice that is served in Thailand.
Print
Pin
Rate
Ingredients
4

cups

whole milk

2

cups

water

1

cup

arborio rice

¾

cup

coconut sugar

divided

1

14-ounce

One 14-ounce can unsweetened lite coconut milk

¼

cup

Thai basil leaves

3

whole

mangos

peeled and sliced into cubes

Toasted sesame seeds for garnish
Instructions
In a large saucepan, combine the milk, water, arborio rice, and ½ cup of the coconut sugar. Bring to a boil over medium-high heat, then reduce heat to a simmer. Simmer until the mixture is thick and creamy, about 30 minutes, being sure to stir the pot often and scrape down the sides and bottom.

While the rice cooks, add the can of coconut milk and the remaining ¼ cup coconut sugar to a small saucepan. Heat over medium-low until the milk is heated through and the sugar has dissolved. Be careful not to boil the mixture. Remove from heat and stir in the Thai basil leaves. Place a lid on top and let the basil steep in the milk for 10 minutes. Strain out and discard the leaves, reserving the infused milk.

Once the rice mixture is thick and creamy, pour in the infused coconut milk into the rice mixture. Heat on low and stir until the mixture is thickened, about 10 minutes.

Remove from heat and serve warm, topping with mango and toasted sesame seeds. You can also chill the rice pudding for 6 hours before serving it cold, if desired.

Pudding will keep in an airtight container in the refrigerator for up to 3 days.
Serving:
0.5
Cup
|
Calories:
419
kcal
|
Carbohydrates:
64
g
|
Protein:
7.7
g
|
Fat:
16.4
g
|
Saturated Fat:
12.9
g
|
Cholesterol:
12
mg
|
Sodium:
59
mg
|
Potassium:
537
mg
|
Fiber:
3.8
g
|
Sugar:
44
g
|
Calcium:
164
mg
|
Iron:
1
mg
Did you make this recipe? If so, I'd love to hear how it turned out for you! Leave a comment below or tag a picture of your dish on Instagram or Twitter with @sweetcayenne5 - it's always fun to connect with you!