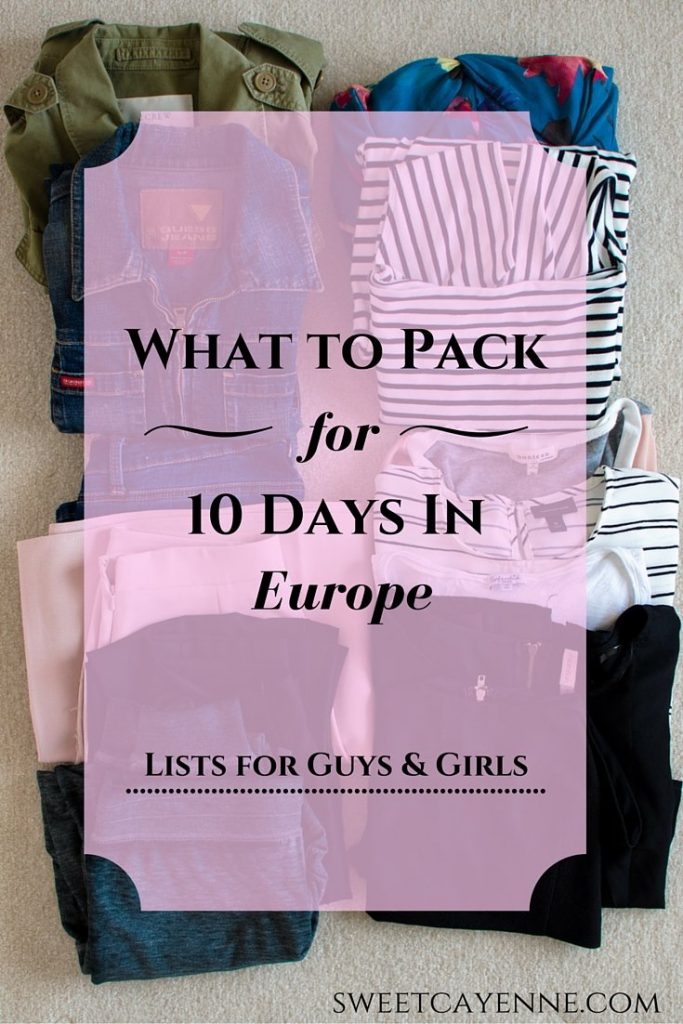 As you may have deduced by the title of this post, Ryan and I are currently in Europe! Our trip to Italy last year was so amazing that we decided to save all year and plan another trip to explore new areas. You can follow along our journey and see where we end up on Snapchat - just search Whitney Reist!  I thought it might be fun and helpful to share some packing tips that have helped us keep things minimalistic and easy to transport. Here are a few details about our trip that defined my packing process:
The weather in each country we are visiting will be mild and cool with a chance of rain; with temps ranging from the low 50's to low 70's.
We are using public transportation (trains, buses, metros) to get around, so whatever luggage we bring needs to be small and easy to carry for mile-long distances or less.
We will have access to washing machines included in the price of each of the places we are staying.
Below is a list of clothing we packed for Ryan - feel free to pin for later if you plan your own trip!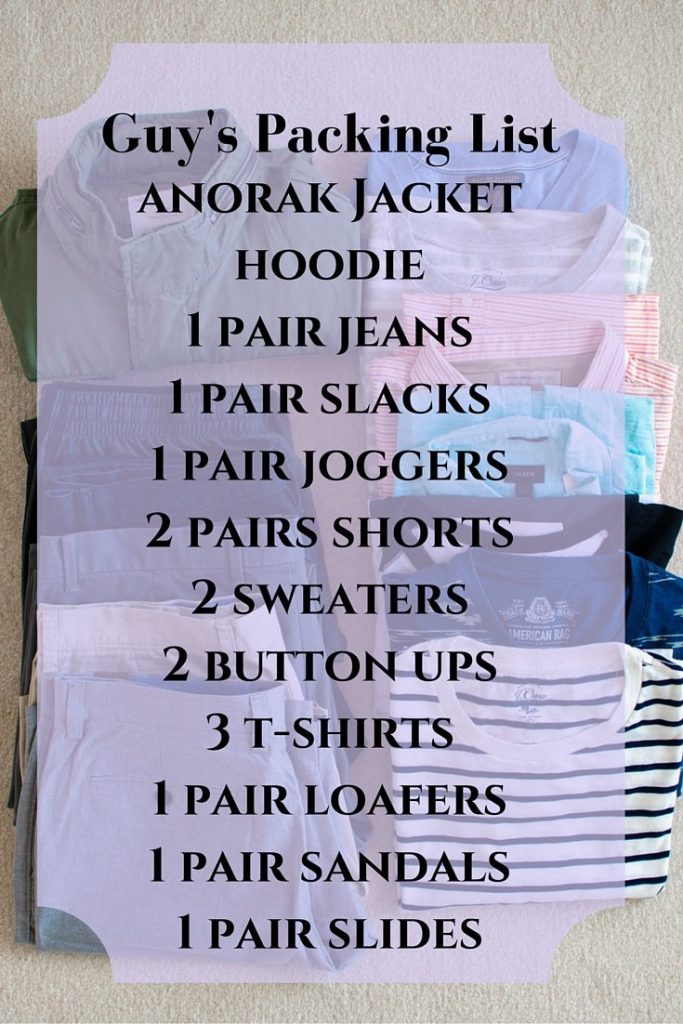 The key to packing and dressing well in Europe is to pack mix-and-match layers that are made from breathable, comfortable fabrics. We usually are out and about for 8+ hours at a time, so being comfortable is key - although it's Europe so you don't want to look sloppy. Prior to leaving, I updated Ryan's wardrobe with this new linen shirt, this madras shirt, a basic striped tee, and a new pair of cotton shorts. He has these same shorts in about 6 other colors from J.Crew and loves how comfortable they are - plus they look great with everything! A basic anorak jacket is great for day-to-night looks and a hoodie is a must for comfort when traveling on planes and trains! For dinners out at night, I packed a "nice" pair of jeans + a pair of slacks with button-ups or slim-fit sweaters to match.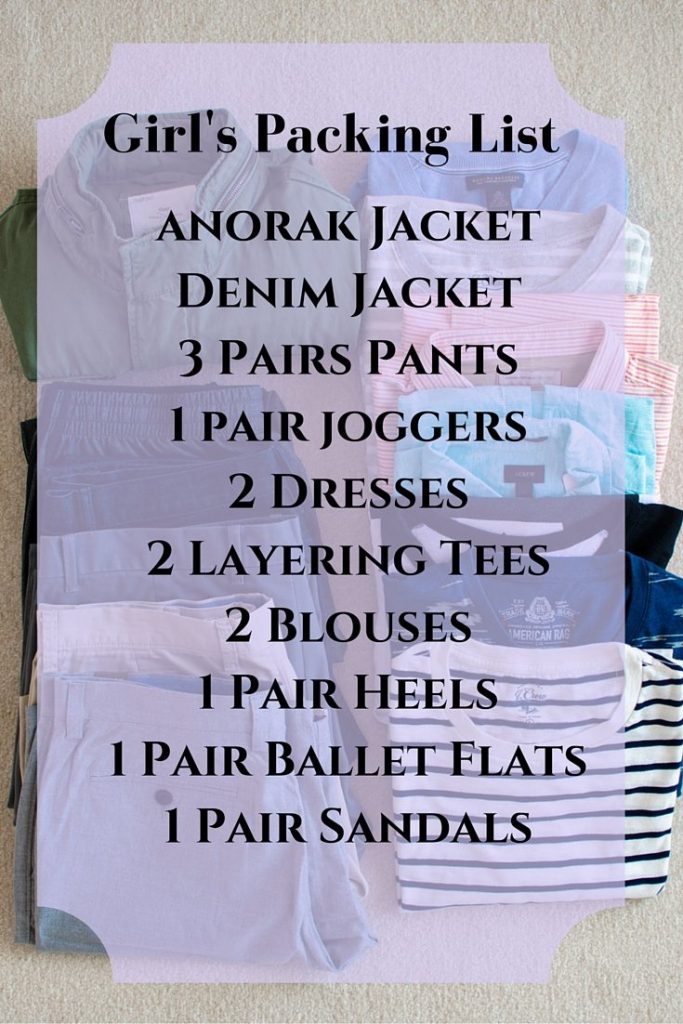 For myself, I chose a mix-and-match color palette of blush, grey, black, blues, and white so I can style several different outfits from the same pieces. My goal was to choose outfits that weren't fussy - you want to feel good and comfortable in whatever you bring! I chose some of my favorite outfits that I knew I'd enjoy wearing in Europe - like these fun culottes, this jumpsuit, two favorite dresses for nights out (love this one), and a new pair of joggers for keeping comfy on the plane ride.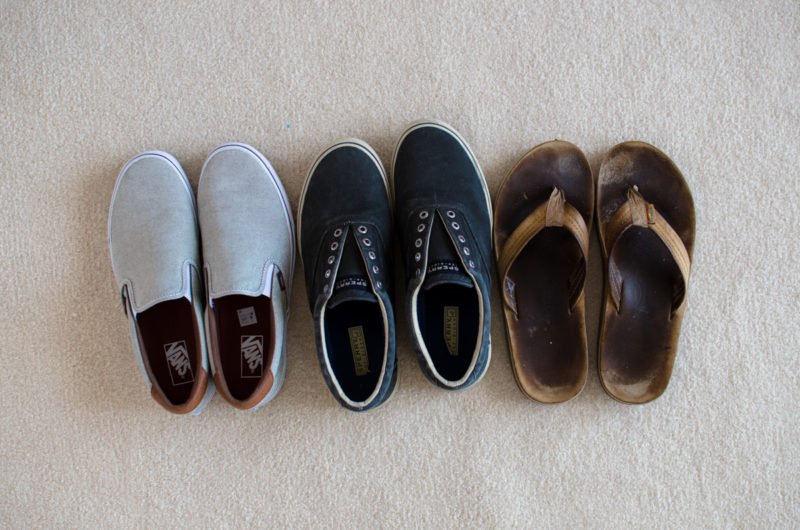 Shoes for Ryan included these greyish-colored slip-ons, well-weathered and broken-in leather sandals, and the darker grey slides in the photo. We also threw in a pair of tennis shoes last minute that isn't pictured. You want to have two pairs of shoes that will work for going out to dinner at night, as well as two pairs that will be comfortable for walking miles at a time. The key is to break any new shoes in for at least 2 months before you leave on a long trip!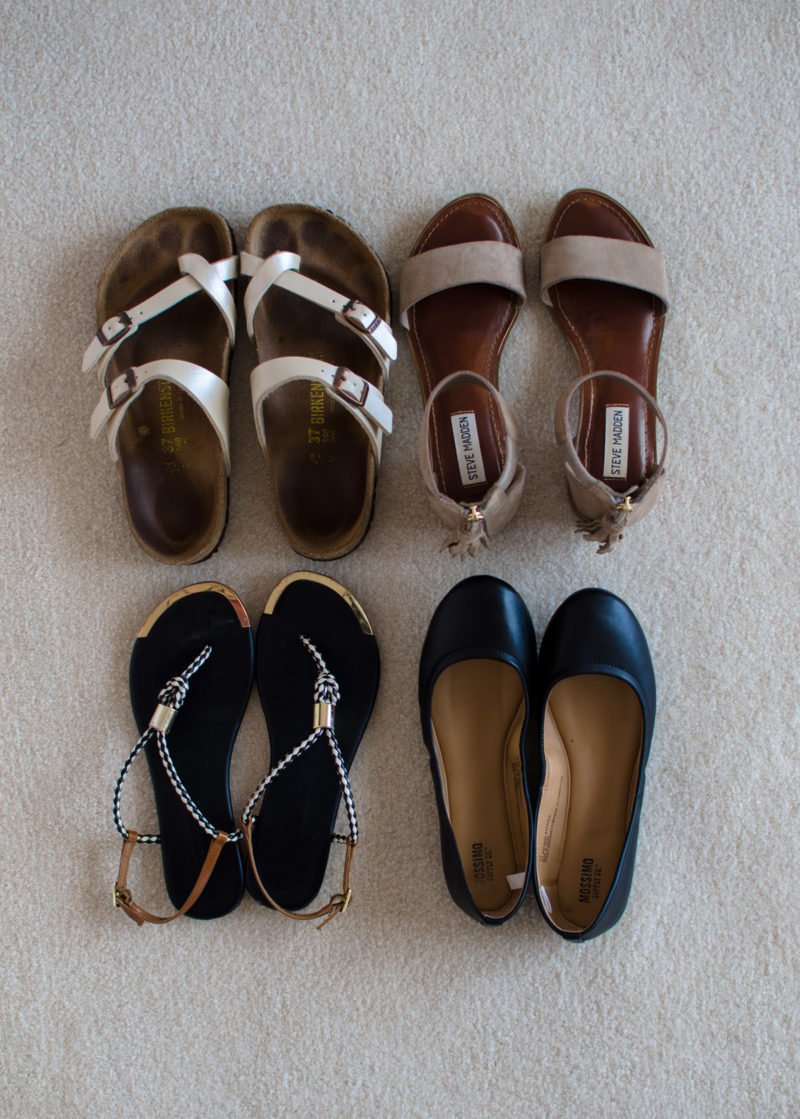 About 4 weeks before our trip, I found the most comfortable ballet flats at Target that I thought would be perfect for the trip. They have a super-cushiony sole, good support, and the "leather" (it's fake) feels soft and buttery! They've been a great choice and didn't require breaking in at all - plus they were less than $20! These tassel sandals will be great for dinner out and my trusty Birkenstock sandals from last year's trip to Italy will be perfect for lots of walking. I threw in a worn but comfortable pair of flip flops to switch out for the Birkenstock's when I need a change.
One key recommendation - European cobblestone streets can be HARD on your shoes! I wouldn't recommend taking your favorite pairs or anything too expensive because your shoes will definitely acquire lots of wear and tear on this kind of trip.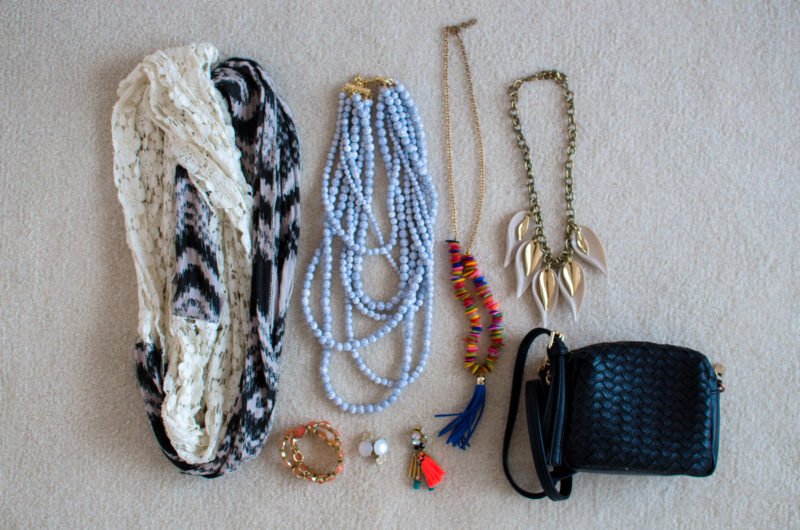 I'm keeping things simple with my accessories by choosing a few pieces I know will look great with all my outfits - just one scarf, 3 necklaces, 2 pairs of earrings, one bracelet set and a comfortable and easy-to-carry Crossbody bag. that will fit into my backpack when we are between destinations.
What to pack in:
We are each taking a small carry-on suitcase and a backpack. My goal was to keep one of the backpacks empty to fill with souvenirs on the way home - I'm happy to say I succeeded in that! I purchased this lightweight carry-on before the trip that wheels in all directions and absolutely love it so far. Ryan is taking a cloth carry-on suitcase and we each have a backpack. My best tip for packing in these items is to put heavy things like shoes, toiletries, and outerwear in your bag with wheels. Stuff the backpacks with lightweight clothing and anything you need to access quickly, like passports or snacks!
We almost always stay in Airbnb rentals wherever we travel. If you haven't tried this yet, you can sign up for Airbnb here and get $20 off your first stay! We like staying in these instead of hotels because you generally get more privacy and we definitely save money using Airbnb.
Do you love to travel? Check out some of the places we've traveled, (Rome, Florence, Positano, Paris, Amsterdam, Nashville, Kansas City) to learn more travel hacks and where to travel. To follow all of my adventures, find me on Instagram or Twitter with the tag @sweetcayenne5. What are some of your favorite packing tips? I'd love to hear about it in the comments below!
Shop some of our packing essentials: