This rustic Fall Harvest Sheet Pan Dinner is filled to the brim with seasonal produce and hearty chicken sausage - all roasted to perfection on a sheet pan!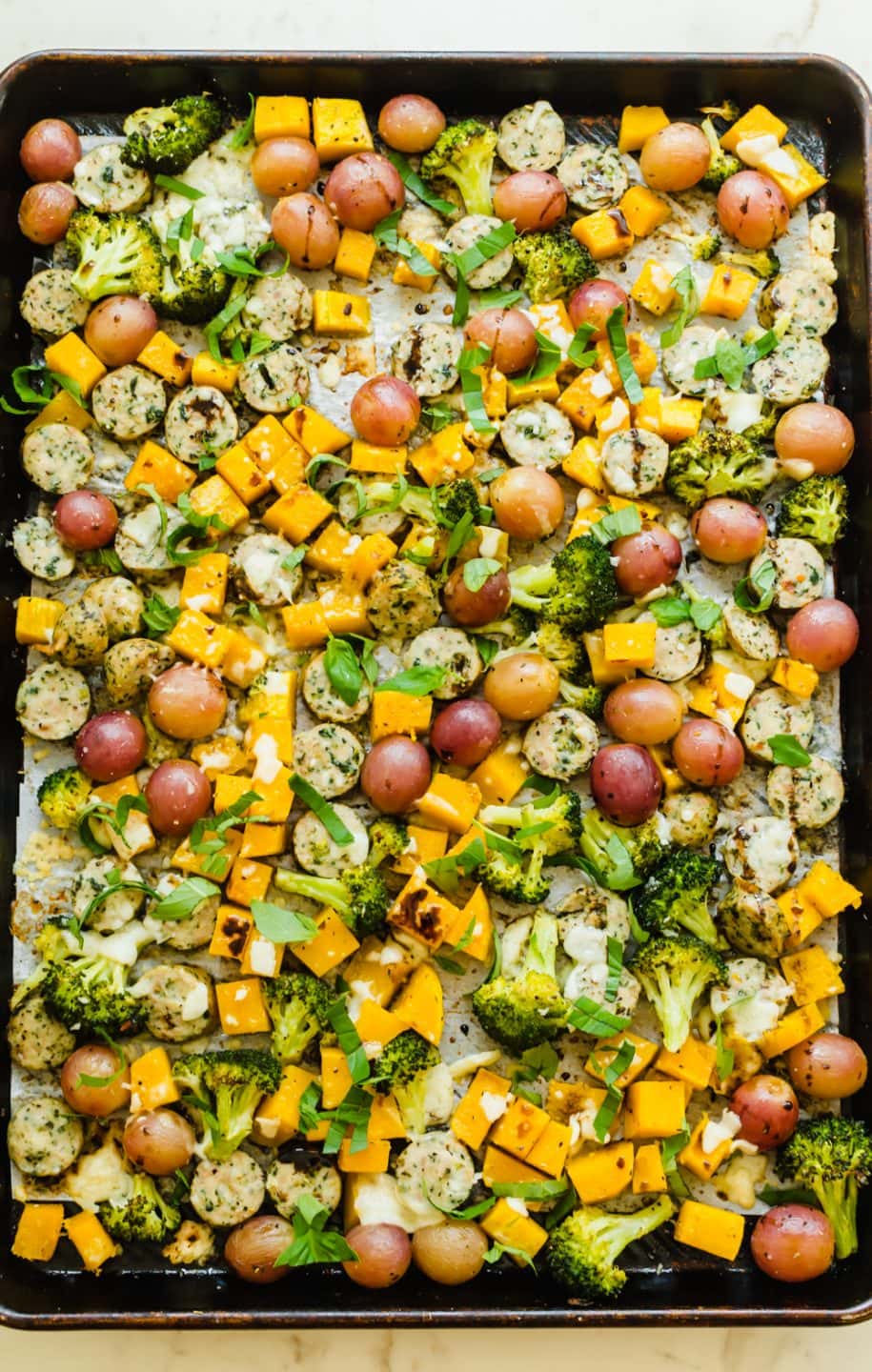 Meal prep could not be more simple with this Fall Harvest Sheet Pan Dinner - with everything cooked at the same time on one pan, an easy and delicious meal will be on the table in no time! I love to rely on dishes like this for meal prep. When I make a sheet pan recipe, we typically have it for dinner that night, and then I divide the leftovers into glass meal prep container for lunch the next day or two. It's a simple way of cooking and eating, but it's also really tasty and satisfying!  Let's talk a little about what makes a good sheet pan dinner: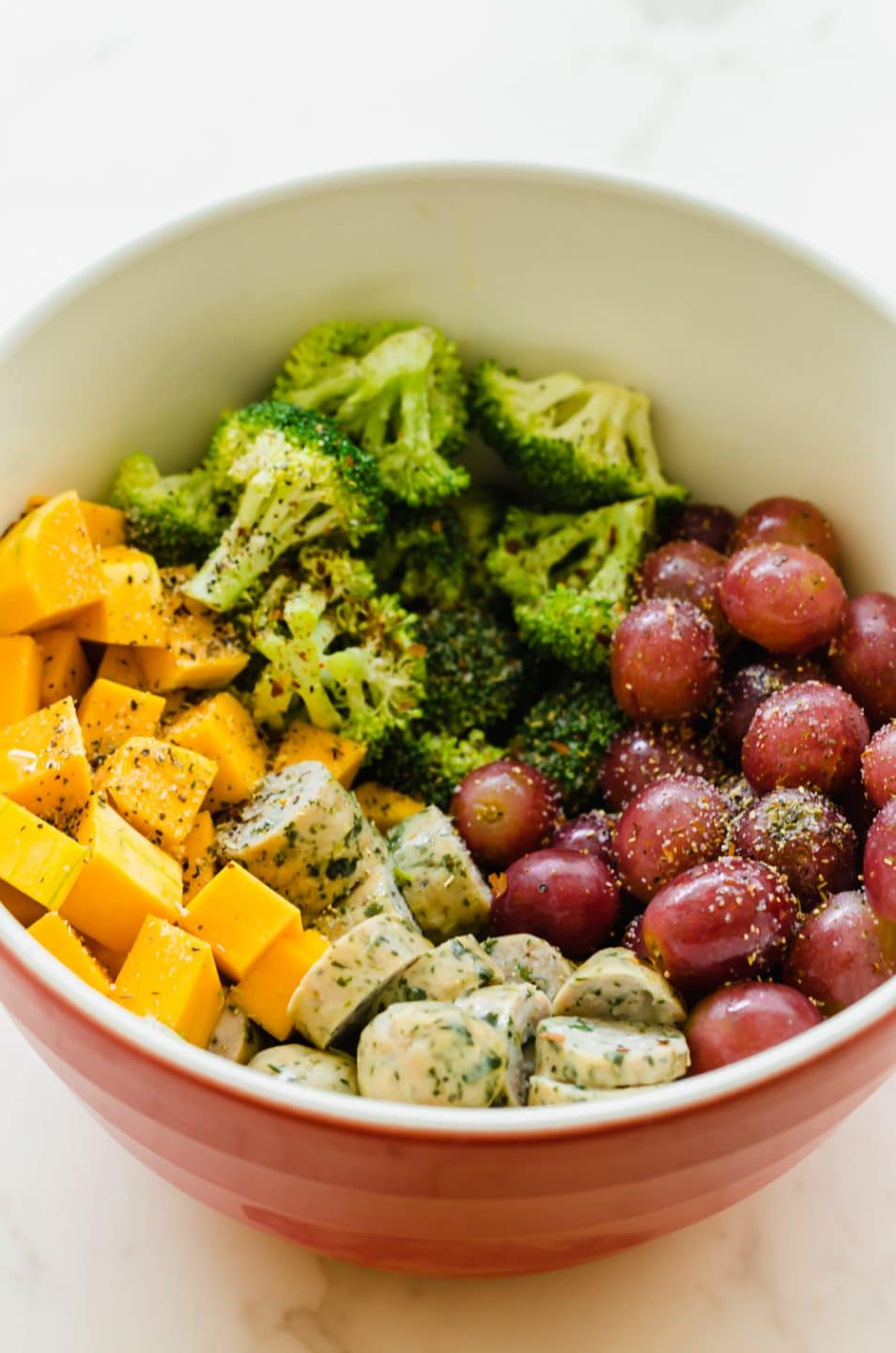 Tips for Making a Sheet Pan Dinner
Cut or chop everything into pieces according to how quickly they will cook. For example, in this dish, I knew the grapes would cook a lot faster than the butternut squash and broccoli, so I left them whole. They are the largest item on the pan. The butternut squash takes the longest to cook, so I cut it into smaller pieces so it would cook as quickly as all the other items.
Season it all together in a bowl or straight on the pan. The less mess, the better! If you have room to toss all of your sheet pan food items with olive oil and seasonings right on the pan, then do it that way. Otherwise, mix everything together in a big ol' bowl!
Consider two separate pans if some items release a lot of moisture while cooking. This is especially important if you want certain items to caramelize or get crispy. For example, the butternut squash and grapes in this recipe release a lot of moisture as they cook, which creates some steam in the pan. Chicken sausage and broccoli don't release near as much liquid. So, if you'd like your sausage and broccoli to be a little crisper and caramelized, roast them on a separate sheet pan from the grapes and butternut squash.
Plan to serve with some type of grain or pasta for meal prep. Farro is my favorite grain to serve with a sheet pan dinner. However, couscous, quinoa, barley, sorghum, polenta, rice, pasta, or cauliflower rice are all great options for dividing into meal prep containers with the sheet pan dinner.
Tie it all together with a sauce. Now, here's where things really get tasty. Roasted veggies, meat, and grains by themselves can be a little dry and boring. But if you've got a nice sauce to drizzle over everything, your meal will be much more exciting! I'd suggest a balsamic reduction, which is what I used for this Fall Harvest Sheet Pan Dinner. Other delicious options would be homemade pesto, lemon tahini dressing, any type of vinaigrette you like, or a roasted red pepper sauce of sorts. And in a pinch, hot sauce always does the trick!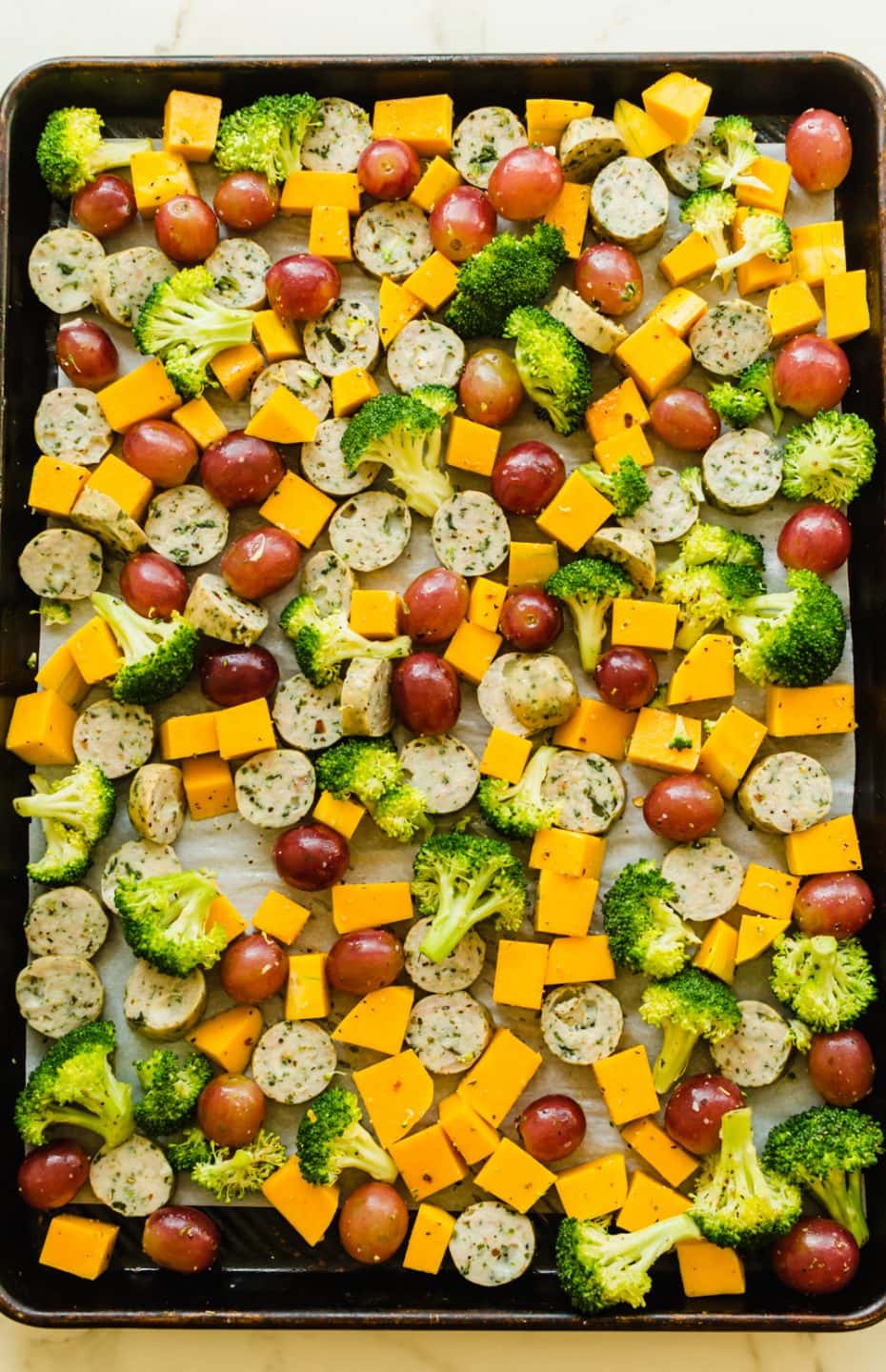 Ingredients for Fall Harvest Sheet Pan Dinner
Butternut squash - I'm super proud to say we actually grew the squash in these photos for this dish! This is my favorite fall vegetable - I enjoy putting it in all kinds of foods! Pizza, salads, grain bowls, salads, risotto - butternut squash is SO versatile.
Broccoli florets - we are trying to get more cruciferous veggies in our diet over here, and broccoli is loaded with nutrients that are too good to resist. Roasting broccoli, in my opinion, seems to be the best cooking technique to help broccoli taste it's best, although it doesn't smell that great. Be ready to light a candle!
Red seedless grapes - in my opinion, this gorgeous fruit is underrepresented in fall recipes. Grapes aren't just for cheese boards! I love putting them in salads and on pizza. And if you've never tried roasting grapes, well, now is a good time!
Chicken sausage - I love to buy the Spinach and Asiago Chicken Sausage from Sam's (Member's Mark brand). It's super flavorful and lean. Any type of Italian-flavored chicken sausage links will work here, however.
Fresh Basil - my basil plant has gotten a second wind after we moved it to a sunnier location, and I hope to use it through the first frost of the season. You wouldn't believe how much a little bit of freshly chopped basil will elevate the color and flavor of a pan of roasted veggies! It's incredible.
The roasting basics - salt, pepper, and olive oil. All essentials for a delicious pan of roasted veggies! Feel free to up the flavor game with other dried spices. I've added freshly-ground Italian seasoning and crushed red pepper flakes here to continue the Italian theme.
Parmesan cheese - I love to buy the shaved Parmesan flakes at the store. The shavings melt really nicely on veggies and are loaded with a nutty, salty flavor. Freshly grated Parmesan from a Microplane is also a great way to go. Parmesan on just about anything makes it better!
Farro - this is my favorite grain to serve alongside a sheet pan dinner. I love the nutty flavor and chewy texture of farro. While semi-pearled is quick-cooking (15 minutes!) and the easiest to find, whole farro has a bit more protein and fiber. If you can find whole farro and have 30 minutes to cook it, choose that! Keep in mind that farro is not gluten-free. Good substitutes would be wild rice, quinoa, or sorghum.
Aged balsamic vinegar - this thick, syrupy, Italian condiment adds a delicious finishing touch of acidity and sweetness when drizzle over a hot plate of grains and roasted veggies. It really ties everything together, and I always try to have some on hand.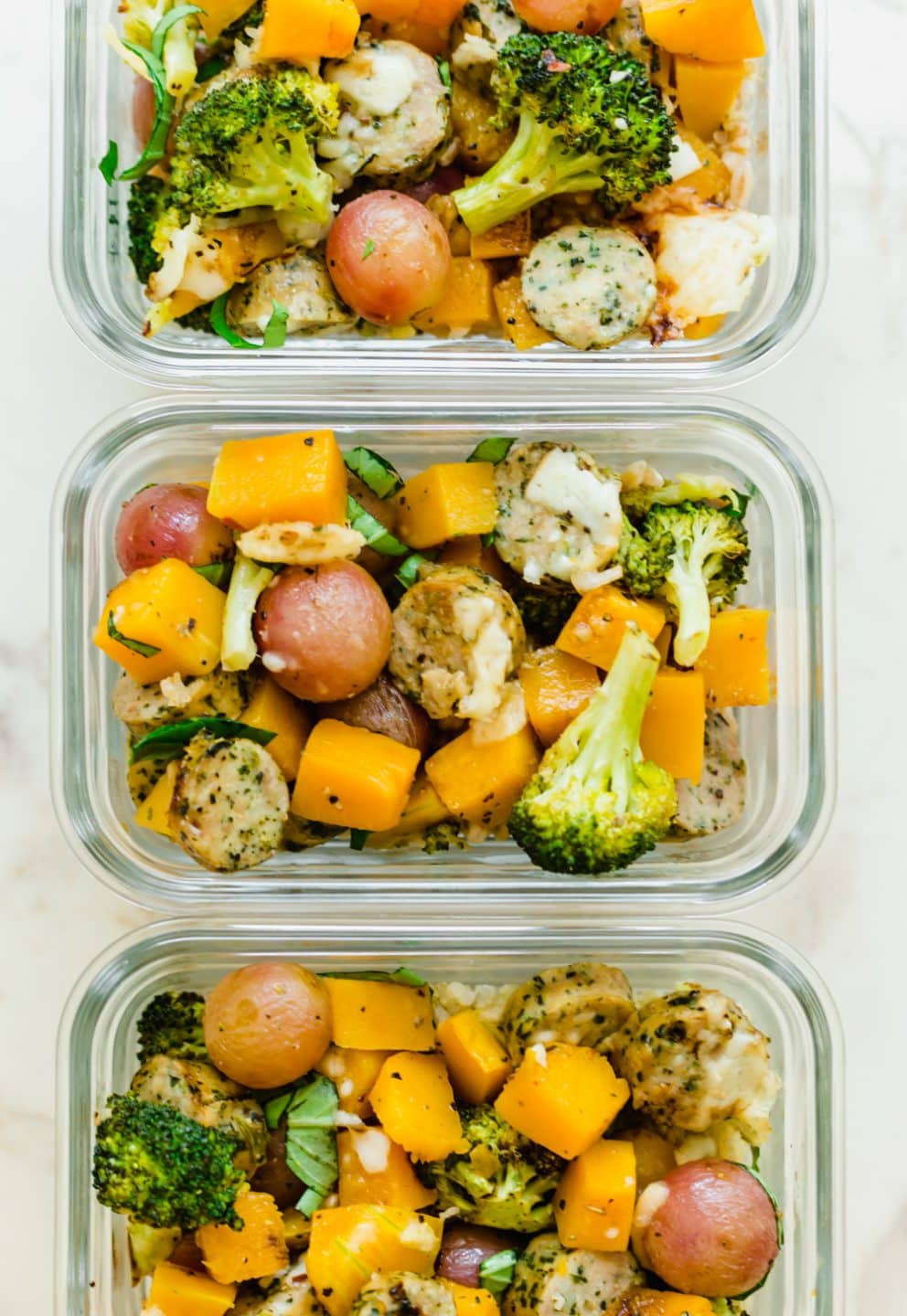 Meal Prep Fall Harvest Sheet Pan Dinner
This recipe is PERFECT for dividing into glass meal prep containers and having for lunch throughout the week. I don't know about you, but having a healthy, hearty, and flavorful meals lined up for my lunch through the week tend to help me be a lot more productive with work! It's so nice to have a nourishing meal to look forward to each day and not to have to think about stopping the workday to make something. Just make sure all of the food is cooled to room temperature before dividing it into your meal prep containers. If you put warm food in the container and then put the lid on, it will create steam that will make the food inside mushy and soggy as it cools off - we don't want that! To reheat, simply vent your container and microwave for 2-2 ½ minutes, stirring halfway to make sure the middle gets heated through.
Are you ready to make this Fall Harvest Sheet Pan Dinner? I'm so excited for you to try this recipe. Once you get the chance to make it, please let me know how it turns out for you! Leave a comment and rate the recipe below. This will help me with the creation of future recipes! I'd also love to feature your creation in my monthly newsletter, so you can upload a photo to Instagram or Twitter with the tag @sweetcayenne5 to be featured!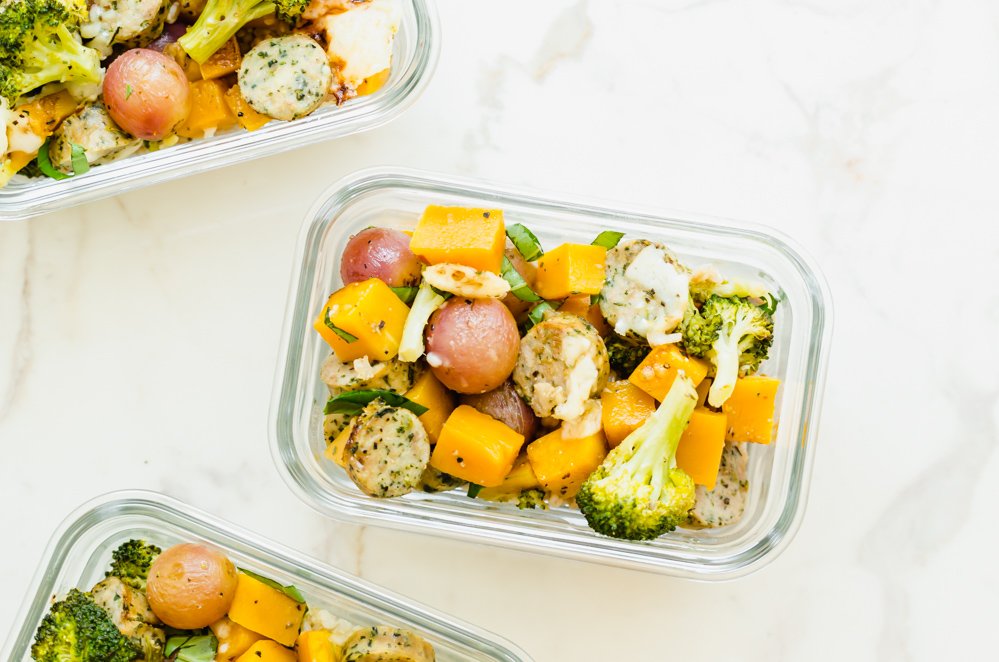 Recipe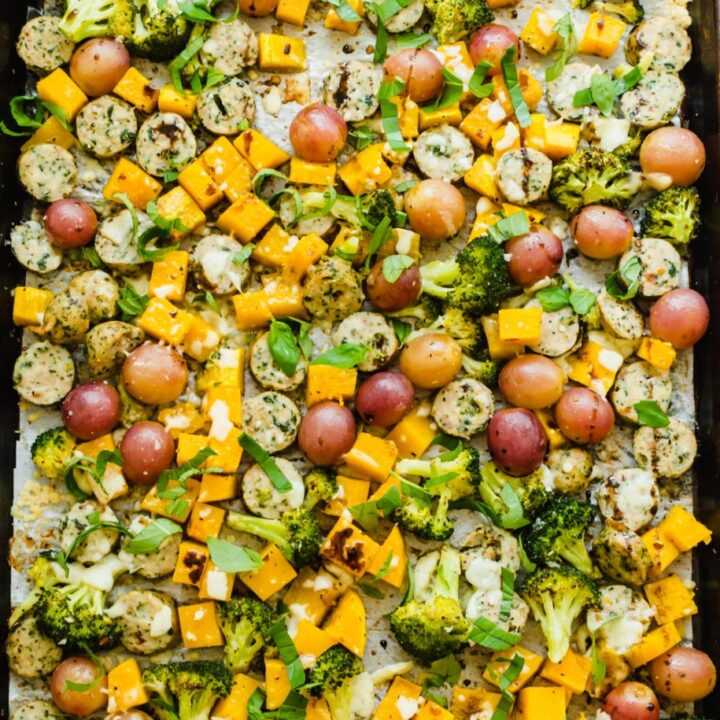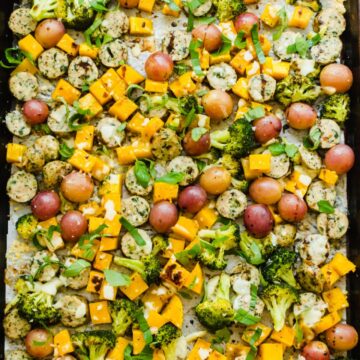 Fall Harvest Sheet Pan Dinner
This recipe for a rustic Fall Harvest Sheet Pan Dinner features butternut squash, chicken sausage, red grapes, broccoli, and Parmesan. It's a quick, easy, fall dinner that is great for meal prep!
Print
Pin
Rate
Ingredients
4

links

(1 pound) chicken sausage (I used Spinach Asiago from Sam's Club), cut into rounds

2

cups

butternut squash, cut into ½ '' cubes

2

cups

seedless red grapes

3

cups

fresh broccoli florets, about 1'' pieces

1

tablespoon

olive oil

½

teaspoon

EACH of salt, pepper, and Italian seasoning

¼

teaspoon

red pepper flakes

½

cup

shaved Parmesan flakes

¼

cup

fresh chiffonade-cut basil

1-2

tablespoons

aged Balsamic vinegar

For serving: cooked farro, wild rice, quinoa, sorghum or barley
Instructions
Preheat oven to 425℉ Line a sheet pan with parchment paper.

Place the sausage, squash, grapes, and broccoli in a large bowl. Toss everything together with the olive oil, salt, pepper, Italian seasoning, and red pepper flakes.

Transfer the veggies and sausage to the prepared sheet pan. Pat everything down to make sure each piece is flat on the sheet pan.

Roast for 10 minutes. Remove from oven, stir, and top with the Parmesan. Roast for another 10 minutes.

Remove the pan from oven and add the fresh basil. Serve the sheet pan meal with cooked farro, then drizzle aged balsamic vinegar on top.

Cool the ingredients completely before dividing into meal prep containers for lunches throughout the week. Keep refrigerated for up to 4 days.
Serving:
1.25
cups
|
Calories:
262
kcal
|
Carbohydrates:
22.4
g
|
Protein:
19.2
g
|
Fat:
11.8
g
|
Saturated Fat:
4
g
|
Cholesterol:
52
mg
|
Sodium:
824
mg
|
Potassium:
434
mg
|
Fiber:
2.5
g
|
Sugar:
12.8
g
|
Calcium:
151
mg
|
Iron:
2
mg
Pin this, pretty please!