Tomorrow is Tuesday, and if you're a fellow member of the #tacotuesday club, you'll want to add these bright and colorful fish taco bowls to your menu rotation pronto for a fun twist on a weeknight favorite.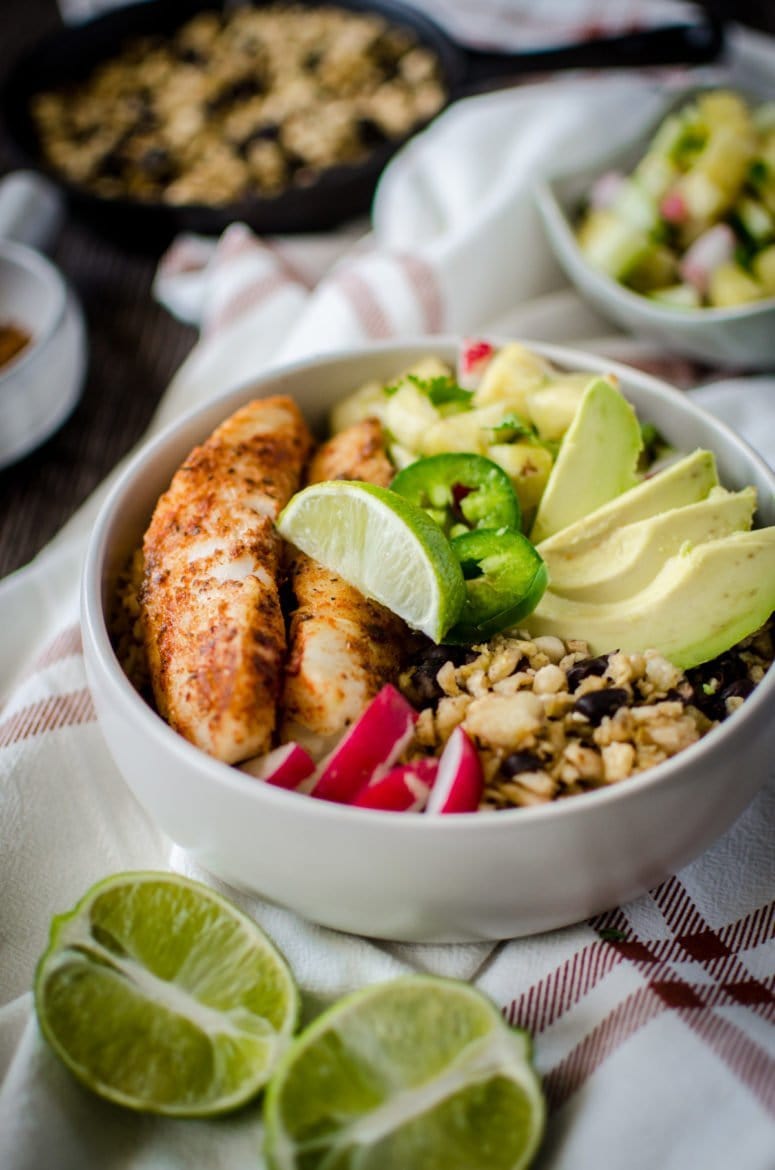 Yes, here I go with the seafood again - just recently I posted the Spring Salmon Orzo Salad and now fish taco bowls. I'm just really in a seafood-craving rut right now (I call it a rut because it's really hard to get decent seafood in mid-Missouri!). This past weekend, Ryan and I paid our chef friend, George, at the Lilly's Cantina food truck a visit and he made us the best mahi mahi....seriously, it was the most delicious thing I had to eat all weekend! If you live in Columbia or are ever in the area during warmer weather, you must give this food truck a try.
Pretty soon I'll get to over-indulge my seafood fetish when we go on a special anniversary + birthday trip to a surprise location that I'll let you guess about until I can tell you where it is...I love making people guess. Hint: it's NOT anywhere tropical. Go ahead - leave a comment and guess away!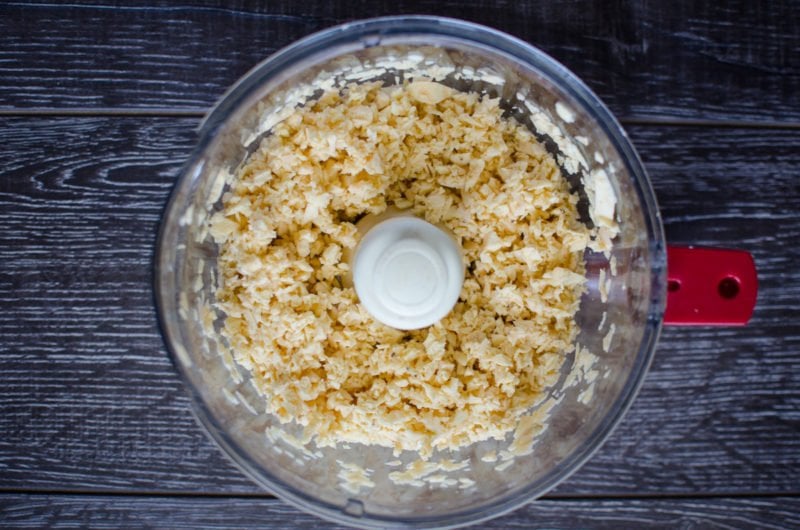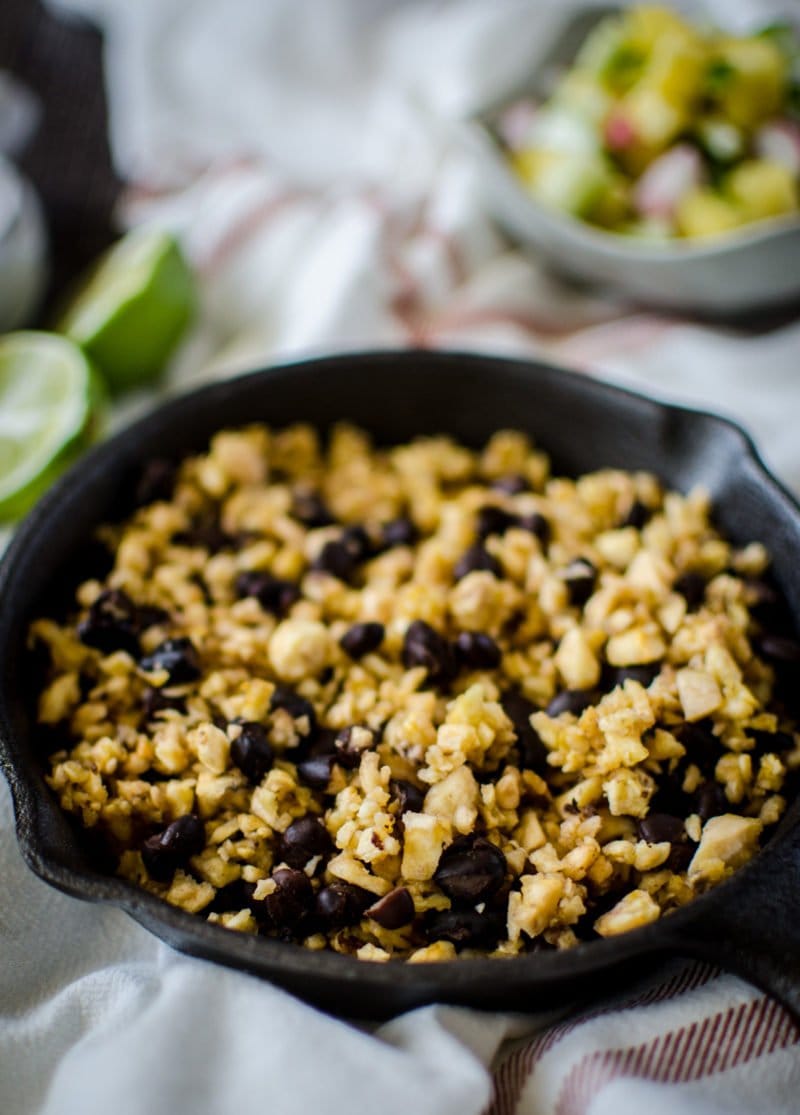 Let's get to chatting about this bowl situation. Have you noticed that bowl foods are having a moment now? Really - according to my Instagram and Pinterest feeds, everyone is obsessed with bowl recipes. Smoothie bowls. Breakfast bowls. Buddha bowls. Taco bowls. Grain bowls. I can definitely see what the appeal is from a photography standpoint. Wide-mouthed bowls filled with various foods that taste good together can be styled this way and that and made to look like quite the work of art.
But from a more practical stance - like the stance of a dietitian who has cooked for large groups and families with differing tastes and picky eaters - bowl foods are great because everyone can build a bowl to suit themselves. All the cook has to do is lay out a spread of complimentary foods - include a protein, a carb, some veggie options, and something saucy - and everyone gets to build they own meal out of what's available. Make enough for leftovers and you can build different variations of a bowl throughout the week. Sounds  like winner winner chicken dinner, wouldn't you say?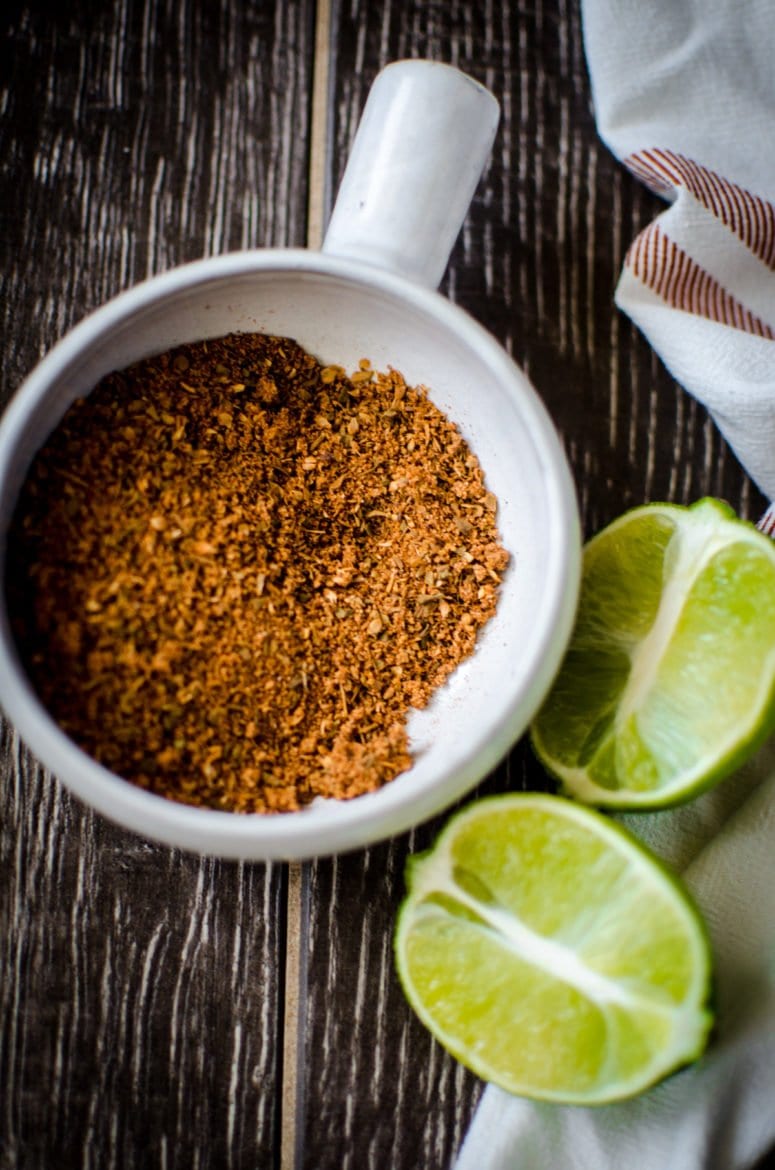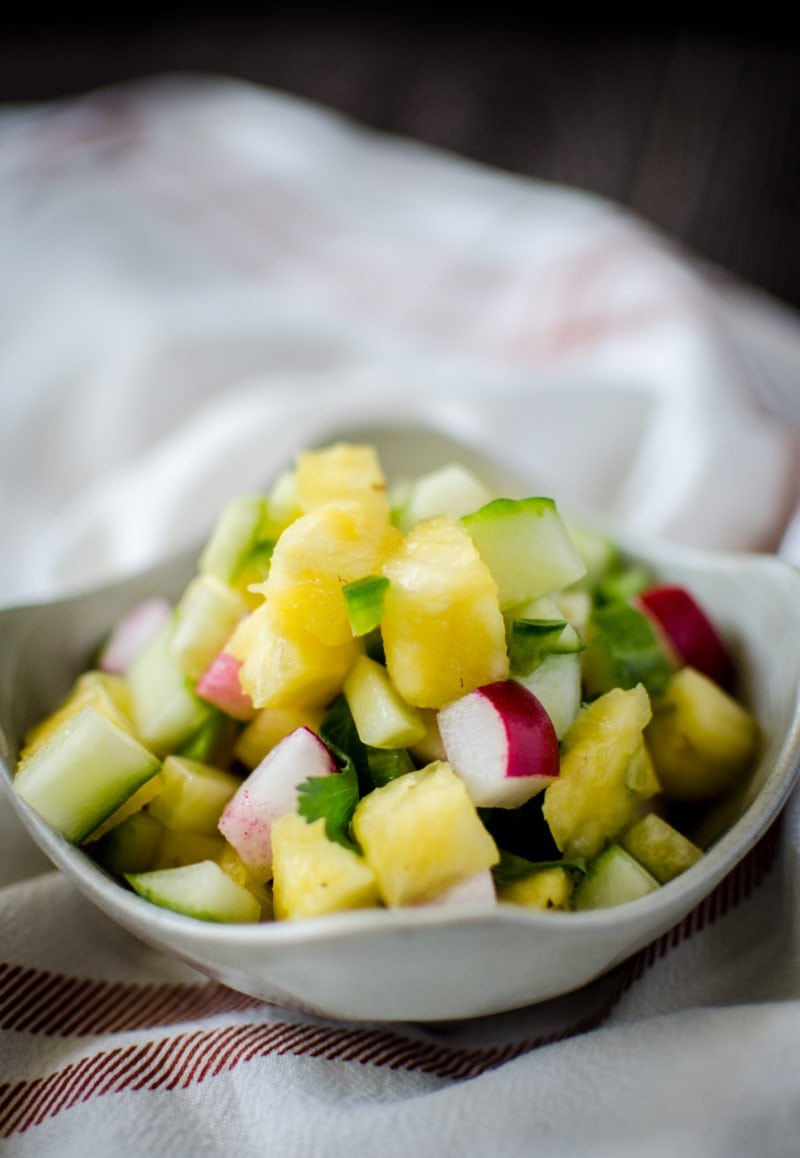 Let me give you a quick introduction to the star players in this Fish Taco Bowl game:
Plantain Rice with Black Beans - yep, that's right, we're making rice out of plantains. Green ones, to be exact. All you need to do is give the plantains some quick pulses in the food processor and you've got what looks to me like a pseudo-rice/couscous-textured situation that I love to add cooked black beans to. It's slightly sweet and tropical - and deliciously different from the norm!
Pineapple Salsa - plantains + pineapple + fish....why not stay with the tropical theme? Adding a good dose of cucumber and spring radish gives this a clean feeling and such gorgeous color. Really - it's hard to stop staring at it and make yourself actually eat the salsa.
Fish - cut into strips, seasoned, and simply pan-seared. My favorite fish options for this recipe are mahi mahi, cod, or halibut. Go with cod if you're nervous about cooking fish - it's a more economical choice with a mild flavor that will please many tastes.
Garnishes - keep it simple with fresh avocado, cilantro if you like, and some healthy doses of a good Mexican hot sauce for a kick of spice.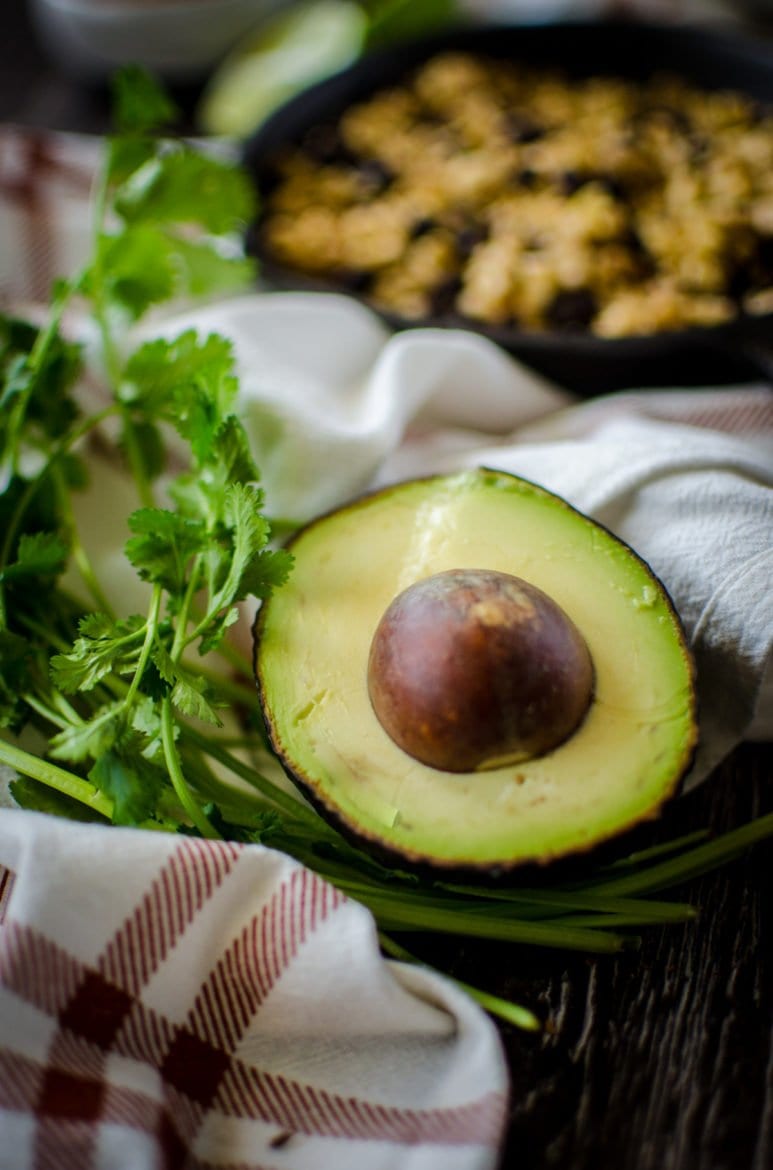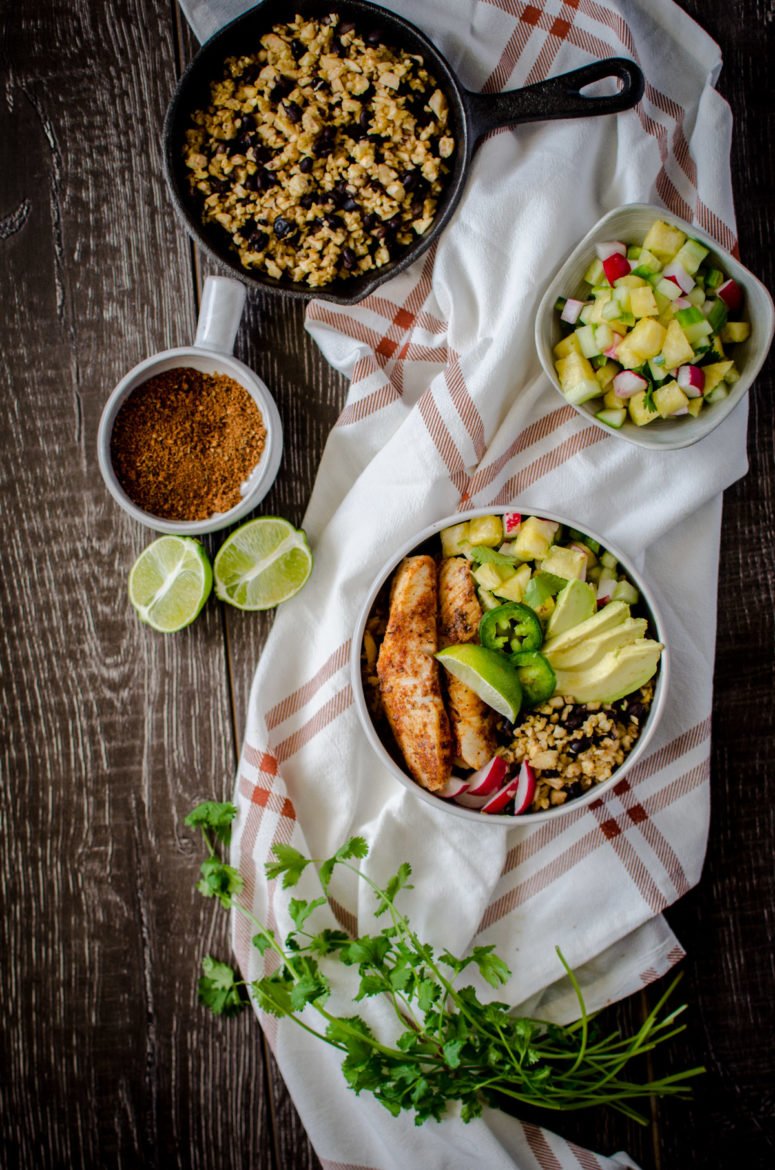 Recipe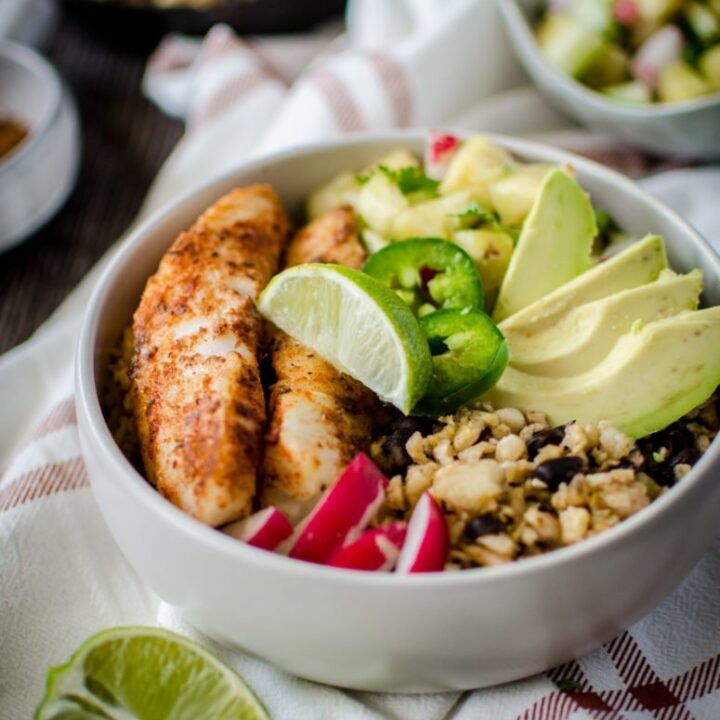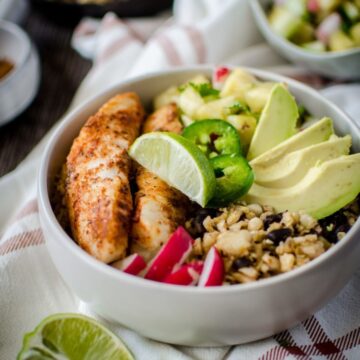 Fish Taco Bowls with Plantain Rice and Pineapple Salsa
If you like "bowl food," you'll love this fresh and flavorful taco bowls with spicy pan-seared fish, plantain fried rice, black beans, and a juicy pineapple salsa! A fun take on an easy fish taco recipe.
Print
Pin
Rate
Ingredients
For the pineapple salsa:
2 ½

cups

small-diced pineapple

1 small pineapple

1 ½

cup

small-diced English cucumber

about 1 cucumber

1

cup

small-diced radish

Optional: ¼ cup small-diced red onion

½

cup

chopped cilantro
For the plantain rice:
2

large yellow-green plantains

they should be firm and unripe

1

can of low-sodium or unsalted black beans

drained, rinsed, and patted dry

Coarse ground kosher salt

Coconut oil
For the fish:
1

pound

firm white fish

I prefer cod, mahi mahi, or halibut, cut into 3'' long, 1'' wide strips

1

teaspoon

olive oil

Your favorite Mexican seasoning mix

any Cajun or Mexican blend will do; I like Mrs. Dash Fiesta Lime Blend; or make your own (1 teaspoon ancho chili powder + ½ teaspoon garlic powder + ½ teaspoon oregano + ½ teaspoon cumin + ¼ teaspoon brown sugar)

½

teaspoon

salt

Coconut oil for pan-frying
Extras:
Sliced avocado

Lime wedges

Mexican hot sauce

such as Chalula
Instructions
For the salsa:
Combine all ingredients except the cilantro in a bowl up to 4 hours prior to serving. Chill until ready to serve and add the cilantro right before serving.
For the plantain rice:
Peel the plantains (this will be easier if you cut a v-shape through the peel) and cut them into quarters. Add to the bowl of a food processor. Pulse 8-12 times, scraping down the sides as needed, until a rice-like texture has formed (do not turn the food processor "on;" only pulse).

Heat a teaspoon of coconut oil in a cast iron or nonstick skillet over medium heat. Add the plantain rice and stir-fry for 7-8 minutes until heated through and the plantain rice becomes golden brown and slightly crispy. Add the black beans and stir to heat through. Add kosher salt to taste. Keep warm over low heat while you cook the fish.
For the fish:
Brush the fish strips with olive oil, then sprinkle the seasoning mix and salt on all sides.

Heat a nonstick skillet or grill pan over medium heat. Brush with coconut oil. Add the fish and cook over medium heat for 3-4 minutes on each side, depending on the thickness. The fish should be easy to slice through in the center and flaky on the ends. Remove from heat and sprinkle fresh lime juice on top.
To serve:
Add ¾ cup of the rice mixture to a bowl or plate. Add two fish strips per plate, and ½ cup of the pineapple salsa. Garnish with slices of avocado, lime wedges, and hot sauce as desired.
Plantain rice and salsa will keep up to 3 days. Simply reheat the rice by stir-frying in a pan until heated through.
Serving:
1
Serving
|
Calories:
407
kcal
|
Carbohydrates:
52.9
g
|
Protein:
27.6
g
|
Fat:
12.1
g
|
Saturated Fat:
3.6
g
|
Cholesterol:
50
mg
|
Sodium:
898
mg
|
Fiber:
11.7
g
|
Sugar:
20.6
g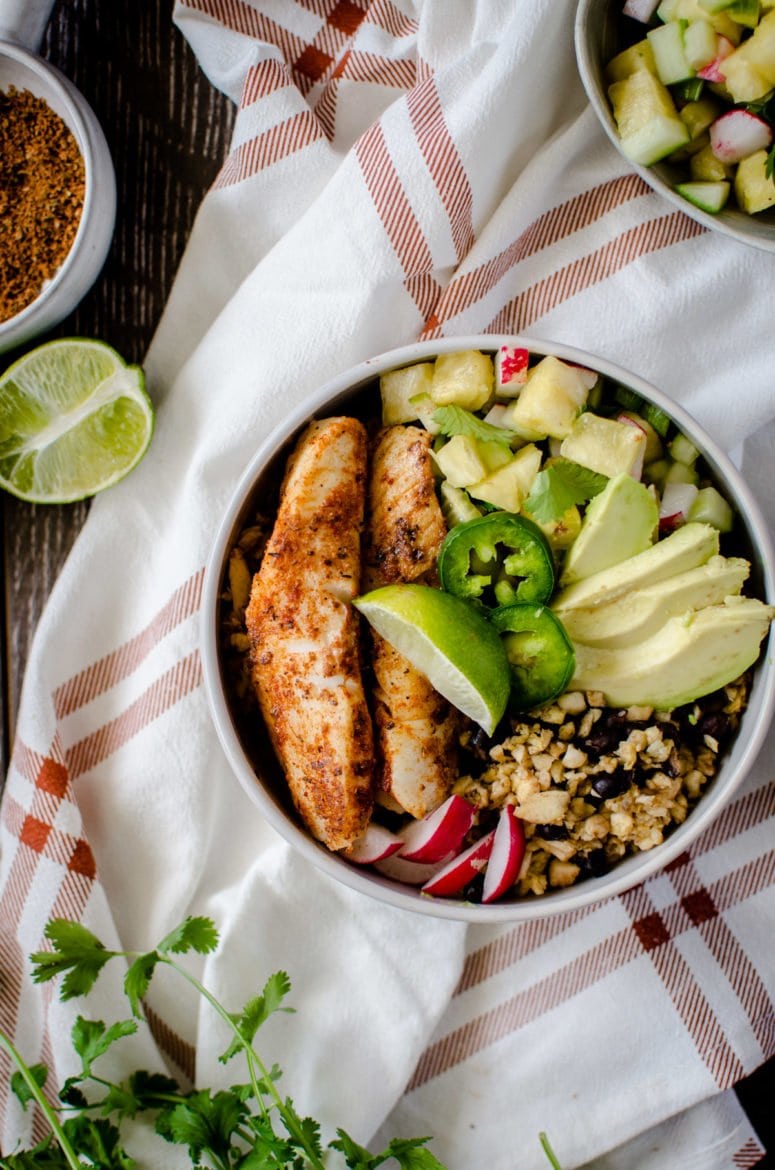 Did you make this recipe? If so, I'd love to hear how it turned out for you! Leave a comment below or tag a photo of your creation on Instagram with @sweetcayenne5 - you can also snap me @sweetcayenne. It's always fun to connect with you 🙂