Since Ryan and I bought our new TN home back in October, we have been busy painting pretty much EVERY room in it. I'm a neutral/classics kind of girl when it comes to what goes on our walls, and just wasn't vibing with the almost-neon shades of purples and blues that we found when we first purchased the house. They also didn't match anything that we owned! When looking at paint colors, we made our choices based on the following guidelines:
Neutral color palette that would lend to incorporating color accents with seasonal decor (of course it has to look good with my Christmas decor!).
Colors should feel peaceful and relaxing to look at with a balance of yellow + blue undertones so the light does not look too warm or icy (thinking about food photography here!).
Colors should complement natural elements of natural wood accents, black dining room furniture, marble kitchen elements, linen and ticking stripe fabrics.
We loved the living room/hall color from our home in MO so much (it was there when we moved in) that we decided to bring it into our new home in the living room. It is a shade of "sage green" that happens to be Pinterest's color of the year for 2018. We certainly did NOT know this when we chose the color, but since it is "trending" right now, I thought it would be fun to show you a few pictures of the shade in our home along with some ideas for incorporating it without overcommitting and/or painting an entire room. Plus, how fun is it that this color is representative of a FOOD! Too fun, if you ask me - I love to use colors found in nature throughout my home!
Paint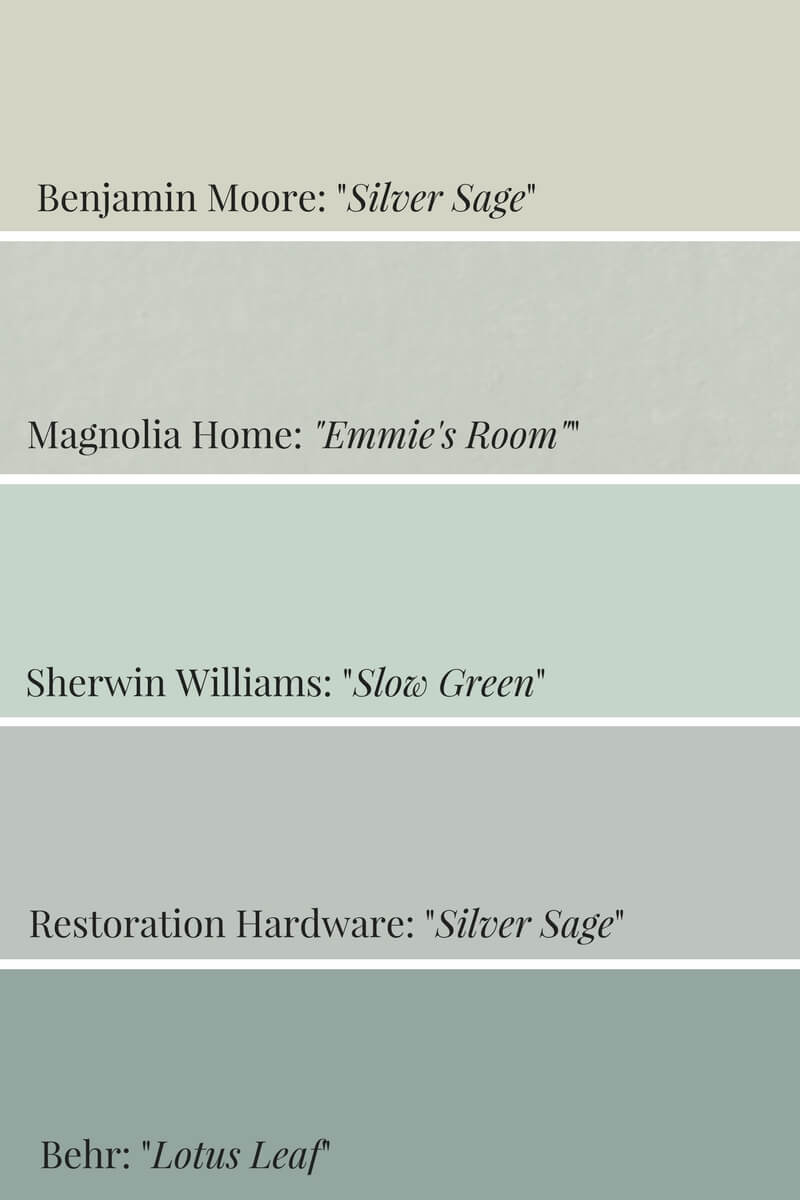 The color we chose for our living room and the laundry room is "Emmie's Room" from the Magnolia Home paint line. It's not quite blue, grey, or green, but a mix of all three that looks different during the time of day. It looks particularly blue in afternoon light shown in the photo below.   There are many versions of this shade available, and my favorites are compiled in the image above. Be sure to pin for later if you are interested in this color palette!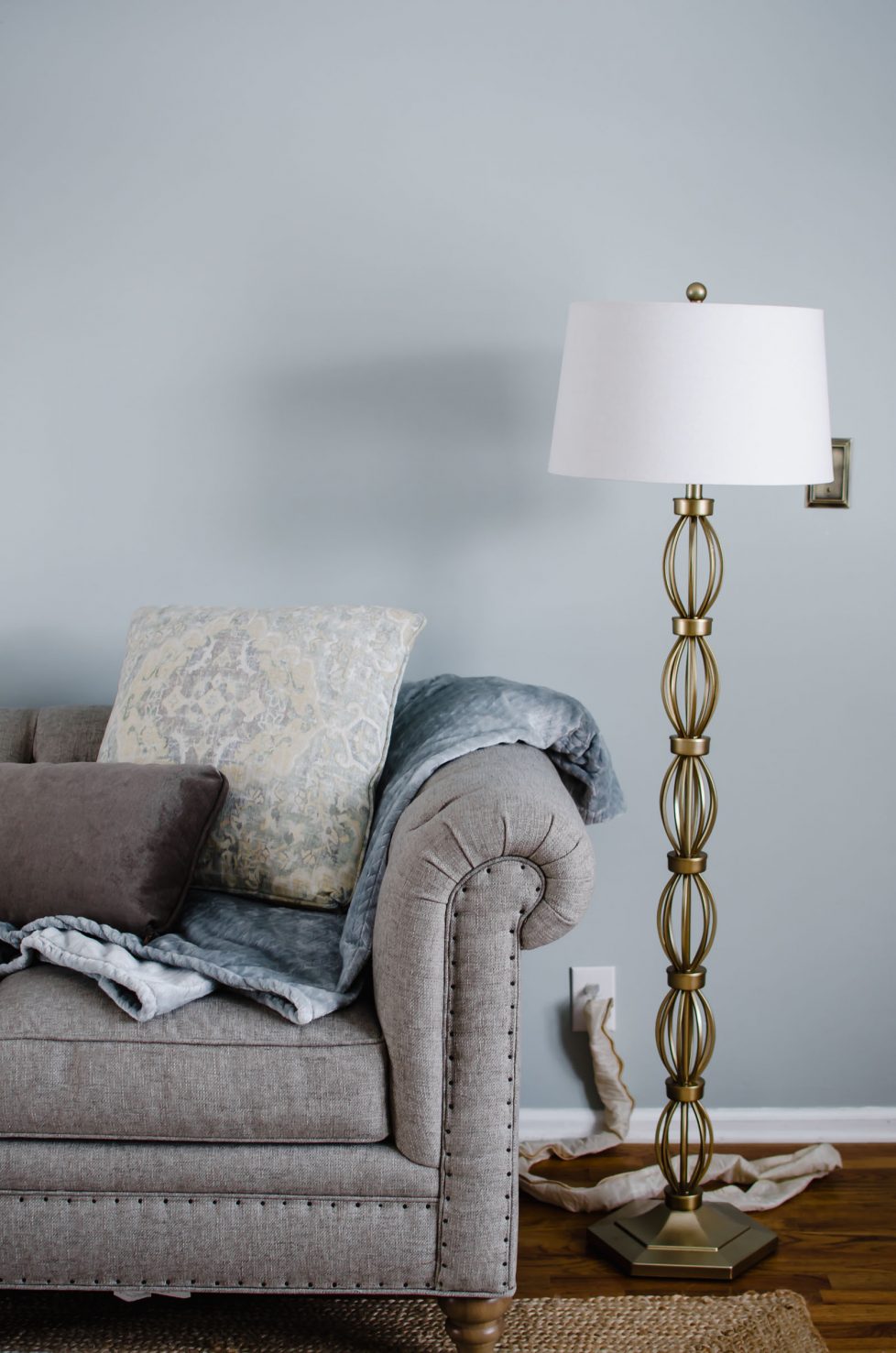 Paint color: Emmie's Room by Magnolia | Sofa + Pillows | Rug | Lamp | Cord Cover
Cabinetry
A fun + trendy way to incorporate sage is into kitchen and bathroom cabinetry. It is very versatile in that it looks great with nickel, iron, or brass hardware. I love how it pairs so well with many types of clean tile backsplashes, raw/natural wood accents and dining tables, marble countertops, and fresh greenery.
Image via Becki Owens/Lisa Berman Design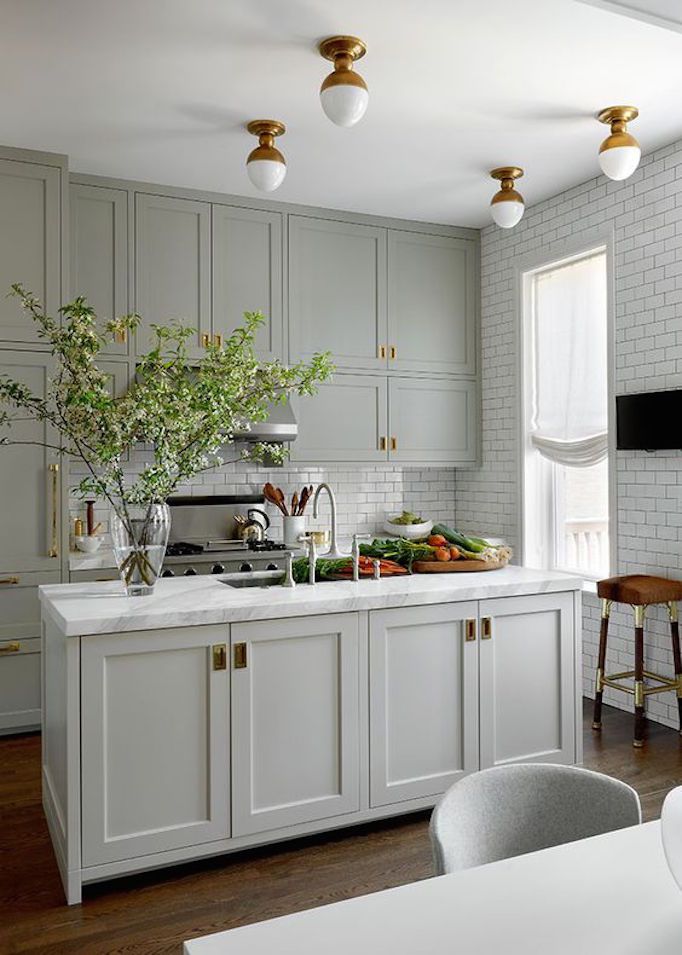 Image via Becki Owens/Mawr Design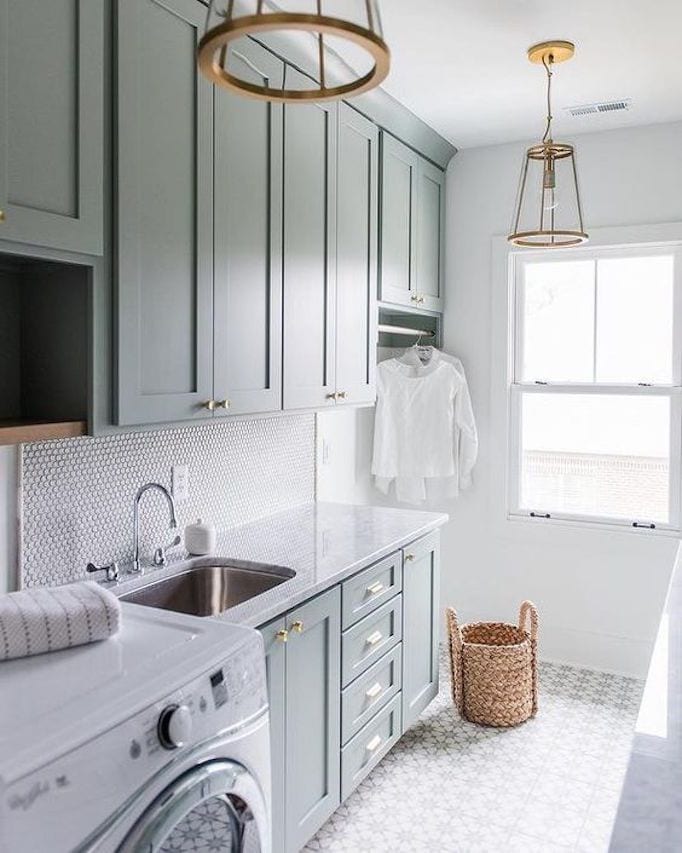 Home Accents
Of course, if you don't want to commit to painting an entire room or a cabinet remodel, it's very easy to add a fresh pop of sage into your decor with accent pieces. They are in wide supply right now! Below are photos that show ways I have incorporate sage accents into other rooms so that the rest of the house ties in with the living room color.
Ceramic Vase, simliar here - a fresh accent piece for a kitchen or bathroom window.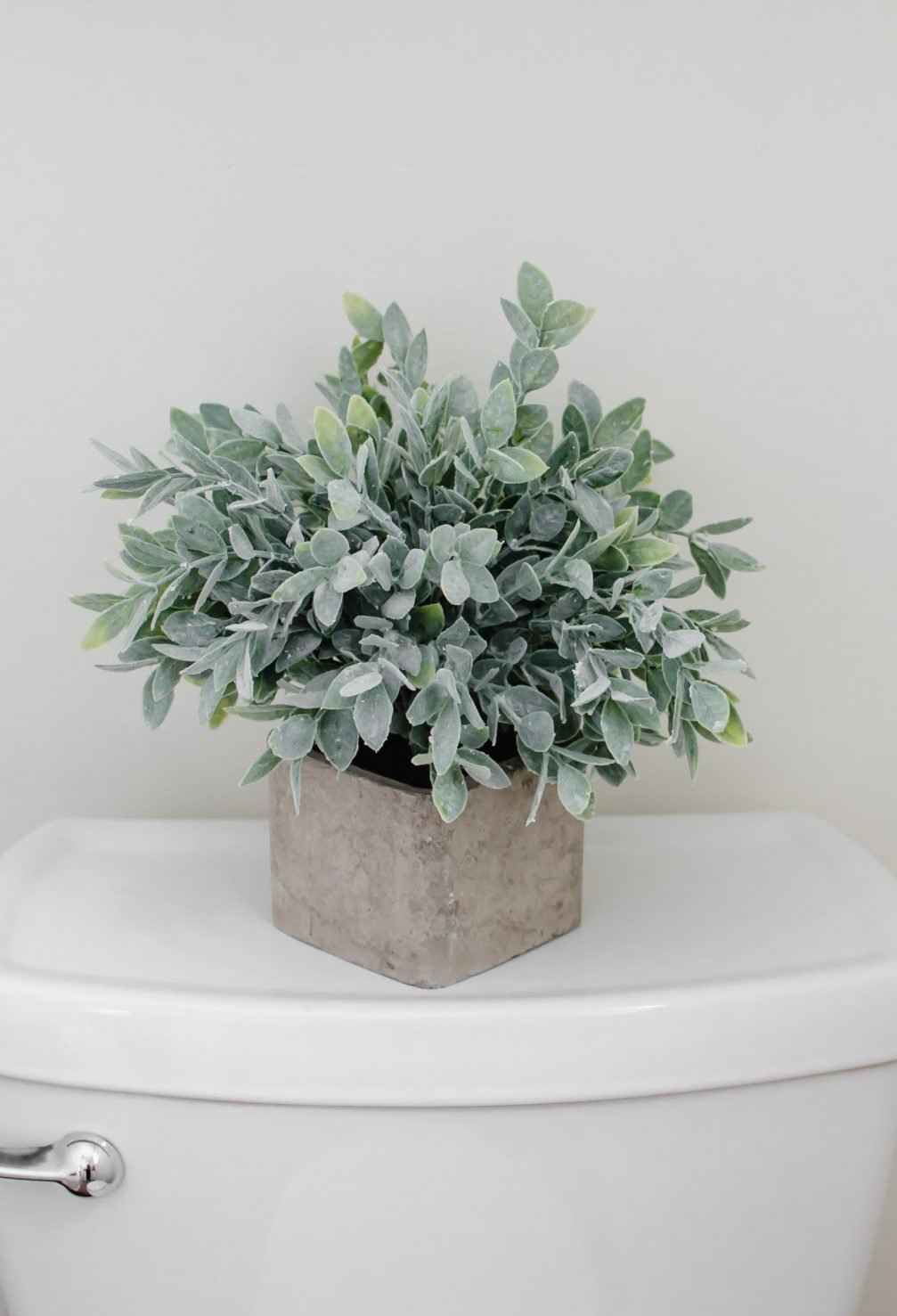 Sage Bush | Similar greenery here and here
Sage or eucalyptus greenery add a fresh and airy touch to powder rooms, laundry rooms, or a bedside table.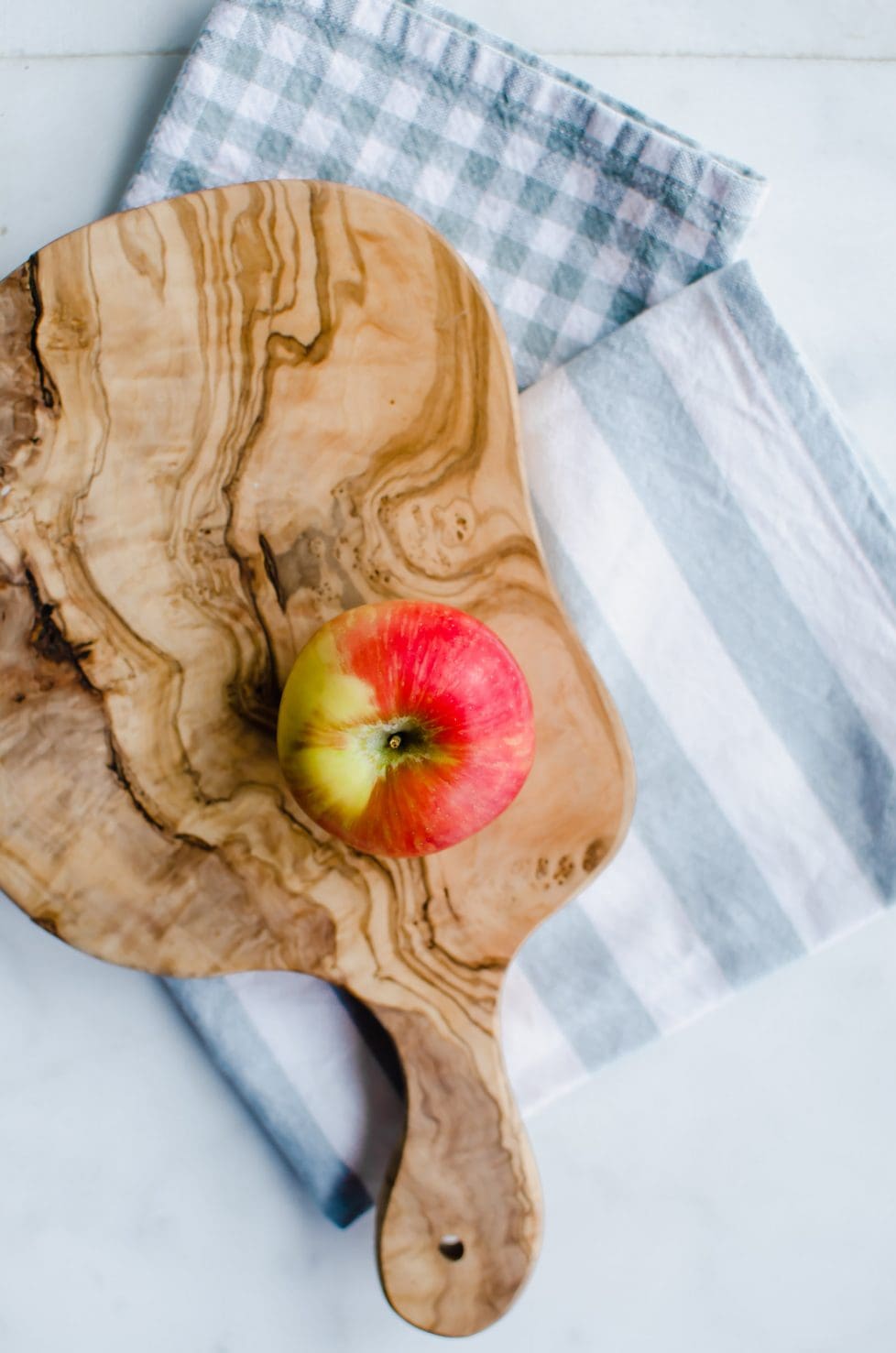 Dish towels | Similar here and here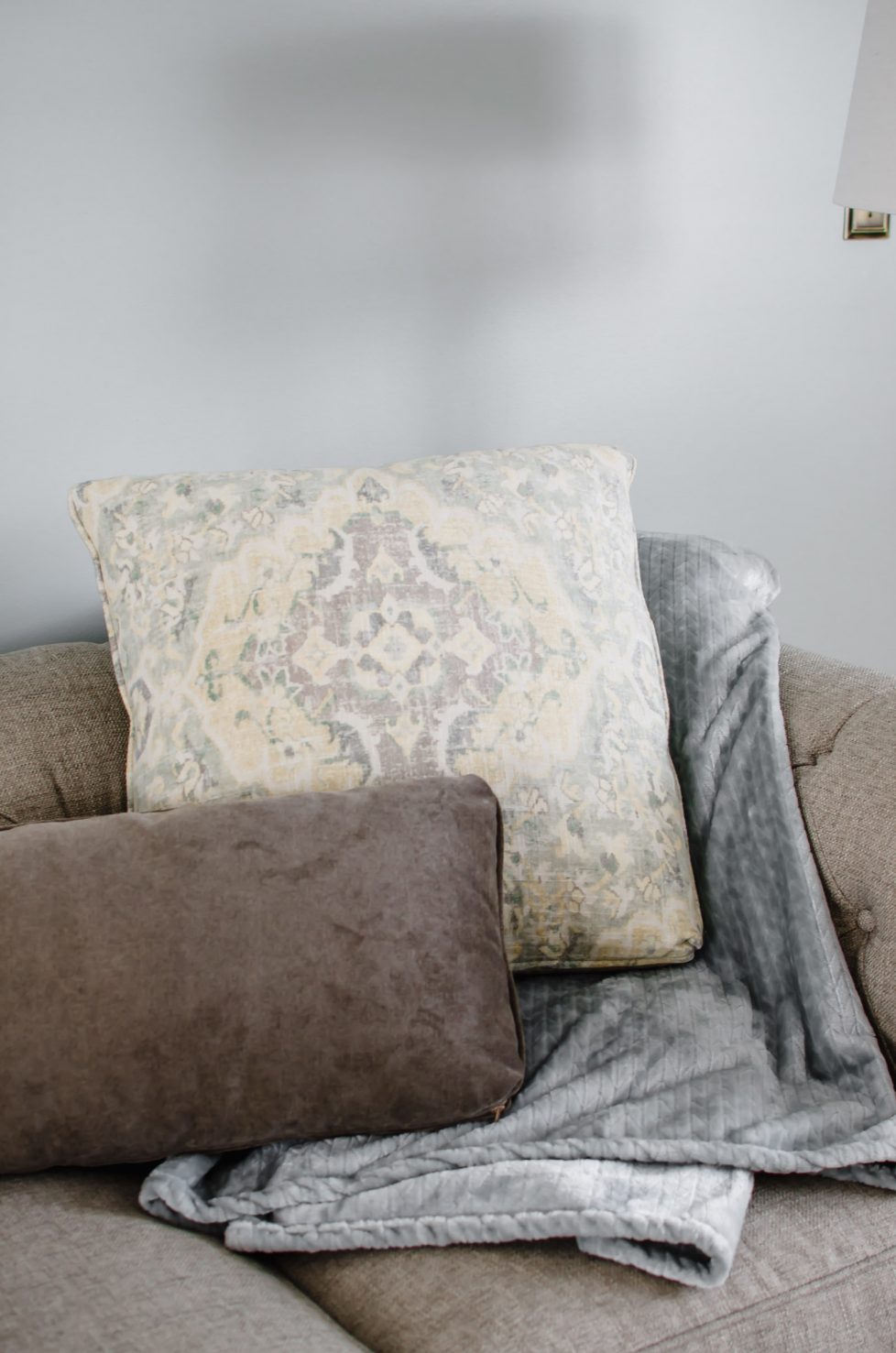 Throw (TJ Maxx), similar here and here | Pillow similar here and here
What do you think of the sage green shade? Would you or have you incorporated this color into your home decor? I'd love to hear your thoughts in the comments below or see a picture of your style - upload a photo to Instagram or Twitter with the tag @sweetcayenne5.
Shop sage green: