This week we are celebrating Valentine's with cute little red velvet sandwich cookies…you might consider these a homemade version of a Red Velvet Oreo cookie…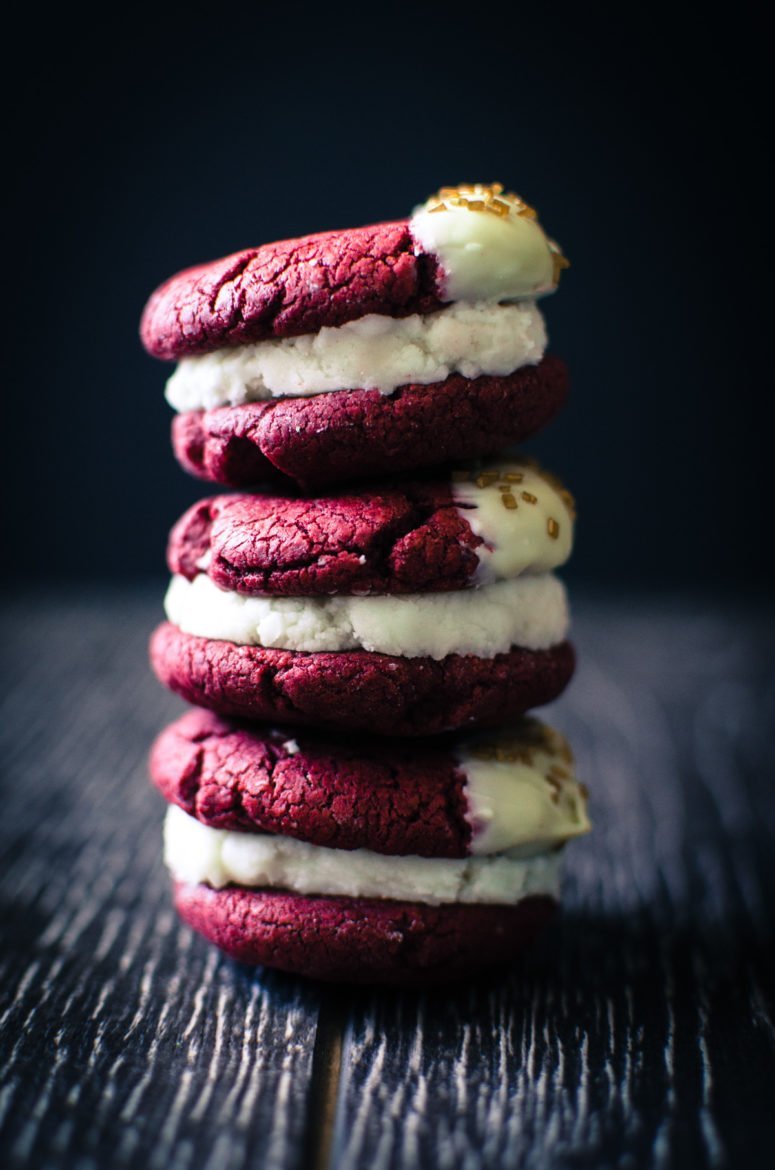 Happy Monday everyone!! Did you watch the Super Bowl last night??? What did you have to eat while you watched? I sort of half-watched while being preoccupied on my laptop. I had the liberty to opt out of giving the game my full attention since it just Ryan and I watching it. Football games are hard for me to watch – it's like my concentration fades in and out for the entirety of a 3+ hour game. Maybe it's because I don't understand/know about a lot of the rules? Beats me. We all know I only participate for the football watching FOOD! We had a pretty balanced eating situation at our place…I made 1/2 a batch of this queso, bought smoked wings from Hoss's, made this edamame, and sliced a perfectly ripe red Anjou pear. I thought it was the perfect spread for 2 people! Indulgent meets a good dose of fiber to counteract all that cheese in the queso….. {sorry but the dietitian in me had to point that out}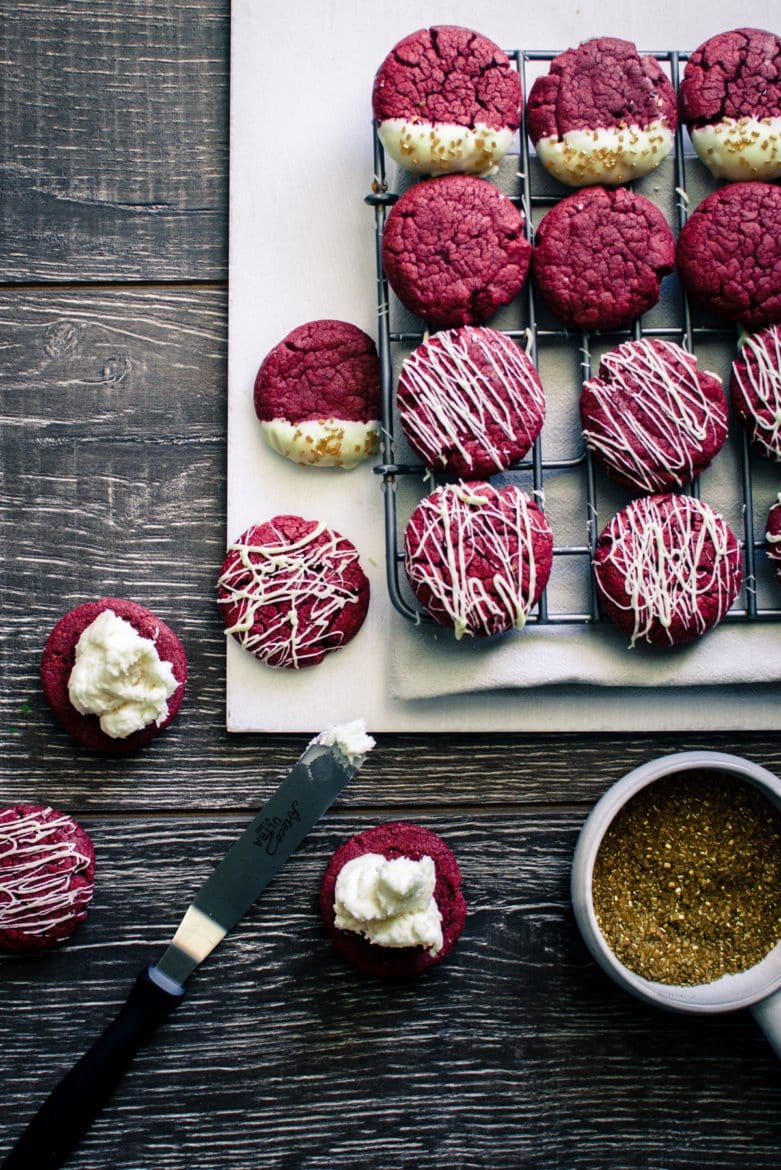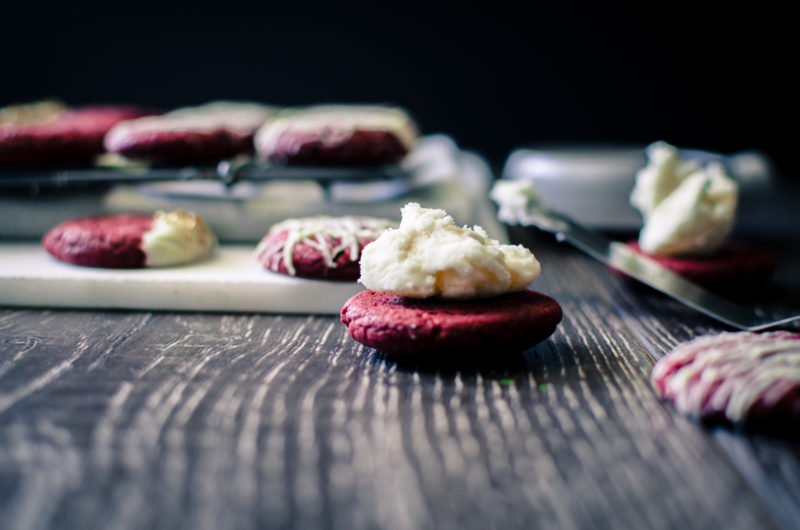 Anyway, it's time we turn our attention to Valentine's Day!!! Even if you hate Valentine's Day or don't plan to celebrate it in a romantic day, the whole experience will be a lot better if you take the time to treat yo' self and just celebrate LOVE in general. That's always been what I've tried to do anyway. You know what? I actually never had a romantic valentine until my 23rd year of life. And up to that point I celebrated Valentine's every year…my favorite ways to celebrate during those single years were with heart-shaped chocolate chip pancakes made by my mom or a chocolate Krispy Kreme donut with the cute little pink, red and white sprinkle combo.
Maybe you can help other's celebrate by making these cute little sandwich cookies and passing them out to coworkers/classmates/friends or anyone you know who might be having a not-so-great day? This would be the recipe for that. When you need to make something festive on-the-fly with just  a few ingredients and a little bit of time, that trusty box of cake mix collecting dust in the back of your pantry comes to the rescue and saves the day. Now don't get me wrong – I'm not a huge fan of cake mix and would always opt for a scratch-made cake when time allows. But I LOVE a good "semi-homemade" recipe that you can make with boxed mix and turn that said mix into a delightful little creation that's unexpected. Here's the thing: I've made these cookies sooooo many times for parties/events where I was pressed for time and no one could guess they were from a boxed mix. I guess now the secret is out…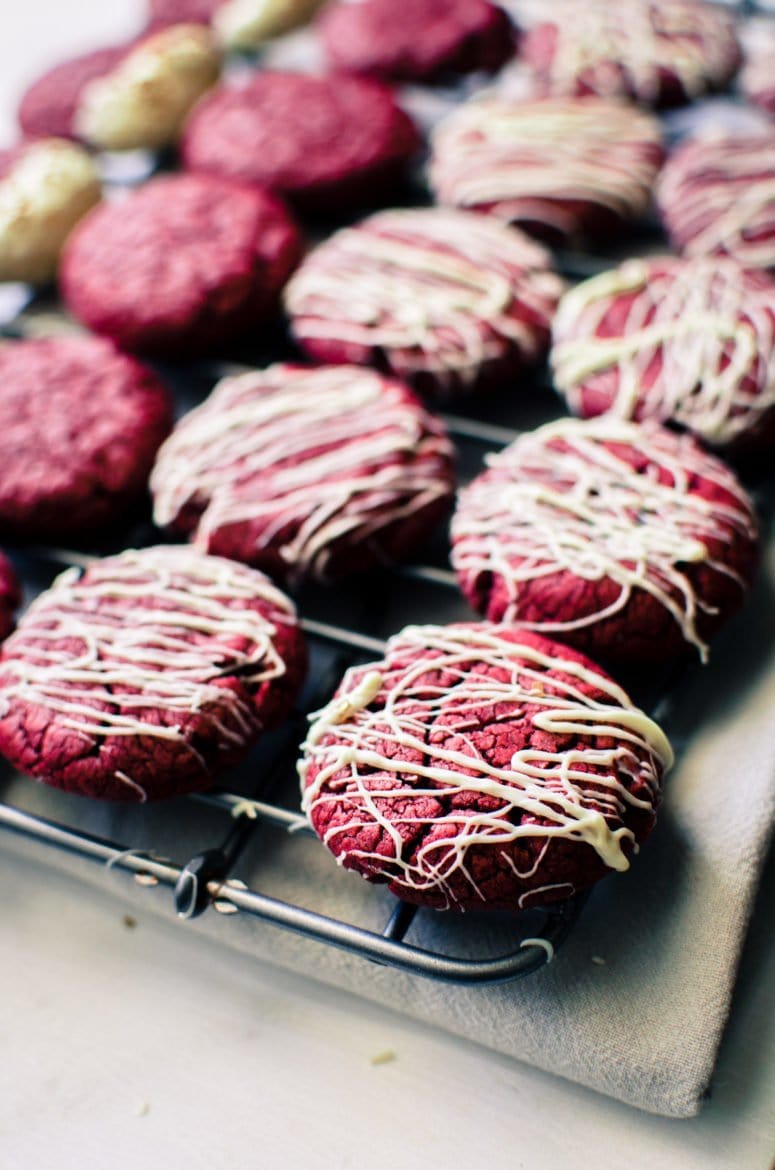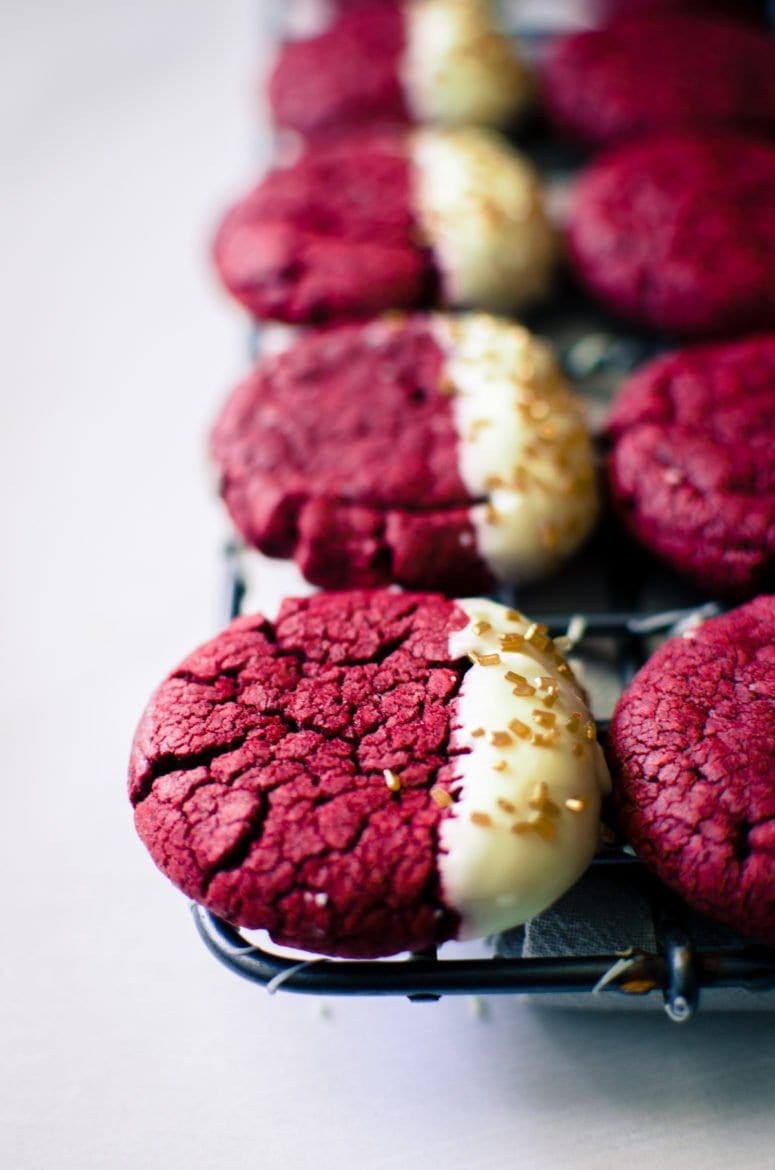 What I love about these sandwich cookies:
It's a creative way to use boxed cake mix and add your own homemade spin with a really good frosting and decorations
It's simple to make and can be made up to a day ahead of time
It's a fun recipe to make with others and decorate the sandwich cookies together
There are SO many flavor combo possibilities for sandwich cookies…I've made this same recipe with Devil's Food and Spice cake mixes and its fabulous. Try different frosting/filling combos too – a chocolate ganache would make a great filling or a buttercream frosting flavored with peanut butter, Nutella, Cookie Butter, or your favorite jam. Isn't it nice to have options? 🙂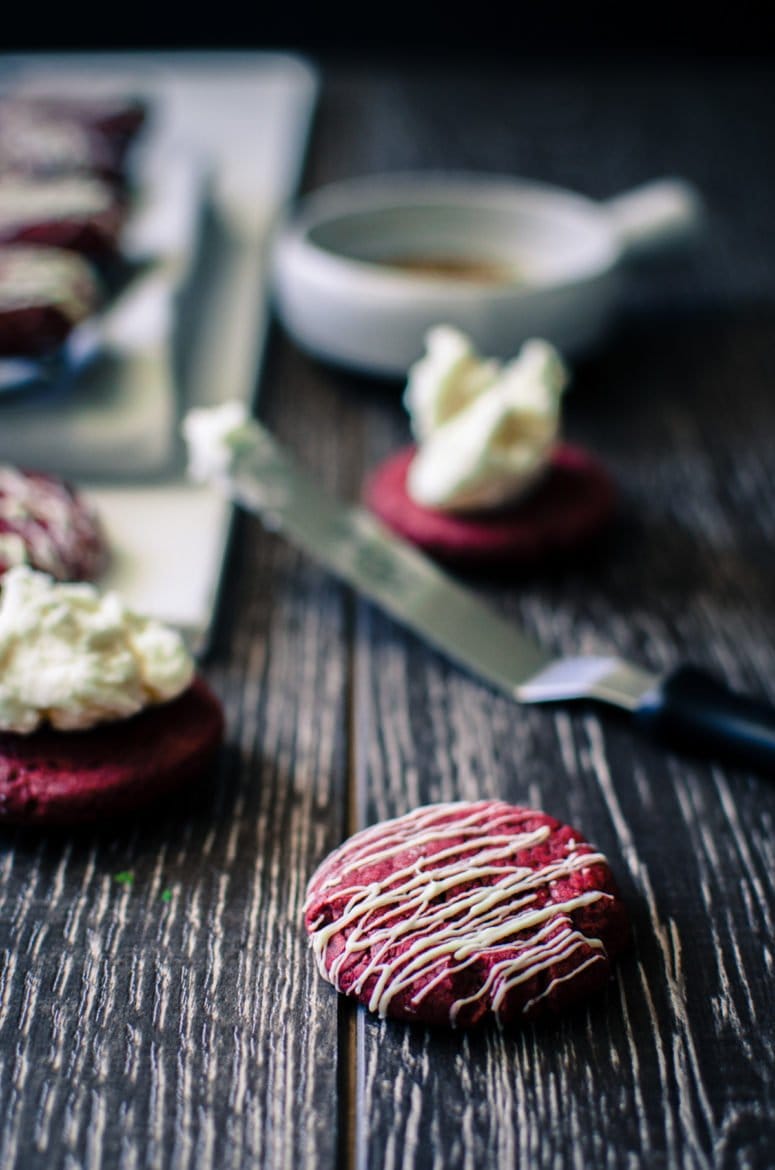 Red Velvet Sandwich Cookies
Servings
:
16
cookie sandwiches
Ingredients
For the cookies:
1

box Duncan Hines Red Velvet Cake mix

1

stick unsalted butter

at room temperature

1

large egg

at room temperature
For the frosting:
? of an 8 ounce block of cream cheese

at room temperature

6

tablespoons

of unsalted butter

at room temperature

½

teaspoon

vanilla extract

2-3

cups

of powdered sugar
Decorations:
1

bar of Baker's White Chocolate

Sprinkles of choice
Instructions
Preheat the oven to 350 degrees F. Line two baking sheets with parchment paper and set aside.

In the bowl of a stand mixer fitted with the paddle attachment or with a large bowl and hand mixer, combine the cake mix, 1 stick of butter and the egg on medium-low speed until just combined and a thick dough forms.

Roll pieces of dough into 1'' balls and place on the baking sheets. You want the size of the balls to be as uniform as possible. You should have 32 balls total.

Using the palm of your hand, press lightly onto each ball to slightly flatten it. Bake for 8-9 minutes until the cookies are just set. They may appear slightly underdone to the touch but will continue to firm up as they cool.

While the cookies bake, make the frosting. Combine the cream cheese and butter in the bowl of a stand mixer fitted with the paddle attachment. Mix on medium low until well combined and fluffy, about 2 minutes. Add the first 2 cups of powdered sugar and mix on medium speed until fluffy, scraping down the sides of the mixer and paddle as necessary. Add up to one additional cup of powdered sugar until the frosting is thick and stiff. It should be about the texture of Oreo cookie cream filling.

While the cookies cool, melt the white chocolate in a microwave safe bowl. Microwave in 30 second increments, stirring between each interval, until the chocolate is fully melted. Decorate the cookies with the white chocolate and sprinkles as desired. I like to dip half of my cookies in the white chocolate and then drizzle the chocolate on the tops of the rest of the cookies (see photos). After decorating, place the cookies on wax or parchment paper and let the chocolate dry 4-6 hours before making the cookie sandwiches. You can speed up the drying process by placing the cookies on a wax-paper lined baking sheet in the refrigerator.

Once the chocolate has dried, place ½-1 tablespoon of frosting into the center of half of your cookies. Place the remaining cookie halves on top of the frosted cookie halves and press gently to form the cookie sandwiches.

Serve at room temperature. Cookies will keep in an airtight container in your refrigerator for up to 3 days, or can be frozen for up to 3 months.
Would you make this recipe? If you do end up giving it a whirl, I'd love to hear about it! Let me know in the comments below or upload a picture to Instagram or Facebook with the tag #sweetcayenne – It's always great to connect with you!
For more Valentine's Day inspiration, check out these posts: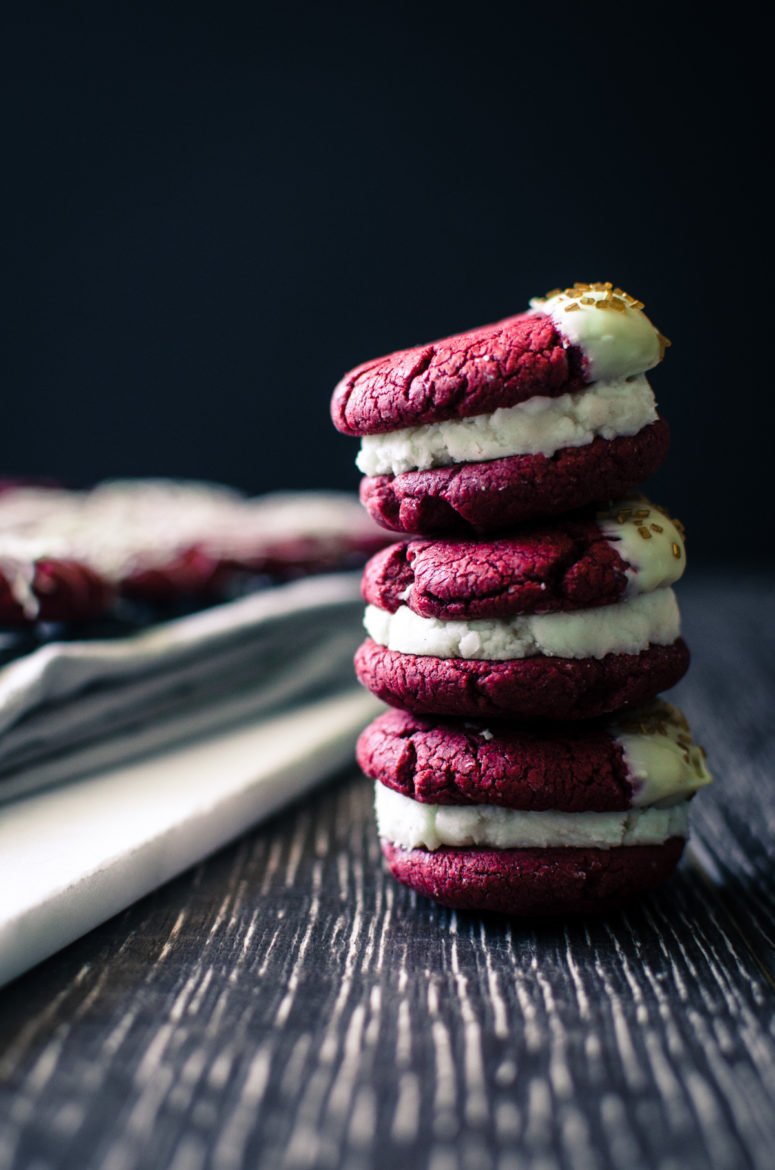 0