This Turkey Florentine Lasagna is a healthy and delicious take on an Italian classic. It's filled with lean ground Turkey, Italian chicken sausage, roasted red peppers, and spinach!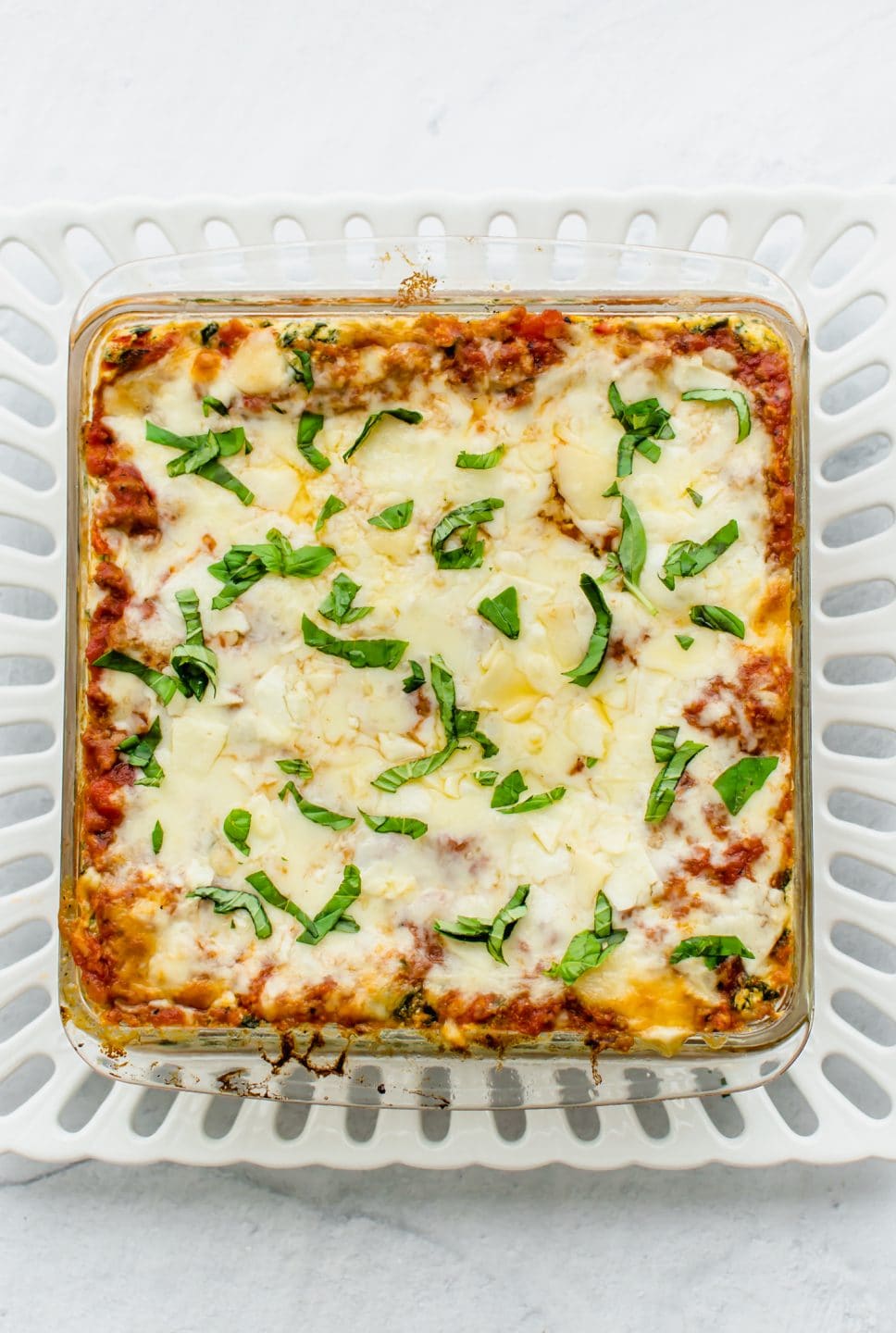 This post for Turkey Florentine Lasagna was originally published in January of 2015 and was one of the very first recipes on Sweet Cayenne! It has since been made DOZENS of times and updated with new photos and content. Bon Appetit!
Today I'm thrilled to be re-sharing with you a recipe that I've literally been making for over a decade now and that I enjoyed as a kid when my mom would make it: Turkey Florentine Lasagna. This was lovingly known in my family as "Spinach Lasagna" and surprisingly was universally enjoyed by myself and my 4 picky siblings. Even despite the fact that we knew there was spinach in it!
However, after learning in culinary school back in 2012 that the word "Florentine" referred to dishes prepared in the Florentine style that featured spinach, I decided to code name our beloved lasagna "Turkey Florentine Lasagna" so more people would give it a chance and taste it without knowing there was spinach in it. And you know what? It works! Nowadays, I just tell friends and family that I'm making "lasagna" and don't mention what's in it until they try some, which I think is a fantastic strategy. Let's make some!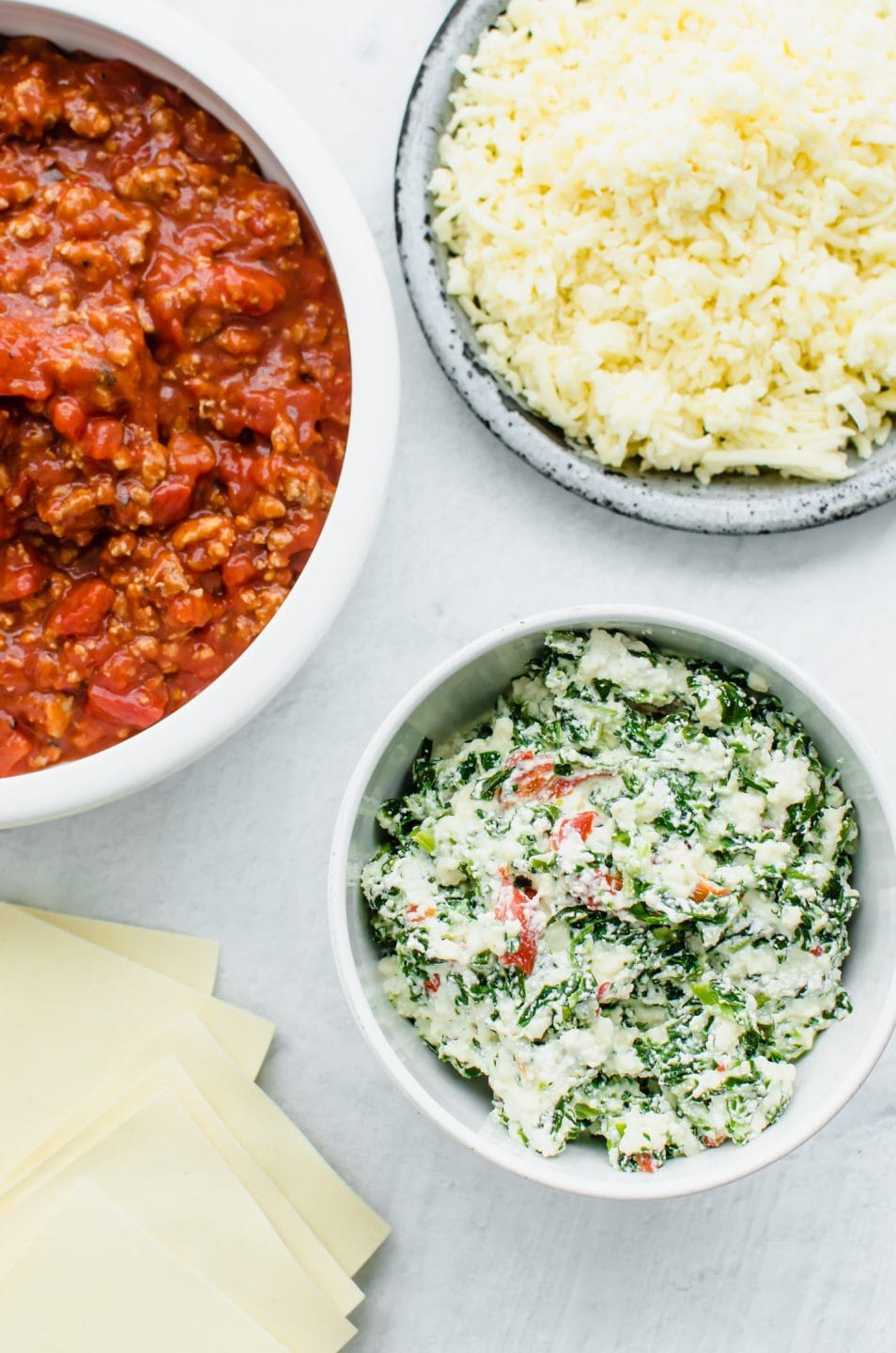 Ingredients
No-Boil Lasagna Sheets - in my opinion, one of the most unpleasant parts about making lasagna is dealing with those floppy wide lasagna noodles. They are so messy! But Barilla's No-Boil Lasagne Sheets (they also have a gluten-free version!) and Delallo's No-Boil Organic Whole Wheat Lasagna are the perfect solutions (next to making your own fresh lasagna sheets!). I love the result I get each time I use them.
Ground Turkey - while you can certainly use lean ground beef in this recipe, I like to change it up sometimes and use turkey. For lasagna, I will buy the 90/10 ground turkey for a little extra flavor in the lasagna.
Ground Italian Chicken (or Turkey) Sausage - this adds TONS of flavor to any meat sauce, and using a turkey or chicken Italian sausage instead of pork will cut back on some of the fat and calories. I buy bulk-packaged Italian chicken sausage from Sprouts, but I know there are links of fresh Italian turkey sausage available at most grocery stores. Just remove the casings before adding the sausage to the pan to brown it.
Crushed Tomatoes and Fire-Roasted Tomatoes - we are making a homemade sauce for this recipe that's almost as simple as just opening a jar of pre-made sauce, but WAY better! Crushed tomatoes and fire-roasted tomatoes add lots of flavor to the sauce and create a moderately-thick, rustic sauce that's easy to spread.
Frozen Chopped Spinach - this is where the Florentine part comes in! I like to thaw my frozen spinach in the fridge for a few hours before adding it to the lasagna mixture.
Roasted Red Peppers - these peppers will add a deep, rich flavor to your lasagna and contribute to the overall robust taste of the sauce.
Egg - one egg is necessary to hold your ricotta and veggie mixture together, making it easier to spread.
Part-Skim Ricotta and Mozzarella Cheese - using part-skim ricotta and part-skim mozzarella in lasagna is a great way to cut back fat and calories, but you won't notice a difference in taste! Avoid using the pre-shredded mozzarella cheese and shred your own block, if possible. The pre-shredded cheese has an anti-caking agent on the outside that prevents the cheese from melting as well and doesn't have the best texture.
Parmesan Cheese - a generous portion of freshly-grated Parmesan cheese or shavings on the very top of the lasagna creates a golden layer of flavorful cheese "crust" that is the best part of the dish, in my opinion!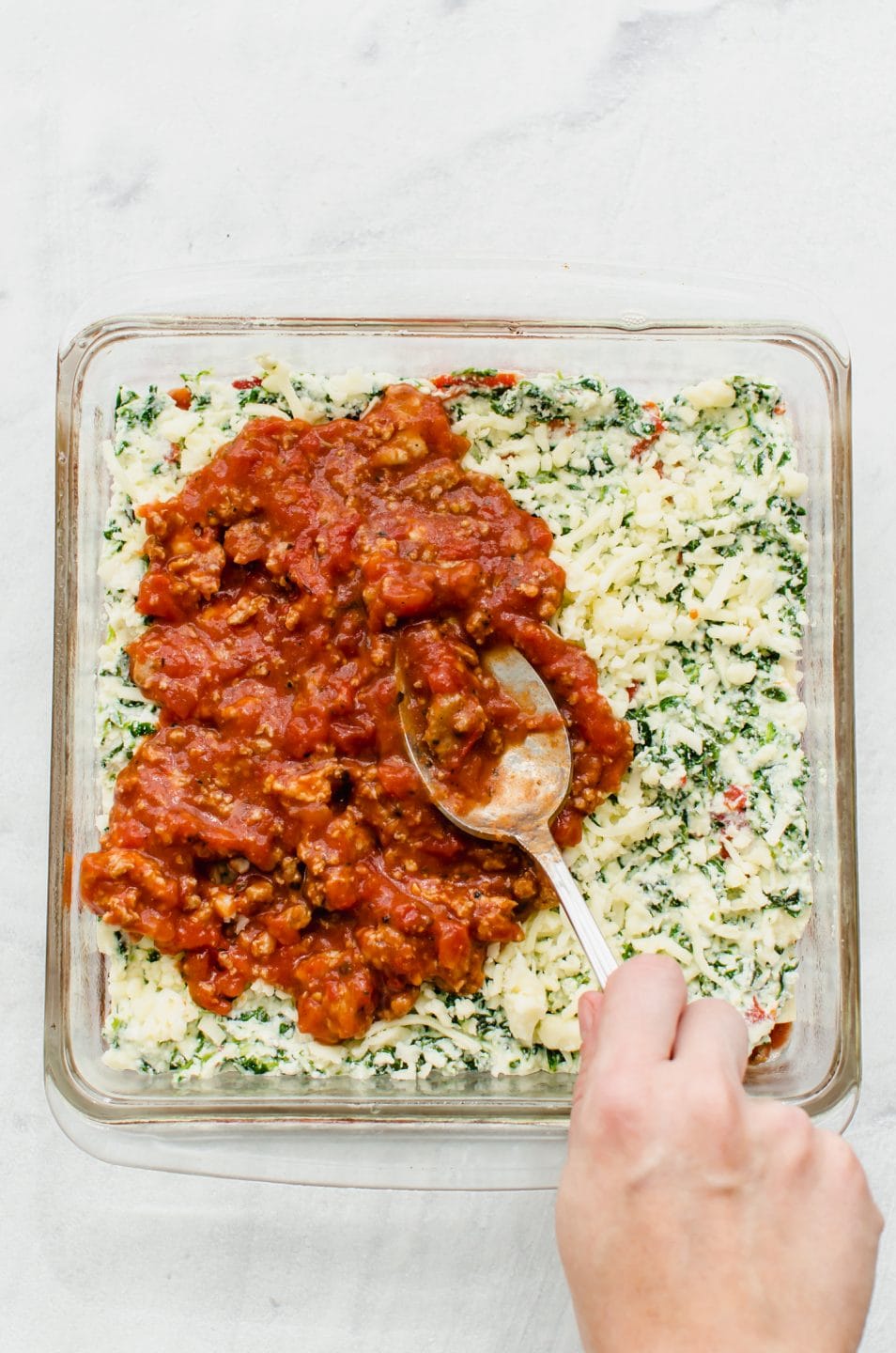 Tips
Don't overcook the noodles - if you use noodles that need to be boiled, cook them for only ⅔ of the recommended cooking time on the package. I skip this all together by using the no-boil, oven-ready lasagna sheets I mentioned above.
Avoid adding ingredients with extra water - while fresh mozzarella may sound like a nice idea, it adds a lot of extra moisture to the dish and may result in watery lasagna. Any vegetables you add to the lasagna need to be drained of any excess water as much as possible before adding to the dish. I will literally place my spinach and red peppers in a fine mesh strainer and press them with a rubber spatula to get all of the water I can out before adding these ingredients to the ricotta cheese.
Concentrate your meat sauce - we need to simmer the meat sauce for at least 20 minutes to allow the excess water from the canned tomatoes to evaporate. This will also prevent a watery lasagna. When possible, I will try to make the meat sauce one day before assembling the lasagna so that the flavors concentrate in the fridge over time and the sauce thickens up nicely.
Buy blocks of part-skim mozzarella and shred it yourself - as I mentioned above, freshly-shredded cheese melts so much more nicely in baked casserole-type dishes. It will also have smoother, silkier texture than pre-shredded cheese due to the absence of anti-caking agents.
Make the fillings a day before assembling the lasagna - OR assemble the lasagna and then bake the following day. While not necessary, both of these options will allow the flavors in your lasagna to develop and concentrate. Lasagna is one of those dishes that is best on days 2, 3, and even 4 after the texture has set up and the flavors have melded together.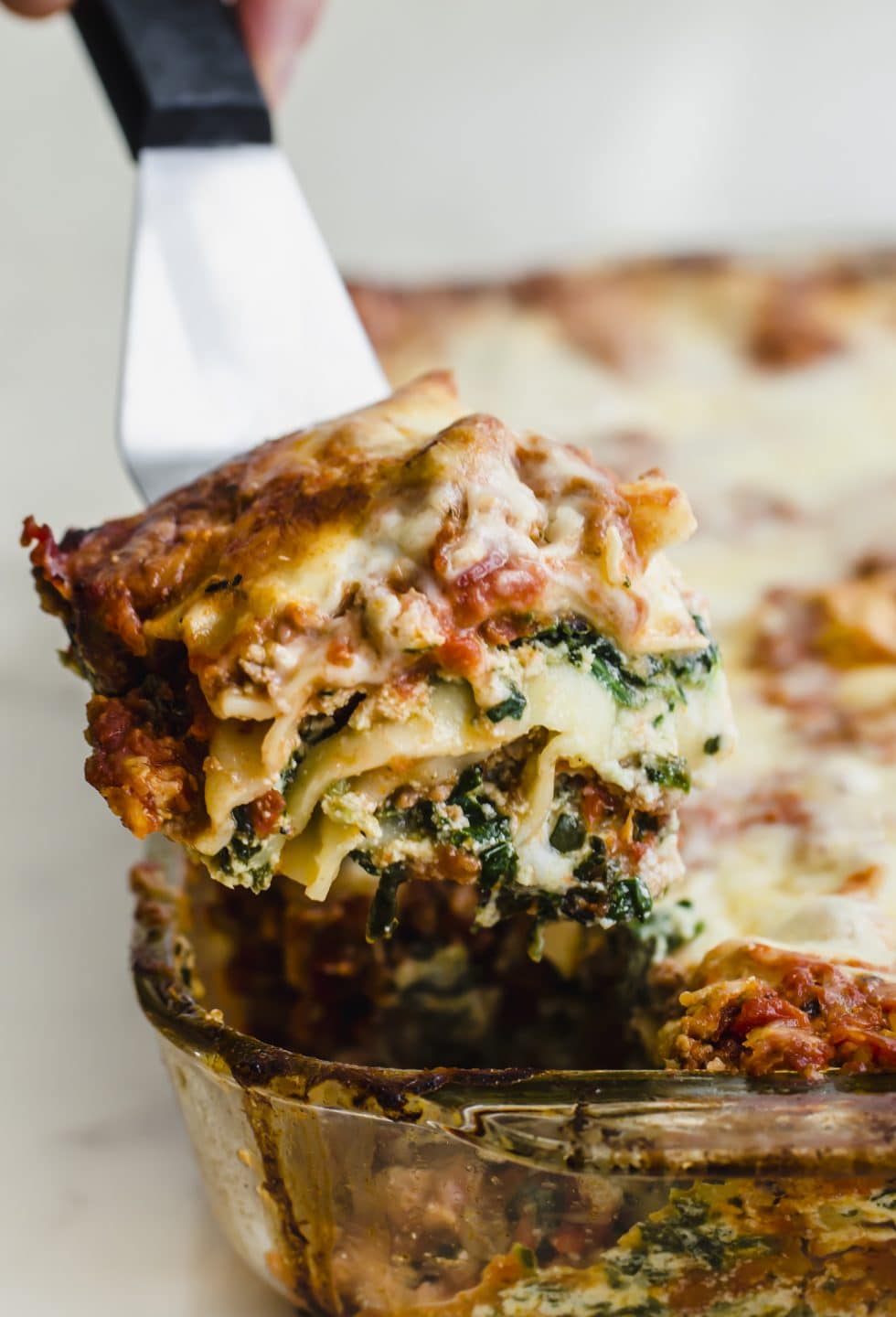 Uses for Lasagna
Double (or triple!) the recipe - while not all recipes are suitable for doubling or tripling, this one is perfect for making enough to feed a crowd! Many times, I will double the recipe and divide the ingredients into 3-4 smaller baking dishes for the freezer. If you need to make this for catering purposes, I find that a triple recipe is enough to fill one standard restaurant hotel pan and will yield 35 servings (7 rows of 5 squares).
Freeze before baking - this lasagna makes for an amazing freezer-friendly recipe, and I always make one for the freezer in addition to baking one fresh. Might as well when you are putting the time in! Simply freeze in a casserole dish covered with a layer of plastic wrap and then a layer of foil-wrapped tightly around the dish up to 3 months.
Freeze after baking - if you find yourself with more lasagna leftovers than you would prefer to eat in a week, make your own little Lean Cuisine-style frozen cooked lasagnas! Simply divide portions into little airtight containers and freeze up to 3 months.
Meal-Prep - you can always divide the lasagna into meal-prep containers and freeze or refrigerate those for convenient meals. Find my top 10 freezer-friendly meals here.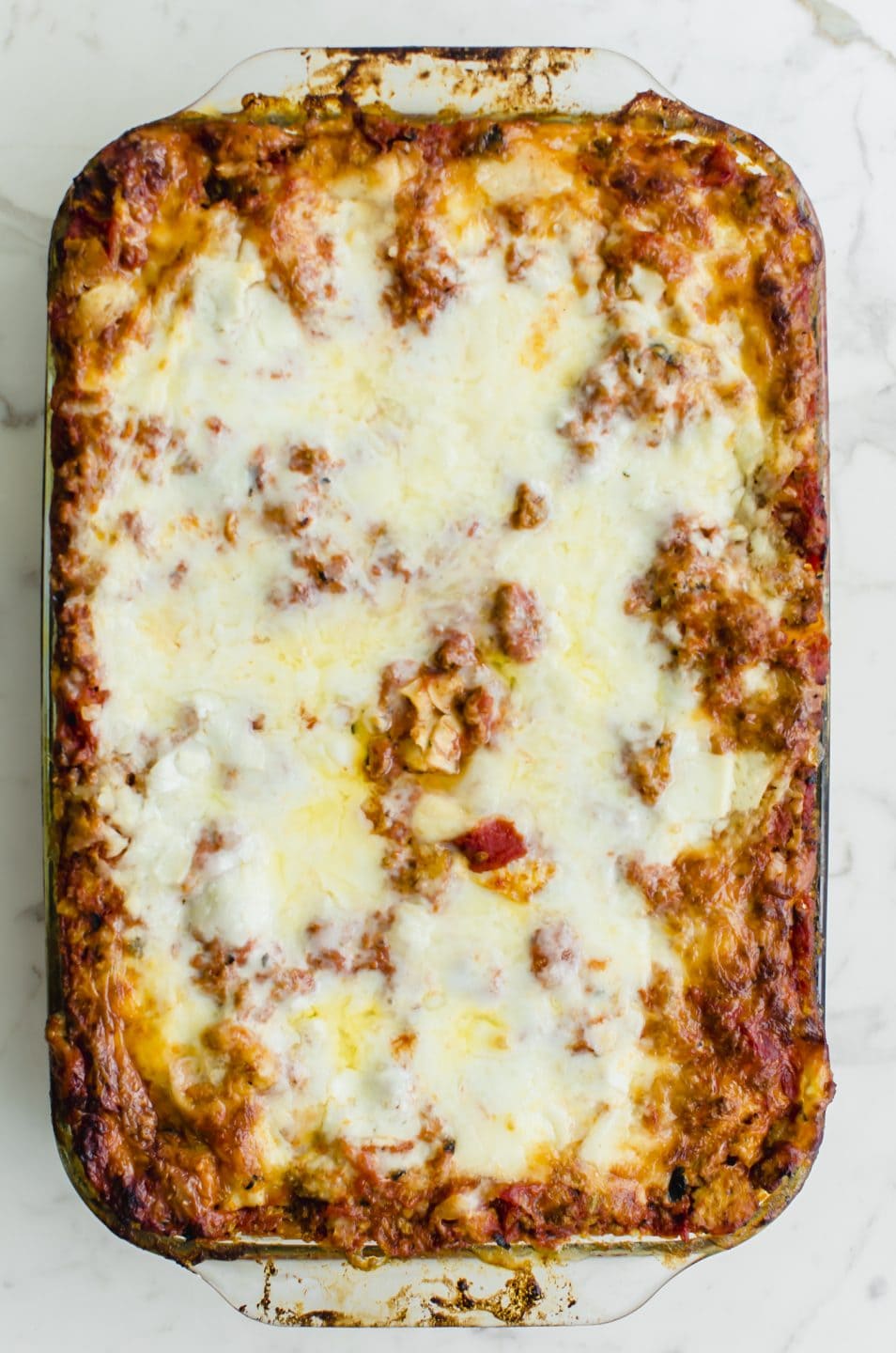 Are you ready to make this Turkey Florentine Lasagna? I'm so excited for you to try this recipe. Once you get the chance to make it, please let me know how it turns out for you! Leave a comment and rate the recipe below. This will help me with the creation of future recipes!
I'd also love to feature your creation in my weekly newsletter, so you can upload a photo to Instagram with the tag @sweetcayenne5 to be featured! Quick and easy recipe videos are available on my YouTube channel, and you will find lots of menu inspiration on my Pinterest boards.
Recipe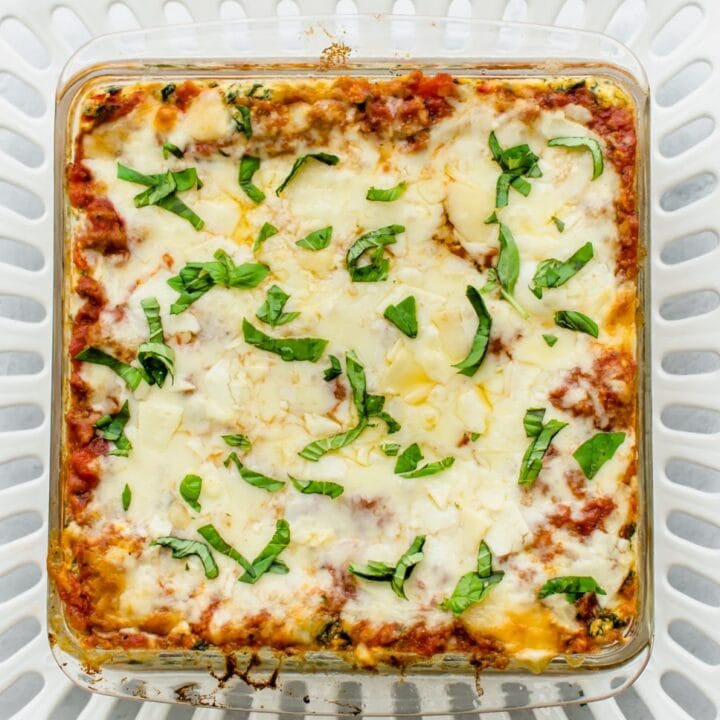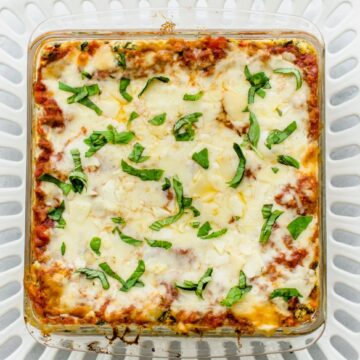 Turkey Florentine Lasagna
Turkey Florentine Lasagna is a hearty pasta dish packed with savory flavors of the Mediterranean. This one dish meal serves a crowd or can be split into smaller dishes for easy freezer friendly dinners.
Print
Pin
Rate
Ingredients
1

package

Barilla no-boil Lasagna sheets

1

pound

90/10 ground turkey

8

ounces

hot Italian chicken sausage (or turkey; about 2 links)

1

(28 ounce)

can crushed tomatoes

1

(14.5 ounce)

fire-roasted tomatoes

½

teaspoon

dried red pepper flakes

2

teaspoons

Italian herb seasoning

16

ounces

frozen chopped spinach, thawed and drained well (be sure to press out ALL liquid)

1

cup

(One 12-ounce jar) roasted red peppers, drained well and diced

drained well and diced

1

large

egg

1 ½

cups

(One 15-ounce container) part-skim ricotta cheese

2 ½

cups

(About 10 ounces) shredded part-skim mozzarella cheese

½

cups

freshly grated Parmesan cheese
Instructions
Preheat oven to 350. Grease a 13x9 inch lasagna pan with cooking spray and set aside.

(Optional: this step can be done the day before assembling the lasagna). In a large skillet, brown the ground turkey and sausage over medium heat until just cooked through. Drain any excess fat before adding both cans of tomatoes, red pepper flakes, and Italian seasoning. Simmer the meat sauce on low heat for 20 minutes. Remove from heat and set aside to cool for 20 minutes.

(Optional: this step can be done the day before assembling the lasagna) In a large bowl, combine the spinach, red peppers, egg, ricotta, and 1 ½ cups of the mozzarella cheese with a rubber spatula, folding to incorporate.

Place about 1 cup of the meat sauce in the bottom of the baking dish. Line the bottom of the dish with lasagna noodles. Add ⅓ of the cheese and spinach mixture to the top of the noodles. Repeat this two more times. The last layer on top of the cheese mixture will be noodles and the remainder of the sauce, followed by the last 1 cup of mozzarella and the ½ cup of Parmesan cheese.

Coat a sheet of foil fitted for your dish and place it on top of the lasagna. Bake the lasagna for 40 minutes. Remove the foil and bake for an additional 20 minutes until the cheese is brown and bubbly. Turn the oven off and put the foil bake on the lasagna very loosely. Let the covered lasagna sit in the oven for 15 minutes before slicing - this will ensure that the lasagna can be served in slices.

For Freezing: freeze unbaked lasagna in the pan covered with a layer of plastic wrap and foil. When ready to use, place in the fridge overnight to thaw. Remove the layer of plastic wrap, then coat the foil with cooking spray. Place the coated foil on the lasagna dish and bake at 350 degrees F for one hour. Remove foil and bake for an additional 20-30 minutes or until the sauce bubbles up around the sides of the pan.
Notes
To make the lasagna freezer friendly, assemble as directed but leave the cheese off the very top. Thaw the lasagna in the refrigerator for 24 hours before baking as directed.
Serving:
1
Serving
|
Calories:
386
kcal
|
Carbohydrates:
47.5
g
|
Protein:
25.8
g
|
Fat:
19.8
g
|
Saturated Fat:
4.2
g
|
Cholesterol:
86
mg
|
Sodium:
394
mg
|
Potassium:
382
mg
|
Fiber:
5.2
g
|
Sugar:
5.4
g
|
Calcium:
232
mg
|
Iron:
5
mg