This Bananas Foster Bread Pudding is a rich and buttery dessert that is easy to make and a flavorful take on old-fashioned bread pudding recipes. The vanilla butter sauce puts this bread pudding recipe over the top.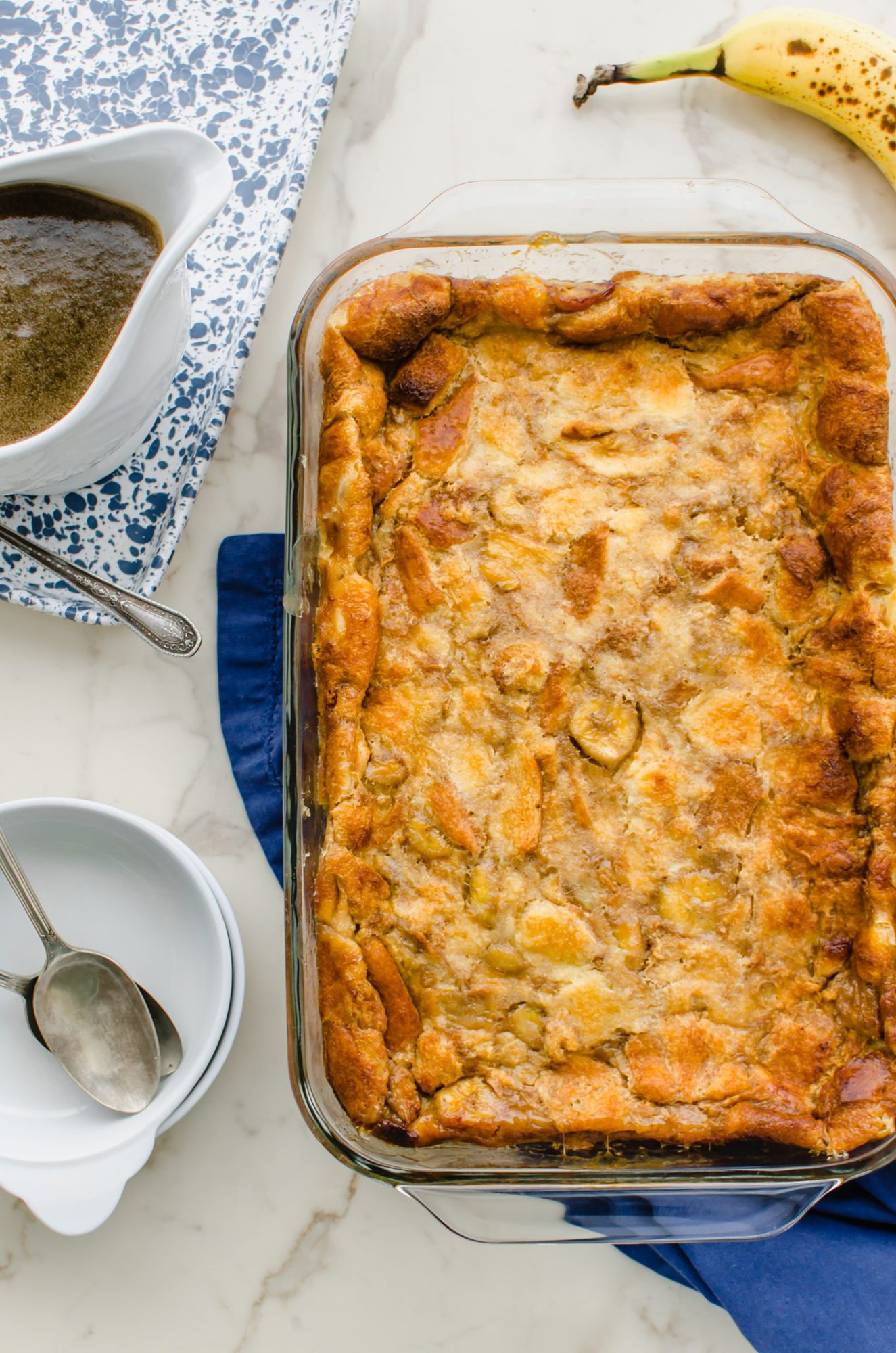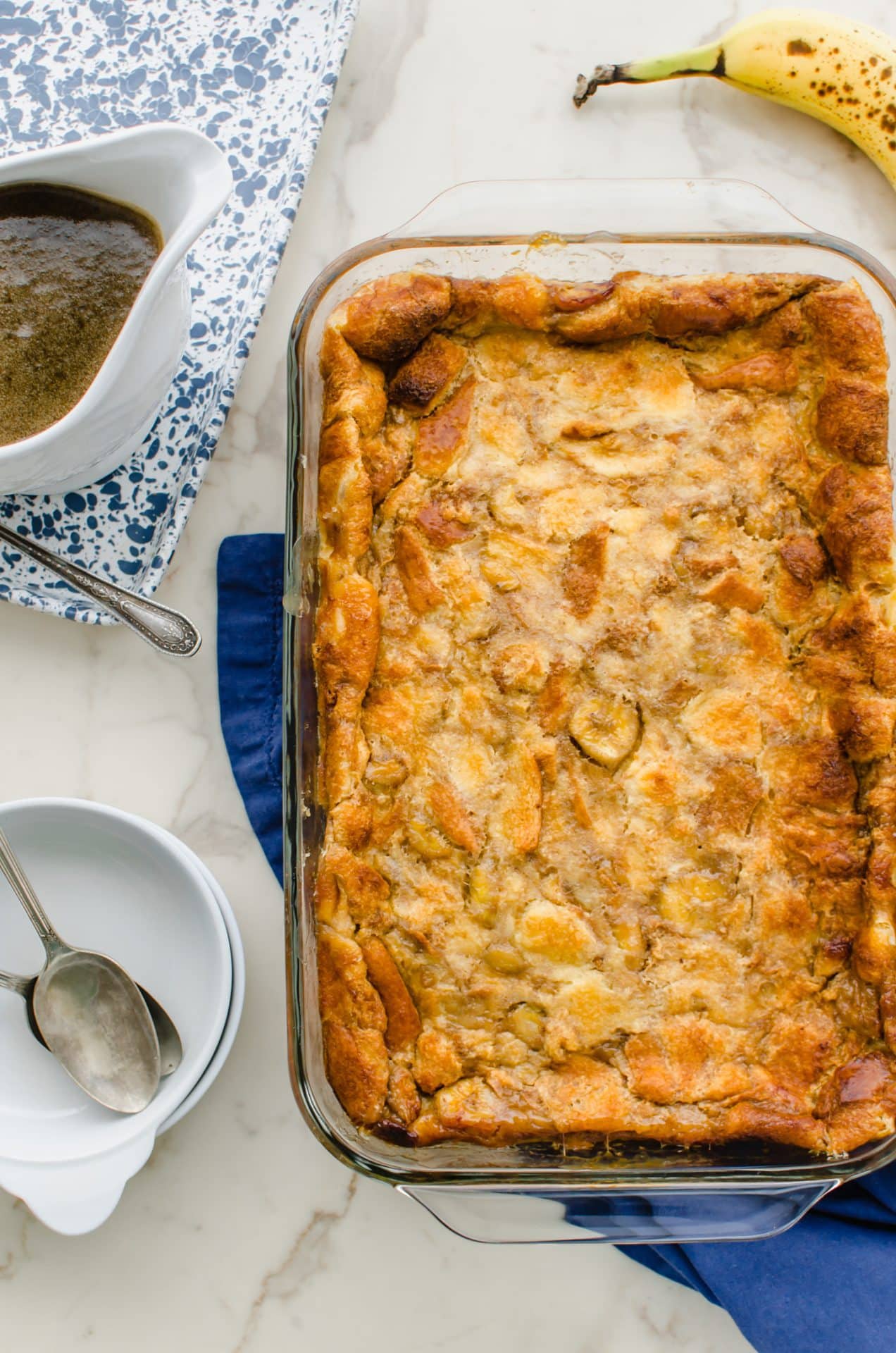 Video
Ok friends, bear with me because today we're going to take a little departure from the healthier recipes and have a little fun with dessert. Because let's be real, desserts are my favorite thing to make and eat, and sometimes I'm going to go all out and make a real showstopper. I have to make the disclaimer though that I did NOT eat all of this by myself. It was shared with and enjoyed by a group of 10 adults - and that definitely helped me justify making it!
This Bananas Foster Bread Pudding is a variation of one of my all-time favorite recipes - Very Best Bread Pudding with Butter Vanilla Sauce. This recipe is reserved for the holidays usually, but I wanted to make a new version of it for company we had recently! It's made with pillow-soft brioche bread that is soaked in milk and folded together with caramelized bananas foster and baked to perfection. Top it all off with buttery vanilla sauce laced with rum and you've got it made! I love infusing the flavor of banans foster into pretty much any sweet - I use the technique of caramelizing the bananas before adding to banana bread, pancakes, waffles, and more. Let's make some bread pudding!

Bananas Foster Bread Pudding Ingredients
Brioche bread - I love to buy the French-style sliced brioche from Walmart or Aldi for this recipe. You do not need stale bread necessarily to make this bread pudding - if you buy fresh bread, just cut it into pieces and leave it out uncovered overnight to dry out some. Alternatively, you can put the bread cubes in the oven at 200 degrees F for 20-30 minutes to dry them out a bit.
Dairy - milk, half and half, heavy cream - I use 1% milk and half & half for soaking the bread because it's typically what I have on hand. You could also use whole milk instead of that combination. You'll need ½ cup of heavy whipping cream for the bread pudding sauce. If you need a dairy-free substitute, try lite coconut milk for the bread soak and coconut cream for the sauce.
Eggs - three eggs will help the bread pudding set and create a custard that the bread cubes bake into.
Bananas - three ripe (brown speckled but not mushy) bananas will create the bananas foster base that gets folded into the soaked bread cubes.
Butter - you can use regular salted butter or vegan butter sticks (like Earth Balance) to make the bananas foster base for this bread pudding.
Brown and white sugar - these are added to the bananas foster base.
Vanilla and rum extract - for a depth of flavor. Feel free to use real rum if you have it and would like to use it!
Cinnamon - just a pinch to add depth of flavor.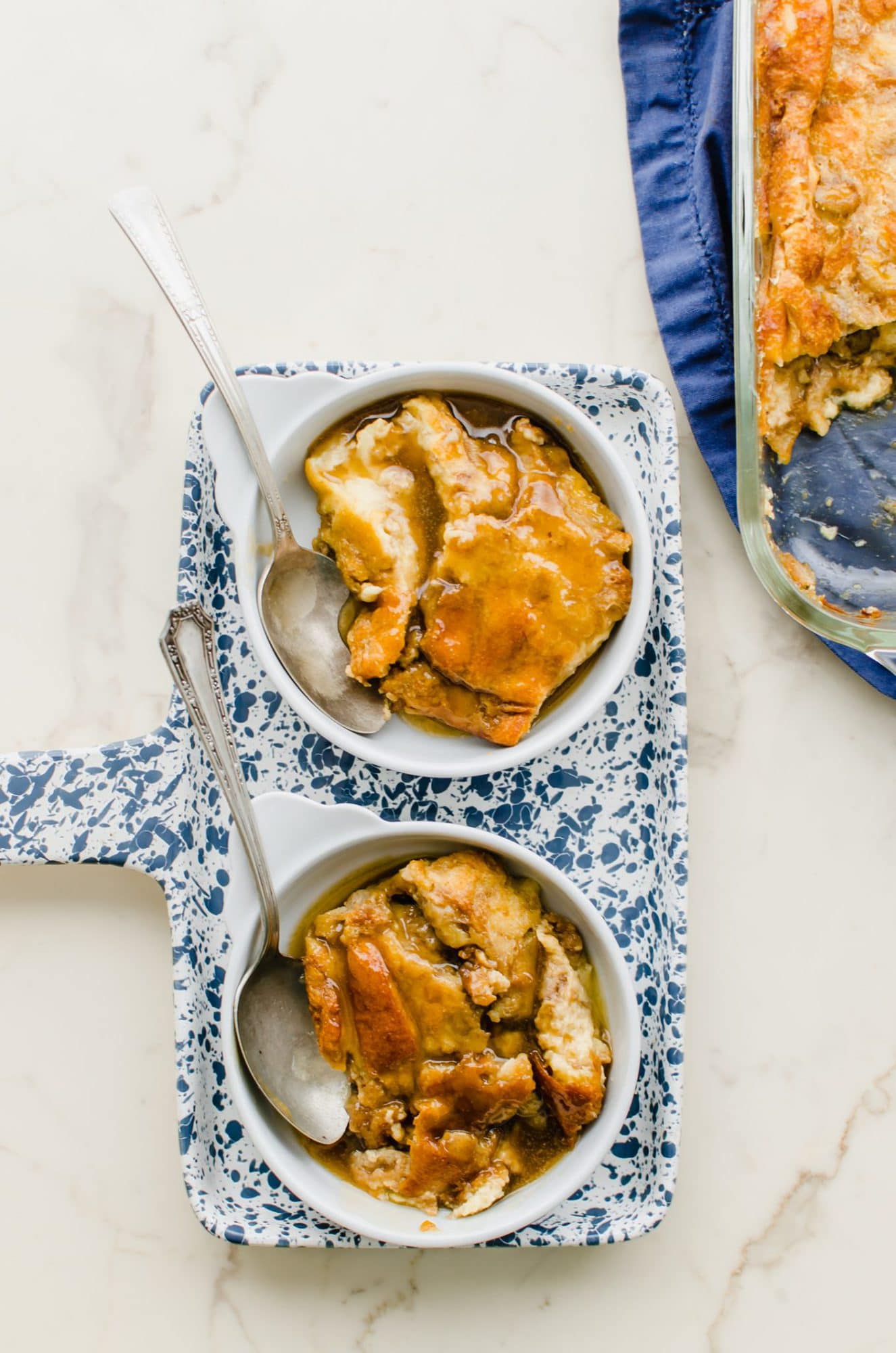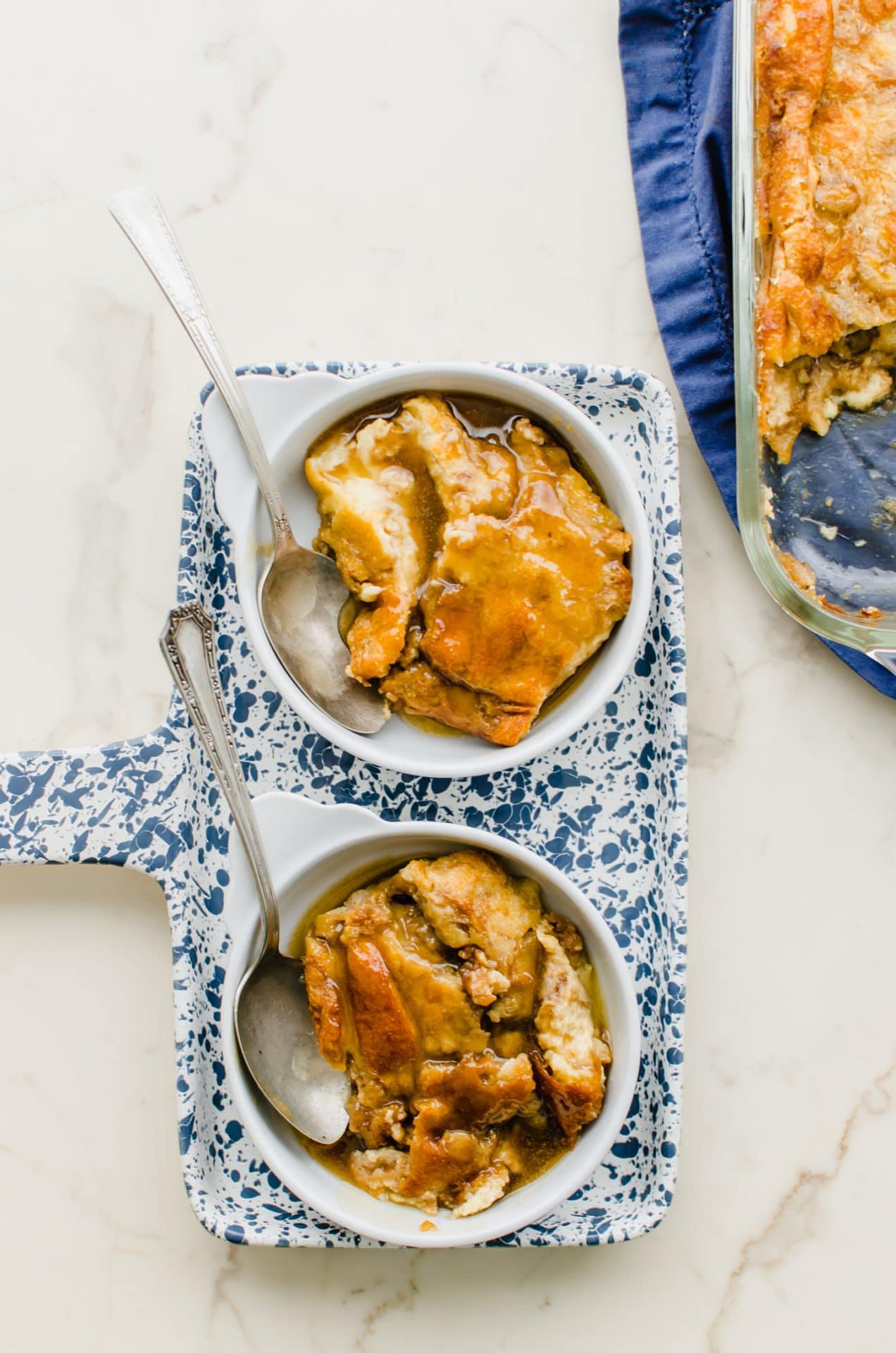 Making bread pudding from scratch
Step 1: you'll make a deeply-flavored bananas foster base with the butter, bananas, brown and granulated sugars, and then the vanilla and rum. Let this cool a bit while you prepare the rest of the recipe.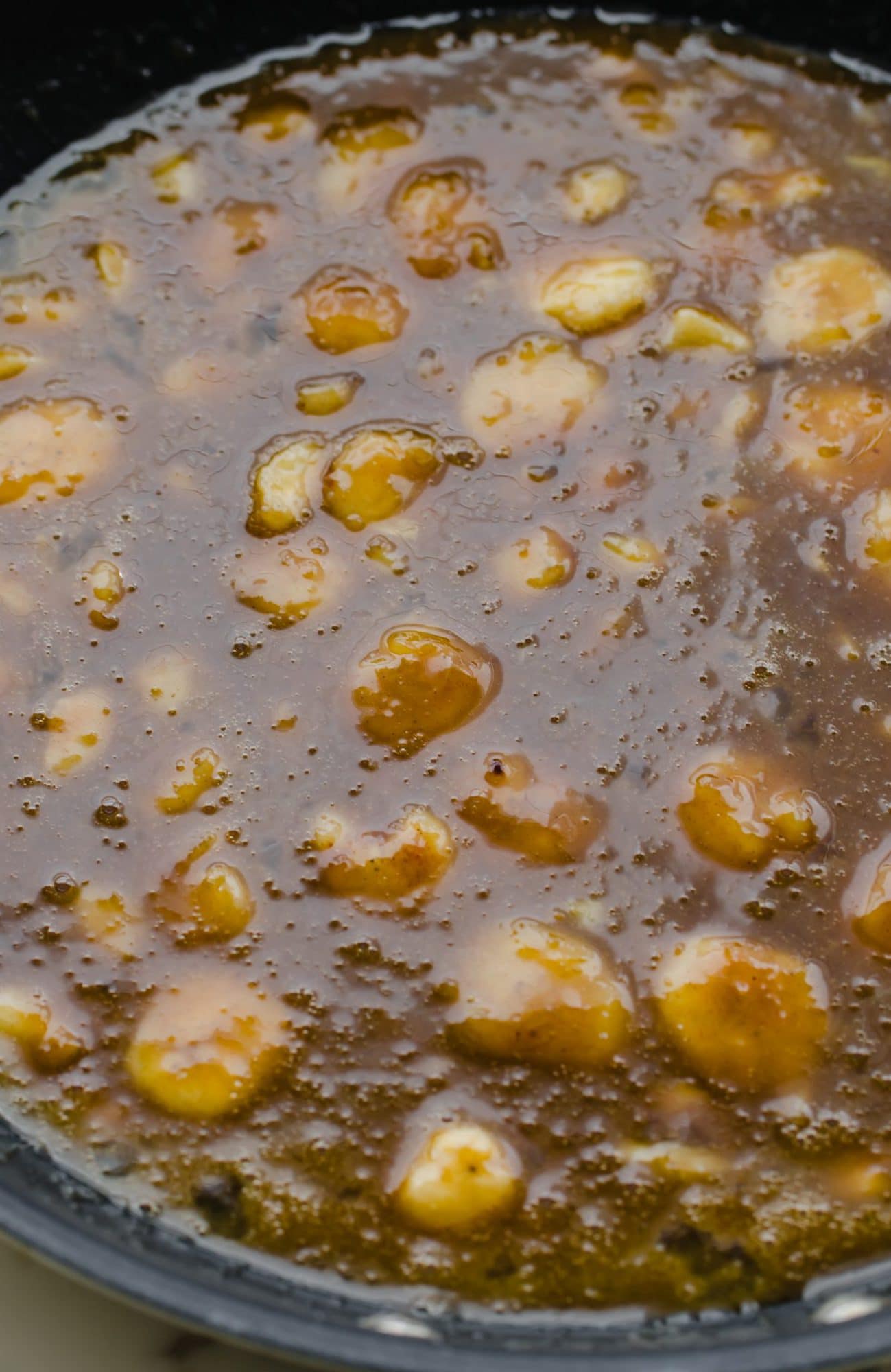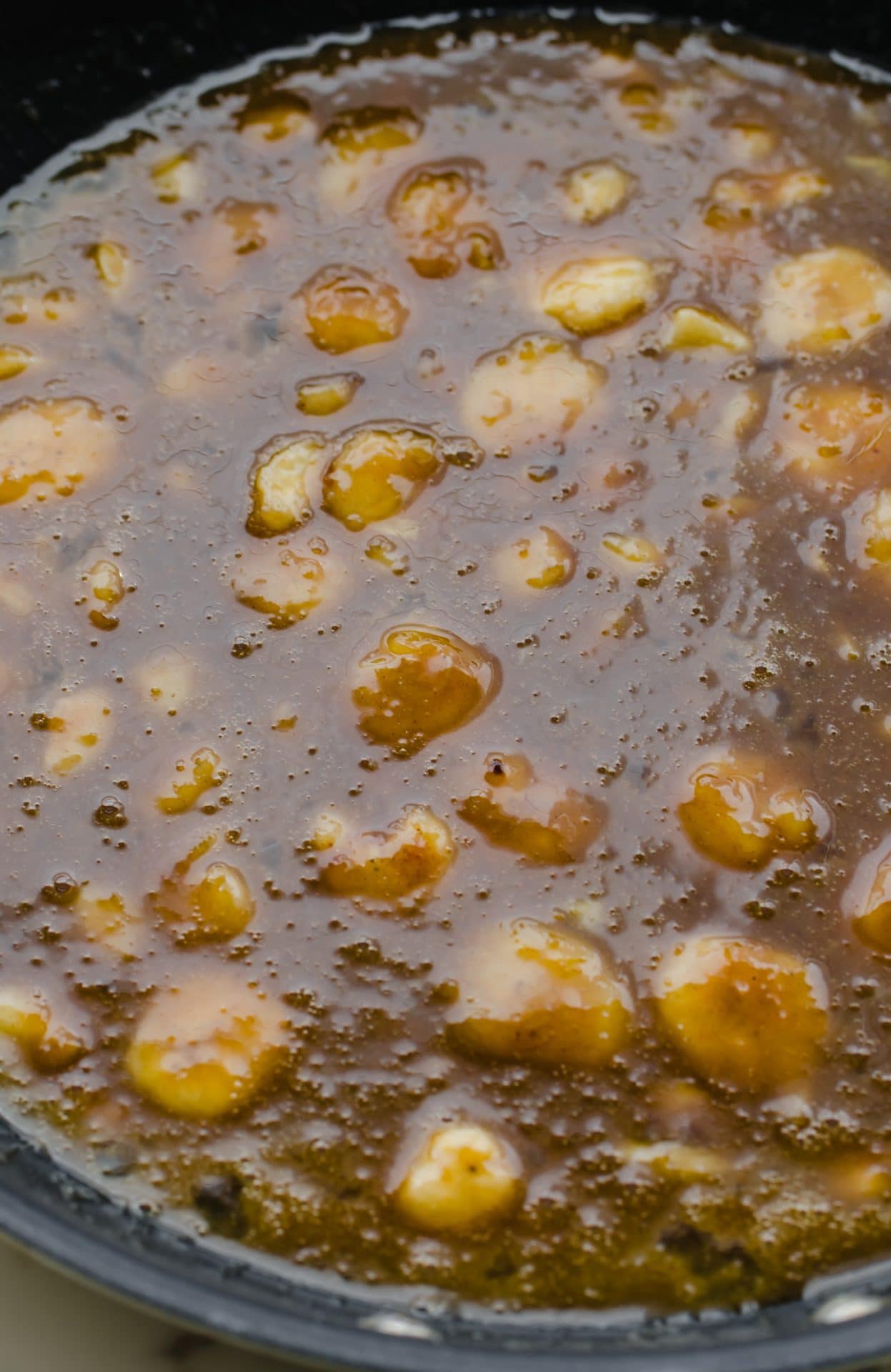 Step 2: while the bananas foster base is cooling, you will add the milk(s) to the bread cubes. Use a rubber spatula to press the milk into the bread. It will look very soggy but that is ok!
Step 3: once the bananas foster base cools a bit, you'll stir in some lightly-beaten eggs into it. If your banana mixture is still very warm, whisk about ½ cup of that into the eggs to temper/warm the eggs up a bit. Then stir that egg mixture into the remaining bananas until well-incorporated.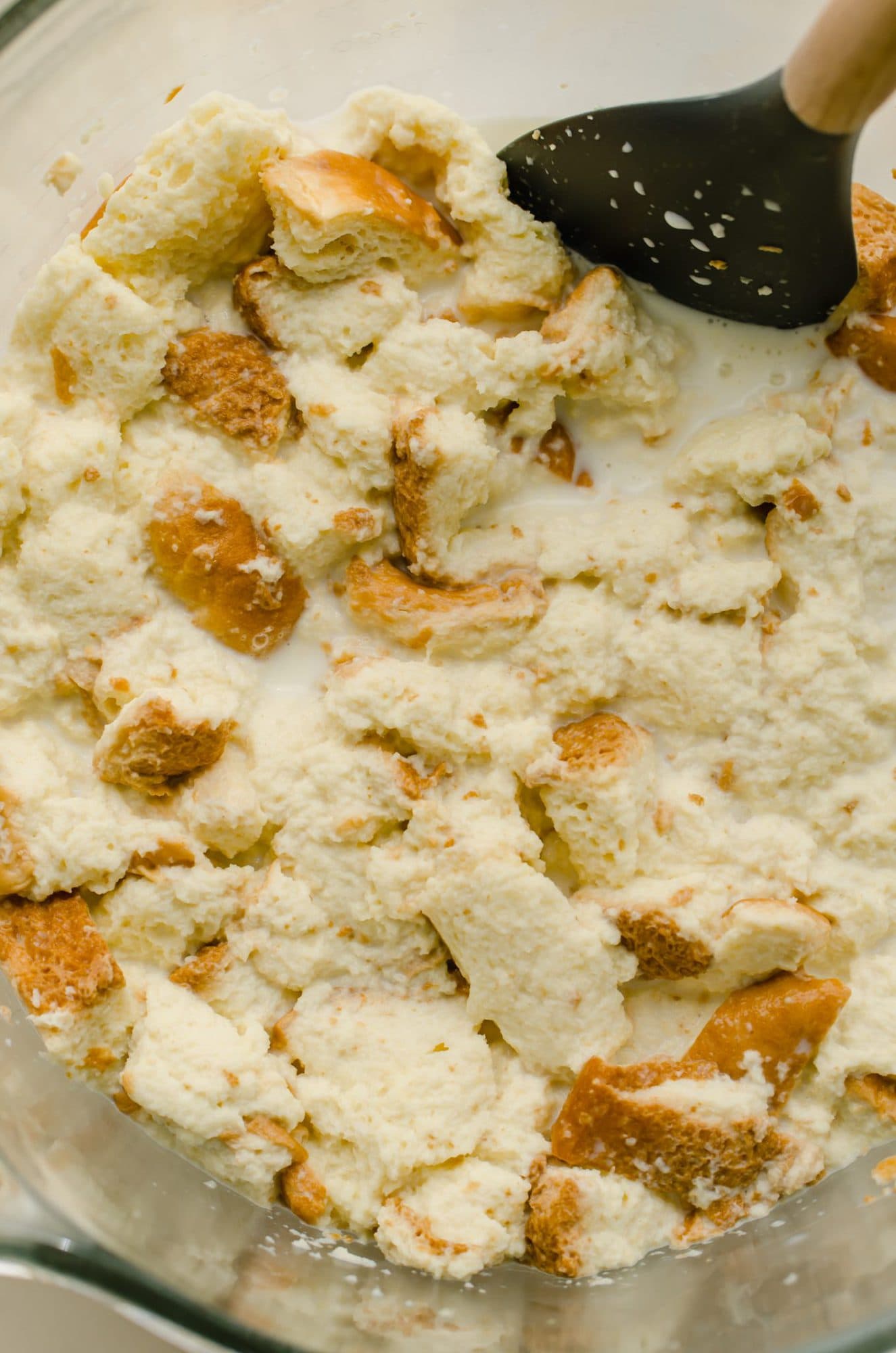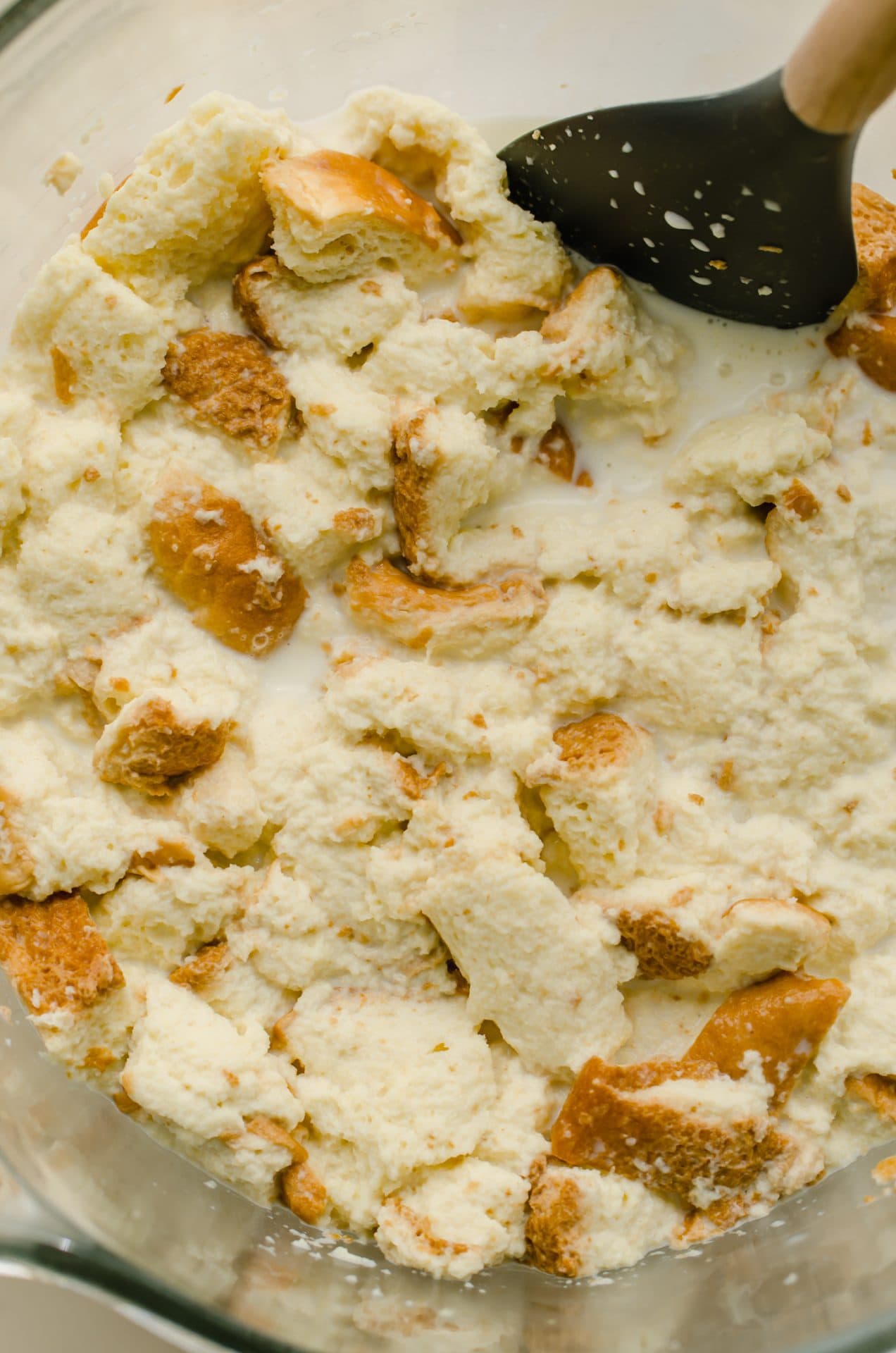 Step 4: The bananas foster mixture will get folded into the soaked bread, then you spread it all into a greased casserole dish. It will look soupy but trust me, it will bake into a soft and silky bread pudding that is to die for!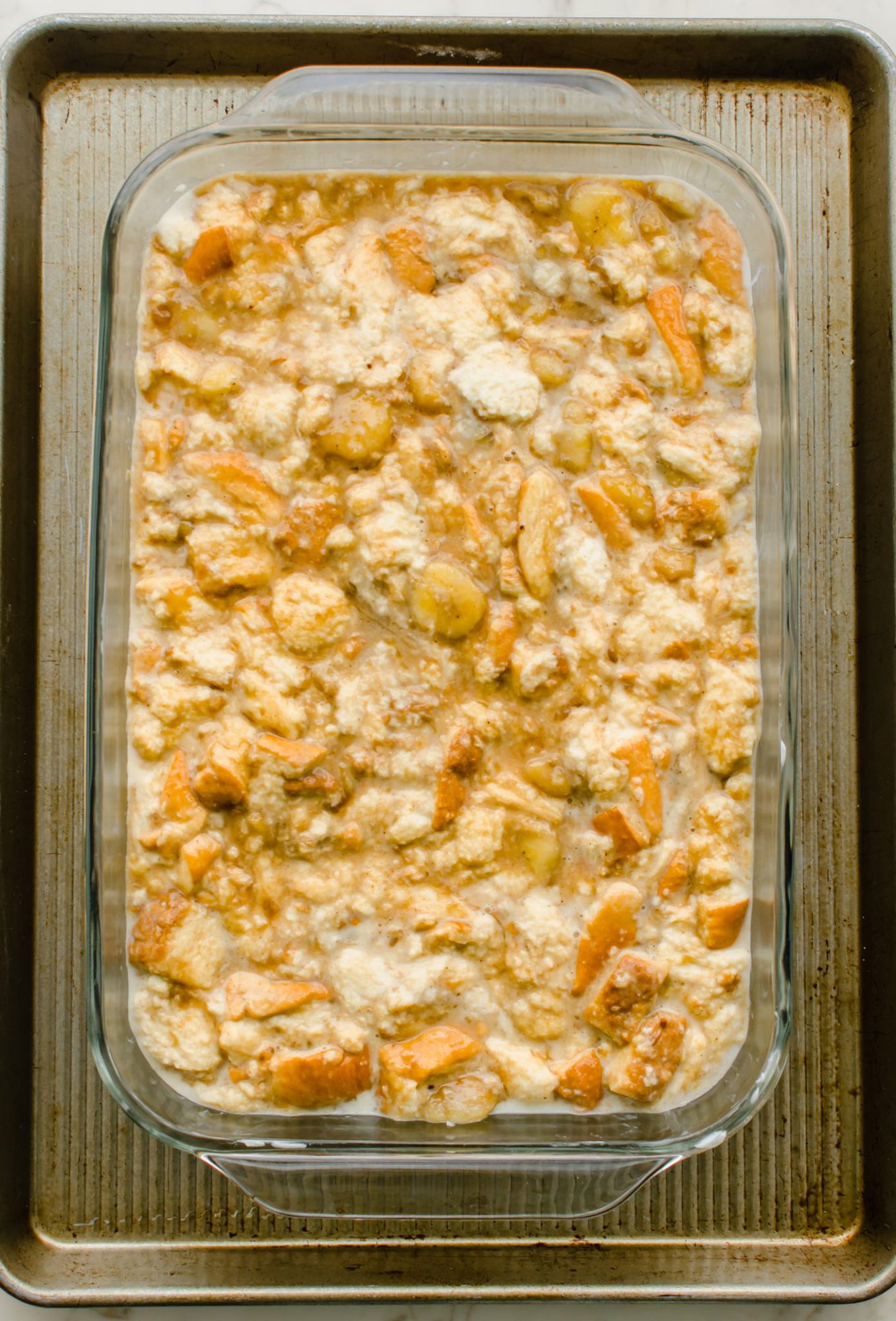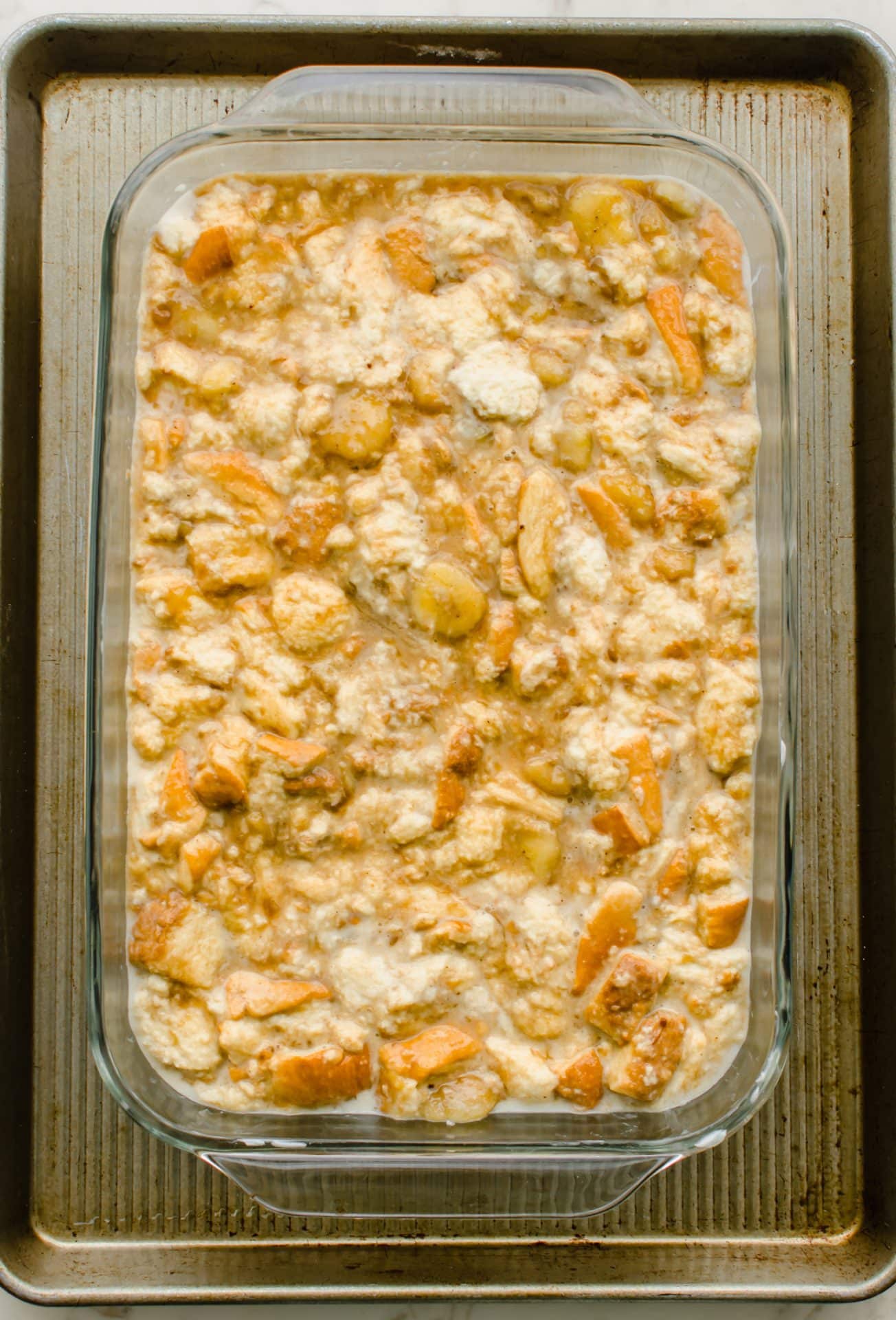 Step 5: During the last 10 minutes of the bread pudding baking, you can make the buttery vanilla sauce. It is super simple to make and comes together quickly! Once it is done, keep it warm covered in a dish on the stovetop until ready to serve.
Step 6: When the bread pudding is done, it will start to pull away from the sides of the pan and be slightly jiggly in the center. It will be very puffy, but this will deflate once you pull it out of the oven. Serve the still-warm bread pudding with the buttery vanilla sauce and enjoy!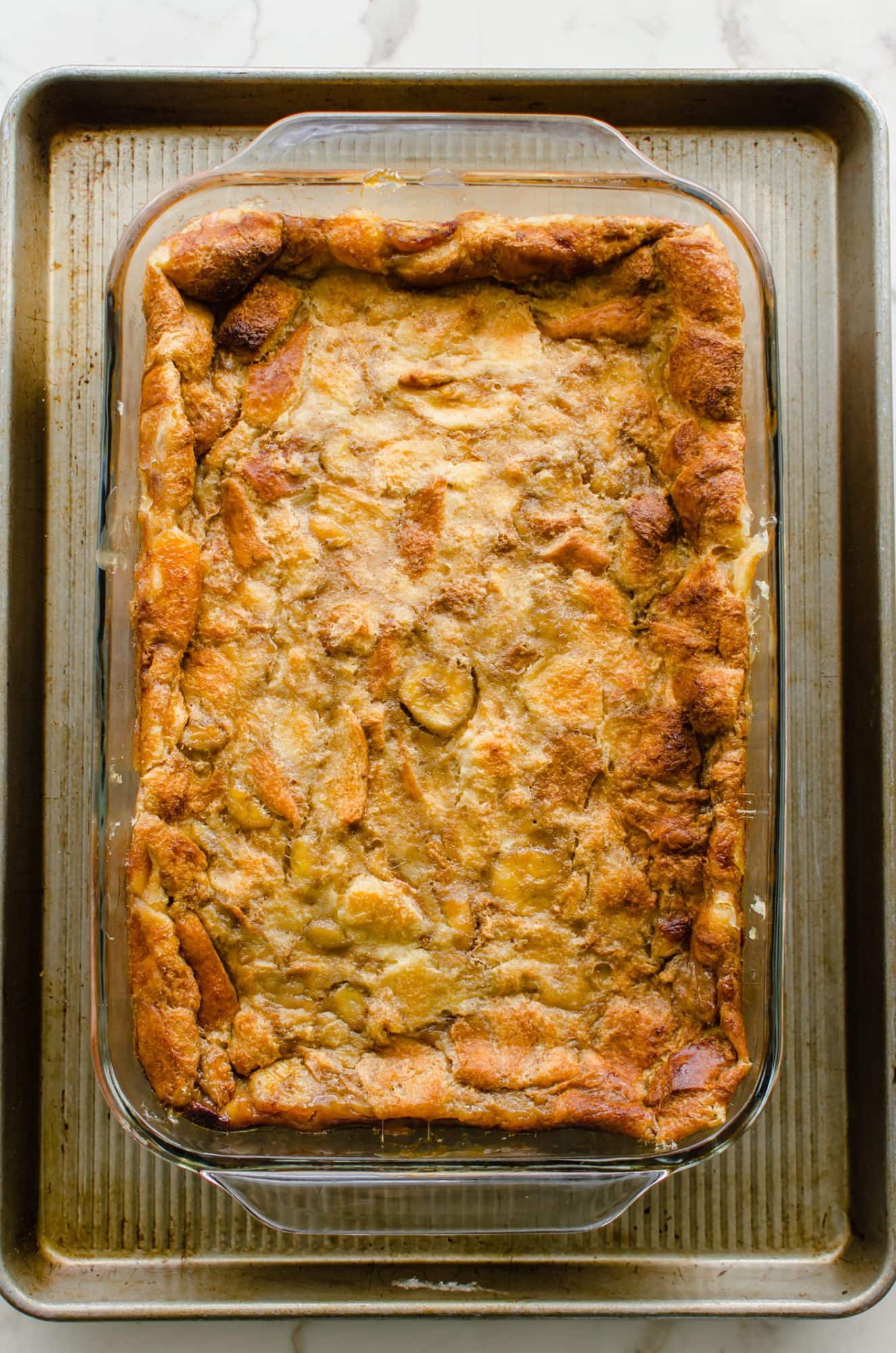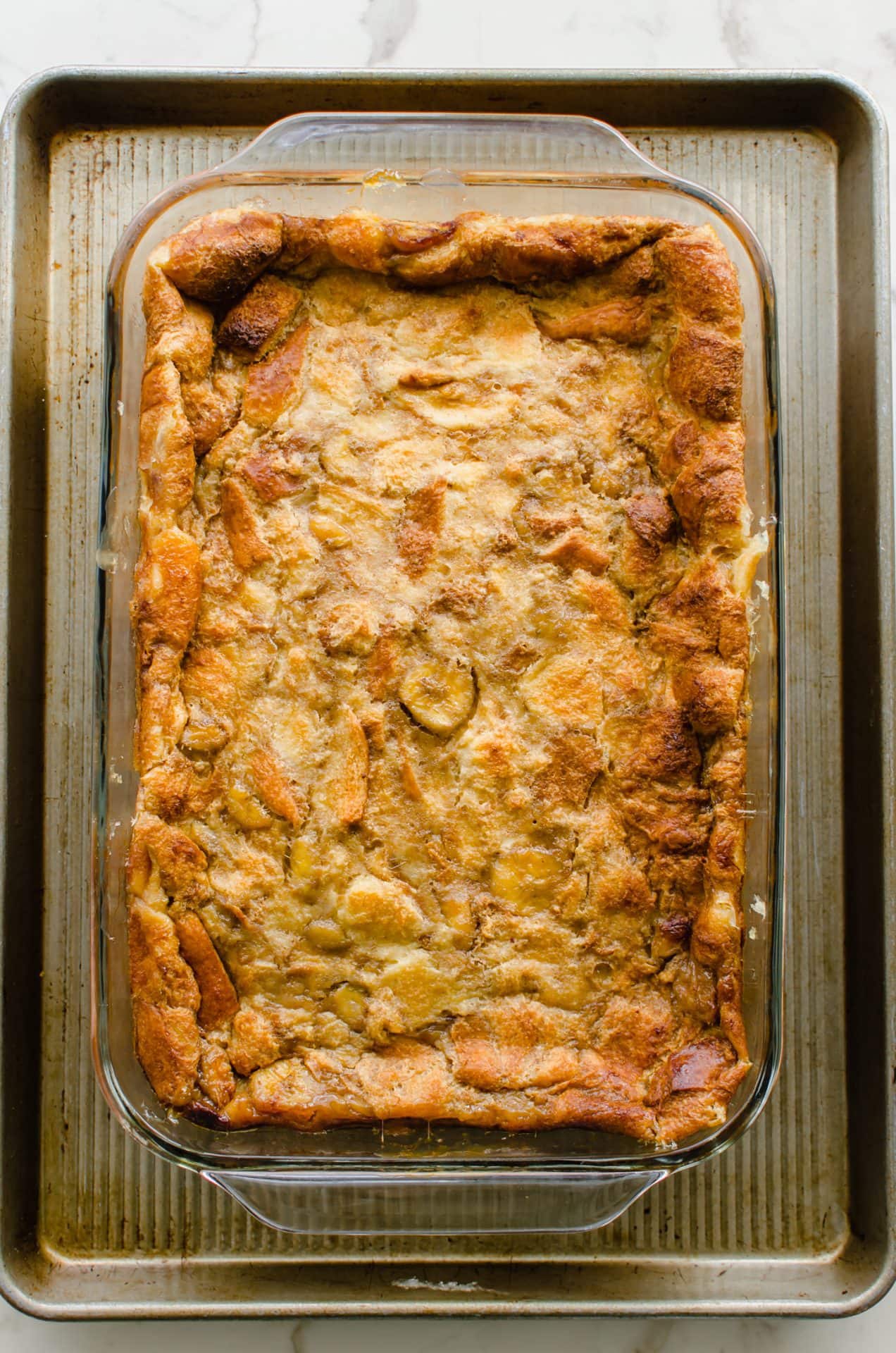 Serving bread pudding and storing for later
I like to serve the bread pudding in little white ramekins - 6-8 ounces in size. These dishes are also great for reheating the bread pudding, which makes great leftovers! Simply add leftover bread pudding to a greased ramekin then reheat at 350 degrees F covered with foil for 10 minutes. Uncover, and then bake another 10 minutes to reheat. Warm the leftover sauce in a small saucepan on the stove or in the microwave. Serve over the hot reheated bread pudding and it will taste as good as it did the day you made it!
Similar recipes to enjoy
If you love bread pudding as much as I do, you may want to try overnight French toast! It's really similar in flavor and texture, but not quite as decadent, so you can feel better about eating it for breakfast. Check out these recipes: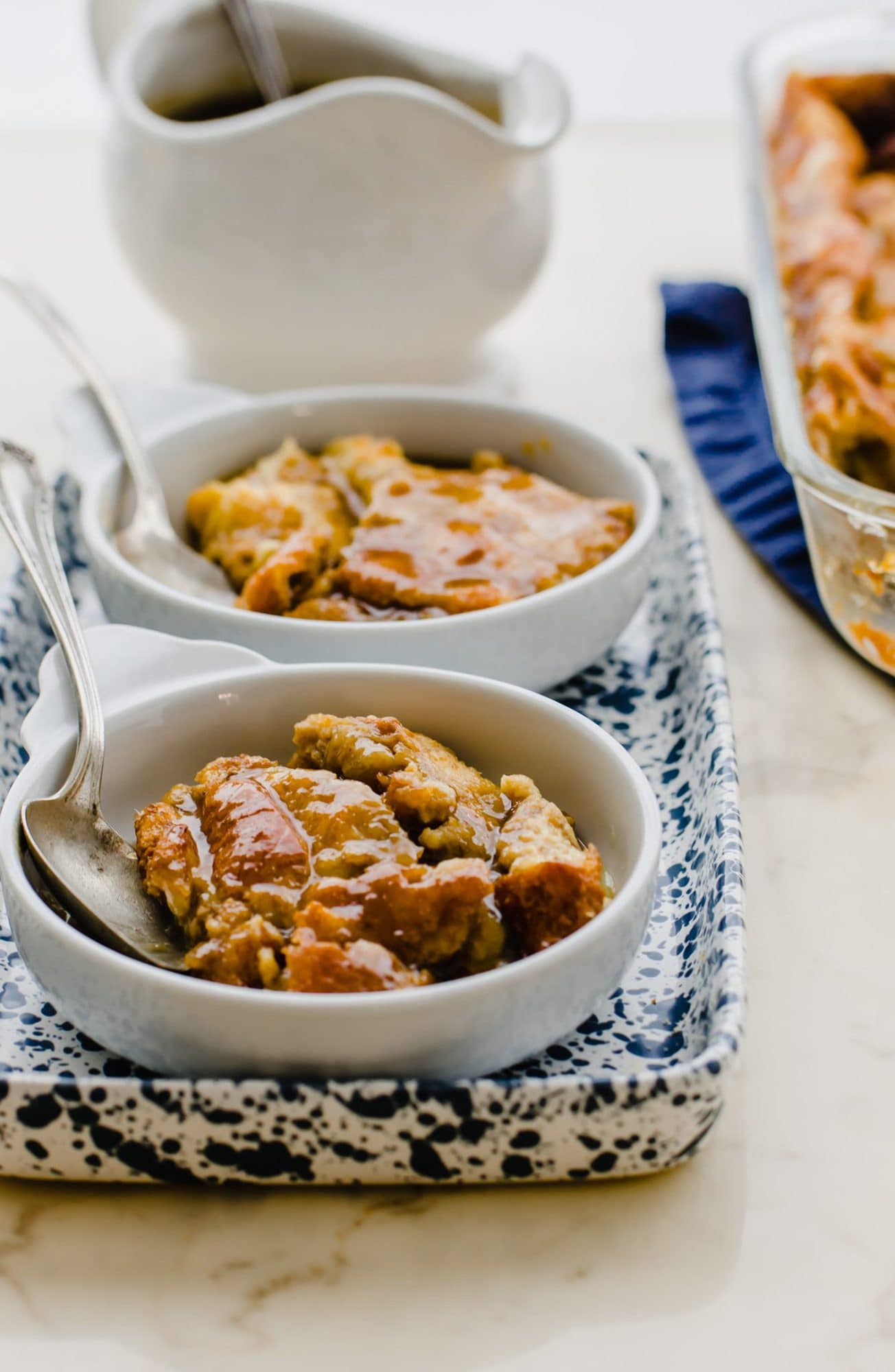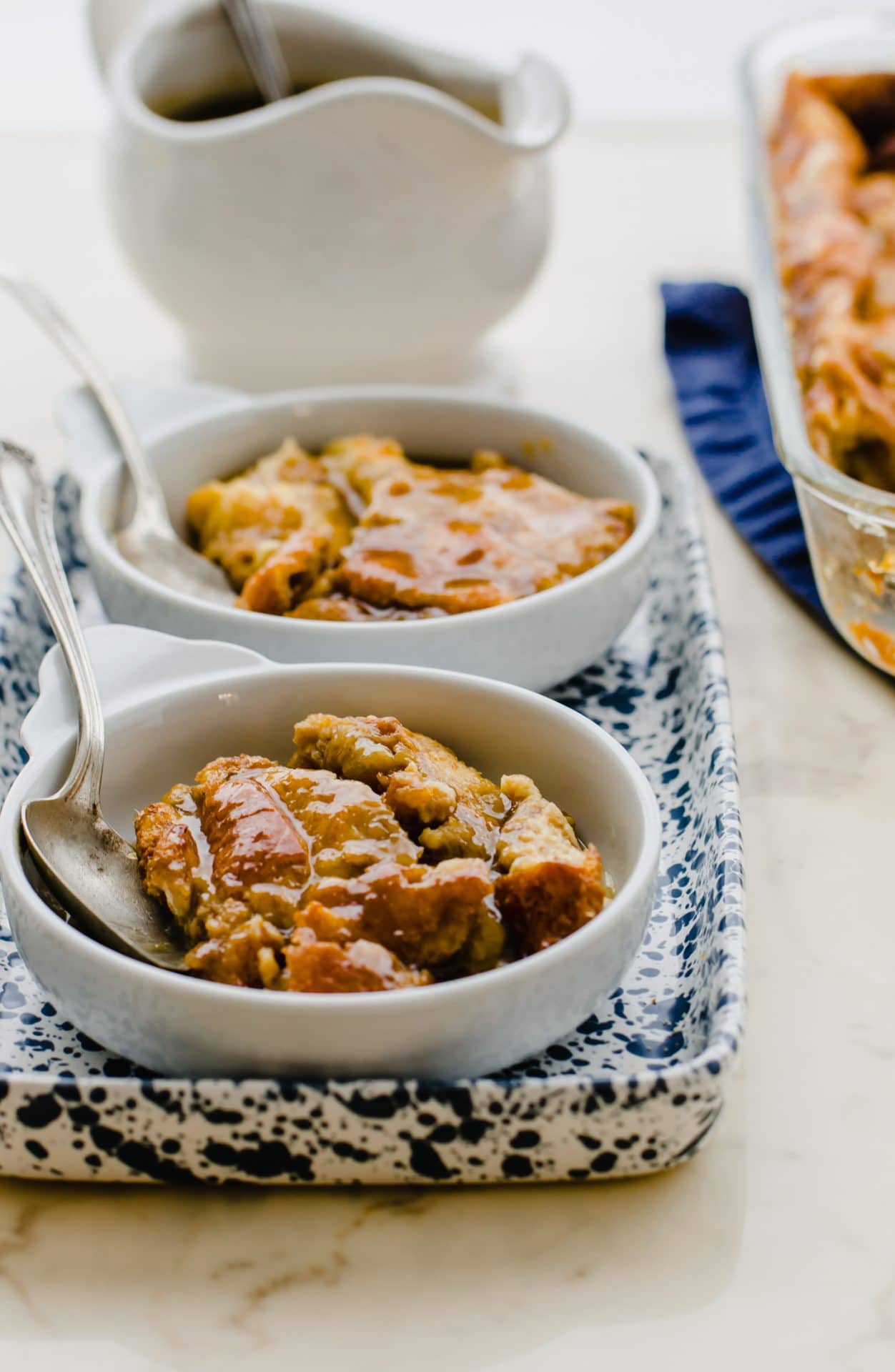 Are you ready to make this Bananas Foster Bread Pudding? Let me know how it turns out for you! Leave comment and rate the recipe below. This will help me with the creation of future recipes! I'd also love to feature your creation in my monthly newsletter, so you can upload a photo to Instagram or Twitter with the tag @sweetcayenne5 to be featured!
Recipe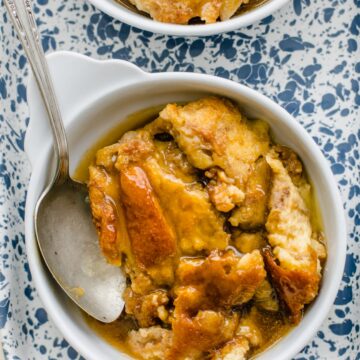 Bananas Foster Bread Pudding
Take your bread pudding game to the next level with a homemade bananas foster topping.
Print
Pin
Rate
Ingredients
For the bread pudding:
4

tablespoons

unsalted butter, melted, plus more for sides of baking dish

3

medium

ripe bananas, cut into coins

½

cup

dark brown sugar

½

cup

granulated sugar

1

teaspoons

vanilla extract

1

teaspoon

rum extract (or 2 tablespoons rum liquor)

½

teaspoon

ground cinnamon

3

large

eggs, lightly beaten

1

(1 pound)

loaf Brioche bread, cut into 1'' cubes (I use the Marketplace Brioche from Walmart; it's amazing!)

2

cups

of milk (I used 1%)

2

cups

half and half
For the vanilla butter sauce:
1

stick

(½ cup) unsalted butter (can also use Earth Balance vegan butter stick)

½

cup

heavy whipping cream

½

cup

dark brown sugar

½

cup

granulated sugar

1

tablespoon

high-quality vanilla extract

1

teaspoon

rum extract (or 2 tablespoons rum liquor)
Instructions
For the bread pudding:
Preheat oven to 350℉. Place a large skillet over medium heat. Add the 4 tablespoons of butter. Once the butter melts, add the sliced bananas. Saute the banans to soften them, about 5 minutes, then add the brown and granulated sugars. Reduce heat to low and stir until sugars are dissolved, about 2 minutes. Remove from heat and stir in the vanilla, rum, and cinnamon. Let cool for 10 minutes.

Butter the sides of an 8x10'' casserole dish (it needs to hold 10-12 cups). Set aside.

In large bowl, combine the bread cubes, milk, and half and half. Use a rubber spatula to press the bread into the liquid.

Whisk a little bit of the warm banana mixture into the eggs. Add this egg mixture to the full skillet of banana mixture and stir to combine. Add this to the bowl with the bread and milk mixture. Fold together with a rubber spatula and then spread evenly into the prepared pan.

Bake the pudding for 40-50 minutes until it has set and barely jiggles when you shake the pan. It will be golden brown on top, slightly crispy on the outside but moist and tender on the inside. Serve hot with vanilla butter sauce spooned over the top.
For the vanilla butter sauce:
In a medium saucepan, combine the butter, cream, and both sugars. Melt together over medium heat for 5-8 minutes, stirring occasionally, until the mixture thickens slightly and comes to a boil. Boil for 1 minute, stirring continuously, then remove from heat. Stir in the vanilla and rum, then place in a gravy boat to serve immediately over hot bread pudding.
Notes
The bread you are using should be on the dry side. I like to cut mine into cubes, place them on a baking sheet, and let them dry out in the open air all one day before making the bread pudding. You can also dry them out on the baking sheet by baking at 200℉ for 10-15 minutes.
Store leftover bread pudding and sauce in the refrigerator for up to 5 days. I like to place single servings in a greased ramekin to reheat at 350℉ for 10-15 minutes, reheating the sauce in a saucepan or in the microwave to serve on top of the pudding as needed.
Serving:
1
slice
|
Calories:
464
kcal
|
Carbohydrates:
59
g
|
Protein:
7.5
g
|
Fat:
23.1
g
|
Saturated Fat:
12
g
|
Cholesterol:
95
mg
|
Sodium:
87
mg
|
Potassium:
229
mg
|
Fiber:
0.8
g
|
Sugar:
31.7
g
|
Calcium:
121
mg