This sumptuous bread pudding is made with soft, pillowy brioche bread that's baked in a rich, luxurious custard and topped with buttery vanilla sauce. Trust me when I say that it's utterly divine! The vanilla bread pudding sauce will absolutely change your life.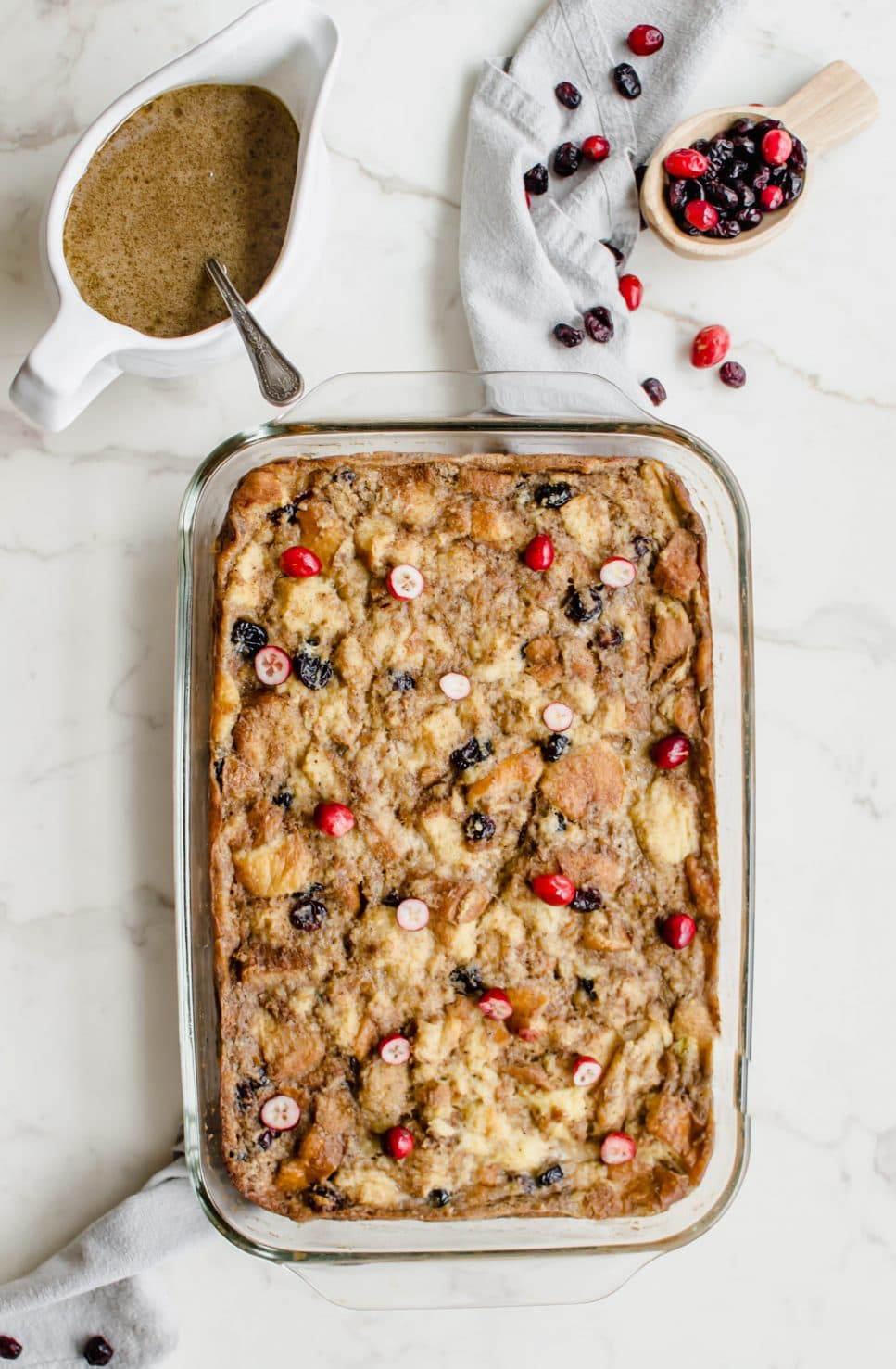 Is there really any dessert that's more comforting and luxurious than bread pudding? Think about it - rich, bready carbs soaked and then baked in butter, cream, eggs, and sugar and smothered in more cream, butter, and sugar! Divine. Decadent. Devilish. All of those adjectives would be totally appropriate.
I've made this bread pudding with buttery vanilla sauce for three different parties over the course of this month. For a few reasons: 1. It's that good. 2. It feeds a crowd. 3. It's ridiculously easy to make. 4. It's so easy to make that it's practically foolproof. I've gotten a range of comments from "this is the best bread pudding I've had in my life" to "I'm going to have to have seconds of this" to "I think this is my favorite dessert of all-time." Don't mean to brag; just trying to describe to you how amazing it is so YOU can be a rock star and make it as well!
But honestly, people are either going to love me or hate me once they read the recipe. Granted, it's not as decadent as some bread pudding recipes I've seen. But, don't be fooled. It's extremely indulgent and should be reserved for the most special occasions....preferably the ones where you'll be feeding lots of people and therefore not tempted with the leftovers!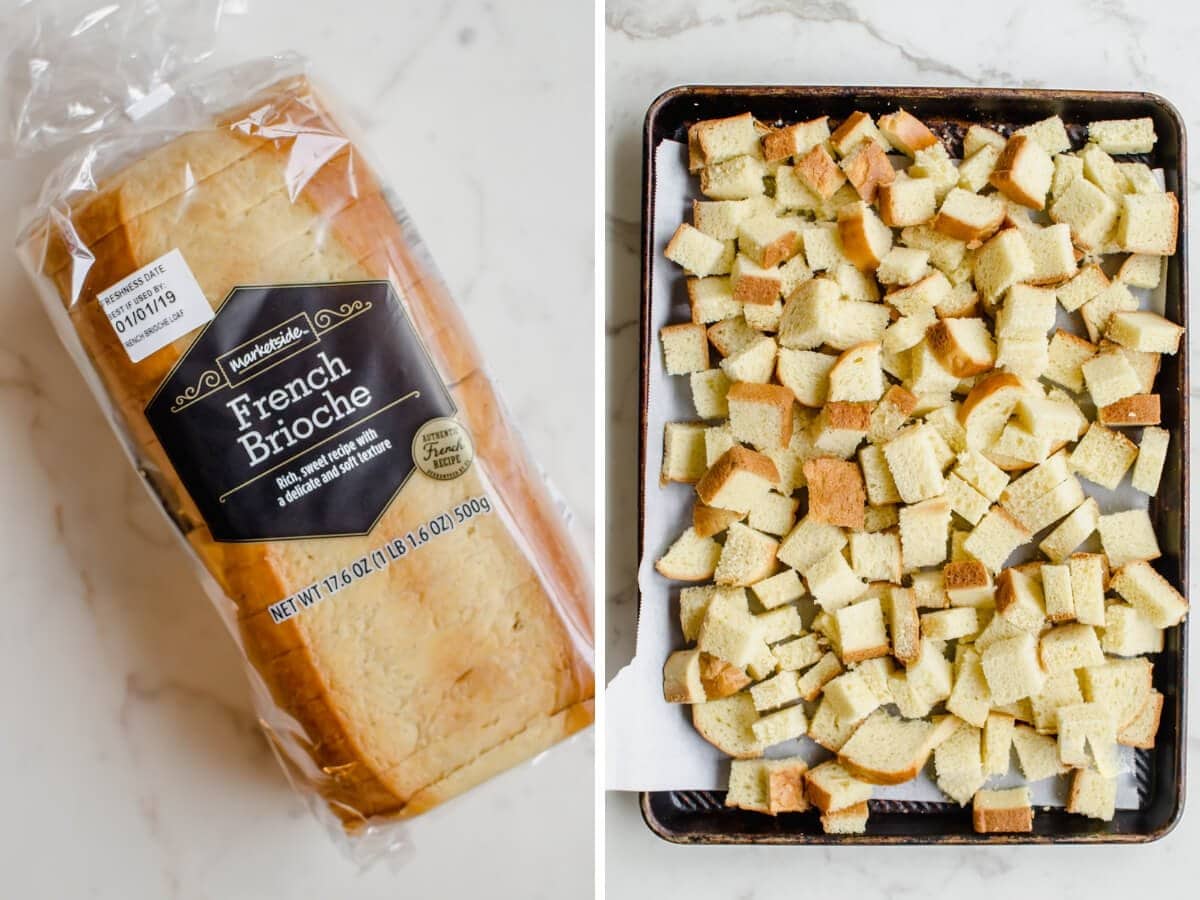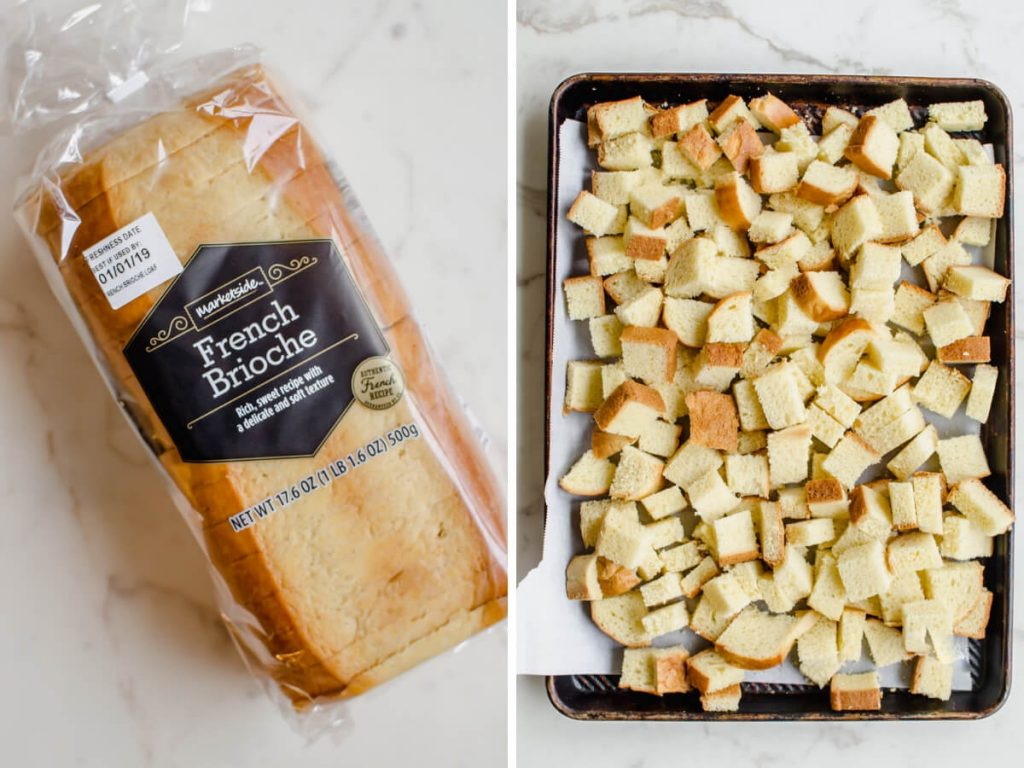 Ingredients
Brioche bread - let's start at the very beginning. Those of living in small towns or out in the country may see the word "brioche" and think "that's too fancy" and "I won't be able to find that." Y'all. I got my brioche at WALMART. No joke. Their French recipe brioche from the Marketplace line is heavenly, and I've found it thus far in VA and TN. BUY IT.
Dried cranberries - because there are just too many raisin-haters out there that could potentially miss out on the dessert experience of a lifetime. And dried cranberries are just better.
Apple cider - I'll be honest, the cranberries are soaked in apple cider because when I was developing this recipe, I knew I'd be making it for a big church staff party. In other words, I needed a bread pudding recipe that was alcohol-free. That's pretty rare on the interwebs! But the apple cider works beautifully here and really pairs so well with the dried cranberries.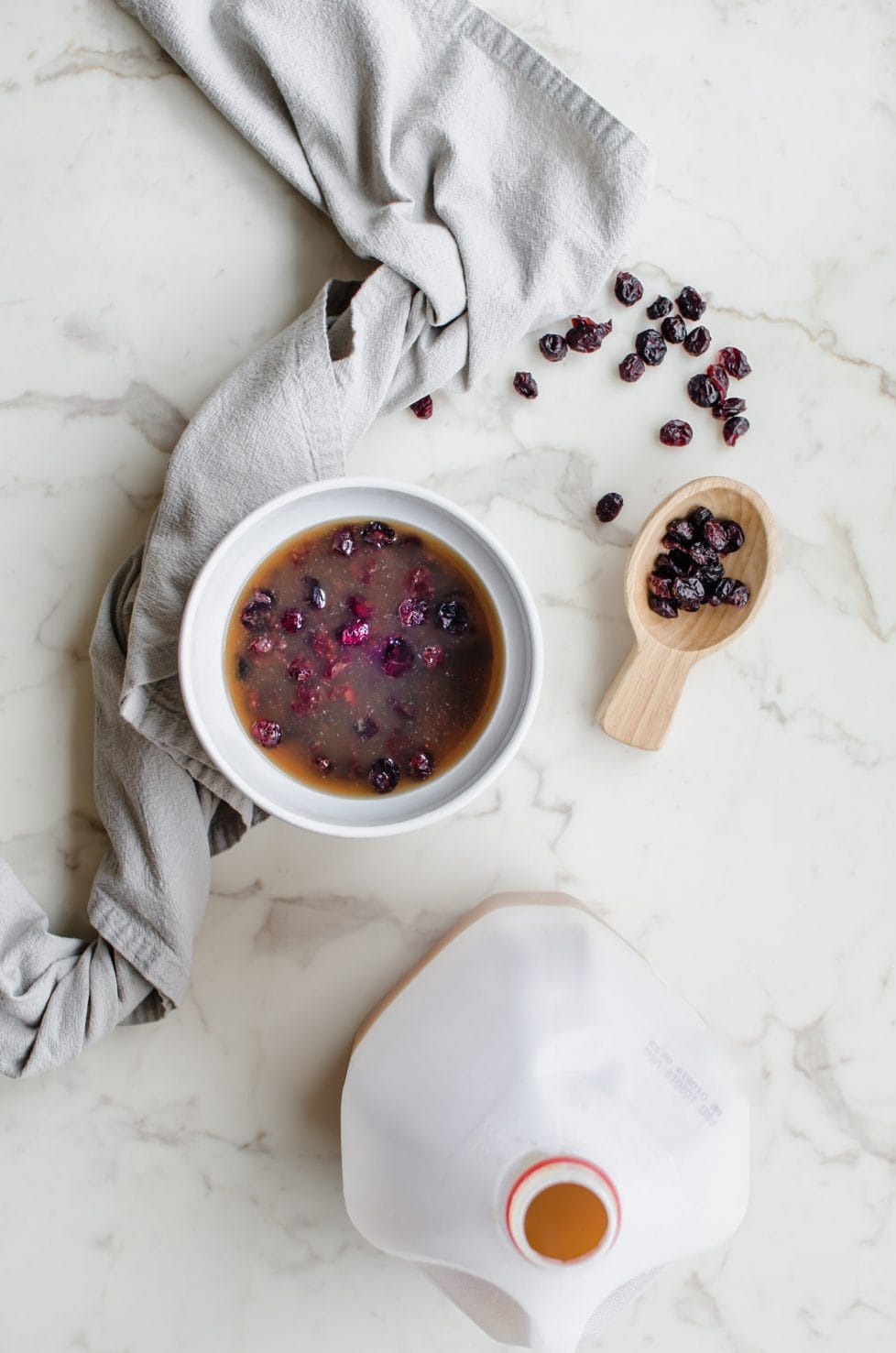 Tips
There are a couple different camps out there that have their own opinions about what the final texture of bread pudding should be. Some like a moist, silky, custard-like texture and others prefer a more dense, crispy-topped texture that, to me, more closely resembles the texture of French toast or monkey bread. I'm still trying to figure out if the variation depends on what region of the country you live in; so if you know, please enlighten me! For now, you should know that I'm in the moist, silky, custard-like texture camp.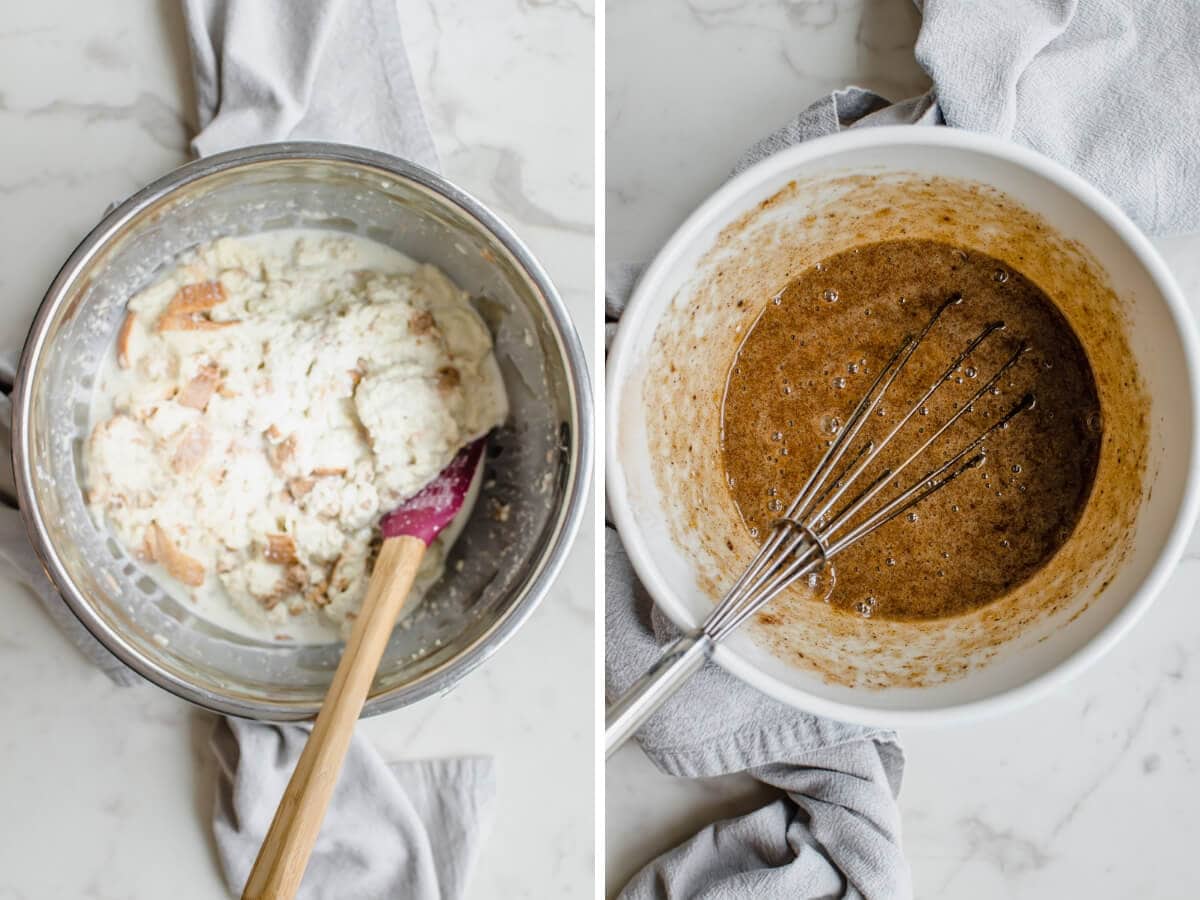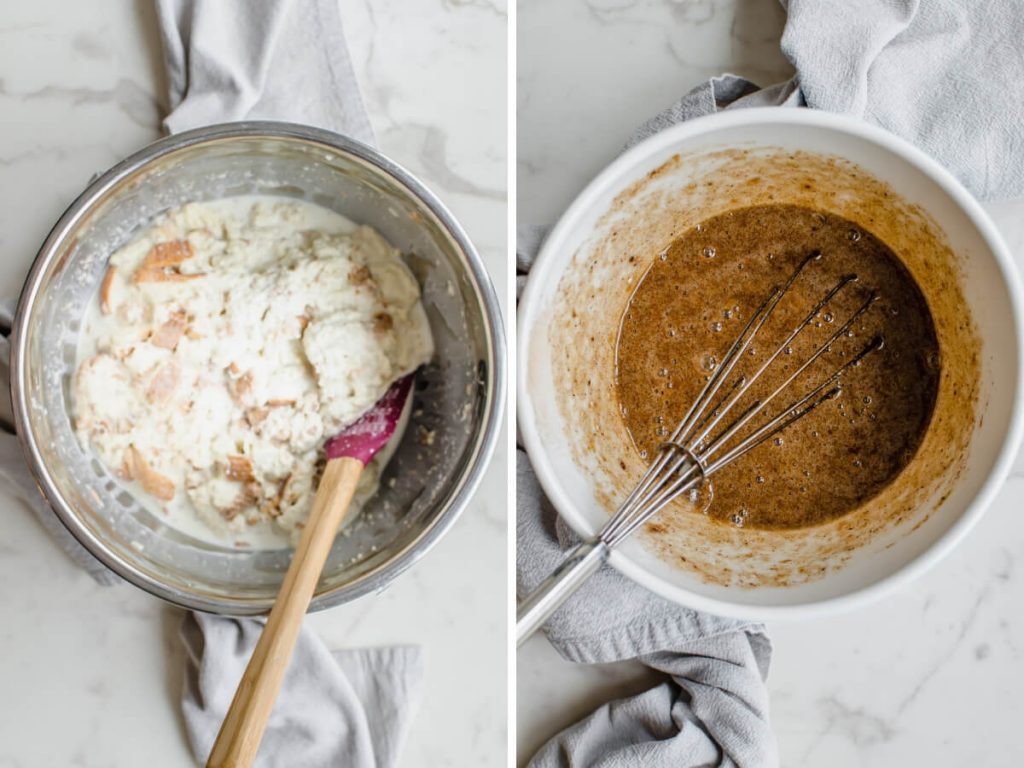 The brioche should be on the dry side. I suggest cutting it into cubes and letting it sit in open air for a day, or lightly toasting in the oven.
Once you soak the brioche in the milk, it will hardly resemble bread cubes any longer and will be quite mushy (see photos below for reference). That is a-ok! Your bread pudding will not be soggy. Only silky, and well, pudding-like!
The cranberries have the best texture when they are soaked overnight in the apple cider. If you forget to do this (or don't have time), simply bring the cider to a simmer over medium heat in a pot, add the cranberries, remove from heat, and steep for 20 minutes with a lid on top.
The buttery vanilla sauce will harden as it cools and the fat will separate to the top. This can be remedied by keeping it warm as you serve it and reheating it gently if it cools off too much.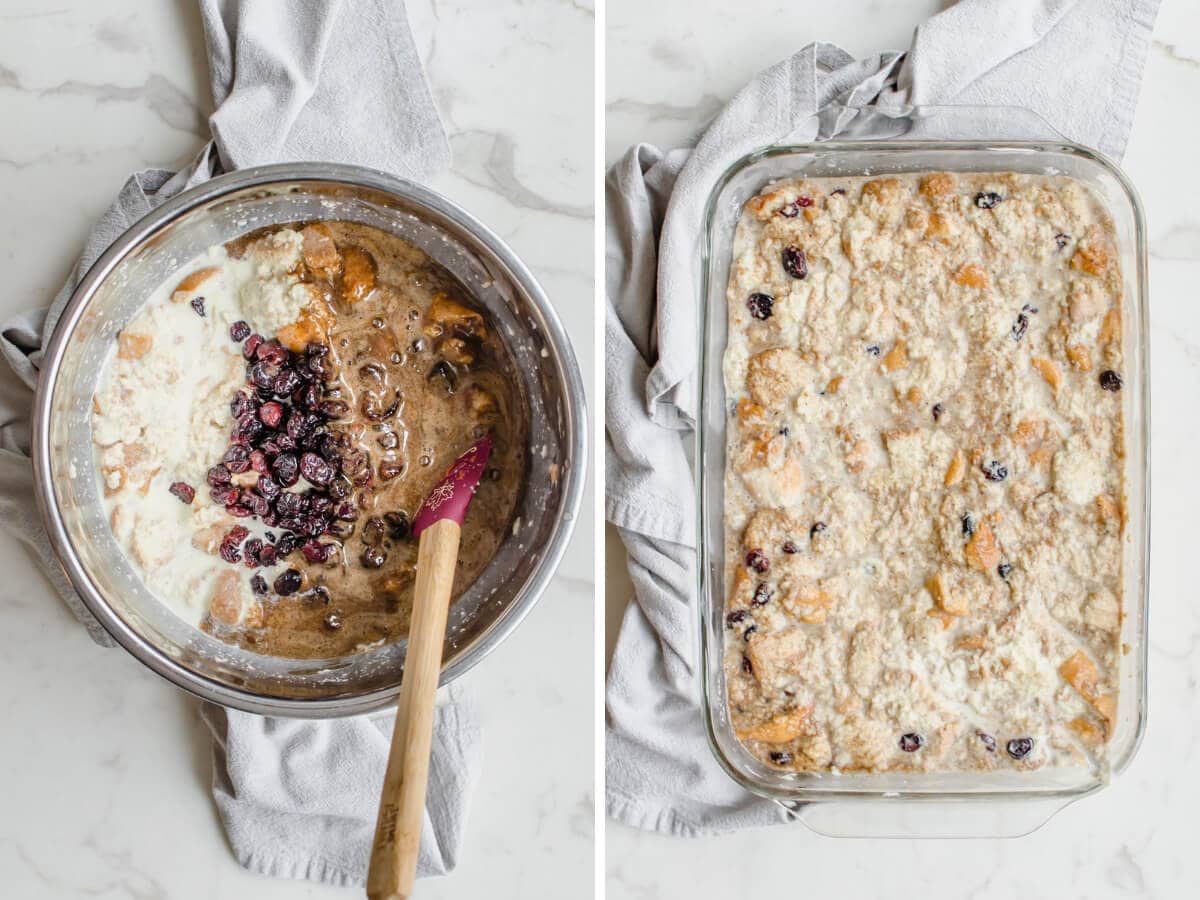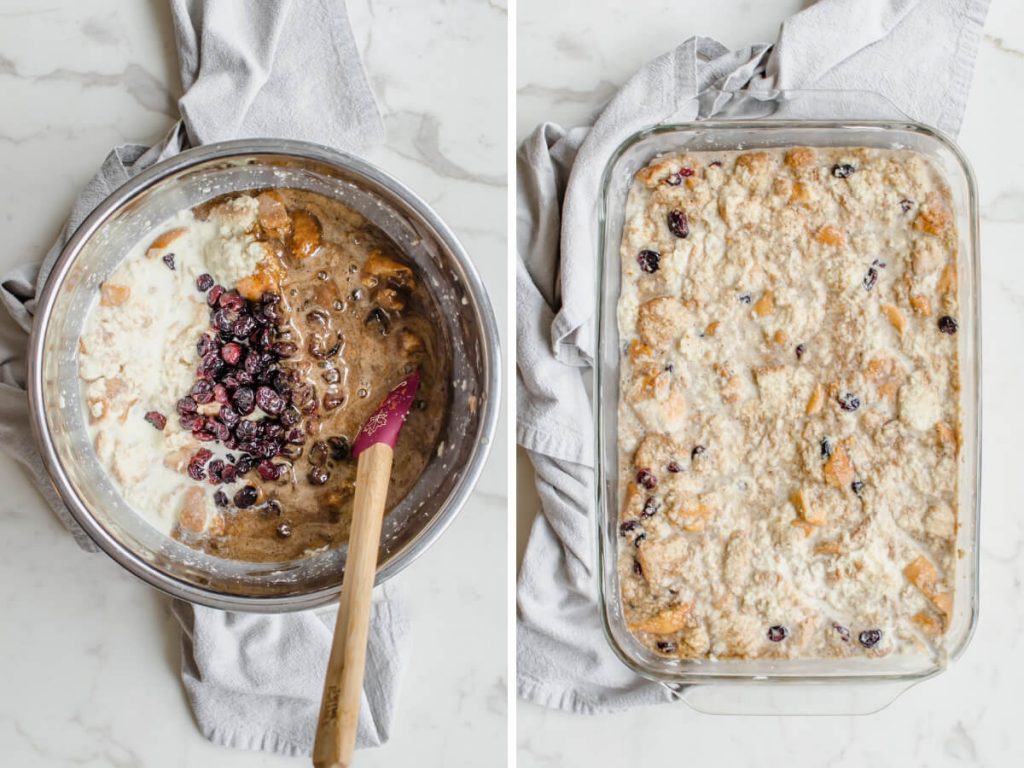 Modifications
You can substitute French bread for the brioche if you are in a pinch. And you can play around with the milk. I've used only whole milk before, a combo of half whole milk and half ½ and ½, and a combo of heavy cream and 1% milk and did not notice a distinguishable difference between any of those combinations. And of course, if you love raisins, feel free to substitute those for the dried cranberries.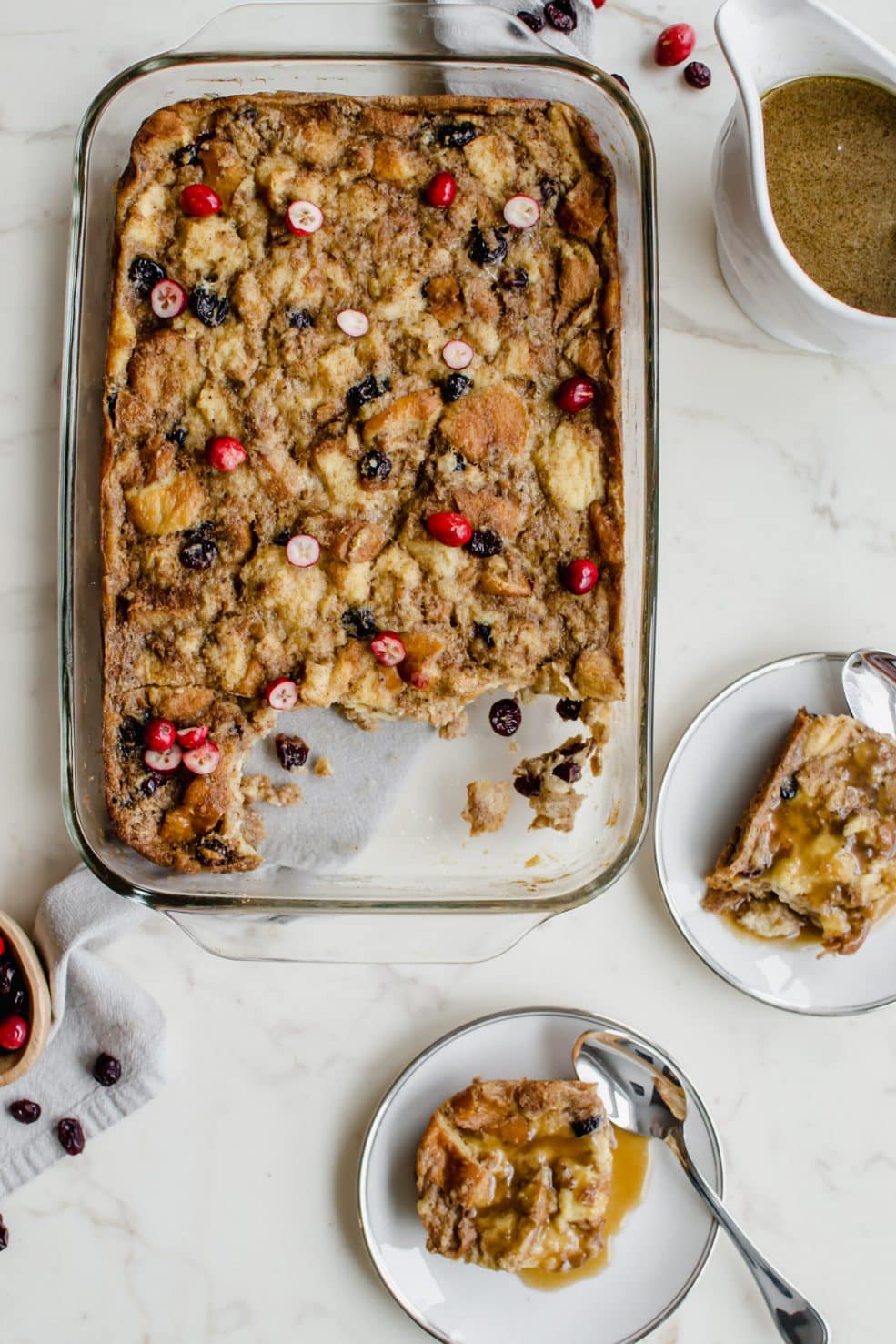 Similar recipes
Are you ready to get make this Bread Pudding with Buttery Vanilla Sauce? I'm so excited for you to try this recipe. Once you get the chance to make it, please let me know how it turns out for you! Leave a comment and rate the recipe below. This will help me with the creation of future recipes!
I'd also love to feature your creation in my monthly newsletter, so you can upload a photo to Instagram or Twitter with the tag @sweetcayenne5 to be featured! You will find me on YouTube and Pinterest as well.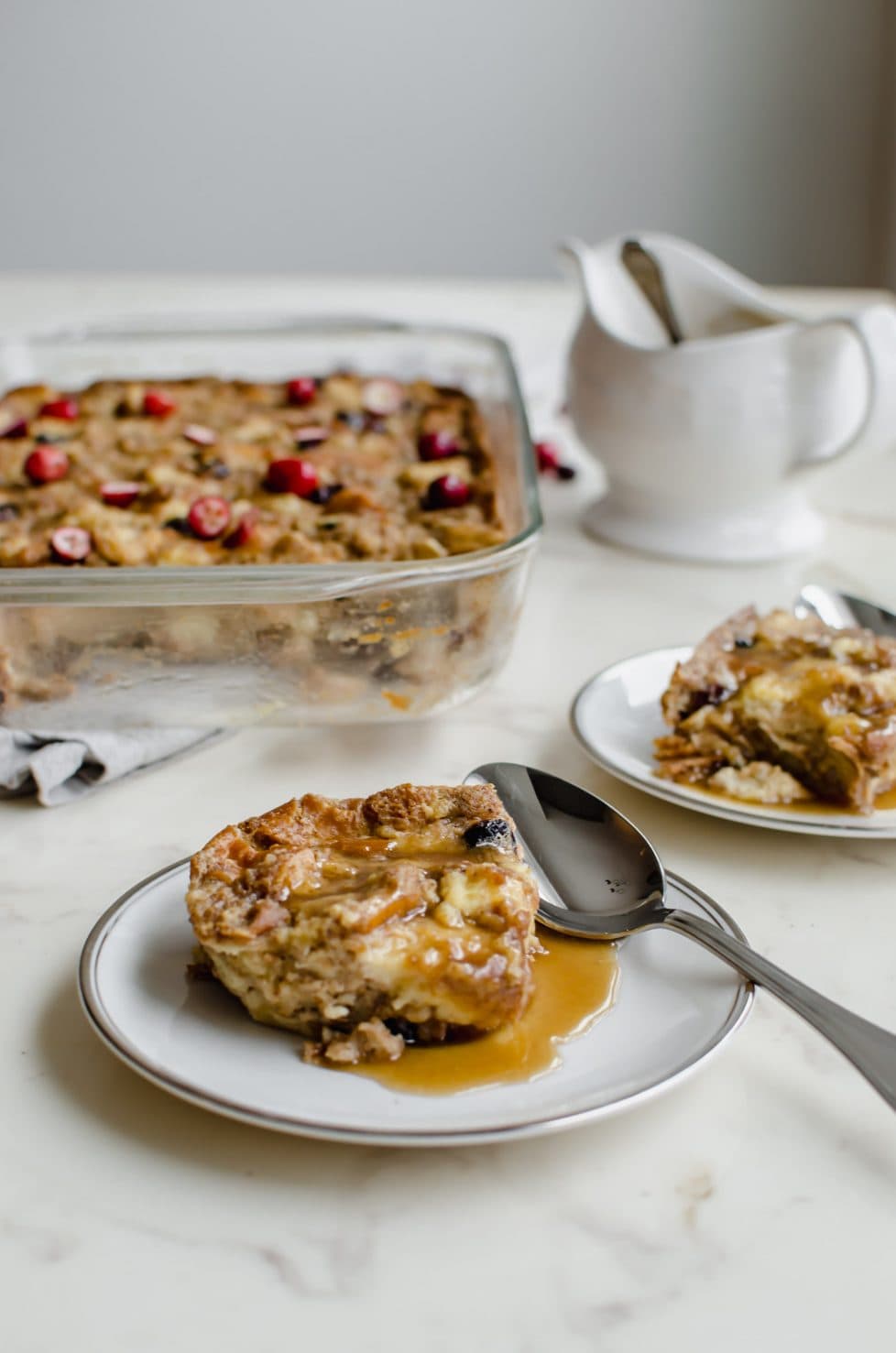 Recipe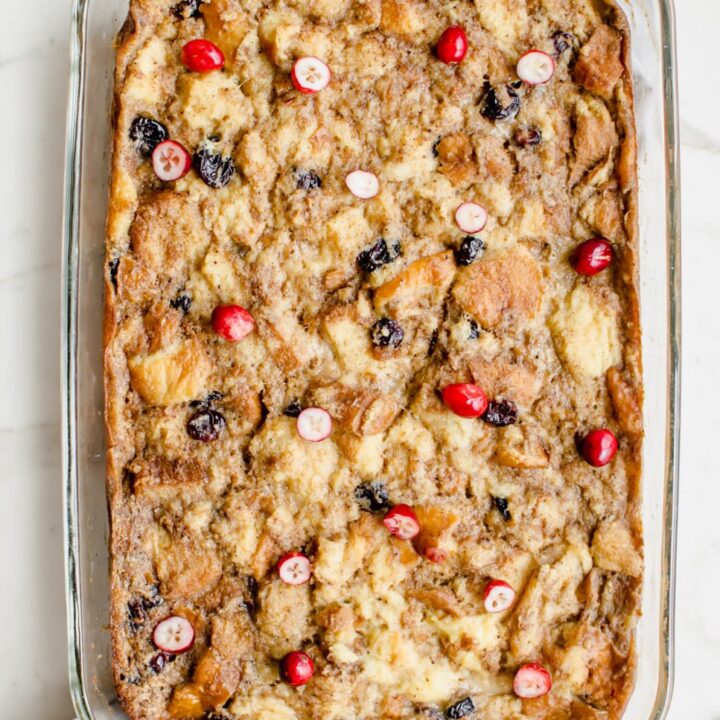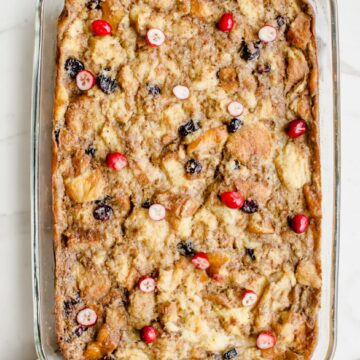 Special Bread Pudding with Buttery Vanilla Sauce
A velvety bread pudding with a buttery vanilla sauce recipe adapted from Land O' Lakes. 
Print
Pin
Rate
Ingredients
For the bread pudding:
1

cup

dried cranberries

½-¾

cup

apple cider

1

(One-pound)

loaf brioche bread, cut into 1'' cubes (I use the Marketplace Brioche from Walmart; it's amazing!)

2

cups

of milk (I used 1%)

2

cups

half and half

3

tablespoons

unsalted butter, melted, plus more for sides of the baking dish

3

large

eggs

½

cup

dark brown sugar

½

cup

granulated sugar

2

teaspoons

vanilla extract

1 ½

teaspoons

ground cinnamon

½

teaspoon

ground cloves

¼

teaspoon

ground nutmeg
For the vanilla butter sauce:
1

stick

unsalted butter (½ cup)

½

cup

heavy whipping cream

½

cup

dark brown sugar

½

cup

granulated sugar

1

tablespoon

high-quality vanilla extract

Optional: 2 tablespoons of calvados

bourbon, or cognac
Instructions
For the bread pudding:
Combine the cranberries and apple cider in a small bowl. Let sit for 8 hours and up to overnight (see notes if you don't have time for this).

Preheat oven to 350℉.

In large bowl, combine the bread cubes, milk, and half and half. Let sit for 10 minutes while you combine the other ingredients.

Butter the sides of an 8x10'' casserole dish (it needs to hold 10-12 cups). Pour the melted butter in the bottom of the dish.

In a medium bowl, whisk together the eggs, brown sugar, white sugar, vanilla, cinnamon, cloves, and nutmeg. Drain the apple cider from the cranberries.

Use a rubber spatula to toss the soaked bread and milk, making sure that most of the milk has been soaked up. The bread will be quite mushy (see photo). Add the drained cranberries and toss to combine. Pour the bread mixture into the prepared baking dish. Pour the egg mixture over top of the bread, spreading with the rubber spatula to evenly distribute.

Bake the pudding for 40-50 minutes until it has set and barely jiggles when you shake the pan. It will be golden brown on top, slightly crispy on the outside but moist and tender on the inside. Serve hot with vanilla butter sauce spooned over the top.
For the vanilla butter sauce:
In a medium saucepan, combine the butter, cream, and both sugars. Melt together over medium heat for 5-8 minutes, stirring occasionally, until the mixture thickens slightly and comes to a boil. Boil for 1 minute, stirring continuously, then remove from heat. Stir in the vanilla (and liquor, if using) and place in a gravy boat to serve immediately over hot bread pudding.
Notes
The bread you are using should be on the dry side. I like to cut mine into cubes, place them on a baking sheet, and let them dry out in the open air all one day before making the bread pudding. You can also dry them out on the baking sheet by baking at 200℉ for 10-15 minutes.
For moist and tender cranberries, soak them in the apple cider overnight before making the pudding the next day. If you don't have time, heat the apple cider and cranberries in the microwave for 2 minutes. Cover with a towel or plastic wrap and let them steep for 20 minutes before draining.
Store leftover bread pudding and sauce in the refrigerator for up to 5 days. I like to place single servings in a greased ramekin to reheat at 350℉ for 10-15 minutes, reheating the sauce in a saucepan or in the microwave to serve on top of the pudding as needed.
Serving:
1
Serving
|
Calories:
292
kcal
|
Carbohydrates:
26.9
g
|
Protein:
3.9
g
|
Fat:
19.3
g
|
Saturated Fat:
8.8
g
|
Cholesterol:
59
mg
|
Sodium:
101
mg
|
Potassium:
90
mg
|
Fiber:
0.5
g
|
Sugar:
15.6
g
|
Calcium:
61
mg
Pin this, pretty please!