This easy blueberry cobbler recipe has a pillowy cloud of buttery cobbler topping with the most delicate, shiny sugar crust. Top with red berries and make it a perfect patriotic addition to your summertime table!
*This post was originally published in June of 2016 but has been updated with video content!*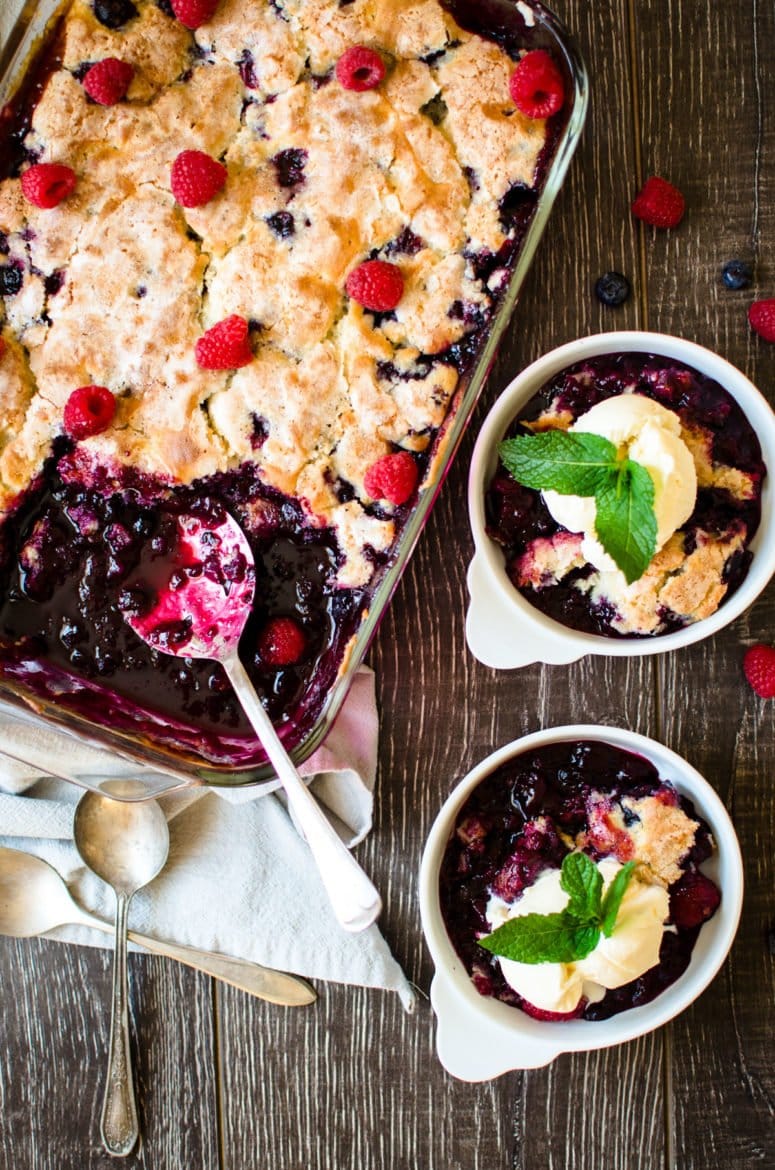 How to Make This Easy Blueberry Cobbler
Watch this video to see how I make the Blueberry cobbler!
The month of June has been an utter delight for me as I've had the pleasure of hosting my parents for not one but two weeks of visiting. Ok, so mom was only present for week 2 of the visit - but still, having them around has been the highlight of my summer. Granted, most of the time they were graciously helping us troubleshoot new homeowner problems and work on a major overgrown/dead/super-yucky backyard situation that I'd like to soon forget. But we managed to fit in some time for fun. Time for things like celebrating my dad's birthday with a steak dinner and banana pudding crepe cake, blueberry picking, food truck tasting, picnic having, vacation picture sharing, movie watching, and game playing. You know, all those things that "fill up the well" and make things right in the world again.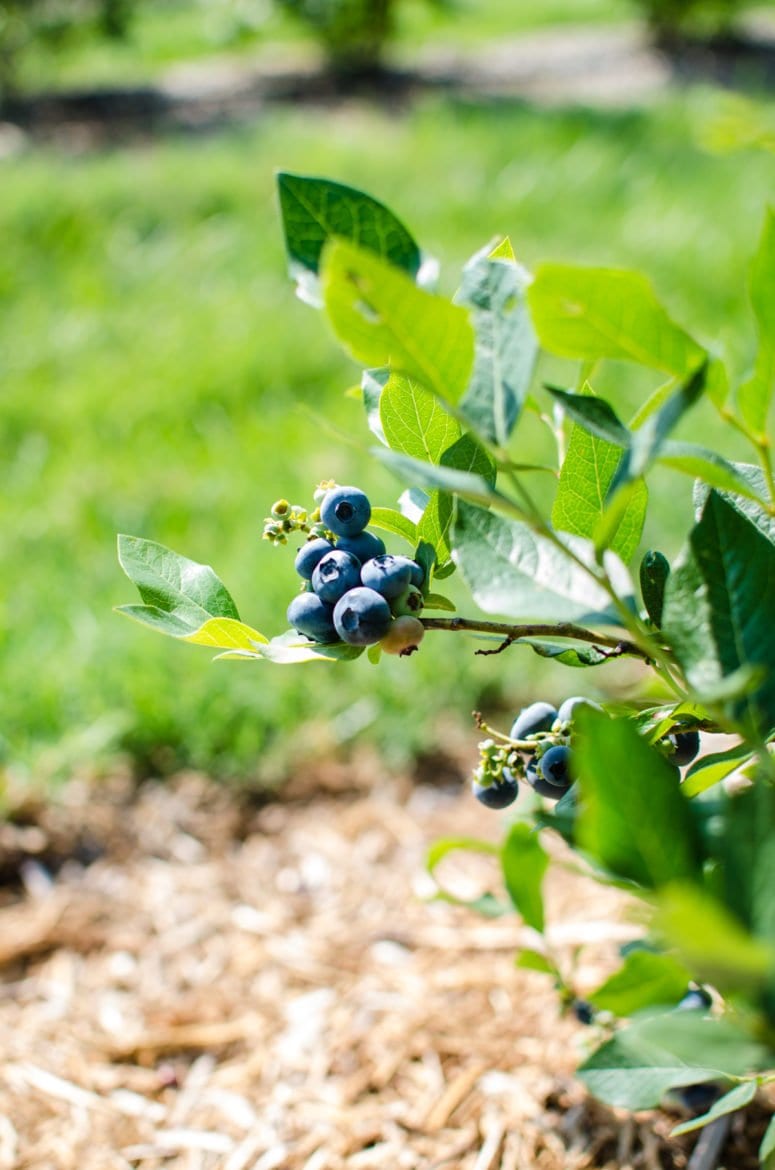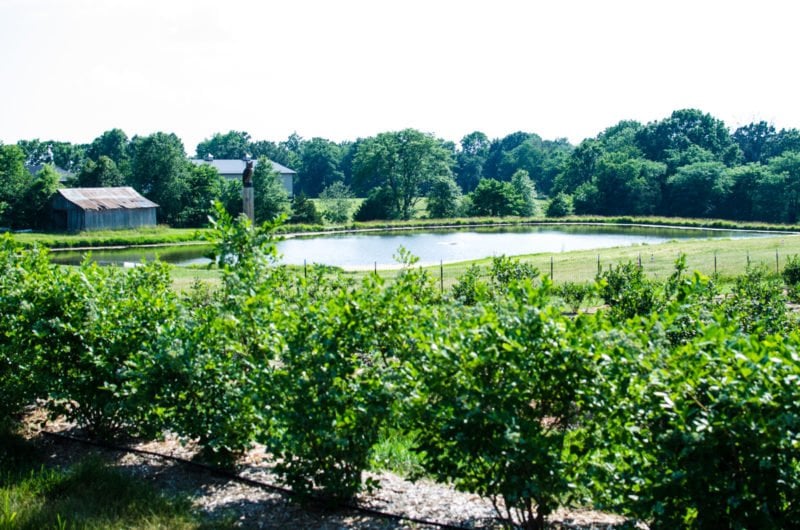 I was lucky enough as a child to have gone blueberry picking with my family in West Virginia over the course of several summers. We'd pick for hours when we would go - and between two parents and 5 kids, that's a lot of berries. Most went in the freezer before making their way into blueberry syrup, oatmeal, pies, cobbler, muffins, and pancakes. I eventually took over the summer cobbler-making responsibility, especially after my first time helping mom make the Silent Shade Cobbler from her treasured Screen Doors and Sweet Tea cookbook by Martha Foose. It was easy to make for the most part, but I always had to ask for mom's help when it came to pouring boiling water onto the cobbler batter and then placing the heavy ceramic baking dish into the oven.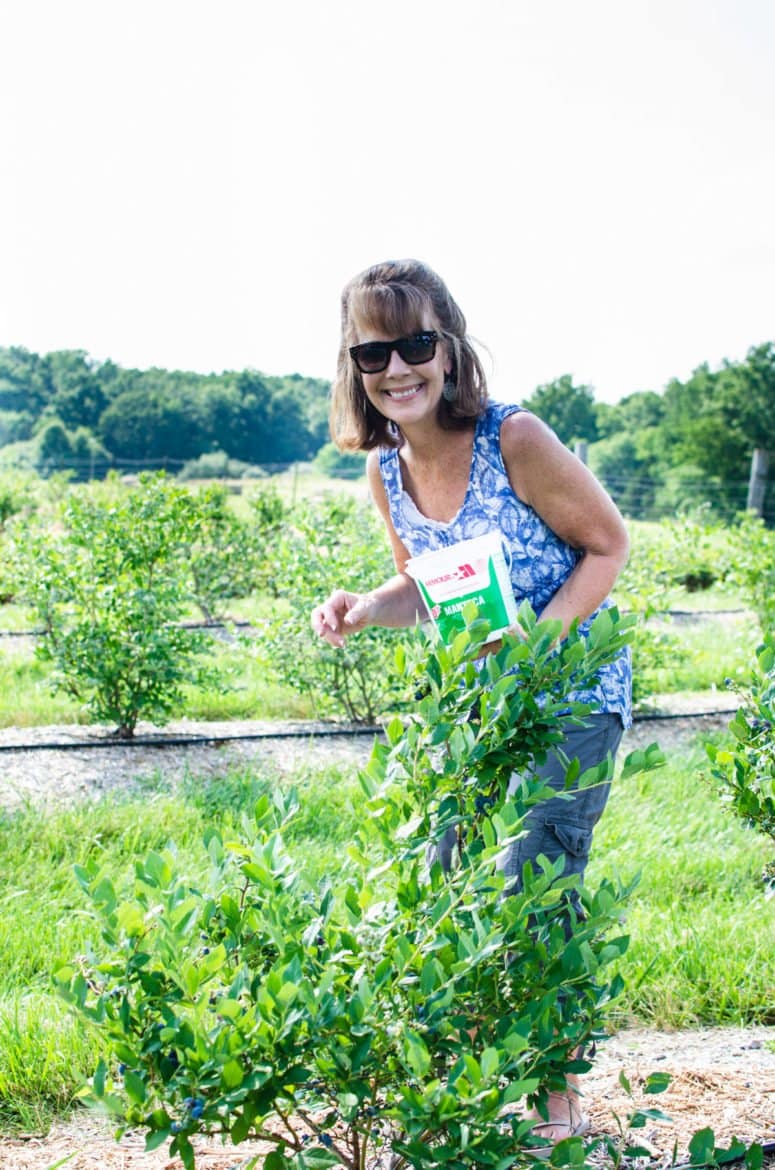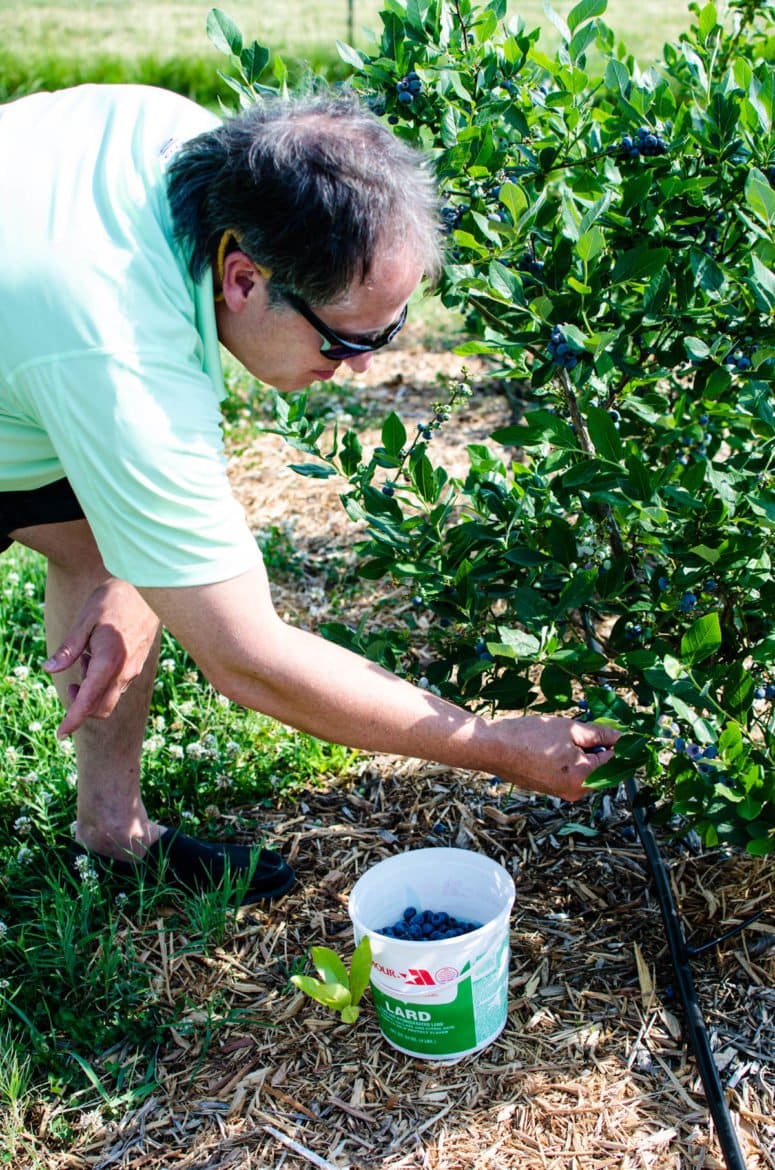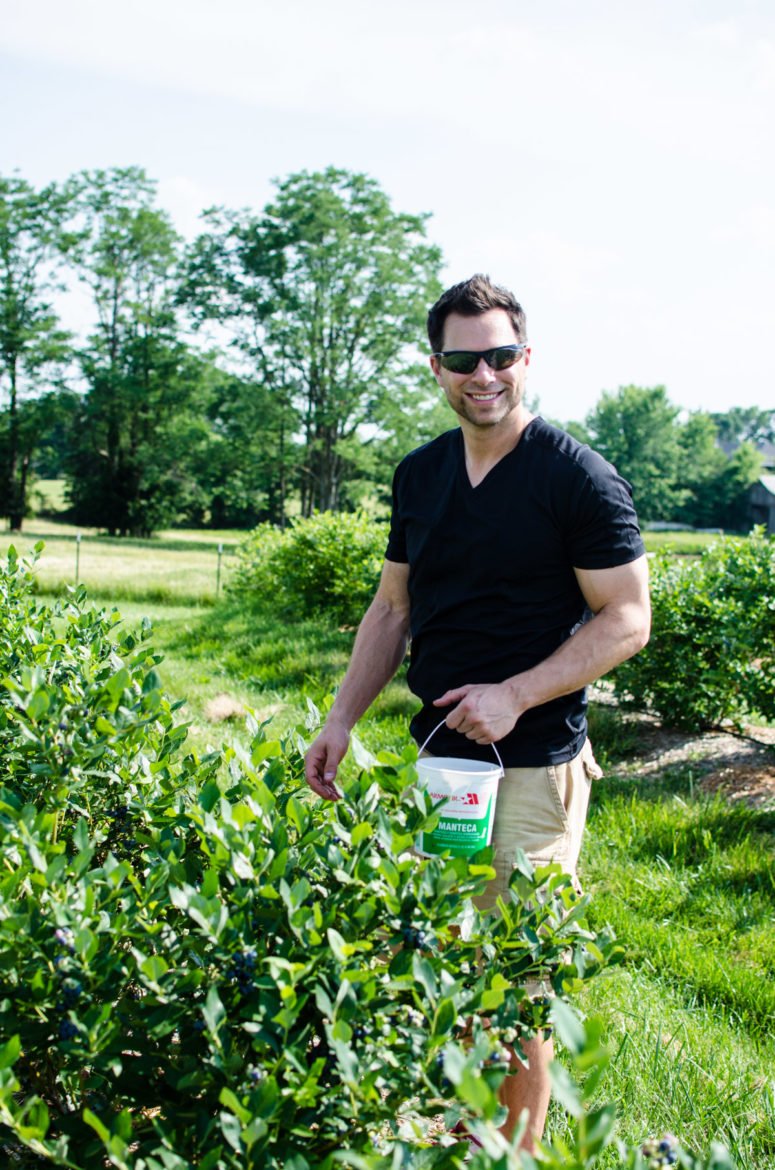 Cobbler Variations - What Makes a Cobbler a Cobbler?
While mom was visiting, we had the discussion about what makes a cobbler a "true" cobbler. Is it a pie crust-like topping, a biscuit topping, or a batter topping? She and dad prefer the pie crust topping. However, I'm of the mindset that if you make a blueberry cobbler with pie crust topping, you might as well just make a pie. To me, a true cobbler needs to look, well, cobbled. Like a cobblestone street. Biscuit toppings can certainly achieve this effect. But a batter topping does the best job in achieving a rustic, almost distressed cobbled top. Oh, the nuances of cobblers. I could go on and on...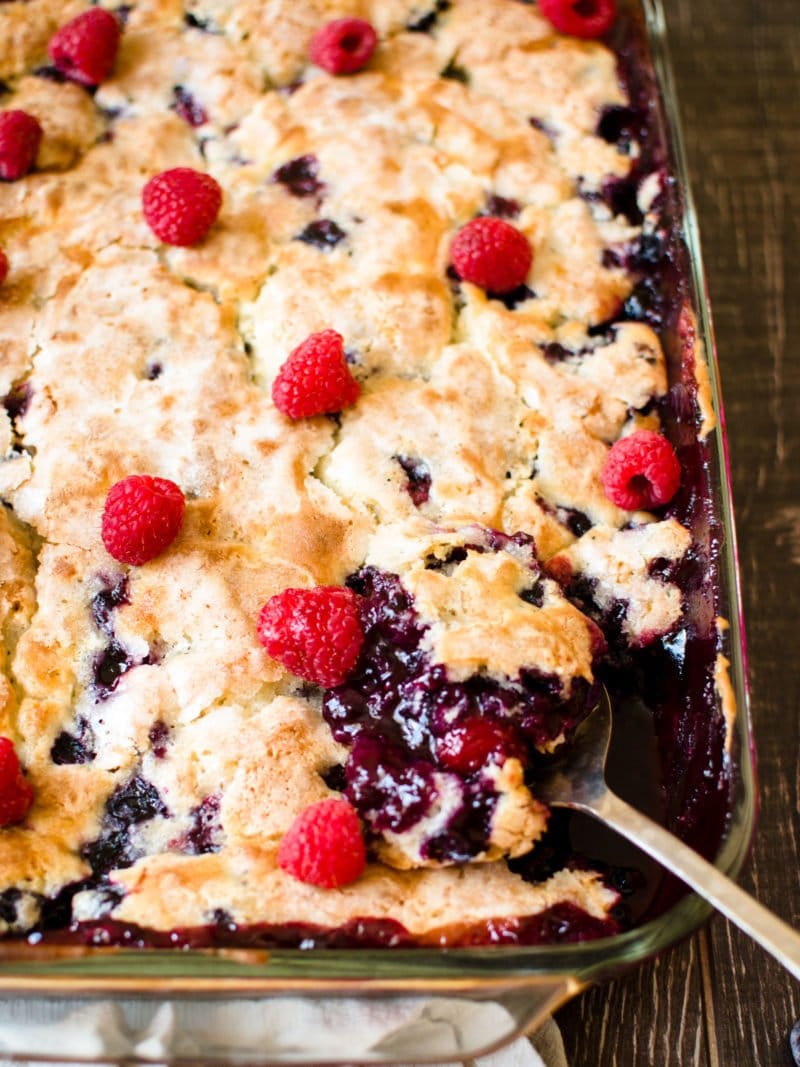 Tips for Making Easy Blueberry Cobbler
Before we get to the easy blueberry cobbler recipe, I have to point out that the unusual and somewhat intimidating step over-soaking your cobbler in boiling water before baking is essential to achieving that shiny, thin layer of crusty sugared topping. Don't skip this step, but do be careful! I'd recommend setting your cobbler dish on top of a rimmed baking sheet before you pour the water on and place it into the oven. This will prevent spills and catch any juices that may bubble over while it bakes. Also, if you'd like to serve this one the 4th of July, fresh raspberries or strawberries make for a patriotic garnish - along with an oh-so-necessary scoop of vanilla ice cream.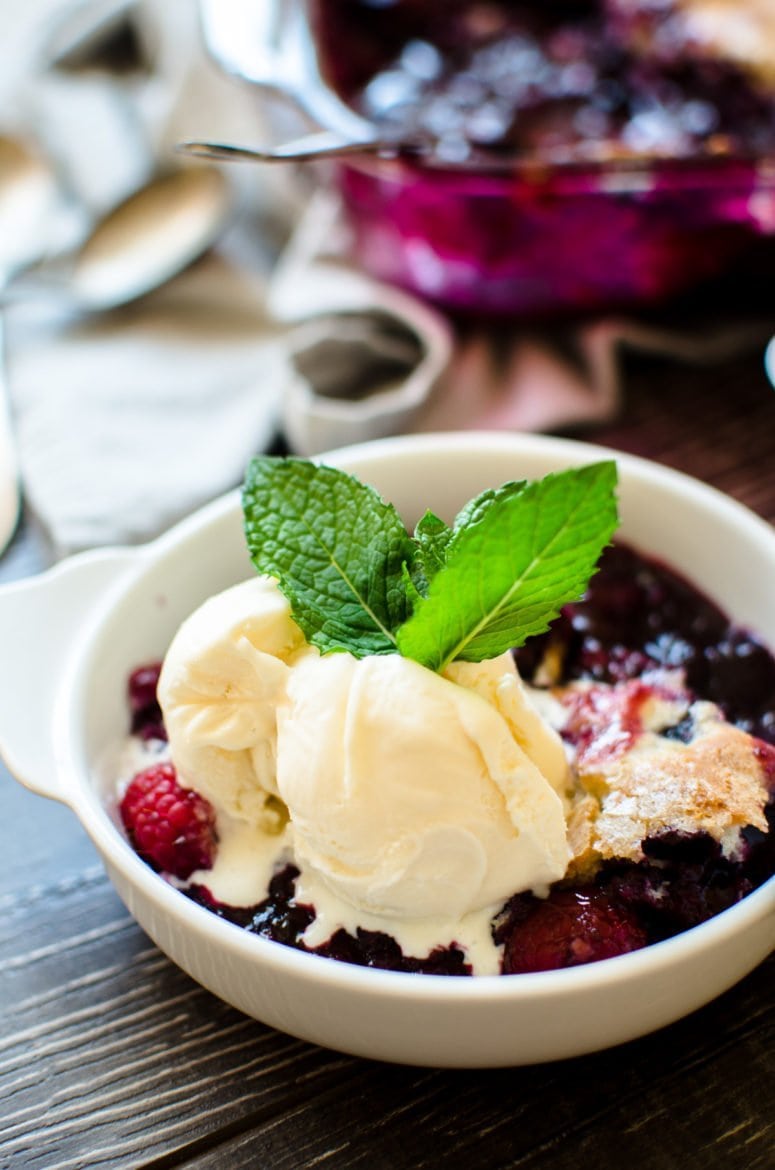 If you decide to give this Easy Blueberry Cobbler recipe a try, please let me know how it turns out for you and leave a comment below! I'd love to feature your creation in my monthly newsletter, so you can also upload a photo to Instagram or Twitter with the tag @sweetcayenne5 to be featured!
In the meantime, I think you would also enjoy my Mixed Berry Crumble Pie , my favorite Wild Blueberry Pancakes, and these Blueberry Muffins with Honeyed Oat Streusel! There are also other easy to follow recipe videos on YouTube for those who are more visually inclined.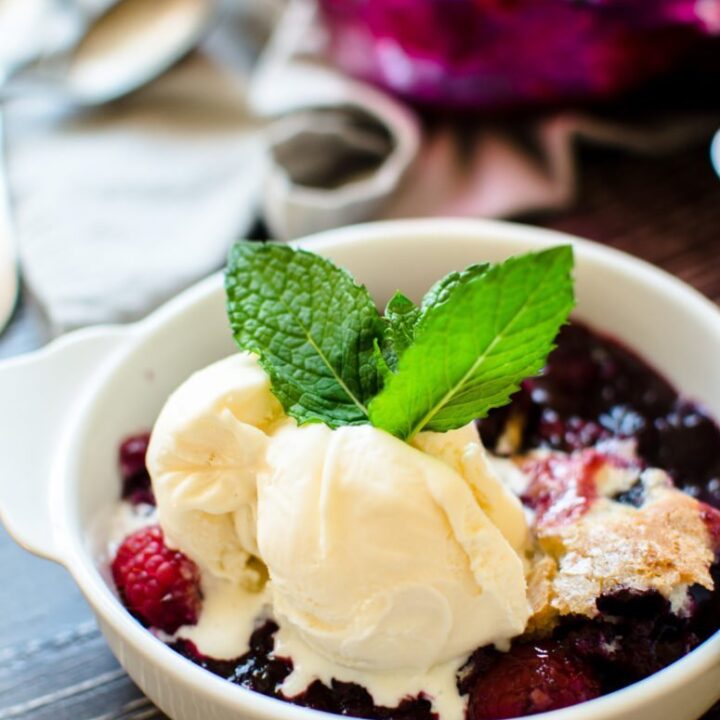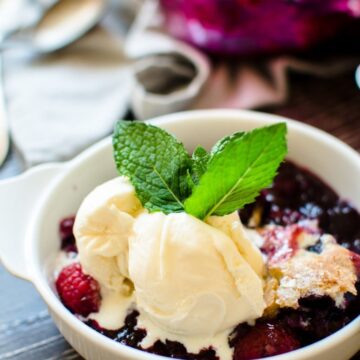 Ingredients
5

cups

of fresh or frozen blueberries

2

tablespoons

of fresh lemon juice

2

cups

all-purpose flour

¾

teaspoon

salt

¼

teaspoon

freshly grated nutmeg

2

cups

granulated sugar,

divided into 3/4 cup and 1 1/4 cup

1

cup

whole milk

5

tablespoons

unsalted butter,

softened to room temperature

½

teaspoon

vanilla extract

1 ½

cups

boiling water

2

tablespoons

cornstarch
Instructions
Preheat oven to 350 degrees F. Spray a 9 x 13'' baking dish with cooking spray. Spread the blueberries in the bottom of the dish and sprinkle the fresh lemon juice over the top.

In a mixing bowl, combine the flour, salt, nutmeg, 3/4 cup sugar, milk, butter and vanilla extract. Use a hand mixer and mix on low speed until just combined. There may be a few small lumps in the batter and that is just fine.

Add 1 ½ cups of water to a kettle or small pot and bring to a boil over high heat. While the water boils, combine the remaining 1 1/4 cups sugar and the cornstarch in a small bowl. Use a spoon to sprinkle this evenly over top of the cobbler batter. Place the cobbler dish on top of a rimmed baking sheet.

Once the water comes to a boil, pour it evenly over the cobbler. Use the back of a wooden spoon to poke several holes through the cobbler surface.

Carefully place the cobbler into the oven and bake for 50-60 minutes until a golden, shiny crust forms on top and the fruit bubbles through the top. Cool for 30 minutes and serve warm or at room temperature.