This Mixed Berry Crumble Pie is the summer dessert of my dreams - it's eye-rolling, lip-smacking good! This pie includes blackberries and blueberries, but feel free to substitute raspberries or any other berry you like.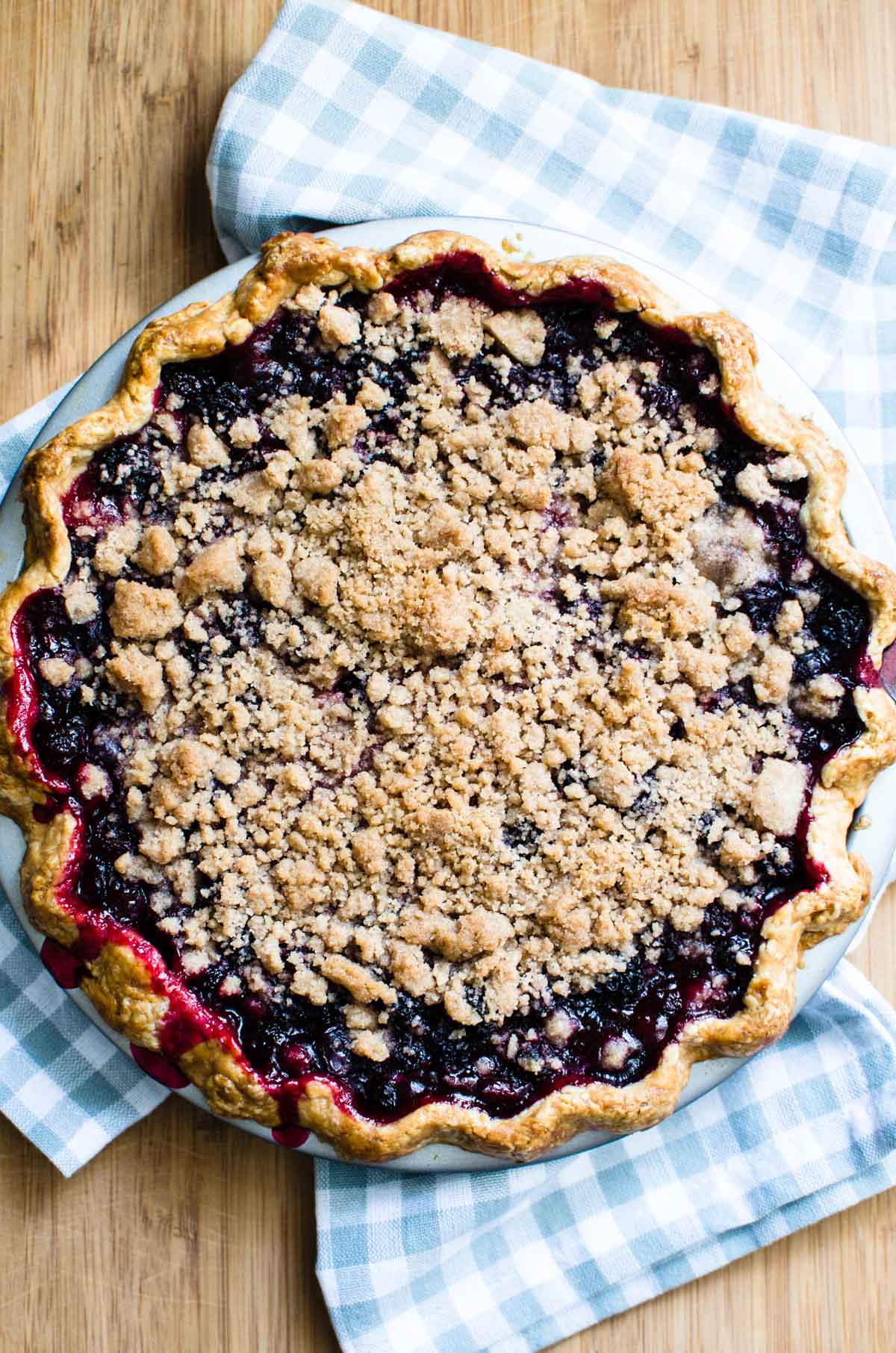 Video
Here is a video tutorial for how I make a pie crust from scratch!
Well hello, strangers! I know, it's been a hot minute (or like...weeks) since I've posted. Life has happened. Things have gone down. I've got a lot to update you on. But that's going to have to come in the form of "life updates" post of sorts. There's just too much to share that could get tangled up in a recipe post. This week, I'm sharing two posts about one of the highlights of my summer - making pies out of a new favorite cookbook. So let's officially declare it "Pie Week" on Sweet Cayenne - who is with me?!?
The cookbook I'm referring to is "Pies and Tarts: The Definitive Guide to Classic and Contemporary Favorites." It's written by Kristina Petersen Migoya and the Culinary Institute of America, and if CIA's name is on it, it's legit in my book. Everything you could possibly want to know about ingredients, tools, temperatures, and techniques for perfect pie-baking is in this book; along with some stunning pie photography! I love the step-by-step photos for making perfect crusts and mastering tried and true techniques. It's a great book for building confidence as a baker for sure!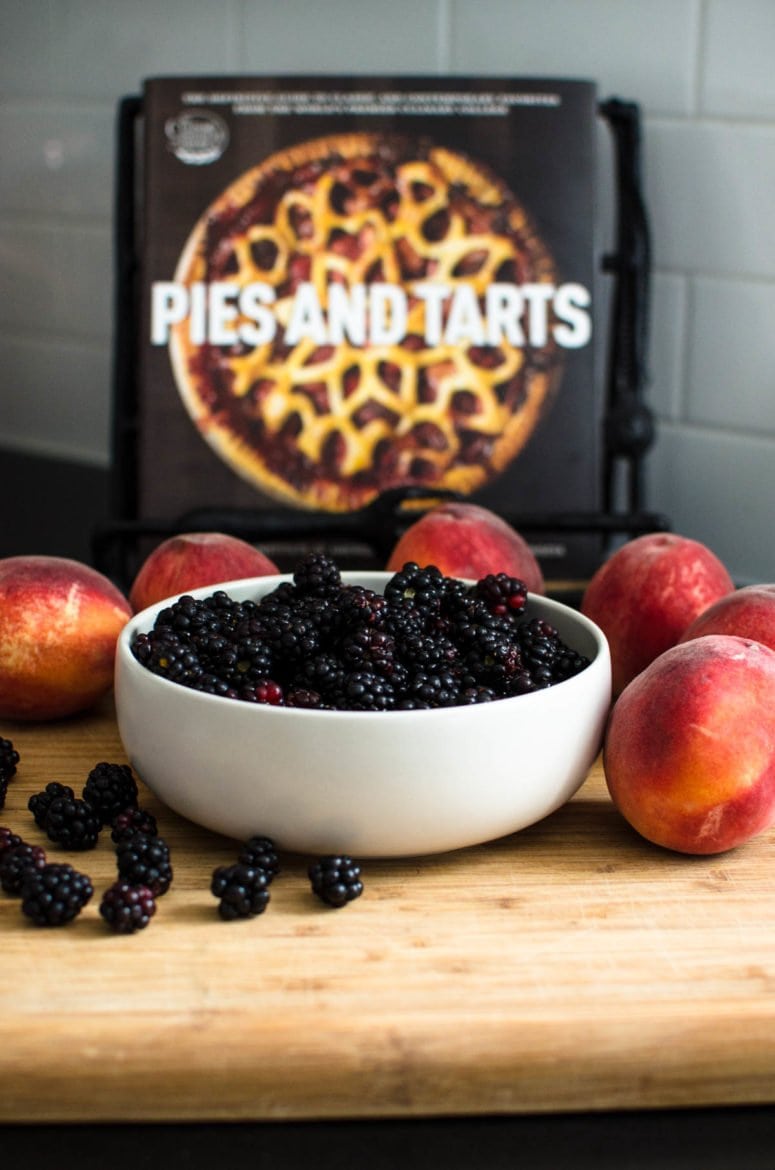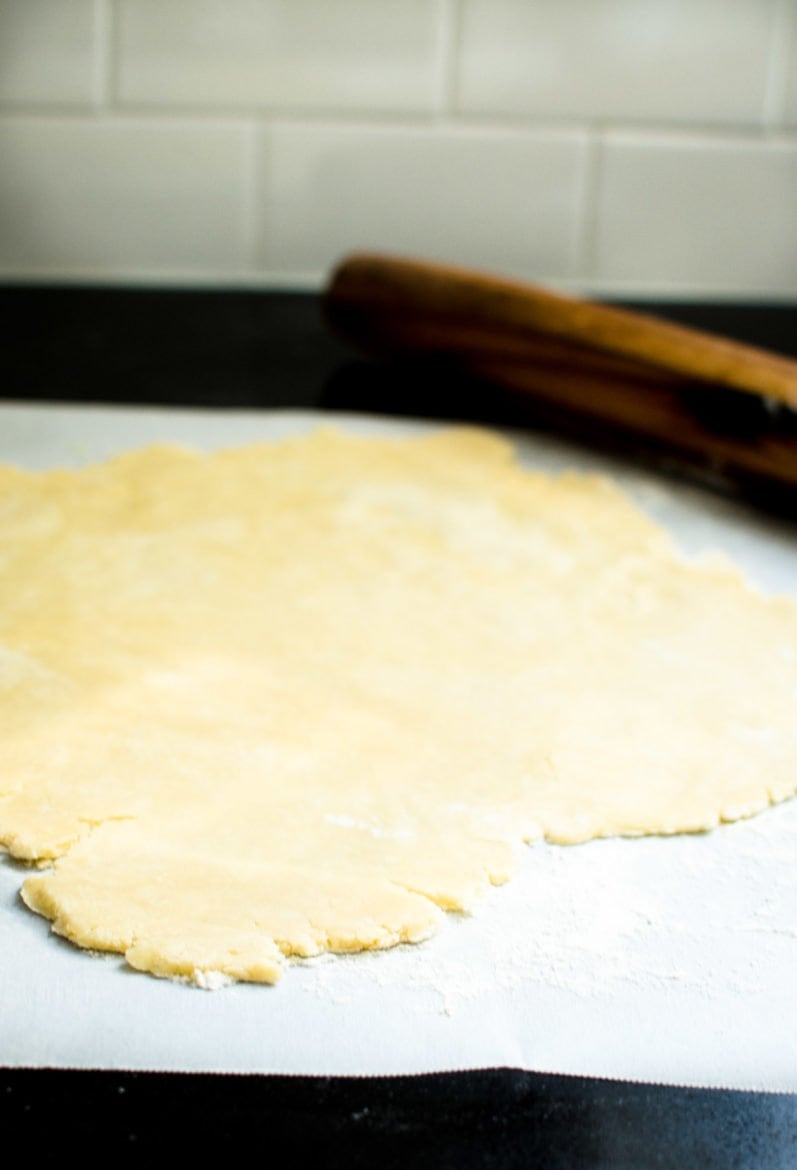 When it came to choosing a recipe from the book to make first, it was a pretty hard decision. However, after stumbling upon about six wild blackberry bushes on a favorite walking trail near our home in late July and picking about five cups worth of berries, I knew the "Many Berry Pie" from the book is where I needed to start. I ended up making a few minor edits to the recipe to account for what I had on hand (I omitted the raspberries and used 4 cups of blackberries and 2 cups of blueberries) and to suit my pie crust preferences (I prefer using buttermilk as the crust liquid instead of ice water).
Another little trick for pie baking that I've recently learned and ended up loving: freeze fruit pies before baking them. This helps significantly with preventing crust shrinkage and sogginess on the bottom of the pie (because the bottom crust has time to bake/brown before the fruit filling thaws completely). I froze the berry pie for about 4 hours before baking it and the fruit set perfectly!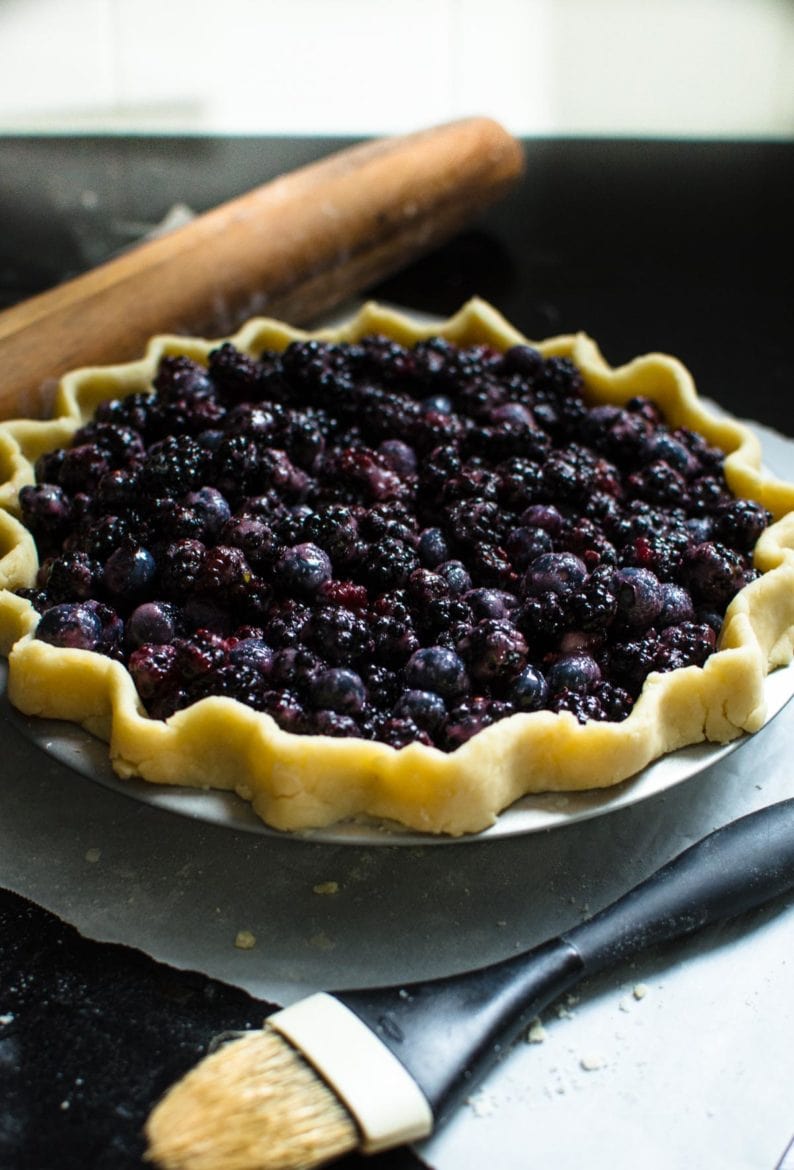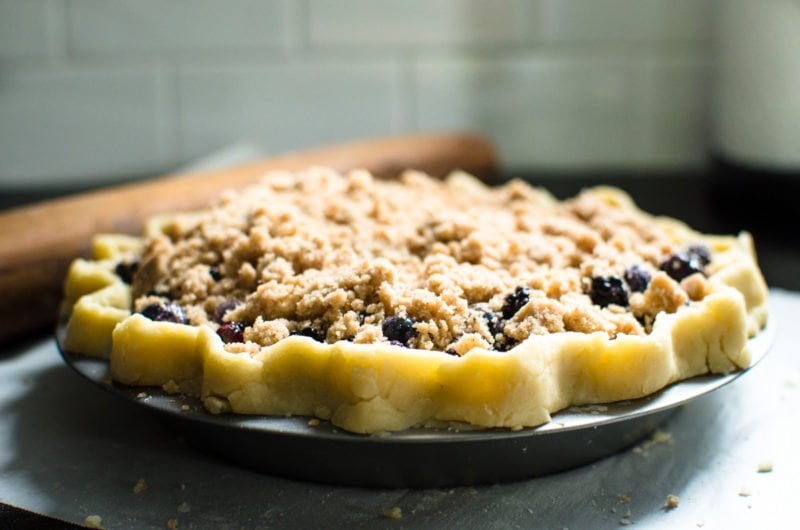 Another tip to keep in mind for knowing when your pie is really done: allow it to bake until the fruit filling is bubbling up over the crust. A lot of fruit pies suffer from being underbaked, which can lead to a soggy, weepy mess when you attempt to slice the pie. But if the fruit filling gets hot enough to bubble and you cool the pie for a few hours before slicing, you will have picture-perfect slices that stay together when sliced!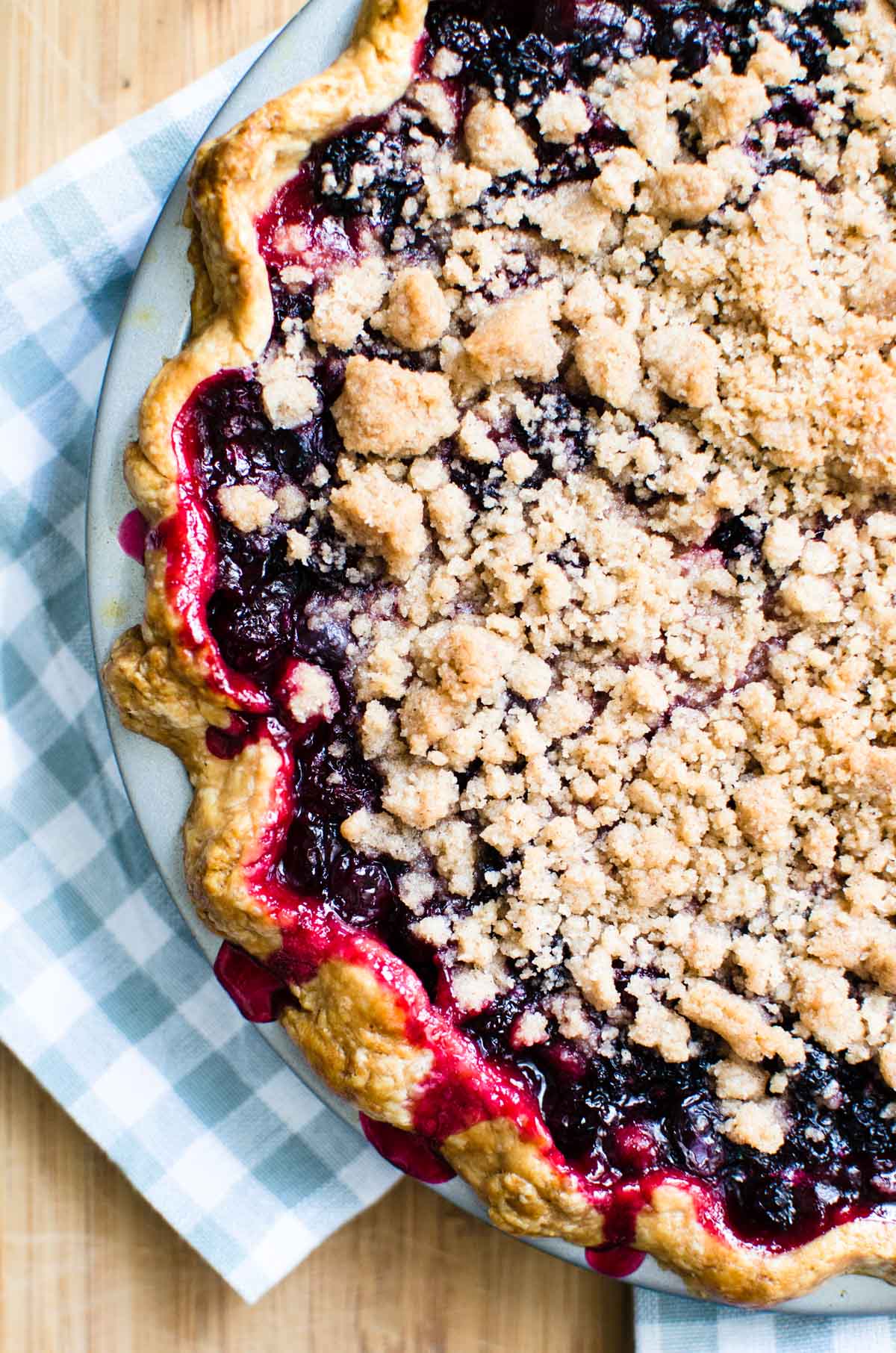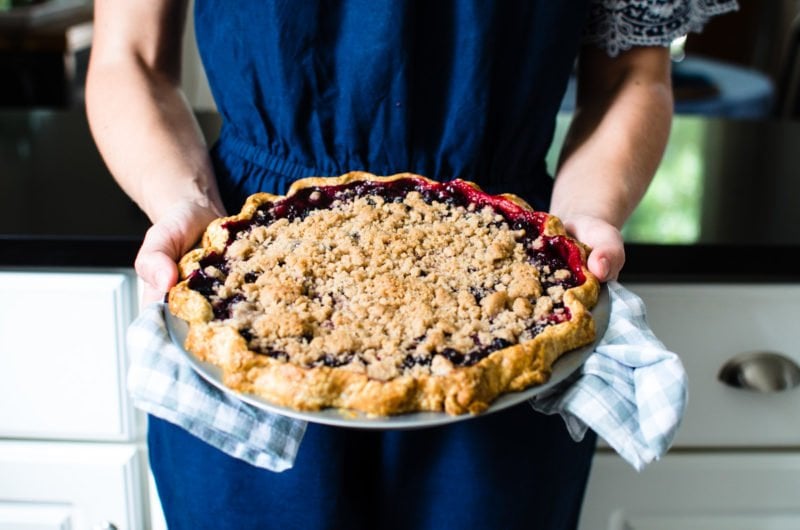 In all seriousness, I could geek out over pie/baking science/techniques all day. But I'll spare you and get on to the recipe! Feel free to use frozen berries if you need to......and stay tuned for another delicious pie later this week!
If you love baking pies as much as I do, check out this Strawberry Balsamic Pie, Peach Bellini Pie, and this Old Fashioned Buttermilk Chess Pie!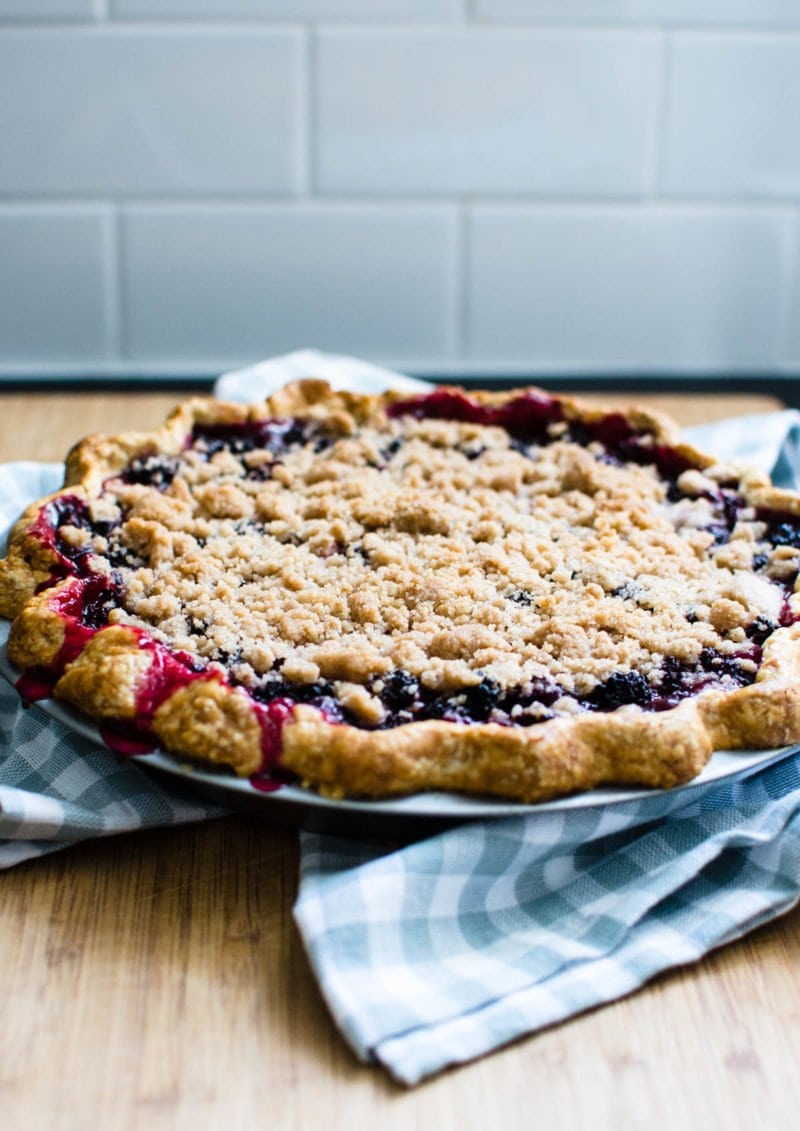 Did you make this Mixed Berry Crumble Pie? If so, I'd love to hear how it turned out for you! Leave a comment below or upload a photo to Instagram or Twitter with the tag @SweetCayenne5.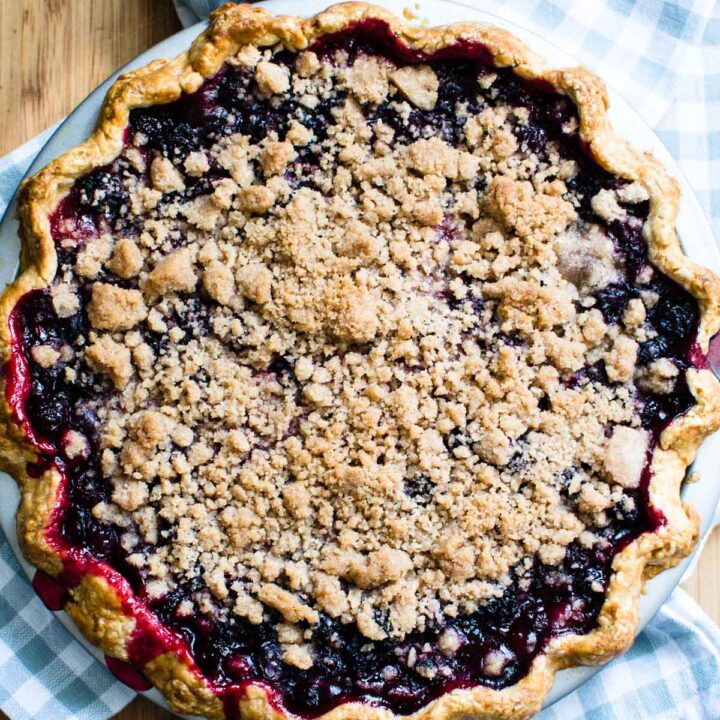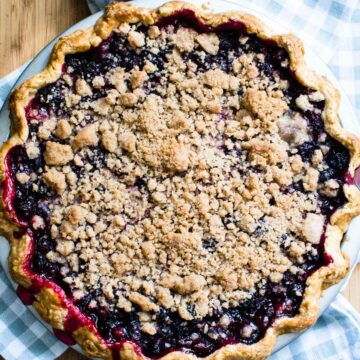 Ingredients
For the pie crust:
1 1/2

cups

all-purpose flour

1/2

teaspoon

kosher salt

1

teaspoon

granulated sugar

1/2

cup (1 stick)

very cold unsalted butter, cut into 1/4'' squares

3-4

tablespoons

ice-cold buttermilk
For the crumble topping:
1/3

cup

granulated sugar

1/2

cup

all-purpose flour

1/2

teaspoon

ground cinnamon

1/4

teaspoon

kosher salt

4

tablespoons (1/2 stick)

unsalted butter, cut into 1/2'' cubes
For the filling:
4

cups

blackberries, fresh or frozen

2

cups

blueberries, fresh or frozen

3/4

cup

granulated sugar

3

tablespoons

cornstarch

1

tablespoon

fresh lemon juice

1/4

teaspoon

kosher salt
For the egg wash:
1

whole

egg, lightly beaten with a fork

1

teaspoon

water
Instructions
For the pie crust:
In a large bowl, stir together the flour, salt, and sugar with a whisk. Add the butter squares and use your fingers to smear the butter into the flour mixture. Continue to incorporate the butter into the flour until the pieces of butter varied between the size of peas and oat flakes.

Sprinkle 3 tablespoons of the buttermilk into the flour and butter mixture. Use your hands to quickly incorporate the buttermilk. Add the 4th tablespoon of buttermilk as needed and incorporate until the mixture forms a shaggy dough that holds together somewhat.

Turn the dough out onto a well-floured surface and gently knead it into a disk that holds together. Wrap the disk in plastic wrap and refrigerate for at least one hour and up to overnight.
For the crumble topping:
Use a whisk to combine the sugar, flour, cinnamon, and salt in a medium bowl. Add the butter to the flour mixture. Use your fingers to smear the butter into the flour until the mixture looks like course, irregular crumbs. Refrigerate until ready to use.
For the pie filling and assembly:
Preheat the oven to 375 degrees F and place an oven rack in the lowest position.

Combine the berries, sugar, cornstarch, lemon juice, and salt in a medium bowl with a rubber spatula. Refrigerate the filling while you roll out the pie dough.

On a well-floured surface, roll out the pie dough to 1/8'' thick. Make sure you can fit your pie plate on top of the rolled dough with about 1/2-1'' of a border around the diameter of the pie plate. Place the rolled dough into the pie plate and crimp with your fingers or a fork.

Add the prepared fruit filling to the pie crust. Distribute the crumble topping evenly over the fruit.

Combine the 1 teaspoon of water with the beaten egg. Use a pastry brush to lightly sweep the egg wash around the edge/rim of the pie crust.

Place the pie on a baking sheet and bake for 60-80 minutes or until the filling is bubbling and the crust is golden brown. Use a crust shield as needed to keep the crust edges from browning too much (I typically put mine on at the 50-minute mark).

Remove the pie from the oven and allow it to cool on a cooling rack for 2-3 hours. The filling will continue to thicken and set as the pie cools. Slice when cooled - a scoop of vanilla ice cream on top is HIGHLY recommended!
Notes
This pie can be frozen (unbaked) for up to three months and baked in the frozen state. Baking from frozen may take an extra 20-30 minutes!
Shop my favorite pie baking essentials or check out the cookbook "Pies and Tarts"
Pin this, pretty please!