Today's giveaway is sponsored by Siggi's Yogurt! I used their pumpkin-flavored yogurt to make these lovely little Gingerbread Energy Bites. These little nibbles are the perfect fuel for busy days on-the-go!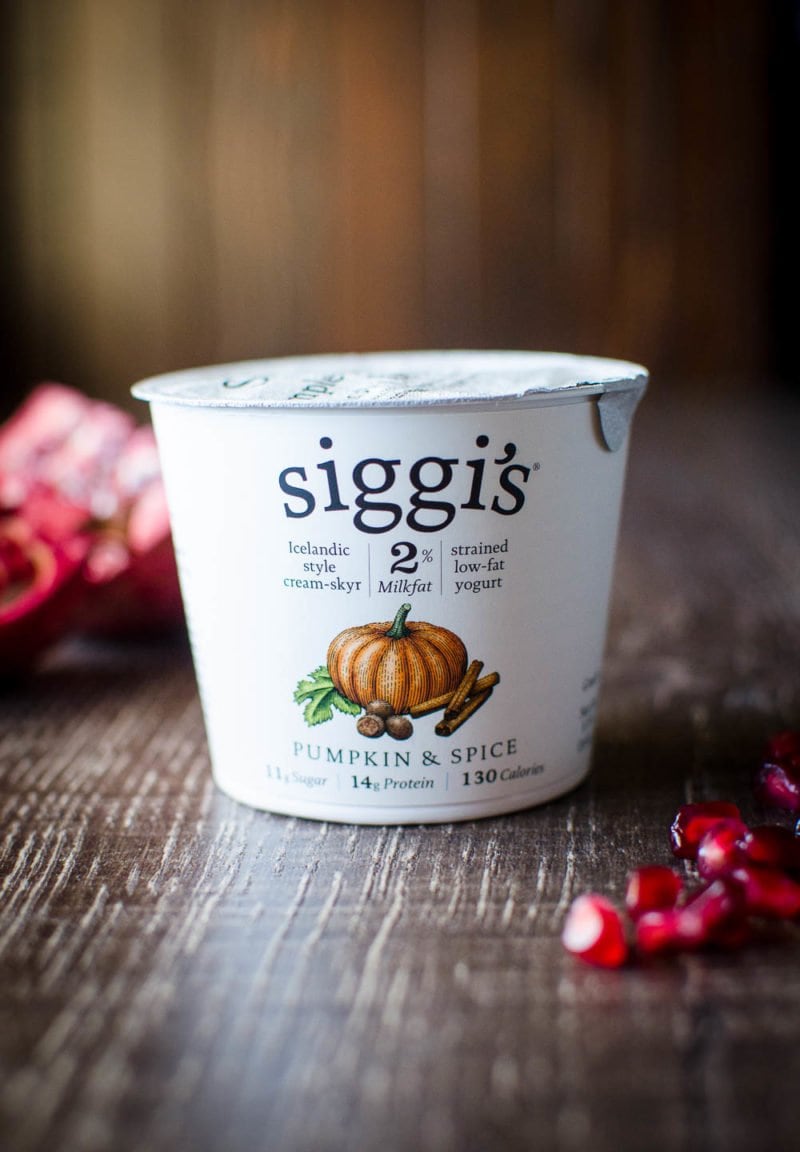 Are you hurried, harried, and probably hungry during the go-get-go-grab-this business of the holiday season? Hopefully you haven't made it to that point; but let's face it, everyone is busy right now! In fact, if I can get through this current week, I will have made it over my busiest hump in the holiday season. I've got so much going on this week -a presentation to give, blog posts to write, patients to see, and a Christmas party to cater and decorate for this weekend! After that, my weeks will be full of cookie baking, gingerbread house-decorating, gift-wrapping, Christmas light-seeing, party-going, and all of the FUN holiday things.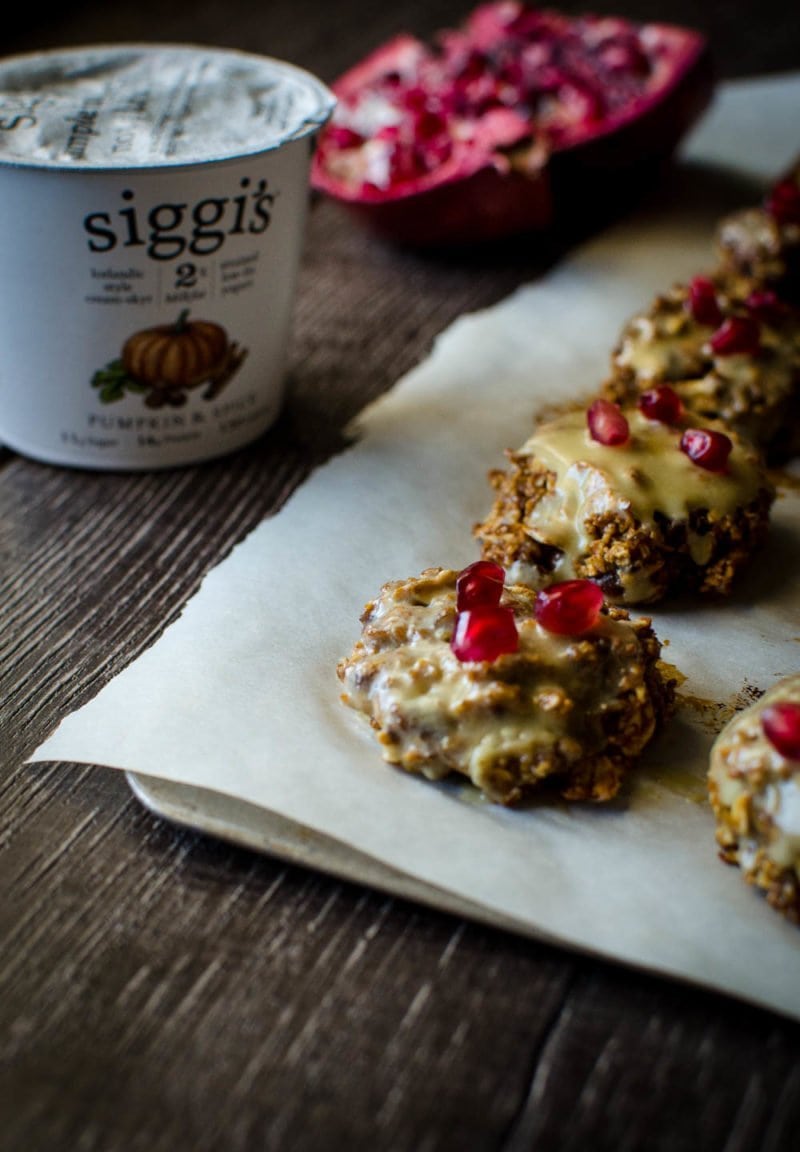 Enter in Siggi's - the wonderful, creamy, protein-filled Icelandic-style yogurt. It's perfect for fueling your holidays as a breakfast, snack, or even a baking substitute! Have you ever had it??? They call their yogurt "skyr," and it's a super-concentrated type of yogurt that has double the protein of regular yogurt and much less sugar. Their yogurts are made with only the highest quality, often locally-sourced, nutritionally-dense products they can get their hands on. Exactly the kind food you want to be putting in your body to bring balance to your not-so-normal; and likely not-as-healthy, holiday diet.
I used their Pumpkin and Spice yogurt to make these chewy, protein and fiber-filled Gingerbread Energy Bites. Ever had a Gingerbread Cliff Bar? That's what these taste like. They are filled with warm spices, hearty oats, and naturally sweetened with dates and a bit of molasses. And that eggnog glaze? It's mixed with protein powder instead of protein sugar, so this definitely counts as a high-quality, fit-for-fueling snack! I like to make them and store them in the freezer - they taste great cold so I can just grab one or two on busy days when I don't have time to make a meal to sit down and enjoy.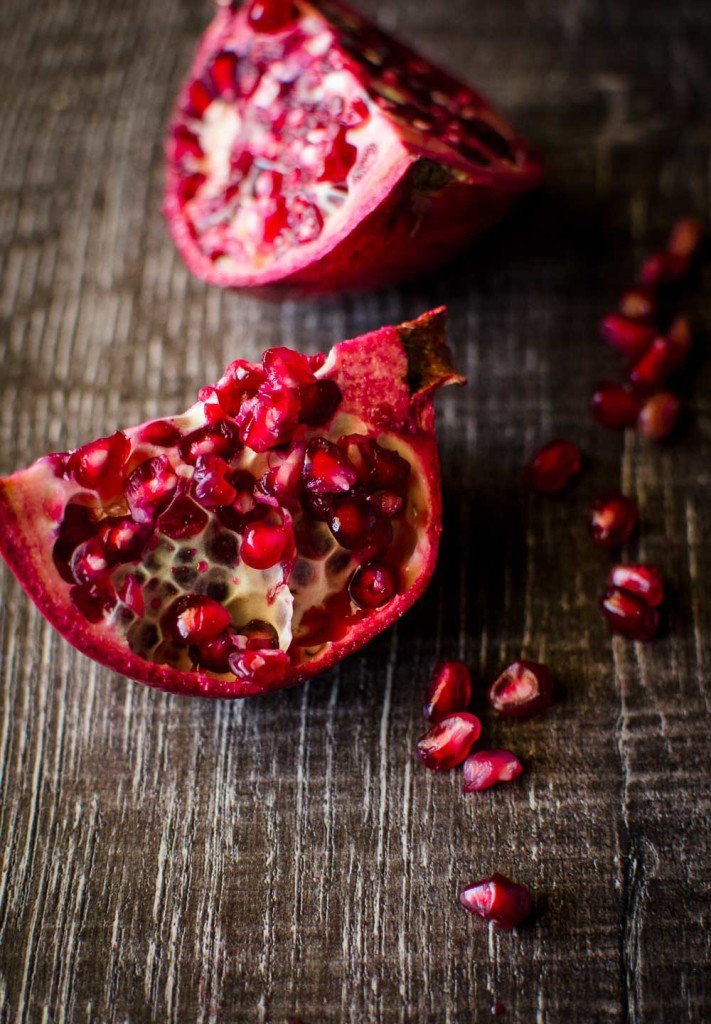 Another way I like to use Siggi's is as a cooking or baking substitute - it' a great option if you want to cut back on fat, calories, or just bump up the nutrition in a recipe! Here's a few ideas that you could try:
Sub 1 tablespoon of Siggi's yogurt for 1 tablespoon of sour cream
Sub ½ cup of Siggi's yogurt for 1 cup of cream cheese
Sub 1 tablespoon of Siggi's yogurt for 1 tablespoon of mayonnaise
Sub ⅔ cup of Siggi's yogurt + ⅓ cup milk for 1 cup of buttermilk
Sub ¾ cup of Siggi's yogurt for 1 cup of oil
Sub ½ cup Siggi's yogurt + ½ cup butter for 1 cup of butter
If you'd like to try these substitutions in some tested recipes, see this recipe collection from Siggi's! And here's the REALLY exciting thing about all of this - this week you have a chance to WIN a month's supply of Siggi's yogurt! All you have to do is leave a comment below and let me know how you would use yogurt to make a healthy dish this holiday season. We will announce the winner on Friday - the winner will then be mailed vouchers for a whole month of free Siggi's!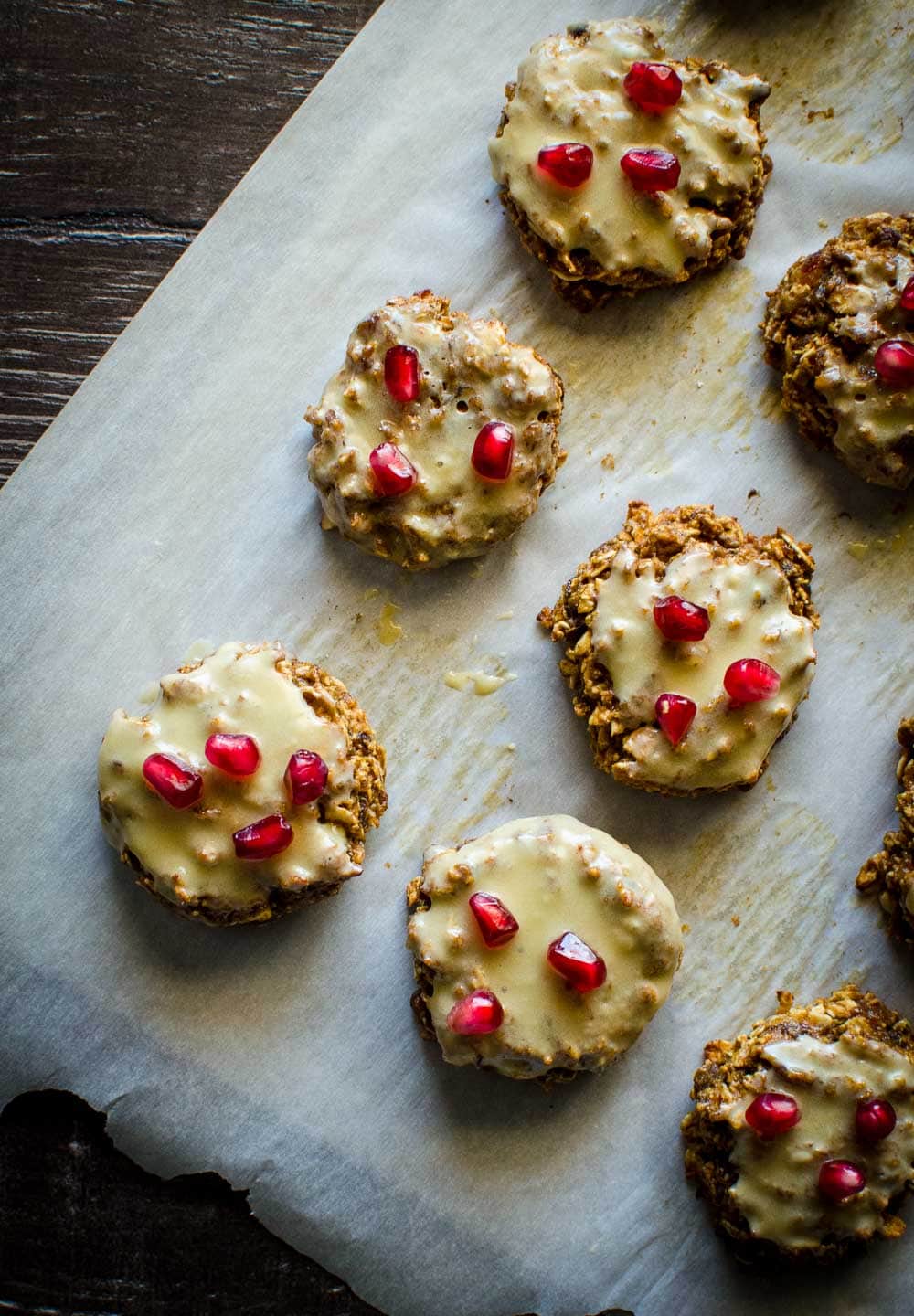 Recipe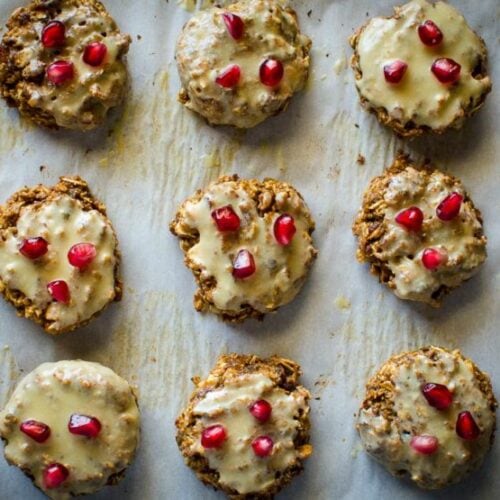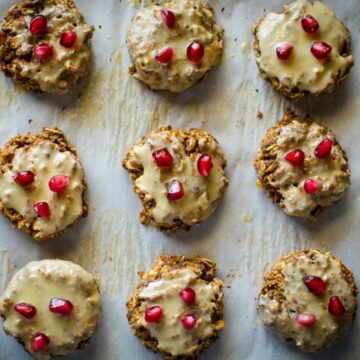 Gingerbread Energy Bites with Eggnog Glaze + Siggi's Yogurt Giveaway!
Gingerbread Energy Bites with Eggnog Glaze are a festive take on a protein bar that is naturally-sweetened - but these are bite-sized! Perfect for eating on-the-go during the busy holiday season.
Print
Pin
Rate
Ingredients
For the "dough:"
2

cups

rolled oats

not instant, divided

1 ½

teaspoons

ground ginger

1

teaspoon

ground cinnamon

¼

teaspoon

ground cloves

½

teaspoon

baking powder

¼

teaspoon

salt

1

cup

pitted dried dates

½

cup

Siggi's Pumpkin-Flavored Yogurt

4

ounce

container unsweetened applesauce

1

tablespoon

chia seeds

2

tablespoons

molasses
For the topping:
2

tablespoons

vanilla-flavored protein powder

3

tablespoons

pasteurized eggnog

Pomegranate seeds for garnish
Instructions
Preheat oven to 350 degrees F. Line a baking sheet with parchment paper and set aside.

Add one cup of the rolled oats to a blender or food processor. Blend until a coarse powder forms, about 2-3 minutes. Transfer to a large bowl.

To the oat powder in the bowl, add the additional 1 cup of rolled oats, ginger, cinnamon, cloves, baking powder, and salt. Stir to combine.

Add the pitted dates to the food processor or blender. Pulse for several times until the dates are coarsely chopped into small pieces. Add the yogurt, applesauce, chia seeds, and molasses. Blend to combine until the ingredients are well-incorporated.

Add the liquid date mixture to the dry oat mixture and stir to combine. The mixture should be thick and sticky - like gingerbread!

Drop the dough by rounded tablespoon-fulls onto the baking sheet. Bake for 10-12 minutes until set. Transfer the "cookies" to a wire rack to cool completely.

While the cookies cool, combine the eggnog and protein powder with whisk until a thick glaze forms. You want the glaze to be the consistency of honey, so you can add more protein powder or eggnog to reach the right consistency.

Dip the tops of the cookies into the glaze and top with pomegranate seeds. Enjoy right away or store the cookies in the refrigerator for up to 4 days. Cookies will also keep in the freezer for up to 3 months and taste just fine right out of the icebox!
Notes
Nutrition information per 2 cookies: Calories 211,Total Fat 3.1g, Saturated Fat 1.3g, Trans Fat 0.0g, Cholesterol 0mg, Sodium 218mg, Potassium 355mg10, Total Carbohydrates 35.1g, Dietary Fiber 4.8g, Sugars 17.3g, Protein 12.0g
Serving:
2
g
|
Calories:
211
kcal
|
Carbohydrates:
35.1
g
|
Protein:
12
g
|
Fat:
3.1
g
|
Saturated Fat:
1.3
g
|
Sodium:
218
mg
|
Potassium:
355
mg
|
Fiber:
4.8
g
|
Sugar:
17.3
g
Did you make this recipe? I'd love to hear about how it turned out for you. Leave a comment below and share a picture on Instagram with the hashtag #sweetcayenne - it's always great to connect with you!