Did you all know that September is National Whole Grains Month? Whole Grains Month is celebrated by the Whole Grains Council every September with lots of special events and promotions to remind consumers of the health benefits of whole grains and to inspire creativity in trying new grains and ways to utilize them in cooking. This year, the theme is "Make the Switch." I wanted to feature my own whole grain recipe in honor of Whole Grains Month and choose a grain I had yet to experience working with: sorghum!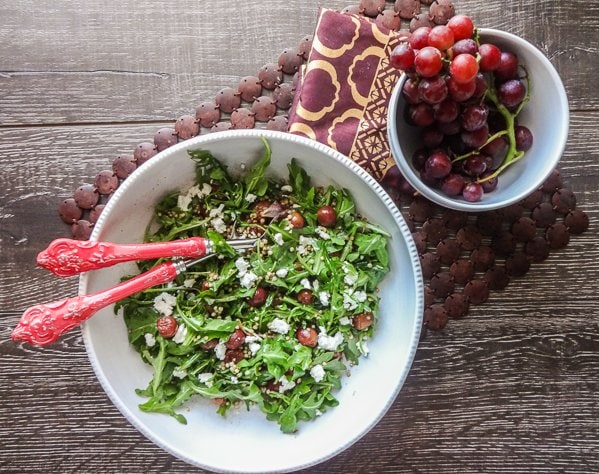 Sorghum is not a grain commonly used by the average consumer in America, in fact, most people I've told about it have never even heard of it! According to the Whole Grains Council, sorghum is the 5th most important cereal crop worldwide because it's able to withstand drought conditions and is most widely consumed in Africa and parts of Asia. However, sorghum is starting to gain popularity in America; mostly in the form of flour, because it is gluten-free and suitable for people with Celiac disease.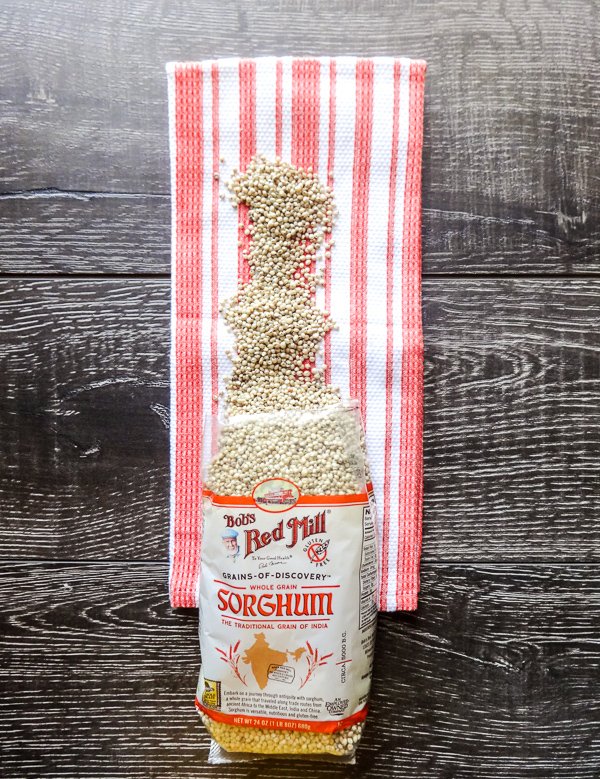 I imagine that if you follow a gluten-free diet, you may get tired of quinoa and flours made from rice and potatoes, so sorghum can add variety to your diet while jazzing up your pantry staples! Some great ways to use nutty, chewy-textured whole sorghum include substituting it for rice or past in salads and pilafs, adding cooked sorghum to soups, or in the popped form as an alternative to popcorn.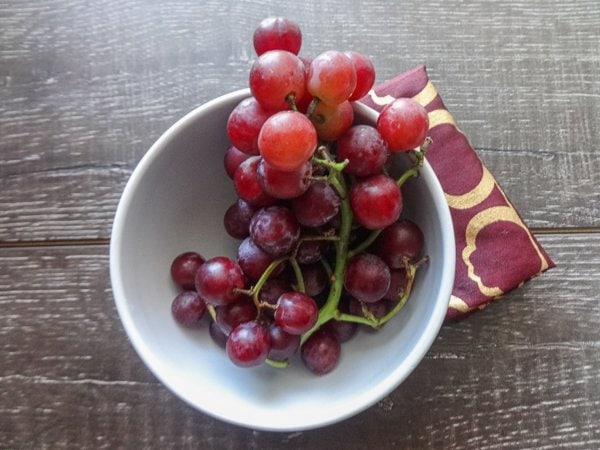 Today I've incorporated sorghum into a satisfying and hearty salad with plum and juicy red grapes, which happen to be one of my very favorite fall produce items. I used a "low and slow" roasting technique for the grapes and shallots in this salad, which lent tremendous depth of flavor from all the caramelized juices of the produce.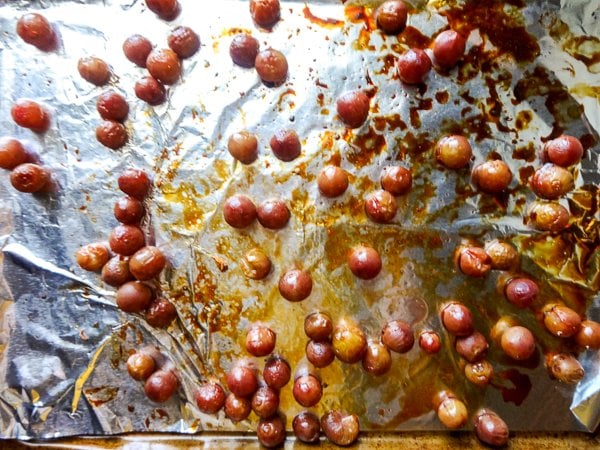 This salad is so gorgeous to look at because it incorporates such rich, vibrant fall colors. It's perfect to have when you are missing the fresh, clean crispness of summer dishes in the early fall. The salad is very satisfying by itself for a light lunch but would be a great accompaniment to pizza, herb-crusted pork, roast chicken, or a meaty fish fillet like snapper, sea bass, or halibut.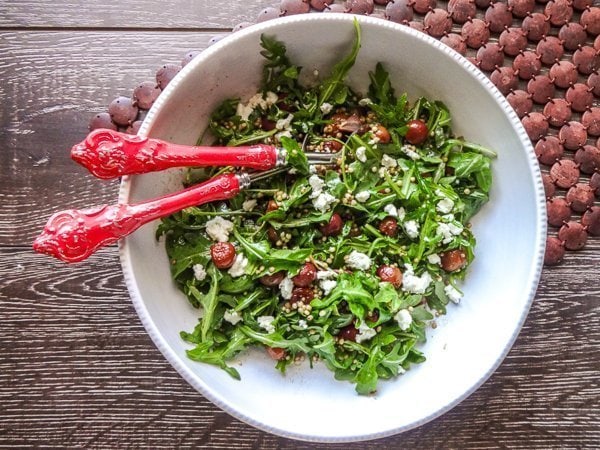 If you'd like to learn more about incorporating a variety of whole grains into your diet, I've included some links to resources I love below!
- How to identify whole grains in the grocery store
- 12 quick, easy whole grain recipes (pdf)
Whole Grain Recipes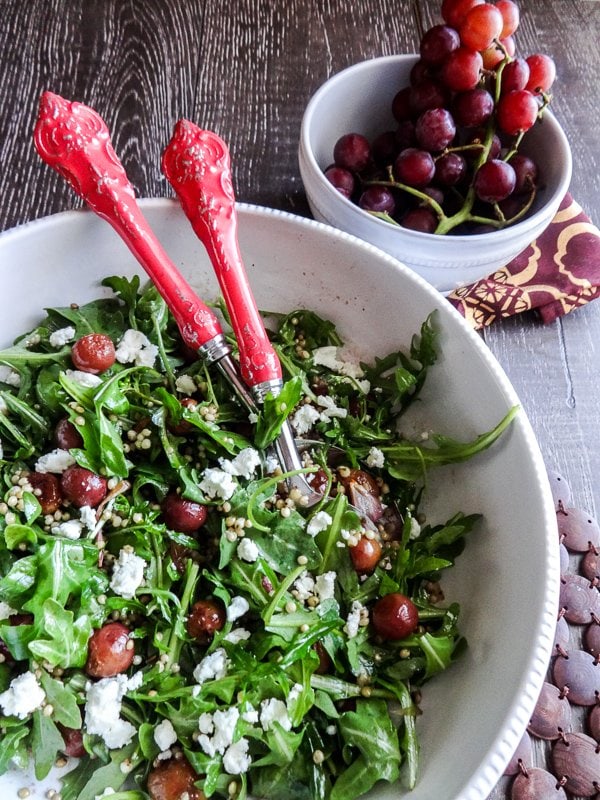 Hungry for more? Be sure to follow the blog on Instagtram and find Sweet Cayenne on Twitter, Facebook, and Pinterest.
Recipe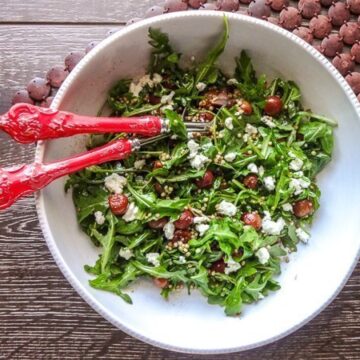 Roasted Grape and Sorghum Salad
September is National Whole Grains month and a perfect time to try something new. This salad features in-season roasted grapes, pepper arugula, creamy goat cheese, and the nutty whole grain sorghum.
Print
Pin
Rate
Ingredients
For the salad:

2

cups

red California grapes

1

large shallot

cut into strips

1

cup

sorghum

cooked until tender according to package directions (recommend: Bob's Red Mill)

4

cups

baby arugula

2

oz

crumbled goat cheese

For the vinaigrette:

1

teaspoon

honey

½

teaspoon

Dijon mustard

2

tablespoons

balsamic vinegar

¼

cup

extra virgin olive oil

Pantry staples: coarse Kosher salt

freshly ground pepper, extra virgin olive oil
Instructions
For the roasted grapes:
Preheat oven to 250 degrees. Line a large baking sheet with parchment or foil. Place grapes and shallots on baking sheet and sprinkle lightly with olive oil, ¼ teaspoon salt, ¼ teaspoon pepper. Roast the shallots for about 1 hour until tender and caramelized. Remove shallots and set aside to cool. Continue to roast the grapes for another 1 ½ to 2 hours until caramelized and somewhat shriveled.
For the vinaigrette:
In a small bowl, combine the honey, Dijon mustard, and balsamic vinegar. Whisk until thoroughly combined. In a slow and steady stream, add the olive oil while whisking to combine. Season to taste with a pinch of Kosher salt and freshly ground pepper.
Salad assembly:
In a large salad bowl, add the roasted grapes, caramelized shallot, sorghum and arugula. Add the balsamic vinaigrette and toss to combine. Dot with crumble goat cheese and serve at room temperature. This salad is also wonderful served cold for leftovers the next day, as arugula is a hearty green that holds up well when refrigerated for a day or so.

Optional serving suggestion: this salad would be delicious with grilled chicken, roasted chicken sausages, or herb-crusted pork tenderloin.
Notes
You could certainly roast the grapes and shallots at a higher temperature to speed up the cooking process. However, I find that roasting at this low temperature for a longer time provides a more even caramelization for the produce, prevents the shallots from burning, and helps the grapes maintain their shape.
Serving:
1
Serving
|
Calories:
265
kcal
|
Carbohydrates:
49.6
g
|
Protein:
3.5
g
|
Fat:
6.3
g
|
Saturated Fat:
2.4
g
|
Cholesterol:
10
mg
|
Sodium:
225
mg
|
Potassium:
673
mg
|
Fiber:
0.5
g
|
Sugar:
48.5
g
|
Calcium:
194
mg
|
Iron:
4
mg