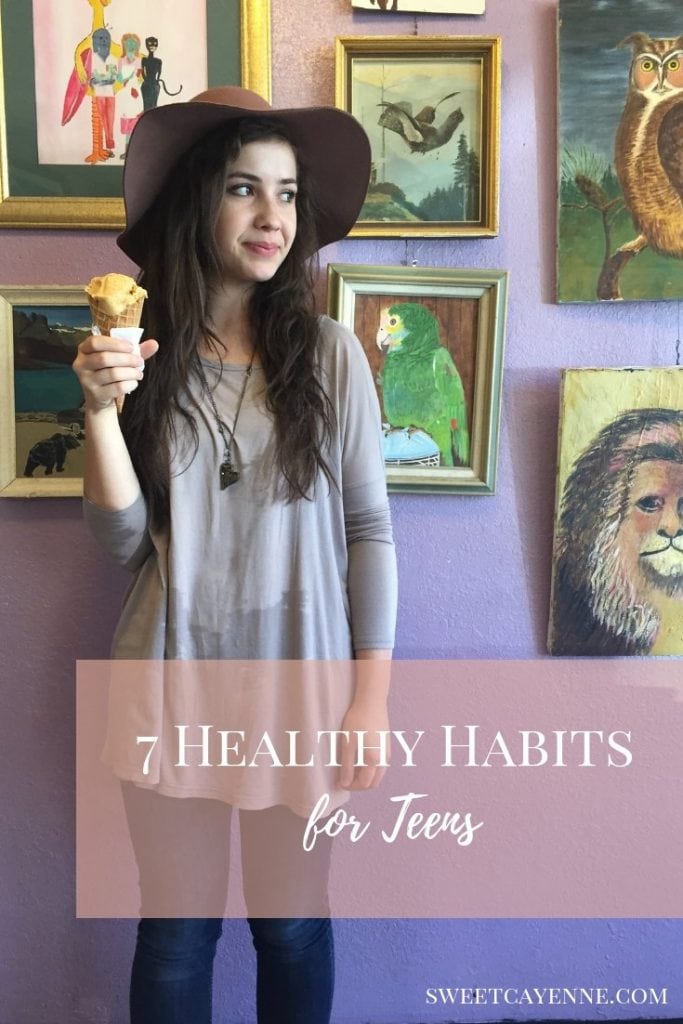 Today we get to go to high school!! At least, in my pictures, we get to.  A few weeks ago, I received a fun opportunity to speak to a group of upperclassmen at a local high school during their home ec. period.  I've always had a soft spot in my heart for teens since my college days working at summer camp and helping with our church youth group, so this was a great time for me to think back on all of those great memories while I prepped for the class! I wanted to let the students try some new foods that maybe they had never had before, so I chose to feature spaghetti squash, cannellini beans, and quinoa. I demonstrated how to make a baked spaghetti squash lasagna and did a tasting of a fall quinoa fruit salad and a chocolate chip cookie dough dip with a secret ingredient (cannellini beans!).  As it turns out, about half of the class had never tried spaghetti squash or quinoa, and only a few people identified the secret ingredient. And as an added bonus, most everyone liked what they tried! Score! No picky eaters today - everyone had an open mind and tried all 3 of the dishes I brought.
After my cooking demonstration, I did a little presentation on "7 Healthy Habits for Teens."  These were all habits I either developed as a teen or wish I had practiced because they helped me maintain a healthy relationship with food and eat healthfully during my college days.  I wanted to share them with you today because even if you aren't a teen anymore, it's never too late to pick up some healthy habits!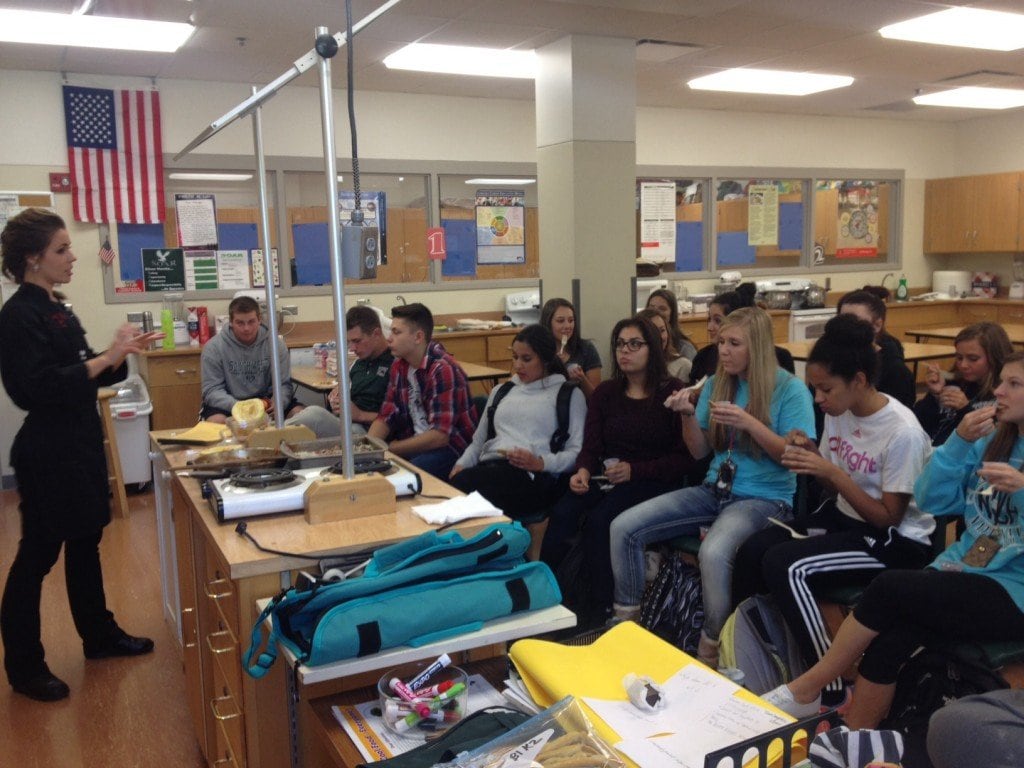 1. Eat Breakfast
Eating breakfast supports a healthy metabolism by "breaking the fast" after a good night's sleep.  Remember that food = fuel. It's what keeps you going mentally and physically.  Studies show that students who eat breakfast regularly have better concentration, perform better on tests and maintain a healthy weight more consistently. Choices can be simple and not your typical breakfast foods - it's fine to have a tortilla wrap with deli meat or a whole grain pita filled with hummus! To best regulate your hunger through the day and help you focus in the mornings, it's recommended that you eat within an hour of waking up. If you are always on the go in the morning, consider packing something before you go to sleep the night before. All you have to do then is wake up and grab your food before you go. Ever heard of a Bento Box? Let this change your life.
2. Follow the 80/20 Rule
This way of thinking helps keep your diet balanced, healthy, but still allows for occasional indulgences. Let's break it down: 80% of the time, make food choices based on how they nourish and sustain your body.  20% of the time, you can indulge in "sometimes" foods – anything goes! You can enjoy the indulgence without guilt because you know that, for the majority of the time, you are fueling your body with the nutrients it needs.  If you eat 3 meals per day, that's 21 meals per week. So for 17 meals (80%), you eat healthfully and for 4 meals (20%), you can have whatever you want. If you haven't already figured it out, life is about give and take.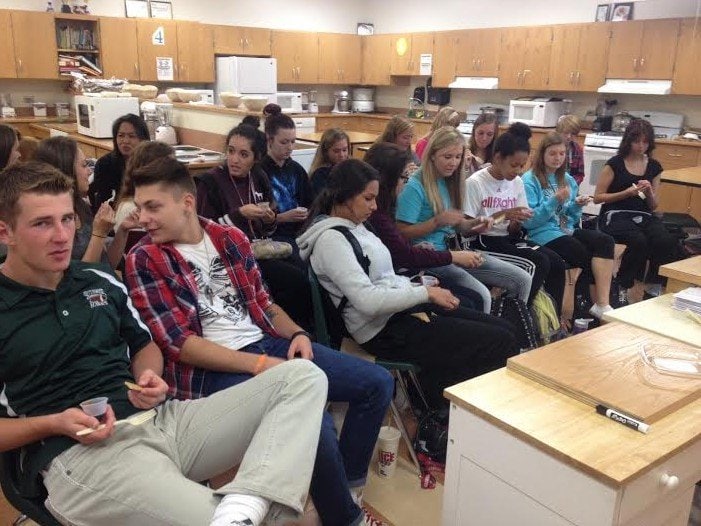 3. Eat Intuitively
Mindful eating = eat when you are hungry, stopping when you are full.  Remember: healthy snacking is A-OK! When you get too hungry between meals, it can lead to overeating at mealtime.  Have fruits and veggies handy to snack on and balanced your snacks with a bit of protein or whole grains.  Try these combinations:
Apple + peanut butter
Whole grain crackers + string cheese
Grapes + toasted almonds
Tortilla + beans
This is a great book on Intuitive Eating! It explains the whole concept in an easily understandable way.
4. Offer to do the Grocery Shopping
There are so many benefits in doing this – don't wait until you are a busy college student to become an expert shopper! Offer to go to the grocery store for your family once per week. Pay attention to what's on sale, what's in season (is usually on sale), foods you have never tried before, and how much things cost.  Becoming familiar with these factors of grocery shopping will make it easier for you to budget your food money and plan healthy meals to cook at home once you are in college! Keep in mind that you can save money if you buy foods that haven't already been prepared - think cut pineapple in a clear plastic box v.s. whole pineapple at the store. The whole version is much less costly. You may also learn a few kitchen skills (cutting fruits and veggies) this way as well.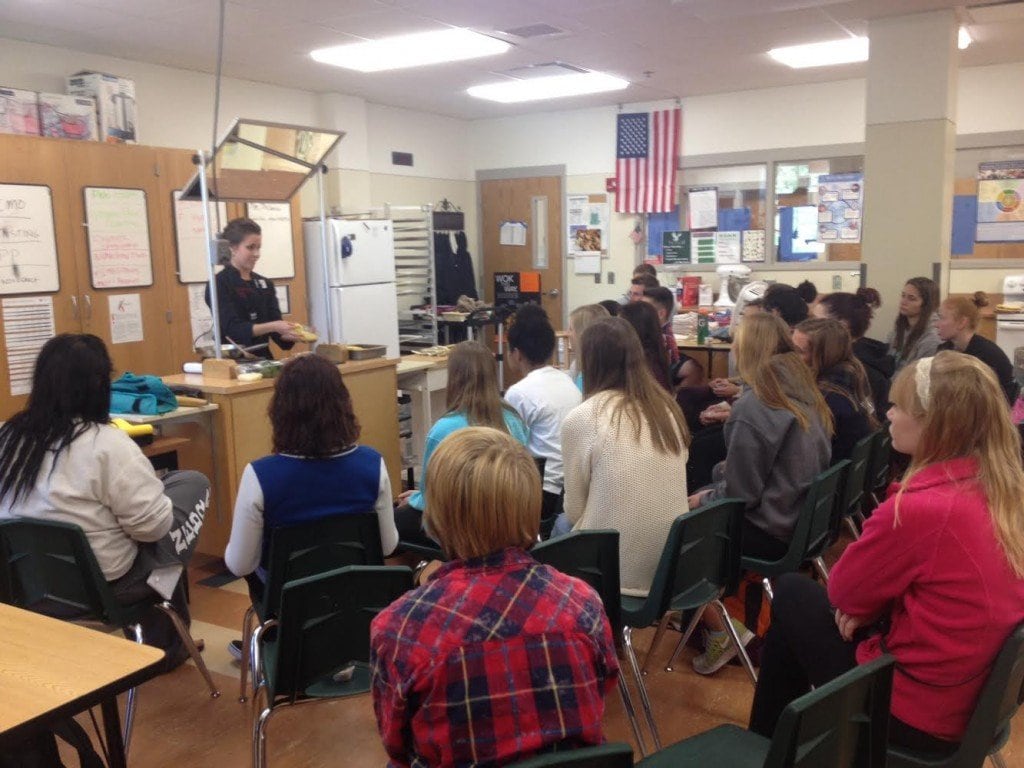 5. Cook Dinner for Your Family Once Per Week
This will help you go into the college dorm/apartment with an arsenal of easy, healthy recipes that will fuel you through classes. College is a busy, fun and exciting time, so why not get comfortable in the kitchen early? Make a goal to plan one dinner a week to cook for your family. It's ok to enlist the help of a sibling, parent, or friend to be your "sous chef" or help with dish duty after the meal!
6. Try a New Fruit or Vegetable Each Month
Make your meals interesting and exciting by incorporating foods you've never tried before into meals. Variety is key to helping you get the greatest benefit from all the vitamins and minerals that produce has to offer. And be sure to cook it yourself if you decide to try something new! Studies show that when people try a new food they have prepared themselves that they have a higher chance of liking the new food.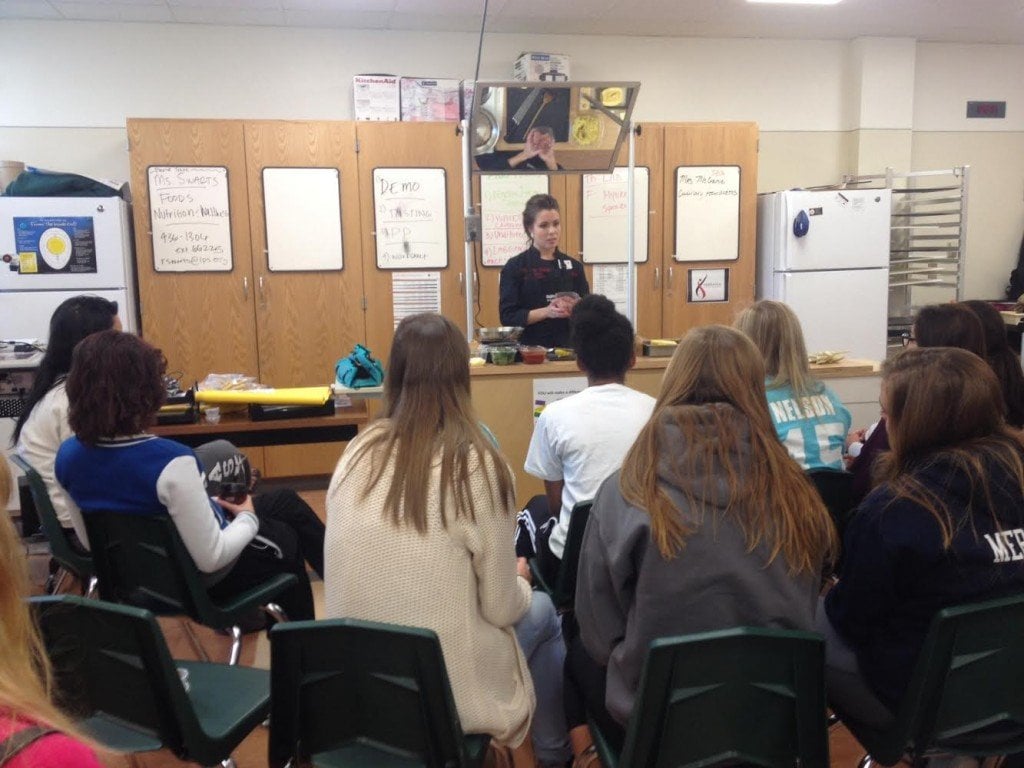 7. Invest Wisely
Remember that practicing good nutrition is like putting money in a savings account or having good insurance – it will pay off in more ways than you realize in the long run! The choices we make as young people about what to put in our bodies and how we take care of our bodies will have an effect on our health, ability to do what we love, confidence, and body image as we grow older.  So pick a healthy habit and start your investment in yourself today!
Hungry for more? See what else is going on around here: Summer Favorites 2018, Easy Italian Beef Sandwiches, Easy as Pie Blueberry Cobbler, and Ulta vs Sephora Make Up Class.
Be sure to follow the blog by signing up for the newsletter from Sweet Cayenne and on Twitter, Facebook, Pinterest, and Instagram! I also have a few cooking videos on YouTube.
Like what you see? Fun recipes, travel, beauty and style posts may interest you as well.