This no-knead Meyer Lemon Rosemary Bread is baked in a Dutch oven and is a delicious, rustic loaf that is perfect for beginner bread makers. It will make your home smell absolutely incredible as it's baking!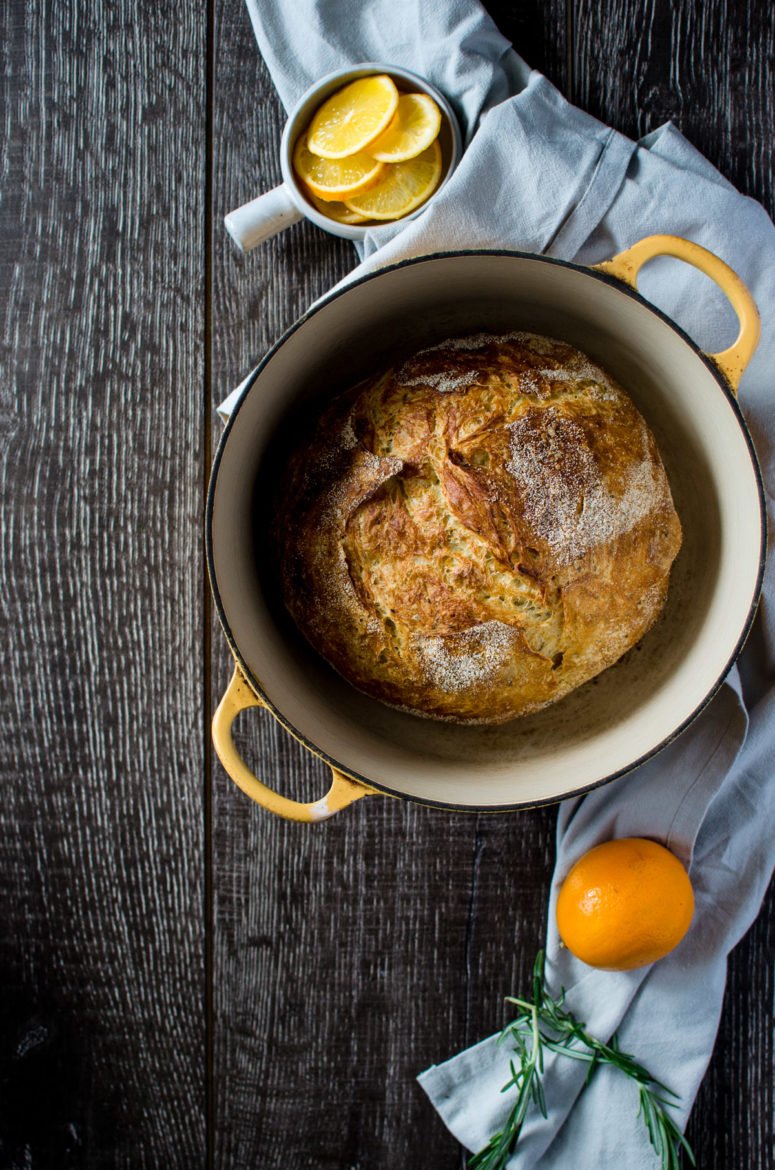 Jump to:
Video
About the recipe
My friends, if you want a way to make a golden, round bakery-style boule in your own kitchen, look no further. This recipe is it! What really makes this recipe unique is that the bread is baked in a cast-iron Dutch oven.
As many of you may know, cast iron does an excellent job of conducting heat, so the sides of a cast iron pot get screaming hot all the way up. This results in a round bread loaf that's golden-crisp all over but soft and tender on the inside. The steam created by baking the bread in the pot with the lid on also helps create that shiny, perfectly crisp crust.
Another unique thing about this recipe is a long fermentation time. This recipe only uses ¼ teaspoon of yeast, a fraction of the amount in most homemade bread recipes. That tiny amount of yeast gets a LONG time - 12-18 hours - to do it's job fermenting and leavening the dough. The final product is a bread with a delicious tangy flavor.
I adapted the recipe for this Meyer Lemon Rosemary Bread from Williams Sonoma and am proud to say it tastes VERY similar to the loaf I love from my favorite bakery: Village Baking Co in Dallas, TX.
The cheery notes of lemon and robust smell of rosemary flecked throughout the dough produces a glorious and intoxicating scent that will permeate your kitchen as the dough rises and bakes. And once you've finished your bread masterpiece, you will be overwhelmed with a sense of pride and accomplishment that that loaf of bread came from your kitchen!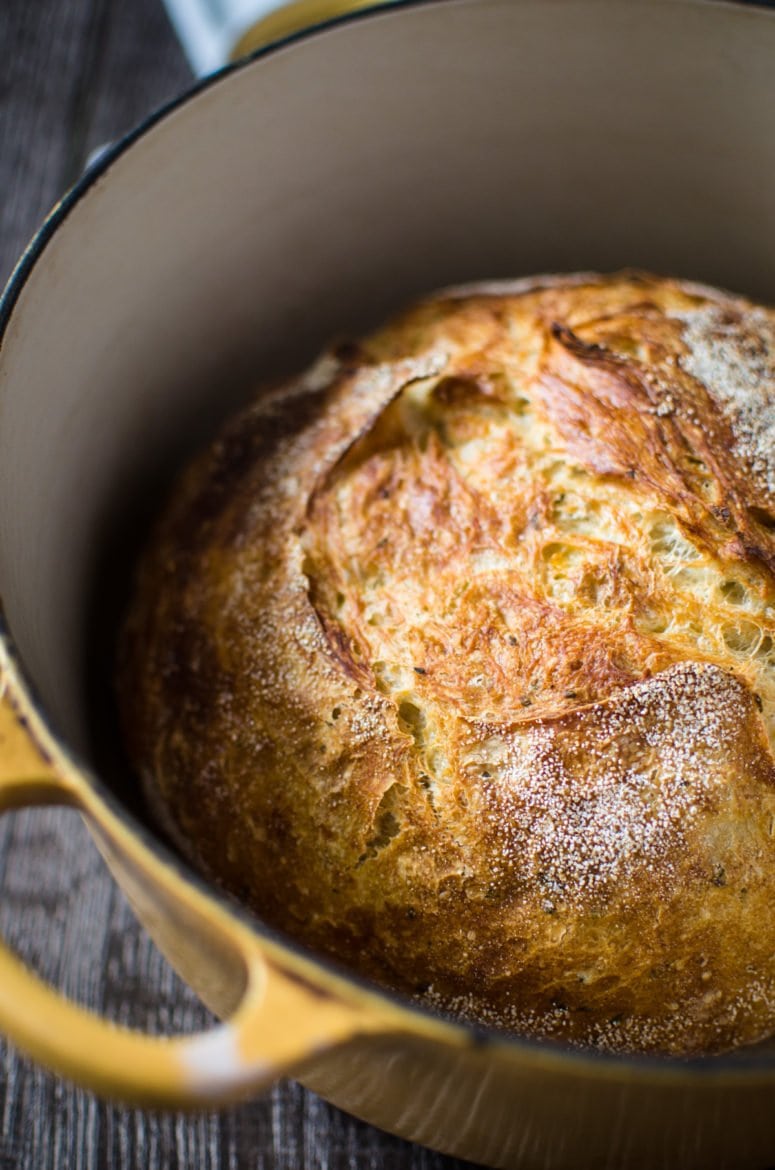 Ingredients
Flour - I recommend all-purpose flour OR a combination half all-purpose and half white whole wheat. I do not recommend using 100% whole wheat flour or bread flour.
Yeast - active dry yeast is what I use for this type of bread. I have not tested with rapid/quick rise yeast.
Fine sea salt - this will provide the best flavor and get evenly distributed in the bread.
Fresh rosemary - you must use FRESH rosemary for the flavor to permeate through the dough.
Meyer lemon zest (you will need 2-3 lemons) - this type of lemon has a savory and somewhat peppery flavor profile that is very different from regular lemons. You can substitute regular lemons in this recipe if needed.
Water - use room temperature or lukewarm water for this recipe.
Fine cornmeal - this will be used to dust the unbaked loaf to keep it from sticking to things. Flour can be substituted for this in a pinch.
Instructions
Make your dough - stir together the flour, yeast, salt, lemon zest, rosemary and water in a large bowl.
First rise - cover the bowl and let it sit at room temperature for 12-18 hours until it has doubled in size and formed small holes across the surface.
Form a dough ball - scoop the dough from the bowl onto a floured surface. Use a bit of flour to gently knead the dough into a smooth ball.
Second rise - place the dough in a cotton tea towel coated with some cornmeal, then dust the top of the dough with a bit more cornmeal. Loosely wrap the dough ball and place it in a large bowl to rise a second time for 1 ½ to 2 hours.
Preheat the oven and Dutch oven - during the last 30 minutes of rise time, place your Dutch oven with the lid on in your cold oven. Preheat the oven to 450°F.
Bake the bread - once the dough ball has doubled in size, carefully remove the Dutch oven from the preheated oven and take the lid off. Slide your hand under the towel with the dough ball and carefully flip it into the hot pot. Place the lid on top and transfer to the oven. Bake for 30 minutes, then uncover and bake an additional 15-30 minutes until the boule is golden brown all over.
Tip: if you have trouble with bread sticking in your Dutch oven, spray a bit of cooking spray in the bottom of the pot and then sprinkle a bit of cornmeal before placing the bread loaf inside. The cooking spray may smoke a bit in the hot pot.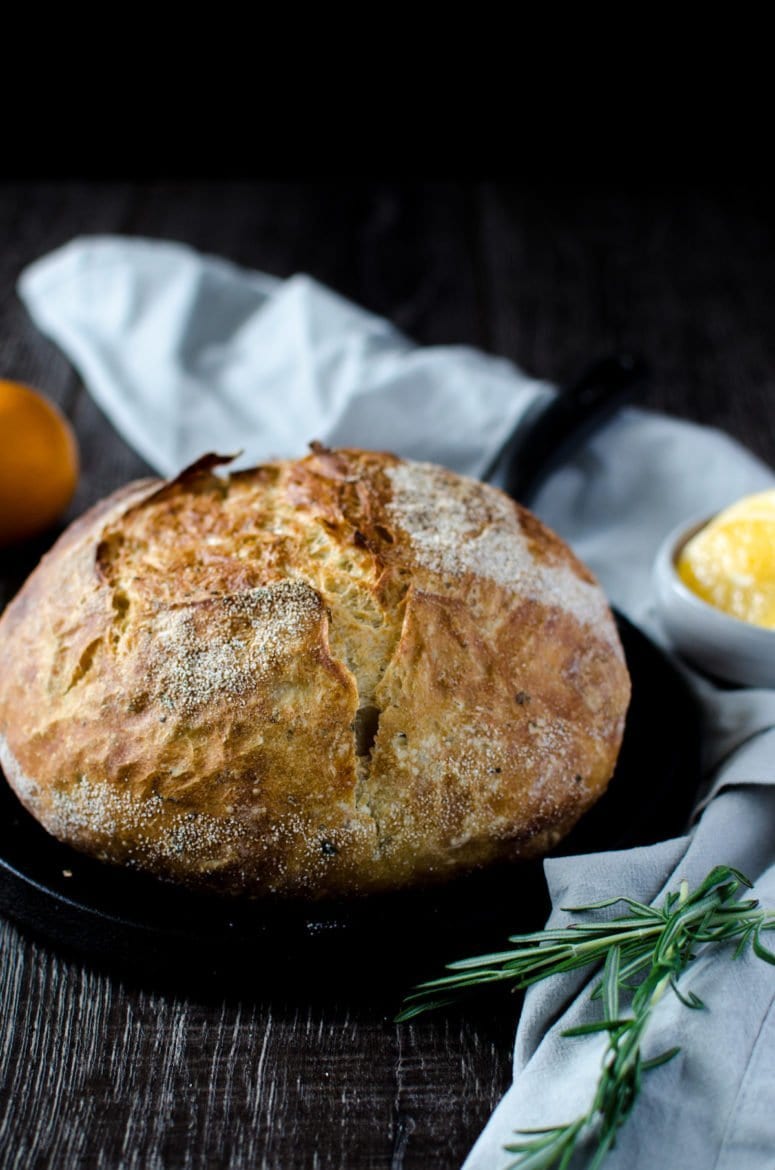 Cooling, storing and freezing
Cooling - large crusty loaves like this Meyer Lemon Rosemary Bread need to cool for 1 ½ to 2 hours before slicing. The residual heat inside the loaf actually keeps cooking the center of the bread once it is out of the oven. Slicing prematurely can result in a mushy interior crumb and destroy the crust before it has time to set.
Storing - this bread will keep at room temperature for up to 3 days. The best way to store it is in a bread box, a linen bread bag, or in a plastic zip-top bag. The plastic will create a bit of moisture which can soften the crust, but the texture can be restored with toasting. Avoid refrigerating this bread, as it can actually speed up the staling process.
Freezing - if you can't enjoy your bread within 3 days, place completely cooled bread in a freezer zip-top bag. Press out as much air as you can, then freeze for up to 3 months.
I like to pre-slice my bread for toasting before I freeze it and sometimes cut the whole loaf into portions to avoid thawing and refreezing.
To thaw frozen bread, place a portion in the refrigerator overnight or microwave a portion at 40 percent power for 30-60 seconds before toasting it.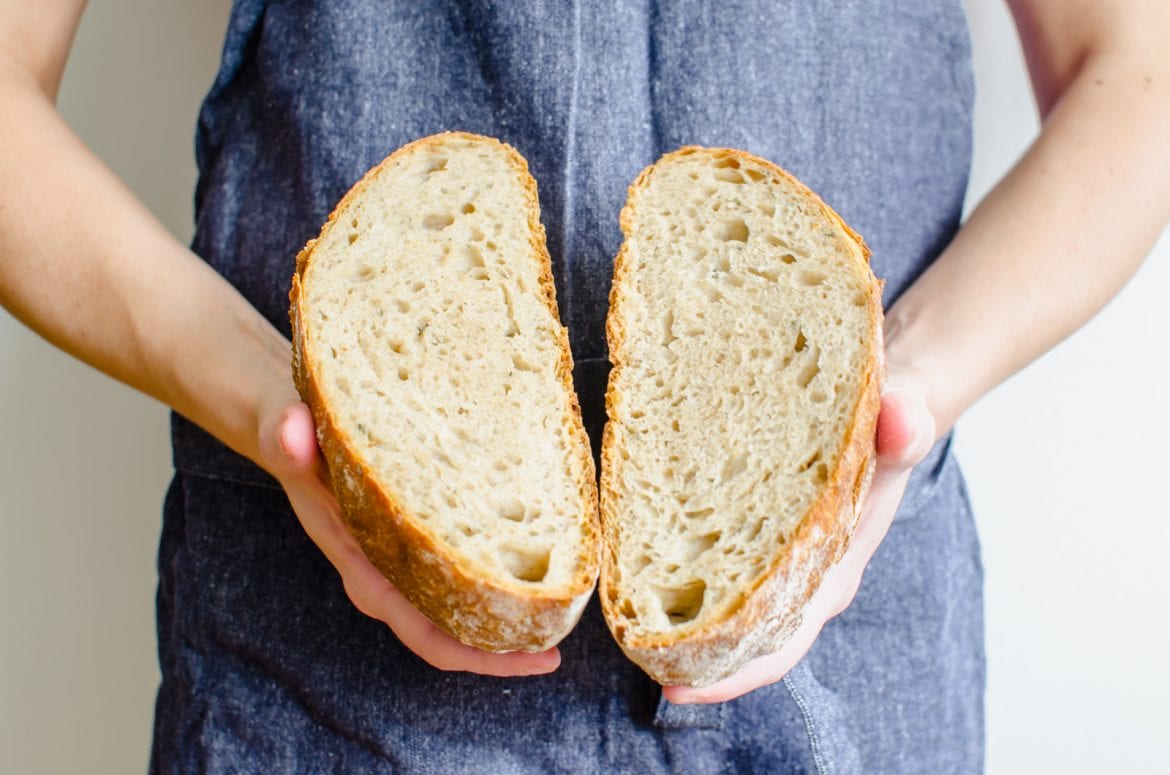 Essential tools
Dutch oven - the best size Dutch oven to bake bread in is a 5-quart, which is what I use. A 2 ¾-quart may also be used for small loaves. The lid is necessary to create steam and yield a shiny, crusty loaf.
Microplane - this handy tool is essential for getting finely-grated lemon zest that will evenly distribute through the loaf.
Cotton tea towel - this is what I use to let the bread rise a second time. It makes it easy to transfer the bread to the hot Dutch oven and does not stick to the loaf. Avoid using terry cloth towels, as they often stick to the dough.
If you want to try more no-knead Dutch oven breads, be sure to check out my Dutch Oven Rosemary Raisin Bread and this Chocolate Rye Boule with Cherries and Walnuts.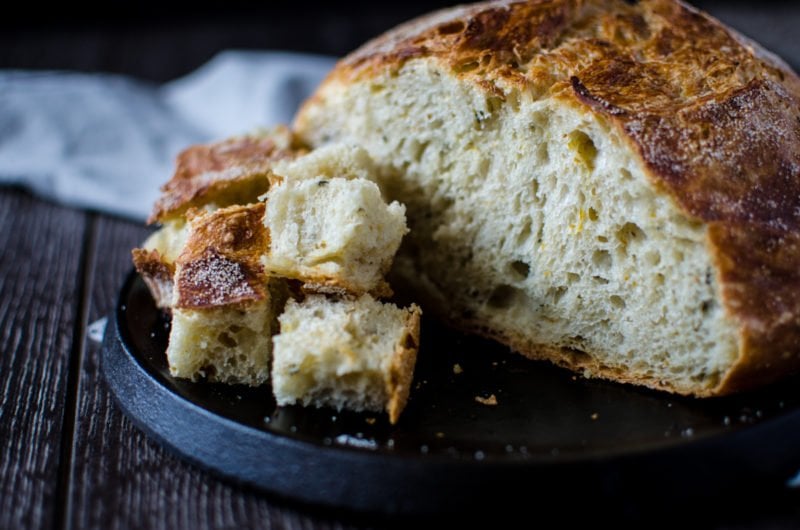 Similar recipes
Recipe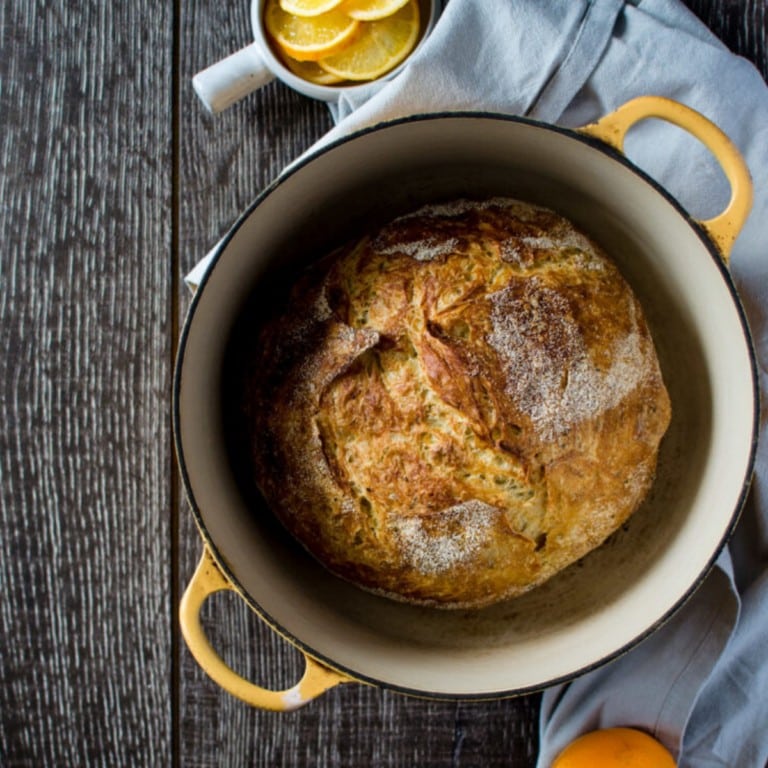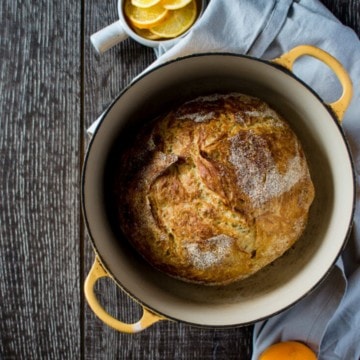 Meyer Lemon Rosemary Bread
This no-knead Meyer Lemon Rosemary Bread is baked in a Dutch oven and is a delicious, rustic loaf that is perfect for beginner bread makers.
Print
Pin
Rate
Ingredients
3

cups

all-purpose flour

(or a combination of half white whole wheat and half all-purpose)

¼

teaspoon

active dry yeast

(not quick-rise)

1 ½

teaspoon

Kosher salt

2

teaspoons

chopped fresh rosemary

2

teaspoons

of Meyer lemon zest (you will need 2-3 lemons)

1 ⅓

cups

room temperature or lukewarm water

Cornmeal, as needed

(white or yellow is fine)
Instructions
Day 1:
Combine the flour, yeast, salt, rosemary and lemon zest in a

by stirring with a wooden spoon. Add the water and stir until the dry ingredients are well-moistened and a shaggy, sticky dough has formed (I sometimes have to use my hands to lightly knead and work all the ingredients into a loose mass). Transfer the dough to a clean bowl coated with cooking spray. Cover the top of the bowl with plastic wrap.

Let the dough sit at room temperature (about 70 degrees F) for 12-18 hours. After a minimum of 12 hours the surface will become dotted with bubbles - that's a sign that ingredients are fermenting and flavor is developing!
Day 2:
Transfer the dough to a lightly floured work surface. Sprinkle the top of the dough with a little flour and lightly knead it with you hands for about a minute. Cover the dough with plastic wrap on your counter and let it rest for 15 minutes.

Generously coat a tea towel with cornmeal or flour. Gently and quickly shape the dough into a ball with floured hands and place seam-side-down onto the center of the towel. Dust the top of the dough with more cornmeal (or flour) and wrap the towel loosely around the dough.

Place the towel with the dough in a large bowl and let it rise until the dough has doubled in size and does not quickly spring back when you poke at it. This should take 1 ½-2 hours.

Thirty minutes before the dough is ready, place a 2 ¾-quart up to a 5 quart cast iron pot in the oven and preheat the oven to 450°F.

Once your oven is preheated, carefully remove the pot from the oven. Open the towel and slide your hand underneath so that you can turn the dough mound seam-side-up into the pot. Give the pot a little shake to make sure the dough is even on the bottom and put the lid on top of the pot.

Bake for 30 minutes, then uncover and bake an additional 15-30 minutes until the boule is golden brown all over and sounds hollow when you tap it with a wooden spoon.

Remove the pot from the oven and transfer to a wire rack to cool for 15 minutes. Carefully remove the bread from the pot and let cool completely on a wire rack before slicing.
Serving:
1
slice
|
Calories:
137
kcal
|
Carbohydrates:
28.8
g
|
Protein:
3.9
g
|
Fat:
0.4
g
|
Saturated Fat:
0.1
g
|
Sodium:
350
mg
|
Potassium:
42
mg
|
Fiber:
1.1
g
|
Sugar:
0.1
g
|
Calcium:
9
mg
|
Iron:
2
mg