This recipe for a Banana Almond Butter Chimichanga is a great way to take the classic PB&J and transform it to the next level by really making it something special! Kids love this snack because it is easy and fun. A PB&J in a wrap - Amazing!
Video
Do any of you ever purposefully run out of food before you leave for a trip? I certainly do - the last thing I want to come home to after being away is a fridge full of rotting/expired food items! Before I left to spend a month in Italy with a study abroad trip, I let our food supply run down to be embarrassingly low, while at the same time trying to stock the freezer with meals for Ryan. It's hard for a foodie like myself dwindle the food supply because A. I like options and B. it's kind of depressing for me if a meal isn't super tasty because it's nothing special!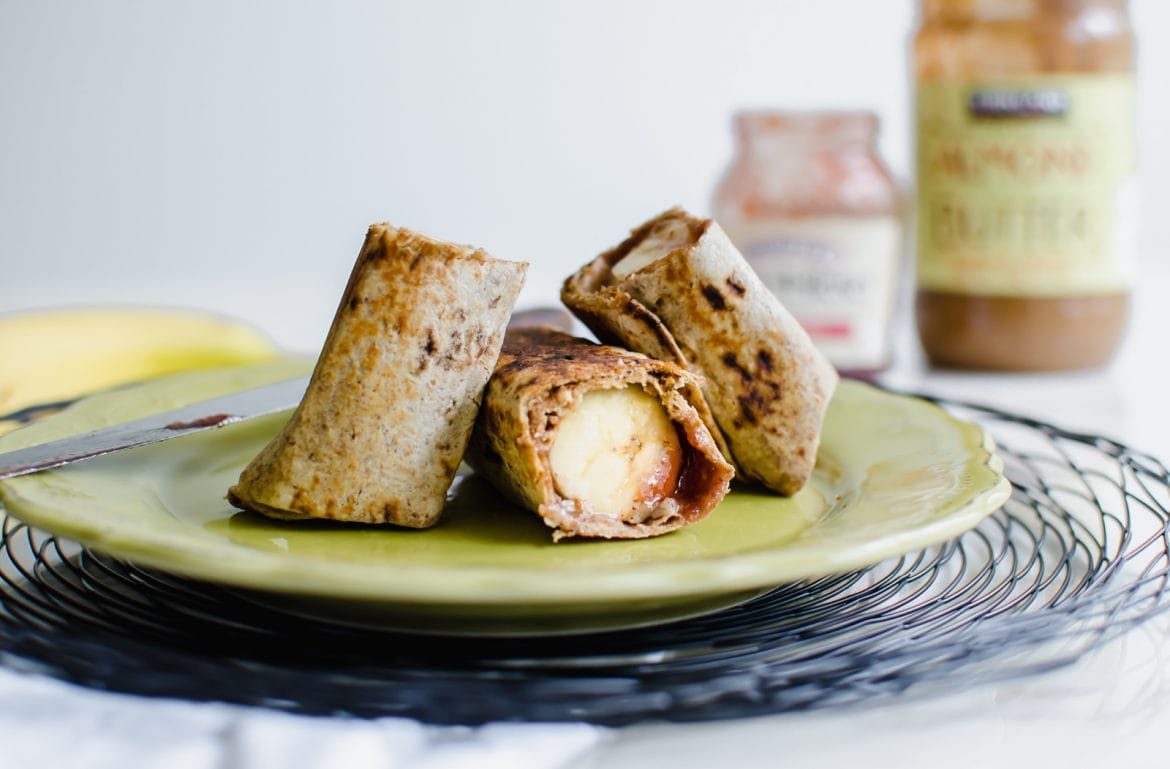 All that to say, some of the last ingredients I was left with before leaving on the trip were items for PB&J - or in my case, AB&J sans bread and sub in with a Flat Out Wrap! But I wanted to turn the ingredients into something special that would satisfy my cravings for a hot meal. So the almond Banana Almond Butter Chimichanga was born!
What is a banana almond butter chimichanga?
Traditionally, a chimichanga is a deep-fried burrito that you find on many Tex Mex and Southwestern restaurant menus. I'm putting a peanut butter and jelly twist on it and filling a hearty whole grain wrap with almond butter, banana, and my favorite strawberry jam. What really takes it to the next level is crisping the wrap in a hot skillet so that the flavors of the nut butter, jam, and banana melt together as the inside of the burrito gets warm and gooey! What tastes like a dessert is actually a wholesome combo of protein, fiber, and heart-healthy fats!
Tips for making a banana almond butter chimichanga:
Use a good whole grain wrap - my favorite is the Flatout brand because it is high in fiber and protein!
Get the wrap nice and golden brown over medium-low heat with a little bit of oil added to the pan for flavor.
Once the wrap is crisp, reduce the heat to low and continue to gently heat so that the banana and fillings get nice and hot!
Serve right away for best texture and flavor, but feel free to reheat the wrap in the oven at 350 degrees F for 8-10 minutes to make it crispy again!
If you get a chance to try this Banana Almond Butter Chimichanga, please let me know by leaving a comment, or feel free to post a photo on Instagram or Twitter with tag @sweetcayenne5. I'll be featuring photos and comments from readers in my newsletter that will come out at the end of the month!
If you enjoy this recipe, I think you'd also love my Strawberry Pretzel Chicken Wraps and my 5 Minute Mediterranean Tuna Melt!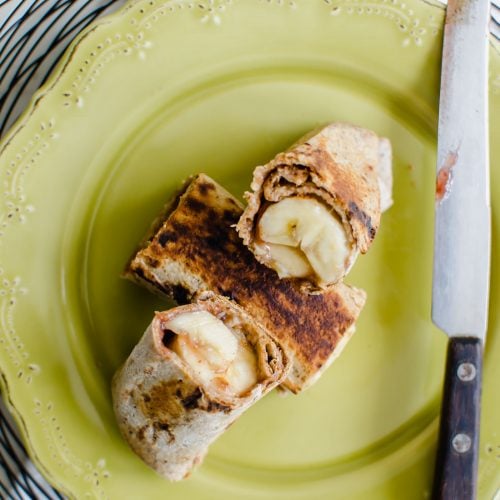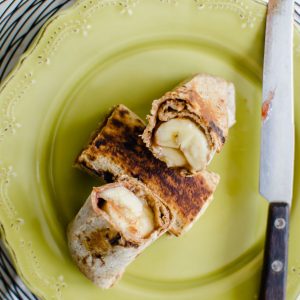 Banana Almond Butter Chimichangas
This recipe for a Banana Almond Butter Chimichanga is a great way to take classic PB&J and takes it to the next level by really making it something special! Make it for an easy lunch or delicious filling snack after a workout!
Print
Pin
Rate
Ingredients
1

whole

Flatout brand Wrap,

multigrain flavor

2

tablespoons

almond butter

1

tablespoon

strawberry jam

1

medium

banana
Instructions
Preheat a medium skillet over medium-low heat.

While the skillet heats, spread the almond butter and jam in the center of the wrap.

Slice the banana into 3 large pieces and place on top of the almond butter/jam.

Wrap up the banana burrito-style.

Add a little oil to the preheat skillet and cook the wrap for about 1 minute per side until golden brown and crispy. Serve hot!
Video
Notes
To modify this recipe, feel free to use any combo of your favorite nut butter, spread, or condiment! Some of my favorite combinations are:
Nutella  + Banana + Almond Butter
Pecan Butter + Banana + Peach Jam
Sliced berries  + Banana + Peanut Butter
Watch this short video on how to make the recipe:
https://youtu.be/dYUBII8XzAw
Pin this, pretty please!