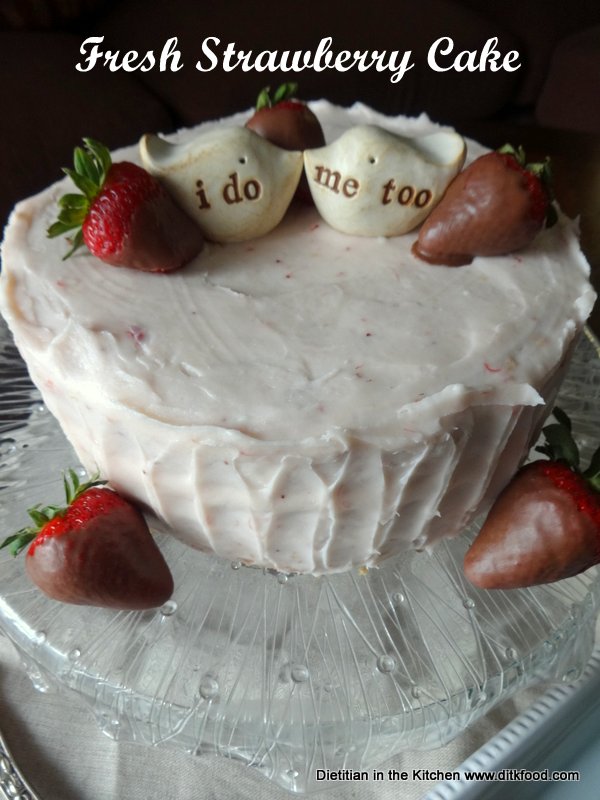 On May 4th, National Star Wars Day, we celebrated our first wedding anniversary.  No, we didn't watch any Star Wars movies to commemorate the day.  Random fact: I went through this really awkward nerd/tomboy phase in my pre-teen years where I was obsessed with Star Wars.  I had a Collector's Edition Star Wars Monopoly Game (which is now collecting dust in Mom and Dad's attic), a Star Wars talking electronic Battleship game, and a Jar Jar Binks beach towel.   My favorite installment of the Star Wars movies was Return of the Jedi, and every time my siblings and I had a babysitter, we would watch a Star Wars movie and have slice-and-bake chocolate chip cookies.  So I guess it was in my destiny to get married on National Star Wars Day.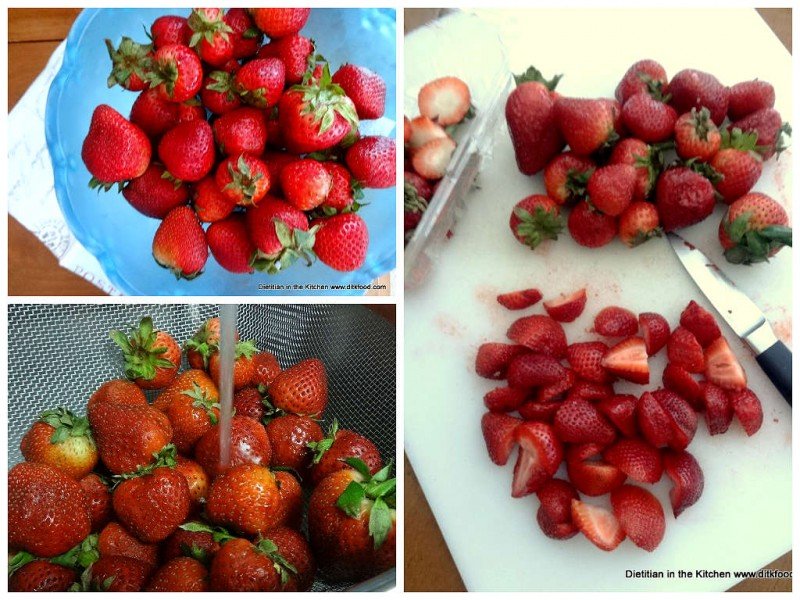 To celebrate our special day,  I decided to start the tradition of annually making the cake I made for our wedding reception, which was a fresh strawberry cake.  Why a strawberry wedding cake?  Well, I had an assortment of spring-inspired desserts that were homemade for my dessert table, and since strawberries start to become in-season during the month of May, a strawberry cake seemed to fit the bill.  You should seriously consider a strawberry cake if you get married in the spring, have a spring birthday, are baking a cake for Mother's Day, or just feel the urge to bake a cake.  It's simply charming.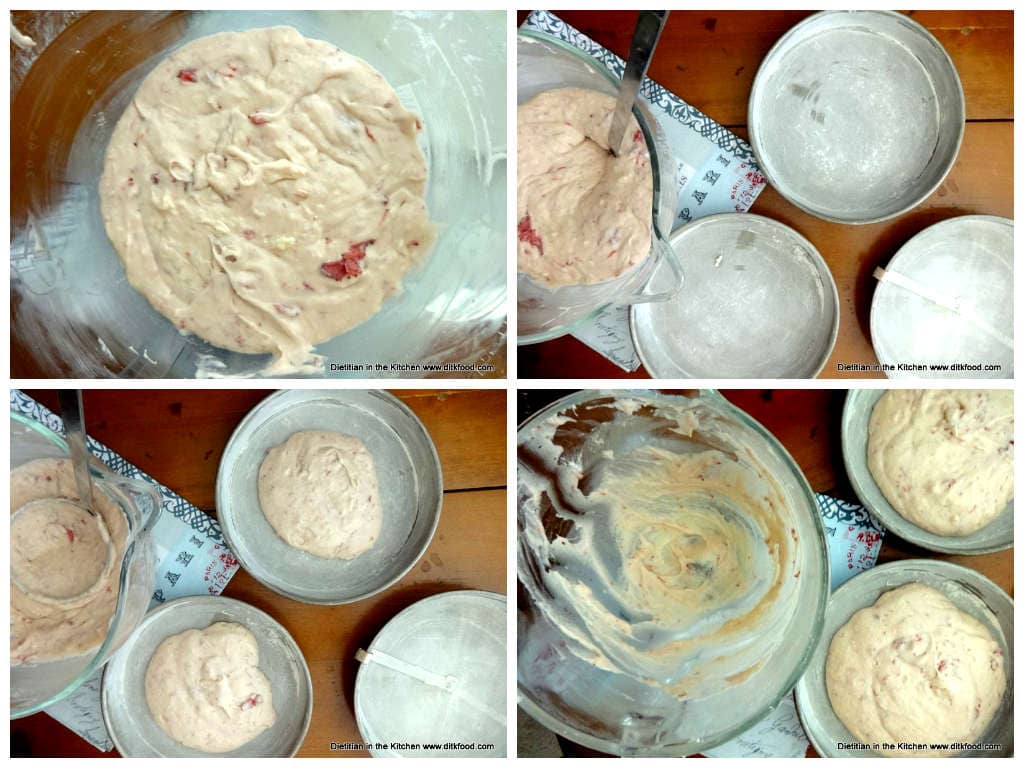 What makes this cake unique from other strawberry cakes is that it gets it's faint pink color and strawberry flavor purely from fresh strawberries.  No artificial flavors, dyes, or strawberry Jell-O mix required.  Just a simple jam-like reduction of fresh strawberries and a spoonful (or two) of sugar is all you need to turn a scratch-made white cake into strawberry cake perfection.  Add a little to the batter, between the cake layers, and into the frosting and you've got the lovely color and flavor of strawberry in each and every bite of cake.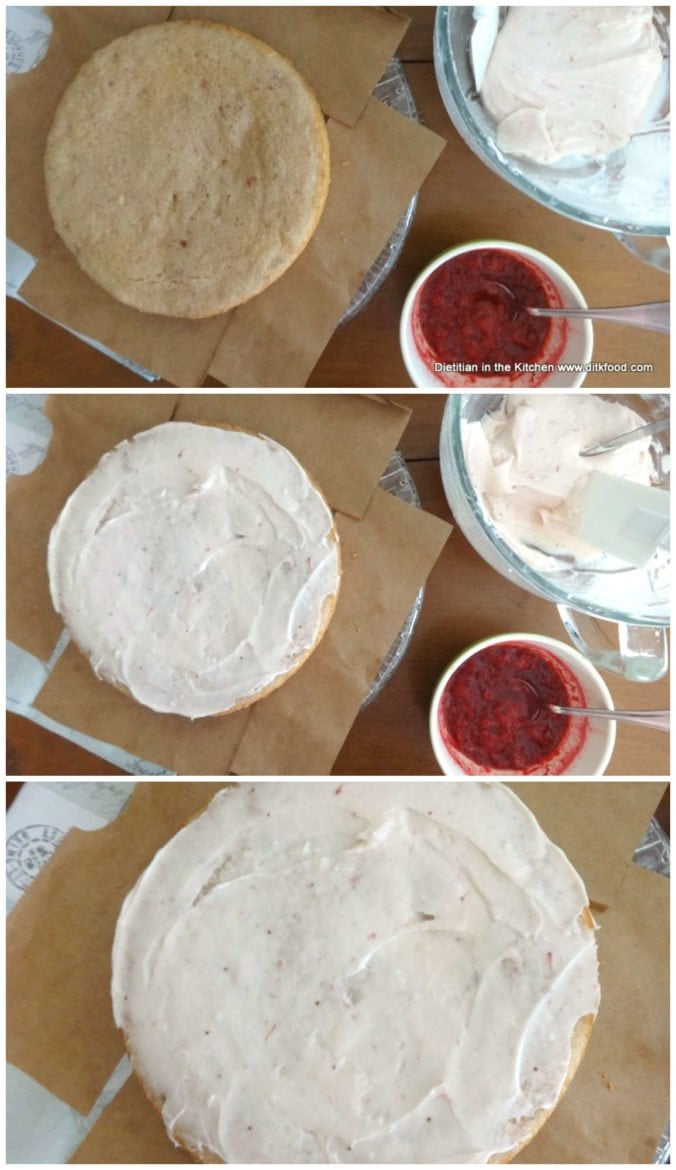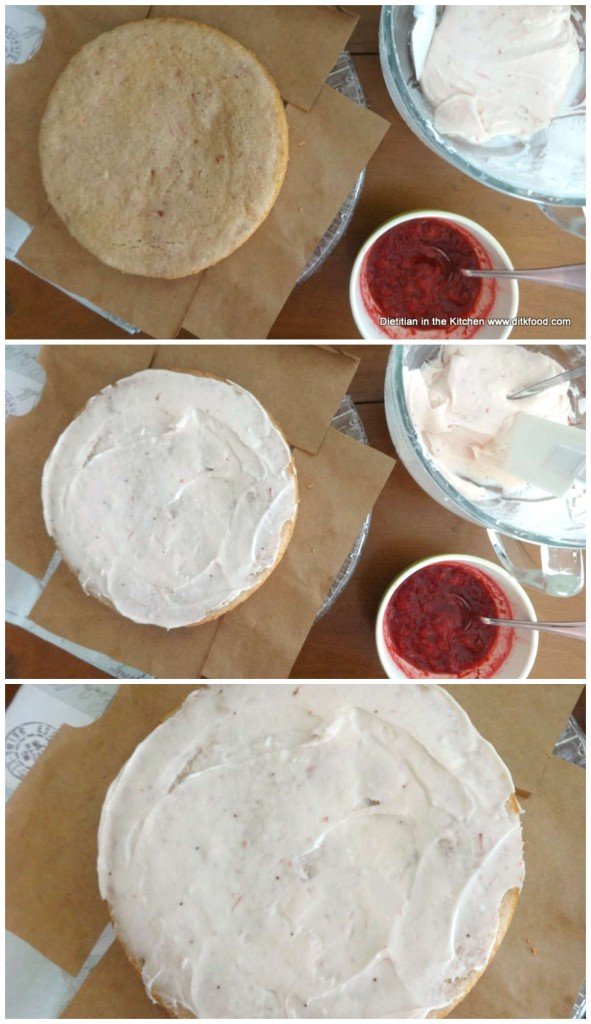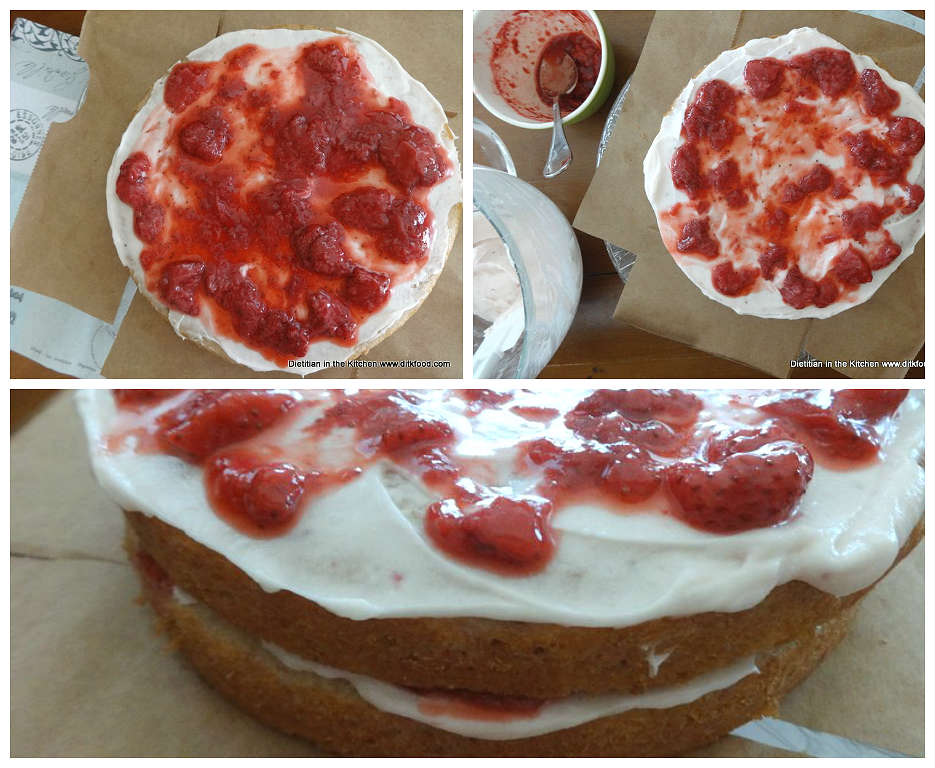 What's your favorite cake flavor? I hope you try this one for a special occasion and enjoy it as much as we have.  Stay tuned for Thursday's post - in honor of wedding season I will be doing a Wedding Series post every Thursday for the month of May!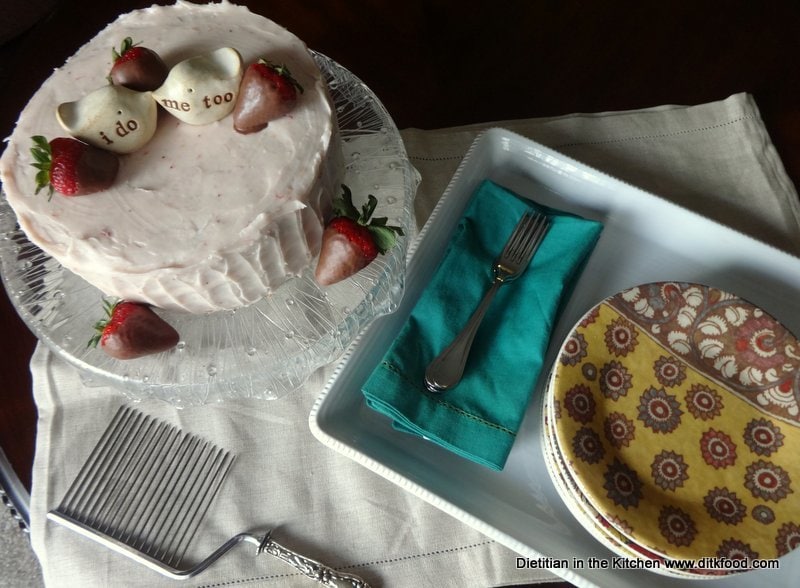 Recipe notes:
This recipe was inspired by the strawberry cake from Confessions of a Foodie Bride.
You might be tempted to strain the strawberry mixture after reducing it - I like to just smash any strawberry chunks with a spoon and forgo straining.  The jam-like consistency of the strawberry chunks adds a nice texture to the cake.
If you don't have cake flour, don't worry! Joy the Baker does a great job of explaining how to make your own.
This recipe uses a lot of egg whites (6!) You can freeze the leftover yolks up to a month by adding a tablespoon of sugar to them and mixing well before freezing.  I would then use them for an ice cream, custard or pudding.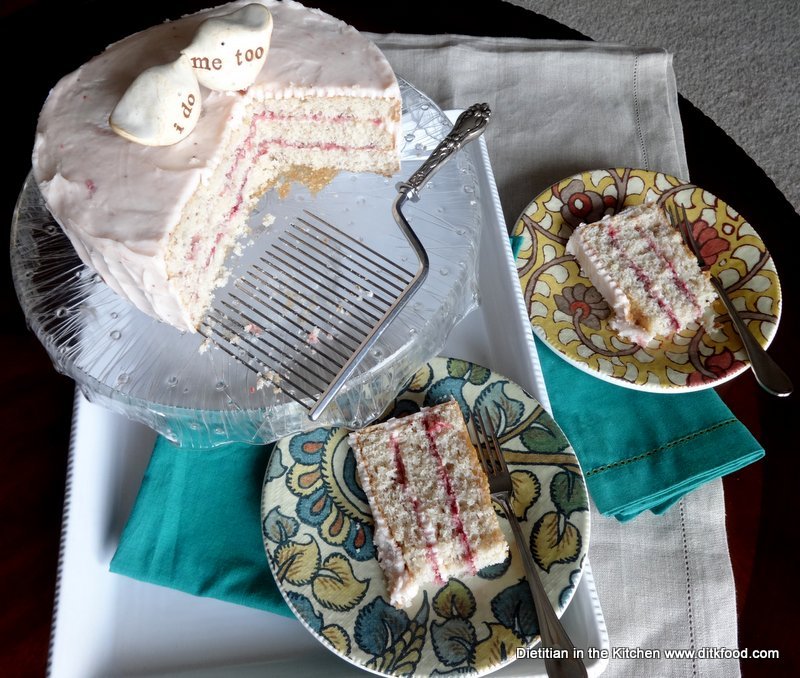 Recipe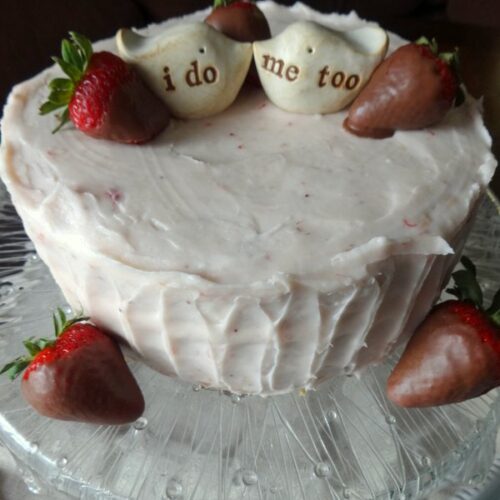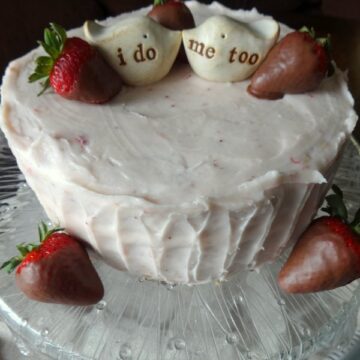 The Best Strawberry Cake + A Wedding Anniversary Ode to Star Wars
The best strawberry cake - flavored and colored by fresh strawberries and iced with strawberry cream cheese frosting. Perfect for a spring birthday or wedding.
Print
Pin
Rate
Ingredients
For the strawberry puree
2

pounds

very ripe strawberries

they should be deep red and smell fragrant, washed and cut in half.

2

Tablespoons

sugar
For the cake
¾

cup

buttermilk

at room temperature

6

large egg whites

room temperature

½

cup

strawberry puree

at room temperature

2

teaspoons

vanilla extract

2 ¼

cup

cake flour

sifted

1 ¾

cups

sugar

3

teaspoons

baking powder

1

teaspoons

baking soda

1

teaspoon

fine ground salt

12

Tablespoons

unsalted butter

1 ½ sticks, at room temp
For the frosting
8

ounce

1 package cream cheese, at room temperature

12

Tablespoons

1 ½ sticks unsalted butter, at room temperature

4

cups

powdered sugar

sifted

2-3

Tablespoons

strawberry puree
Instructions
Place milk, butter, and egg whites out at room temperature 1 hour before making the cake.

Make the strawberry puree: combine strawberries and sugar in pot over med heat and cook until the strawberries start to burst and simmer. Reduce heat to low and simmer, stirring occasionally, until the strawberries have reduced to 1 ½ cups, about 20 min. Cool to room temperature.

Preheat oven to 325 degrees and prepare three round 9 inch cake pans. Grease the insides with butter and coat with flour. I find it best to coat with flour over the sink; you may also find it helpful to use rounds of parchment paper in the bottom of your cake pans.

Right before you get ready to mix your ingredients, set out the butter and cream cheese for the frosting.

In a small bowl, combine ½ cup puree, milk, and vanilla. Mix with fork until well blended.

In separate bowl, add sifted cake flour, baking powder and salt and mix with a whisk to combine.

In bowl of stand mixer with the paddle attachment, cream softened butter and sugar, about 4 minutes. Scrape down the sides of bowl as needed to get all of the sugar creamed into the butter.

Add the egg whites and blend on low until well incorporated, about a minute.

Alternately in 3 additions for the liquid and 2 additions for the dry, add liquid mixture and dry mixture on med-low speed, beginning and ending with liquid. Scrape down the sides of bowl and mix until all ingredients are just combined. The batter will be slightly lumpy and will look like homemade strawberry ice cream mix.

Divide the batter evenly among the pans and smooth tops.

Bake for about 17-22 minutes or until a toothpick inserted in the center comes out clean. Let cakes rest in pan for about 10 minutes before turning out onto wire racks. Let cakes cool completely before frosting.

While the cake cools, make the frosting. With the whisk attachment of a mixer, cream together the butter and cream cheese on medium speed until combined. Add the powdered sugar 1 cup at a time and mix on low speed until all of the sugar is added and mostly incorporated. Turn the mixer up to medium-high speed and beat until the frosting is fluffy, about 1-2 minutes. Add 2-3 tablespoons of strawberry puree (depending on consistency of frosting) and mix until just combined. The frosting will be a faint shade of pink.

To assemble cake: Frost top of each later with frosting, then add thin layer of strawberry purée between the middle two layers. Frost the very top layer with cream cheese frosting only, then frost the sides of the cake.

Tip: I find it helpful to reserve ¼-1/3 cup of frosting for touch-ups. It helps to put the cake in the refrigerator for 30 minutes or so to firm up the frosting, then take it out and use the remaining frosting for touch-ups.
Serving:
1
Slice
|
Calories:
450
kcal
|
Carbohydrates:
65.7
g
|
Protein:
5.9
g
|
Fat:
20
g
|
Saturated Fat:
11.9
g
|
Cholesterol:
112
mg
|
Sodium:
317
mg
|
Potassium:
166
mg
|
Fiber:
1.6
g
|
Sugar:
50.4
g
|
Calcium:
49
mg
|
Iron:
2
mg