Put a twist on tailgate food with SEAFOOD! These Buffalo Salmon Sliders with Tangy Broccoli Slaw look and taste like your favorite gameday snacks, but they are packed with a powerful amount of Omega-3's, lean protein, and some serious flavor.
Disclosure statement: by posting this recipe I am entering a recipe contest sponsored by the Seafood Nutrition Partnership and I am eligible to win prizes associated with the contest. I was not compensated for my time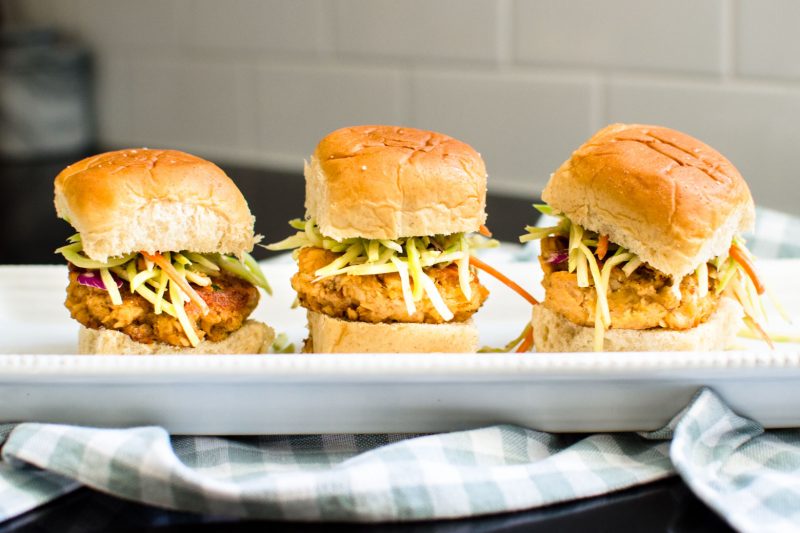 When it comes to tailgate/gameday foods, the favorite that immediately come to my mind are buffalo wings and buffalo chicken dip. If all football games involved eating these foods while watching said game, I'd be watching WAY more games, and my husband would be thrilled that his wife was finally interested in football. And my cholesterol levels would probably climb through the roof.
Thanks to the Sound Bites Podcast episode I listened to recently on getting enough omega 3 fatty acids, my mind has been churning to figure out how I can incorporate more seafood in my menu rotation. If you didn't already know, seafood like salmon, crab, and tuna are some of the BEST sources of omega 3's you can eat. And the types of omega 3's found in seafood are critically important for the health of your heart, brain, and eyes. On top of all that, seafood like salmon is an amazing lean source of protein that is so helpful for fueling your body and developing/maintaining muscle mass (which I'm currently in pursuit of more, tbh).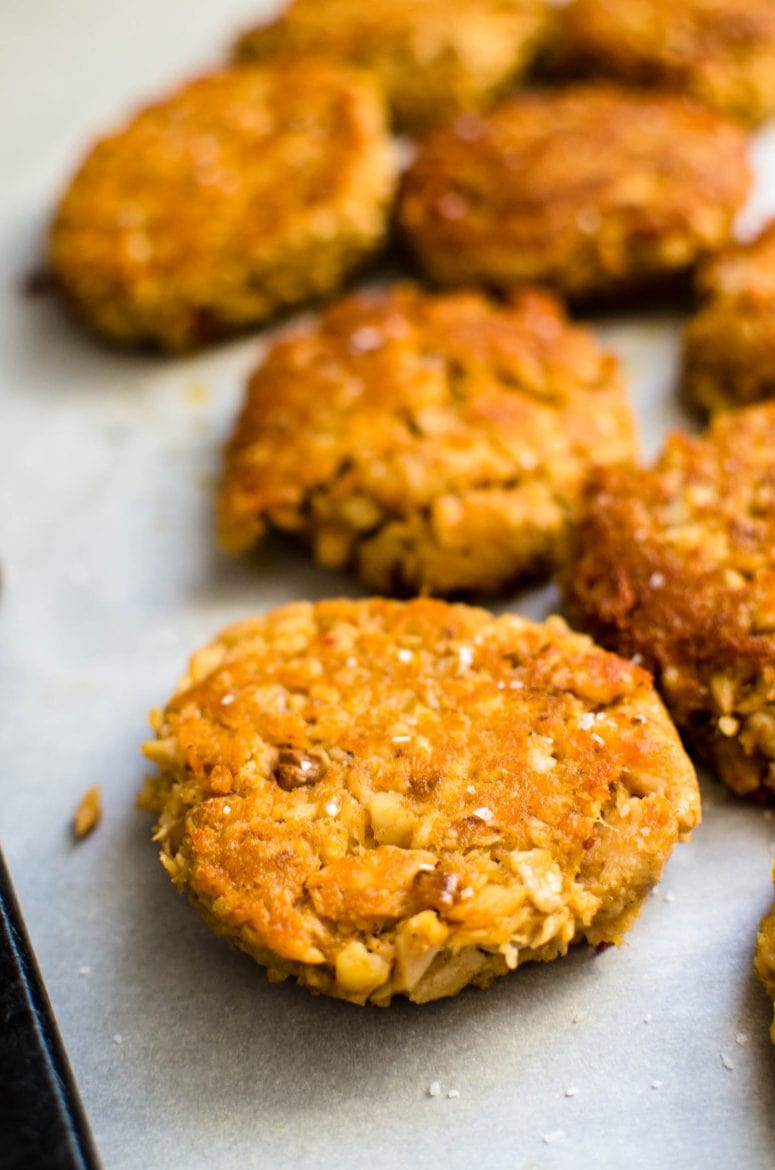 HOWEVER, when you live in the Midwest, access to fresh seafood or even good quality seafood is challenging, to say the least. When we moved here from TX, my seafood intake decreased dramatically. We are certainly landlocked here when it comes to having any fresh or local options, and I've never been a huge fan of the texture of frozen fish (unless it's fried...help.)
I attempted to start taking a fish oil supplement, but I really dislike taking pills and was very inconsistent with the effort. But recently - really more over the 2017 year - I've found a new love for canned tuna and salmon. It's so much more affordable to buy wild and sustainably caught versions of these fish in the canned form; not to mention easy! I've really enjoyed making versions of fish cakes, adding the fish to wraps, and creating salads that make use of canned fish in a way that's flavorful and eye-catching (I'm totally an eat-with-your-eyes type of gal).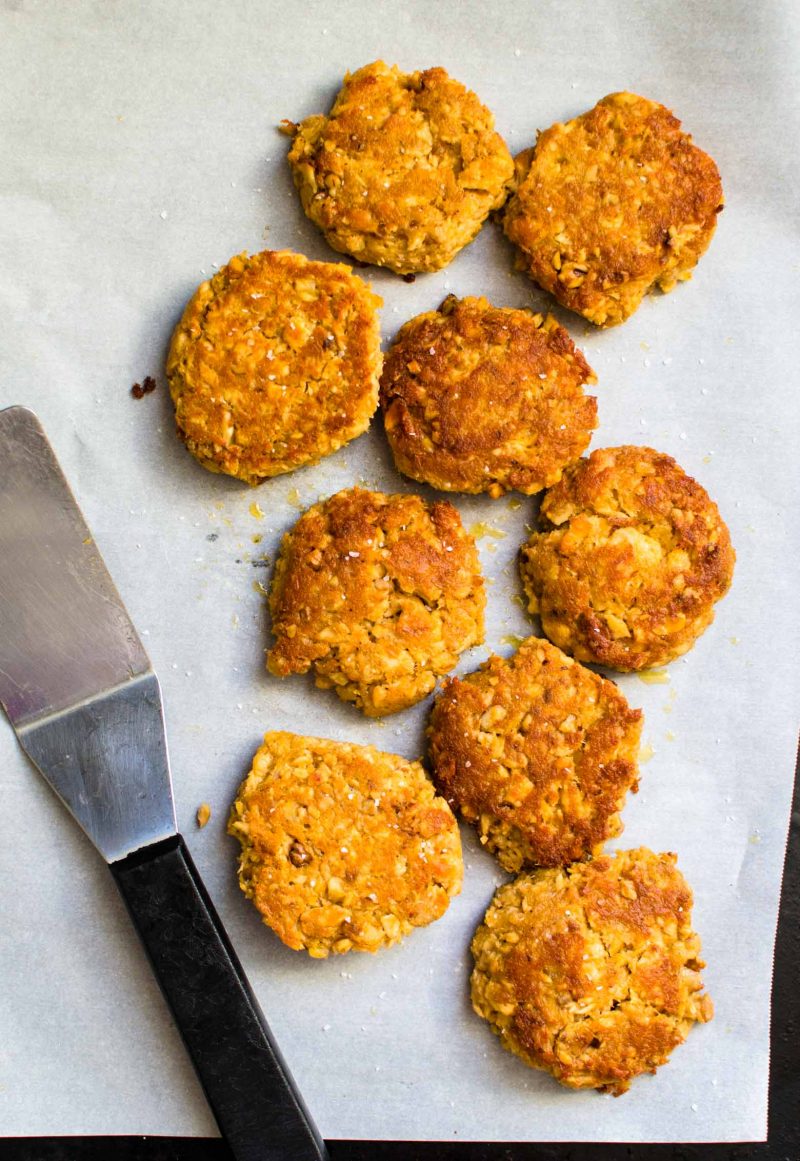 When I learned about the #seafoodparty recipe contest, I got SO excited to create a new recipe to share with you all that highlights seafood in a way that you can enjoy as part of an appetizer menu. When you think of seafood appetizers, what comes to mind? Shrimp cocktail? Yep. Coconut Shrimp? Probably. Fat-laden crab dip? You bet. All good for a certain time and place. But what I'm bringing to the table is a slider appetizer that is full of the buffalo flavor we all know and love on our hot wings, but in a healthy, colorful package.
The sliders are so easy to make and can definitely be on your game day table in under 30 minutes. They've got some heart healthy walnuts thrown in the mix for some crunch and another boost to our heart healthy efforts, and a tangy broccoli slaw that you will just LOVE. Oh, and by the way, these are good hot out of the pan, at room temp, or even....cold. Yep, I ate these puppies straight from the fridge the next day and thought they were just as delish as the day before. Try them and let me know what you think!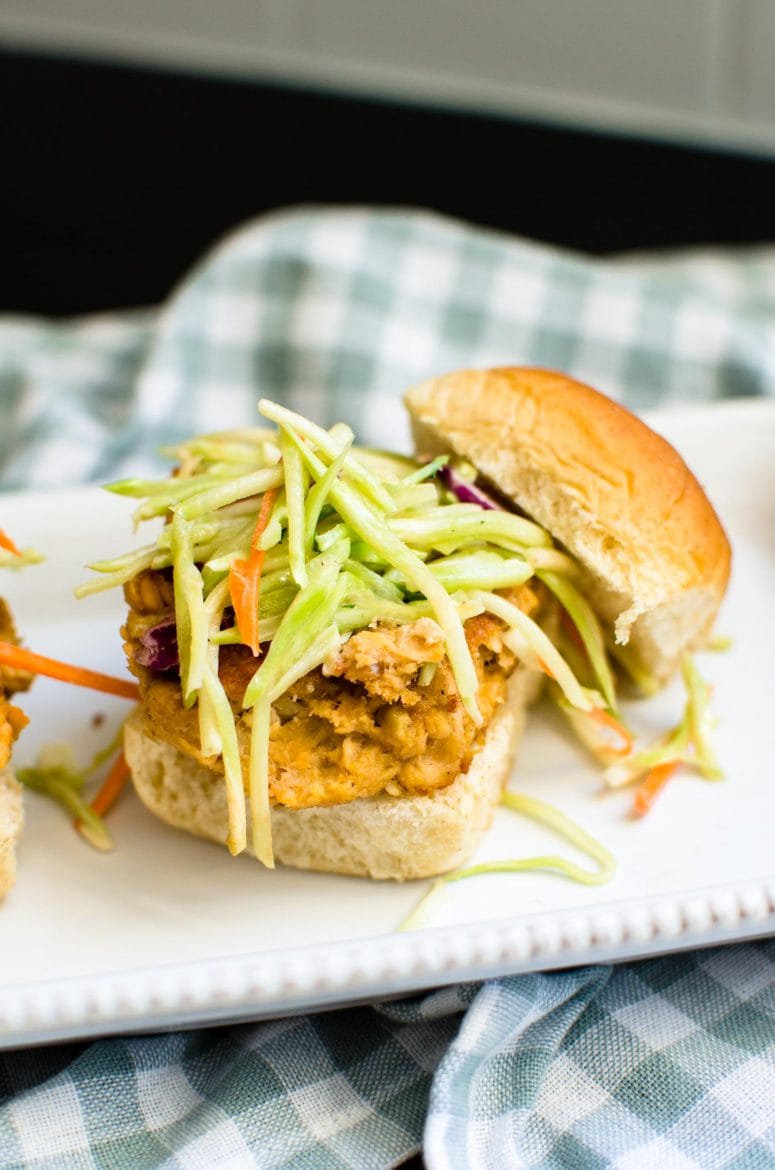 Looking for more easy seafood recipes? Check out these Easy Salmon Cakes with Hot Sauce Aioli, this Tuna Superfood Power Salad, or this 5 Ingredient Tuna Melt!
Did you make these Buffalo Salmon Sliders? If so, I'd love to hear how they turned out for you! Leave a comment below of upload a pic to Twitter or Instagram with the tag @sweetcayenne5. Follow the newsletter as well.
Recipe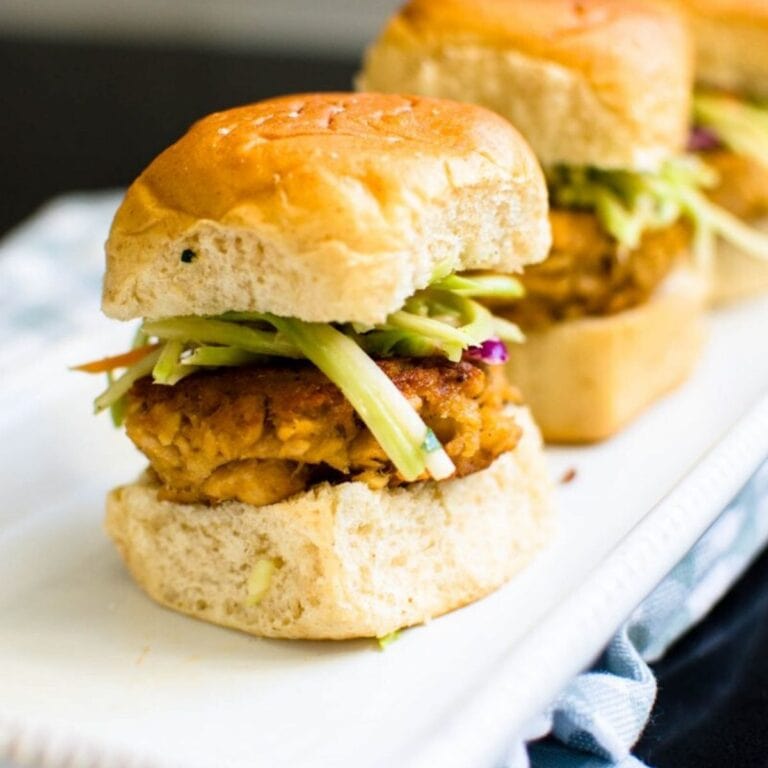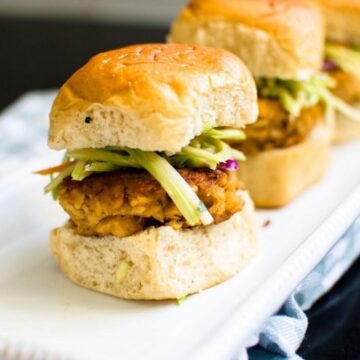 Buffalo Salmon Sliders with Tangy Broccoli Slaw
Salmon sliders flavored with classic Buffalo sauce and served with a zingy broccoli slaw
Print
Pin
Rate
Ingredients
For the broccoli slaw:
¼

cup

olive oil mayonnaise

1

tablespoon

fresh lemon juice

1

tablespoon

apple cider vinegar

1

tablespoon

honey

½

teaspoon

salt

½

teaspoon

buffalo sauce (I use Frank's Red Hot)

1

(12) ounce bag

broccoli slaw
For the salmon sliders/assembly
16

ounces

wild caught, boneless, skinless, canned salmon

1

large

egg

¼

cup

olive oil mayonnaise

¾

cup

panko bread crumbs

2

tablespoons

buffalo sauce (I use Frank's Red Hot)

1

tablespoon

fresh lemon juice

½

teaspoon

salt

¼

teaspoon

pepper

¼

cup

walnuts, finely chopped

Oil

for pan frying

8-10

whole wheat

cocktail rolls or slider buns
Instructions
For the broccoli slaw:
Combine all the ingredients up to the broccoli slaw in a medium bowl and stir with a whisk. Add the broccoli slaw and toss to combine. Refrigerate while you make the sliders.
For the salmon sliders:
Preheat a large skillet over medium heat. Preheat the oven to 180 degrees F and place a baking sheet on the center rack.

In a large bowl, combine all ingredients from the salmon through the walnuts Use a fork or your hands to thoroughly incorporate the ingredients. Gently shape into cakes that are about ½'' thick and 3'' in diameter.

Add oil (canola, olive, etc) to the preheated skillet to completely cover the bottom of the skillet. Use a spatula to transfer the cakes to the pan in batches. Cook the cakes for 3 minutes on each side. Transfer the cakes to the baking sheet in the oven to keep warm until you have cooked all of the cakes. Add olive oil to the pan as needed as you batch fry all of the cakes.

Serve the cakes on warm slider buns and top with broccoli slaw.
Serving:
1
Slider
|
Calories:
276
kcal
|
Carbohydrates:
21.3
g
|
Protein:
15.6
g
|
Fat:
14.9
g
|
Saturated Fat:
2.3
g
|
Cholesterol:
51
mg
|
Sodium:
580
mg
|
Potassium:
388
mg
|
Fiber:
1.9
g
|
Sugar:
5.4
g
|
Calcium:
73
mg
|
Iron:
2
mg