Yumbo gumbo! Today I'm sharing a favorite recipe that my mom and dad always make for us when we visit VA in the winter time - smoky chicken and sausage gumbo with crispy roasted potatoes.
Make-Ahead | Freezer-Friendly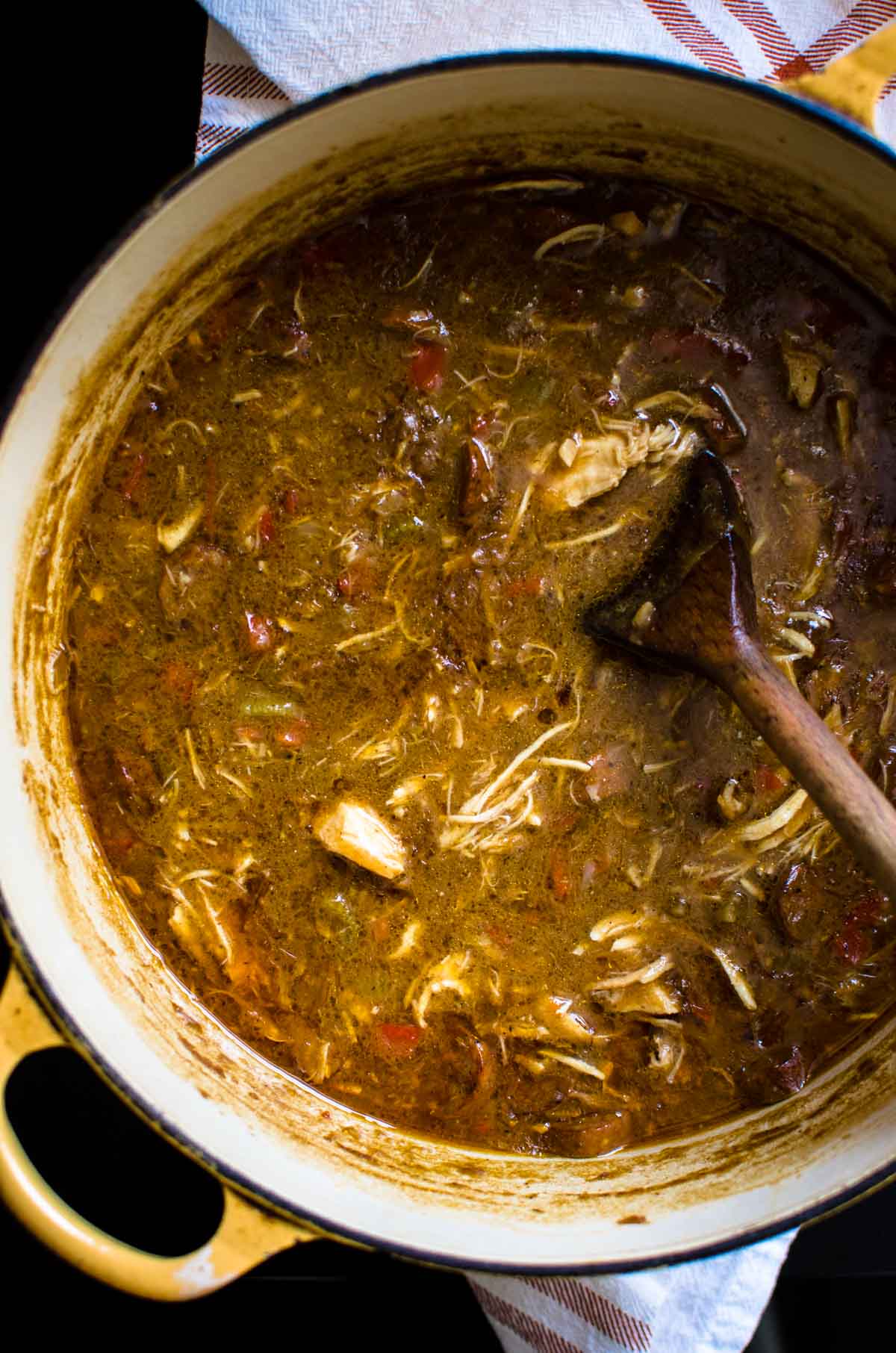 With Fat Tuesday being right around the corner (ahem - it's next week!), I thought it'd be appropriate to add little Cajun spice to my blog recipe repertoire. I love making Cajun food in February - likely because of the power of suggestion. My social media feeds are always filled with pictures of beignets, king cake, and Mardi Gras parades this time of year. And because I grew up with this style of cooking making an appearance in many of our family weeknight dinners.
Video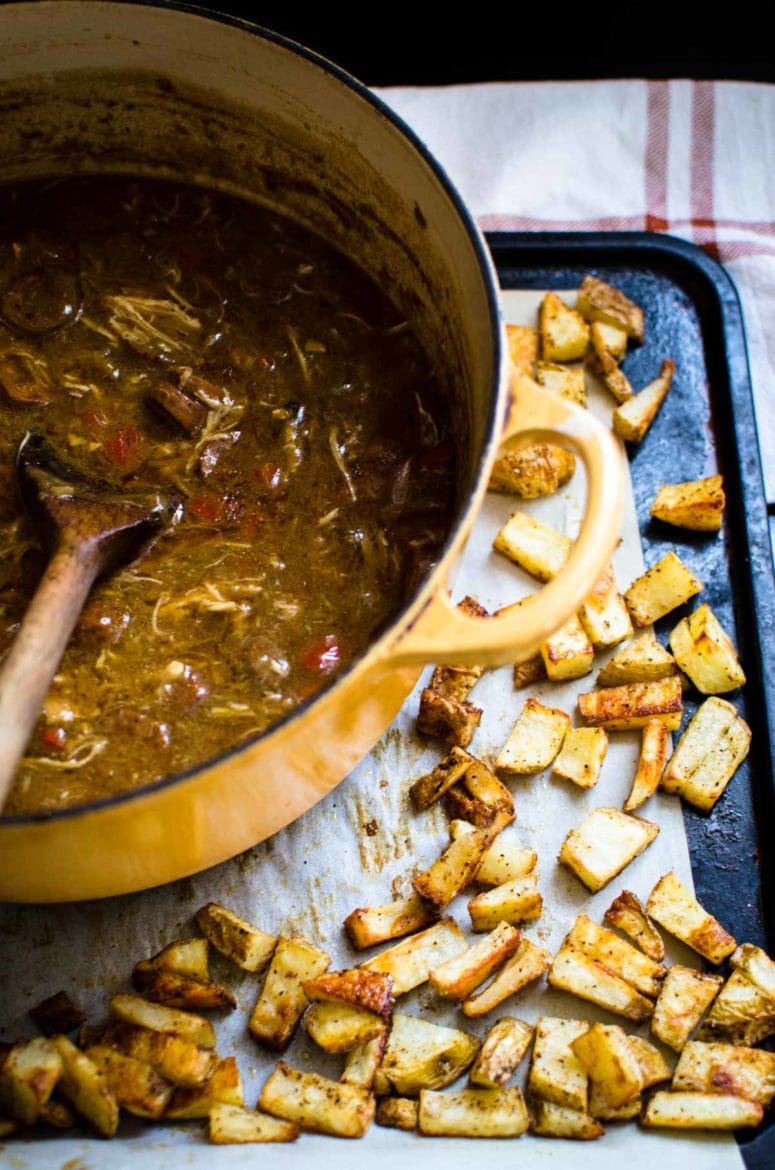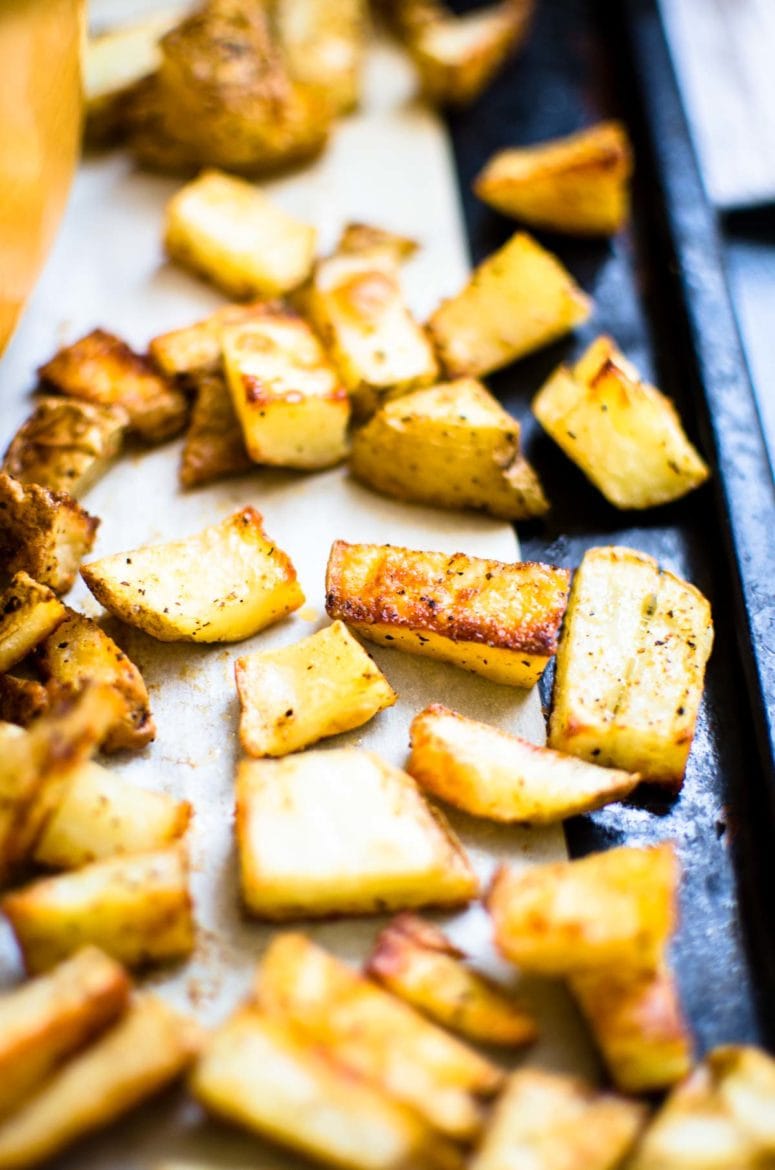 We have my dad to thank for this foundation of Cajun cuisine - he was born in Louisiana and grew up in Alabama. He was always the instigator behind many one-pot gumbo or red beans + rice dinners on our family table. Funny side note - somewhere along the way, my siblings and I started adding cheese to our red beans and rice. Copious amounts of cheese - so much so that our plates ending up looking like one big glop of cheese with a little beans and a little rice! I'm happy to say I've grown out of that.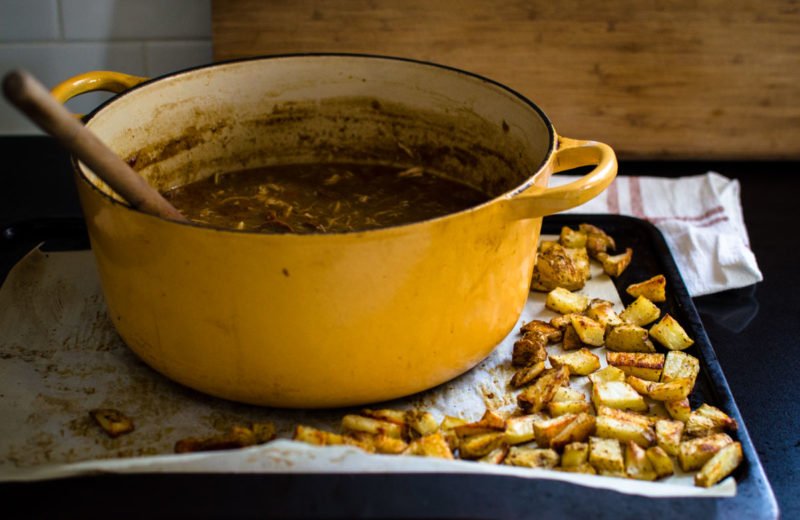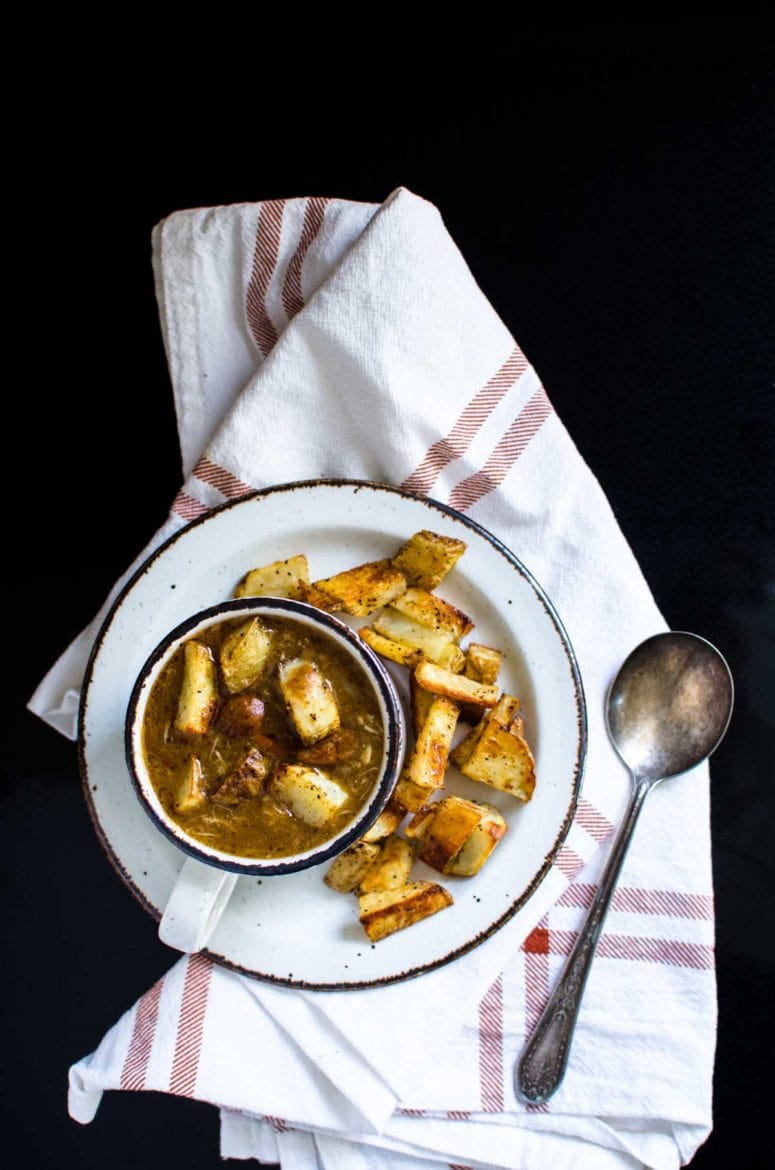 This chicken and sausage gumbo is a specialty of mom and dad's that I always request to be on the menu when we visit them in VA. The thing that makes theirs extra special and unique is the fact that my dad uses the richest of chicken stocks in the gumbo base. My mom will make the stock from the chickens that he smokes every now and then. It adds the most delicious depth of flavor that you can't really replicate any other way.
I've always been hesitant to try making their gumbo on my own for fear that it just would not taste the same. You know what I mean? We all have recipes we make that were passed down from our parents and grandparents that just don't taste the same way that it did when they made it for us. My Nana's biscuits will never taste the way they did when she made them. And I'll always prefer the whole-wheat chocolate chip pancakes my mom makes on her perfectly seasoned electric griddle that's much older than I am.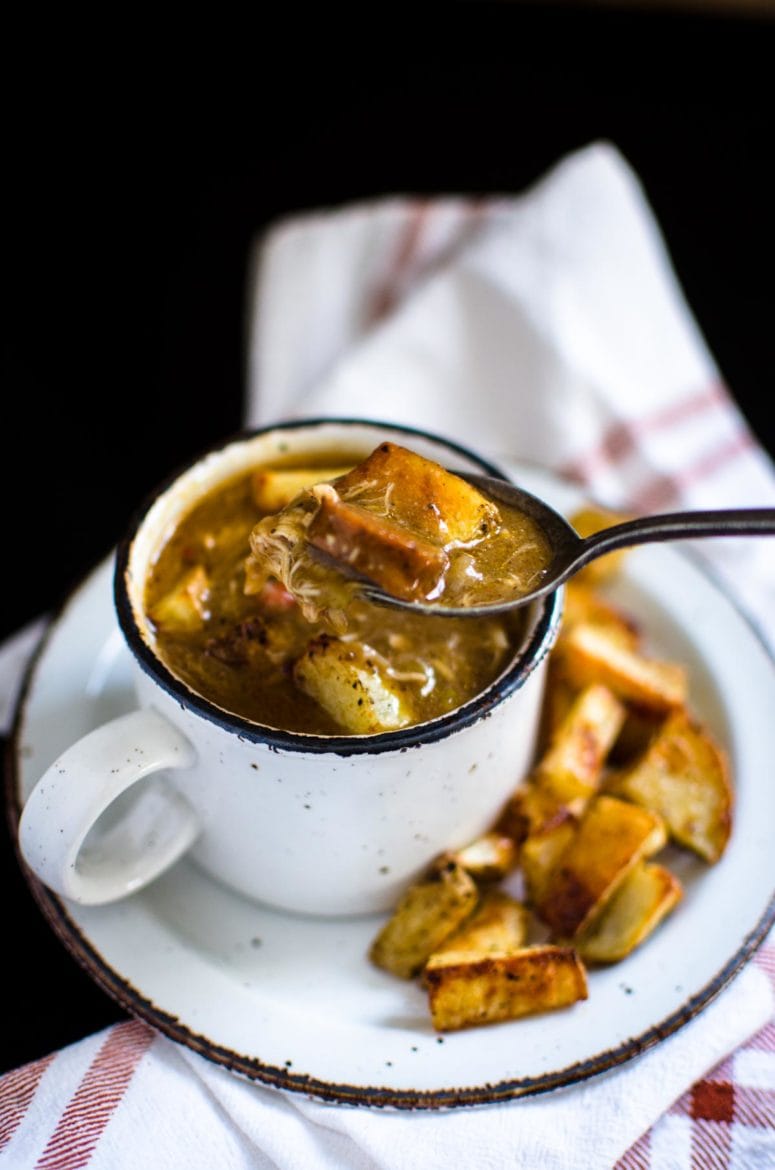 I finally worked up the gumption to attempt this gumbo in my own kitchen a few weeks ago; only after calling my mom to verify ingredient instructions, measurements, etc. so I didn't mess things up! Ryan and I bought a smoker/kamado grill this past summer, so I now have the ability to make smoked chicken stock and use it in this recipe. It really does make all the difference - however - Kitchen Basics Chicken Stock will be your next best bet.
If you are a southern cooking fan you may also like:
Other Southern-Inspired Favorite Recipes
If you make this, get excited about the fact that you will have simply scrumptious leftovers ready for your enjoyment several days afterward. I'd highly recommend serving it with bananas foster for dessert - it's simple enough to whip up in minutes and will be the perfect finishing touch to this Cajun-style meal.
Leave a comment and rate the recipe below. This will help me with the creation of future recipes! I'd also love to feature your creation in my monthly newsletter, so you can upload a photo to Instagram or Twitter with the tag @sweetcayenne5 to be featured!
Recipe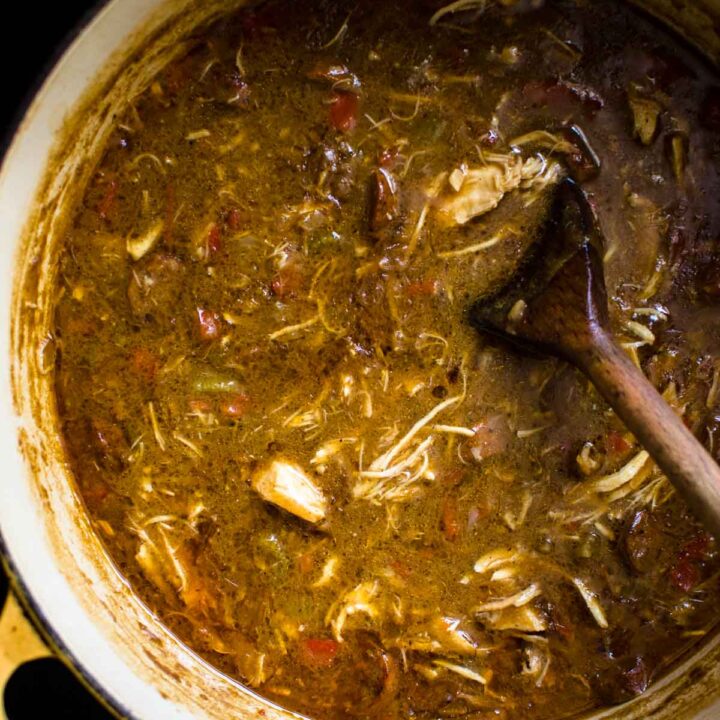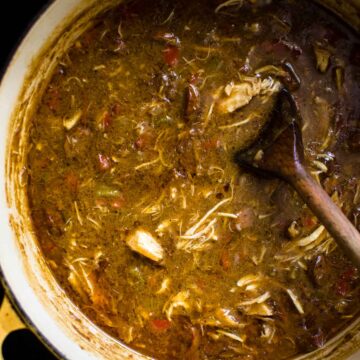 Chicken and Sausage Gumbo with Crispy Roasted Potatoes
Make-Ahead | Freezer-Friendly

This is an easy Cajun gumbo recipe that is perfect for beginners! Its smokey flavor pairs perfectly with crispy potatoes and makes delicious leftovers the next day! Adapted from Southern Living.
Print
Pin
Rate
Ingredients
For the gumbo:
1

pound

andouille sausage, use chicken andouille for less fat, cut into ½'' thick slices

½

cup

peanut oil

¾

cup

all purpose flour

1

medium

onion, finely chopped

1

whole

red bell pepper, chopped

1

cup

thinly sliced celery

2

whole

garlic cloves, minced

2

teaspoons

Cajun seasoning (I recommend "Slap Yo Mama" or Tony's Creole)

48

ounces

chicken stock (preferably homemade (I love using stock made from smoked chicken carcasses))

1 ¼

pounds

boneless skinless chicken breasts
For the roasted potatoes:
3

pounds

russet potatoes, washed and diced into ¼'' cubes

2

tablespoons

olive oil

¾

teaspoon

coarse kosher salt

¾

teaspoon

freshly cracked black pepper

½

teaspoon

Cajun seasoning
Instructions
Making the gumbo:
Place a 5 quart Dutch oven over medium heat. Add the sliced sausage and cook until the pieces are browned. Remove the sausage and place on a paper towel-lined plate. Set aside.

Return the Dutch oven to medium heat. Add the peanut oil. Gradually whisk in the flour. Reduce the heat to low and cook the oil and flour mixture, stirring constantly, for 18-20 minutes or until the mixture is smooth and the color of milk chocolate.

Increase the heat to medium and add the onion, bell pepper, and celery. Stir constantly for about 3 minutes to soften them up a bit. Add the garlic and Cajun seasoning and stir for 30 seconds. Gradually stir in the chicken stock

Add the whole chicken breasts and the sliced sausage. Increase the heat to medium-high and bring the pot to a boil. Reduce heat to low and simmer with the lid off, stirring occasionally, for 1 hour and 30 minutes or until the chicken is cooked through.

Remove the chicken breasts from the pot. Shred the meat with two forks. Add the shredded chicken back into the pot and keep warm until ready to serve. Taste for flavor - you should not need to add salt because the andouille sausage and Cajun seasoning have quite a bit of sodium already.
Making the roasted potatoes:
While the gumbo is cooking (after about 1 hour of cooking), preheat the oven to 400 degrees F. Line a baking sheet with parchment paper. Place the diced potatoes on the baking sheet and drizzle them with 1-2 tablespoons of olive oil. Sprinkle with salt, pepper and Cajun seasoning.

Roast the potatoes for 40 minutes, stirring halfway, until golden brown and crispy.
Serving the gumbo:
Serve the hot gumbo with about ½ cup roasted potatoes per bowl.
Video
Notes
Leftover gumbo can be kept in the fridge up to 3 days or frozen up to 6 months. Leftover potatoes can be re-crisped in the oven at 350 degrees F for 8 minutes.
Serving:
1
Serving
|
Calories:
605
kcal
|
Carbohydrates:
41.6
g
|
Protein:
30.9
g
|
Fat:
35
g
|
Saturated Fat:
8.4
g
|
Cholesterol:
79
mg
|
Sodium:
1504
mg
|
Potassium:
1234
mg
|
Fiber:
5.2
g
|
Sugar:
4.5
g
|
Calcium:
54
mg
|
Iron:
3
mg