This is the best easy zucchini coffee cake covered in a buttery streusel topping and drizzled with a creamy vanilla glaze - it's what I'm having with my iced coffee and tea this summer!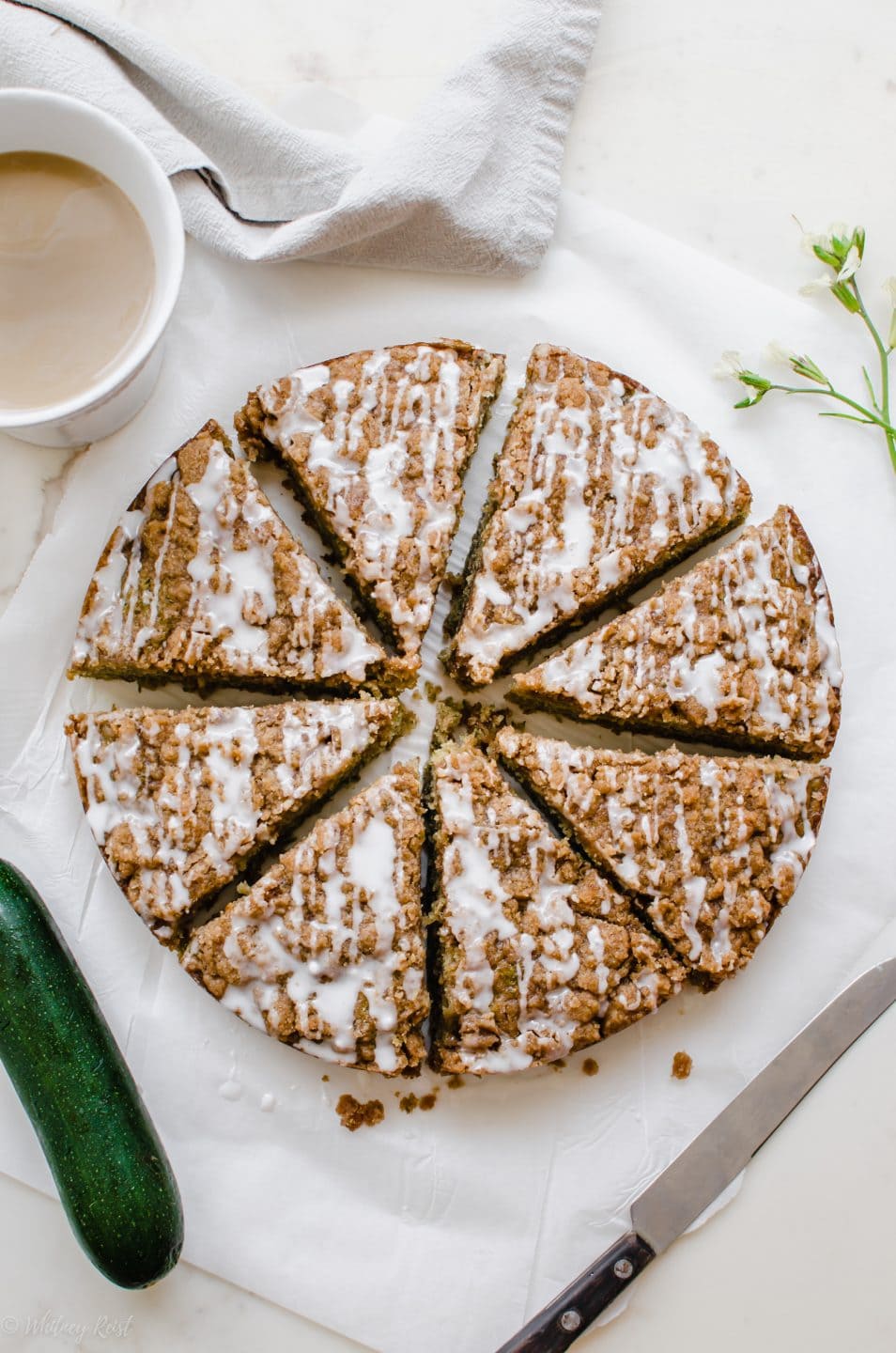 Be right back.....just gonna have another back porch summer session with an iced coffee and slice of this dreamy zucchini coffee cake!
Video
Really and truly, this coffee cake is hitting the spot right now! I'm so in love. I recently made it for my sister when she was visiting, and we both rolled our eyes in totally swoon mode after the first bite. I mean, if you've got a lot of zucchini on hand, can we agree that making this coffee cake is a good - no, GREAT - way to use it? And even if you aren't growing zucchini, it's in season right now, abundant at farmer's markets, and you are likely a hop, skip, and jump away from getting your hands on some.
I'm SUPER excited that I have three weekends in the next 2 months where I will be having house guests, and you can bet your bottom dollar that this cake is on the breakfast menu! Let's chat a little about what you need to make some of this summertime goodness...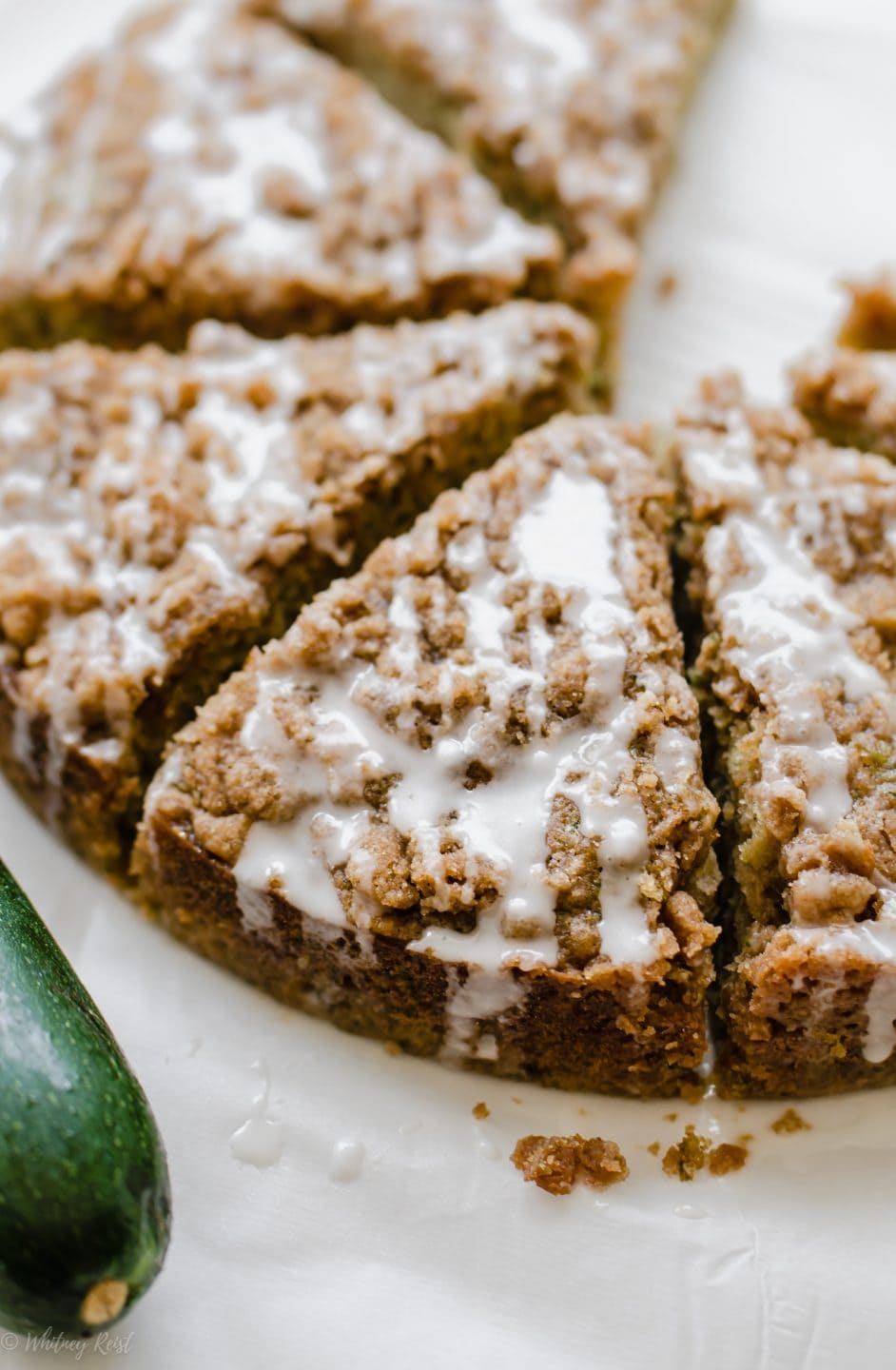 Ingredients for Easy Zucchini Coffee Cake
Zucchini - 2 medium, to be exact, which should be just under a pound.
Flour - all-purpose flour is fine. But because this cake is so moist, you can get away with using white whole wheat flour or an all-purpose gluten-free blend without the end product being too dense.
Butter - salted, preferably! We are going to brown some of it for the cake to add an element of nuttiness and use some in cold chunks for the streusel.
Oil - using half butter and half oil ensures that the cake will have a great buttery flavor while staying moist and tender.
Sugars - a combo of white and brown for the cake, brown for the streusel, and powdered sugar for the icing. Because I'm extra when it comes to making special treats for guests and I have a feeling you are too!
Vanilla - some vanilla extract is the perfect ingredient to flavor a coffee cake icing.
Spices - cinnamon and nutmeg mesh super well in baked goods that call for zucchini.
How to Make Easy Zucchini Coffee Cake
Brown some butter - if you've never browned butter for baked goods before, get ready to have your life changed! Browning butter involves melting it in a pot and continuing to cook it to brown the milk solids. Here is a great tutorial for how to do it - it's very simple and once you try it, you will want to brown butter for everything!
Grate the zucchini - you will want to use the small holes of a box grater or food processor grating disk to accomplish this task. No need to drain the zucchini or press water out of it once it's grated - this moisture will help the cake have a nice, tender crumb.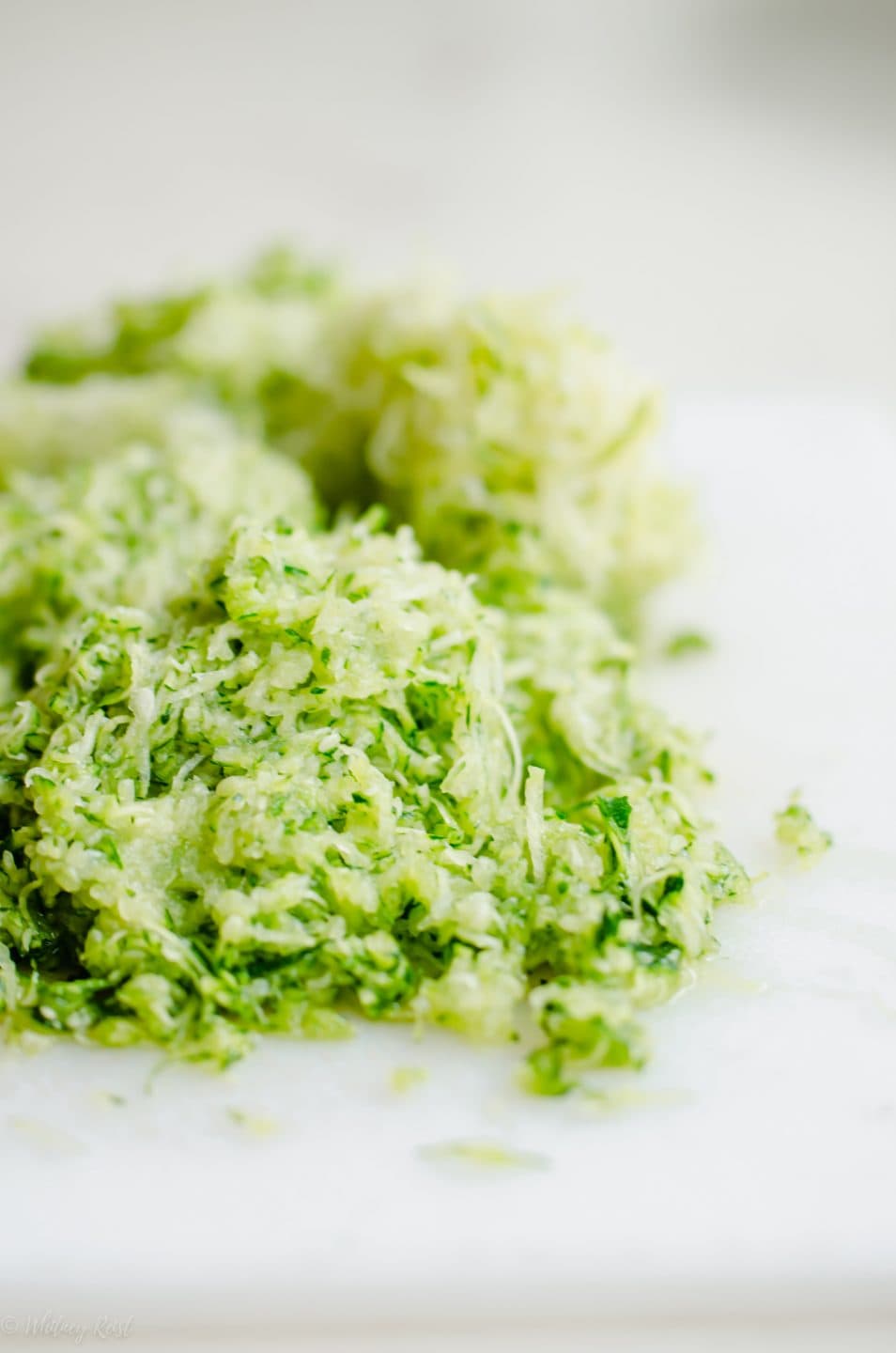 Make the streusel topping - I like to make the streusel topping before doing the cake batter and let it sit in the fridge until I'm ready to use it. You want the final texture of your topping to resemble a dry-ish play dough - see the photo below for reference.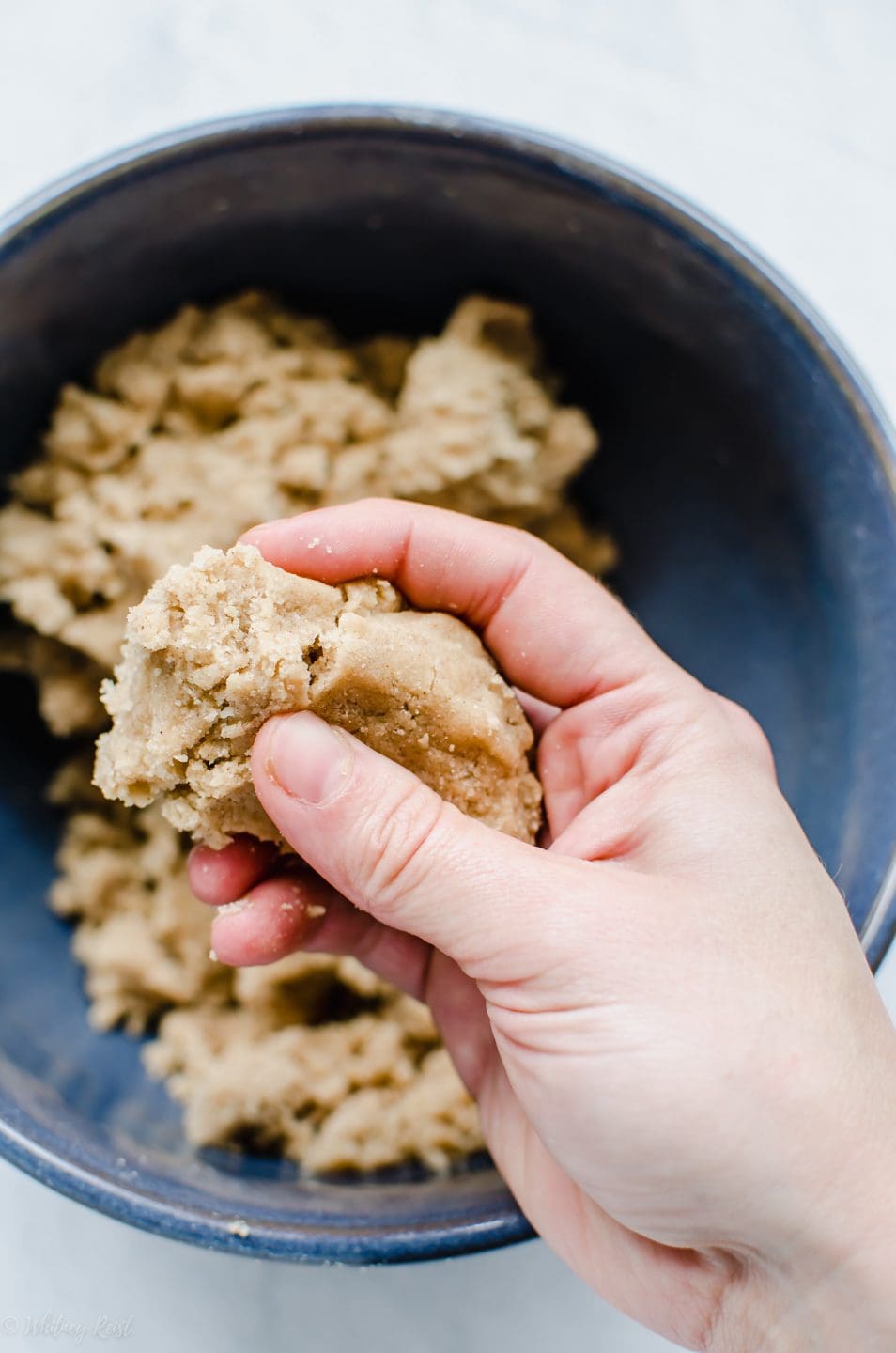 Whisk together the butter, oil, sugars, and eggs - no need to use a mixer of any type! Just your hand and a whisk will work just fine. We want to keep things simple and easy with this cake.
Stir in the grated zucchini - use a light hand to gently stir the grated zucchini into the liquid.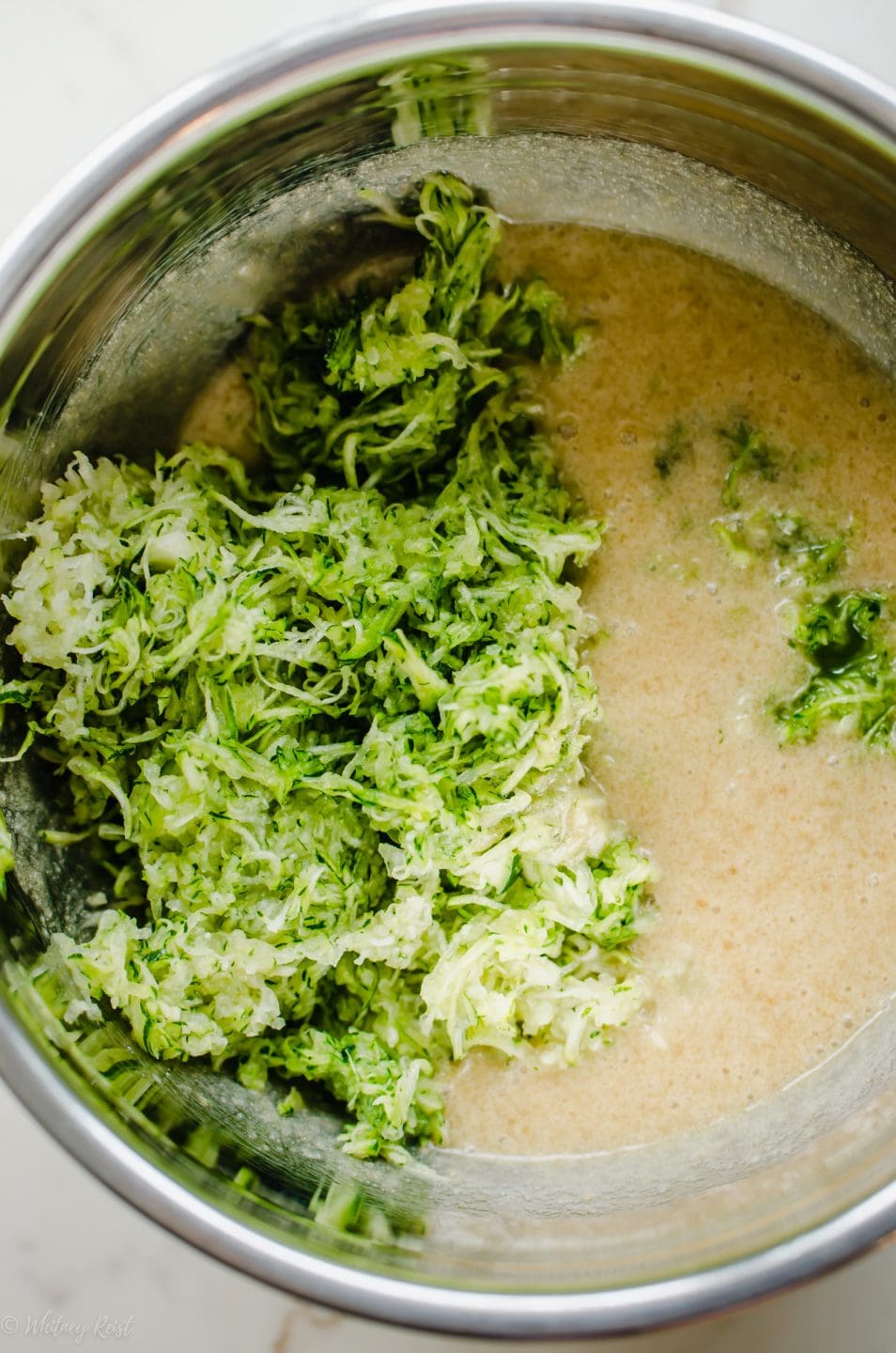 Stir in the flour, baking powder and soda, and spices - add them all in one big addition, and then stir together until just combined. Be careful not to overmix, as your cake might be a little tough. Use a light hand and wide, over-and-under stirring motions, scraping down the sides of the bowl as you go.
Pour the batter in a pan, top with streusel - you will want a greased round or square cake pan for this cake. If you like, you can line it with parchment paper so the cake can be removed from the pan and served on a cake platter. Or you can just serve it right from the pan.
Bake the cake - baked the cake at 350 for 28-35 minutes. Start with the lower range, test for doneness, then continue baking as needed according to your oven and altitude.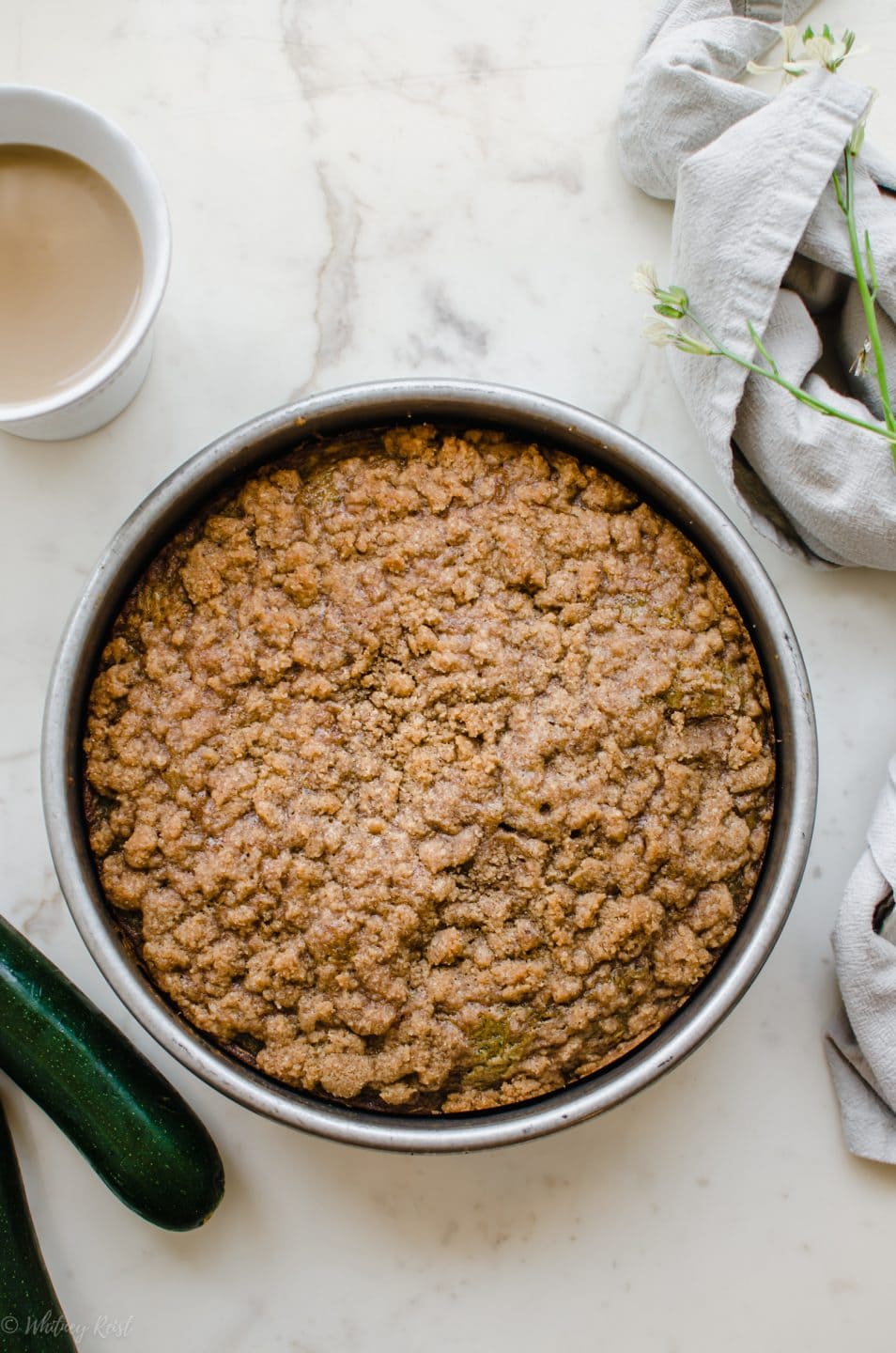 Make the icing and drizzle it on top of the cake - I like to use the same bowl that I made my streusel topping in to make the icing because of less mess = less stress (can I get an amen?)! You want your icing consistency to be thick like honey so that it hardens on top of the cake and looks pretty. Add more powdered sugar to make it thicker, or drop-by-drop of half and half to make it thinner.
Enjoy with loved ones, friends, and a nice coffee or tea beverage. Back/front porch is optional but highly recommended!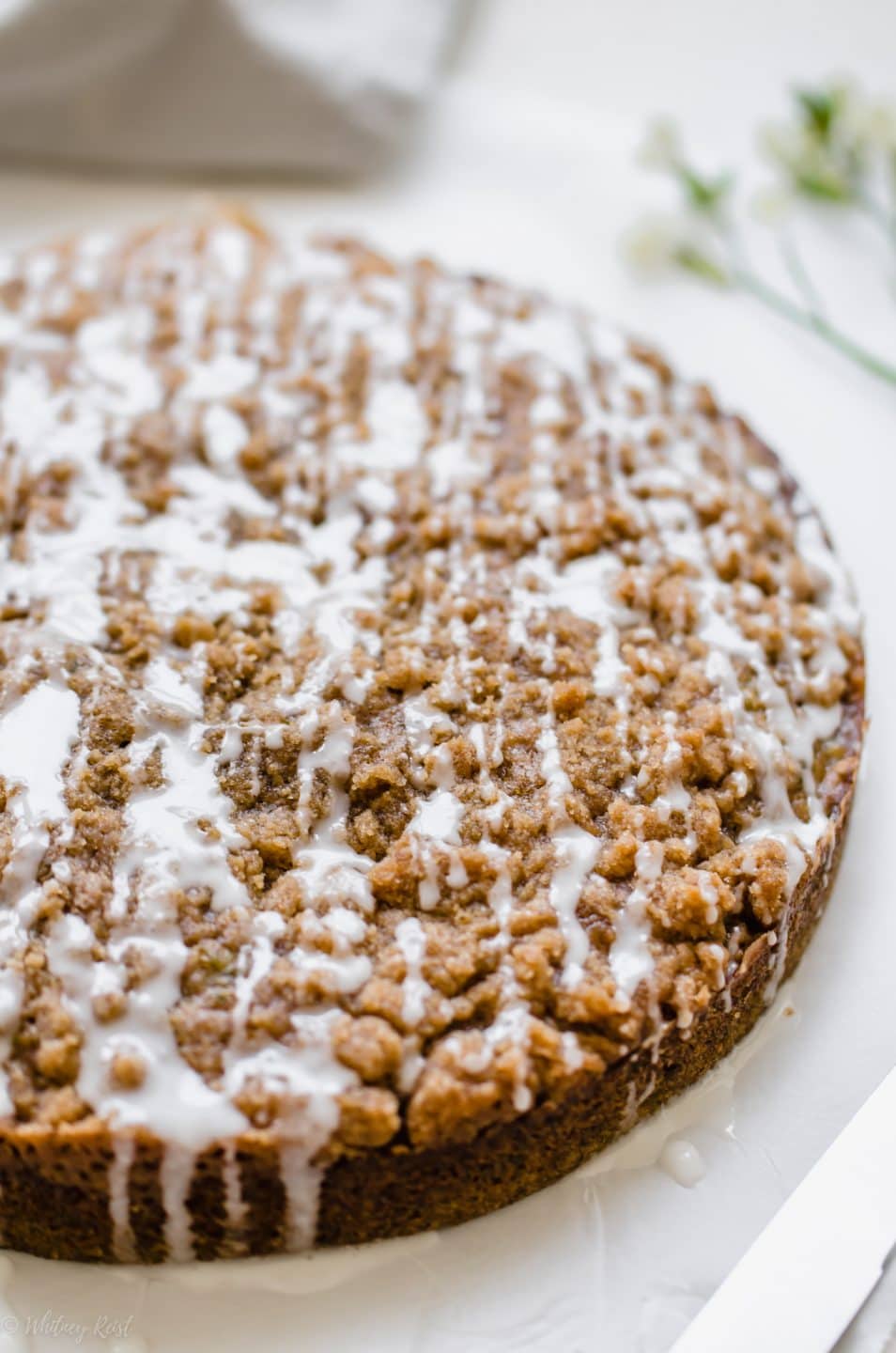 Zucchini Coffee Cake Modifications
Make it whole grain - this cake lends itself well to being made with 100% white whole wheat flour. The moisture from the zucchini and oil and the leavening agents of baking powder and soda keep it from being too dense when using whole wheat flour or all-purpose gluten-free blend.
Replace half of the fat - feel free to substitute unsweetened applesauce for the oil called for in this recipe. You will use 4 tablespoons of butter and ¼ cup of unsweetened applesauce while omitting the oil.
Reduce or replace the sugar - you can reduce the sugar by half in the cake batter, only using ⅓ cup (a combo of half white and half brown), and the cake will still be pretty sweet with the crumb topping and icing. Alternatively, just omit the vanilla glaze to reduce the sugar content. For sweetener substitutions, try substituting with ½ cup honey or maple syrup for the combination of white and brown sugar. The cake may have a slightly different color and density, but will still be very tasty!
Make ahead and freeze - this cake freezes beautifully once baked! Simply wrap tightly and freeze the unglazed cake for up to 3 months. Thaw in the fridge overnight and glaze before serving.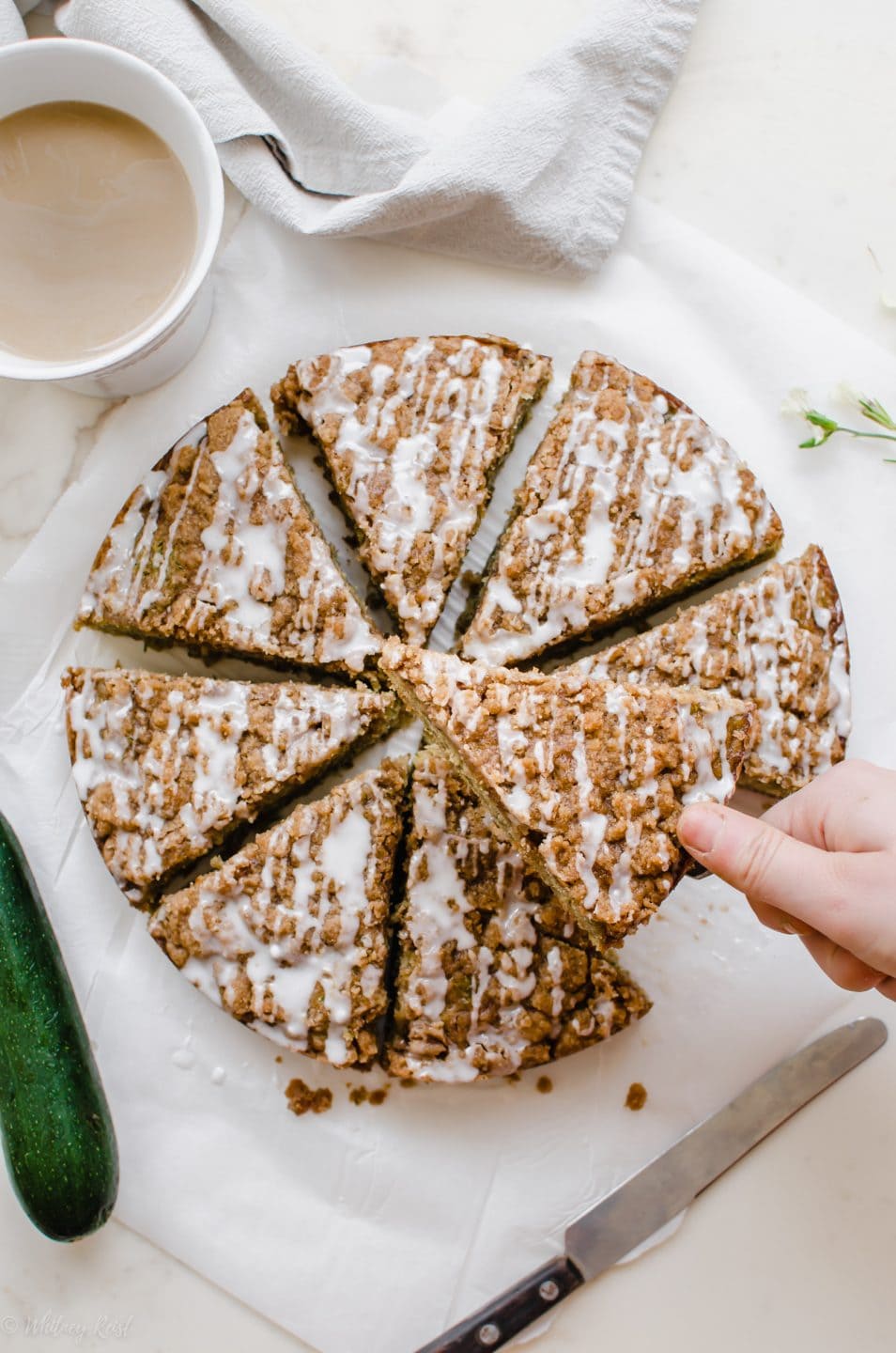 More Breakfast Recipes
Are you ready to try this Zucchini Coffee Cake? I'm so excited for you to try this recipe. Once you get the chance to make it, please let me know how it turns out for you! Leave a comment and rate the recipe below. This will help me with the creation of future recipes! I'd also love to feature your creation in my monthly newsletter, so you can upload a photo to Instagram or Twitter with the tag @sweetcayenne5 to be featured!
Recipe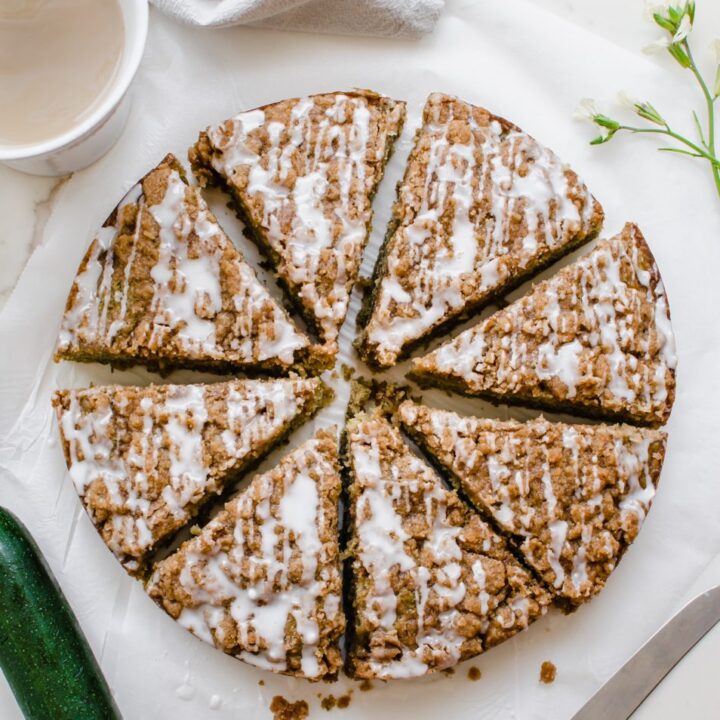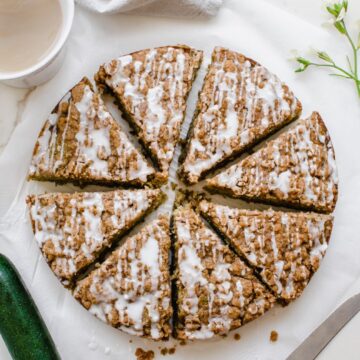 Zucchini Coffee Cake
This is the best zucchini coffee cake covered in a buttery streusel topping and drizzled with a creamy vanilla glaze - it's what I'm having with my iced coffee and tea this summer!
Print
Pin
Rate
Ingredients
Cake Batter:
2

medium

zucchini, grated on the small sides of a box grater and water pressed out in a fine mesh sieve (about 2 cups)

⅓

cup

granulated sugar

⅓

cup

brown sugar

¼

cup

oil (canola, vegetable, etc)

2

large

eggs

½

teaspoon

vanilla extract

1 ½

cups

flour

½

teaspoon

baking soda

1

teaspoon

baking powder

¼

teaspoon

salt

1

teaspoon

cinnamon

¼

teaspoon

nutmeg
Streusel Topping:
4

tablespoons

cold salted butter, cut into cubes

½

cup

flour

½

cup

brown sugar

1

teaspoon

cinnamon

Pinch

of salt
Vanilla Glaze:
⅓

cup

powdered sugar

1

tablespoon

half and half

¼

teaspoon

vanilla extract
Instructions
CAKE: Preheat oven to 350℉. Grease a 9 inch cake pan or 9 x 9 square baking pan with cooking spray or butter and set aside.

STREUSEL: Combine the butter cubes, flour, brown sugar, cinnamon, and salt in a bowl. Use your hands or a fork to work the ingredients together until the mixture is easy to press together and break into large chunks, similar to play-dough (see photo above). Place in the refrigerator until ready to use.

Grate the zucchini on the small holes of a box grater and set aside. You should have about 2 cups. Place the zucchini in a fine mesh sieve and use a rubber spatula to gently press any excess water out.

Whisk together the browned butter, sugars, oil, eggs, and vanilla. Stir in the zucchini. Add the flour, baking soda, baking powder, cinnamon, and nutmeg, mixing until just combined. Spread batter evenly into prepared cake pan and set aside.

Sprinkle the streusel into chunks on top of the cake batter. Bake for 30-40 minutes until just set and a toothpick inserted into the center comes out clean. Remove from oven and place on a wire rack to cool.

GLAZE: whisk together the powdered sugar, half and half, and vanilla extract. Add more powdered sugar or half and half if needed until the glaze is a thick, pourable consistency.

Drizzle the glaze evenly over the coffee cake and serve slightly warm or at room temperature. Store leftovers in an airtight container in the refrigerator for up to 5 days.
Serving:
1
slice
|
Calories:
401
kcal
|
Carbohydrates:
51.2
g
|
Protein:
5.6
g
|
Fat:
20.2
g
|
Saturated Fat:
8.4
g
|
Cholesterol:
78
mg
|
Sodium:
189
mg
|
Potassium:
264
mg
|
Fiber:
1.4
g
|
Sugar:
26
g
|
Calcium:
50
mg
|
Iron:
2
mg
Pin this, pretty please!