Today I thought it'd be fun to share a little bit about my thought process behind meal planning. I'm sure everyone has their own strategy of what works for them – whether it be getting plans from Pinterest, online services, or just flying by the seat of your pants! My approach to this is a dead giveaway that I'm a FOODIE….mainly because the first step involves thinking about what foods sound the most appetizing to me at the time!
I'm sure if you are a fellow foodie, you can stand with me in acknowledging that having a weeks' worth of meals planned that involve foods you love can really make a week that much better. When I have yummy breakfasts and lunches to look forward to at work, I can conquer the world!!! Well, almost.
The following steps outline my thought process behind planning what Ryan and I are going to cook/eat each week. I usually go through these steps in my head and then write down the actual menu items in my customized meal planning notebook from May Designs. My sister-in-law, Lainey, gave this to me for my birthday and I am IN LOVE with how cute it is! Getting to write my menus down in something so pretty makes the process that much more fun. You can certainly do this on your phone and laptop though if you prefer to be digital when you grocery shop!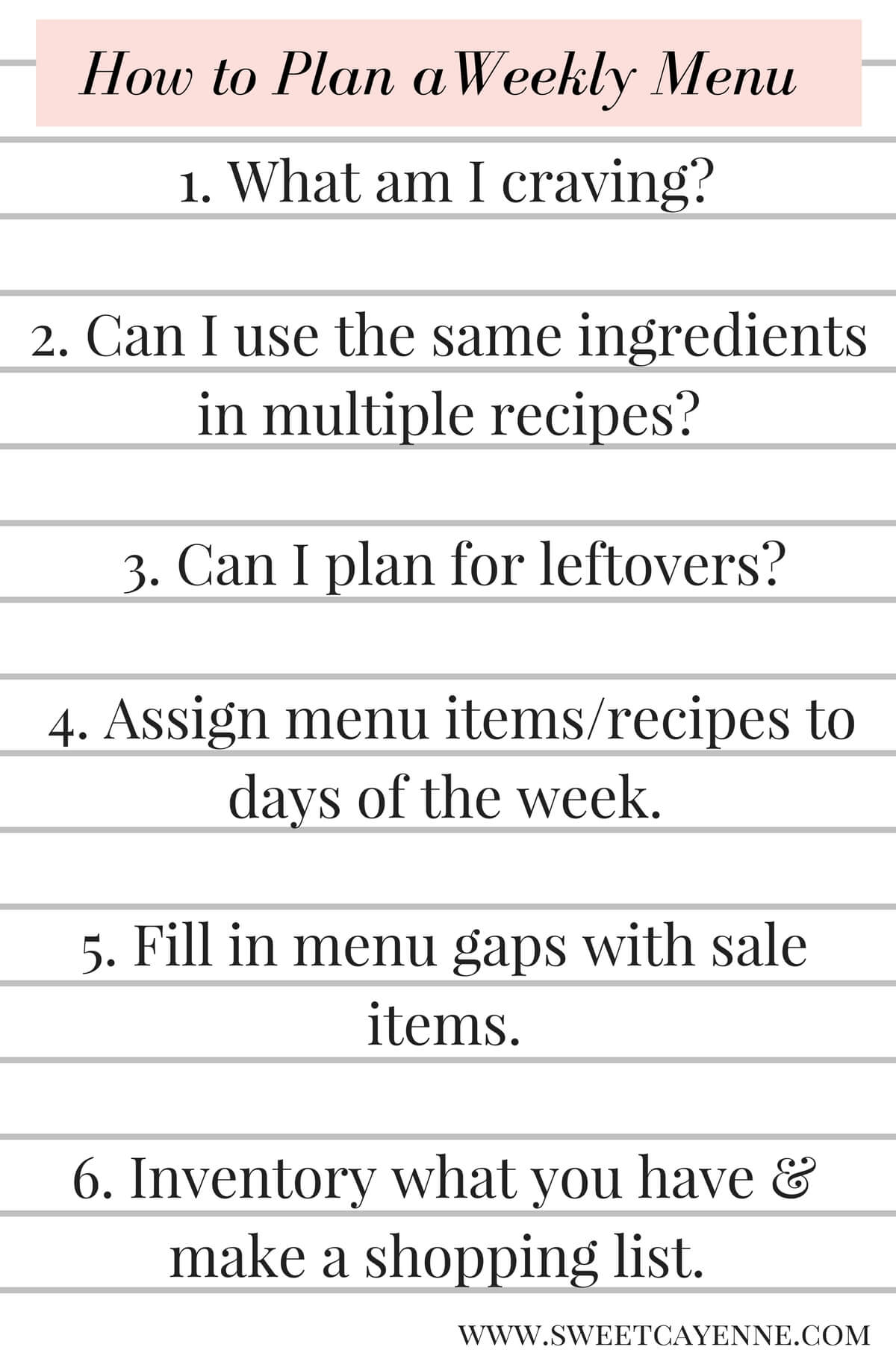 1.  What am I craving?
The first step is the fun part! I always start my meal planning process by thinking about what sounds good that week. This is often triggered by recipes I've seen online, in a magazine, or while perusing through a cookbook. Or maybe it's inspired by something I ate at a restaurant and would like to try recreating at home. Whatever the source of inspiration, I find that it's really important to my satisfaction with eating if I honor my body's cravings and tap into what I'm feeling it needs internally. If there happens to be a week that I'm just in a funk and nothing sounds good, I tend to just pick easy recipes that I've made dozens of times and loved before so that meal prep is low-key.
2. Can I use similar ingredients for multiple recipes?
Asking yourself this question will help you stay within your budget and prevent food waste! For example, next week I'm planning to make this Meyer Lemon Rosemary Bread – I'm going to serve it with Lemony Chicken Orzo Soup for 2-3 meals and then use it to make turkey paninis for another few meals. I'll then use the turkey panini toppings to make buffalo chicken wraps for lunch later on in the week. See how it works?
3. Can I plan for leftovers?
I'm a big believer in the whole "cook once, eat twice" notion….or cook once, eat thrice in my case. I'll often find myself having the same thing for dinner twice one week, and also taking it to work for lunch a third time. It does not bother me at all – especially if it's something I really like!
4. Assign recipes/menu items to days of the week.
Once I've figured out what I want to make, I'll plug in those menu items to days of the week in my nifty little meal planner like so….
5. Fill in menu gaps with items that are on sale.
Then if they are spaces in the menu where I need a side item, snack, breakfast item, etc., I'll peruse the sale ads at my favorite grocery store/market. I'll plug in seasonal produce and sale items to the menu gaps so that I stay in my budget and get a good deal!
6. Inventory what I have on hand & make a shopping list.
Once I've got my menu nailed down, I'll do a quick look-through my fridge, freezer, and pantry to see if I already have items to make what's on my menu. Then, based on what I find or don't find, I'll make my shopping list. Always make a list, friends! It will go a long way in making sure you don't forget anything AND preventing you from buying things you don't need!
A lot of people in this day and age of technology prefer to do all of this digitally through an app or meal planning program on their computer. I, however, still find much satisfaction in writing it down myself while enjoying a cup of coffee!
How do you plan what you're going to make for the week? I'd love to hear your process/thoughts in the comments below!