This guilde on How to Make a Great Salad will give you all the tips, suggestions, and flavor pairings to help you make fresh, flavoful, and super-tasty salads at home!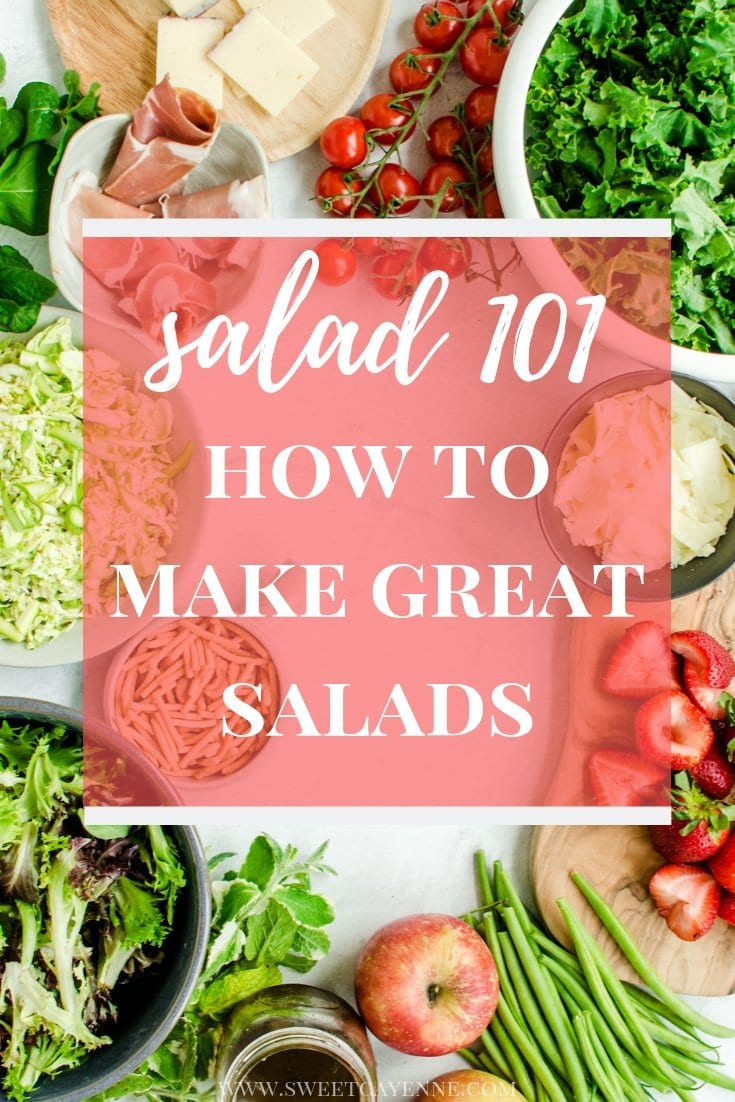 Recently, I taught a cooking class for local community group that was all about SALADS! While it seems like a simple and common topic, there are lots of good tips out there that will help you keep your salad game strong and interesting. And with summertime just around the corner, salads are the simple and easy side we can all rely on in a moments notice to add something beautiful and fresh to our meals. Read on for the steps I like to take to make great salads to go with anything on any day of the week!
Steps to Make a Great Salad
Prep and store greens properly.
Plan for 2-3 cups of greens per person.
Use tender greens (butter lettuce, spring mix, arugula) within 1-3 days of purchasing.
Save hearty greens (kale, shredded brussels sprouts, spinach) for later in the week and use within 5-6 days of purchasing.
Wash your greens and store in a salad spinner to keep them crisp and prolong storage life.
Hearty greens, like kale or shaved brussels sprouts (I know, those are veggie, but I use them in salads!) can be stored in a Ziploc bag or container for several days.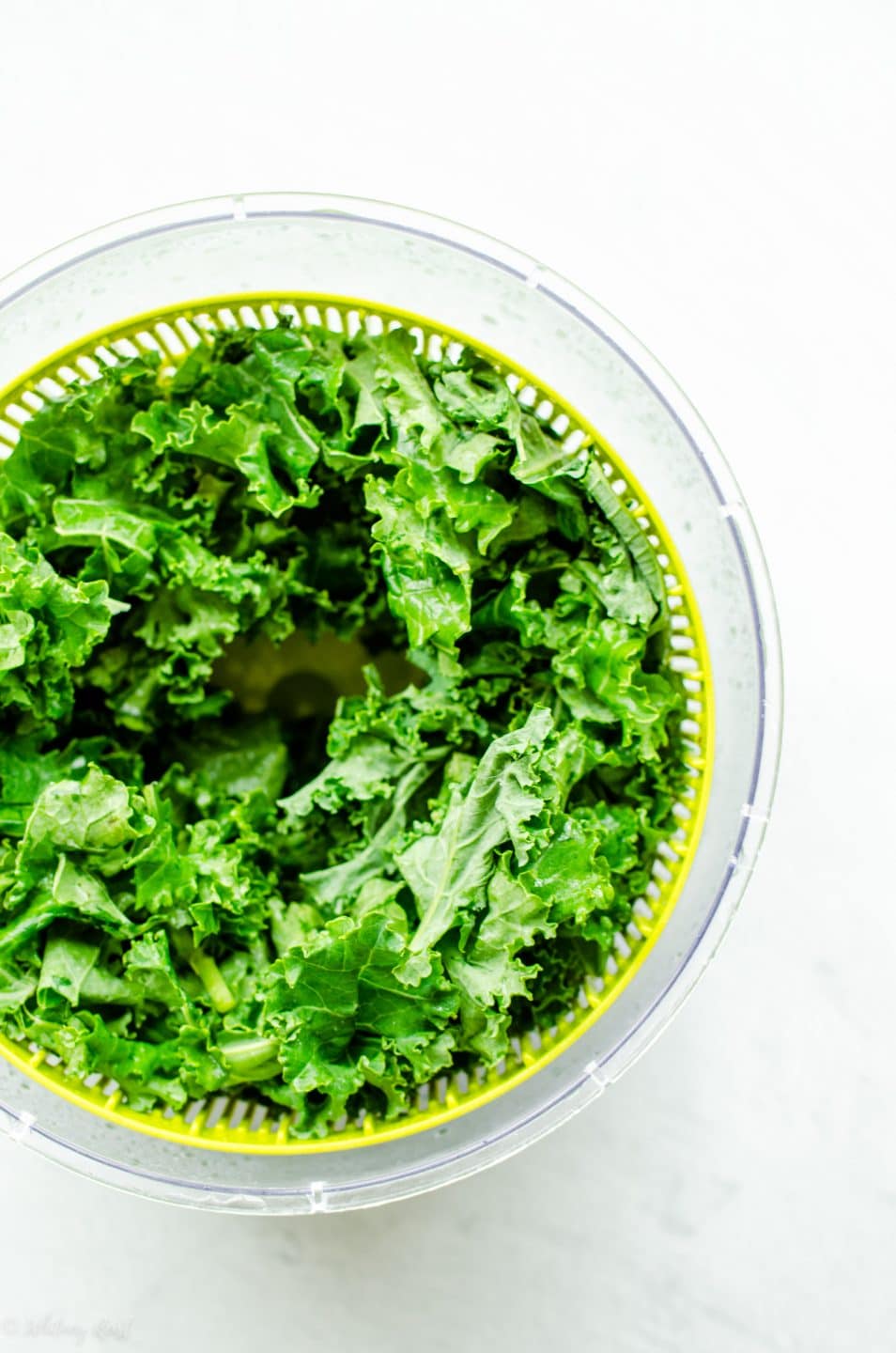 Pick 1-3 fruits or veggies to add to your salad, and let the season be your guide!
Plan for ½ cup total of fruit and veggie toppings per person.

Spring

: asparagus, strawberries, snow peas, sugar snap peas, radish, carrots, onion

Summer

: tomatoes, peppers, cucumber, corn, zucchini, squash, herbs, avocado, berries, stone fruits (peaches, plums)

Fall

: butternut squash, shallots, apples, pears, pumpkin seeds, turnips, parsnips

Winter

: citrus fruits, pomegranate, potatoes, pickled veggies, olives, marinated artichoke hearts, dried fruit

For picky eaters

Sometimes changing the shape or texture of a food will help improve its acceptability to picky eaters. Shredding beets or carrots on a boxed grater, spiralizing cucumber and zucchini, shaving asparagus or ricing cauliflower to sprinkle on a salad can help!

Let picky eaters choose what goes into the salads for the week and help with the prep work - taking pride in helping with the task can go a long way in helping them want to eat it!
Consider cooked veggies along with raw - this can vary the flavor and texture of your salad and make it more exciting!
Some good examples are:
Grilled veggies

Roasted peppers, cauliflower or broccoli

Blistered cherry tomatoes

Charred corn on the cob

Blanched or sauteed asparagus
Add crunch with nuts, seeds, crushed chips, toasted leftover bread cubes, etc.
Plan for 2-3 tablespoons of cheese or crunch toppings per person.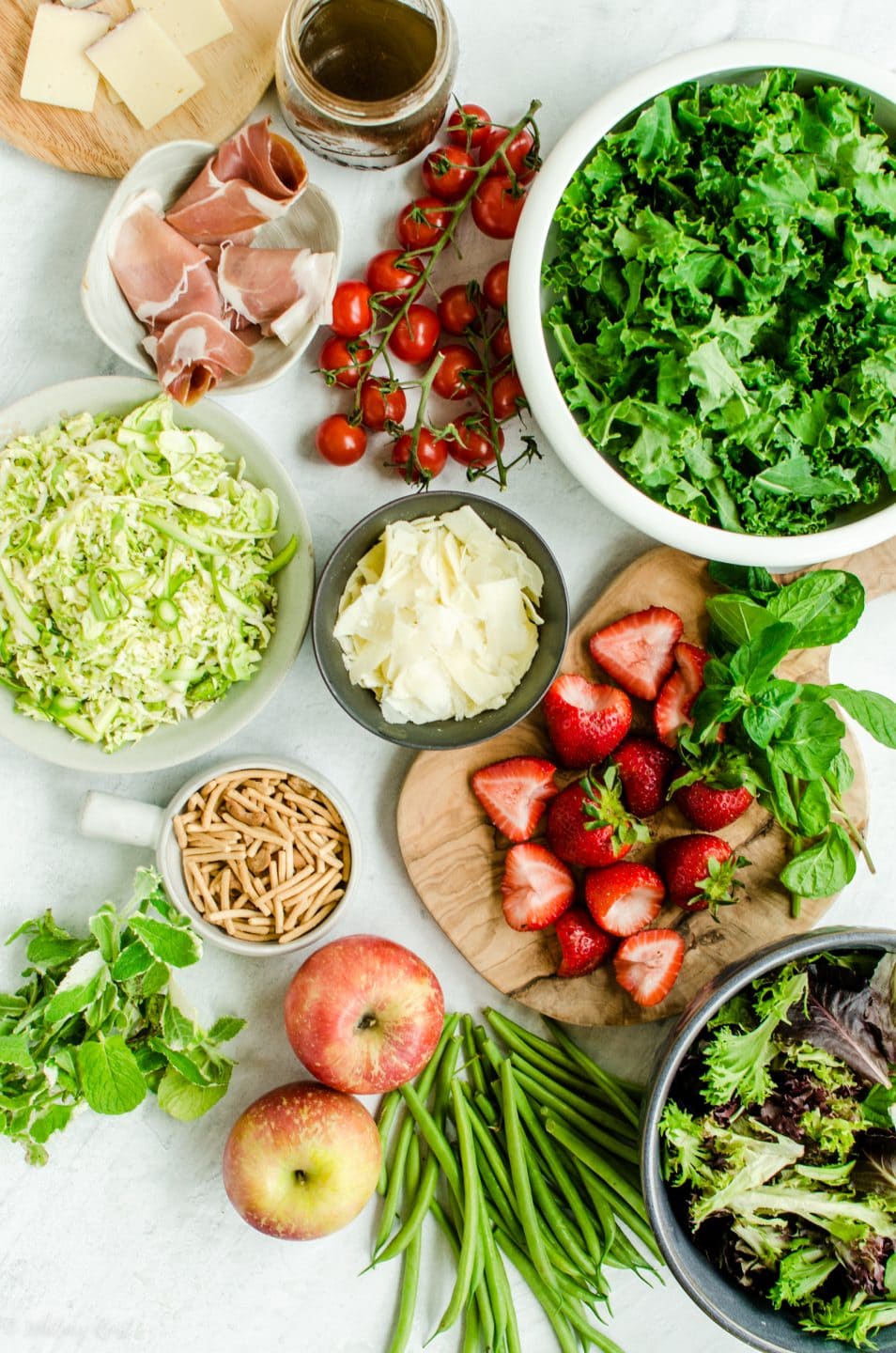 Add a lean protein or veggie protein to make it a complete meal.
Plan for 3-4 ounces of protein per person for an entree salad.

Lean proteins

: chicken breast, canned fish, fresh fish, sardines, pork tenderloin, turkey bacon, beef sirloin, lean ground beef, turkey breast, venison steak.

Vegetable proteins

: quinoa, tofu, tempeh, seitan, beans, lentils.
Season and taste as you go.
Sprinkle a little salt and pepper onto your greens BEFORE adding the toppings.

When making a salad dressing, taste it for flavor balance by dipping a veggie in it. Don't just taste it by itself - you want a good idea of how it will actually taste on food!

Dress your salad by adding 2-3 tablespoons of dressing at a time until everything is well-coated to prevent sogginess or pooling of dressing at the bottom.

Plan on 2 ½ tablespoons of dressing per serving.
Easy Themed Salads
Greek
Spring mix greens, olives, cucumber, tomatoes, feta cheese, chickpeas, red wine vinaigrette or Greek dressing.
Italian
Arugula, fresh mozzarella, tomatoes, basil, chopped prosciutto, toasted bread cubes, olive oil and balsamic vinegar.
Mexican
Mixed greens, avocado, black beans, pepitas, pepper jack cheese, cilantro lime vinaigrette.
Asian
Chopped cabbage, shredded carrots, snow peas, chow mein noodles, mango, fresh mint, sesame dressing.

Best Salad Recipes on Sweet Cayenne
And there you have it, my friends! I hope you found this guide to be helpful and that you gained some new inspiration for making delicious salads in your own kithchen. I'd love to know your favorite salad ingredient combo to get new inspo for myself, so please leave a comment below!